The latest and greatest biking kit.
DGuard E-Call System 3 
£499.99 | www.dguard.com/en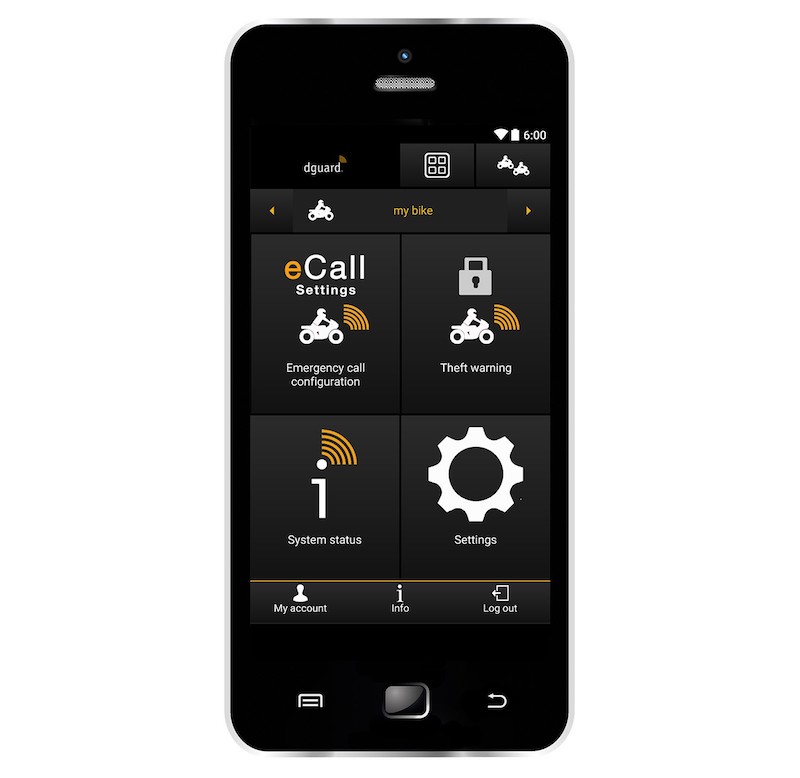 What would happen if you were riding solo, came off your motorbike, were seriously injured, unconscious and needed urgent medical attention? You'd be unable to call the emergency services and be pretty buggered. 
Enter the dguard e-Call System. This nifty gadget detects crash situations and automatically triggers that vital message, detailing your GPS coordinates to the emergency services via its mobile network.
The emergency service team will then receive a voice message (automatically in the language of the country you're riding in), which sends three repetitions of your current location, or if signal is poor, your last known location. 
Not only this, but the dguard e-Call System will also detect movement of your motorbike when a key is not present, triggering a theft alert directly to your smartphone. All the while, the system will track your bike's whereabouts, so you can alert the police of the situation. 
New for 2018, the system now features a 'Touring Roadbook', which captures your riding routes and tours in detail, so you can access them on your smartphone via the dedicated app and record your journeys, speed and altitude. What's more, you can personalise your tours, add comments and share them with your mates on social media. ND
Pirelli Scorpion Trail II and Scorpion Rally STR 
From £190 | www.pirelli.com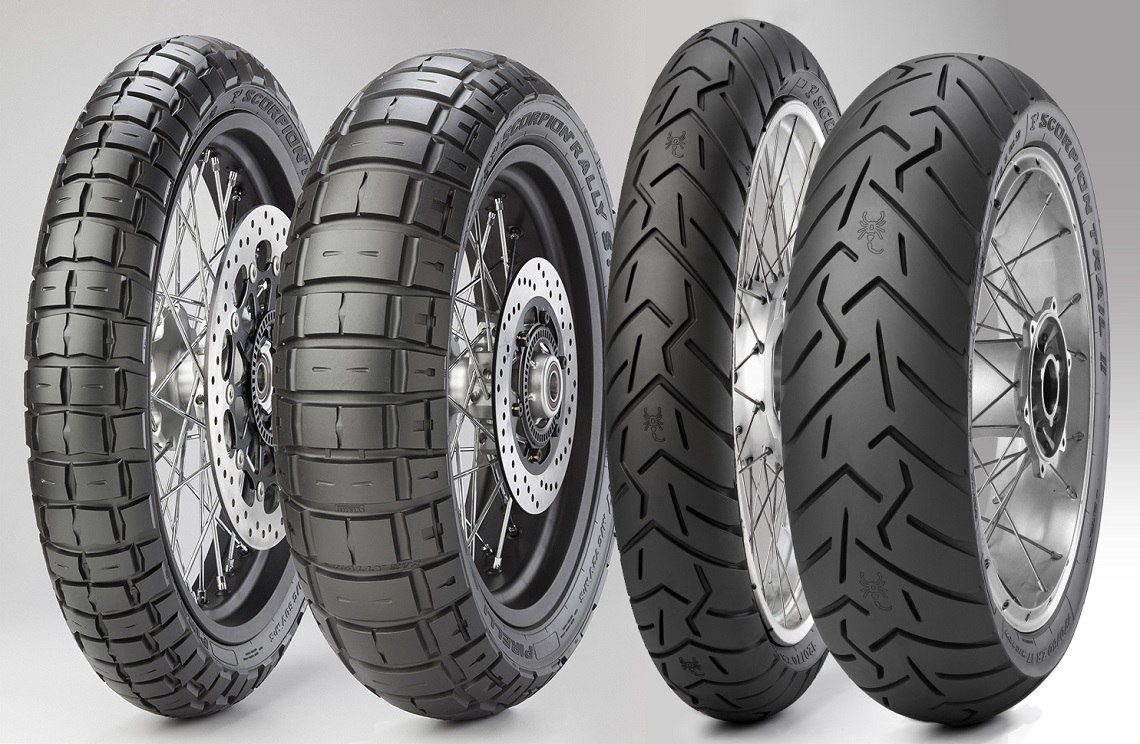 Deciding on the right tyres for your adventures is almost as tough a decision as what to name your firstborn, and with so many solid choices out there the consumer anxiety is real.
Well, things are about to get even harder thanks to Pirelli and the introduction of two new adventure-focused tyres. 
First off, the Scorpion Rally STR has been described by Pirelli as 'the new knobbly enduro on/off-road tyre for adventure with no limits', music to the ears of many adventure bike riders.
With a high silica content compound, the Scorpion Rally STR has been designed to provide as much grip as possible on all road surfaces, while offering high mileage capabilities for big adventure bikes.
Where it's easy for more off-road focussed tyres to perform poorly on tarmac, these have a street tyre profile and structure for on-road handling, and an aggressive tread for traction in the dirt. 
The Scorpion Trail II, on the other hand, is Pirelli's offering for the adventure bike rider who sticks mainly to the tarmac, but will dabble in the occasional, less extreme green lane if they fancy it.
With a tread pattern that's more aggressive than your standard road-going rubber, the Scorpion Trail II combines sport touring and off-road performance into one product, and Pirelli promises top-level handling throughout the life of the tyre. 
If you needed any extra incentive to give the new Pirelli tyres a go, then it comes in the form of a Premium Scorpion gift box, which you'll get for free. It includes stickers, a pen, a Pirelli patch, keyring, earbuds, a cool-looking Scorpion hoody, and a 'mystery gift'. BD
Muc-Off Motorcycle Cleaning Products 
From £3.99 | www.muc-off.com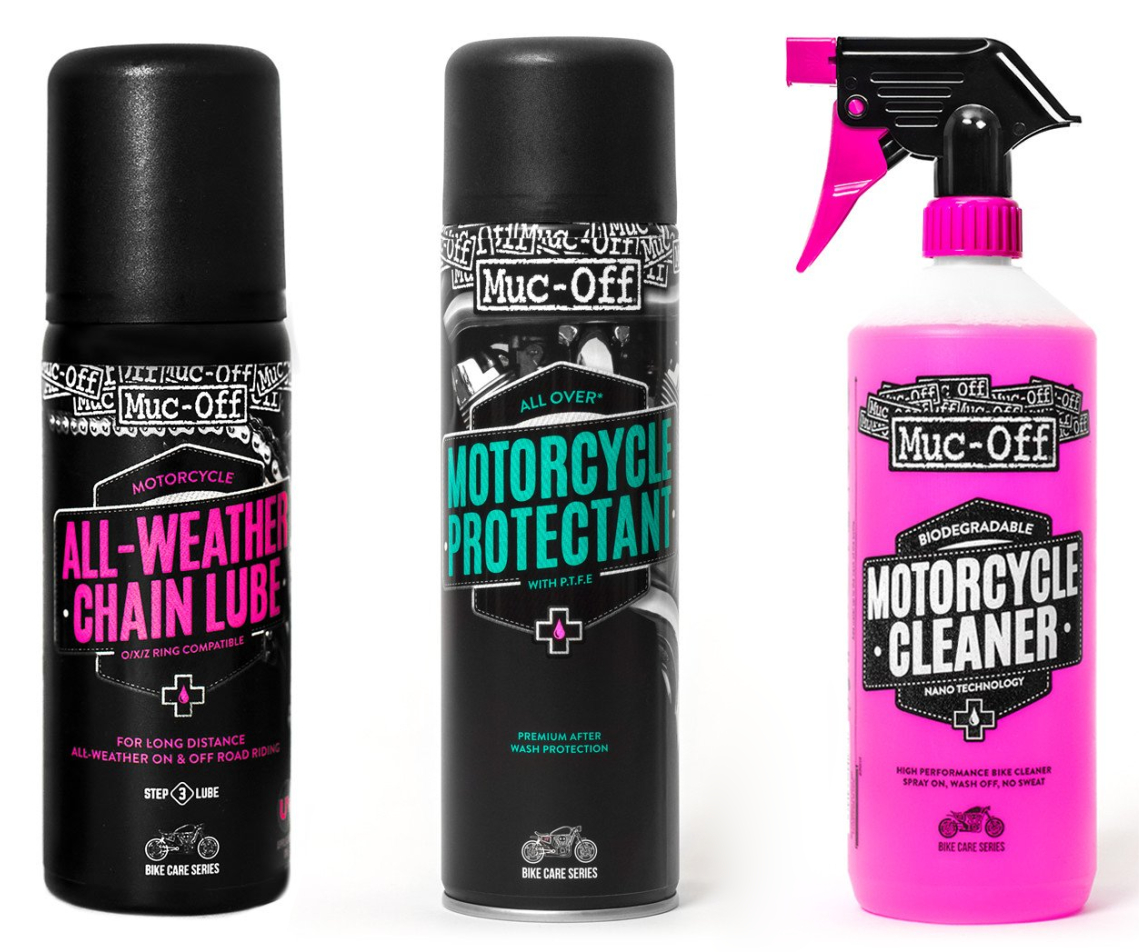 One of the best things about motorcycle ownership is the love affair you develop with your machine. At first, it starts with backward glances as you're walking away from it, thinking 'damn, that's mine', but it slowly builds up to the point where you spend hours in the garage staring at your pride and joy, caressing its beautifully formed screen and aesthetic exhaust.
But like any blossoming relationship, if the object of your desires doesn't wash, things aren't going to get very far. 
So that's where Muc-Off comes in, with its extensive range of motorcycle cleaning products. We've been washing our machines down with a variety of the manufacturers sprays, coatings and cleaners, and our rides have never shined so much.
The whole Muc-Off cleaning ethos is based on three steps: clean, protect, and lube, and you can mix and match any of the company's products to achieve the best finish possible for your bike. 
Our favourites at the moment are the NanoTech Motorcycle Cleaner (£9.99) which breaks down dirt and grime, the Motorcycle Protectant (£9.99) which helps prevent dirt built-ups between washes, while also featuring a corrosion inhibitor, and the All-Weather Chain Lube (£3.99) which will keep your chain performing as it should do while preventing wear. BD
Rukka Overpass Jacket 
£589.99 | www.tranam.co.uk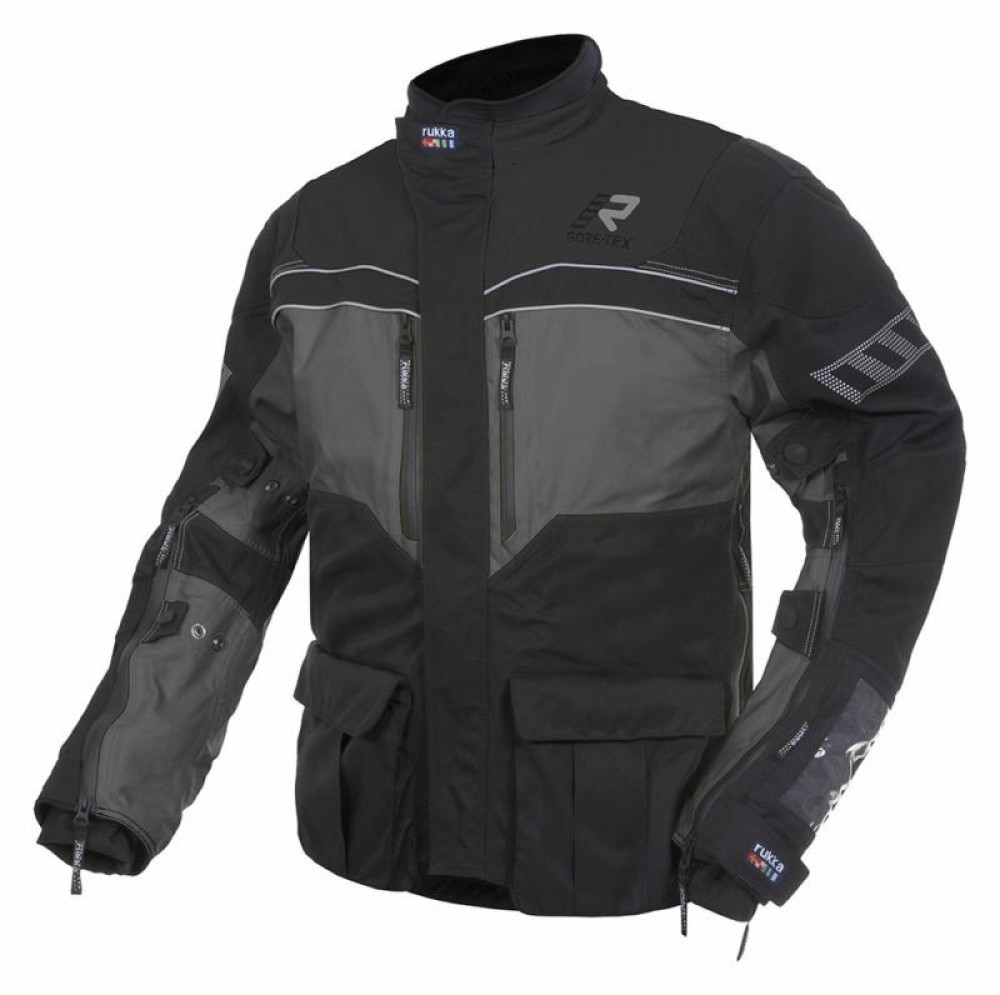 Rukka is a motorcycle clothing brand that consistently manufactures top-quality riding gear. OK, the prices tend to be on the high side, but my experience has always been that you get what you pay for, and if you buy a Rukka jacket, there's every chance that it will outlive you. So, when the Overpass was released earlier this year, I was excited to try it out. 
The Overpass is a lightweight laminated jacket that's been designed specifically for adventure motorcyclists. With ample ventilation options throughout, it's ideal for warm weather riding, though when coupled up with a good insulated mid-layer it'll be suitable well into the winter. 
Comfort is fantastic thanks to the plush inner mesh lining and neoprene collar, and you'll be hard pushed to find a laminated jacket as soft and light as this (the Halvarssons Walkyr definitely gives it a run for its money though).
Despite its lightweight nature and soft feel, the jacket makes use of 500D Cordura reinforcements on high-wear areas that are likely to see abrasion in the event of an off, and there are pouches to house shoulder, elbow, and back armour for impact protection. 
There are plenty of pockets, including two waterproof chest pockets and a pouch on the lower back. The cut of the jacket is spot on for adventure riding, with a long torso that doesn't ride up when stood on the pegs or reaching forwards. 
This is a really is an impressive piece of kit, and if you find traditional motorcycle jackets too bulky and restrictive, then you'll want to check it out. BD
HyperPro Combkit Spring Kit for Honda CRF1000L Africa Twin 
£249 | www.hyperpro.com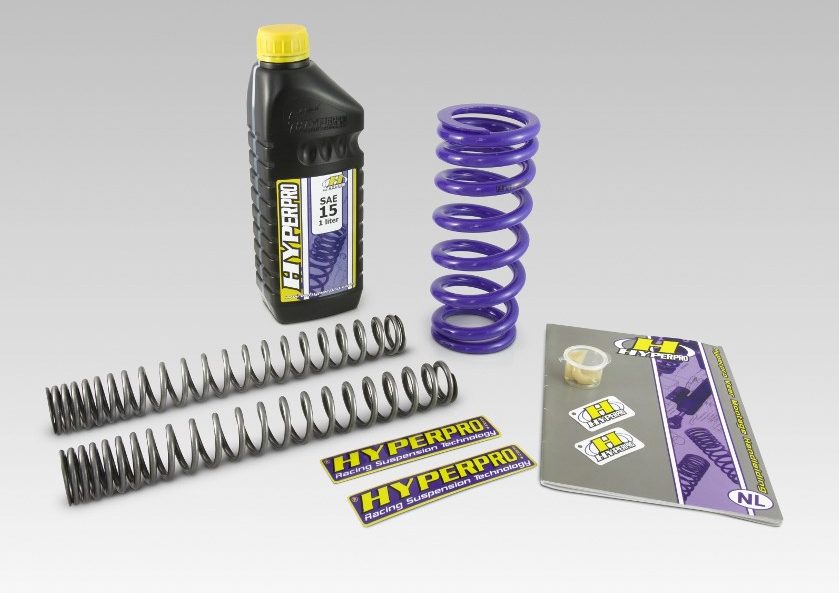 The Honda CRF 1000L Africa Twin receives quite a lot of criticism for its suspension, especially from heavier riders and people who regularly travel with a pillion or luggage. Being 6'4 and regularly travelling with a pillion, I was interested in the Hyperpro Combikit spring kit which raises the bike by 20mm. 
The kit comes with the rear spring, two fork springs, fork oil and generic fitting instructions along with specific settings for the CRF1000L. The springs are slightly longer than the stock items, but only by 5mm or so.
Fitting the kit is relatively straight forward, but you will need access to a spring compressor for the rear shock. I didn't have one so I removed the rear shock myself and the friendly staff at Motorrad Central swapped the springs over.
Fitting the front springs is a bit more involving. If you haven't done a similar job before I would recommend either getting a reliable mechanic to fit them for you or get someone who has to help you.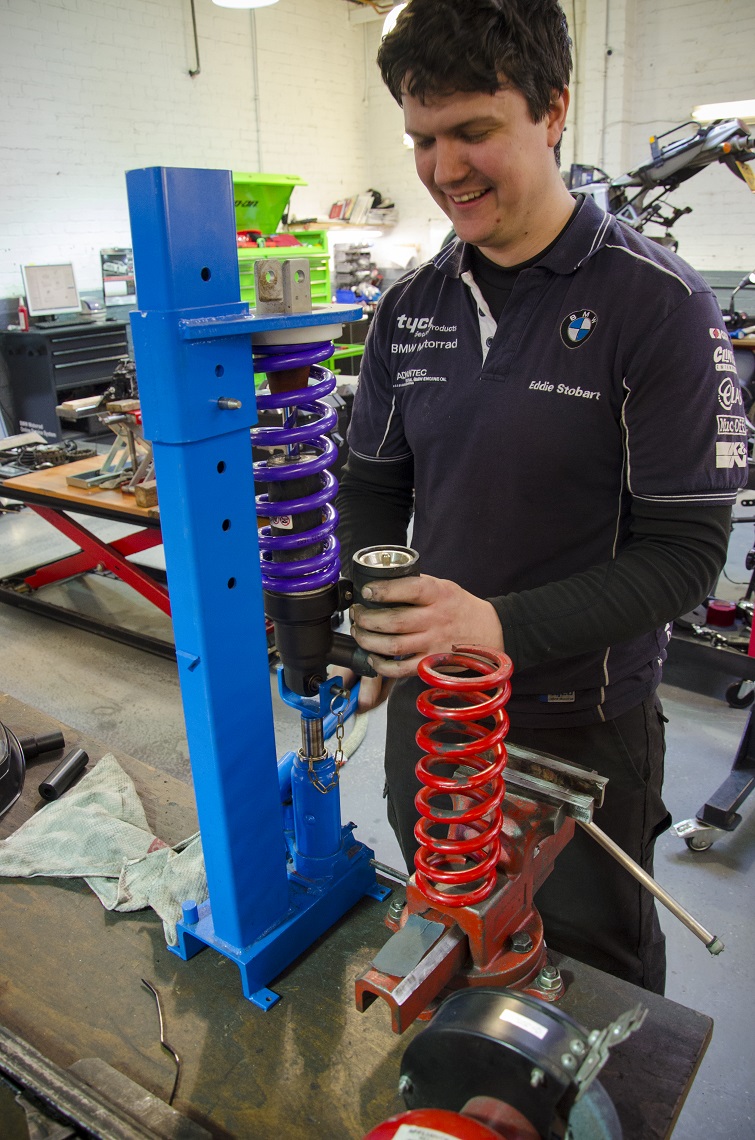 With the Combikit fitted, swinging a leg over the bike, you can immediately feel the difference; the bike sits noticeably higher and doesn't sag anywhere near as much as it previously did. I'm running the Hyperpro recommended setting, so I've still got loads of adjustment to play with.
On the road, the ride feels slightly firmer, but not uncomfortable or harsh. Gone is the big dive under braking and the bike feels much tighter and more planted, too. Big bumps or undulations in the road that previously caused the bike to become a bit unsettled are handled with ease.
A long run down to Samye Ling really let me feel the difference that the springs make. I wouldn't go as far to say the Hyperpro springs make it a totally different bike, but they really do inspire confidence, especially when pushing on along bumpy roads. 
Where I noticed a real difference was when carrying a pillion. Carina (the missus) and I decided to go for a Sunday spin over the Lammermuir Hills to Dunbar for some fish and chips. I added a couple of clicks of preload and off we went. What a difference.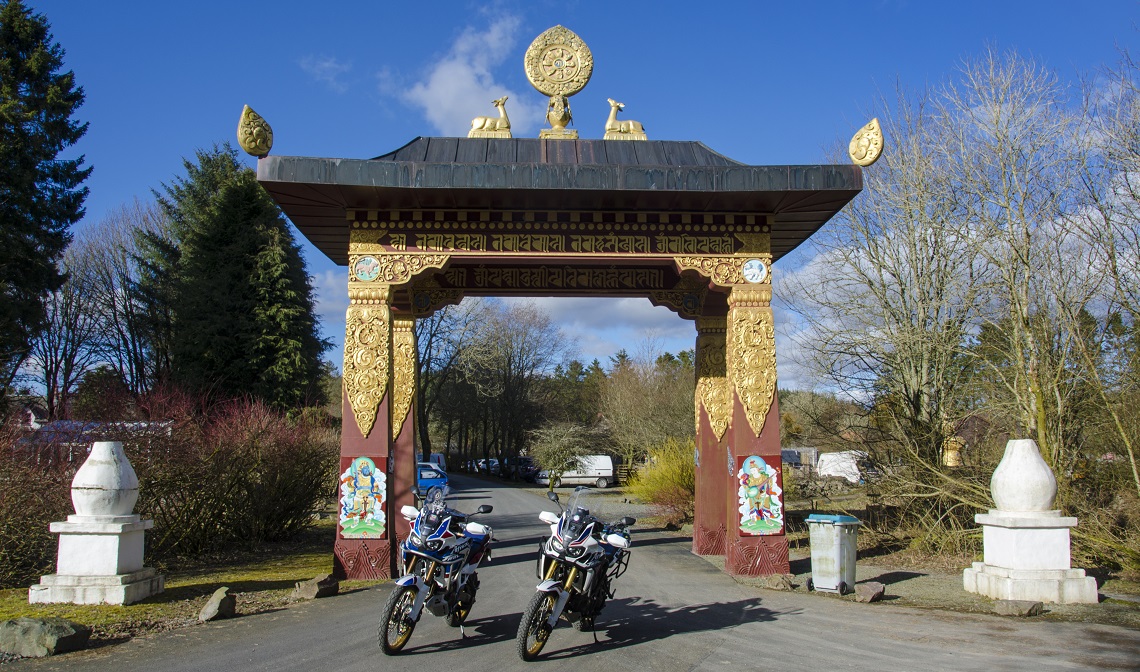 Even pushing on or hitting the lumpy, rough single-track roads of the Lammies didn't push the bike out of shape and there's still loads of adjustment to compensate for luggage and camping gear.
Up front, the Hyperpro fork spring kept everything as it should be, even under hard braking. For pillion use, "a totally different bike" is a fair comment.
Carina didn't find the ride any more uncomfortable, she did comment that "it was a bit bouncy" on some of the lumpier roads, but that's probably due to me taking said section of road at a speed that would previously had the bike bottoming out and us getting bounced off the seat. 
For €278 (£249) plus postage for Combikit, I can honestly say that the Hyperpro Spring Kit is the best value for money upgrade you can make to your Africa Twin. MT