Paul Jennison rounds up cool gear that's good to go riding with
Alpinestars New Land suit SRP jacket: £349.99, pants: £279.99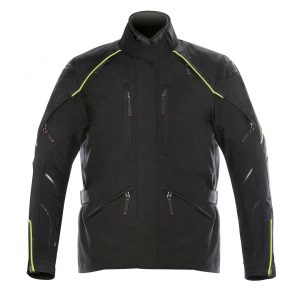 What is it? A new-season touring suit from Italian manufacturer Alpinestars
Although geared more towards colder-weather riding, this suit will perform just as well in warmer climes by simply removing the thermal drop-out liners and opening the air vents.
The outer textile fabric is backed with a fixed Gore-Tex membrane, which is waterproof and breathable. Although we'd prefer a bonded Gore-Tex, this is the next best thing and it's reflected in the price. However, it's certainly much better than a full drop-liner. The outer also features additional rip-stop and Teflon-coated fabric in the elbow and shoulder areas for added abrasion resistance.
I've been riding with this suit for the last couple of months and I have to say that it's performing well. The fit is generous, allowing for greater freedom of movement, and Alpinestars has included a longer cut in the back of the jacket for added comfort and warmth; this can be further enhanced by undoing the side zips. The CE-approved armour sits in the correct places when you put the suit on and I'm confident it will stay in place should it be called on to do its job.
The jacket has four good-sized outer pockets with zipped closures and very small flaps to help keep the weather out; they're not waterproof, however. There is a waterproof wallet pocket just behind the front storm flap, though, and additional pockets in the liners.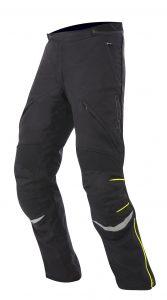 The front closure on the jacket has a strong two-way YKK zip, which is easy to locate and use even with gloved hands. The air vents are located in the upper arms with complementary exhaust openings in the back, however, these sit in front of the Gore-Tex membrane, which by its very nature is an effective wind-stopper. Opening the vents to allow cooler air in will help to regulate body temperature when riding in warmer weather, but the Gore-Tex will limit airflow. The cuffs have a zipped gusset with added Velcro-tabbed adjusters for a snug fit, but these will also allow for gloves to be worn inside the sleeves.
The thermal drop liner for the jacket is warm and comes in a good length to keep out the cold. The collar has a fleece backing for added comfort and warmth. There is a full connecting zip which corresponds with the trousers.
Moving on to the trousers, these have two side pockets (again, not waterproof ) and zipped thigh vents for cooling. The legs also have good-sized side zips on the gussets, which will help accommodate larger boots, and additional Velcro tabs to fine-tune the fit.
The trousers come with detachable braces, to stop them slipping down when walking around away from the bike, but unfortunately there is no hip protection supplied with the pants. CE-approved knee armour comes as standard, though, and the suit also features reflective zones with yellow-coloured piping for increased rider safety in poor or night-time conditions.
In a Line: a versatile touring suit that does the job in bad weather and is comfortable on and off the bike
BioLite Campstove SRP £149.99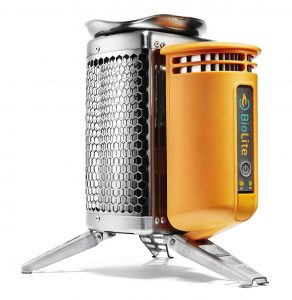 What is it? A smart stove for the techno-camper
When off on an adventure ride or spending a few nights under can- vas, it's likely most ABRs will take a stove, to make hot meals and drinks. It's also likely they'll pack a few high-tech gadgets too, like a camera or maybe even an iPad, in which case the BioLite could be the ideal adventure stove, as long as you're okay with hunting out kindling.
Once the stove is assembled and the burner is stoked with lit kindling, the heat it gives off will not only cook your dinner, it also powers a thermoelectric generator, which in turn powers a fan that helps fuel the fire for much greater efficiency.
The generator also produces enough spare electricity to charge your phone, camera or any other USB-powered device you may have brought with you on your travels.
At just under a kilo, it's a little on the weighty side, but the 21x13cm pack size isn't too prohibitive and is certainly no bigger than some other stoves that include a fuel cell.
Depending on the strength of the fire, the BioLite will boil a litre of water in around 4.5 minutes while also charging your gadgets. Not many stoves can help keep you fed, watered and in touch with the real world!
In a Line: A nifty bit of kit for the gizmo-crazed ABR – just make sure there's plenty of dry fuel about!
TCX X-Desert Gore-Tex Adventure Boots SRP £259.99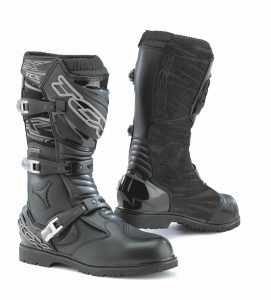 What are they? A full-on touring/adventure boot with plenty of protection
Released at the NEC Motorcycle Live Show late last year, these boots are all new for 2013. The outer, which is made from full- grain leather, features a Gore-Tex liner, to keep the water out while still allowing your foot to breathe.
Protection-wise, these boots are like a cocoon. From the reinforced toe box and the PU-covered heel and shin guards to the ankle armour, your feet and lower legs are well shielded. Whether you're on a tarmac tour or venturing off-piste you'll have the peace of mind that any low-flying objects are not going to cause you too much of a problem.
There are three adjustable aluminium buckle fasteners and a Velcro flap at the top of the boots to secure them onto your feet and legs. An elasticated cuff allows you to tuck your trousers inside the boots for a better fit and improved water resistance.
These boots feature a good tread which offers maximum grip. The sole and foot bed are both strong enough to withstand reasonable lateral crush impacts in the event of an off while still being flexible enough to walk around in when the bike's parked up.
They're available in EU sizes 38 (5) to 48 (12) but I'd advise going a size larger than your usual shoe size to accommodate a thicker sock.
In a Line: They look the part and perform well to boot