CAUGHT ON CAMERA
Fancy yourself as the next Claudio Von Planta? Paul Jennison's in search of the perfect helmet cam
It seems most ABRs (me included) not only want to take snaps while out riding but also want to film their exploits and post them up on the tinterweb, if not for worldwide YouTube glory then at least to impress family and friends with feats of daring biking do. Whether it's that Sunday morning blast to blow away the cobwebs, a trail ride in the glorious British mud or that epic trip across seven continents, we want to share our passion with anyone who'll sit still long enough to watch it. And let's face it; we all love a good nose at a fellow ABR's video collection.
A few years ago, bikers would come up with all sorts of innovative ways to strap a camcorder to their bikes or bodies in an attempt to capture the moment. No matter how clever the camera solution, the effect was always pretty limited.
On-board cameras soon became the norm in motorsport, and once the technology was there, all that remained was for someone to develop an affordable, simple-to-use version that any guy on the street could master. Skip forward a few years and the camera manufacturers have achieved it in style. Now there are cheaper camcorders available which can be fitted just about anywhere, so we can capture our rides in glorious HD with graphic colours and clear sound, without breaking the bank.
POV
A preferred camera option among ABRs seems to be one mounted on the helmet. This elevated position gives the best view angles and by simply turning your head it will allow you to capture the full panorama of the landscape through which you're riding.
There's also the option of mounting the camera directly onto the bike. Various mounts are available for this purpose and in my experience the better ones are the ball-and-socket type; these mounts tend to be the most flexible. I've seen and used a few ball-and-socket mounts and although the camera is in a fixed position, it can be located to capture unusual angles either forward or rearward facing. With so much versatility, it's really up to you where you mount your camera. Of course, if you choose to locate it in a tricky position on the bike then it will require a lot of stop-starting to operate it. That is unless you opt for the wireless control type, then it's happy days!
What is High Definition?
Let's try to keep this simple. Like all things in this technological age a lot of the detail is in jargon that if we're honest we don't fully understand, but because there are a lot of numbers and letters, we assume that it's good and the higher the numbers the better the thing must be – right?
So in terms of explaining High Definition (HD) think of televisions. We should all by now receive digital TV as opposed to the analogue signals we used to get. Digital TV screen resolution is composed of vertical scan lines. The standard used for digital signal is around 480 lines whereas a High Definition screen will be composed of 720 or 1080 scan lines, making the images sharper.
If we therefore convert that to the frame rate or video resolution for a camera, the ones in this test operate from 720 up to 1440 so they all capture their images in HD, giving the user the best results.
It's worth bearing in mind, however, that if your clips are uploaded to the likes of YouTube they will be compressed and therefore won't be as clear as when played directly on your TV.
Features we like…
LCD screens Positioning the camera to record what you want filmed has to be paramount. It's no use pointing it in the general direction and ending up with either a load of sky or a great shot of the ground. Sometimes it's trial and error if you haven't got the facility to see where you're aiming, but if your camera has either a built-in LCD screen or a remote monitor then you can see what's in the lens and adjust it accordingly. It's worth the extra bit of outlay to have this facility, especially if you're capturing a once-in-a-lifetime ride!
Wireless remote control If you choose to helmet mount your camera or place it in a location where it's going to be out of reach while you're riding then what could be simpler than having a wireless remote that can control when and where you film? No more fiddling around in the dark.
Wi-Fi and smartphones The new generation of cameras have the facility to enable a Wi-Fi connection to your smartphone and many also have free apps, which can be downloaded. Then it's just a matter of pairing the two devices and you can see and control what your camera is seeing and doing from your phone's handset.
Audible operation tones It's a reassuring thing to hear a 'beep' when you press a button. If I've got my camera helmet mounted and don't have the luxury of a remote, then it's nice to have audible confirmation that the thing is in the right mode and doing what I want it to be doing before setting off.
Simple user instructions If an operating manual takes up more room in the box than the camera and its accessories, it's not going to make for happy reading. I think the makers are beginning to see this, too. Coupled with the cost of producing a manual, a lot of manufacturers are turning to a download on the internet. Mercifully a lot of them also have a quick set-up guide that will make your camera usable within an hour of buying the thing.
Media Cards
As technology leaps ever forward everything is becoming smaller and more powerful. No longer do camcorders rely on cassette tapes that wear out with use, not to mention the recording heads that suffered from dirt build-up. Now everything is recorded onto Secure Digital (SD) cards, which can be used over and over again. All the cameras we have tested here take Micro SD cards, which are smaller still.
As the camera records it needs to save a steady stream of data, quickly. The resolution and format determines the amount of data the camera can record, for example 1080p (pixels) @ 30fps (frames per second), so the higher the class of card the quicker it saves the data, therefore the recording is done at an even and sustained rate.
Some cameras will stipulate what class of card they need. Cards are classed as either 2,4,6,8 or 10 and the price of the card will increase with the class number. Go for the best card you can afford for the best results!
Roadhawk Ride SRP £149.99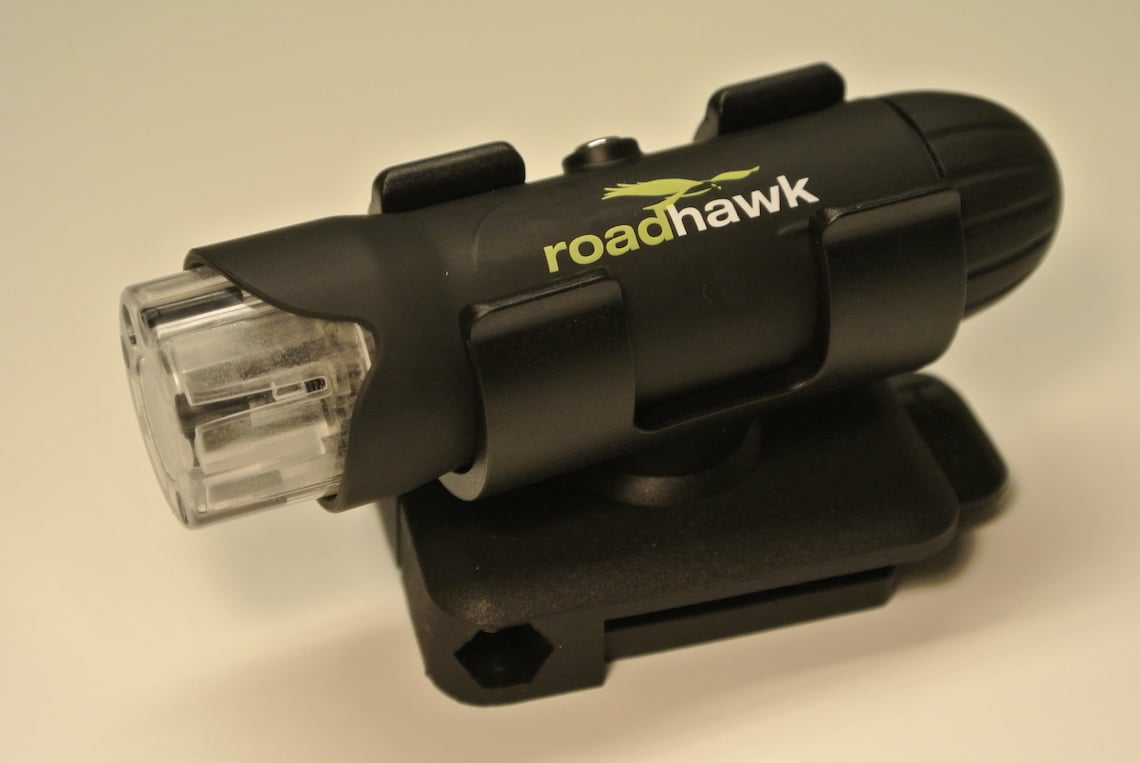 The Roadhawk Ride is a 'bullet' camera, and as such it's small and easy to use with basic functions. It's not hi-tech but can record decent-quality footage on its 720p @ 30 fps HD video. I've seen cheaper bullet cameras but this one is well built and comes with a lot of accessories. For the money, it's a good start point if you want something simplistic to begin with or as a second camera to record extra footage from a different angle.
In the kit there are several mounting options. These are predominately helmet mounts, but I dare say they could be sited on the bike itself. Most of the mounts are static in their angle, but there is one which rotates and tilts to give you the best field of view. Of course, without an LCD screen to view your shot, this camera will be a case of trial and error; you're not going to know what's been filmed until its downloaded and viewed. What I do like, though, are the power leads, which allow the camera to be hooked up to your bike's battery and charged on the move. With the 8GB micro SD card, which is included in the kit, you'll get around two hours' recording time. The unit will take a 32GB card, with will give you up to eight hours recording time.
The unit is waterproof down to 10m so long as you remember to fit the sealed end cap in place of the vented one, which enables full audio. Operating instructions are included, but thankfully due to its simplistic design, these are easy to understand and not at all wordy.
I opted for the simple helmet fit, and once I'd worked out the best position and angle to capture my ride, I was ready for the off. There's only one operating button, which isn't backed up by any audio beep, but it does have an LED display if you can see it (it may be that you need to do a good mirror check!), so it's just a case of press and go. Told you it was simplistic.
Recording is in 720p @ 30fps, which is the most basic form of HD, but it captures a reasonably decent quality video. For the money this camera's okay, but I'd be tempted to pay a little bit more for my starter camera.
In a line: Basic, no-frills bullet cam and not a bad place to start
Specifications
High Definition 720p @ 30fps bullet camera
3MP sensor
H.264 video encoding
MP4 playback for Mac and PC
Waterproof to 10m
Time/date video stamping
Loop recording (five-min segments)
Advanced cabling supplied for connecting to external power 12v/5v
90-min built-in li-poly battery
Hardwiring kit for bikes/cars
Pro camera mounts
8GB (two-hour) SD card supplied (accepts up to 32GB)
One-touch record operation (automatic when connected to vehicle)
Dimensions: 22x78mm
Weight: 32g
ABR Rating 5/10
CamOne Infinity HD 1080 Action camera SRP £159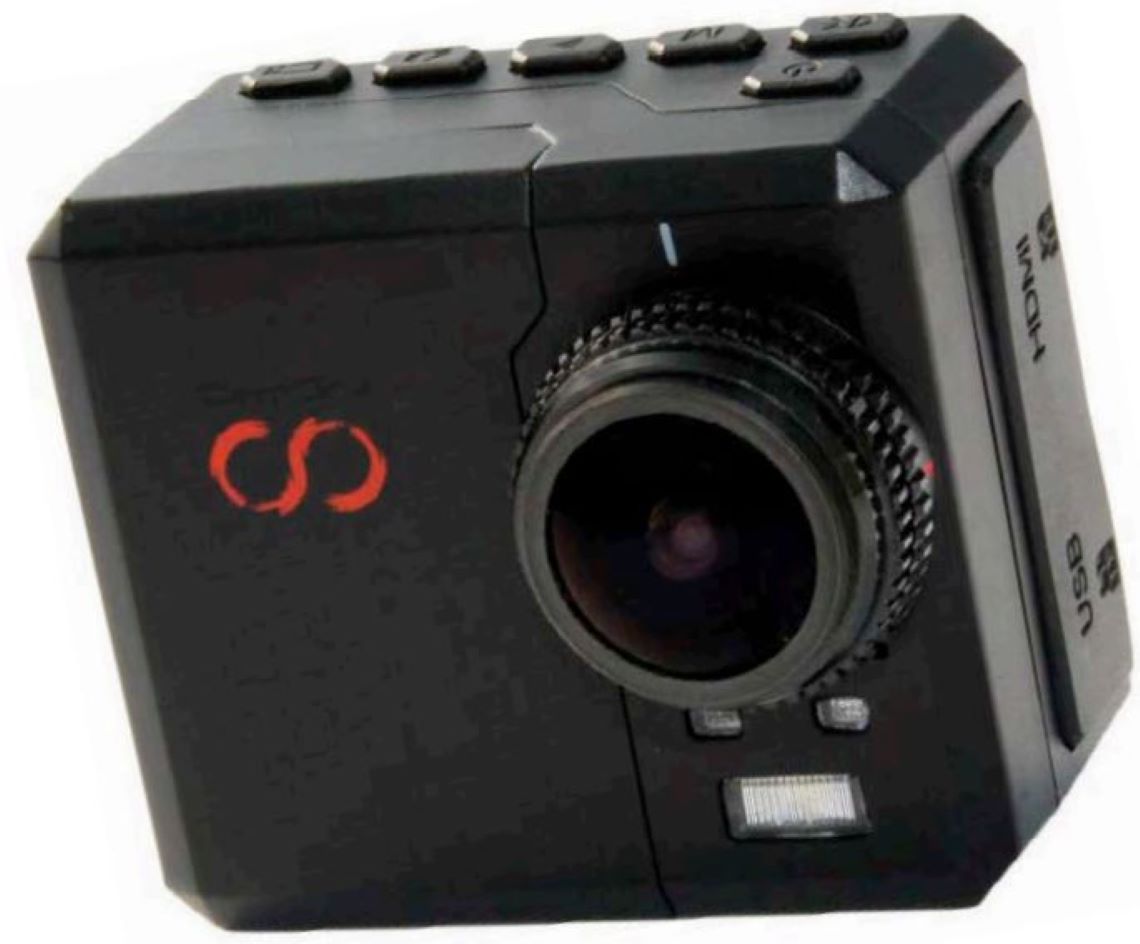 When I first reviewed this camera last year, I was impressed with its quality and simplicity. Back then it was retailing at just over £200.
Now the price has dropped to a smidge under £160, which makes it all the more appealing. It's nice to see prices that reflect these austere times; they should have a word with the oil companies and get the fuel prices going the same way!
The CamOne Infinity comes with helmet and handlebar mounts so straight-away there is flexibility. I started with the lid mount and stuck it to the left side (non-throttle hand) for easier operation on the go. There are also connectors provided, which give you plenty of adjustment for the perfect angle. Although the camera isn't waterproof it comes with a waterproof dive box that's good for depths of up to 40m so you could take it scuba diving if you're so inclined. Bike mounting it using the handlebar mount is fine if you have the space for the clamp, however I opted for the RAM mount-type fitting as there's a facility on the camera or dive box for a standard screw-in ball socket.
The camera body itself is small and quite robust but the beauty of it is it has an inbuilt 1.5″ TFT (Thin Film Transistor) screen, similar to an LCD screen, so not only can you see where it's pointing but you can also review your recordings. It uses Micro SD cards and it has the facility to house two of them, each with a capacity of up to 32GB, about nine hours of recording at 1080p @ 30fps. The li-ion battery will last for about two hours with constant recording before it has to be recharged, however it does come with a power lead so you can recharge it on the move or power the camera constantly.
There are two downsides to this camera: one is that there are several operation buttons which you need to be ofay with before you can master simple recording control, and the second is that there's no audio 'beep' to assist with this. Once you've cracked it, however, the camera's fairly straightforward to operate. You can choose to shoot either movie or stills and the quality of both is really good.
In a line: Good for the money and one I'd definitely recommend
Specifications
Video resolution 1080p @ 30 fps; 720p H/p @ 60/30 fps; 480 @ 30fps
Photo resolution 8 / 5 / 3 megapixels
Photo time settings: One picture every three, five, 10, 30 or 60 secs
Memory capacity 2 x 32GB micro SDHC cards (loop overwrite recording possible)
Output by HDMI or mini USB
Microphone on/off facility
Powered by li-ion battery or mini USB
Screen 1.5″ TFT
Dimensions: 49x42x34mm
ABR Rating 7/10
Contour Roam 2 SRP £169.99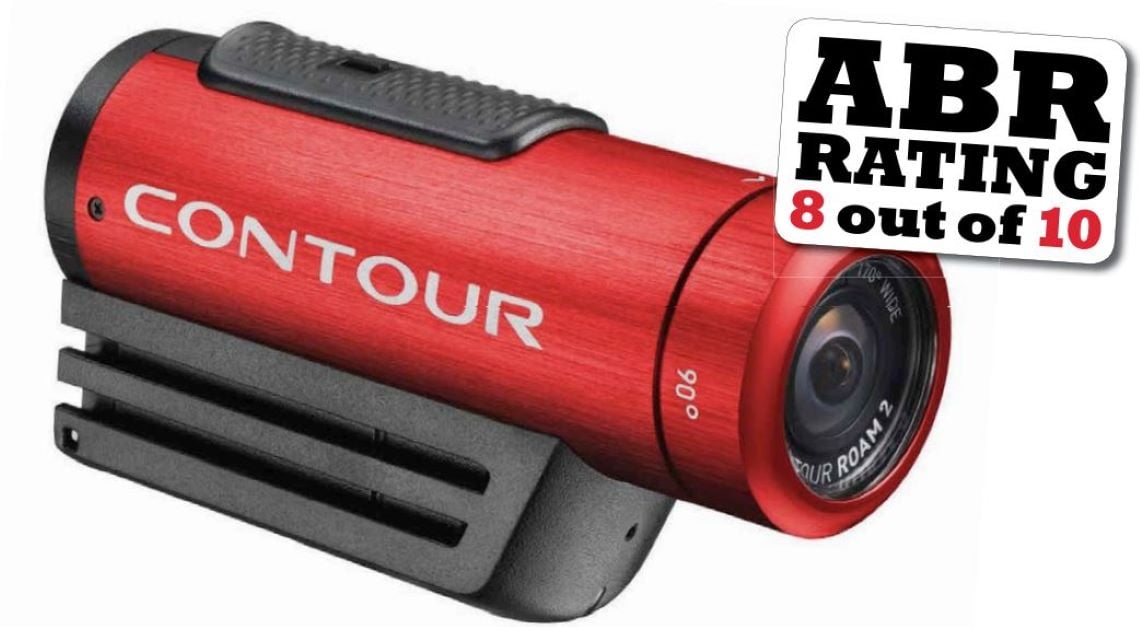 If I was looking for my first on-bike camera, then I'd probably be looking for something that's simple to use, at an entry-level price, which gives great results. If that's where you're at then the Contour Roam 2 is worth considering.
The contents of the kit are fairly basic but it's enough to get you started. Out of the box, it's really a helmet-mounted unit with two adhesive mounts which will stick it either on the side or on top of your lid. One of the mounts has to be angled just right to obtain the best field of view before it's stuck down, so a bit of fiddling is involved (have some gaffer tape and a marker pen handy!) The other mount has a 360-degree rotation but no lateral adjustment, so again a little bit of fine tuning is required. Other mounts are available as extras, so you can build on these, or you may be handy enough in the workshop to produce your own.
The camera itself is a nice solid unit with an alloy body. The other component parts all have that precise engineered fit and they feel strong enough to take a fair amount of wear and tear. Its waterproof to 1m so will withstand heavy rain or a shallow dunking.
It comes with a 4GB micro SD card (it will take up to 32GB) with adapter and a USB lead for charging or direct downloads to your computer. A small carry pouch completes the kit. So there isn't a lot in the box. The simple operating instructions can be found online and these are really easy to understand and follow.
Although once fitted the camera is in a fixed position the lens has a full 180-degree rotation that allows you to shoot on the desired plain. It also has a 170-degree wide-angle that will capture just about everything it's pointing at.
With the memory card inserted and the battery charged, the lockable on/off switch can be slid forward to start recording and back to stop. This is accompanied by a loud audible 'beep', which lets you know it's working. It couldn't be simpler.
Recording in HD 1080p @ 60fps, the Contour delivers a really good quality video that will capture your ride perfectly. Or you can choose to use the still photo mode shooting at 5 megapixels taking a photo every one, three, five, 10, 30 or 60 seconds.
In a line: The best value-for-money entry-level cam on test
Specifications
1080p @ 30/25fps; 960p @ 30/25fps; 720p @ 60/50fps; 720p @ 30/25fps
170° field of view
H.264 Codec
MPEG4 file type
Advanced Audio Codec (AAC) I Internal microphone
5MP Still photo
Shoots JPEG file type
Timelapse options: one, three, five, 10, 30, 60 seconds
Built-in battery lasts up to 3.5 hours
Waterproof to 1m
Accepts up to 32GB class 6 micro SD card
Dimensions: 100x59x34mm
Weight: 145g
ABR Rating 8/10
Midland XTC-300 Full HD SRP from £199.99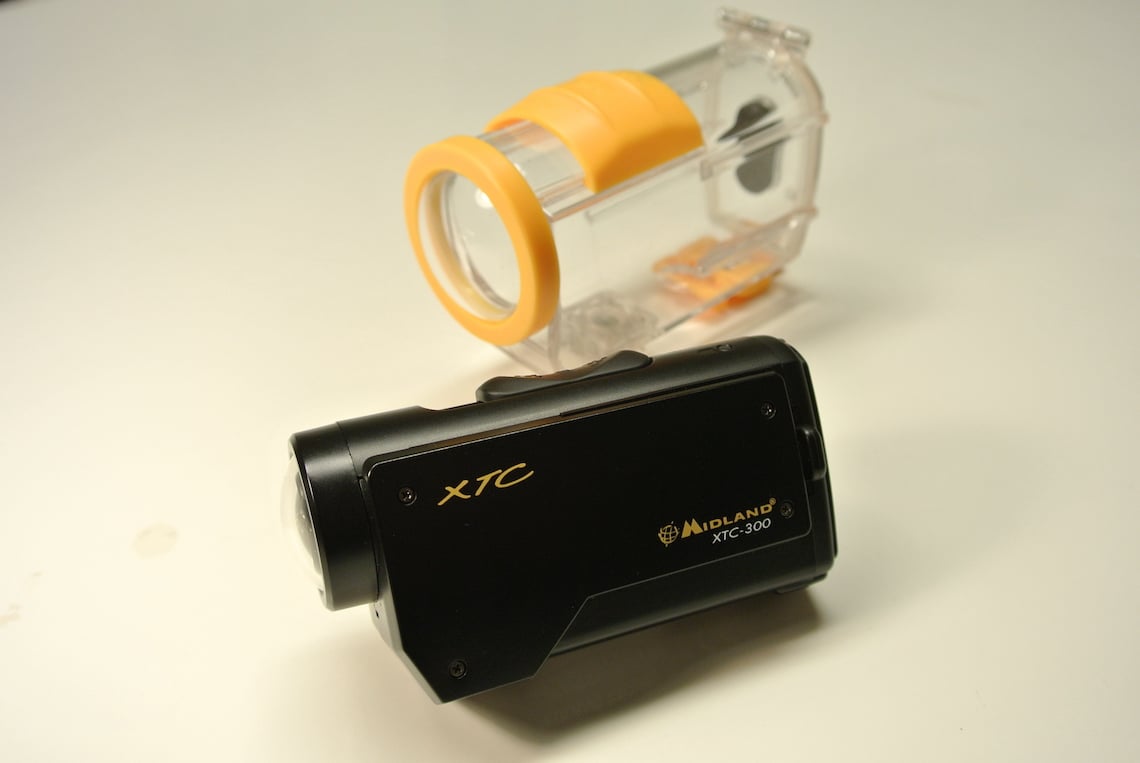 Midland is a name I know from radio communications and motorcycle intercoms; I hadn't realised the company had started producing action cameras. It's only a small range but if it can maintain the same high standards as goes into its radios, I can see Midland developing a name for itself in the field of helmet cams, too.
The XTC-300 is a full HD camera that can be mounted on either a helmet or the bike. The kit comes with several types of mounts to attach the unit to a helmet, goggles or handlebars. The unit itself isn't waterproof so comes with a fully submersible housing which will protect it to depths of up to 30m, so puddle splashes and river crossings aren't going to faze this camera.
With the waterproof housing the camera weighs just over 200g making it slightly heavier than most of the others on test. This may be noticeable to some when it's helmet mounted. The camera and its housing will accept the standard screw-in adapter to make it suitable for use with the ball-socket type mounting system or even a tripod.
The camera uses a rechargeable lithium battery that could give up to three hours of continuous recording and could be recharged on the bike if you have the facility to plug it in.
A good quality micro SD card up to 32MB is recommended for use in the HD (1080p) video mode.
The camera has no TFT screen to assist in setting up the view finder, so it's down to trial and error again, but the camera does benefit from a 140-degree wide-angle lens, which gives a reasonable field of view and compensates if the angle is not quite right at set-up.
For ease of operation there's only one slide tab on top of the unit, which turns the camera on and starts recording. This corresponds to a slide tab on the housing. There's an audible 'beep' and three LEDs for confirmation of the various modes, but the 'beep' is harder to hear when the camera is inside the waterproof housing.
Once it's mounted up and set to record at the full HD rate of 1080p @ 30fps the quality of the video I shot was good for a mid-priced camera. The XTC 300 doesn't have a still photo facility but that wouldn't put me off what is a nice, simple-to-use camera.
In a line: A good cam let down a little by its excessive weight
Specifications
1920 x 1080 Hi-res; 1280 x 720 Med- res; 848 x 480 Low-res
30/60 fps
140-degree wide-angle view
110g weight (203g with waterproof housing)
MP4 video format
Compatible with Win XP, SP2, Vista, 7 and Mac OSX x 10.4+
ABR Rating 6/10
Braun SixZero SRP £229.99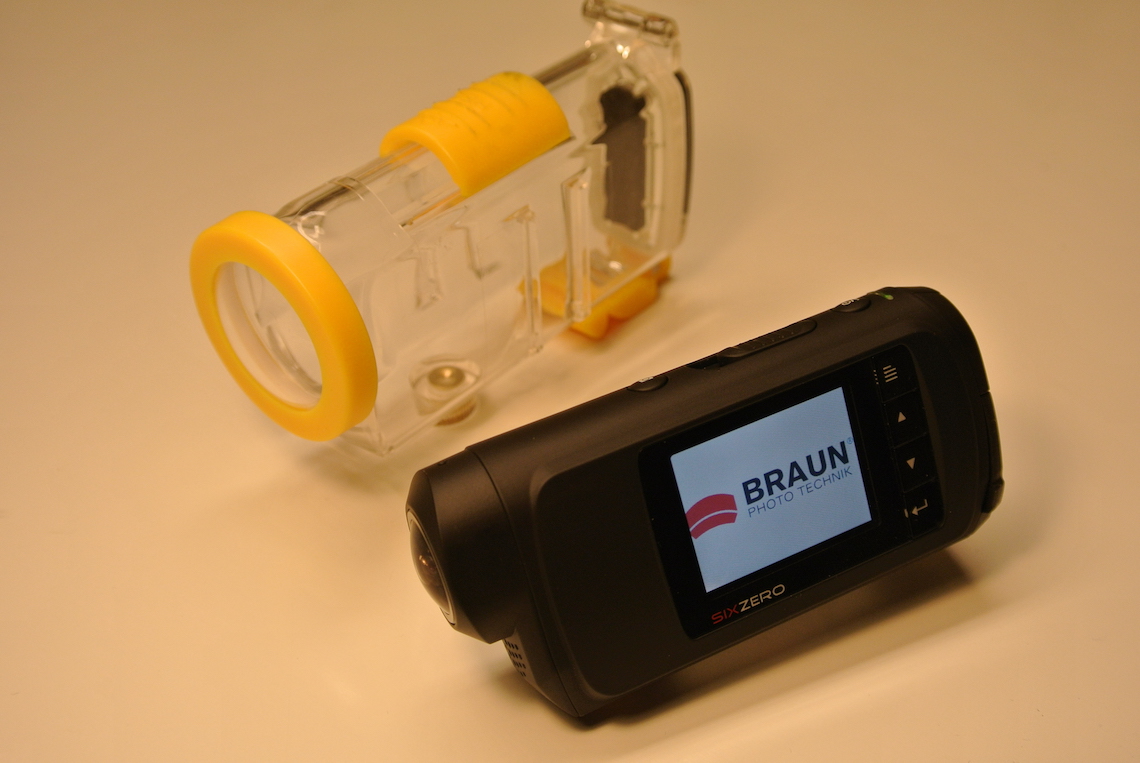 The SixZero from Braun Photo Technik is a full HD action camera that comes in a compact, lightweight package, which can be helmet or bike mounted. From my experience with it, the simple operation of this camera, either on its own or via the wireless remote control, will deliver some pretty good results.
The kit is fairly comprehensive with helmet and handlebar mounts as well as a suction mount, which could be used on a clean, flat surface such as the fuel tank. It could also be tripod-mounted or used with a standard screw-in adapter for a RAM ball-socket system. Care is needed when mounting it to the helmet to ensure that the forward angle is just right before sticking it into position as the mount only allows for lateral adjustment. This can be achieved with the help of the small, integral TFT screen on the camera, which will show you where the lens is pointing as well as allowing you to review your footage before you download it. Other accessories include a USB charging lead with mains adapter and HDMI lead (useful for TV playback) and an external microphone.
At only 95g it's a small, lightweight camera, but it's not waterproof until it's inside the supplied housing, which takes it up to 161g, but even then it's not an onerous size or weight.
Unlike some of the other cams on test, the auto-rotate function means that even if the camera is mounted upside down or on its side it automatically rotates the image, ensuring that up is always up. The on/off switch is on the top of the unit and then there is a simple slide tab for recording with an audible tone for confirmation. I mentioned the small TFT screen which is on the side on the cam along with the menu buttons for set-up and playback. These are not accessible once the unit is inside the housing but the on/off and record tabs are operated via a single slide toggle that does both. There is a zoom facility, but again this isn't usable once the camera's inside the housing. The wireless remote will facilitate a change of modes from video to stills as well as stop/start recording.
Recording is by means of a micro SD card (not supplied) and it will accept cards up to 64MB in size. A fully charged battery will give up to two hours' continuous recording at 1080p HD and will take around four hours to recharge.
In a line: A sturdy, easy-to-use cam that gives great results – shame there's no SD card included
Specifications
170-degree angle field of view
1080i 50/60 fps; 1080p 25/30 fps; 720p 50/60 fps
3,0 MP Sensor
1.5″ LCD
Lens F/NO=3.2, 170-degree wide-angle lens
Supports 64GB micro SDXC cards I Data rate 18MB/s (about 8GB per hour at full quality)
Output pixel 3,0 MP, 8,0 MP
Electronic shutter
Focal distance 100mm-infinity
Dimentions: 89.4×42.2×22.4 mm
Weight: 95g
ABR Rating 7/10
Drift Ghost SRP £299.99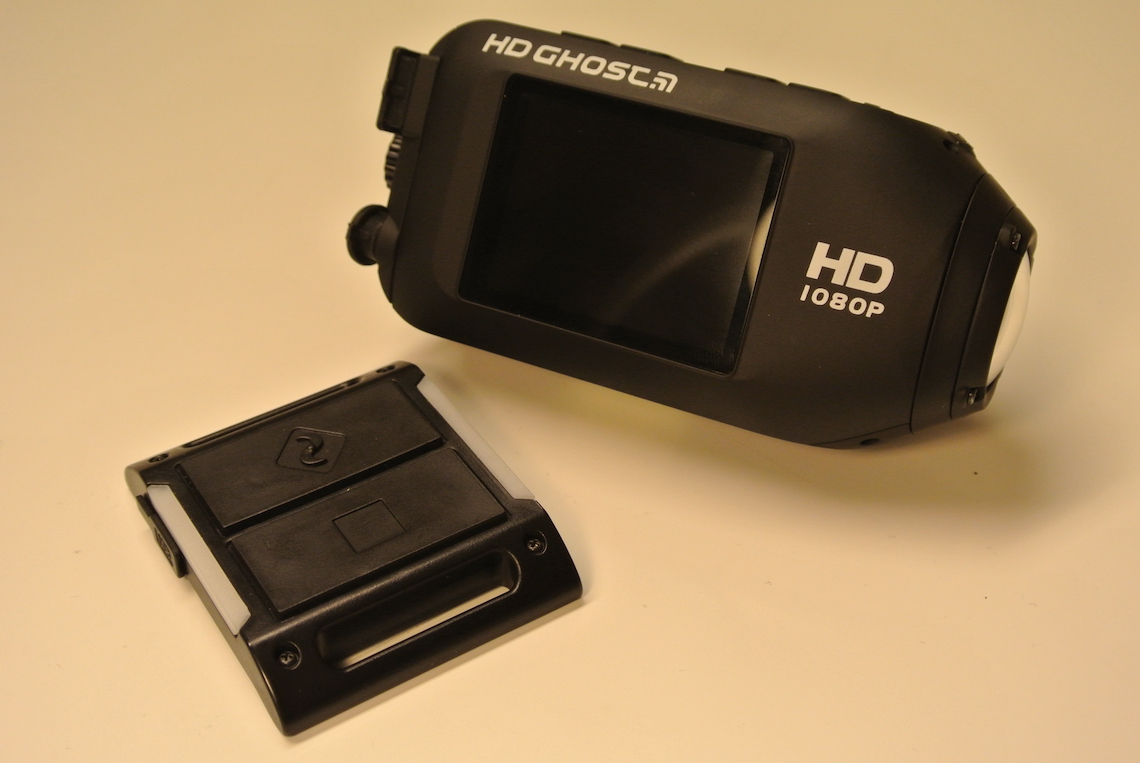 Following on from the successful Drift Stealth helmet camera, which I know has been used by quite a few ABRs to capture their exploits, Drift Innovations has made a few alterations and bought out the Drift HD Ghost.
It's priced at the higher end for the cameras in this test but you get a really good unit for the extra outlay. The Ghost now features Wi-Fi connectivity, which means once you've downloaded the free supporting app to your smartphone you can control and view what the camera is doing via your handset.
As well as Wi-Fi there's a wireless remote that can be worn or handlebar mounted for even more flexibility on the move. Once either one is paired with the camera all you have to do is switch on the unit and the rest is managed by the remotes.
The box contains two self-adhesive helmet mounts, one flat the other curved, and a larger goggle-strap mount and a Velcro wrist-strap for the remote. The camera is attached to the universal clip which allows for full rotation of the unit. This can then be clipped into any of the provided mounts. With the fully rotating clip the angle on the camera can be adjusted to the desired position. The lens on the until can also be rotated to further fine tune the angle. this can all be monitored via the 2″ TFT screen, which is also really useful for reviewing your footage while you're out and about.
The camera itself is slightly lighter than its predecessor weighing in at 167g including the battery. It has a fully waterproof housing that's good to 3m, which is handy if like river crossings. The remote, however, is not waterproof, so best try and stay upright!
It will take up to a 32GB micro SD card for storage and a USB lead for downloads and charging is included. Thankfully the instruction booklet is small and clear. Once you digest its brief contents, operation of the Ghost is quite straightforward via the four buttons on the unit itself.
Recording in full 1080p you can choose a field of view from 90/127/170 degrees for either narrow or wide-angle and the quality of the video is really good. The Drift can also be used to capture still images at 5/8/11 megapixels.
In a line: Tough and compact, the Drift Ghost takes some beating
Specifications
1080p @ 30/25fps; 960p (4:3) @ 50/48/30/25fps; 720p @ 60/50/30/25fps
WVGA (16:9) @ 120/100/60/50/30/25fps
File format: MP4/.MOV (H.264 co- dec)
90, 127, 170-degree field of view @ 1080p
170-degree field of view @ 720p
Focal range 0.5m-infinity
5/8/11 megapixel photo mode
1700mAh rechargeable li-ion battery (included) (DC 3.7V)
Build-in, noise reducing microphone
2.0″ colour TFT Screen
Waterproof to 3m
Remote range: 10m
Dimensions: 105x52x33mm
Weight: 167g
ABR Rating 8/10
Go-Pro Hero 3 Black Edition SRP £359.99
When anyone talks about helmet or on-bike cameras, Go-Pro is the name that immediately springs to mind. The company's branding is so good, it's become the market leader in on-board action cameras, regardless of the activity you're involved in. It was certainly the first camera on my list when starting this review.
The Go-Pro Hero 3 Black Edition is presently top of the Go-Pro range. It's smaller and lighter than earlier models at 60x40x30mm (without housing) and 73g and is two times faster in terms of resolution, frame rate and low-light performance. It also includes Protune, a video mode for professional productions.
As this model is the range topper, the camera specification is the highest Go-Pro offers with Wi-Fi compatibility via the remote control or a free smartphone app, which will let you control the camera functions remotely. Despite its impressive credentials (see spec box, right), the mounting accessories are minimal with just two adhesive helmet plates included, one curved and one flat. A waterproof housing is also included along with a couple of quick-release clips and a three-way pivot arm to help you obtain the best shooting angle. Unfortunately you'll need either the smartphone app or the optional LCD touchscreen BacPac (£79.99) to see the cameras' view finder or to review footage on the move. If you don't have either of these it's a matter of trial and error to get the best results, although the ultra-wide angle lens captures a lot of detail.
You'll also need to fork out for a decent-quality micro SDHC card of up to 64MB to ensure the high-quality video footage is captured at the desired speed; inferior cards will not work. With continuous recording at 1080p the battery will last for just under 90 minutes, less if you use the camera via the remote or the app.
Operation is simple with just three buttons for all the modes. These are backed up with an audible tone system and tell-tale LED warning lights, which let you know which setting you're in. The remote has the same functions and a small info screen, which will confirm your settings, battery life and the like. I found it easier to use this instead of the camera ones, especially when it's helmet mounted.
The quality of recording is superb. It's just a shame you have to wait until you can download it to see the results. On that note, best check your computer's up to the job before buying a Hero 3 or you may need to upgrade to be able to download your footage at all.
In a line: Best in test bar none, but the lack of an LCD screen as standard is woeful