Bryn Davies puts in a hard day of work testing motorcycle-friendly camping chairs.
As far as product reviews go, a group test of camping chairs has to be one of my favourites to conduct. A thorough test involves lounging around in the sun while pondering the complexities of packable furniture and describing to myself how comfortable I am. 
Fortunately, I found myself in exactly that position recently as we decided to review motorcycle-friendly camping chairs in this issue of ABR. But what makes a good camping chair from a motorcyclist's point of view? First and foremost, is how small the product packs down.
Small enough to fit into a pannier is the Holy Grail here, though I've got no issues with bungee cording an appropriately-sized chair to my panniers.  Then, the chair must be easy to erect. A lot of the kit on test here will require some form of construction, and at the end of a long day in the saddle you don't want to be faffing around with your seat to make sure it's sturdy enough to sit on. 
Once it's up, there must be adequate comfort, sufficient stability, and feet that don't sink into the ground as soon as you sit on the thing. Creature comforts like drinks holders and built-in pillows are all preferable, though not essential.
You'll also want to consider how agile you are, and whether you'll find it difficult to get in and out of a chair that sits close to the ground. I've mentioned in these reviews, where necessary when a chair is low down. 
With all of that considered, you'll also want to finally check to make sure the camping chair has been designed to carry your weight. Manufacturers will specify the maximum load capacity of a chair, and I was surprised at how low some of them were. 
Mountain Warehouse Lightweight Folding Chair
£24.99 | www.mountainwarehouse.com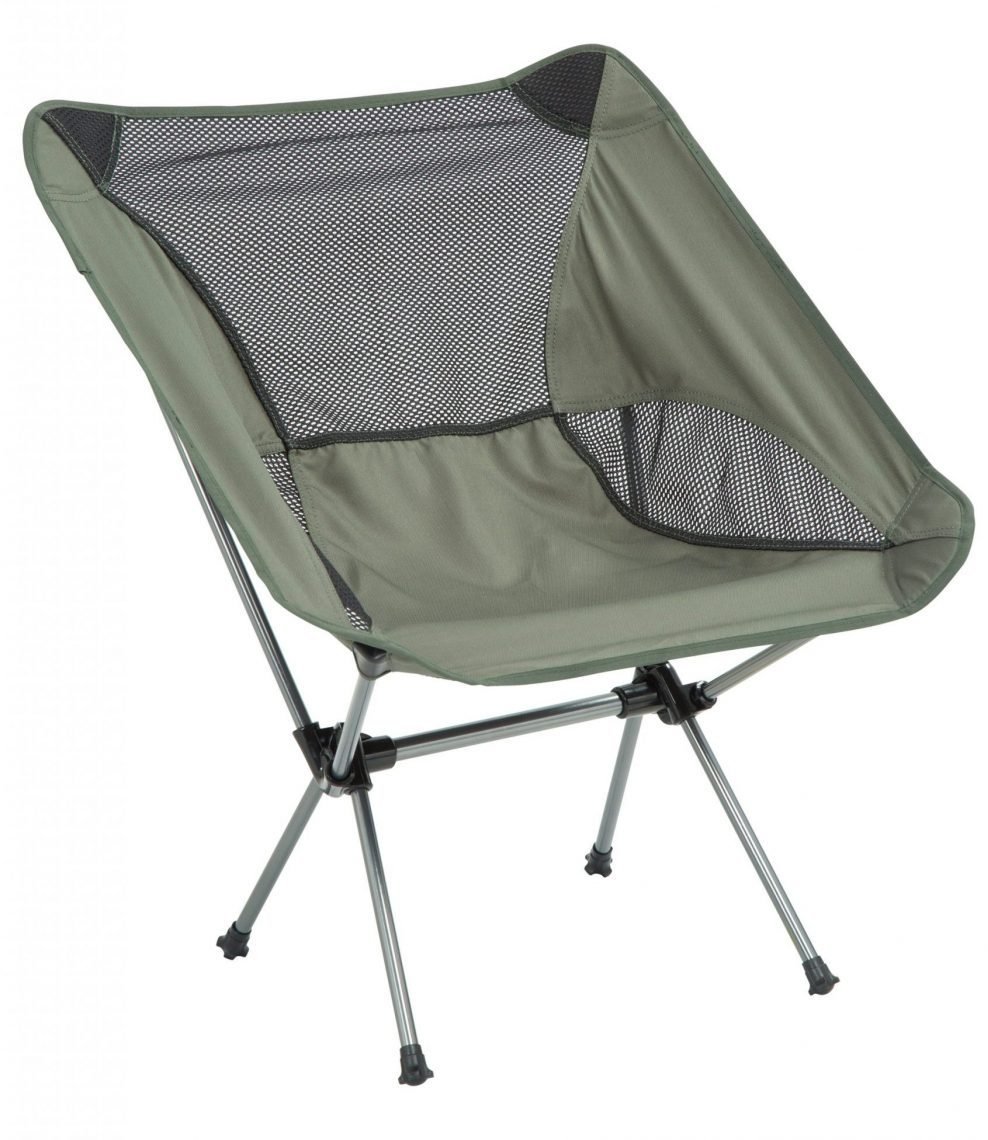 This is the cheapest chair in the review but also, on the face of it, one of the most appropriate for motorcycle touring. Its small pack size of roughly 36x12x13cm (which is a few centimetres longer than the magazine you're holding right now) means it'll fit snugly in your panniers or be easy to slip under some bungee cords.
There's a neat Velcro tidy, which keeps the legs all together when not in use, and the carry bag is useful.
A maximum weight allowance of 80kg is disappointing however (I'm currently fluttering around 115kg), and the chair does feel precarious even for those under that. Its close-to-the-ground seat can also be tricky to get in and out of (especially in bike boots and trousers), and there's no can holder for the all-important end-of-day tinny. 
IN A LINE: It's cheap and cheerful, but weak and puny.
ABR Rating: 6/10
Regatta Isla
£25 | www.regatta.com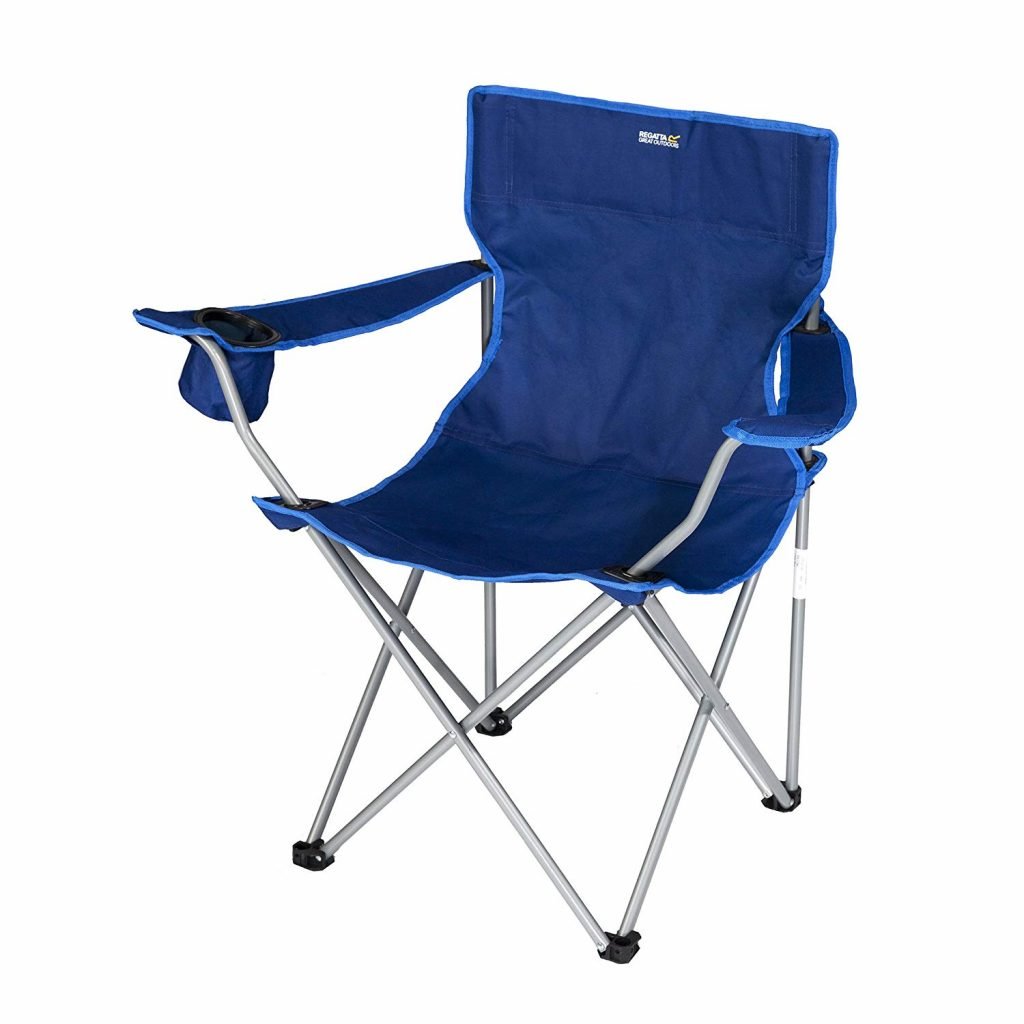 At just £25, the Regatta Isla is a great purchase if you're looking for a cheap camping chair that's comfortable and minimal fuss to pack up and down. In use, The Isla has got a high seating position, and it's the easiest chair in this group test to get in and out of.
The inclusion of a can holder is most welcome, and it's actually the only chair in this test to have one. It has a max load of 100kg, which is a bit disappointing for the heavier set riders amongst us. Where the Isla comes up short, is in its packsize.
This is essentially a 'standard' camping chair, and packability isn't high on Regatta's agenda. While I managed to strap it to our V-Strom, there would be no more room for a pillion, and I'd be constantly worried of it catching the wind.
IN A LINE: Comfortable, but has a packsize that's perhaps too big for most bikers.
ABR Rating: 5/10
Coleman Kickback Breeze
£29.99 | www.coleman.eu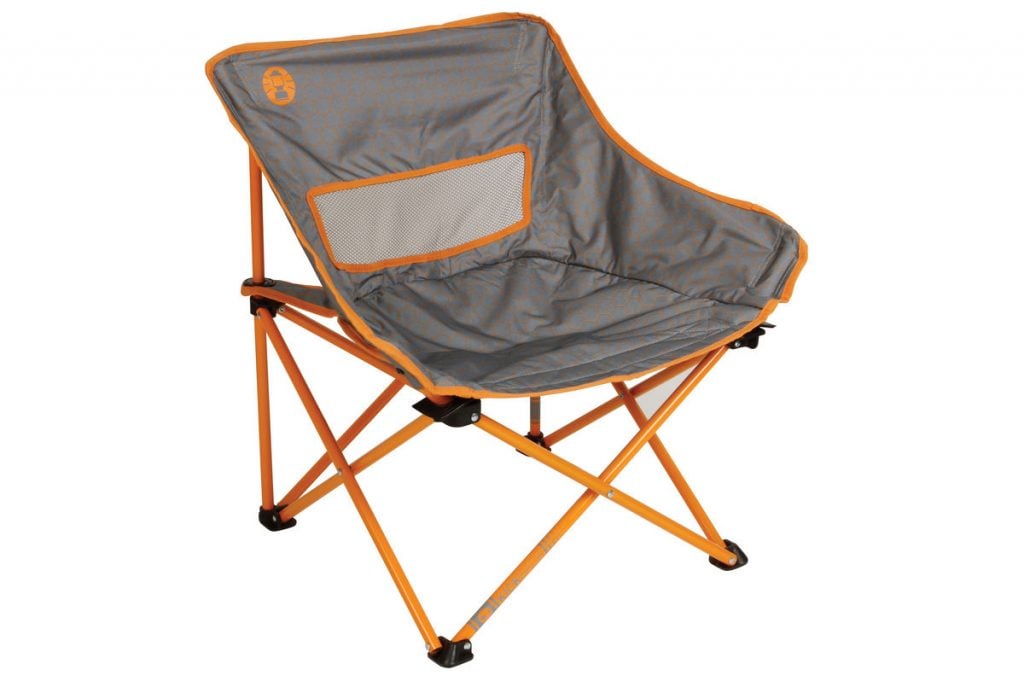 In terms of packability, the Kickback Breeze is on the cusp of what's acceptable to strap on the back of your bike, being 67x23cm when in its carry sack. While the lightweight brigade will turn their nose up at it, if you're willing to secure it onto your topbox or panniers, you'll be rewarded with a comfortable and secure perch.
A mesh ventilation panel on the back is a nice touch, and with an upper weight limit of 115kg, it should satisfy a large proportion of riders. It lacks a cup holder, though the seat is at a decent height, so you don't feel like you're sitting on the floor, and getting in and out isn't such an ordeal.
Armrests would be a very welcome addition, as would a taller back to allow you to kick back and relax in more comfort.
IN A LINE: Comfort and stability, but you'll have to put up with a large pack size.
ABR Rating: 7/10
Robens Observer Chair 
£74.99 | www.robens.de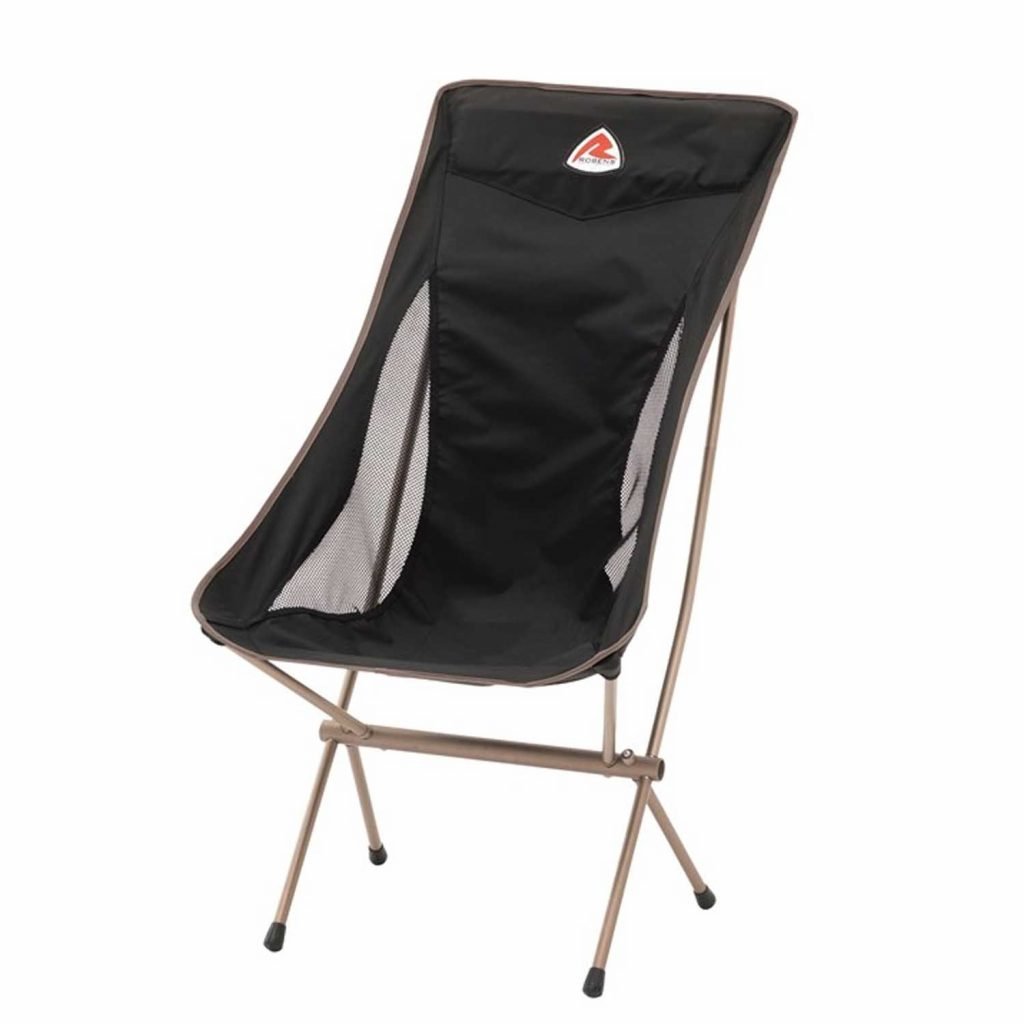 If you want to be the envy of everyone in your group, get yourself a Robens Observer. This niſt y seat packs down to 50x12x13cm, making it the perfect size to strap on to your luggage, and when it's set up it's an incredibly comfortable perch that you won't want to leave.
The supports are made with a strong aluminium that takes a maximum weight of 120kg, the high back features a cushioned top for maximum chill-out comfort. There are ventilation panels to make sure you don't get too warm, and the carry bag can be used as an underseat tidy if desired.
Comfort, packability and usability are all superb here, but I would have liked a more spread out stance for the feet to provide a bit more stability, and the chair's almost guaranteed to fall backwards with no one sitting in it.
IN A LINE: The Godfather of camping chairs.
ABR Rating: 9/1-0
Vango Microlite Tall Chair
£75 | www.vango.co.uk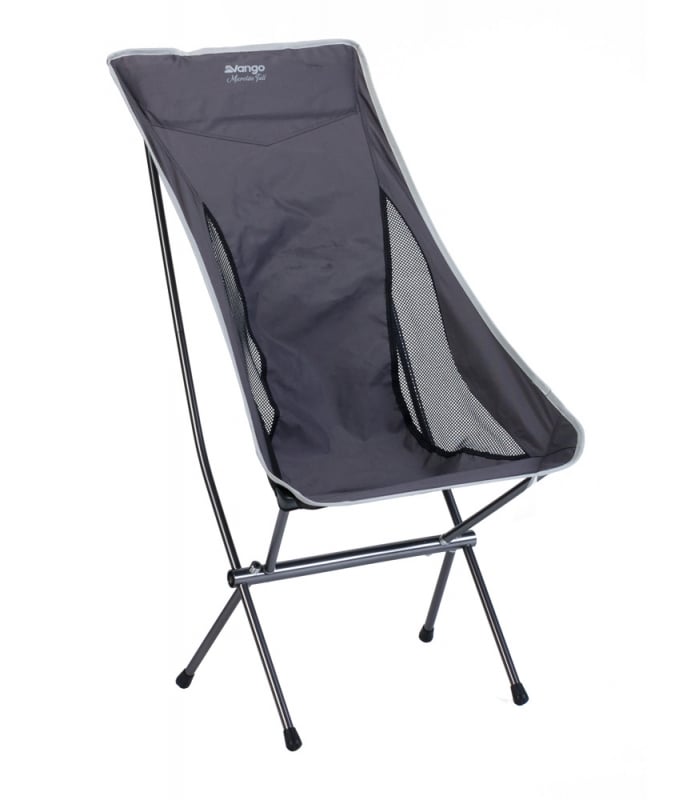 The Vango Microlite might look familiar. Essentially, it's the same product as the Robens Observer chair, with minimal difference save for the quality of materials used. The pack size is the same 50x12x13cm, and it's easy to strap on top of your luggage.
The back rises up nice and high and the seat offers great comfort with a cushioned head area. It doesn't however offer the quality of finish that the Robens Observer does, with the stitching looking poorer in quality throughout, and the aluminium supports feeling not as strong.
That said, it's a very comfortable chair indeed, but if I was stuck with a choice between this and the Robens, the extra quality of the Robens Observer would win.
IN A LINE: It's comfortable and it's packable.
ABR Rating: 8/10
Thermarest Quadra Chair
£120 | www.thermarest.com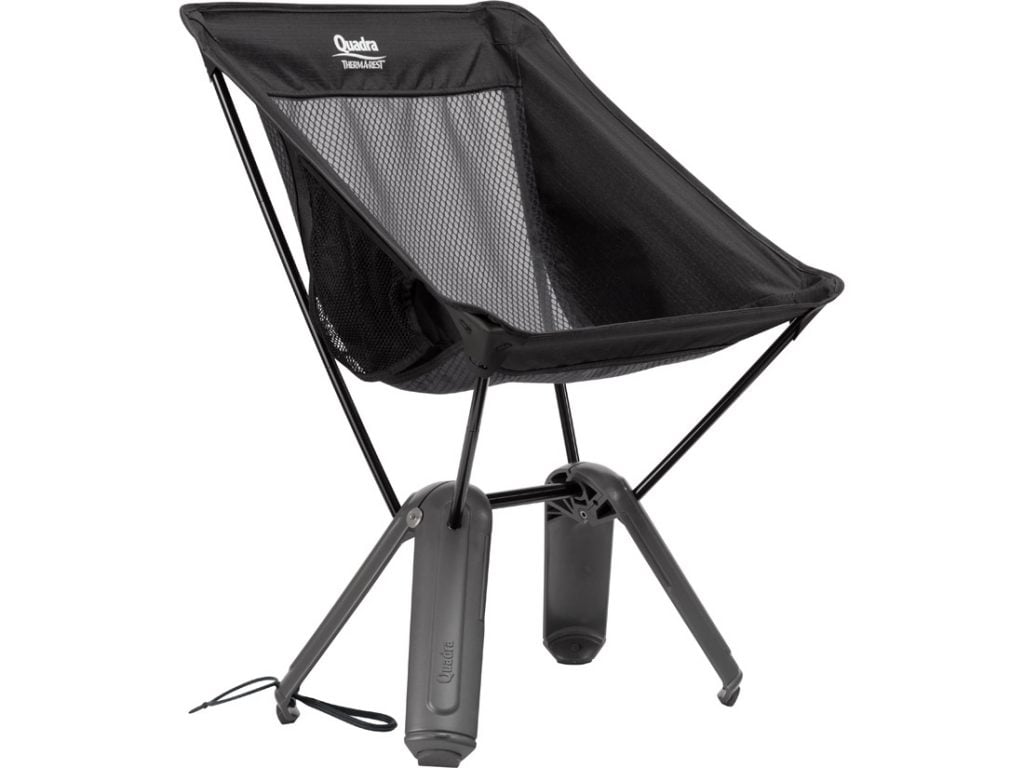 At £120 the Thermarest Quadra Chair certainly raises eyebrows and involuntary exclamations of 'how much?!', but I've got to admit, this is a pretty impressive piece of kit. Packing down into its own base, the Quadra Chair has a measly packsize of just 30x11x11cm, making it the smallest, most compact chair in this test.
It'll easily slide into a pannier or top box, and despite its tiny nature, the Quadra is a beast with a maximum weight capacity of 136kg. Erection is quick and easy, and once up it's a pretty comfortable seat, with a mesh back to provide ventilation. It's not as comfortable as the Robens Observer, and it sits closer to the ground.
A side pocket completes the setup, providing storage for items you want close to hand. If there's one area where the Quadra Chair falls short, it's in its stability and the seating position can feel quite precarious at times.
 IN A LINE: Expensive, but best for the space-conscious.
ABR Rating: 8/10