Bryn Davies puts 14 three-layer textile touring jackets to the test to find out which ones are worth your hard-earned cash.
In issue 46 of Adventure Bike Rider magazine we reviewed laminated textile touring jackets. While this type of jacket would be my personal preference on a motorcycle tour, they tend to be bloody expensive, with examples typically setting you back £400+.
This is a massive investment, and not one that everyone's willing to make, so for this issue we're looking at the slightly more affordable and wallet-friendly options out there in the form of three-layer textile touring jackets. 
If that sounds foreign to you, allow me to explain exactly what a three-layer textile jacket is, and there's a clue in the name. Three-layer touring jackets consist of, you guessed it, three layers which can all be interchanged with each other to give you one jacket that suits many occasions.
You'll get an abrasion resistant outer that will house the armour and generally help protect you from painful things, then you'll get a waterproof liner that sits inside the protective outer, and finally, you'll get a removable thermal liner that sits closest to the body to help keep you warm when the temperatures drop. 
Like any other motorcycle jacket, a three-layer textile touring jacket will need to satisfy a number of criteria. First of all, it has to look good. Let's be honest, while you might not call yourself Gok Wan, if something doesn't look good, you're going to be less inclined to wear it.
Second, it'll need to have a good, comfortable fit. If it's not comfortable to wear, again, you're probably going to be unhappy with your purchase. The fit of textile touring jackets generally favours a more comfortable, upright seating position, though it's always best to try a jacket on before you buy it, and preferably adopt the position you'd be in on your bike.
Check to make sure it doesn't ride up and expose your back when reaching for the handlebars, and that there are no pinch points when you extend your arms.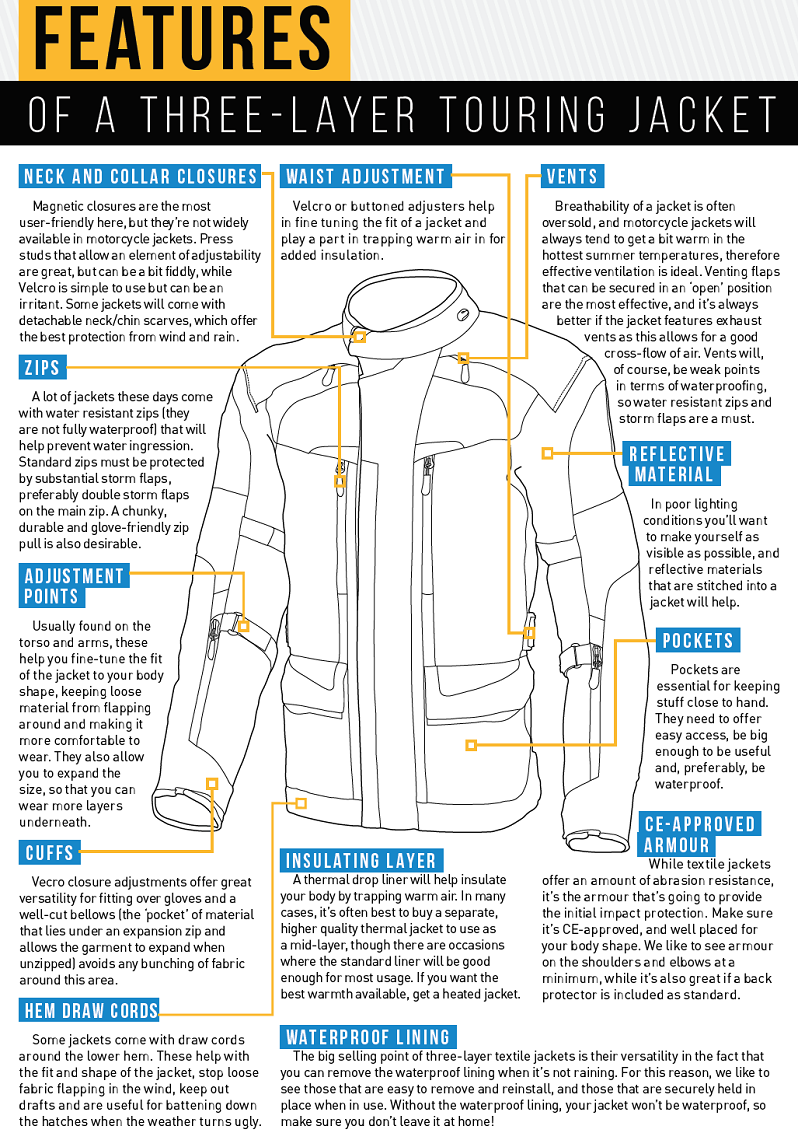 Protection is crucial, as well, and that will have to come in the form of abrasion resistance from reinforced areas, and the inclusion of CE-approved armour. We like to see this in the elbows and shoulders at an absolute minimum, though an included back protector is always welcome. For the best protection, however, it'd be worth investing in a separate, high-quality back protector that you can switch between garments. 
It's not just protection from the tarmac that's vital either. A textile touring jacket will have to offer sufficient weather protection for it to be viable for year-round use. As mentioned above, this will come in the form of removable waterproof and thermal linings.
Typically, the first thing I do is put the thermal lining in a draw and forget about it, instead swapping it out for a higher-quality insulated jacket that'll retain heat more effectively. The waterproof layers must have taped seams, and all zips must be covered by substantial storm flaps to prevent water from entering through them. 
On the face of it, this three-layer concept sounds like the answer to every motorcyclists' dreams, offering a waterproof and warm garment that can also be cool and airy in the summer months. They certainly do offer that, but to varying degrees of success, and the term 'jack of all trades, master of none' comes to mind. 
Typically, it makes very little sense for a waterproof lining to sit detached and inside the outer protective material, and you'll find that a three-layer touring jacket will get saturated with water quickly and become cold and heavy. They'll also take longer dry. 
There's also the issue of ventilation not working if you have the waterproof lining zipped in as the lining is windproof by nature, it prevents any cooling air from entering the jacket.
Of course, there's also sods law, which states that it'll start raining when your waterproof layer is inside your top box, and by the time you've pulled over, took the jacket off, inserted and zipped in the waterproof lining, you're already soaked through.
The solution to this then, is to purchase a relatively inexpensive waterproof over jacket that'll help keep your main jacket bone dry and warm, something that's essential as we enter the autumn and winter months. 
With that said, in this review we're going to be looking at three-layer textile touring jackets from across the price range to see which ones are worth the cash, and whether you need to spend more to get more. 
OXFORD MONTREAL 3.0
£149.99 | www.oxfordproducts.com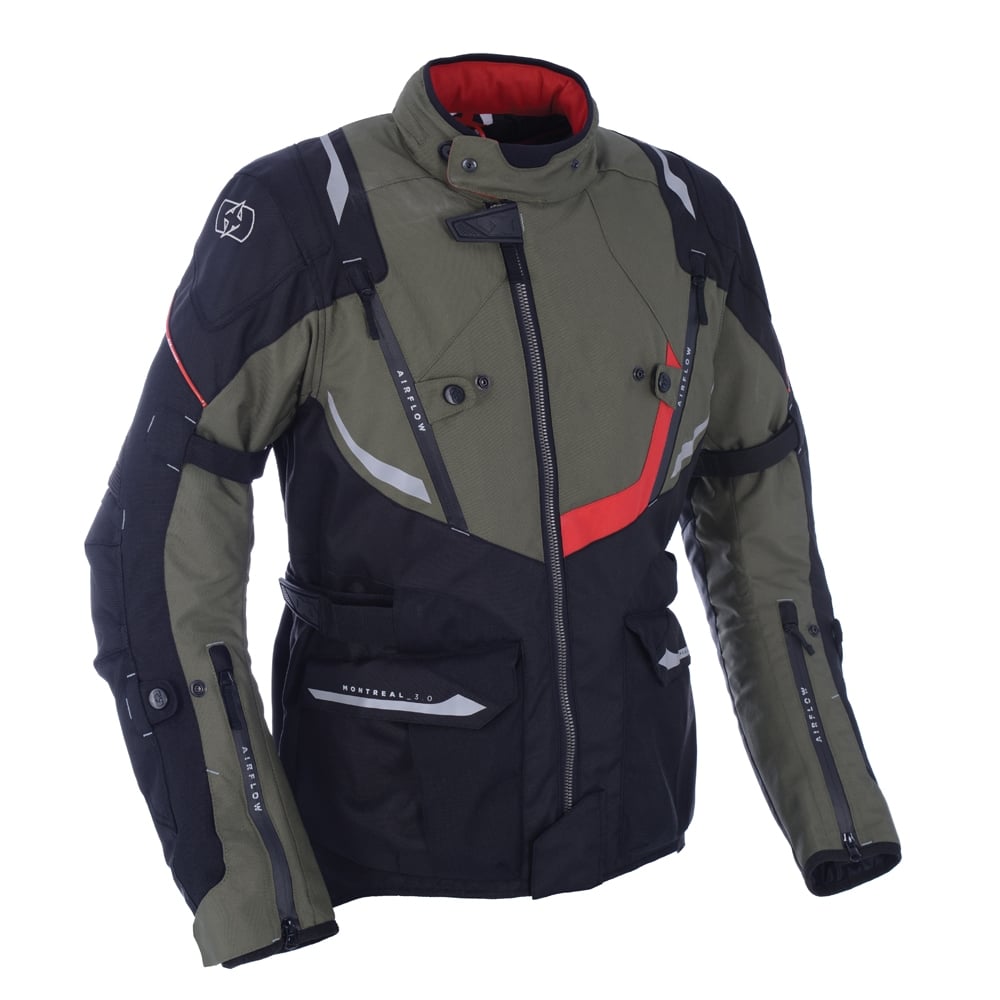 UK based Oxford Products is a company that prides itself on manufacturing a huge range of motorcycle clothing and accessories at affordable prices, and with the Montreal 3.0 we've got a very well specced textile jacket that's packed with features you'd expect to see on a product twice its price. While I don't have enough space to reel them all out here, it'd be worth heading to the Oxford website to check out for yourself. 
It really seems as though this jacket was designed by someone who put a lot of thought into it. There's plenty of ventilation to keep you cool in the summer, there's a multitude of pockets in places where you'd want them (though the two large front pockets aren't waterproof like they say they are), and the inclusion of handwarmer pockets is excellent. 
The thermal lining is of fairly decent quality, though I would be inclined to switch it out for a thicker, warmer layer in the winter months. I love the inclusion of the rain hood, which rolls into a zipped pocket on the collar – it fits comfortably under a helmet and helps stop rain dripping down your back. 
In terms of providing a good fit, the Montreal 3.0 has one of the best adjustment systems I've come across in a textile jacket. There are Velcro straps on the torso, arms and waist and these are complemented by volume adjusting poppers across the chest and forearms. Fiddling around with these allows you to get a perfect fit, while the cut of the jacket is spot on for 'adventure' riding, with a longer torso.
ABR Rating: 9/10
SPADA SEEKER JACKET
£169.99 | www.spadaclothing.co.uk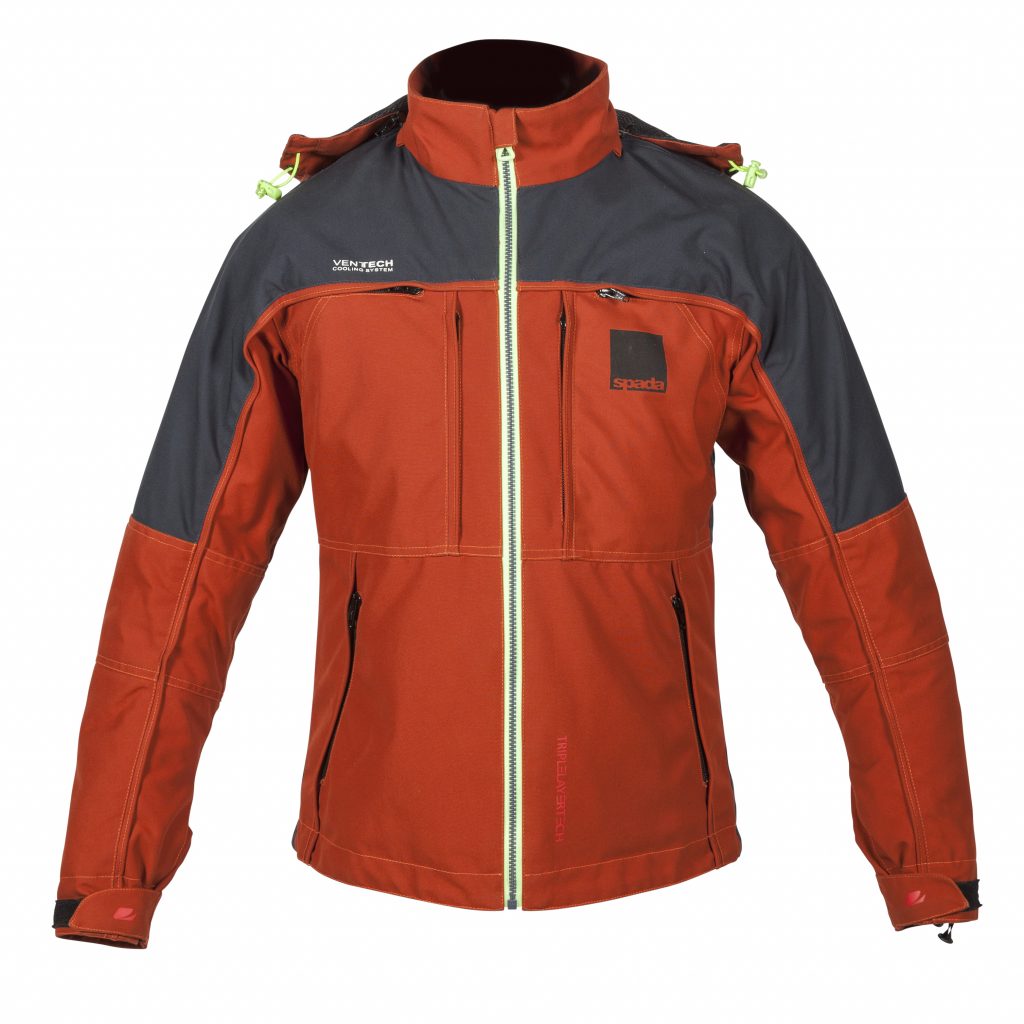 The Seeker is a jacket that looks more like a trendy casual waterproof than full-on biker garment. The cotton canvas outer adds to the stylish design that you'd expect from Spada, while removable waterproof and thermal linings ensure there's substance to the style. 
Comfort is apparent as soon as you slip into the jacket, with the cotton canvas having a more supple feel than standard motorcycle textiles. The fit was good for me, though the jacket could do with some volume adjusters around the torso and arms to help fine-tune it.
The wrist closures are nice and wide, making it easy to get gloves underneath, and a total of five pockets provides plenty of storage options (though I would have preferred a larger opening on the handwarmer pockets). A removable hood is included, though there's nowhere to stow it on the jacket, so I imagine most users will take it off once and leave it that way. 
In adverse weather, the waterproof lining does the job of keeping water out (handle with care, as it's all too easy to put a hole in it), though the cotton canvas outer has poor water repellency, and absorbs moisture almost from the word go, wetting out and getting heavy in brief downpours.
The thermal lining is suitable for warmer rides, though I'd look at swapping this out when the mercury drops, and the two shoulder vents and exhaust vent provide minimal, yet welcome cooling when the temperatures rise.
ABR Rating: 7/10
RICHA INFINITY
£199.99 | www.nevis.uk.com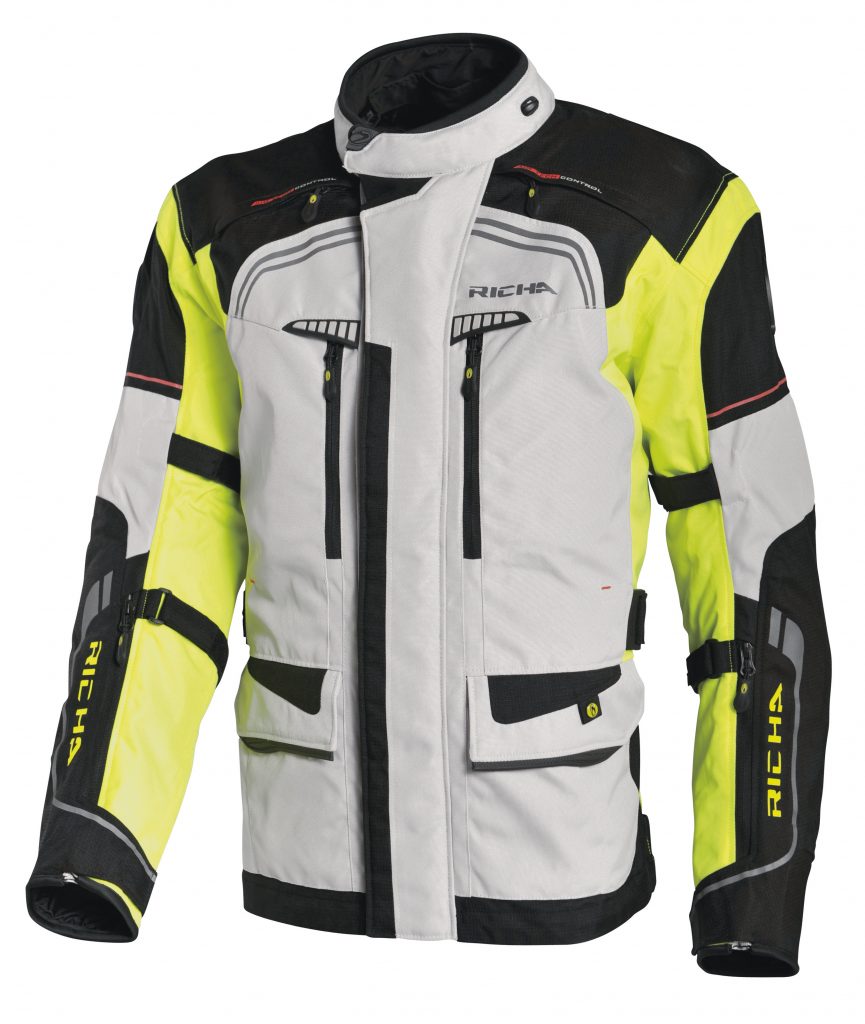 Richa is a brand that can do no wrong, so it seems. It has a huge range of products across the price range, and each one of them seems to offer very good value for money and a high level of performance. The Infinity, that we have on test here, is a great looking jacket that offers exceptional value for money. 
The jacket has ample venting, making it ideal for adventure touring. There are four front vents (two vertical, two horizontal), and these are complemented by arm vents and a rear exhaust vent that allows for a decent flow of cooling air. 
The thermal lining does a good job of keeping you warm, though I'd look at something more substantial for winter riding, while the waterproof lining does a great job of keeping you dry. There are plenty of adjustment points throughout the jacket, with Velcro neck adjustments, two straps on the arm, two on the waist, and three press studs on the waist. These allow you to get a tailored fit. 
In terms of storage, you only get two external pockets, so storage is limited. All zips on the infinity have glove-friendly toggles, and the main jacket zip has a very effective double storm flap which is secured in place with Velcro. 
CE-approved D30 armour is supplied as standard, providing protection on the elbows, shoulders and back. To help ensure you're seen in poor lighting, 3M reflective piping and strips on the front, arms and back will reflect light, along with the luminous yellow, making you stand out even in bad weather
ABR Rating: 8/10
ALPINESTARS BOGOTA V2 DRYSTAR
£279.99 | www.alpinestars.com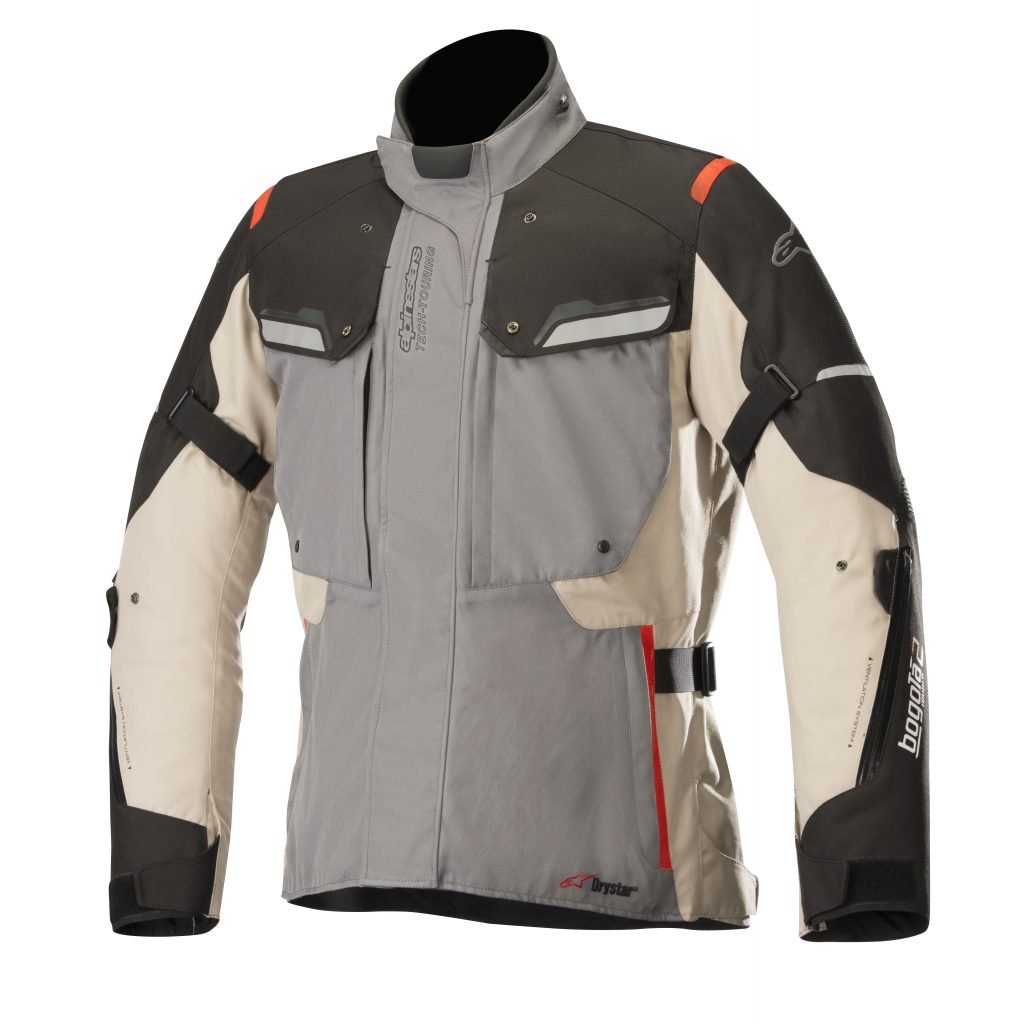 The Bogota V2 Drystar Jacket is Alpinestars' entry into this three-layer jacket review, and it's one of the company's lower-priced products, coming in at just under £300. For your money, you get a jacket that provides a great amount of weather protection and comfort, a long, adventure styled fit, and impact protection in the form of CE-approved shoulder and elbow inserts. 
The weather protection provided by the Bogota V2 is very good, with the main zip of both the waterproof lining and outer jacket coming with sturdy double stormfl aps. These do a fantastic job of preventing cold spots and reinforcing areas where water's known to penetrate.
Storage options come in the form of four large outer pockets, a useful waterproof inner chest pocket and a Velcro pouch on the rear that's ideal for carrying the waterproof lining when it's not in use. The collar on the Bogota V2 is exceptionally comfortable, thanks to a soft lining and neoprene padding. 
For cold weather riding, the included long-sleeved thermal lining is of decent quality and is comfortable to wear, while for summer riding the jacket incorporates what Alpinestars calls the Jet Ventilation System.
This is basically two chest vents, two arm vents and an exhaust vent. The chest vents can be secured in an open position, and while they are effective, I would no doubt want more venting options on a scorching summer's day.
ABR Rating: 8/10
BERING ZODD
£279.99 | www.tranam.co.uk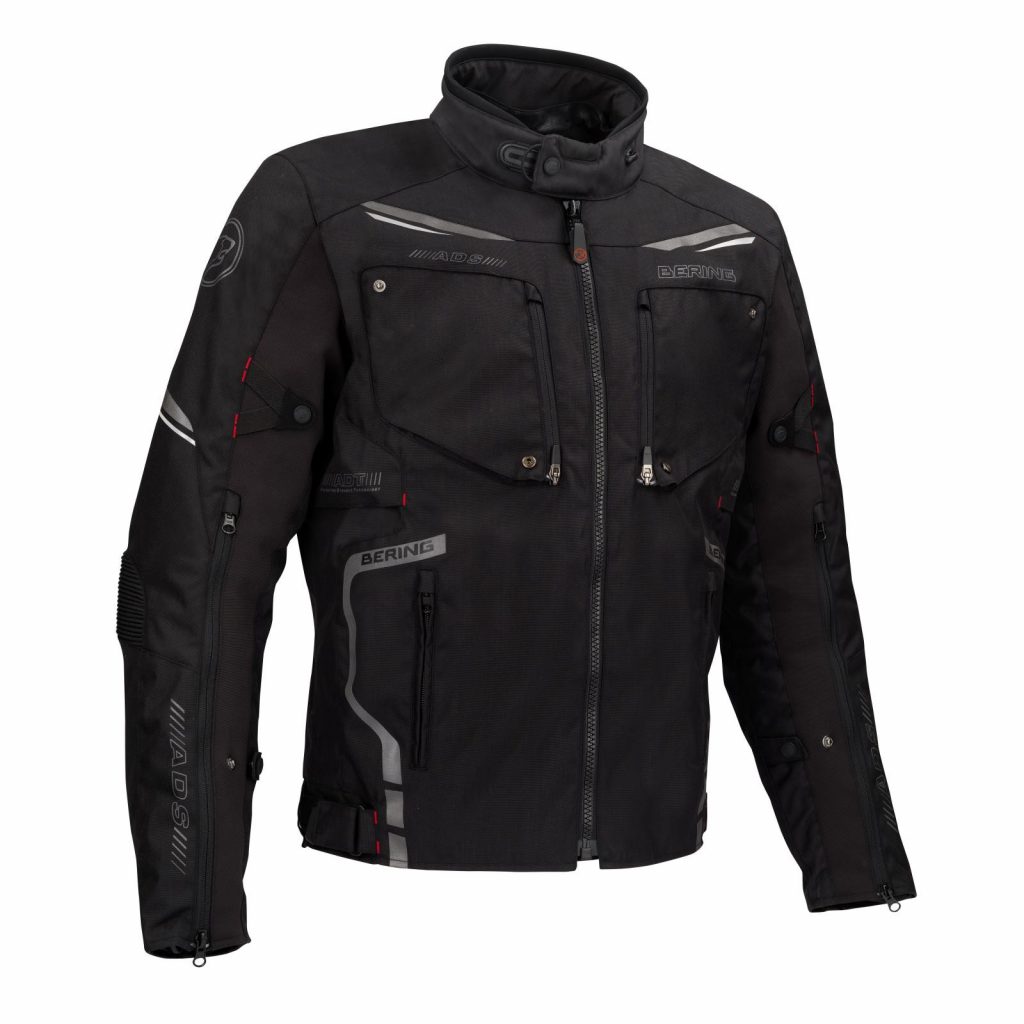 Despite the plain black colour scheme, the Zodd is a beautiful looking jacket that'll suit any adventure bike. To spice things up, and to make you more visible, there are multiple reflective detailing points throughout, and substantial armour on the elbows and shoulders will help in the unfortunate event of an off. There's no back armour as standard, though there is a pocket for an insert if desired. 
Waterproofing is provided by a well-incorporated waterproof lining that's zipped into the main jacket. This has a very substantial storm flap to prevent water ingress at the zip, and the main jacket also has a large baffle to prevent cold spots forming. Storage is limited, with the two handwarmer pockets being a bit smaller than I would have liked and the sole chest pocket lacking a zip. 
The Zodd has multiple ventilation options, including two huge chest vents than can be secured in an open position, revealing a stylish green mesh panel, and these work very well to provide cooling air. The included stitched-in balaclava is a nice touch, and when used it helps prevent water from dropping down the back of the jacket. 
In the main, the Zodd is comfortable to wear, particularly when you have the thermal liner in, as it's just so soft and luxurious. The cut of the jacket can, however, be a bit restrictive if you've got a large chest, and I found it to be a bit tight across the upper torso when reaching for handlebars. This is a shame as the fit of the jacket elsewhere was spot on, and there are tons of adjustment points to help you get a great fit.
ABR Rating: 8/10
RST PRO SERIES CE ADVENTURE III
£289.99 | www.rst-moto.com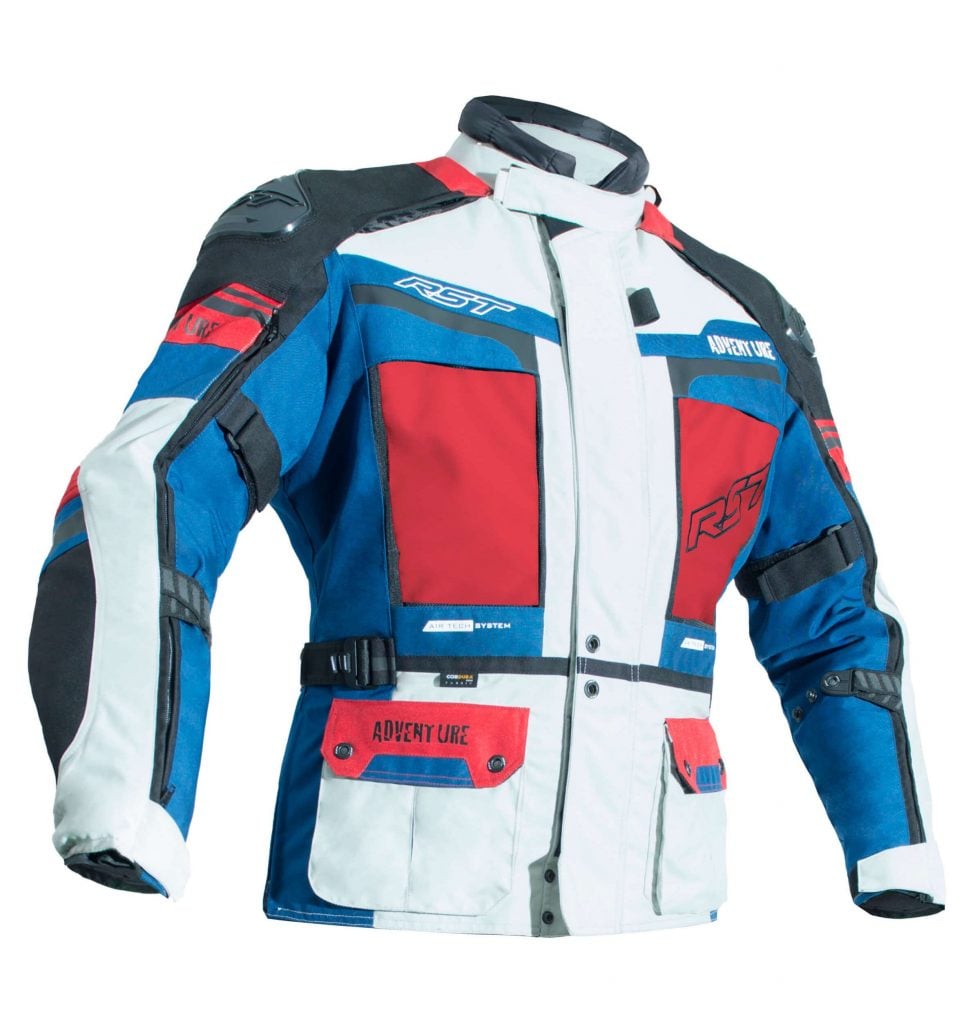 The RST Adventure jackets have been popular with dual-sport riders for quite some time now, and with the third iteration of the jacket, RST has taken customer feedback into consideration to offer an improved product.
These changes come in the form of an included 'parachute strap' that goes under the crotch and prevents the jacket from riding up, large external TPU shoulder protectors and a number of changes to the overall fit of the jacket. 
You get a lot of jacket for your money here, and it's clear to see that much thought and attention has gone into the design of the Adventure III. The ventilation system is excellent, though the chest vents are frustratingly fiddly and I found myself having to take the jacket off to use them. The removable insulated collar padding is a nice touch, as is the removable back pouch that doubles up as a bumbag when off the bike. 
Weather protection is spot on, thanks to the effective waterproof lining which has a substantial storm flap covering the main zip. The insulated lining is of good quality, though I would ditch it for a warmer aftermarket product during the coldest days of the year.
Impact protection is excellent as well, with CE-approved shoulder and elbow armour accompanied by a CE-approved back protector, which is a great inclusion at this price. The reinforced external shoulder armour also adds reassurance. 
There are adjustment points throughout, though I would prefer a longer cut to the torso of the jacket and feel that this would solve the problem that's currently addressed by the parachute strap that can be a pain in the nuts.
ABR Rating: 9/10
DIFI DESERT RIDE AEROTEX
£299.99 | www.difi-mc.co.uk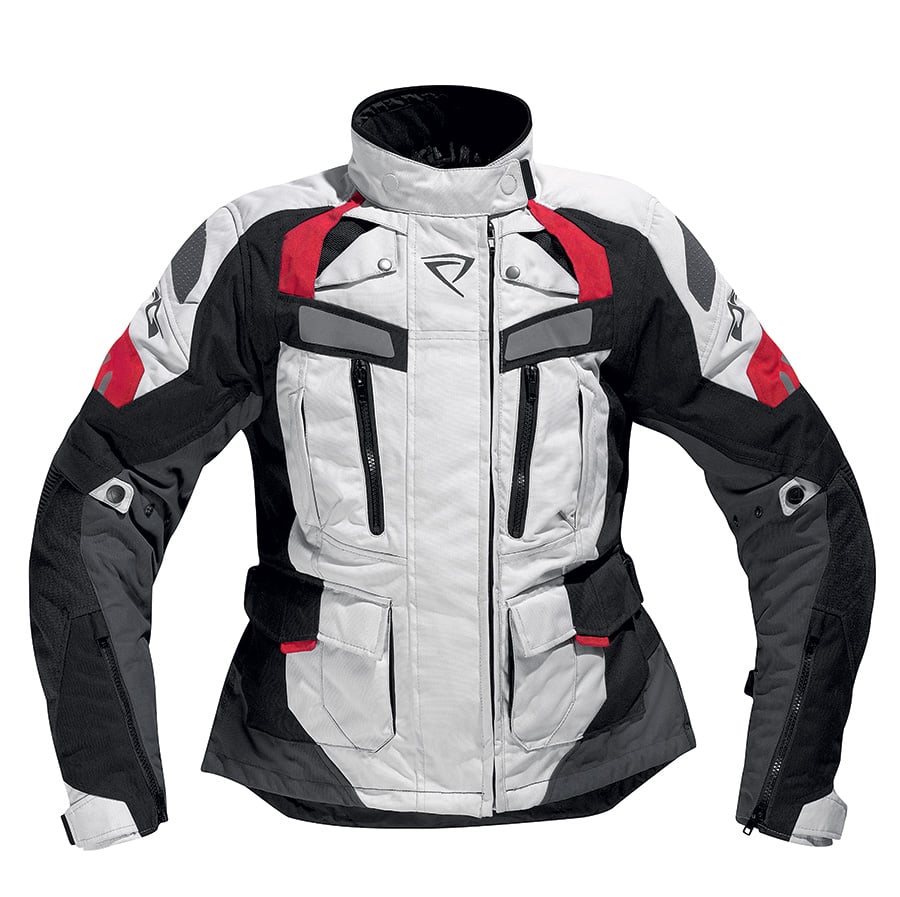 At £299.99, the Desert Ride sits in the middle of our price range, and Difi is keen to push it as an 'on and off-road four-season tour jacket'. As such, you'll find a quality, removable waterproof lining, a lightweight thermal layer, and an outer that features a very good ventilation system that makes it suitable for on/off-road adventure riding in the warmer months. 
The Desert Ride is well made throughout, and there are a number of small touches that indicate that it was designed by people who know what they're doing, including a very soft collar lining and a substantial double storm flap down the main zip that'll do a stellar job of keeping rain out.
Protection is provided by the inclusion of CE-approved armour on the elbows and shoulders, though a back protector isn't included as standard. 
Adjustment points on the arms and torso allow you to get a tailored fit, and the cuffs are plenty wide enough to allow faff-free gloving up. The waterproof Aerotex Z-liner does a great job of keeping the water out, and while the thermal lining will be warm enough for spring and autumn rides, for mid-winter adventures, and to make this truly four-season, I'd ditch it in favour of a more substantial mid-layer. 
While the Desert Ride has two hip pockets, a phone pouch on both the waterproof and thermal linings, and a Velcro pouch on the rear, I would have preferred more storage options, especially as, without the lining pockets, there were none that were big enough to house my phone (a Samsung Note 8).
ABR Rating: 8/10
FURYGAN VULCAIN 3 IN 1 JACKET
£309.99 | www.nevis.uk.com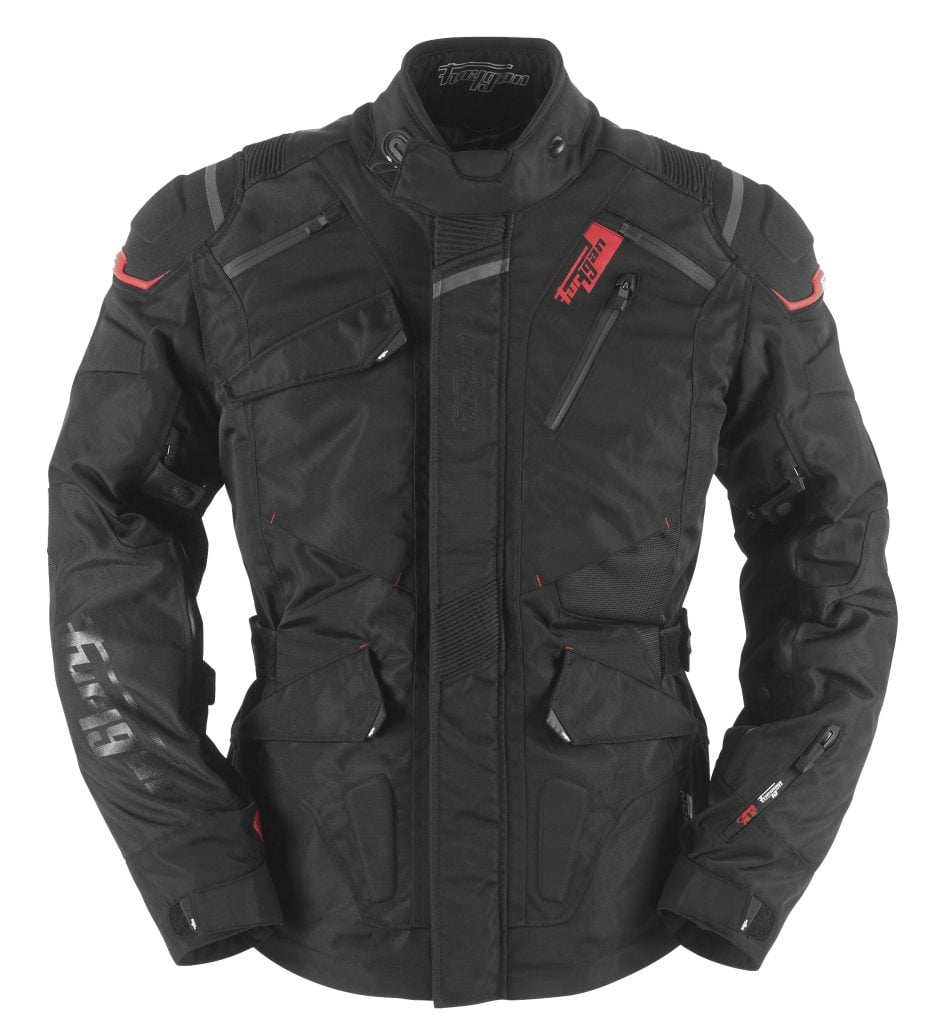 Established in 1969, Furygan initially set out to develop gloves for various industries, but today the company manufactures a complete range of motorcycle clothing, including an extensive line up of textile jackets. We've been using the Vulcain 3 in 1 since the start of the year, and during the onslaught of 'the Beast from the East' it impressed us with its cold weather credentials. 
The insulated lining is of great quality and provides a nice amount of warmth and comfort in the saddle, while the waterproof lining does a good job of keeping the wet stuff out, and it handled an extended ride through some of the heaviest rain I've witnessed this year with ease. 
While the jacket is ideal for cold weather, ventilation is lacking on the Vulcain, and the four small vents on the shoulders and arms, which are complimented by an exhaust vent on the rear, are more of a gesture than useful additions. With that in mind, I would consider the Vulcain a three-season jacket as it's too warm for summer riding. 
While the jacket lacks ventilation, it excels in storage options, with there being no less than five substantial pockets on the outer jacket alone. The jacket has a long cut torso, which is great for touring, and there's also plenty of adjustment throughout, allowing you to get a great fit. 
Protection is provided by CE-approved shoulder and elbow pads, though this doesn't feel as substantial or reassuring as most others in this test. The trade-off is that the jacket is very comfortable and unrestrictive to wear.
ABR Rating: 7/10
LINDSTRANDS QURIZO JACKET
£349 | www.jofama.se
Swedish company Lindstrands' entry into this test is the Qurizo Jacket, a wonderfully stylish three-layer textile jacket that comes in three colourways, all featuring multiple refl ective points and Hi-Art reinforced patches. 
The insulated liner of the Qurizo jacket is OK for warmer spring and autumn days, but for mid-winter rides you'll want to ditch it for something with long sleeves and more substantial insulation.
That said, the waterproof lining does a fantastic job of keeping the wet stuff out; it's very well incorporated into the jacket and it zips in securely throughout, including on the wrists to prevent it from riding up when you pull your arm out. 
In terms of protection from tarmac, I can attest to the abrasion resistance of the Qurizo jacket's Hi-Art reinforced areas. I slid down the road in Austria after slipping on some diesel while wearing mine and the jacket held up exceptionally well. For further protection, you get substantial CE-approved shoulder and elbow armour, while the jacket's ready to take a back protector if you want to use one. 
Storage comes in the form of two nicely sized external pockets and one waterproof, zipped chest pocket. The cut of the jacket makes for a comfortable wearing experience, and there are plenty of adjustment points throughout, along with well-placed gussets on the side and elbow to provide a well-tailored, unrestricted fit.
While you get two vertical chest vents and a similar set up on the rear, ventilation in the Qurizo is lacking when the jacket is compared to the likes of the Bering Zodd and RST Adventure III.
ABR Rating: 8/10
WOLF TEC-TOUR OUTLAST TEXTILE JACKET
£349.99 | www.wolf-moto.com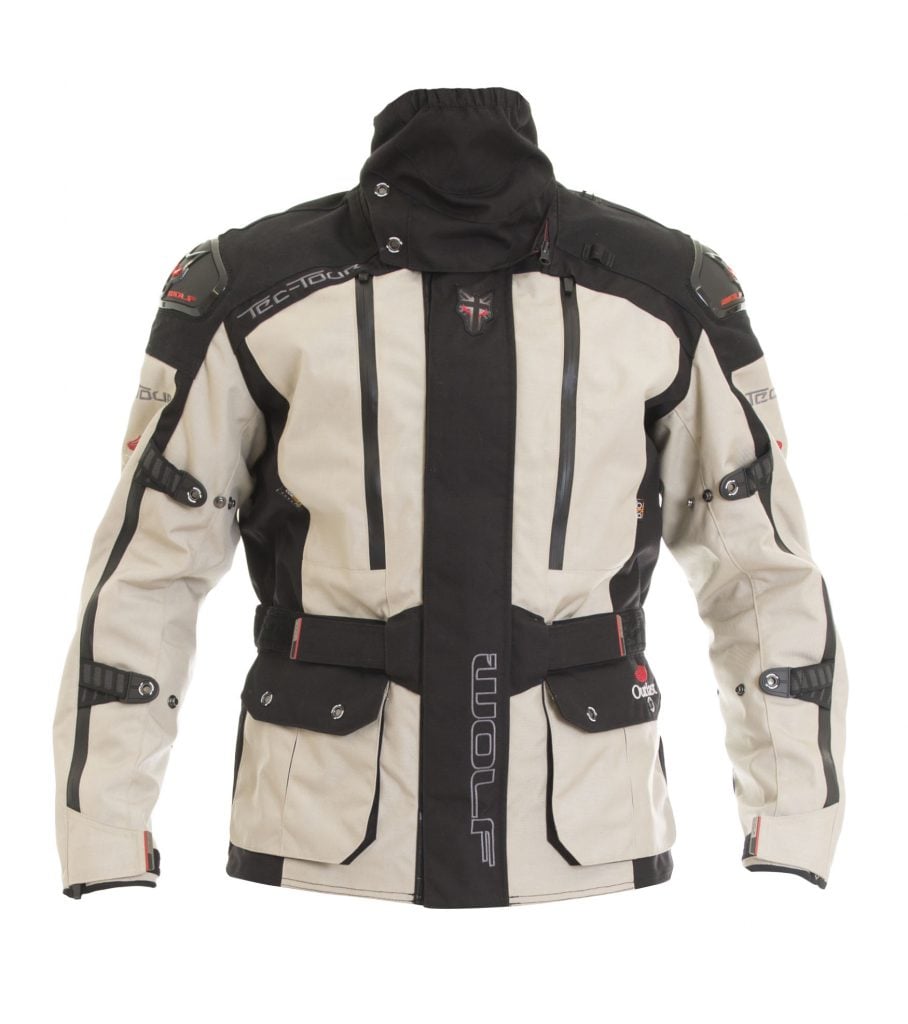 I've used the Tec-Tour extensively since it was launched in 2016, and in the last two years I've been mightily impressed with it. Starting off , the jacket is one of the best-looking textile touring jackets on the market. Whether you opt for the black or sand version, they both look the business in the saddle. 
The outer of the jacket is made using a durable DuPont Cordura that's Teflon coated to help prevent it from soaking up water, and inside you get a waterproof lining, as well as a thermal lining.
These are both removable and do their jobs excellently, with the thermal lining making use of Outlast, which regulates your temperature exceptionally well. While the jacket will keep you warm in the winter, there are also enough venting options to make this a viable choice in summer. 
There are plenty of adjustment points throughout the jacket, allowing you to get a great fit, and the cut is spot on for adventure riding. The large outer pockets offer a great amount of storage options, and the main zip of the outer is protected by substantial storm flaps to prevent cold spots from forming. 
In terms of protection, you get TPU shoulder reinforcements on the outer, and CE-level 2 armour on the shoulders, elbows and back as standard. The jacket does the basics very well, but it's the details that make this such a desirable piece of kit, and two such details are the very well incorporated windproof neck scarf, and the inclusion of a water bladder pocket on the rear that allows you to route a hydration bladder pipe to your mouth with specifically placed holders.
ABR Rating: 9/10
SPIDI MODULAR H2OUT
£389.99 | www.spidiuk.com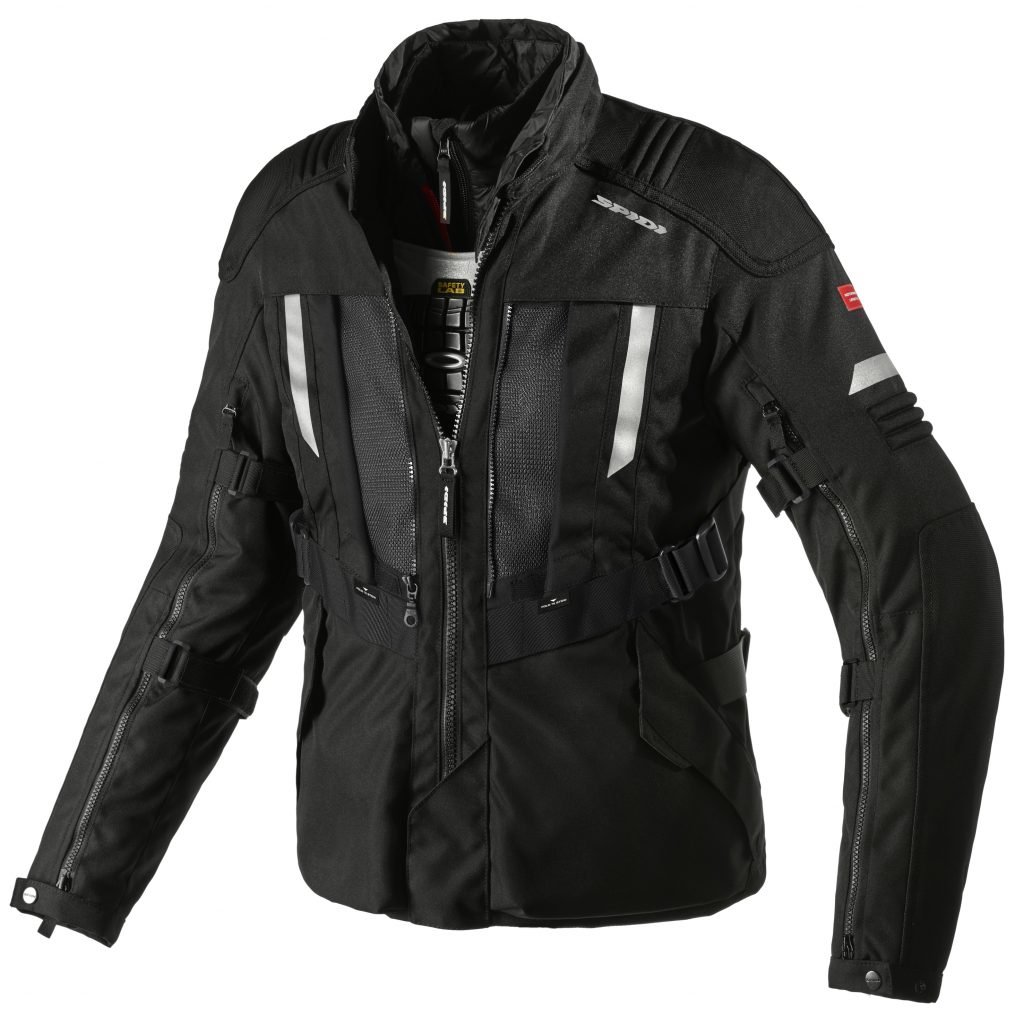 At £389.99, the Spidi Modular H2Out is the second most expensive jacket in this test, and while the price tag may make your wallet wince in pain, the overall quality on display here is hard to deny. Comprising of three separate layers that can all be worn independently; this jacket actually offers good value for money.
Waterproofing is provided by the removable H2Out garment, while the outer features 'high tenacity elastic flex tenax nylon 6.6', which is a wordy way of saying it's been beefed up for abrasion resistance. 
Where I usually say you can toss a jacket's thermal lining aside, the insulated liner that's included in the Modular is a step above most others in this test. It's very warm, incredibly comfortable, and looks good enough to wear alone. The waterproof lining follows a similar trend, and could be used as a standalone waterproof jacket, with the double storm flap on the main zip keeping water out effectively. 
The outer jacket features an exceptional amount of ventilation points, most impressively in the form of two huge chest vents that can be held open with the help of some Velcro tidies.
Volume adjusters on the waist and arms allow you to get a great fit, while the pockets are of a decent size, though there are only three, and none of them are waterproof.
Armour is provided by CE-approved elbow and shoulder pads, and there's a pocket for a back protector if you use one, though you'd like to see one included at this price. 
The outer jacket could do with some form of baffle down the length of the main zip to stop cold spots forming, and I'm not a fan of the style of Velcro adjustable collar that the Modular uses. It's supposed to offer a more fine-tuned fit, but the reality is a fiddly frustration.
ABR Rating: 8/10
REV'IT! DEFENDER PRO GTX
£599.99 | www.revitsport.com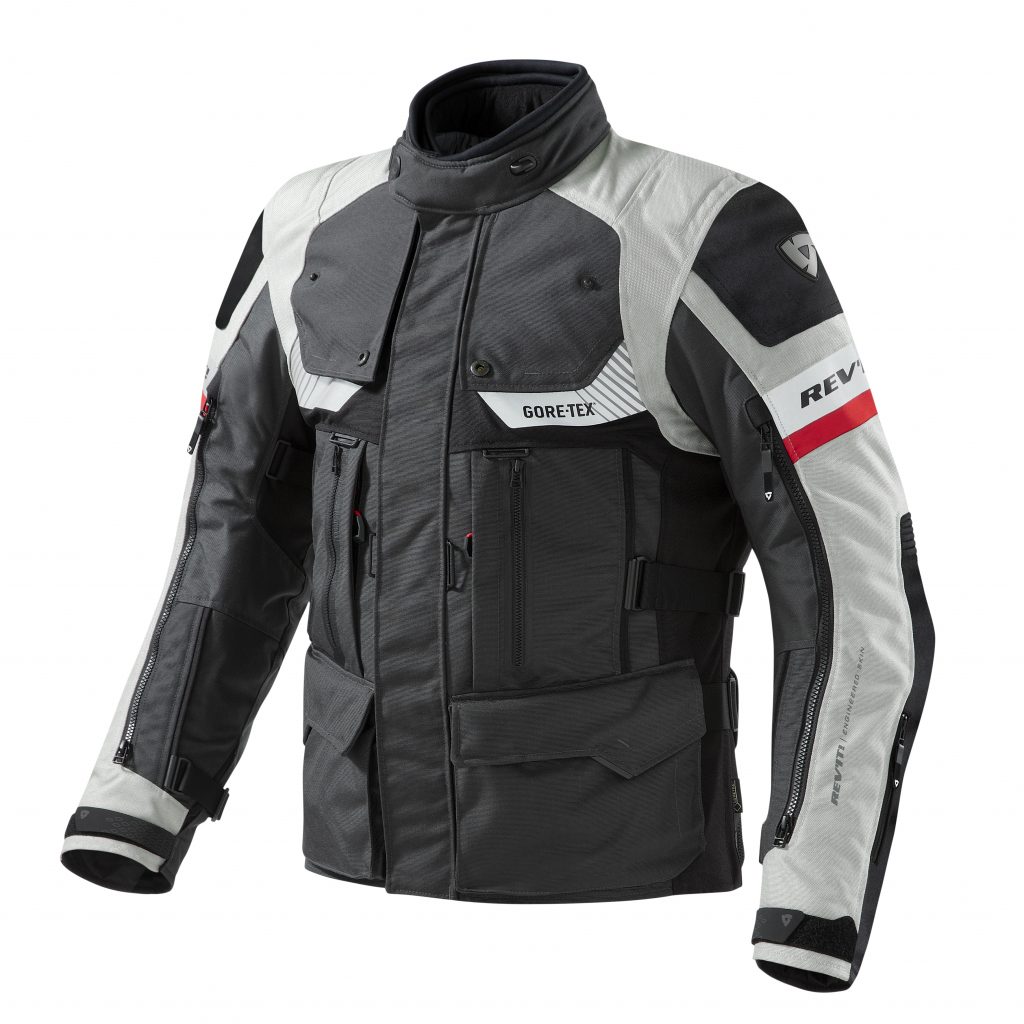 At £599.99, the Defender Pro GTX is substantially more expensive than the other jackets in this test, and while there's no denying REV'IT!'s credentials and reputation as a motorcycle clothing manufacturer, is this jacket worth your dosh? From the off, you can tell that the jacket is of exceptional quality, and that REV'IT! has made a point of using only the best components in its construction. 
Out of all of the jackets in this review, the Defender Pro is the only one to make use of a removable Gore-Tex lining, and straight away you can see where the high price tag is coming from. This does a great job of keeping the wet stuff out, and when removed the jacket functions superbly as a summer textile, with a very effective ventilation system providing a great way for cooling air to circulate around the upper body. 
That said, the Defender Pro doesn't come with an included thermal lining, which is frustrating on a jacket of this price. That doesn't stop you from using your own insulated layer though, and I've coupled it up with a down jacket for great cold-weather performance. 
In terms of protection, the Defender Pro excels. You get CE-level 2 Seeflex armour on the shoulders and elbows, and these feel more reassuring and substantial than any others in this group test, and you also get a CE-level 2 back protector. With impact protection sorted, abrasion resistance is provided by reinforced panels on the outer jacket. 
There are ample pockets for keeping items close to hand, and the plentiful adjustment points throughout help get a comfortable fit. Initially, the jacket seemed like it might be too short for adventure riding, though the cut proved to be spot on, and there's no riding up of the material.
ABR Rating: 8/10