We've teamed up with TomTom to showcase 100 of the greatest riding routes around Europe.
This Issue: France's Route des Grandes Alpes and a show-stopping ride through central Switzerland
Throughout 2017 we're going to be looking at the 100 greatest rides throughout Europe. We've teamed up with TomTom to showcase the best that our continent has to offer, and better still, you can get all of these fantastic routes pre-loaded onto your SatNav when you purchase the TomTom Rider 410 Great Rides Edition. In the last issue of Adventure Bike Rider magazine we looked at Scandinavia and Great Britain, and so this time we're looking south to the motorcycling havens of France and Switzerland.
In these two countries there's no shortage of incredible roads that just beg to be ridden on two wheels, and so picking and choosing which ones to ride when you've only got a week to spare can be tough work. And so, with that in mind, we've picked out 10 of the best rides in each country to give you a headstart when planning this summer's tour, and we'll be looking at the Route des Grandes Alpes and a stunning five-pass ride through central Switzerland in more detail to get you raring to go.
---
Competition Time
In the November/December issue of Adventure Bike Rider magazine, we're going to be compiling 20 of our favourite routes submitted by you, the reader. We're looking to create the ultimate European bucket list for those on two wheels, and we want your help. Of course, this isn't just a one-way relationship, and so we've teamed up with TomTom to offer you something special!
By submitting your favourite route you'll be entered into a prize draw to WIN a subscription to ABR magazine, a TomTom Rider 410 Great Rides edition, and you'll get your route featured in the printed version of the mag. All you have to do is email [email protected] with the subject line "Europe's great rides" and tell us about your favourite European route.
---
The Route des Grandes Alpes, France
There's no denying that the roads of the Alps offer some of the best riding in the world. Awe-inspiring natural beauty surrounds you as you follow roads that carve their way through deep valleys and enchanting forests, and over some of the most formidable peaks around. The sheer scale of the mountains here will leave you stunned as you struggle to keep your eye on the road. If you thought Snowdonia was epic, you'll be bowled over by the Alps.
Until the 1900s, navigating through the Alps was a very difficult task. Poor infrastructure in the area meant that valleys were connected by small cart and mule tracks, and it wasn't until 1909 that the idea to create a paved route over the mountain range was proposed.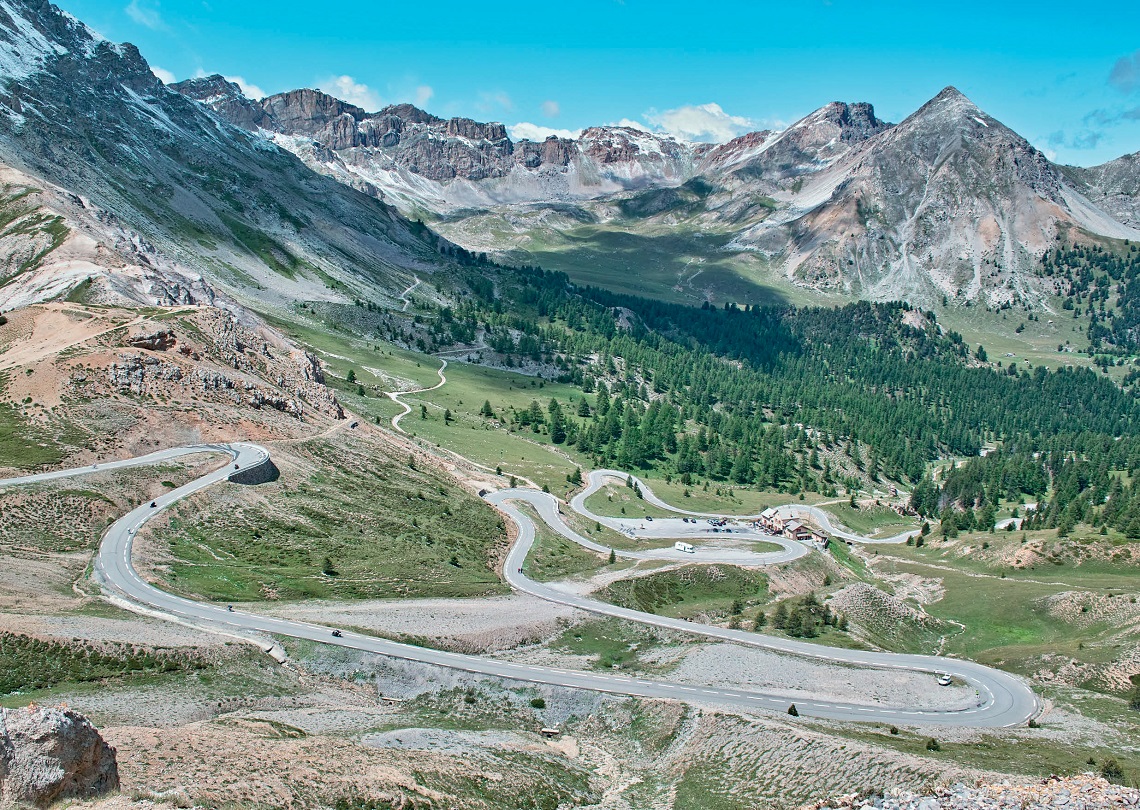 The French Touring Club had a dream which was to build a road across the mountains that would allow tourism in the area to flourish, while providing improved access to the small towns and villages that were nestled in the valleys.
Fortunately, the touring club's vision became reality, and the Route des Grandes Alpes was opened. Starting in Geneva, the route whisks you in a southerly direction, taking you over France's highest and most beautiful mountain passes, before depositing you on the shores of the Mediterranean, some 425 miles away.
While the distance is doable in a couple of days, it's highly recommended that you set aside three to four, or maybe even five, days to really have the pleasure of discovering everything that this amazing journey has to offer.
From exciting and challenging roads, to fascinating historical sites along the France/Italy border, there's plenty to see.
---
The 17 Cols Of The Route Des Grandes Alpes
(From north to south)
1: Col des Gets – 1,170M
2: Col de la Colombière – 1,613M
3: Col des Aravis – 1,486M
4: Col des Saisies – 1,650M
5: Le Cormet de Roseland – 1,993M
6: Col de la Madeleine – 1,993M
7: Col de L'iseran – 2,764M
8: Col de la Croix de Fer – 2,068M
9: Col du Télégraphe – 1,566M
10: Col du Galibier – 2,677M
11: Col du Lautaret – 2,058M
12: Col d'Izoard – 2,360M
13: Col de Vars – 2,111M
14: Col de la Bonette – 2,715M
16: Col de la Cayolle – 2,326M
17: Col de la Couillole – 1,678M
18: Col Saint Martin – 1,500M
19: Col de Turini – 1,607M
20: Col de Castillon – 706M
21: Col d'Eze – 510M
---
The Routes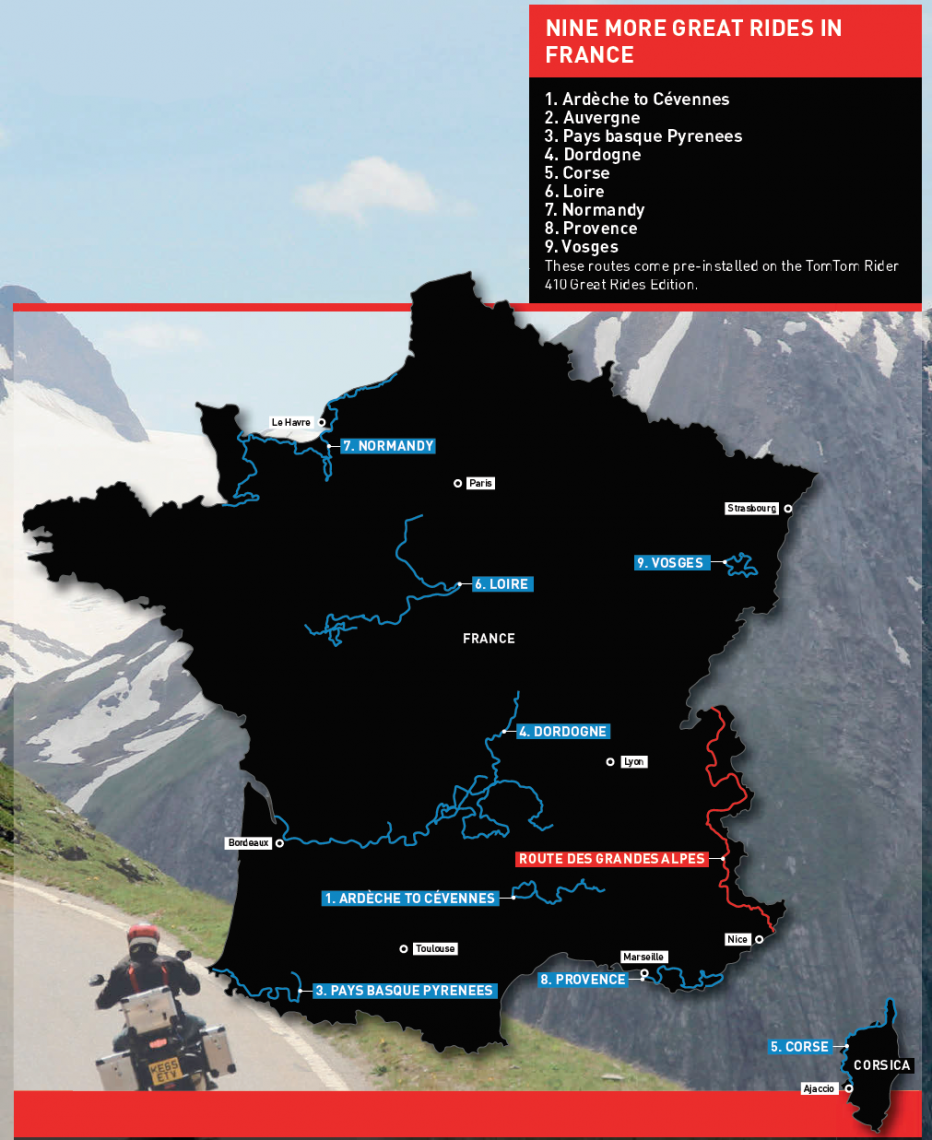 Want To Ride These Routes? Here's How You Can…
When to go
Generally speaking, September and October are the best months to go in terms of good weather and quieter roads. July and August are the warmest months, but also the busiest. High altitude roads, like those found on the Route des Grandes Alpes, are best visited between June and September to avoid snow.
How long to take off work
Travelling to the Alps, Pyrenees and the South of France will take the best part of two days, so 10 days to two weeks off work is recommended if you want to make the most of your tour.
Is it for you?
France is home to a wide variety of roads which will appeal to all bikers. From lush green landscapes and scenic countryside to the mountain roads of the Pyrenees and the Alps, there's something for everyone.
What gear to take
From June onwards, a well-ventilated jacket and light raincoat or suit are advisable, but it is also a good idea to take warmer underlayers and windproofs for when you're ascending mountain passes.
---
Don't miss: The Nufenen Pass
While this route already consists of five incredible mountain passes, with just a short detour you could bag Switzerland's second-highest paved mountain pass, the Nufenen Pass. Located just a few miles south of the Furka Pass, it's well worth taking the extra few hours to explore this relatively forgotten mountain road through perfect Alpine scenery, and from the top you're afforded a delightful view of a mountainscape of the Bernese Oberland and its iconic trio of mountains, the Eiger, the Monch and the Jungfrau.
---
Central Switzerland
If it's idyllic Alpine scenery and perfectly laid tarmac that you're searching for, Switzerland is the country for you. Home to possibly my two favourite mountains in Europe, the formidable Eiger and the iconic Matterhorn, the Alpine cantons of Switzerland provide a riding landscape that's bound to inspire you. Roughly 65% of this magnificent country's territory is covered by the Alps, and amongst those peaks are some of the highest in Europe.
Despite strictly and harshly enforced road traffic laws, the country is home to some of the most picturesque, and fun to ride, roads in Europe, and when it came to choosing just 10 routes it was a difficult task. Even more difficult was to narrow that down to one featured route, and, after careful deliberation, I've chosen this beautiful, exciting and rewarding 240-mile circuit through central Switzerland to be featured in this issue.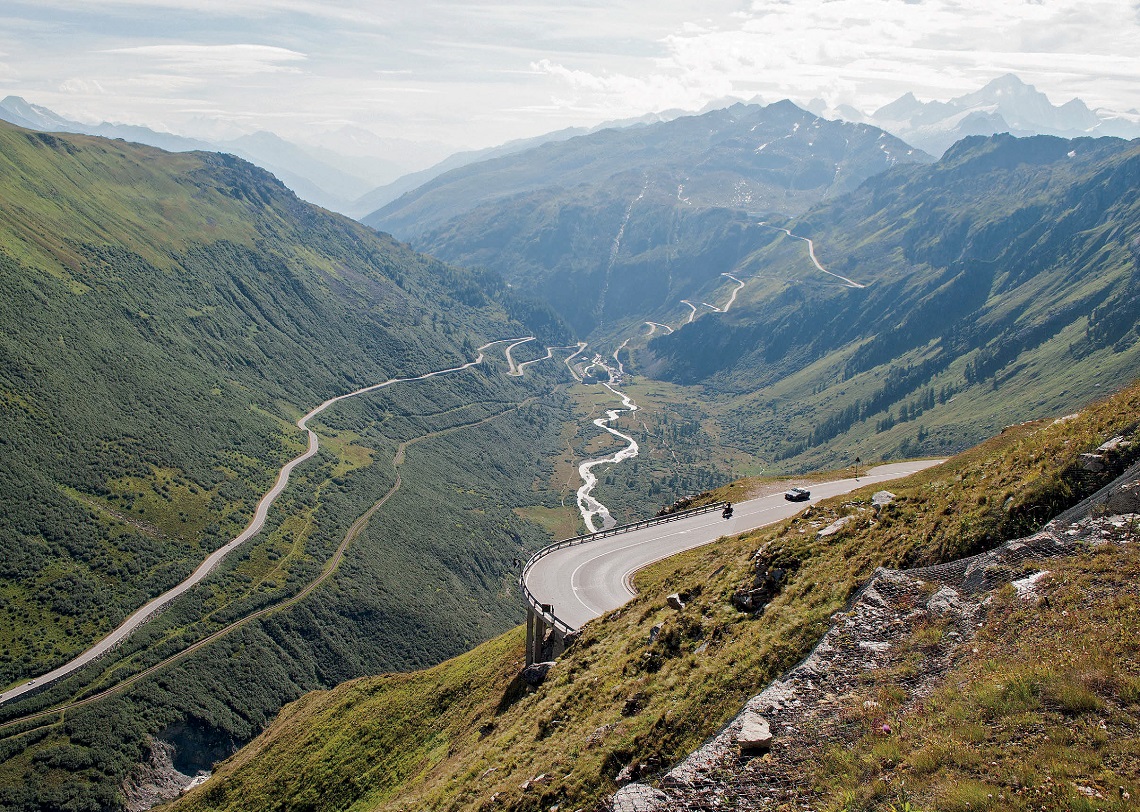 Nestled in the heart of Switzerland is a trio of mountain passes that, when strung together, create a route to rival all others. That trio consists of the Furka Pass, the Grimsel Pass and the Susten Pass, and this grand circuit through central Switzerland guides you over all three, plus two more epic mountain roads, in a journey that starts and ends in Bad Ragaz, on the border with Liechtenstein.
After a short ride south to the outskirts of the mountain town of Chur, our route swings us in a westerly direction, along the spectacular Route 19. The road will take you over your first pass of the ride, the Oberalp Pass, a high mountain pass that connects the cantons of Graubünden and Uri. The riding here sets the tone for the rest of the route as you navigate switchbacks and steep inclines to wrestle your bike to the top and past the Alpine lake, the Oberalpsee.
From here the riding is nothing short of brilliant, and it's not long before we are tackling the three epic mountain passes, Furka, Grimsel and Susten. This is one of those rare occasions where everything seems to come together perfectly, and you can only thank the Swiss for building such a beautiful set of mountain passes.
Onwards from the Susten Pass and we follow the spectacular route 17, which takes you through the heart of the high Swiss Alps, before eventually dropping you back off where you started, in Bad Ragaz.
---
The Five Mountain Passes Of The Central Switzerland Ride
1: Oberalp Pass – 2,044M
2: Furka Pass – 2,429M
3: Grimsel Pass – 2,164M
4: Susten Pass – 2,260M
5: Klausen Pass – 1,948M
---
The Routes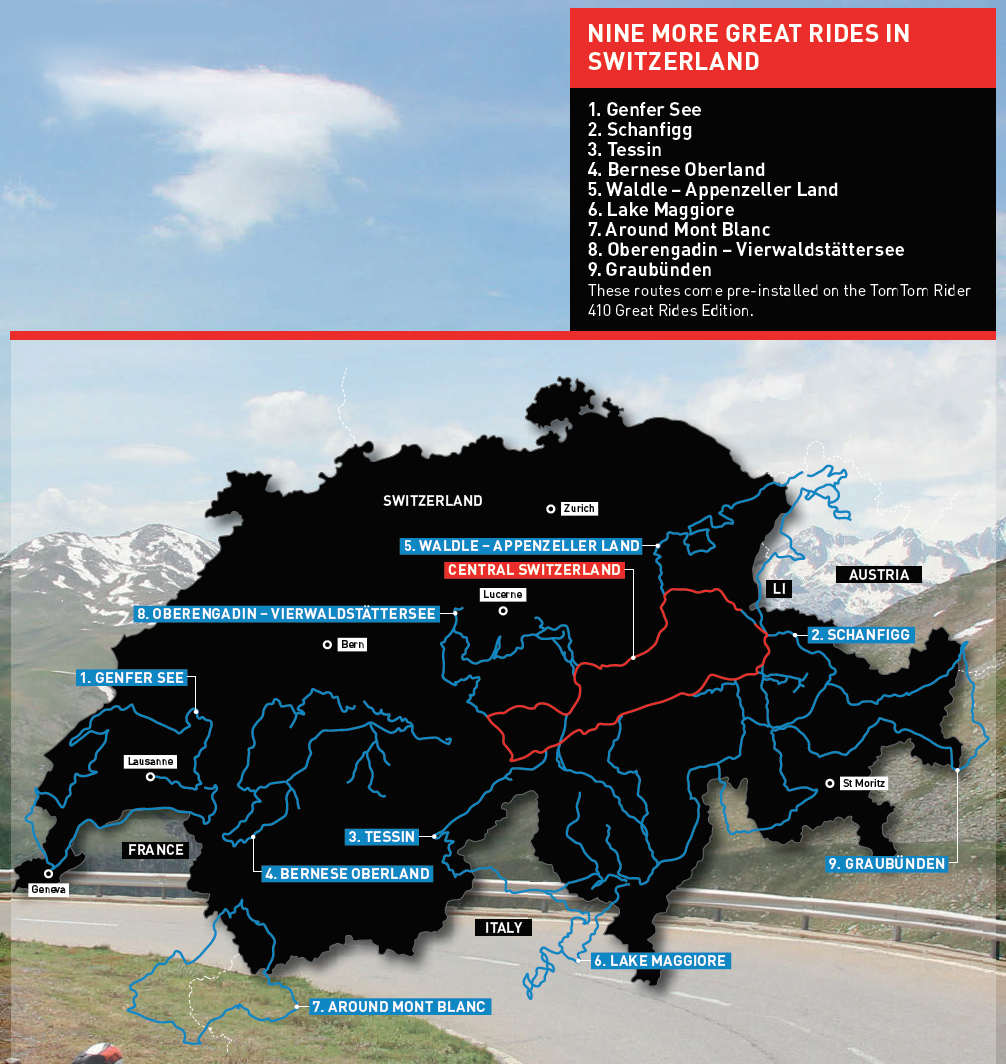 Want To Ride These Routes? Here's How You Can…
When to go
If you intend to take on high mountain passes, you'll be best off avoiding the winter months. Most of them will be closed or impassable due to snow. Summer represents the best time to go, with better weather, longer days and more favourable riding conditions. We recommend looking at June-September.
How long to take off work
While you could certainly get to Switzerland and back in a week, to make the most of your time in the country, you'd be best to take 10 days to two weeks off work.
Money
Swiss Francs are the currency used in Switzerland, and at the time of writing, for every British pound, you can expect 1.25CHF back. ATMs are widely available throughout towns and cities, while Visa, MasterCard and Amex are also widely accepted. Tipping is not normally necessary, as service charge tends to be included on the bill.
What gear to take
Riding in the mountains brings a mixture of conditions and, as such, you'll want to be prepared for warm weather in the cantons, but colder temperatures as you ascend mountain passes. Waterproof kit is a must, and summer-weight and winter-weight base layers, as well as a good mid-layer, will ensure you're prepared for most eventualities.
Traffic laws
If you wear glasses, you are required by law to carry a spare pair with you, while drink driving limits are also stricter than the UK. Speed limits are enforced rigorously in Switzerland, and infringements result in on-the-spot fines. The limit is 74mph on motorways, 49mph on open roads, and 30mph in urban environments.