Bryn Davies gets his fix of adventure on home soil as he rides the epic Cornwall Coast Path, from Bude to Falmouth
In the last issue of Adventure Bike Rider, we took you on a fantastic ride through Mid Wales, following Glyndwr's Way. For this instalment, we've headed south, to another Celtic nation, to ride the Cornwall Coast Path, a 200-mile long route which forms part of the 600-plus mile long South West Coast path.
Starting in the charming town of Bude, the route follows the coast in its entirety to Penzance, taking you all the way to England's most westerly point, Land's End, along the way. If you follow the waypoints in the SatNav guide you'll have a great ride, but I'd definitely suggest venturing off course to explore all of the nooks and crannies of the rugged coastline. With this in mind, where our Great Britain routes are usually doable in a day, I would suggest putting a weekend aside to complete the Cornwall Coast Path, and maybe even more as this route will link wonderfully well with the Two Moors Way, from Ivybridge to Lynmouth, and the Coleridge Way, from Lynmouth to Nether Stowey.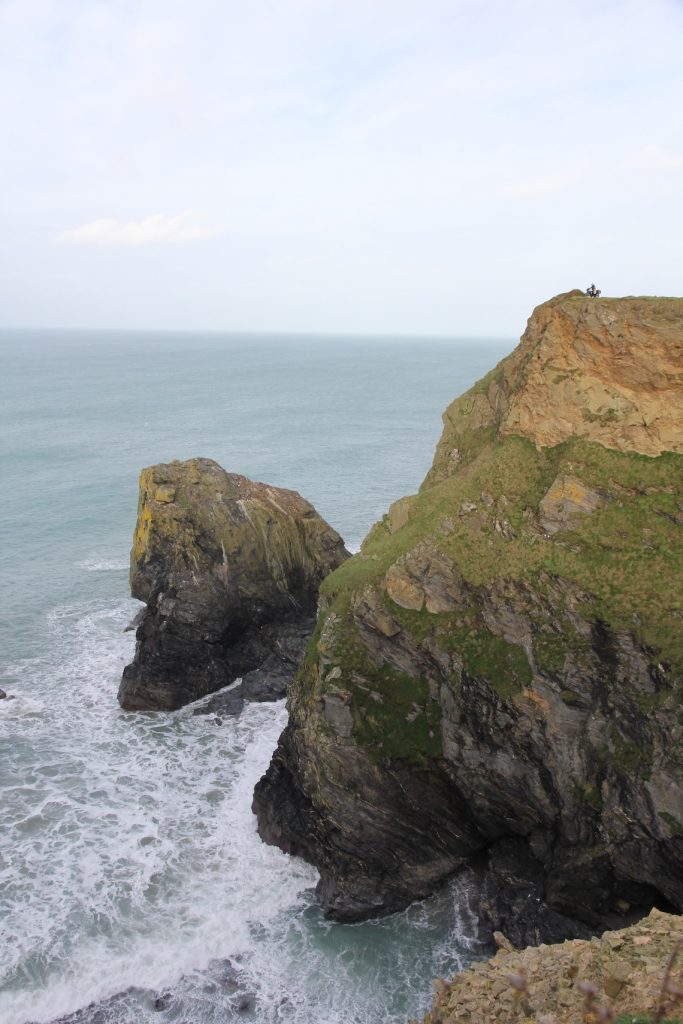 Photo: Bryn Davies
From Bude we head in a south westerly direction, warming our tyres up as we ride past the aptly named High Cliff, which claims the title of Cornwall's highest sheer-drop cliff. By now you'll have noticed the wild nature of this stunning northern coastline, and the views only get better and more dramatic as we head further south. Before long we reach Tintagel, where you'll want to explore off the bike a bit. The dramatic Tintagel Castle was, according to folklore written by Geoffrey of Monmouth, the place where King Arthur was conceived, and if you take a walk up to the top of Tintagel cliffs, you'll find a beautifully crafted sculpture of the legendary British leader.
Tintagel sets the tone for our ride as there are just so many places that warrant a search away from the saddle. Indeed, if you venture down the single-track roads leading to the isolated coastal villages, you'll find some real gems. Heading further into the ride, you'll start to get a feel for the beautiful Cornish landscape, and we ride past the popular tourist town of Newquay. It's worth mentioning here that the Cornish industry relies heavily on tourism, and if you choose to tackle this ride in the peak summer months, expect busy roads.
The further south you get, the more remote the riding becomes, and the roads that transport you almost parallel to the coast are sensational. As you pass through Portreath, the B3301 whisks you along the stunning Godrevy – Portreath Heritage Coast, and it's here that you'll find the harrowing and wonderfully named Hell's Mouth, an isolated cove and old smugglers' landing point that can only be accessed by a dangerous climb down almost vertical cliffs. Of course, we don't recommend you attempt that, but to look down at the beautiful beach and imagine the solitude of being there is a fantastic experience.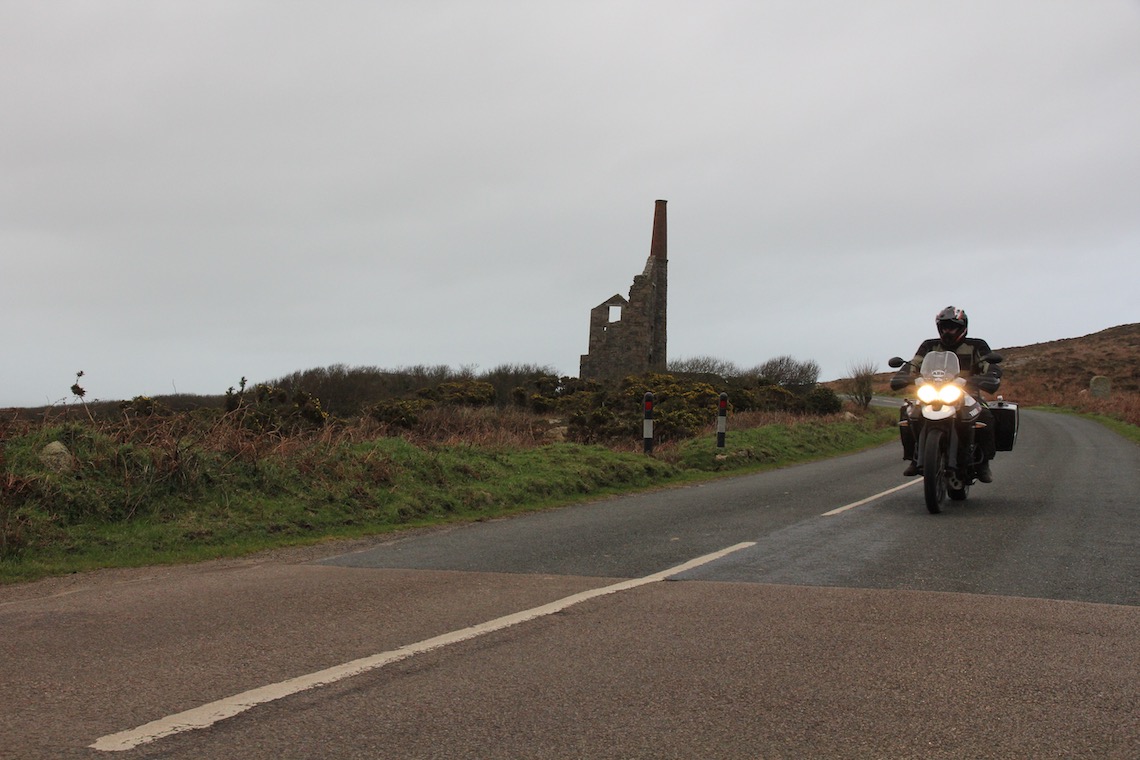 Photo: Bryn Davies
Further south still and you'll skirt the popular tourist town, and haven for artists, of St Ives. Don't hang around though, because the next section of road, the B3306, which runs to St Just is a fantastic rollercoaster of tarmac that you'll want to ride twice. Shortly before reaching Land's End you'll begin to see reminders of Cornwall's rich mining history. Tin and copper were extensively mined here, and in the early 19th century, remarkably, Cornwall, along with its eastern neighbour, Devon, produced two-thirds of the world's supply of copper and much of its tin. All that's left of this once booming industry are the shells of the stacks, and they stand as ghostly reminders of times gone by.
Land's End is a bit out of the way, but it's worth visiting just to say you've been there, and it is at mainland England's most westerly point that, for the first time of our ride, we begin to head east. Before reaching the large town of Penzance it's well worth taking a small detour to Porthcurno. For such a small village, Porthcurno has huge international reputation, as it was once the place where most of England's underwater telegraph cables came to termination. While the area is no longer used for such mean, a visit to the Porthcurno Telegraph Museum reveals the interesting history of the area. While you're there, I'd also suggest checking out the unique Minack Theatre, an open-air theatre that's cut out of the cliff face.
Back on the bike, it's a short ride to Penzance, and then to the visually stunning peninsula known as The Lizard. Here, you'll see incredible cliffs and awe-inspiring landscape, before finish- ing the ride a few miles east in the seaside town of Falmouth.
From Falmouth it's a long old slog back to the M5, which will whisk you back home for work, but to make this more enjoyable, I highly recommend taking a detour through Dartmoor to ride the Two Moors Way, as detailed in issue 37 of ABR.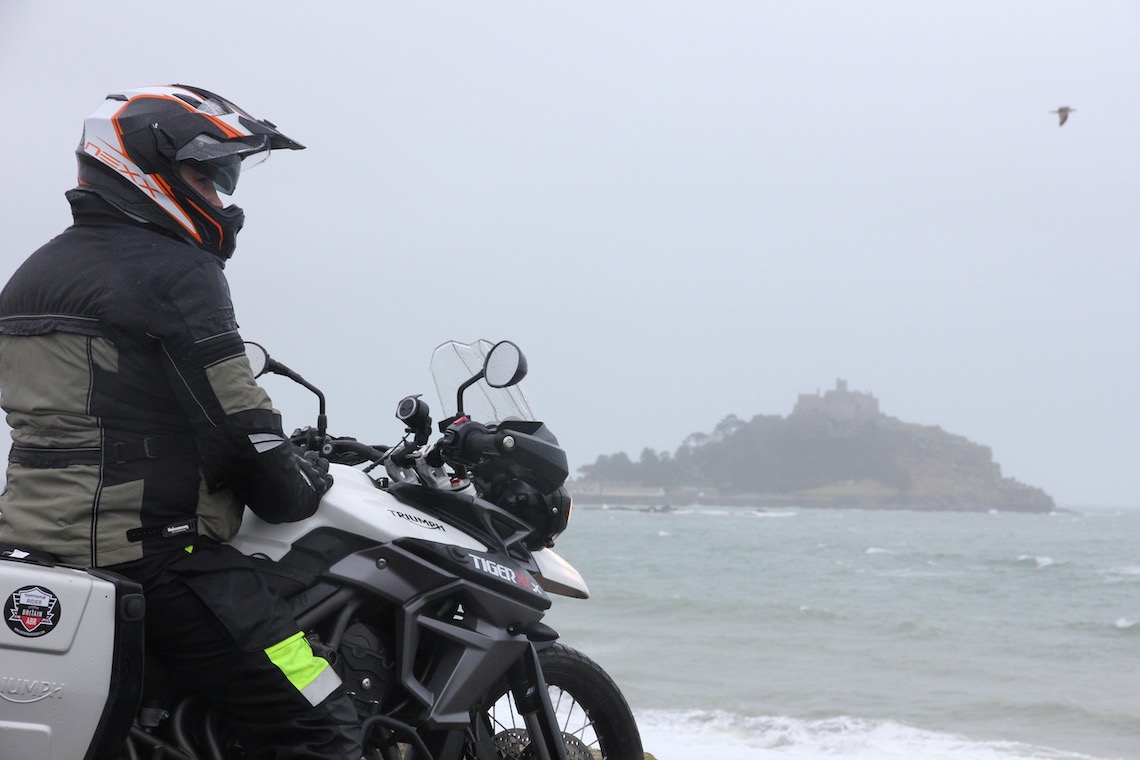 Photo: Bryn Davies
Satnav Guide
Enter the following waypoints in your SatNav and you'll follow, as near as dammit, the ABR route.
Bude
Tintagel
St Minver
Newquay
Perranporth
St Agnes
Portreath
Gwithian
St Ives
Porthmeor
St Just
Land's End
Porthcurno
Penzance
Lizard
Falmouth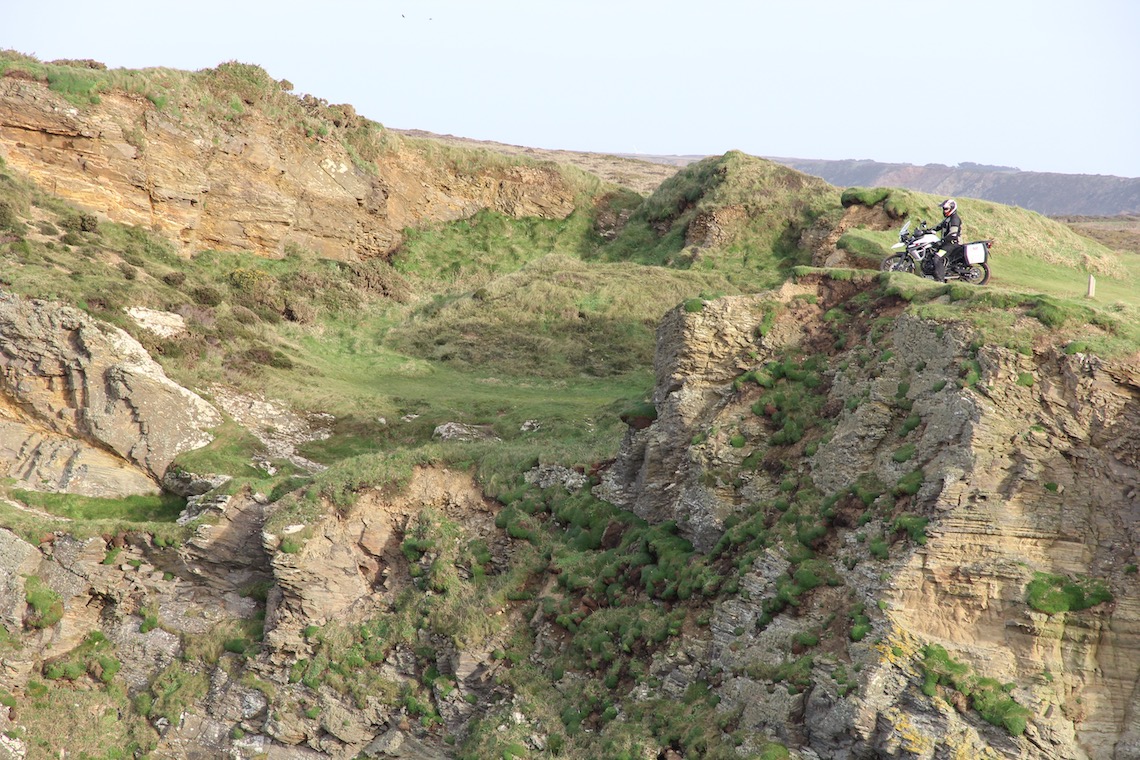 Photo: Bryn Davies
NB: The route above is also available to download so you can stick it straight into your SatNav. Visit www.adventurebikerider.com/ forum/58-england.html and enter the thread titled 'ABR Cornwall Coast Path route files'.