Bryn Davies beats the chill as he puts 15 base layers through their paces
Ask any rider what item of clothing is key when maximising in-saddle comfort on the bike and you'll likely receive a range of answers. Jackets, trousers and gloves will probably all get a mention, as will mid-layers like insulated linings and heated jackets. But very few would mention the importance of a good base layer and more often than not, the t-shirt that's worn under your mid-layer is a mere afterthought.
But have this mindset at your peril. A good base layer will wick sweat away from your skin, keeping you dry, provide insulation to keep you warm, have odour resisting properties to keep you smelling rosy and, as a culmination of these, provide comfort when in the saddle. A not-so-good base layer will usually do the opposite, making you a smelly, wet, miserable rider if faced with certain conditions.
When it comes to choosing your base layer you'll likely notice that the range on the market will consist of three construction types: wool (usually merino), synthetic (man-made) fibres, or a mixture of the two. Each option provides benefits over the other (synthetic is generally faster drying and better at wicking sweat, while wool will insulate better, have superior odour control and be more comfortable), and a base layer with a mix of the two will usually draw a good compromise.
Something to look out for when buying a base layer is the inclusion of cotton. Cotton will absorb moisture (rather than disperse it), making it heavy and cold, and when it does get wet it will take a long time to dry. Not to mention that you'll stink if you're sweating into it all day, something to be weary of if you're planning to hit the bar after a long ride.
Other features such as flat seams and a good fit will determine how comfortable your base layer will be to wear, while the inclusion of a brushed fleece inner will help keep you toasty if you're planning to use the garment for your winter excursions. If you're one to sweat a lot (I get drenched in lukewarm conditions) then you'll want a base layer that wicks moisture away from the body, and if this is your primary concern then also look for a close-fitting product.
In this test, we're going to be looking at base layers made from motorcycling clothing manufacturers, but we've also thrown in a few from outdoor pursuit brands. It doesn't matter if you're throwing your bike around an Alpine pass or clinging off the rock face above the road, a base layer will need to do the same things and work in the same way.
Oxford Layers Warm Dry Long Sleeve Top
£29.99
Material: 93% Polyester, 7% Spandex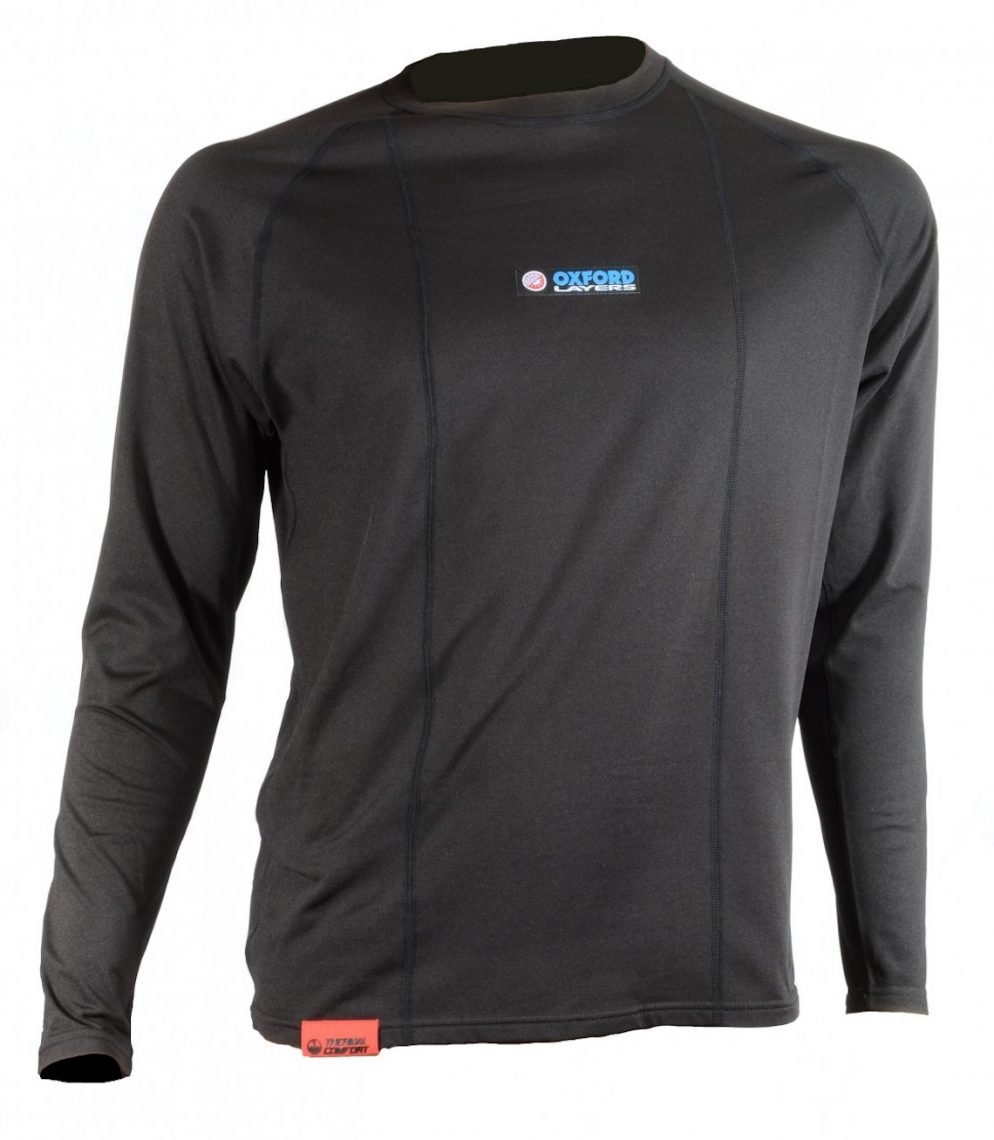 At £29.99, this base layer from England-based Oxford Products is one of the cheapest in this test, but it's a fantastic example of how you don't have to spend a fortune to get good kit that works. With a composition of 93% polyester and 7% spandex, it has a lovely, smooth and stretchy feel to it that will fit well on most body shapes.
The length of the torso allows you to tuck it in comfortably, and also prevents the garment from riding up and revealing flesh when performing reaching movements.
The Warm Dry has supposedly been treated with an anti-bacterial that kills bad odours, but it only took one wear before it started to pong. Of course, if you're likely to have regular access to washing facilities, or you're not too fussed about making or keeping friends, then the base layer performs excellently in other areas to make it worthy of your consideration.
The thick material is luxurious to wear, and it offers ample insulation and the moisture-wicking properties are great for a product of this price.
ABR Rating – 9/10
---
RST Thermal Wind Block Jacket
£32.99
Material: 80% Polyester, 10% Polyurethane, 10% Elastodiene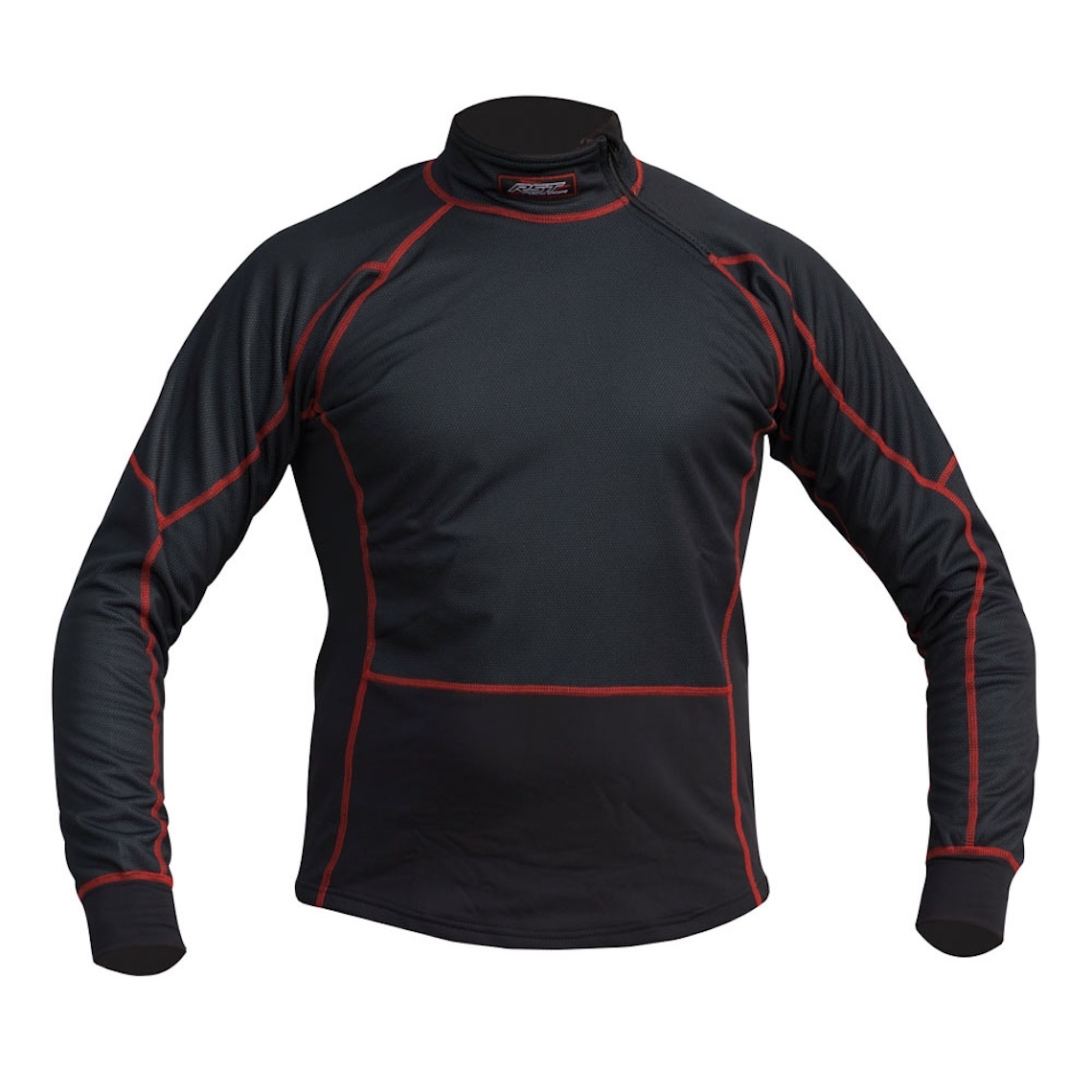 As the name suggests, this base layer is a little different from the others in this test. Wind chill has a drastic effect on how warm we are when riding, and so RST has made this garment windproof to help negate that. As such, the Thermal Wind Block Jacket has a unique feel to it that's best described as a bit 'crisp packety'. That being said, the inclusion of stretchy elastodiene goes a long way to help improve comfort which would otherwise be lacking.
In terms of warmth, this product scores on two points. Its thermal properties are aided by the inclusion of a soft and comfortable inner fleece lining, while the windproof material also helps keep your core temperature up.
The high collar, which features a small zip, works well at keeping the neck warm, though I found it to cause slight irritation after extended use. When it comes to the fit of it, I would recommend buying a size larger than you'd usually buy, as mine felt a little too restrictive, and the torso rode up regularly.
In all, it's nice to see something a bit different, and the Thermal Wind Block Jacket would be a great addition for those who don't have the budget to buy a motorcycle jacket that will keep the wind out for them, plus at £32.99 you get a lot of product for your money.
ABR Rating – 7/10
---
Brynje Super Thermo Shirt
£35
Material: 100% Polypropylene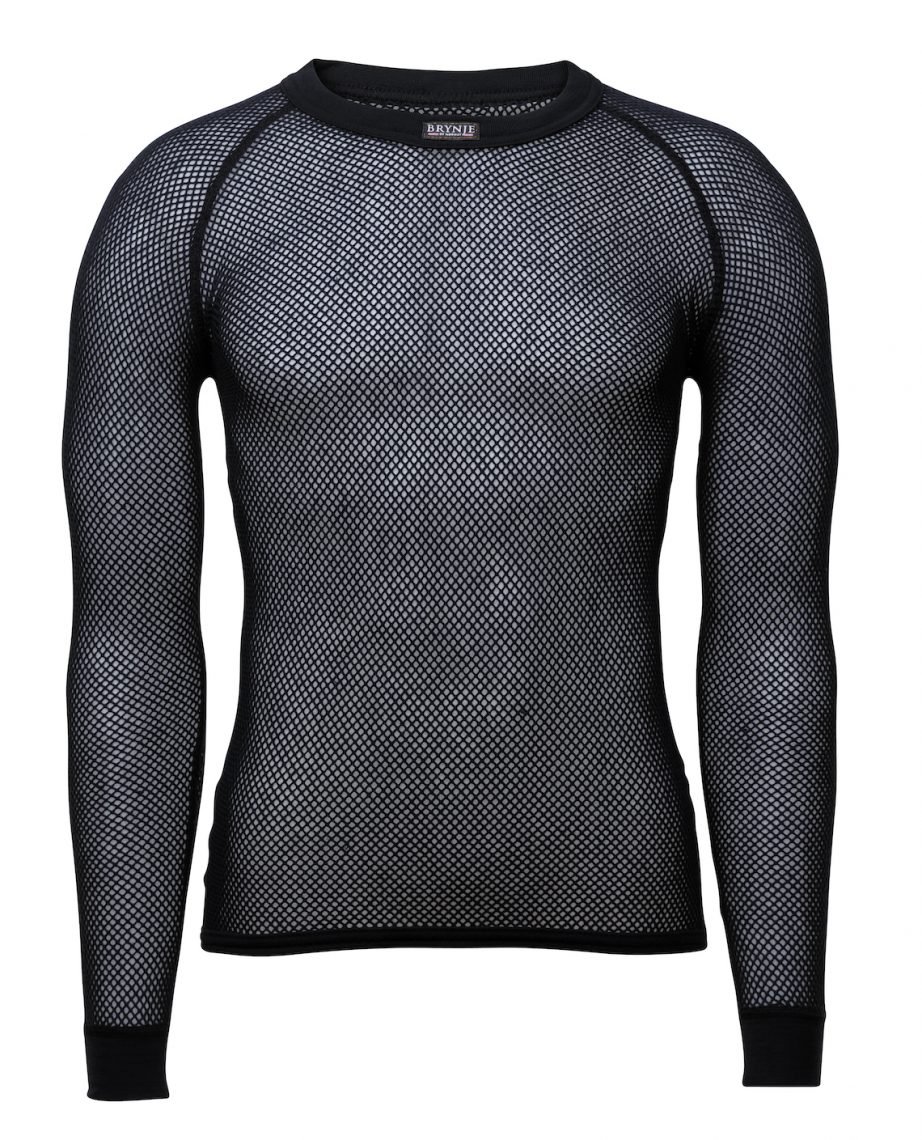 Being from Norway you'd expect Brynje to know a thing or two about staying warm in cold weather, and the brand's submission for this base layer test is the Super Thermo Shirt, a product unlike any other in this review.
As you may notice from the image, this garment resembles something that you'd likely find in Tim Curry's wardrobe on the set of The Rocky Horror Show, but there is method to this madness. According to Brynje, the mesh holes will trap air when a windproof overlayer is worn, and the genius is that when you start to overheat you simply briefly remove this covering layer and the warmth will escape quickly.
From theory to practice the Super Thermo Shirt works exactly as described, and it's amazing just how warm something with so many holes in it can be, but also how drastic the difference is when you need to cool down. With this in mind, the Super Thermo Shirt is perfect for those who tend to run hot and sweat a lot under their riding gear.
The cut of the top is spot on for riding, even though it's intended for active outdoors wear, and in terms of comfort, once you get used to the feeling of the mesh against your skin, it excels.
For £35 this is a superb base layer with a novel concept that works in practice.
ABR Rating – 8/10
---
Sub Zero Factor 1 Plus
£44.99
Material: 100% Polyamide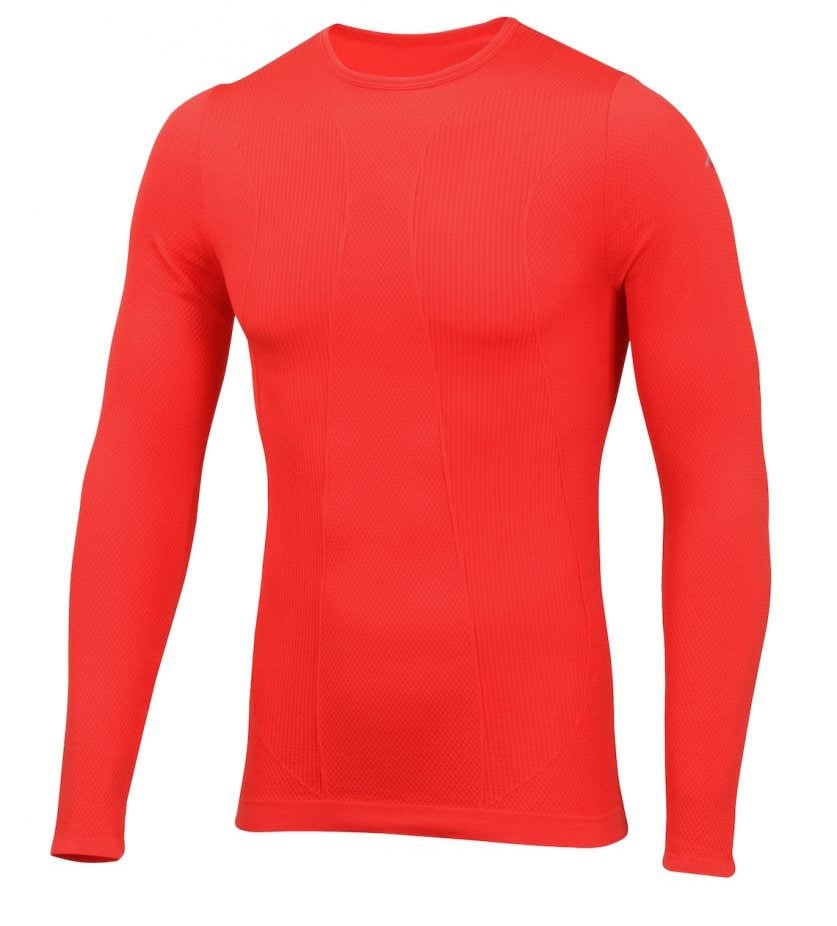 If you like to buy British, then you'll like Sub Zero. The brand has been manufacturing technical performance gear, for cold weather excursions, in Leicester for over 40 years, and when it comes to base layers, Sub Zero knows a thing or two.
The company's entry into this review is the Factor 1 Plus, which is part of a larger range of undergarments under the Factor 1 tag. Being made from 100% polyamide the material offers a great amount of stretch, but it's also lovely and soft to the touch, making for a comfortable wearing experience.
Moisture-wicking and warmth are where the Factor 1 Plus excels. If you're going to be heading out on the bike in cold weather then it'll suit you well, providing ample insulation. The fit of the top is generous, with there being more than enough material to tuck in and prevent riding up when reaching.
Mesh zones, for moisture management, and stretch rib support on certain muscles highlight the technical detailing that's gone into this product and as a technical base layer, it is great.
ABR Rating – 7/10
---
Helly Hansen Dry Charger Half Zip
£45
Material: 100% Polypropylene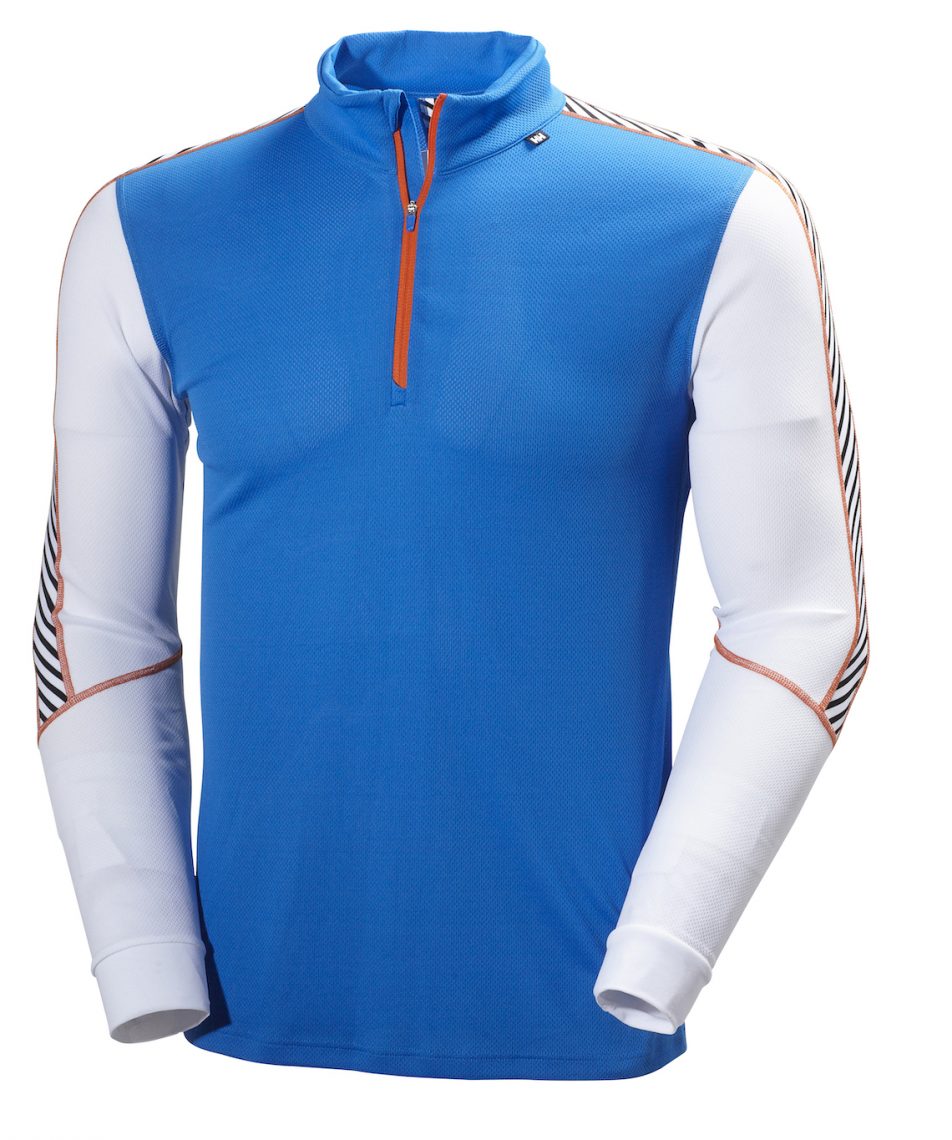 I've been wearing Helly Hansen base layers for as long as I can remember, and the company's Lifa range has a very good reputation in the outdoor industry. This technical garment has a half zip down the front for temperature control and a raised collar that helps keep the neck warm.
The zip is well integrated with an effective baffle preventing irritation. The Dry Charger is made from Helly Hansen's own 100% polypropylene Lifa material, and this has been fine-tuned over 40 years to create a fabric that's lightweight, comfortable, quick-drying and odour resistant.
It may sound like I'm just reeling off marketing spiel there, but after extensive testing, that's exactly what I've found the Dry Charger to be. The fit is more casual than your typical base layer, draping over the body like a standard t-shirt, and this makes for a very comfortable experience.
The torso is nice and long, and when it came to our drying test the Dry Charge performed exceptionally well, being one of the fastest drying products on test. Warmth isn't a strong point though, so if you're after something for winter riding you might want to check out one of Helly Hansen's heavier weight base layers. All things considered, this is a well-made product for the price.
ABR Rating – 8/10
---
Finisterre Eddy Base Layer Shirt
£50
Material: 80% super-fine Merino, 20% polyamide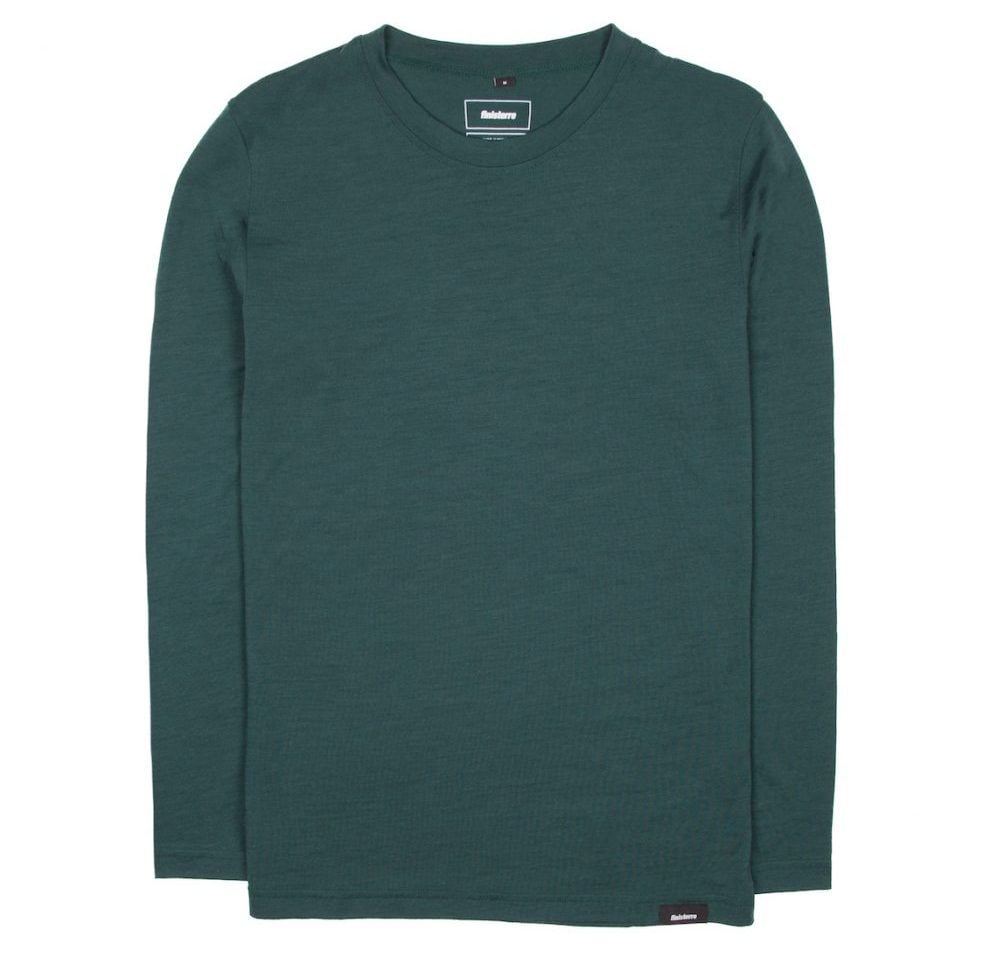 Finisterre is a company that's kept itself under the radar in the UK, and I can't quite understand why. Whenever I've tried the brand's gear, I've usually been impressed with the functionality of it, and while it might not be the flashiest, it's reasonably priced.
The Eddy Base Layer is the brand's entry into this group test, and with a fabric blend of 80% merino wool and 20% polyamide it's a wonderfully soft piece of clothing that drapes over the body nicely.
In our drying test the Eddy performed fairly well, sitting pretty much smack bang in the middle of the range, and this is mostly down to the large proportion of merino wool that it contains. The good news is that merino wool tends to offer slightly more warmth when wet than synthetic fibres, but it won't be the most comfortable experience of your life.
Also thanks to the wool, the Eddy has fantastic odour-resistant properties, managing to keep the stench of BO away for a substantial amount of time before it needs washing again. The cut of the top is very nice, offering a comfortable fit and more than enough length to tuck into your trousers and prevent riding up.
In essence, if you're after a nicely priced, well-performing merino wool base layer, you can't go wrong here.
ABR Rating – 7/10
---
EDZ Merino Base Layer
£50
Material: 100% Merino wool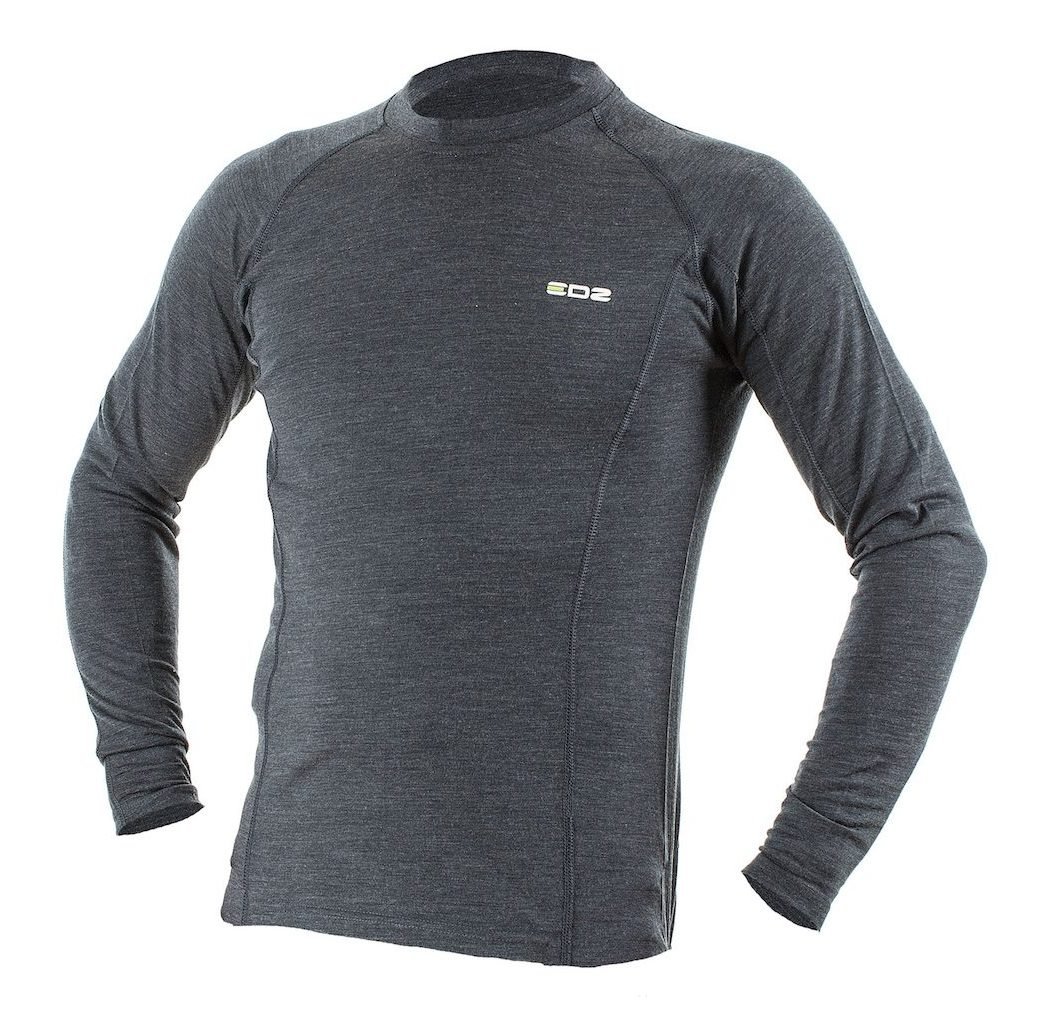 EDZ is a company that specialises specifically in manufacturing base and mid-layers, and for this review, we were testing out the Graphite Merino Base Layer, a garment that's made with 100% merino wool. The first thing you'll notice about this product is how delightfully soft it is, and how nicely it drapes.
The cut of the top is spot on for the motorcycling seating position, with the torso being long enough to tuck in, and the fit is slightly loose, giving it a more casual appearance.
In use, the Graphite provides a decent amount of warmth off the bat, and is very comfortable to wear, after you get past the initial feeling of wearing wool next to skin.
As it's made from merino, it's not the quickest to dry, but it will retain some insulating properties when it's wet, and perhaps the best bit is the base layer's odour-resistant properties, staying pong-free for nearly a week. If you're after a full Merino wool base layer then, for £50, you can't really go wrong here.
It's not particularly flashy, but it does its job nicely.
ABR Rating – 8/10
---
Forcefield Base Layer Shirt
£54.99
Material: 95% Polyamide, 5% Elastane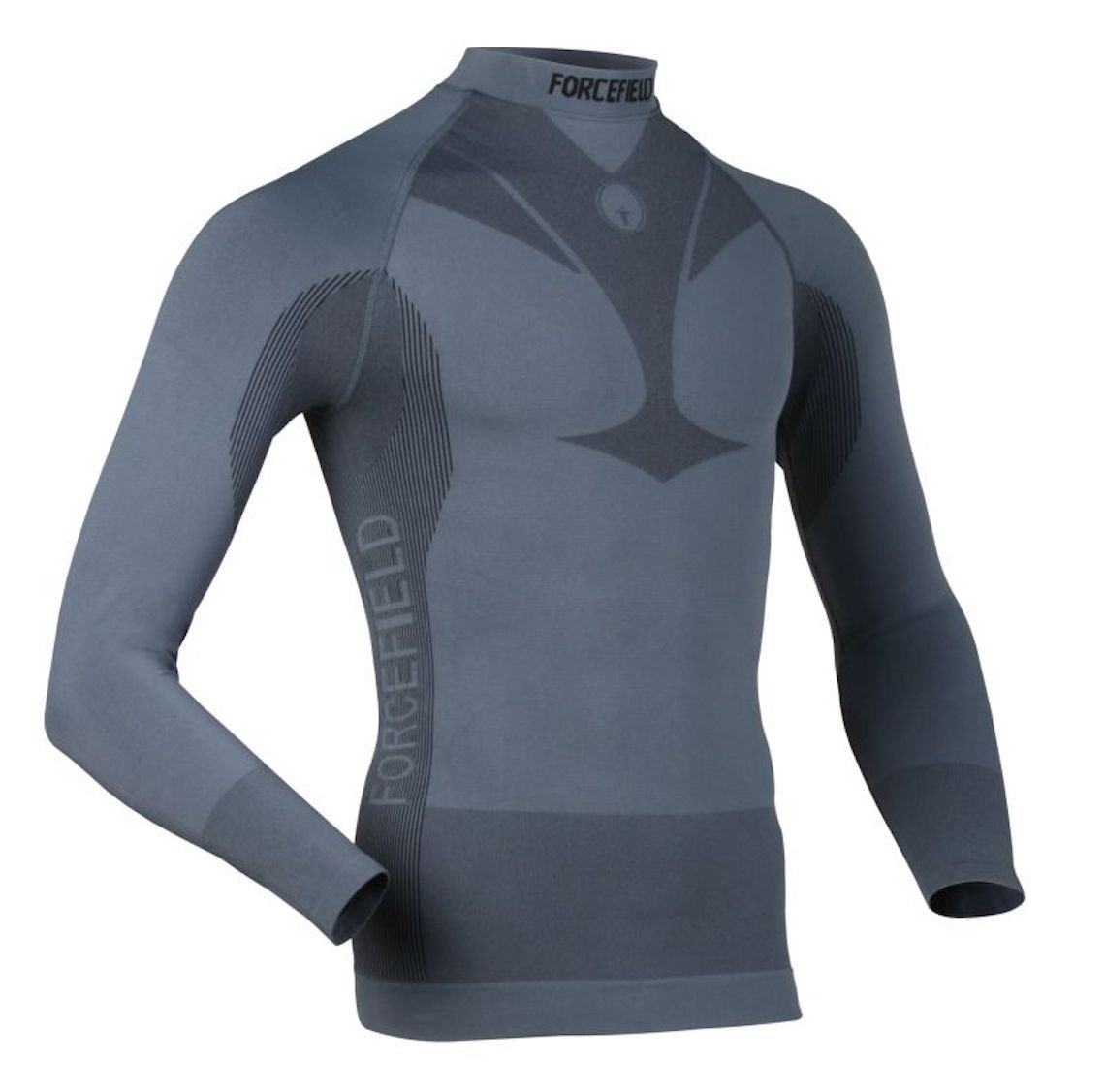 When I think of Forcefield, it usually conjures up images of the brand's excellent range of body armour, but the company also offers a great range of technical base layers, and some of these even contain armour. For this review, we've been trying out the Base Layer Shirt (no awards for creative product naming), a top that we're familiar with, having used one for the last few years.
This base layer is a long sleeve technical shirt that's composed of 95% polyamide and 5% elastane, which combine to give the garment a stretchy and comfortable feel and a very tight fit. The torso is plenty long enough to be tucked in, allowing you to reach for the handlebars without the material riding up.
While the shirt has superb moisture-wicking properties, effectively transporting sweat away from the skin, it's lacking when it comes to drying times, taking over four hours in our test. The material is nice and thick and offers a good amount of warmth, but the anti-odour properties are also lacking which means the material will start to smell quickly.
ABR Rating – 7/10
---
Rukka Outlast Long Sleeve Shirt
£54.99
Material: 61% Polyester, 33% Viscose, 6% Elastane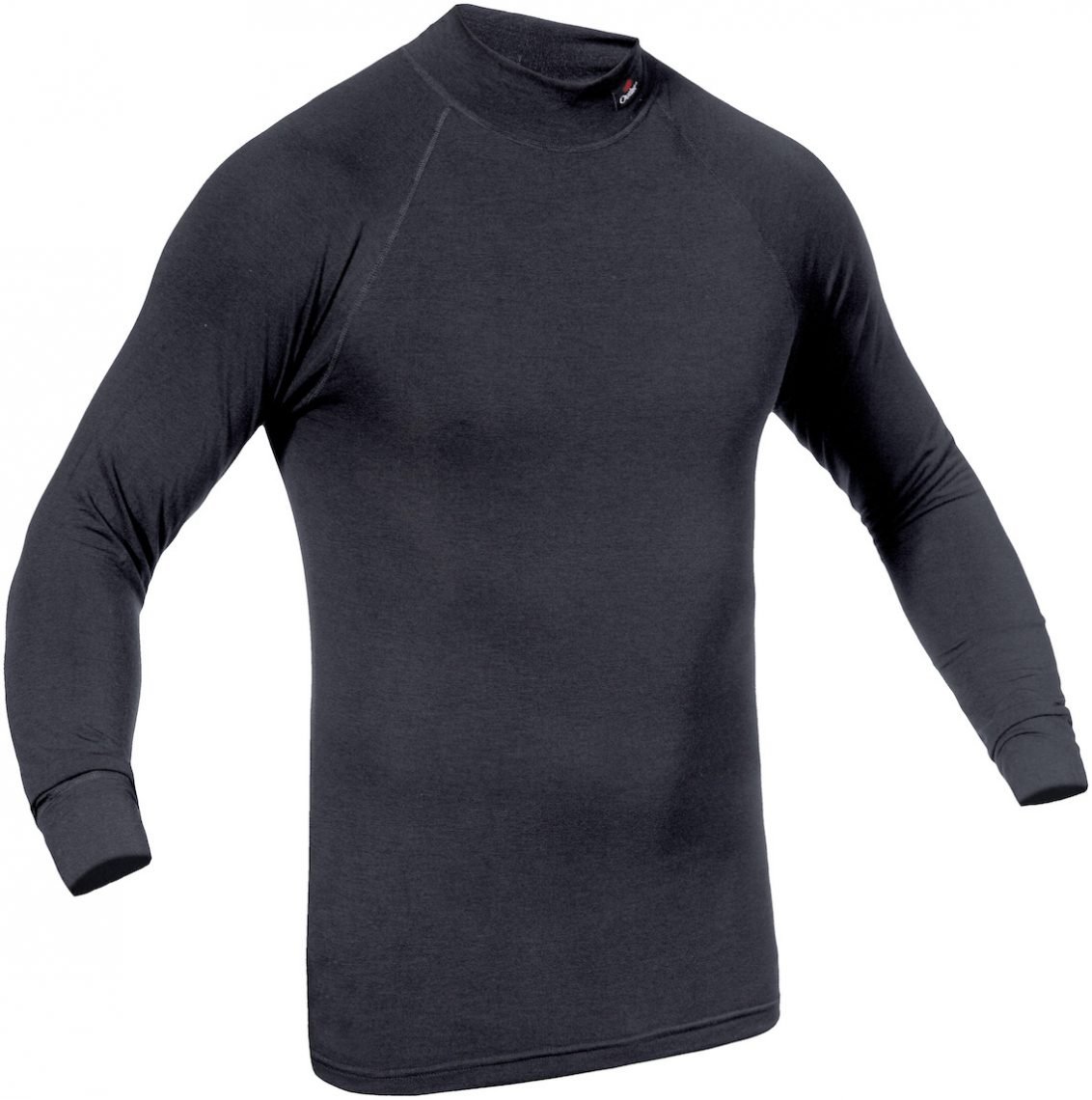 It's not often you see a Rukka product in the middle of the price range, but this base layer sees itself priced at £54.99. While other garments in this review are pretty standard, this one makes use of Outlast technology to help provide warmth when it's cold and cooling properties when it's warm.
It'd take a lot more than the 170 words of this review to explain how, but for now, we'll say that's a technology that's used in astronauts' suits, such is the confidence in it.
With a composition of 61% polyester, 33% viscose and 6% elastane, this base layer has a delightful handle to it and is exceptionally comfortable to wear. The fit is spot on, being long enough to tuck in and tight enough to wick moisture effectively. I haven't been able to test it out in hot climates, but in freezing conditions I found it to provide a fantastic amount of insulation.
In terms of odour resistance, it performs well, being able to withstand four sweaty days before becoming offensive. At £54.99 it may sound pricey, but the quality and technology that's gone into this product make it one you should consider.
ABR Rating – 9/10
---
Planet Knox Jacob Sports Long Sleeve
£54.99
Material: 50% Merino wool, 50% Polyester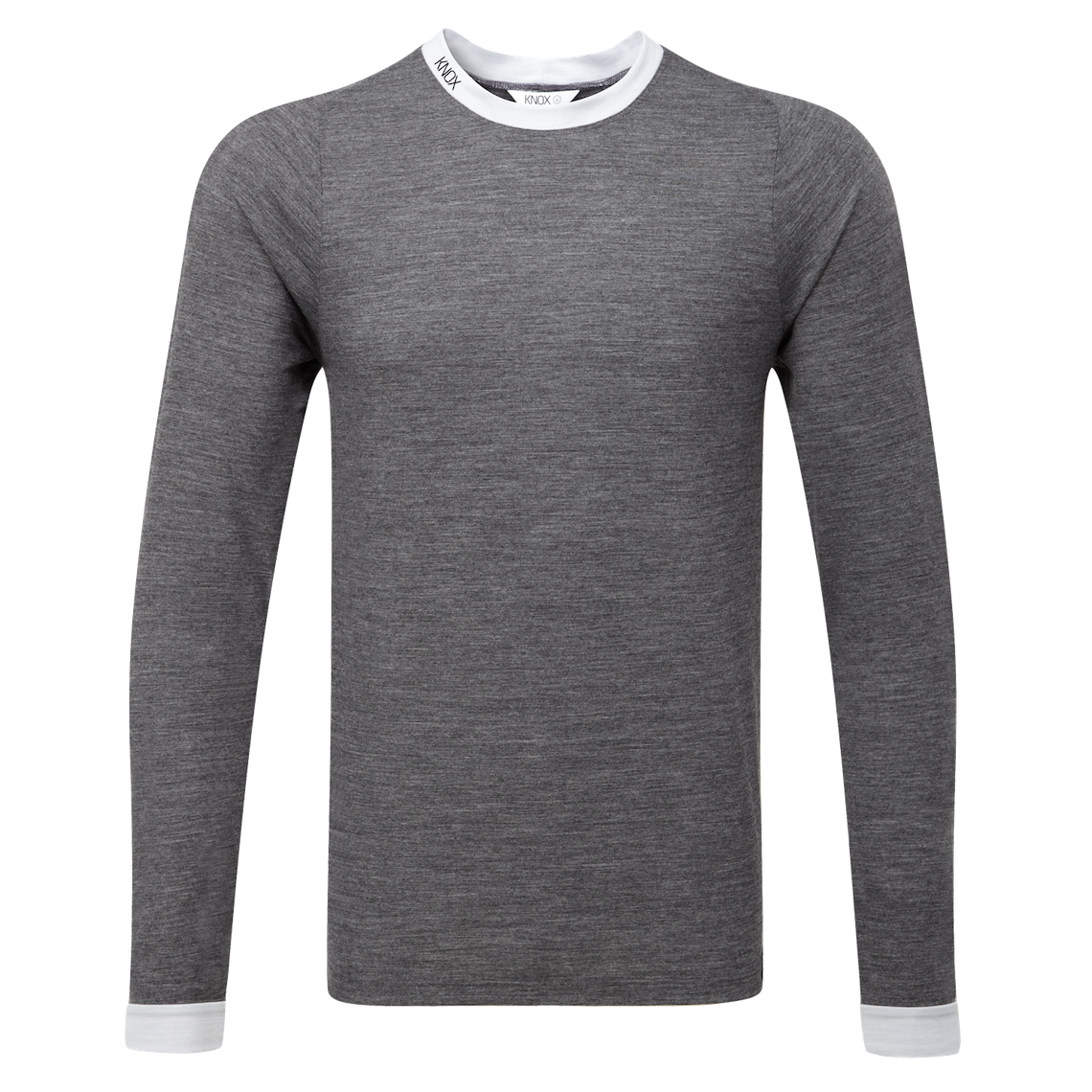 Cumbria-based Knox is a brand that I've come to love. The company puts a huge emphasis on not only providing products that perform, but clothing that looks damn good, and everything from the finishing touches on the Jacob Sports base layer, to the beautiful Apple-esque packaging that it comes in shows that this is a company that puts effort into manufacturing the best it can.
The Jacob Sports is made with 50% wool (Australian merino wool) and 50% polyester, and the result of this combination is a luxuriously soft, comfortable and high-performing fabric.
The presence of merino wool means that this top will help to keep you warm when it's cold out, but also cooler when the temperatures start to rise, and the polyester adds elements of moisture-wicking and an improved drying time.
In terms of styling, this is the best base layer on test, hands down, but this casual design doesn't always lend itself to the performance of the garment, and while I found that it performs very well in most aspects, the cut is a little too short on the torso, with the product riding up regularly and exposing my skin to the cold.
If you're looking for a base layer that will look as good in the pub as it does under your bike jacket, then look no further.
ABR Rating – 8/10
---
Mammut Go Warm Long Sleeve Base Layer
£60
Material: 72% Polyester, 22% Wool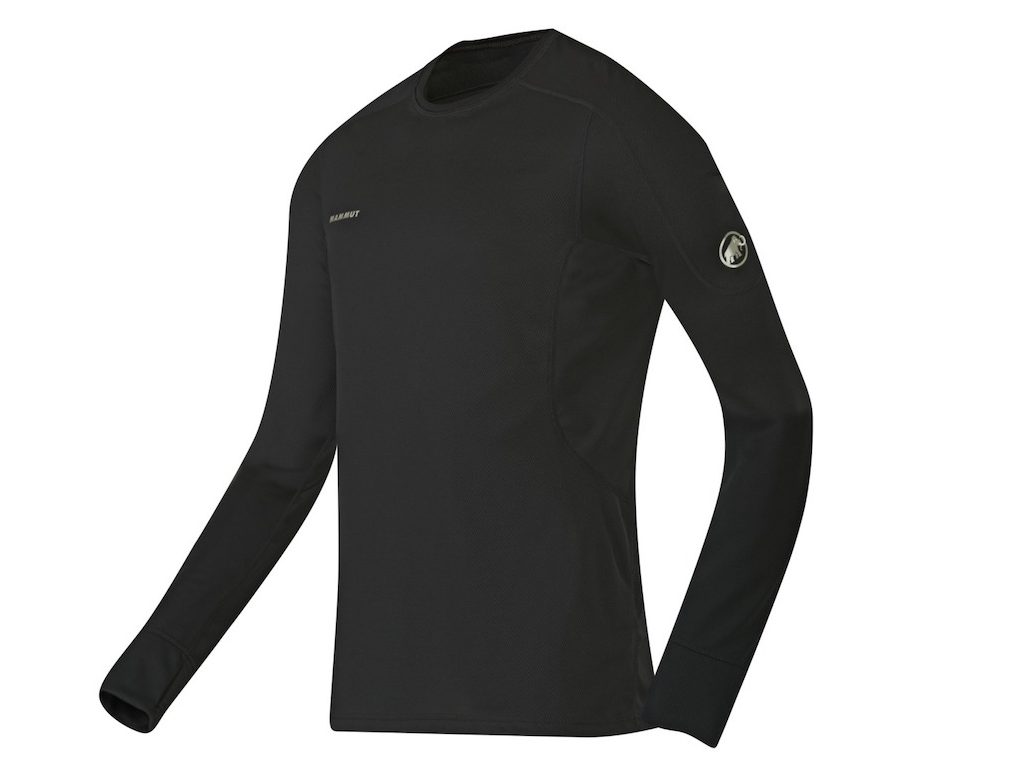 With a name like 'Go Warm' you'd be right in thinking that if you're planning a tour in cold weather then this base layer is the one for you. A fabric blend of 72% polyester and 22% wool combines to create a material that has been dubbed Pontetorto Technowool, and aside from sounding like a sheep's rave get up, it offers benefits associated with both man-made and natural fibres – that is quick-drying, moisture-wicking and warmth.
The polyester works well to wick sweat away from the skin and offer quick drying times, while the wool aids in the anti-odour properties of the base layer (though I was clearing rooms after two days of heavy sweating), and both come together to offer enough warmth to keep you comfortable during cold rideouts.
The Go Warm also features body mapping to help you get warmth where you need it and a great, unrestricted fit, and the low-profile stitched seams are comfortable against the skin. In all, if you're heading out on a cold ride in conditions close to, and below, zero then this base layer will serve you well.
ABR Rating – 8/10
---
Alpinestars Ride Tech LS Winter Top
£69.99
Material: 72% Polypropylene, 23% Polyamide, 5% Elastane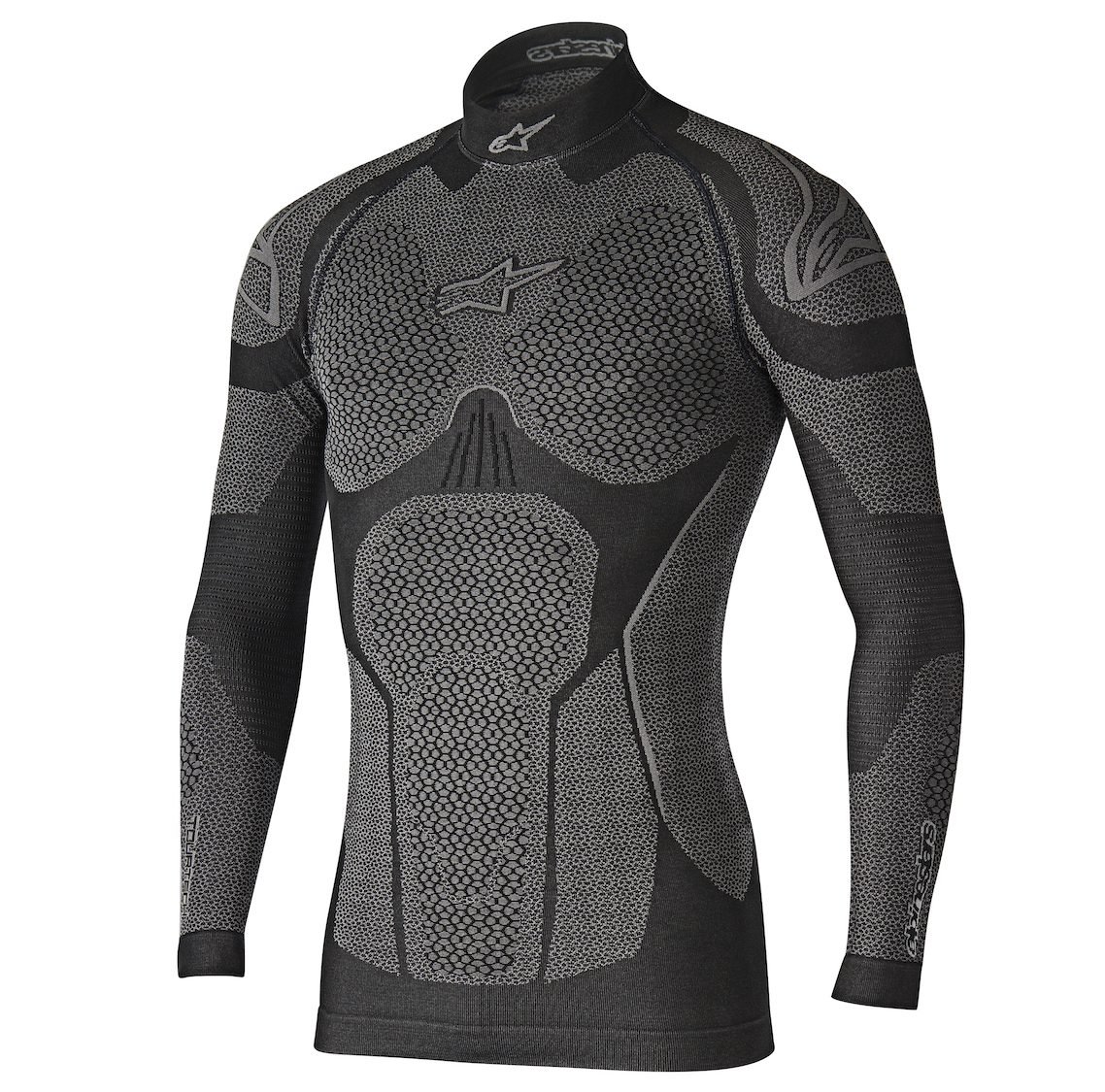 Out of all the base layers in this test, the Alpinestars Ride Tech LS Winter Top was probably subjected to the most rigorous testing of the lot. I wore it while on a cold and snowy weekend away in the mountains of Spain, and despite being in temperatures around zero and being covered in snow, I was never cold enough, despite being wet through, to want to stop riding, and that's testament to the quality of this base layer.
In terms of comfort, it will excel if you like tight compression base layers. This close fit also makes it work very well at wicking sweat away from the skin, and in terms of drying time it impressed, becoming wearable again after just a couple of hours. It also has great odour-resistant qualities, staying fresh for the weekend despite being damp and sweaty for the duration.
The torso is plenty long enough to be tucked comfortably away, and the cut of the shirt is perfect for an adventure bike riding position. At £64.99 it's starting to get expensive, but this is a very good technical base layer from a brand that lives and breathes motorcycling.
ABR Rating – 9/10
---
Halvarssons Polo Wool
£84
Material: 100% Merino wool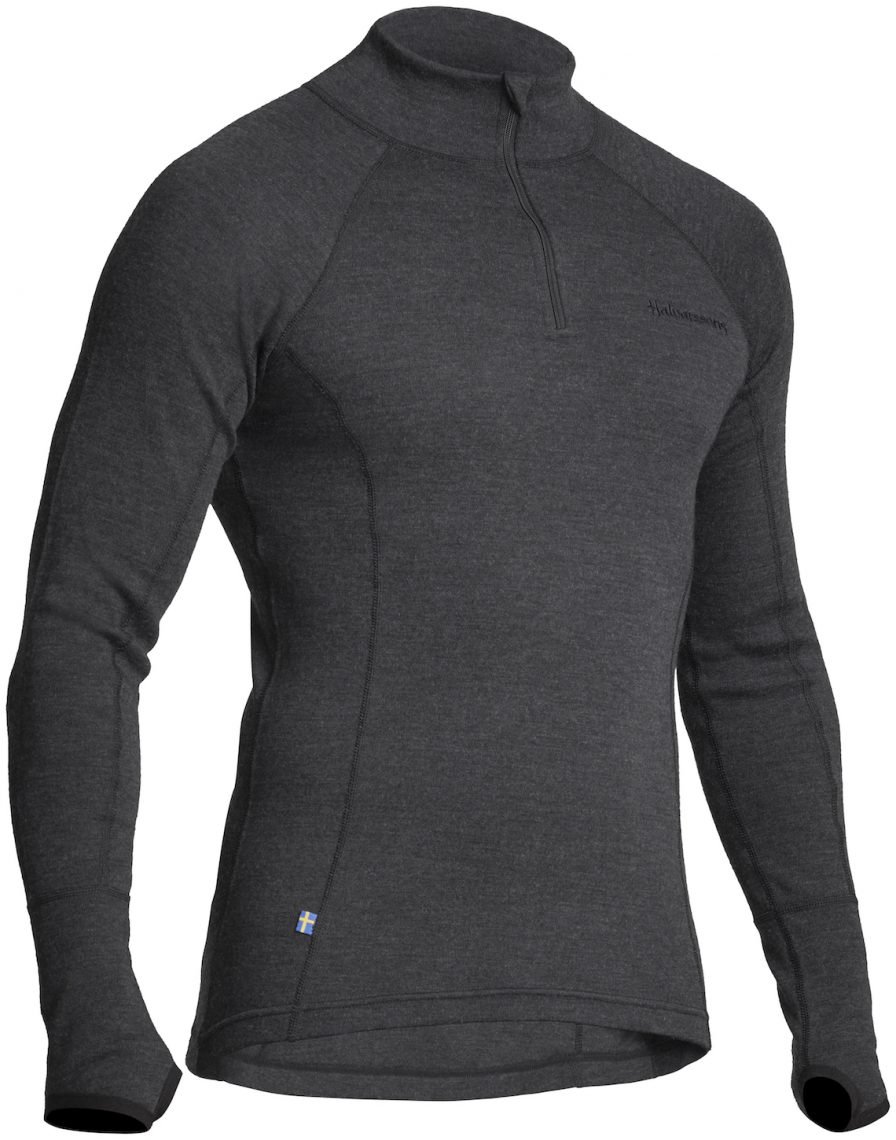 We're big fans of Halvarssons gear here at Adventure Bike Rider, and for good reason. Hailing from Sweden, the brand knows more than a thing or two when it comes to manufacturing products that provide comfort and protection from the elements, and in the past we've rated the Halvarssons Wintur highly.
For this test we've been getting to grips with the Polo Wool, a beautifully made long sleeve 100% merino wool base layer.
As you'd expect from a merino wool garment, the Polo Wool is a delight to wear. It fits snug against the skin and provides a great amount of warmth for those chilly rideouts, and a raised collar helps to protect the neck from chills. A well-integrated half-zip runs down the front, and this causes no discomfort at all.
A great inclusion is thumb loops at the cuffs, and once you're using them you'll wonder why more base layers don't have these as they prevent the sleeve from riding up when you slip into your jacket. In terms of odour resistance, the merino wool works very well to keep you smelling fresh, and it's yet to offend, even on the most stringent pit sniffing test. It's expensive at £84, but this garment is very well made, super comfortable, and it just works.
ABR Rating – 9/10
---
ARC'TERYX RHO LT Zip Neck
£90
Material: 84% Polyester, 16% Elastane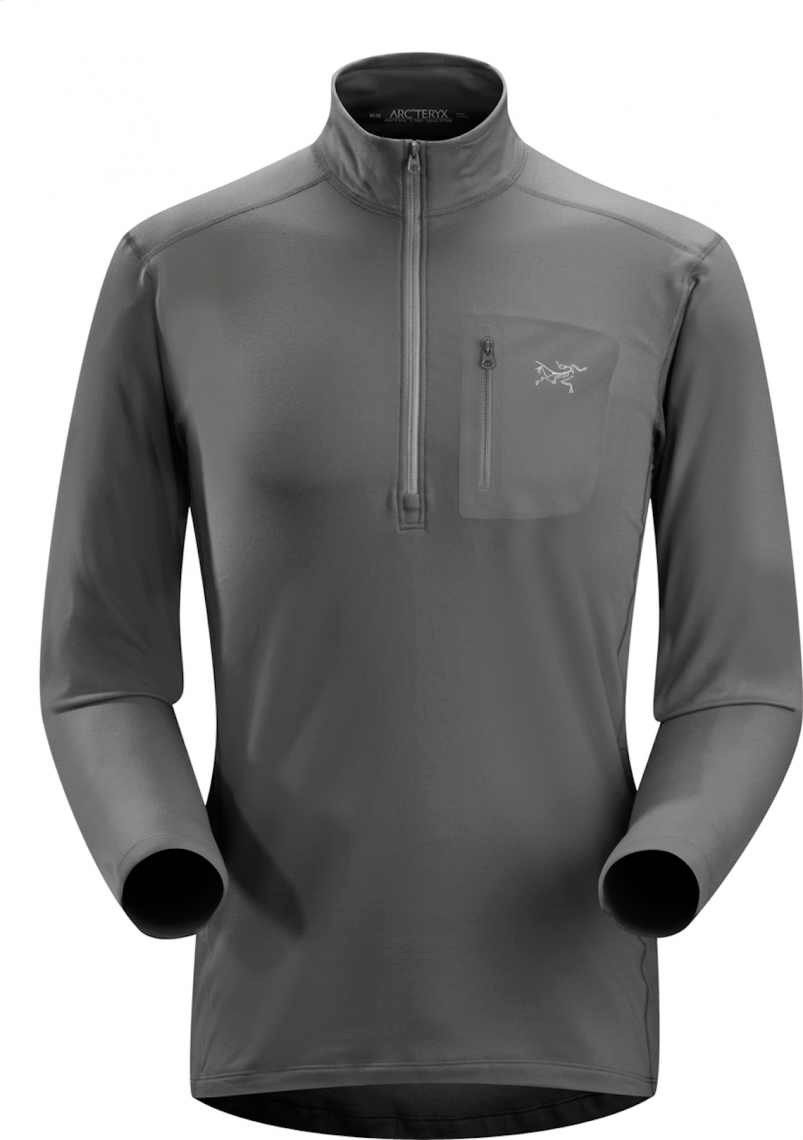 For as long as the company has been around, Arc'teryx products have demanded a high price tag. The Canadian brand has been manufacturing gear for extreme outdoor pursuits since 1989, and in my experience, everything is exceptionally well designed with both performance and style in mind.
The entry to this test is a great example of that, with the Rho LT Zip Neck offering a fantastic user experience from the moment you slide it over your head. The mix of 84% polyester and 16% elastane combines to create arguable one of the most comfortable base layers around.
The slightly brushed fleece inner feels delightful against the skin, and the garment fits perfectly. In terms of odour resistance, the Rho performs well and will easily last a long weekend away, while the fabric does a great job of wicking moisture. In our drying test, the product was slightly disappointing, though, coming in second slowest to dry.
A high collar helps keep the neck warm, and a well-incorporated half-zip allows for temperature regulation if you find yourself getting too hot, which is likely as the Rho is toasty. The cut of the top allows for reaching movements to be performed without any lift, and the seams on the inner are all flat to prevent irritation. A handy, zipped chest pocket is also included.
ABR Rating – 8/10
---
Dainese D-Core No-Wind Thermo Tee
£99.95
Material: Material: 85% Polypropylene, 10% Polyamide, 5% Elastane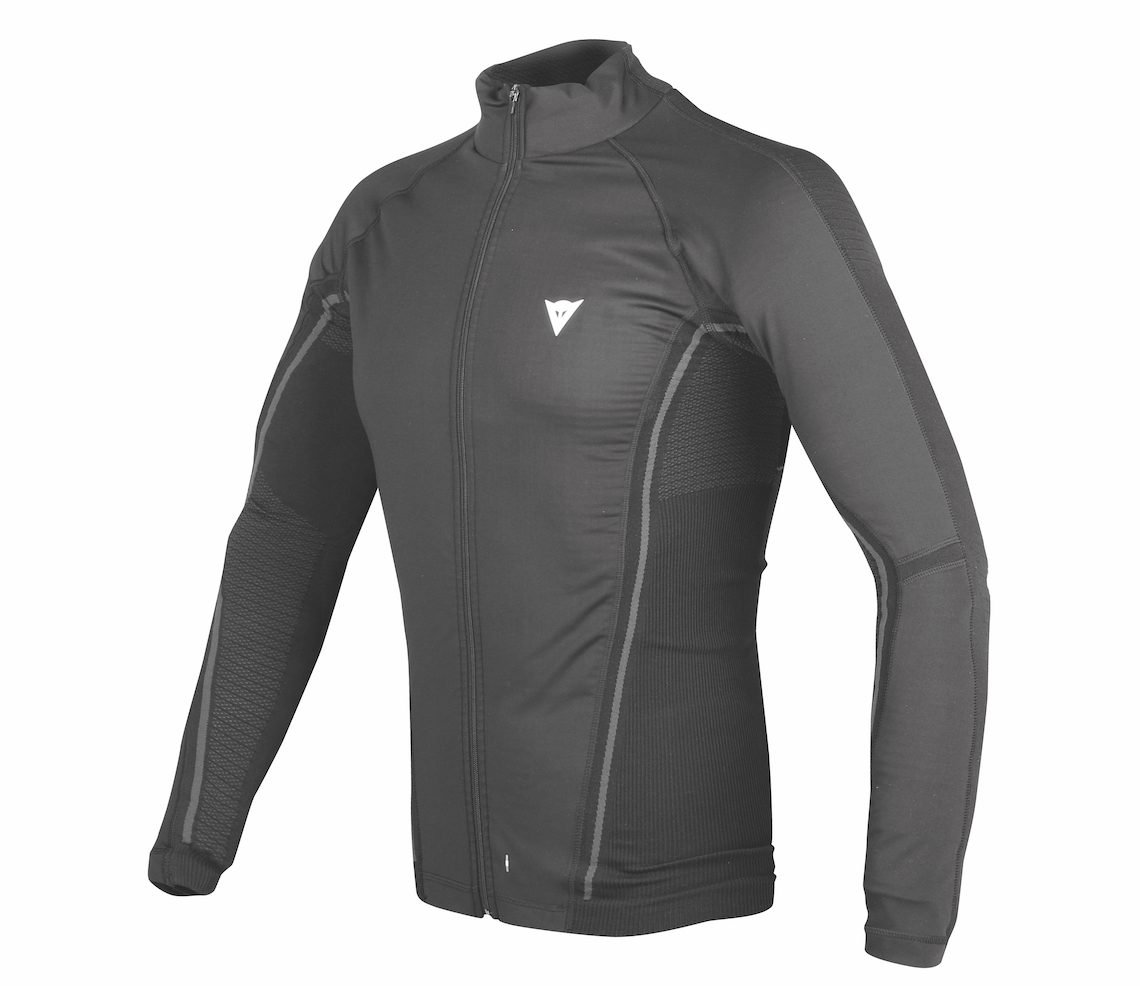 Like the RST Thermal Wind Block Jacket, the Dainese D-Core No-Wind Thermo Tee is a windproof base layer, but what makes it retail at over three times the price of the RST? Well, as soon as you look at the D-Core you can see that there's a lot more thought and design that has gone into this product.
The windproofing is zonal, which makes for a far more comfortable wearing experience, while there are also areas which feature different fabric constructions to aid in moisture-wicking and warmth where it's needed most.
A full-length zip runs down the front of the base layer, and this is comfortable against the skin thanks to an effective baffle, and a high collar help to protect the neck from chills. Warmth provided is excellent and this base layer excels in cold weather, but where it comes up short is in the drying time if you end up sweating profusely into it (which is likely during warmer weather).
In our tests, it came last by a long margin, taking hours more than any of the other base layers on test to become fully dry. At £99.95 it commands one heck of a price tag, and if you're looking for a warm, windproof winter base layer you'll be hard pushed to find better, but for warmer temperatures, you'll be better looking elsewhere.
ABR Rating – 7/10