Looking to bypass the long, monotonous motorway journeys that typically kick off a European tour, Chris Willett heads to Athens in search of blue skies and epic rides.
When you're tired of pounding peages and autobahns for days before you even start your annual biking trip, finding an alternative destination can be tricky. The need to sell it as a bit of a holiday in the sun to your girlfriend, embarking on what you hope will be the first of many trips as a pillion while still satisfying your need for adventure, only increases the challenge. Well, Greece is the word!
After two days seeing the sights of Athens we picked up our 2012 BMW F800GS from one of a handful of city centre rental operators. With a huge top box, chain lock and one helmet included, our new steed was well maintained if cosmetically 'tired' – which is just how I like it.
Give me something shiny and I feel compelled to keep it that way! Metal side boxes were an option but cheap second-hand soft panniers, doubled up as our check-in luggage, were easily strapped to the bike and convenient to take into our lodgings each night.
Taking on the Athens traffic for the first time is daunting to anyone whose Greek merely extends to the 20 words they crammed on the three and a half hour flight from London, but the co-pilot app on my iPhone 6 mounted to the handlebars, and my innate survival instinct saw us quickly out to the industrial port (scenic in its own way) and heading for the Peloponnese.
We planned ten days of touring this technical island smothered with ancient ruins, beaches, mountains (blessed with endless off-road opportunities and roads which on the map look like a kid has scribbled all over it) and a few surprises.
I scoffed at Sofia from Motorent when she told me 'the bike has brand new tyres so if it rains you should wait a while'. When she told me this it was blazing sunshine, 32C and it hadn't rained for five months. No sooner had we climbed off to see the Corinth Canal, a masterpiece of engineering which slices through the earth down to sea level to save ships a 500 mile trip around the peninsula, it started to 'spit'.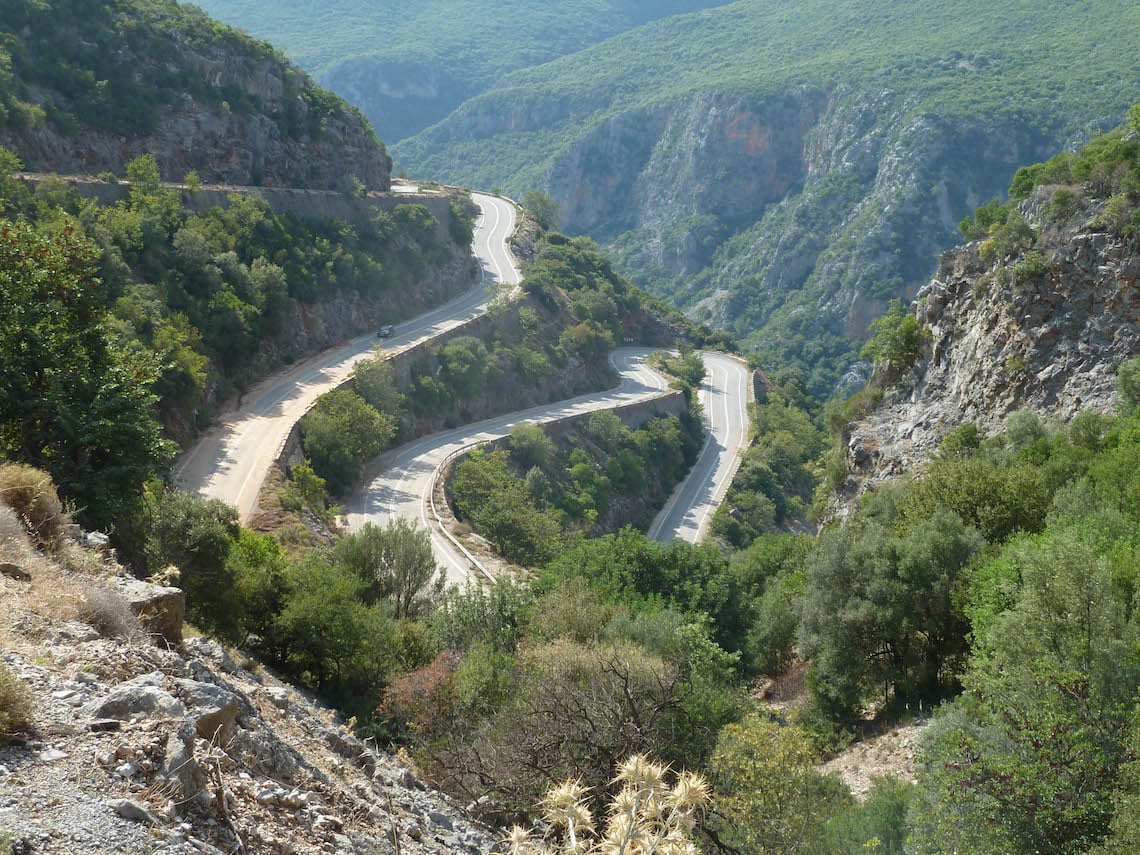 No problem, I thought, we'll wait. After two hours of waiting and drinking iced espressos, all the rage this summer, the skies were only getting darker and the rain heavier. With nothing for it but to venture out, we mentally prepared for the unavoidable soaking and roads so devoid of friction that a dog slipped over in the car park. This, it soon became evident, was too little preparation as raging torrents crashed across the roads pushing waves of sand and gravel ahead of them.
Rock slides always seemed to pick the apex of bends to eat the road, returning it to part of the hill, and bridges were washed away. My chest was full of tension as I struggled to employ all of my experience to keep us upright as the rain lashed us mercilessly and darkness fell at three in the afternoon.
We arrived at the hotel in Ancient Epidavros (just up the road from New Epidavros) where big Georg generously allowed us to park the mud-slicked GS in the foyer, he said, "new tyres aren't your problem, Greek drivers are your problem". Maybe they are both problems Georg, well, challenges at least.
That night was a sleepless one; the aircon, on full blast to dry out our kit, competed with the noise of the storm blasting the coast with driving rain. The occasional peek out to see a flooded balcony and trees doing Mexican waves didn't help me relax.
The next morning's start was, despite an excellent breakfast, a daunting one. I regretted explaining to Alison how, during hot weather, tyres leave microscopic rubber beads on the road surface which float on rainwater; as the back end fishtailed and the front end squirmed on a road surface which was difficult to see, never mind read. After a while, overwhelmed by the challenges being constantly thrown at me I relaxed and the ride became a video game.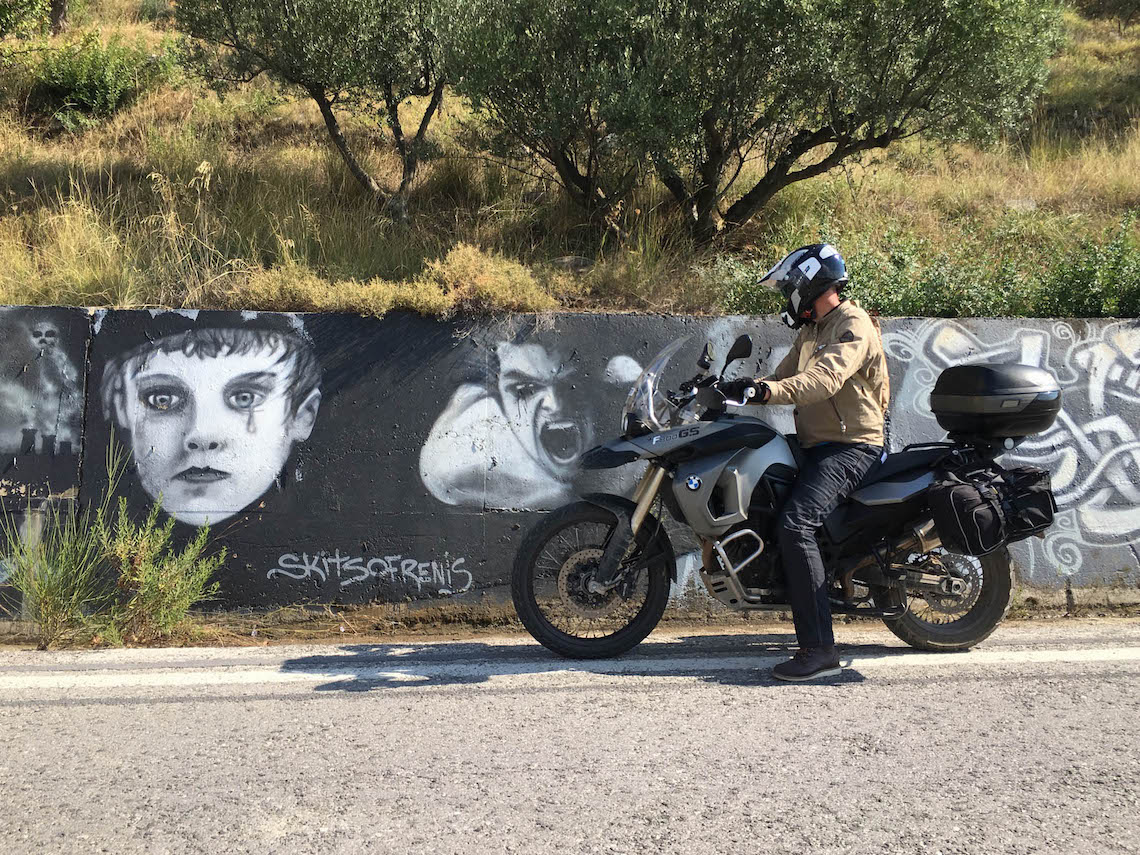 Steering a path around, over or through the hazards, each potentially fatal but still rewarding to ride out. Popping over rocks or drifting around a hairpin bend coated in aggregate suspended in fast-flowing water actually became a bit of fun. The sodden landscape released a range of strong scents into the damp air unappreciated by the occasional driver. Soil, sweat (me), sweet jasmine, donkeys, wet dog (me again), pine and stale urine (not me) all made the ride a sensory experience.
By lunchtime the skies mercifully cleared and we began to dry out. Our planned four hour day in the saddle became eight as mudslides, rock falls, flash floods and waves of deep ochre mud laid waste to villages and ripped out infrastructure. We later learned that four people had died in the freak storm, and the local government had declared a state of emergency.
Cars parked in town centres were washed downriver onto beaches. All week we would pass piles of wet clothing, toys and mattresses outside homes where an umber tide mark on the exterior plaster showed how high the waters had gone, and streets deep in mud being hosed down by firefighters or swept into bow waves by lines of broom-wielding old ladies.
Having zig-zagged over the mountains many times due to diversions we arrived in Neapoli just as the sunset. Riding in the dark is not recommended. Despite being exhausted we were well set up for catching the ferry to the remote and storm-free island of Kythira the next morning. The purchase of bin bags had protected the contents of our panniers, but not our biking gear from a tinge of orange where mud had dried to dust.
Kythira is a 18-mile long rock upon which villages with white churches and ancient forts overlook beaches and tiny harbours rimmed with idyllic cottages. It was on one of these beaches I left Alison for an afternoon in favour of some solo off-road exploring. I had, by now, bonded with the GS and having pre-booked this bike from a decent selection of rental machines months before, I was keen to put it up against my Tiger 800 XCx.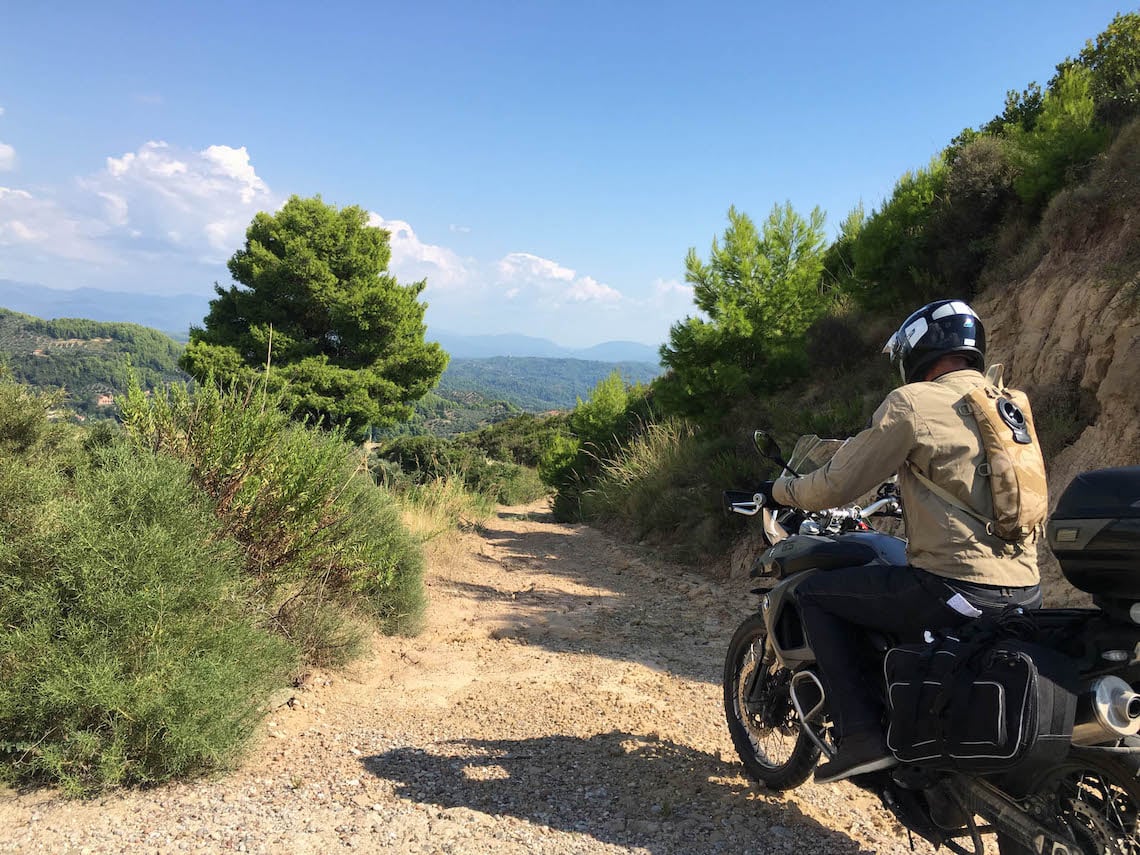 On the road, the notorious whine of the twin at 4,500 revs had bugged me and I found myself at times going for a non-existent seventh gear or exploring the box for a ratio which would allow me to go on and off the power in linked bends without sending a Cush wrenching slap through the chain, which had Alison struggling to stop our helmets clashing. On the Tiger, this is any gear.
The Metzeler Tourance tyres were no longer new, but I was surprised how well they coped with every imaginable surface and two up at that. I relished the job of scuffing off those little rubber spikes on the 'chicken strip' edges. Wanting to find fault with the GS I have to concede the riding position is excellent and the feel more rugged and integrated than my Tiger. You've heard it before, sitting in versus sitting on.
This became a minus when the trail hit a dead end on a steep, gravelly and rutted bank. Despite being 6'4" I worked up a helmet-drenching sweat fighting the high balance point to turn round either on tiptoe or dismounting to wrestle with its bulk. Yes, the fuel tank is low under the seat- but that's like saying the fifth floor of the Empire State Building is low! Lack of rudimentary gizmos on this model meant no faffing with switches and I selected my route by how good the trails looked.
Charging up and down rutted clay tracks which ended on cliff tops, deserted beaches in hidden coves or caves turned into tiny churches would make a holiday in itself and with no shortage of trails, and a tip from the fellow Ducati riding hotel manager that I could go anywhere I wanted, I lost all track of time. This left us late for the ferry back to the mainland and I got to race test the GS by covering ten miles of contorted mountain roads in twelve minutes.
The stevedore was clearly unimpressed by our hooligan thrash down the deserted quay just as daylight made a crack under the loading ramp. An exhilarated and giggling Alison thrust into his hand the tickets we had purchased the day before and, despite the disapproving stares of everyone else on the ship, our tour was still on track.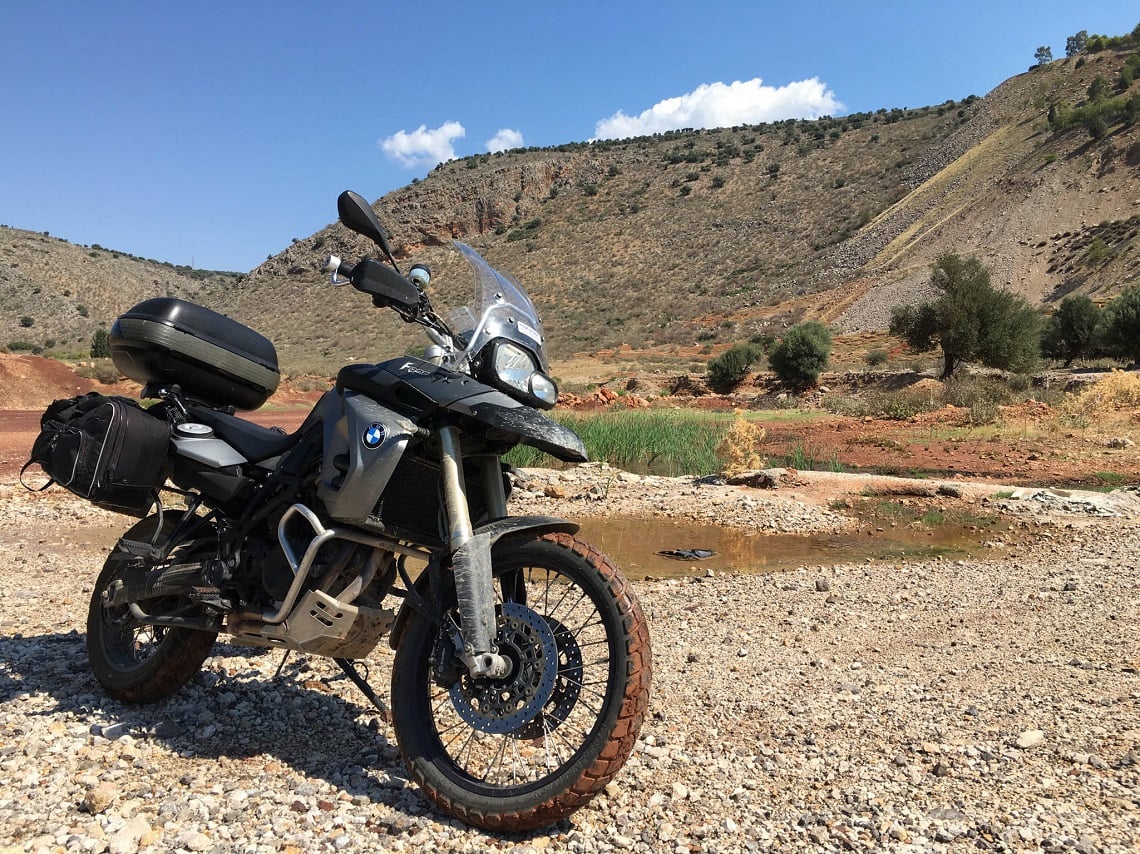 From here it was back over the mountains to the stunning walled town of Monemvasia, perched on a rocky precipice across a causeway from the mainland. Bikes can park at the gates while cars fight for a few spots on the approach road. Bonus. The sunshine rose on a big-mile day, but we indulged in a leisurely if early breakfast before taking on the Taygetos mountains and on to Pylos on the west coast.
We met a South African who told us how he couldn't afford to rent a bike due to the value of the Rand but must have said 'biking Nirvana' a dozen times in the conversation. Elysium is probably a better analogy but I can't do justice to the jaw-dropping views incised by the most magnificent biking roads. Alison said it's like Austria mixed with Utah. I've never been to Utah and she's never been to Austria, but monumental red rock pillars looming over deserted blacktop snaking through deep gorges shrouded in verdant foliage under an azure sky fits the bill.
White-painted monasteries hang high in the cliffs and traditional mountain villages offer ideal coffee stops, worth the time out as like rain in England, some sort of colourful parade at the village church is always either happening or about to happen.
You'd be unlucky to see more than a wild tortoise moving on these roads (we saw several to Alison's delight) but, like anything which puts you into that euphoric 'this is fantastic, I'm a biking god', mindset there are risks. Even without the region being ravaged by storms, Greek roads are 'random' to say the least.
Pristine tarmac will immediately and without warning become smashed up concrete or even dirt track. Off the major highways, I would never ride at above 70%, you have to be able to deal with that huge deep crater, dog/dogs, heap of rubble or sand spit just around the bend or even the truck on your side because he's avoiding one of these on his side. Being cranked over with nowhere to go will quickly end in tears.
More than just a possibility, many dream bends have a feature forcing you to compromise your line. Some switchbacks are so extreme that the radius of the turn and change in height makes looking ahead to see where the road goes impossible even for a gimbal headed owl.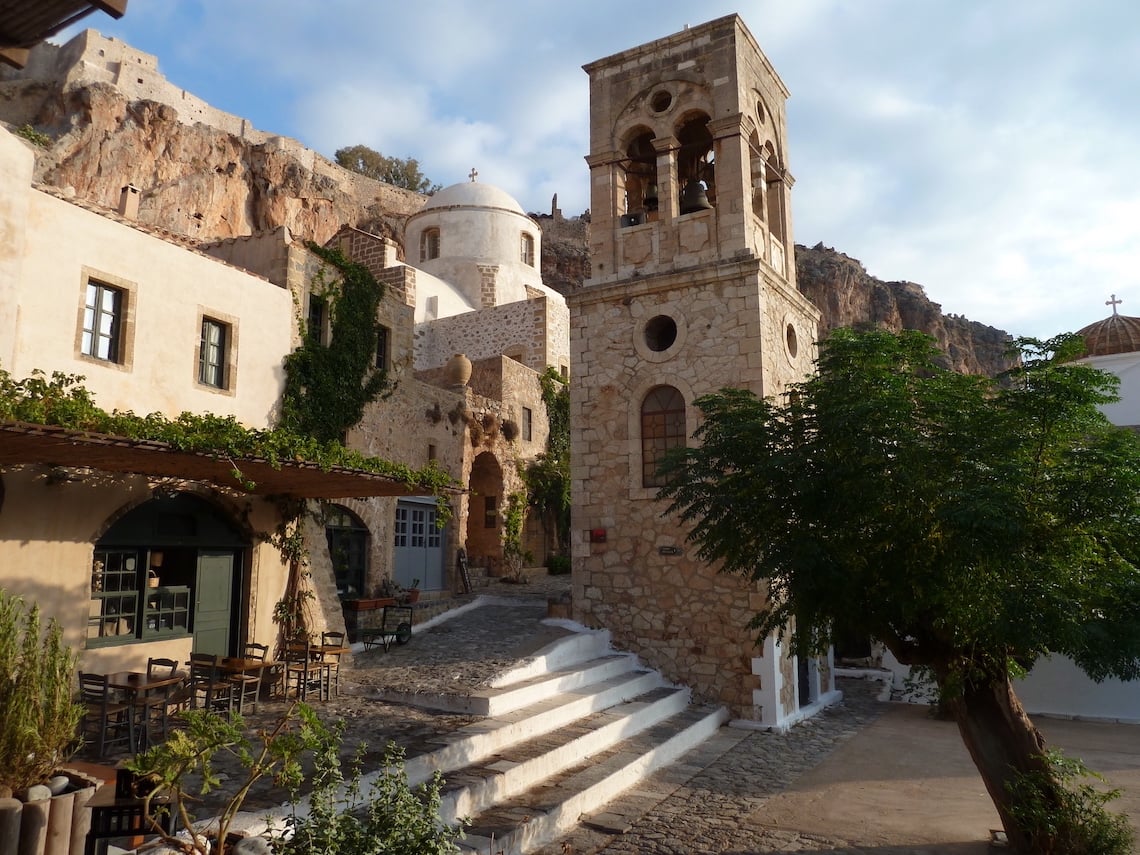 Greek drivers will pull over to let you pass but driving with one arm out of the window and the other either on the phone or smoking or both is just what they do and cars or scooters pulling out in front of you is something you must anticipate and deal with. The enforcement of traffic law does not happen (if laws actually exist) which can be both a blessing and a curse.
About one third of road signs are in English so it's a neat trick if you can work out the name of your destination in Greek. Getting it wrong or even failing to spot the difference in the Greek for Neapoli and Neapolis can make for a tiresome detour (surely only a fool would make such a mistake – hmmm).
Crime, it seems, is low and we often left the bike unattended without a problem, but graffiti (some of it pure art) covers almost any flat space, including many of the road signs, another reason not to go without a SatNav. Despite these eternal demands on your concentration, surfing the earth with turquoise seas on one side and high pink cliffs on the other can be utterly intoxicating and I vowed many times to keep them to myself rather than write this piece.
Our route continued to Pylos, a stunning village on a glinting blue lagoon, once the scene of the battle of Navarino where in 1827 the combined fleets of the English, French and Russian navies fought the Moorish Egyptians and Turks. It's hard to believe that almost every ship was destroyed in the confined space of a moderately sized lake but the outcome made Greece the independent Christian nation we know today. Now the sailors of luxury yachts and local fishing boats tie up to enjoy the eateries dotted around the town square just yards from their craft.
We liked it enough to stay an extra night and get in some scuba diving before leaving to head north to Olympia, seat of the modern world. It's easy to get 'ruin fatigue' in Greece so we had skipped Mistras, choosing to ride up a lane which overlooks the complex giving a better overview than wandering amongst the ancient architecture. This time we did pay the €12 to vie with coach parties under a blazing sun, the same one which lights the Olympic torch there every four years.
Although the site is big enough to find your own space, no one can escape the gaze of the officials who blow whistles and point if they spot any transgression such as stepping on a piece of stone. The embarrassment of a few hundred tourists looking at you a powerful deterrent- the ruins are 3,000 years old.
The map showed a 'tourist route' heading further north which is essentially a deserted road with a ladder of switchbacks up one side of a mountain and then another down the other. The scenery was changing again with rough grey granite and sheep grazing amongst hundreds of multi-coloured bee hives- more like a sunny Wales. We left this behind us as, ears popping, we plunged down to sea level and the city of Patras. Hot and tired with still an hour to go we scratched an ice cream on the seafront from the plan and crossed the magnificent bridge over the Gulf of Corinth back onto the 'mainland'.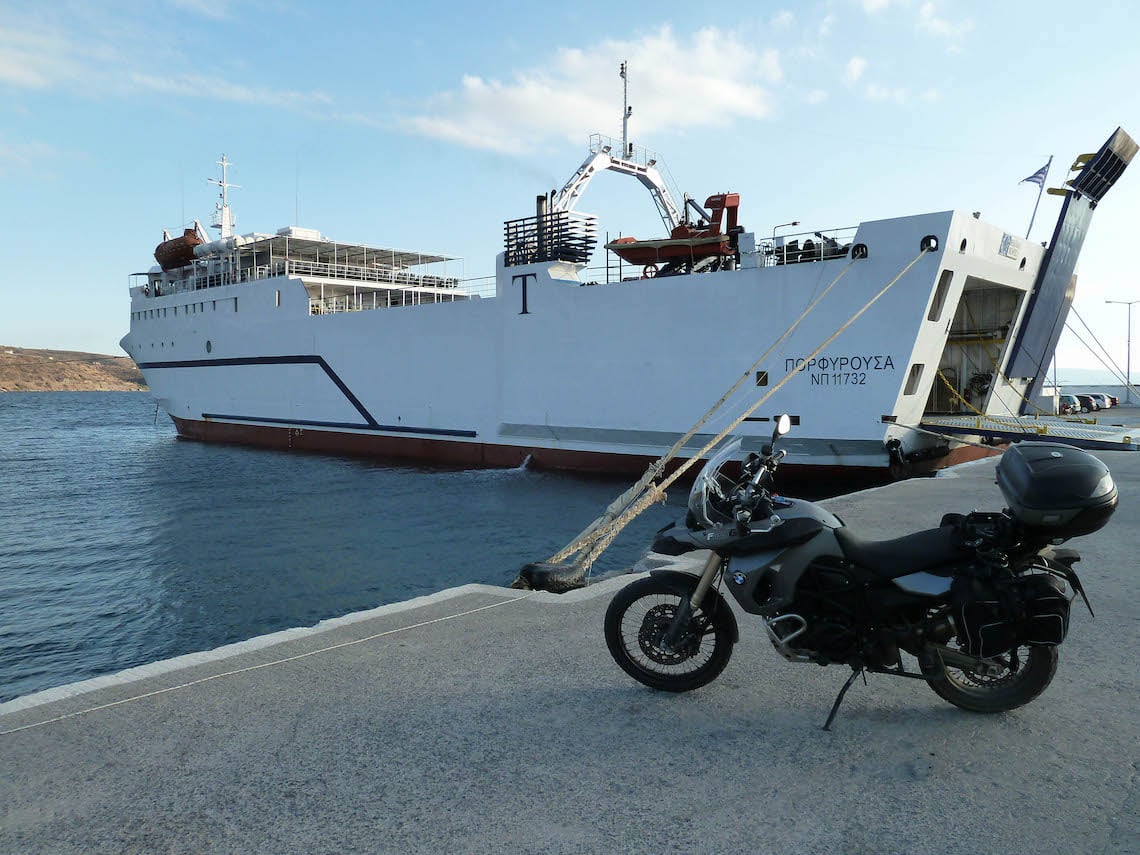 Heading for a final night in Galaxidi before taking the GS home, the coastal road wound through rocky bays with a mountainous backdrop of Jordanian like desert scrub and olive groves. Galaxidi was in post-high-season downtime and at times eerily quiet. Picturesque, with many tiny beaches edging clear shallow waters around the headland we stepped back into holiday mode the next day for a few hours- I'm sure the water sizzled when my feet went in.
Being the sort to quickly get bored we did a bit of off-road exploring on the hill overlooking the village then decided 5 pm would be an excellent time to nip to Delphi, seat of the Gods half an hour away and avoid the busloads of tourists who head from Athens for day trips. Just as we got there a thunderstorm broke. While it was impressive to see the dark clouds roll off the sea from our high vantage point we didn't fancy another soaking and high-tailed it back down to Galaxidi. Delphi would have to wait.
Determined to wring every last bit of fun from my time with the GS, I plotted a route back to Athens over the mountains rather than take the motorway. The superstitious part of me feared a mishap more now than at any other time so I was happy to take it easier, if not easy before dealing with the Athens rush hour traffic. You have to fight for your space but at the same time not get too cocky. When traffic lights change you'll see a line of bikes crossing the red light late and another approaching them at right angles who have gone early on the green.
A testosterone-fuelled white helmet style crisscross in the middle of the junction seems miraculously to work. After topping up the tank I returned the GS to Motorent. It was as dirty as I can imagine any bike being with every part caked in a variety of muddy orange hues or yellow dust. Brilliant! I loved the GS but not enough to trade my Tiger for an RTW next year. A Tiger/ GS chimera could be the perfect adventure bike.
Greece? Well, I got my adventure and Alison got her holiday. Let's face it, you need to take a break on a bike trip now and then and a sun-kissed beach or secret ancient village are excellent places to do that. I'd recommend it. While it's not cheap it's very different, diverse and will scratch every biking itch in just two weeks.
You get a fantastic city break and there's the historic ruins too. There are all the positives of staying in the EU which you don't get in the gnarlier Morocco, but a huge difference from the usual biking haunts of Western Europe, which appear sterile and over biked by comparison. You certainly won't park in a row of 50 GS1200's on the Peloponnese.
---
Want to ride this route?
Costs
Return flights from London to Athens can be purchased from £130. Check www.skyscanner.net for the best deals. Train transfer to Athens city is just €18 each way.
Hiring a F800GS from Motorent costs €92 per day (ouch), with extra being charged for hard panniers, short term rental or exceeding 250km/day (155 miles). The range of bikes is broad, but book early to get the one you want.
Riding from the UK isn't really viable in two weeks due to the distance. If flying into Athens, allow two days to explore the city, then 10-12 days riding. Head north or island-hop if you have more time.
Allow £50-£80 for a double room with breakfast. Booking online saves hassle at the end of the day but it's cheaper to wing it and negotiate. Campsites are plentiful, but it's hot at night.
Petrol is easy to find, €1.40/litre and they serve you. For simplicity learn the Greek for ten and get €10 every time you hit reserve or 50km range.
Medical
EHIC and travel insurance – put 112 into your phone book as it's the emergency services number.
When to go
Mid-September or late June are cooler and quieter than the high season.
What to wear
Kevlar jeans, urban bike boots and a summer bike jacket are perfect for flights, the city and riding. 'Proper' adventure bike kit isn't really necessary, it's bulky and speeds are lower on Greek roads. Cable lock helmets and jackets (through a sleeve) to the bike when exploring on foot.
Language
Most young people speak English. Essential Greek phrases are easy to learn phonetically. Many locals are happy to talk politics, the economy or migration, just don't expect a consistent viewpoint. We didn't see one migrant, and coffee shops where a latte is €4 a go were always packed!
Doing it
Peloponnese mountains and sea make an ideal intro to Greece, it's easy to do a circular route taking in all the best bits. Monemvasia, Pylos and back roads of the Taygetos were highlights.
Use a real map for overview and to pick perfect roads for having fun when you want to, and covering ground when you need to with a SatNav for real time guidance. I took a cheap handlebar phone mount. Embrace the adventure of poorly built roads and look for the back lanes for fun.
Bikes are uncommon and riders don't acknowledge each other but it's bike-friendly and very safe.