Out of all the places you'd expect to find a motorcycle clothing manufacturer, the country lanes of Essex aren't one of them. Venture a few miles south of Cambridge though, and you'll stumble across the quaint little building which serves as the headquarters and retail outlet for the world-renowned manufacturer, Hideout Leather.
With a reputation for producing some of the best leather and textile products in the business, it's odd to see that it's all done from such a diminutive location, but it's also refreshing to see that there are smaller UK businesses that still pride themselves in producing quality over quantity.
Running the show is former fashion design student Kate Jennings, 42, who co-owns the business with her sister Rachael. She took ownership of the business in the '90s and evolved it from a functioning but disorganised outfit, to one that has an almost unrivalled reputation for producing made-to-fit motorcycle garments. She was even commissioned to tailor the riding suits that were used in the 2015 Blockbuster, Mission: Impossible 5 – Rouge Nation.
When walking around the workshop you can't help but wonder how a small manufacturer in the Essex countryside is able to have such a positive impact on the industry it's in, but as soon as you start speaking to Kate, it all becomes clear.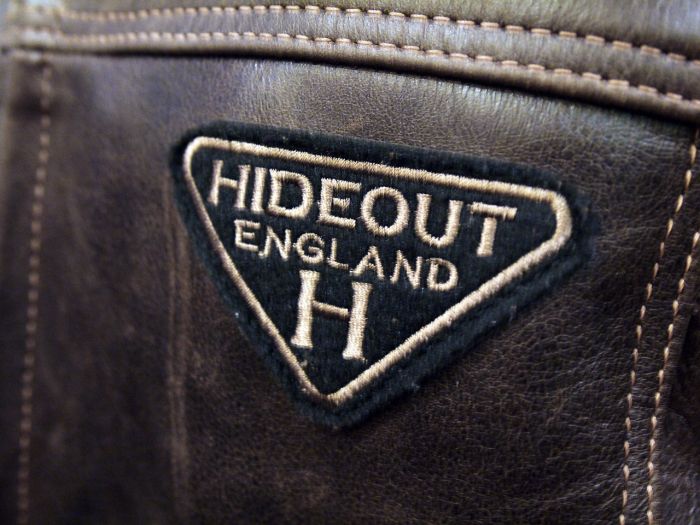 The history of Hideout
"Hideout originally started in 1978," Kate tells me as she sips on her mug of tea in her small, modest office. "They started making race suits for the likes of Steve Parish and Kenny Irons, and it just sort of snowballed from there. I joined in 1995 having completed a degree in fashion, when I needed to do some leatherwork for a collection that I was making.
"I met this guy, Peter Hamlet, and he was the owner of the company. He was quite a bohemian, quite a hippy, so getting him to do any job was a nightmare.
"He was relaxed and there was no organisation to the shop or to the people coming in. He was a very good craftsman, but not very well organised! So I ended up organising him.
"I really enjoyed the biking scene. Meeting all of these lovely people after working in the fashion industry was a breath of fresh air.
"What I love about the whole industry is that it cuts through everything. We get everyone in here from the judge to the binman, it's classless really, everyone has something in common. It's something you don't get in any other industry.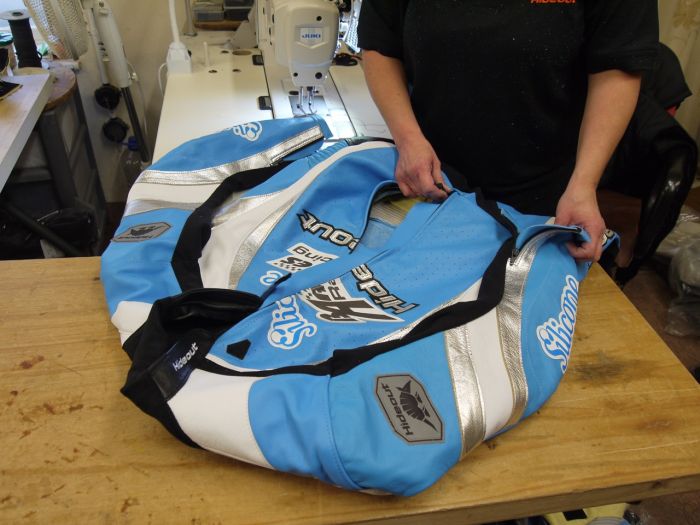 "Peter and I worked together for about 10 years and then he retired. I think his hands went in the end, years of doing this work is actually gruelling."
Since taking over at the helm of Hideout Leathers, Kate has put her own distinct mark on the company, taking it from strength to strength and introducing a professionalism that inspires confidence when it's most needed.
"We don't want anything to come back over a silly zip," she explains as she tells me that she's very careful about where the company sources it's parts from. "We have always done top-level, and we've been doing it properly for a very long time."
"We've grown, our capacity for production has grown. We've streamlined a lot of parts, and I think at Hideout we just want to carry on. I don't want to dilute it and I think the bigger you get, to the stage where you have a big factory, you get quality issues and you can't retain that individualism that every person will get when they come here. It's a measured and personal service."
The quality
One thing that sets Hideout apart from a majority of motorcycle clothing manufacturers is a real desire to produce the best products possible, and it's Kate's vision that has made this one of the company's policies.
"The way I think you should look at your kit is like an insurance policy," she tells me. "You should put as much into it as you can possibly afford so that if you ever need it, it's there for you to use."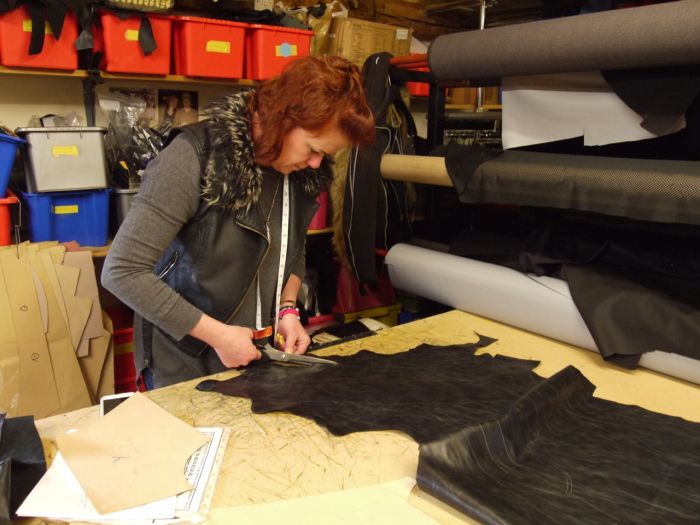 "Having a tailor-made suit is quite an investment, but I still have people who have our original suits from the '80s and they're still going strong. I get calls from my customers, and on several occasions I've been the first phone call they've made from the hospital.
They say 'they've just cut my leathers off, but if I wasn't wearing these I'd have been in a lot of trouble, so I want to thank you. I haven't even phoned my wife!'
"We've been making our textile jacket and trousers [the Hi-Pro] for 10 years. We can't make them quick enough, we can't make stock because we haven't got enough time, which is a nice position to be in.
"As far as I know, it's the only made-to-measure textile suit that you can buy. Rukka do alterations, but if you want a fully tailored suit, we're the only ones."
Why tailor-made is best
"We're all guilty of having a wardrobe worth of kit that's not quite right," Kate tells me, and honestly she's right. I can't keep track of the amount of gear that fits me OK, but not perfectly.
"Sometimes it's worth biting the bullet and going for a made-to-measure tailored suit. A lot of blokes have the problem where the knee armour is never in the right place, it's down to their shins and they always end up hiking it up. That's great, but what happens if you come off? That knee armour's not going to stay where it needs to be.
"If everything fits in the right place, it's far more comfortable, and I find that when people say they can't wear leathers because they're too uncomfortable, it's usually because they've never had leathers that fit them properly.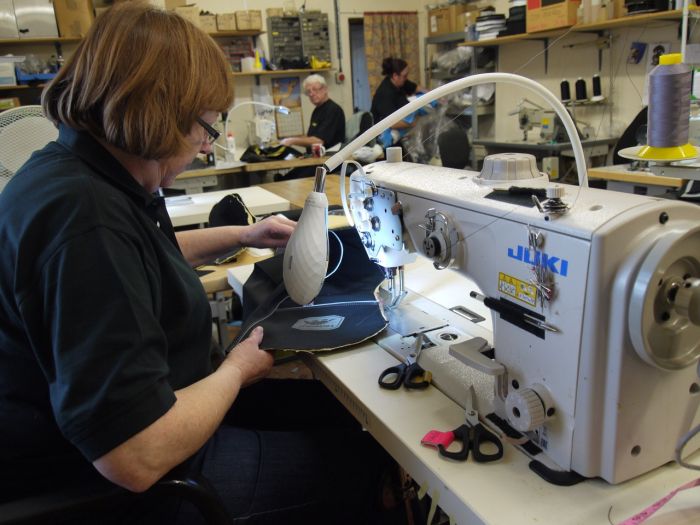 Hollywood fame
In 2015 the fifth instalment of the Mission: Impossible was released and one of the more memorable scenes of the film saw an all-action motorcycle chase when Tom Cruise's character, Ethan Hunt, turned into Rossi as he flung his BMW S1000RR around some tantalising roads.
Of course, to make this scene happen, the riders were going to need suitable clothing, and Kate was approached by a product placement company who said that they needed 10-12 suits.
"I said fine, I can manage that," explains Kate as she recalls the conversation she had. "It started out as a small part of this whole chase, but the biking part was going to be small because Tom Cruise loves his bikes. We started to create this nice suit working with their costume designer and she was saying 'we need 3-4', then it grew to 6-7, then it was bigger and bigger and bigger.
"We actually made 32 suits in the end, with each of the riders needing two-three sets each. A lot of the stunt guys were road racers, so they were actually coming off these bikes and sliding down the road. They had to have the proper leathers!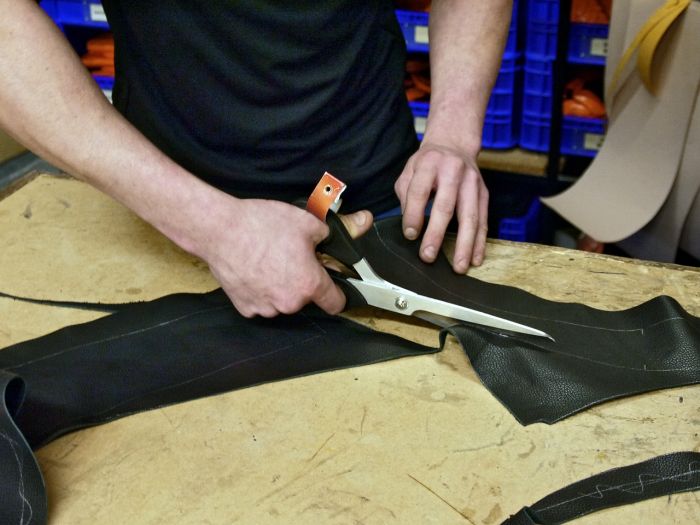 "Rebecca [Ferguson] had her stunt doubles, so for her suit we did this amazing carp, it's like a Chinese design on the back, and we had to laser cut it and sew the design onto her leather. And it was precision sewing as well because you had to sew around every tiny little part.
"Her suit had to fit within an inch of her life, and of course, leather stretches, and she'd be sat in it all day. So we got her fitted up and she had to have a standing up suit, and one for sitting in. But she looked really good," Kate recalls with a childish grin on her face.
"The best part was when I was there with the producer and we were trying to work out where we were going to position the guns."
"We ended up working them out with magnets, so I built the magnets into the suits and the guns would sit straight on them.
"The producers turned to me and said 'I bet that's the first time you've had to workout where to put a gun on a suit!'. I said, 'Well actually, apart from when I did the anti-terrorist team.'
"There's an elite group who we've kitted out who are the first response in anti-terrorism and they wear their full bulletproofs. They're trained to ride motorbikes and shoot the guns backwards while riding. These are the people who actually do it for real! I had one up on them!
"I have done more gun placement on leathers. We do a lot of police and covert work, and they have to know that if the worst does happen that they've been given the best quality that they can get."
It was an absolute pleasure to spend some time with Kate and get to know more about the people behind Hideout Leather, and when walking around the small workshop, it's clear to see the amount of care, attention and skill that goes into making each and every one of their items of clothing.
I can't help but think, if it's good enough for Rebecca Ferguson and an elite anti-terrorism unit, then it's good enough for me!
So, if you want to check out Hideout's products, including the superb looking, adventure-ready Hi-Pro suit, head over to their website for more information.