Fed up of trying to find the perfect adventure bike for him, Andy Scutt set out to build his own, a fully custom Honda CRF500L. Is it the perfect dual sport bike? He sure seems to think so…
If you're in the market for an 'adventure' bike, you will have to conform to one of two industry flavours; big 1000cc+ bikes which will happily transport you over continents on road but struggle when the tarmac runs out, or tamed enduro bikes which are super lightweight, low power off-road specialists that struggle when it comes to longer road sections where short comings in rider comfort and engine maintenance limit time and distances that can be covered. 
I have tried multiple bikes that try to blur the boundaries of the normal conventions; to try and find the best long distance, multi-surface adventure bike. I have modified two KTM 690s, tried adding range and comfort to a BMW G50X, and invested heavily in modifying a Yamaha WR250R. My 1200GSA and KTM 1190R had both seen plenty of 'upgrades' to help in the dirt.
A few of these bikes got closer to some of my requirements, but none of them get close to meeting them all.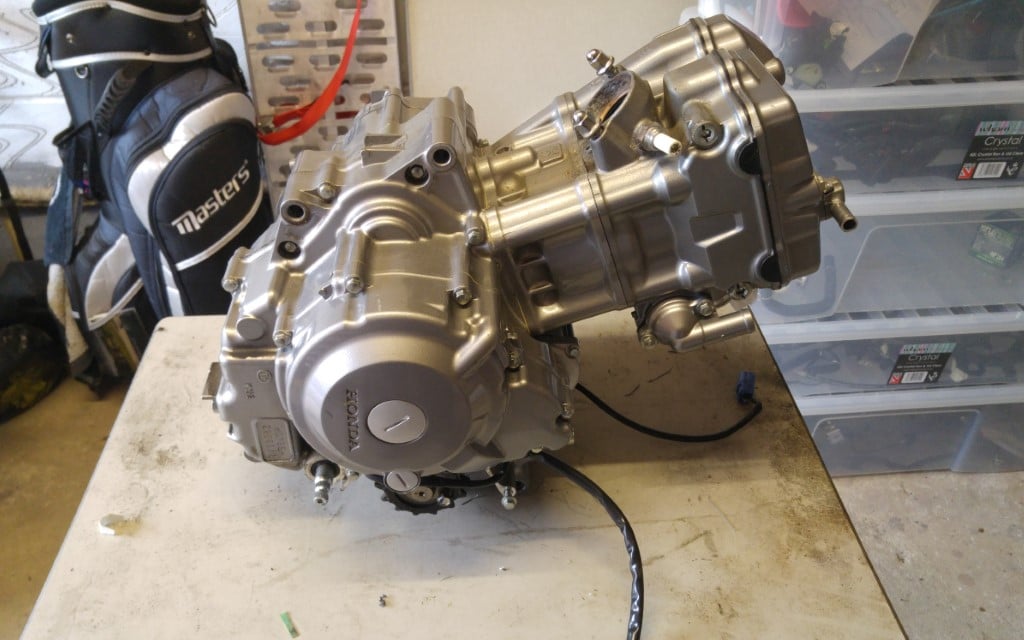 So, what's left? I decided to build my own bike. My plan was simple – take my list of requirements and build the best possible bike that meets them all. So, here's my list of requirements: 
Under 150kgs 

Long maintenance schedules 

Smooth and reliable engine, powerful enough for long distance road riding 

Repairable anywhere in the world

Rider comfort and protection 

Capable of carrying luggage for extended trips 

Fuel efficient – best range with minimal fuel capacity 

Fun to ride on any surface 
It's not a long list, but I already knew from extensive internet based investigations that just finding an engine and frame that work together and meet the requirements was going to be tricky. Basic though it is, the Honda CRF250L looked to be an excellent starting point.
A good, strong steel chassis meant it could be repaired anywhere, and Honda reliability teamed with a global Honda dealer network were a big selling point, and it's cheap to buy. Obviously, there are also negatives – the price point based suspension needs work, it's a little porky, and the fuel tank is too small for any decent distances.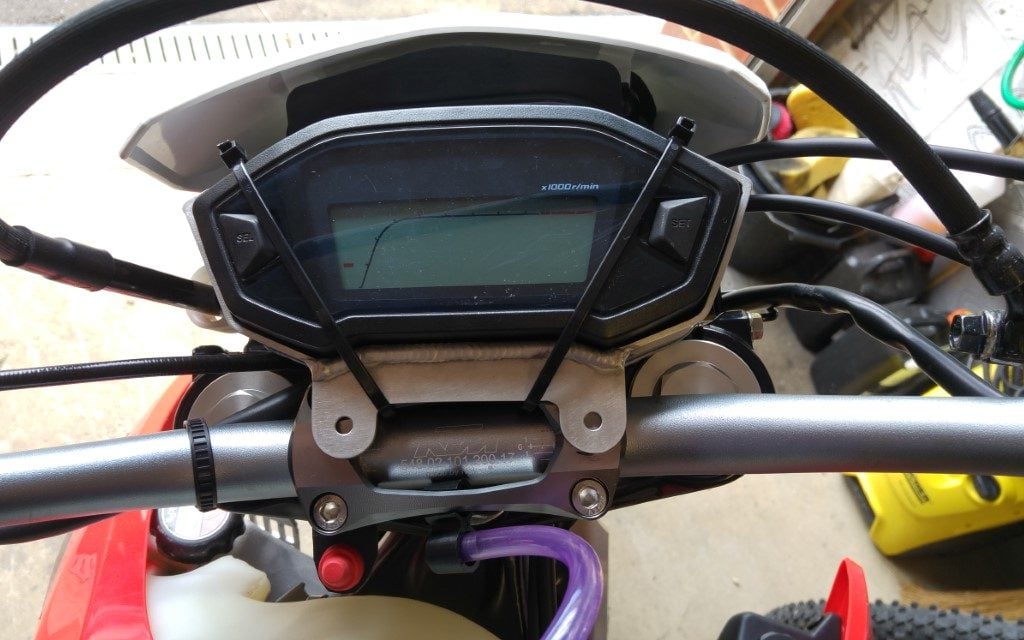 For the engine, I stuck with Honda and went with the CB500X power plant. It's a very modest parallel twin engine with a great reputation for smooth running and excellent efficiency. The engine makes 47bhp and 43NM torque – double that of the 250cc CRF engine and it only weighs 9kg more.
Additionally, the CB engine is relatively similar in size compared to the CRF engine, especially in height and depth, meaning changes to the frame would be easier. 
So where to start? I managed to find a 2016 Cat D CRF250L with very minor damage to the ignition and steering lock and only 600 miles on the clock. The CB500X engine came from eBay from a bike that had done 4,200 miles.
Including shipping they cost me £3,200 for the pair and the work began. Firstly, the CRF was stripped down to a rolling chassis, everything came off and was labelled and stored away for later.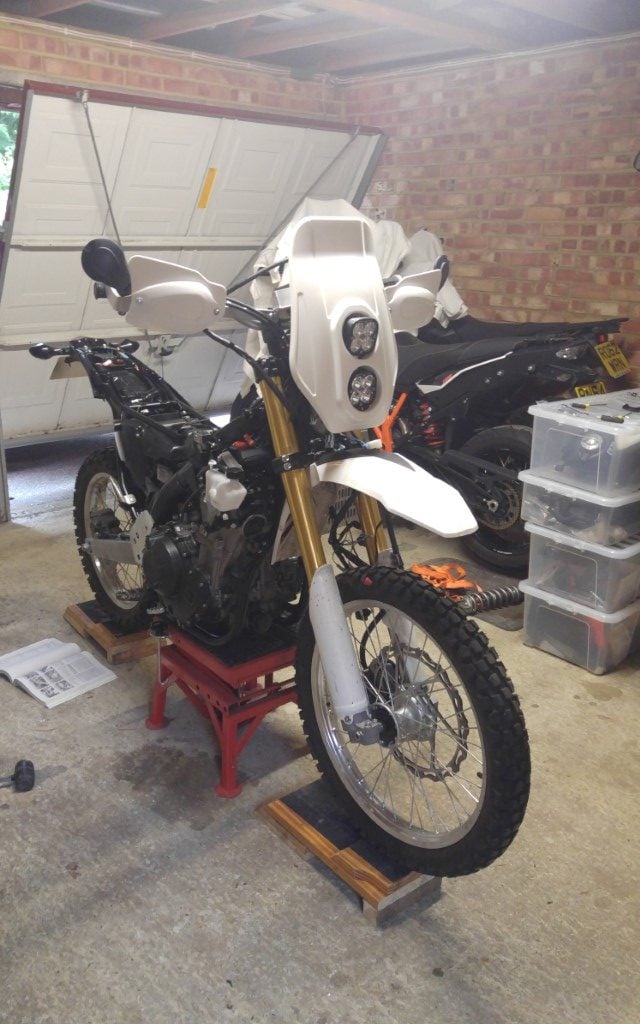 The important part was getting the CB front sprocket in exactly the same spot as the original engine, and this required the engine cradle to be removed. The first cuts to a nearly new frame are quite a big step but, with the cradle removed, it was clear to see the work needed to fit the engine.
Eight new mounts needed to be fabricated, and replacement frame rails were made; including lap joints which would allow the rails (and the engine) to be removed when needed. The front of the frame needed to be shaped out a little to increase clearance for engine removal.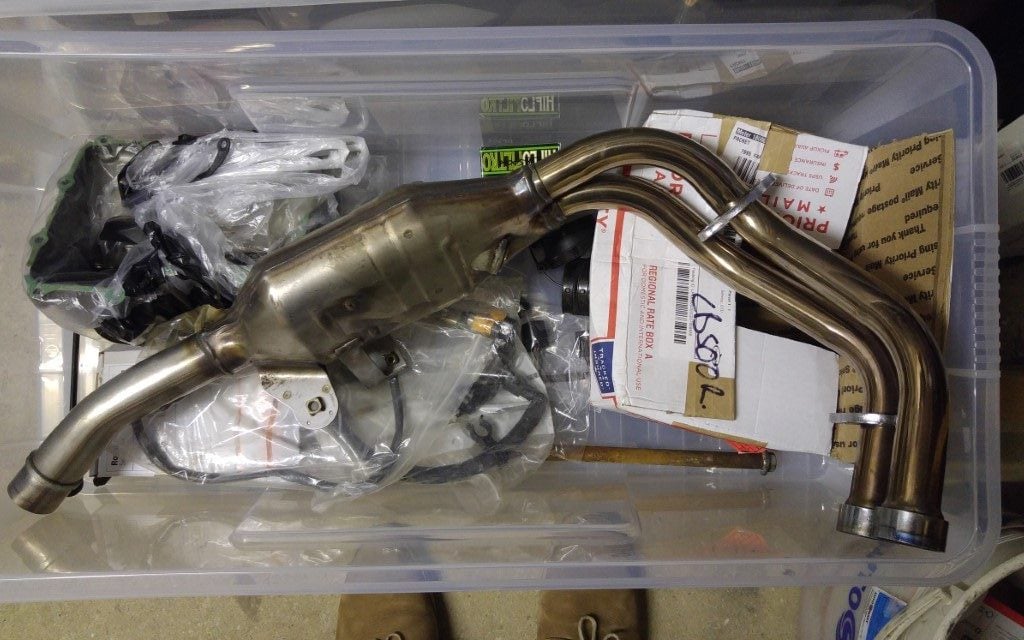 Once the frame modifications were completed the next problem was the airbox to throttle body connection. The CRF has a single exit airbox (which I wanted to retain), but the twin throttle bodies of the CB500X required two exits, over to the fabricator who hand made me a wonderfully crafted splitter, perfectly fitting both the airbox and the throttle body connections.
Work could now start on the rebuild and what would be one of the biggest tasks – the loom or 'the Loom of Doom' as it became known. 
I first bought a used loom from a UK bike, big mistake. Firstly, all EU CB500s have HISS (Honda's great ignition immobiliser), but that requires you to have the ECU, ignition, key and clocks all from the same bike.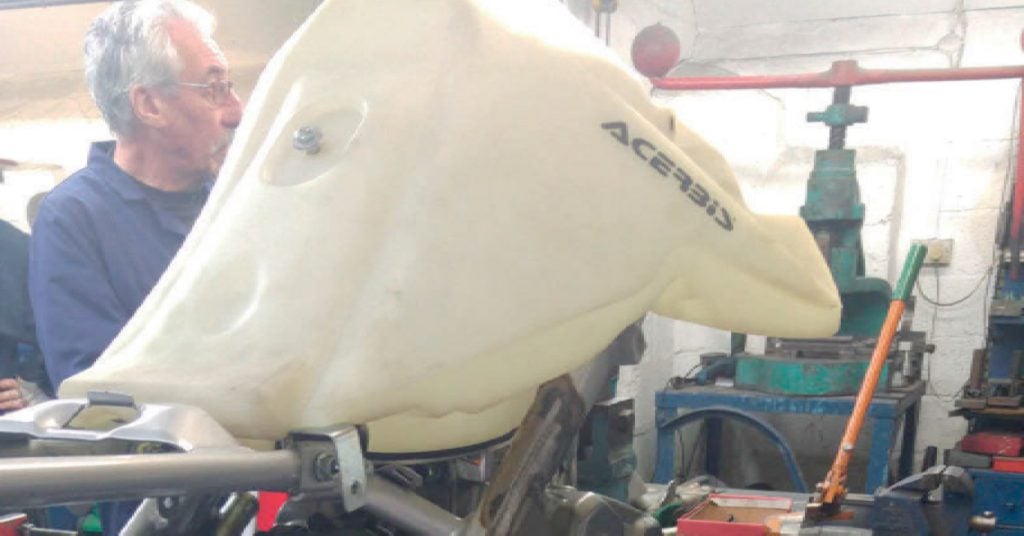 Additionally, the UK loom I had came from a bike with ABS, which adds a lot of complexity to the loom that I don't need. Time to find another loom and the solution was simple – buy one from the USA, no HISS and most bikes don't have ABS. Eight days (and import duty/shipping costs) later and I had a loom for a CB500X, all I needed to do was modify it to the CRF frame and find locations for all the components.
This was a mammoth task, the two bikes are very different shapes and many wires needed extending or shortening and brackets needed to be added to mount fuse boxes, ECU, coils etc. Weeks of cutting, soldering, shrink wrapping, swearing, and taping up and it was done. There were huge smiles when the dash lit up for the first time with no error codes!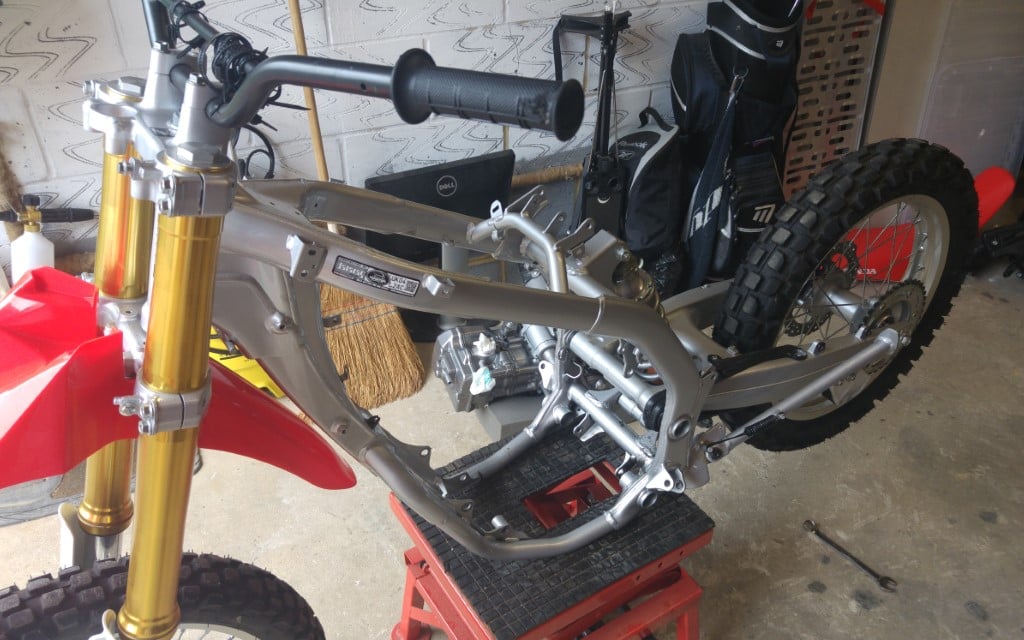 With the simple basics of the engine swap completed I turned my attention to the upgrades that the bike needed. The suspension is simply not up to the task (especially when you factor in my love of beer and any luggage I would carry!) so I went to the best – Öhlins for the shock, and US specialists, RaceTech, for the fork upgrades.
Both were customised to my weight and riding style and, to call the differences 'night and day', is to massively undersell the change to the ride.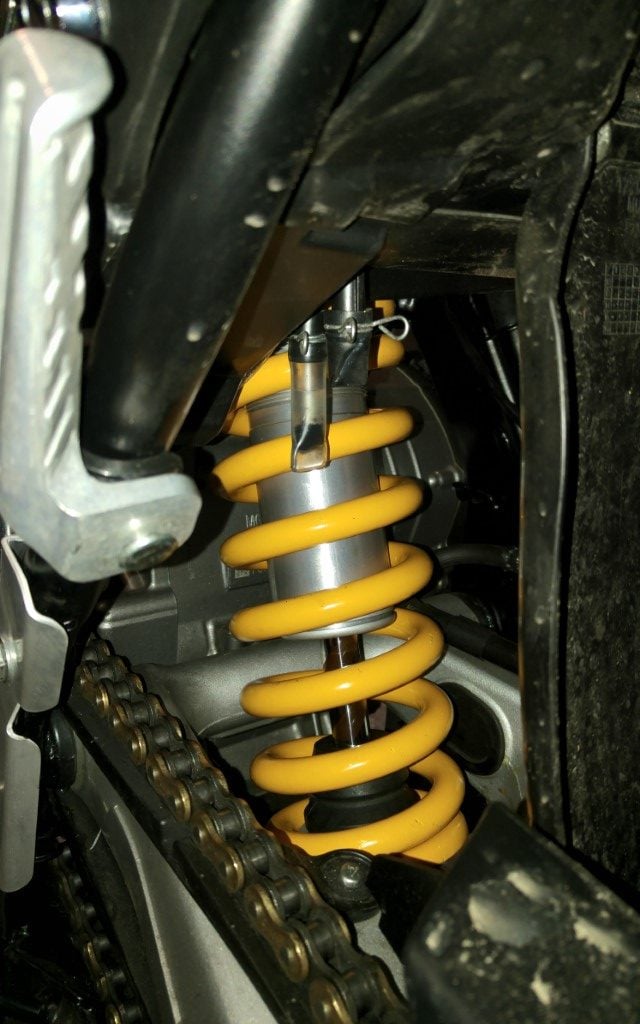 The CRF went from a soft, wallowy budget bike into a very capable dual sport performer, poised and controlled on-road and plush yet responsive in the dirt. This was the second biggest improvement to the bike after the engine swap and, if you have a CRF, I can't recommend it highly enough.
I had a custom exhaust header fabricated and used a £30 eBay end can which, amazingly, turned to be just the right mix of quiet and throaty, a real steal. One thing that the custom exhaust changes is the sump, a new one needed to be made, utilising all the space left around the exhaust and it needed to be slimmer than the frame to keep ground clearance as high as possible.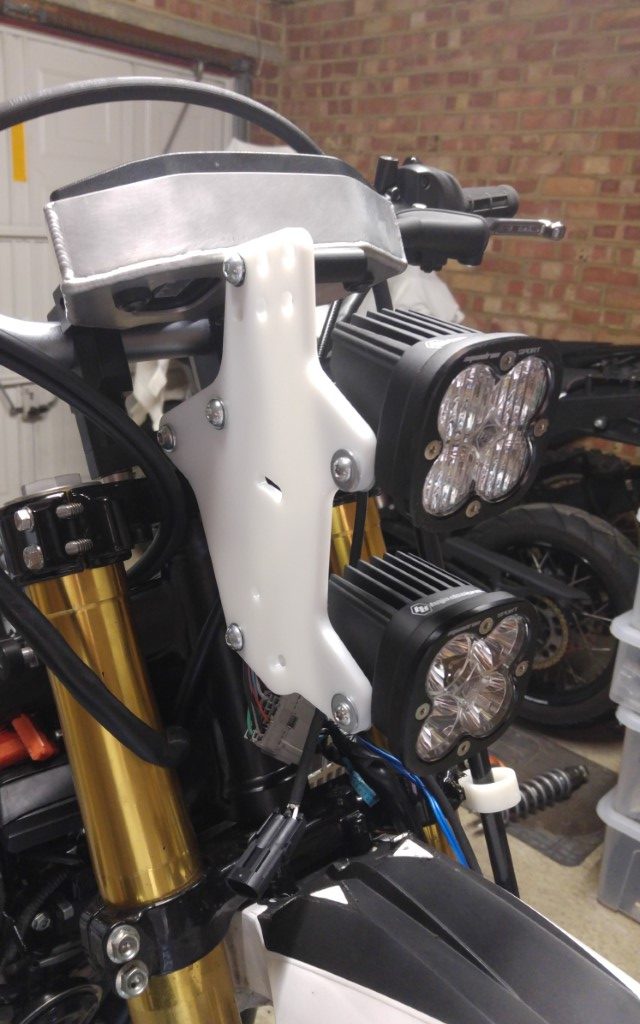 Probably to most visually obvious change to the bike is the rally fairing. I really wanted to use Highway Dirtbike's brilliant handguards and flip out mirrors and, while ordering those, I saw their lightweight HDPE rally fairing.
The unit is fantastically light, holds my Baja Designs Squadron lights and gives really good protection and clean air when riding at speed on the road. I know some don't like the looks of the fairing but I have grown to love its simple form and brilliant function. As an added bonus, there is a significant weight saving high up on the bike.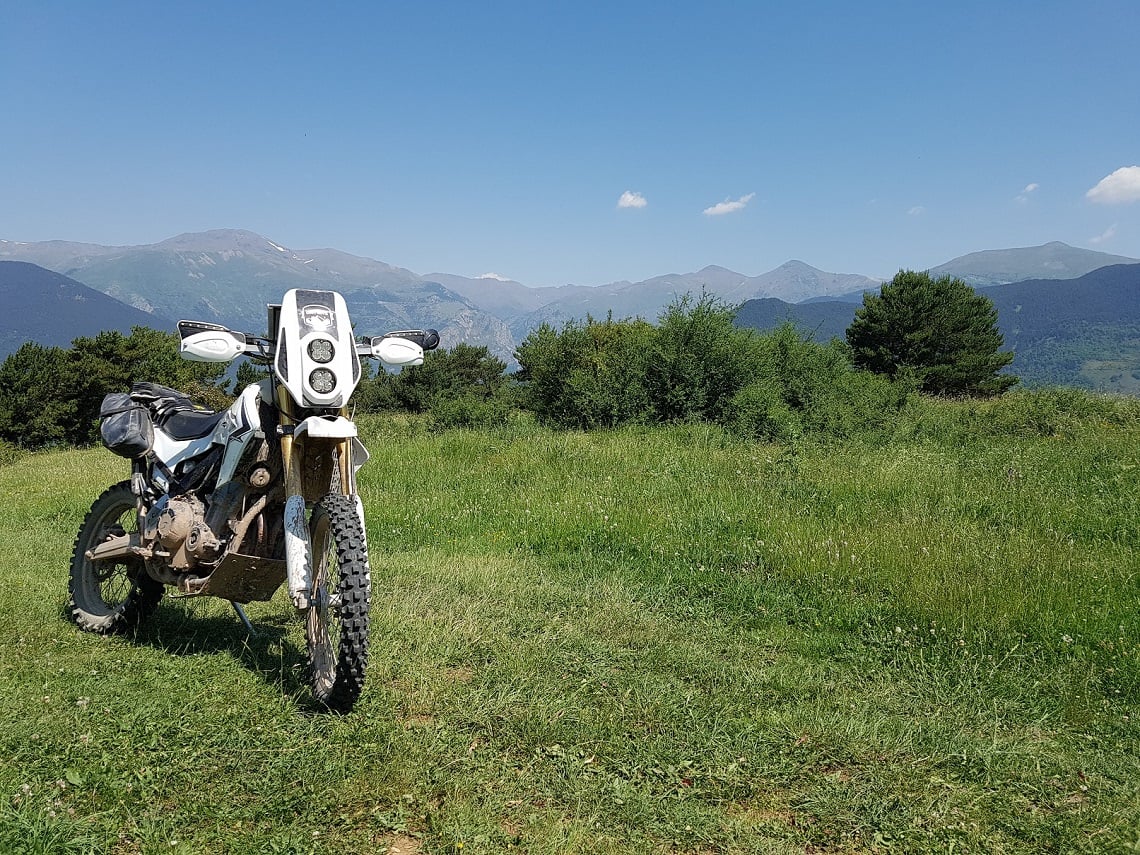 Other additions to the bike include a 12.5-litre Acerbis tank (gives about 200-mile range), a Seat Concepts high seat, heated grips, Garmin Montana powered mount, Zeta frame guards and levers and tail tidy. All of the changes I have made are designed to either improve performance or reduce weight and those were both big factors when it came to the last major custom part – the bash plate. 
As the frame rails are now wider and have a different bend, standard CRF bash plates don't fit. Fortunately, I know a very skilled fabricator who built the bash plate for me and, sadly, he didn't have any aluminium available at the time so made it from titanium and it's a seriously strong, light piece. 
The final bike is exactly what I was looking for, it's brilliant to ride off-road and great fun and powerful enough on-road – the perfect dual sport bike? I think it might be.