John Norris and his riding partner Tony West take us on a tour of two islands
Words and Pictures: John Norris
It is almost midday, the sun is right overhead, leaving a restless stubby shadow of me and my bike on the road. Up ahead a band of white breaking waves surges between golden sands and a brochure blue ocean. Time to quit riding for a couple of hours and let the worst heat of the day pass.
In Corsica, you are rarely far from the sea, which for touring bikers is great as you can get all that heavy kit off and cool down. Swimming at midday and again in the evening became part of the routine for this trip to Corsica and Sardinia, it just one of the unique elements these islands offer that can be hard to experience in quite the same way elsewhere in Europe.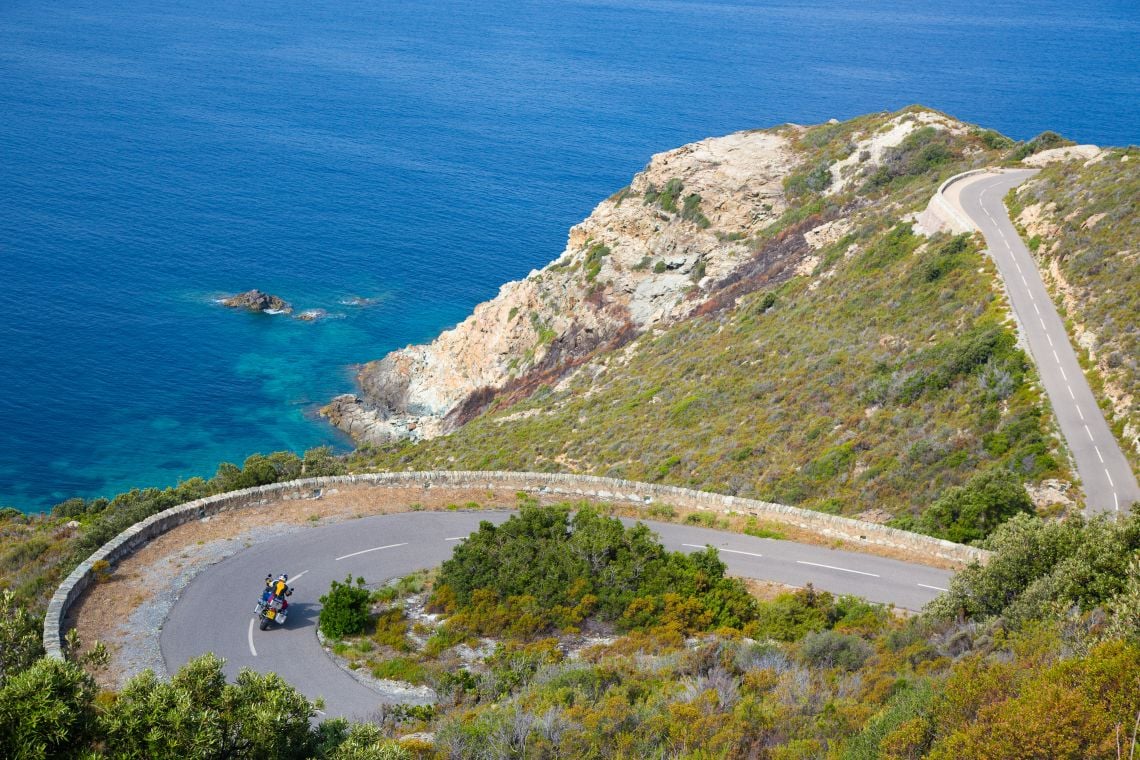 Tony and I first travelled together in Bolivia and on that trip we were very lucky to walk away from a head-on collision with a speeding Bolivian truck, which totalled our 4×4, but left our driver and us just about unscathed. More recent trips have been on motorcycles, such as a few weeks on the gravel trails of Morocco and have thankfully passed without any similar disasters.
Tony rides a very tidy recent model 1200GS Adventure in immaculate condition, kitted out with GPS, aluminium panniers and making a lovely exhaust note. I ride a slightly scruffy 1100GS, which has over 113,000kms on the clock. It is not really very photogenic, sporting as it does some ugly impractical plastic panniers, which are a source of constant irritation to Tony. He says they ruin all attempts to take sellable shots.
The fact that I also wear dull colours and the bike is black and crisscrossed with ancient bungee straps reduces him to tears when trying to get a good photo.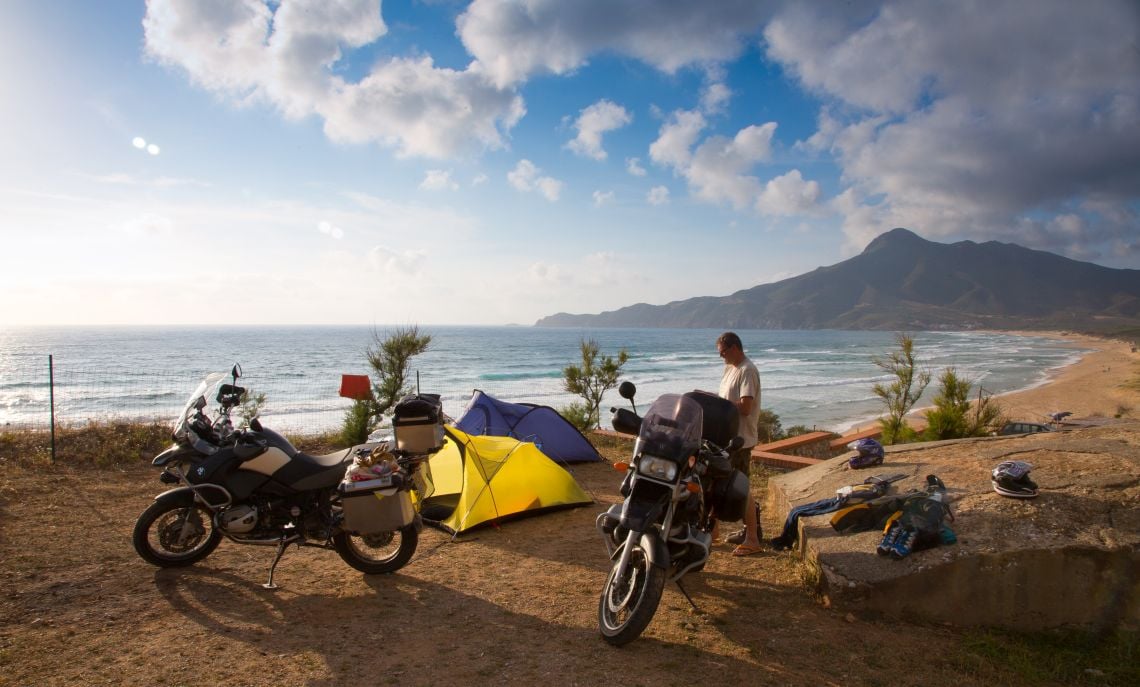 My pragmatic view however is that with the cost of a set of aluminium panniers, a tasty exhaust and a new red jacket, I could fund another great trip on the bike that I have.
It must be a common dilemma. You blow all your savings on a big trip, maybe a long haul in Europe or perhaps further afield, but few of us can do this every year so we need interim plans to feed the need for some biking miles without taking weeks off work or blowing the long term fund for the next 'big one'. This was how together Tony and I hatched a plan to combine two great Mediterranean islands into a loop from my home in Chamonix, France and return via Italy. Tony would ride down from his home in the Lake District and meet me in Chamonix…
Following a leisurely afternoon ride, we caught an overnight ferry from Savona, not far along the coast from Genoa, to Bastia on the northern tip of Corsica.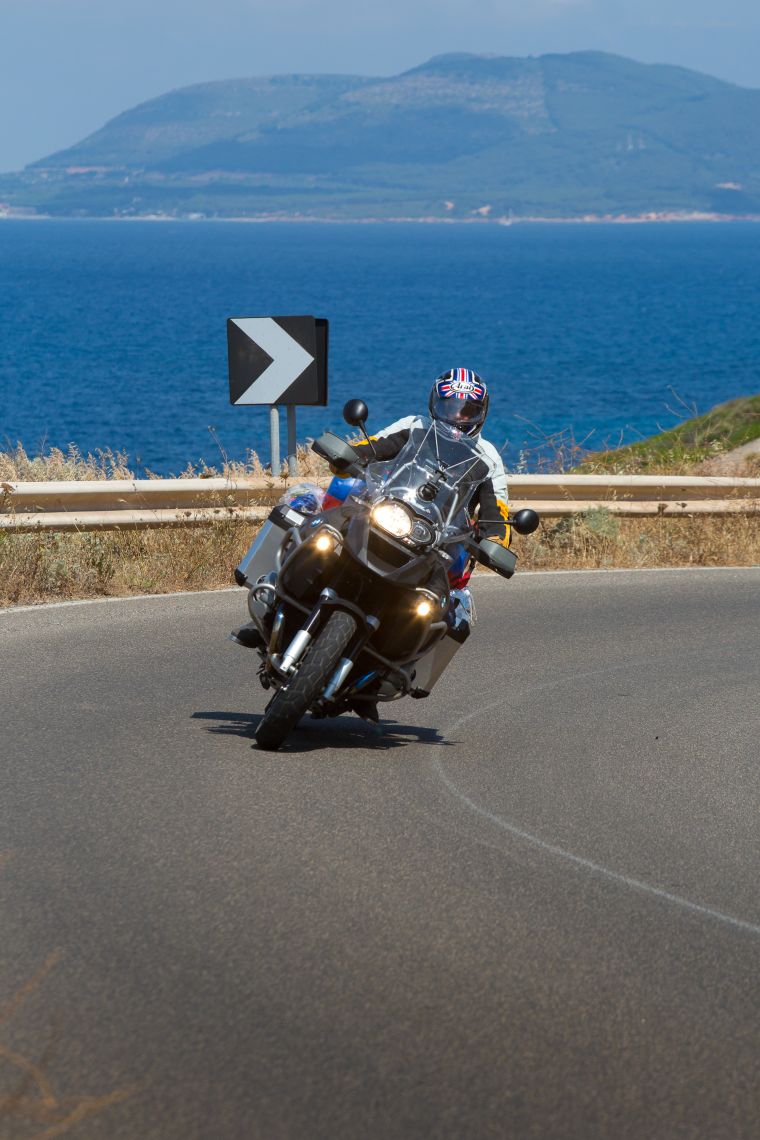 The minute you leave Bastia in the early morning sunshine and head North around the Cap Corse you know you are in the right place for a motorcycle. Dramatic coastal scenery from the off and not a straight road in sight. The Cap coastal road has spectacular drop-offs to the ocean and some cool cafe stops for a morning coffee.
Our first stop was at the village of Nonza, with views down onto a black sand beach and a sociable cafe patronised by bikers and cyclists. Bullet hole-riddled signposts and blacked out French language sign names are rarer now than when I first visited in the 1990s, but are still a visible reminder of the violent separatist movement the NLFC who would like complete independence from France.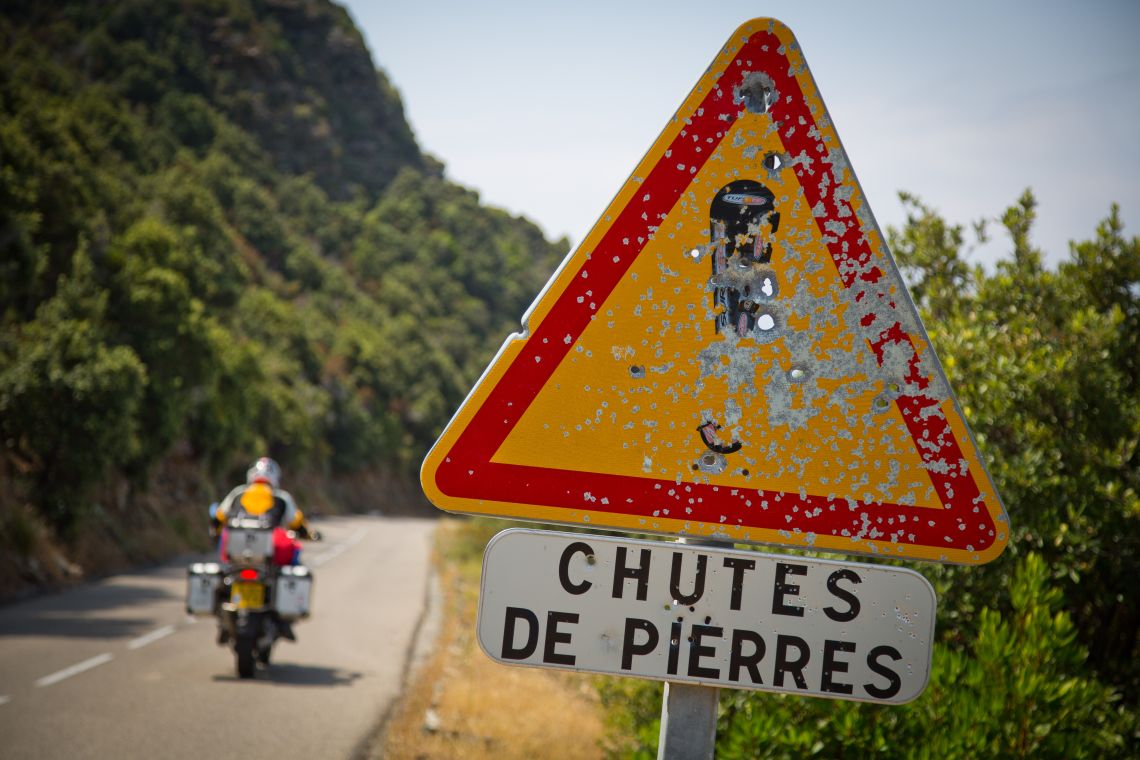 After leaving the beautiful port of St Florent, where locals play Petanques in a square shaded by plane trees and the harbour is crowded with yachts from all over Europe, we headed off into one of Corsica's most unusual landscapes.
The Deserte de Agriates is a wild barren plateau, and as we climbed away from the coast the mist rolled in and it began to rain lightly, the only time on the two-week trip! We sheltered in some old buildings near the summit for a while before moving on to L'Île-Rousse.
It would be a mistake to visit Corsica without venturing inland as some of the islands most unique, wild and rugged scenery lies away from the holiday beaches and tourist towns of the coast. We took the road east, past Ponte Leccia, and then swung south-west again over the Col Vergio, where I once skied on a visit in January. You can hire skis from circa 1990s for the day for 10€ and get a lift pass for about the same. This is high country where the jagged mountains making up two-thirds of the island's landscape can still have snow on their summits in June.
It was up here that my normally trusty old GS1100 started to play up. It has over 116,000kms on the clock, so is entitled to the odd part wearing out I suppose, but as it turned out it would have been a lot cheaper if it had happened at home where I could easily order parts and fix it myself. Sod's law though it waited until this trip to fail…
I pressed the starter and nothing happened. This is the point where you realise just how remote and unpopulated Corsica is. I had to bump start the bike, which as anyone who has tried with a fully loaded shaft drive bike is not much fun at all. That night we made it to Porto campsite, which was carefully selected for it's location on a steep hill, ideal for bump starting a wayward GS.
The next morning heading south we passed one of Corsica's most spectacular stretches of coast called the Calanques, which has weird and wonderful rock formations in yellow and orange sandstone that you ride between as you contour hundreds of feet high above the sea.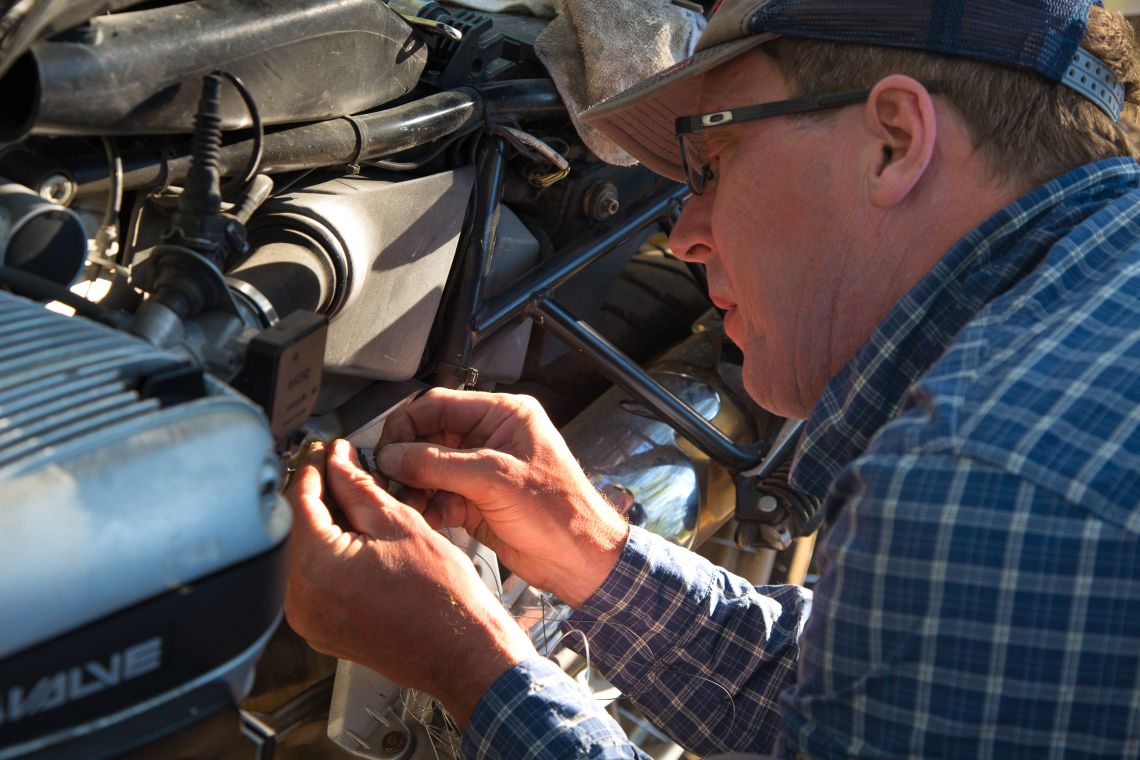 In Ajaccio, we made a first attempt to sort things out with the bike, which after testing, resulted in a new battery. Luckily, near Propriano, we found a fabulous campsite overlooking a bay. I say lucky because the battery had not in fact solved the starting issue, and so with breakdown cover, I called my insurance who arranged a truck to take the bike to the dealer on the island. It was here that my normally trusty old GS 1100 started to play up.
I made the decision to go in the breakdown truck with the bike, which turned out to be a good decision, as on the first bend the driver sped into, I turned around to see out of the cab rear window my bike swinging right over on the straps and only just recover itself as the slightly mental driver straightened up. I yelled out in horror and he pulled over to strap it down a bit more thoroughly. Just as well for there were several hundred hairpin bends between us and the Ajaccio dealership! In the end we had to order a very pricey new starter motor from a BM dealer and wait for it to arrive from Germany.
At the campsite, while we waited, the very young owner recounted stories of writing off his brand new water-cooled GS 1200 a few weeks previous when he lost control at some insane speed, 'seeing what it could do'. I got the feeling maybe Daddy had a few bucks as he didn't seem too bothered and had since bought a brand new mini moke, swearing his biking days were over due to a lack of cooperation from unsympathetic insurance companies! Mind you, he had great taste in music, whiling away the evenings by the pool eating cheap pizza, sipping the excellent local Pietra beer and listening to some quality Blues and Americana tunes.
This was the summer the Tour de France was due to start on the island for the first time in it's long history. The islanders were excited and the show was due to begin in a couple of days. I am something of a fan, but Tony is not interested in bikes without engines, and in any case, we had hung around long enough waiting for the parts to arrive and now that the GS was sporting a brand new starter motor it was time to move on. I would have to catch The Tour another time.
The next day we boarded an early ferry to Sardinia, and it did feel great to be on the move again. It is hard to pin down why Sardinia feels so different from Corsica, but it certainly does. Sure, the landscape changes and is less mountainous, but it is more than that. It has a less manicured feel, dusty and rough around the edges and in the main less developed outside the key tourist honey pots. Then there is the unmistakable quality of the food and coffee, this is Italy after all!
Right off the ferry at Santa Teresa Gallura the fast-rolling strip of tarmac rolling southwest is a true feel-good road, blue ocean away to the riders right, smooth road surface, long sweepers and pretty pastel-coloured houses with terracotta roofs in clusters around ancient ports.
The west coast has stunning beaches ideally spaced for the overheating ABR rider to cool off. Long stretches of golden sand fringed by white foamed breakers rolling steadily in from the azure blue Sea of Sardinia. There are also plenty of interesting sights to check out en route from gargantuan sea caves to Roman archaeological sites that would blow away even those who habitually wind back the throttle at the first sight of a pile of ancient crumbling stones.
Inland Sardinia, rather like inland Corsica, is another world again. Cut a route from Oristano, midway down the west coast across to Lanusei in the East through the hills and forests and you will find Sardinian culture and traditional food thriving.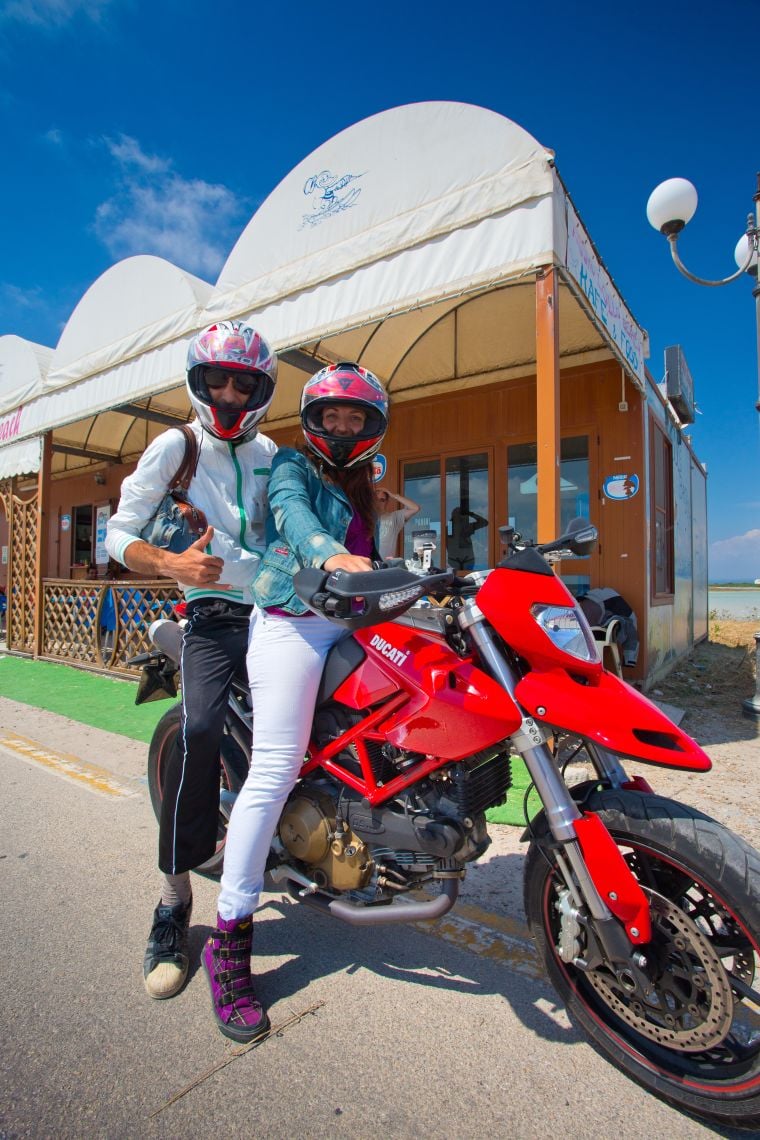 Delicacies such as spit-roasted wild boar, forest mushrooms or local lamb stew to be washed down with a glass of local red.
One gem of the Sardinian west coast is the Costa Verde, a largely unspoiled stretch with vast beaches devoid of ugly apartment buildings or other planning travesties. It is a strange landscape of ancient dunes and rolling hills that the roads weave their way through and around. There are also many gravelly, sandy tracks and stream crossings to access the wilder beaches. Around Piscina there are spectacular abandoned mining communities, not pretty but in their own way quite fascinating and certainly worth riding through.
Any truly awful parts of Sardinia are usually found on the edges of the few urban sprawls, such as near Cagliari or around oil refineries up in the North, but the good news is that you are soon away from them and also that they are certainly the exception and not the rule.
What makes the roads of Sardinia and Corsica so damn perfect for bikes? Well, if 'Slartibartfast' (Hitchhikers guide to the galaxy) took great care and pride in designing the fjords of Norway, then someone equally passionate and conscientious worked on Sardinia's roads. Not only are the tarmac surfaces usually silky smooth, but they seem largely devoid of manhole covers, cats eyes, slippery reflective paint etc. The camber on many hairpins is perfectly angled to aid grip and the radius of bends seem rarely to surprise by a sudden tightening in the unpleasant way some do when you least expect it.
When I returned back from this trip, both front and back tyres were well-scrubbed off on the sides, evidence of the good times these roads supplied us with mile after mile.
One of the other highlights of the trip was how on the islands we met some great characters, such as the owner of a battered Porsche, who, bare-chested and sporting pink shorts, explained how he had modified it as his island hack for when visiting Corsica, leaving his other seventeen Porsches back in mainland France! Or the cheerful henpecked owner of a tasty Ducati, forced to ride pillion and carry his girlfriend's handbag, while upfront she dropped the clutch and screamed off up the road. The thing about travel on these islands is the distances you need to cover in a day are small, so there is always time to chat to people, locals and other travellers alike.
The port of Cagliari is where we caught our third and last ferry over to Civitavecchia in Italy. From here I headed back to Chamonix, via Umbria's coastal hills and Tony had a few days chilling in Tuscany before heading back via Chamonix to the UK.
After over half a dozen trips to Corsica and a couple to Sardinia, rather than feeling I've 'been there done that', I am actually keen to go back again some time. Of course there are still parts of both islands I have not yet explored, but it is more than that. There is something so perfect about these islands for motorcycling that I don't tire of and I know I won't be able to resist for very long! See you there.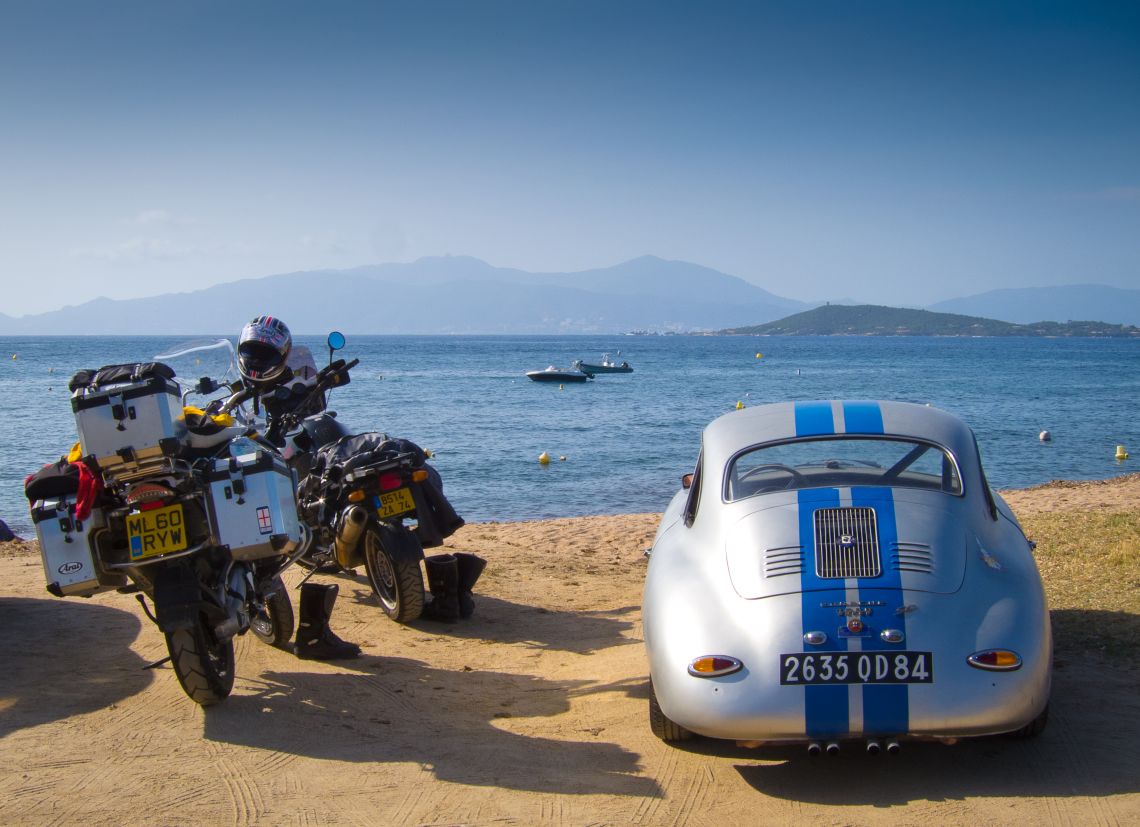 Want to do this?
How long does it take?
The islands are fairly small, so it would be physically possible to ride the length of either Sardinia or Corsica in a day, but at all costs, you should avoid the main routes dissecting the islands as these are the roads used by commercial traffic. Choose instead the winding coastal or mountain roads, especially those that do not obviously connect major towns or ports. If you do this you could comfortably get a taste of each island by spending a minimum of five days on each, although a week or so would be better. Allowing one very long day, or better still, two days riding from Calais to Savona, by the autoroute at least in part, you could do this trip comfortably on a two week holiday from the UK.
Where to go?
On both islands, the eastern coasts are perhaps the least interesting. Sardinia does have a few good spots in the east, but if your time is limited concentrate on the inland's mountains, and the west coasts of the two islands for stunning coastal roads.
When to go?
More a case of when NOT to! Avoid the second week of July through till the end of August unless you want to tail camper vans on the coastal stretches. May/June or September/ early October are all good, although the sea will be cooler in May!
How much?
Allow about €10 per night for the bike and tent on campsites which are plentiful or €35-€60 for basic rooms subject to season. Food costs are similar in Corsica to mainland France and as in mainland Italy, Sardinia is cheaper than France.
Is it for you?
We are not talking big ABR challenges unless you stray into really rugged off-road trails, but whether you are into scratching hard on winding back roads, or mellow cruising in the sun, the riding is great. Culturally and scenically it makes a real change from mainland Europe.
What to wear and take?
From June onwards you will be better off with a ventilated jacket backed up with a light rain jacket/suit rather than a heavy item… it gets warm!
Light gloves and boots are recommended too. I spent most of the time in a ventilated jacket over a T-shirt in late June, slipping an ultralight windproof under it for cool evening rides.
Tents that are free standing are handy on the sometimes hard ground, and a light sleeping bag essential. Tony often just used his mesh inner tent.
Power Monkey Traveler or similar type power source is handy for the phone as some campsites charge for power points, or just don't have them handy.
Michelin yellow maps for Corsica No.90 and Sardinia 366 cover most of what you'd need unless getting into serious off-road adventures.