We head over to North Wales to test the latest adventure bike tyre
Words: NM Pictures: Mark Manning and NM
The TKC70 is the new tyre from Continental, a tyre that even they, the company, acknowledge is aimed at the 95% of adventure bike riders who never take their bikes off-road. It is a tyre for those who want the look, but not necessarily the compromise of the sister tyre the TKC80, nor do they want the rather 'soft' appearance of the company's TrailAttack 2. They want something inbetween. And that, with the TKC70, is what Continental hopes it has given them.
The tyre boasts a 60/40 road-biased split, with the tyre based on the carcass of the TrailAttack. As a result, the TKC70 features similar multi-grip technology, with the central area of the tyre featuring an abrasion-resistant surface to give higher mileage, whilst the shoulder sections are softer to give more grip on the lean. Continental makes a mileage claim of 6,000 miles for the new tyre with this test not able to assess that. This intead this was a three day event, with one day given to on-road riding and a day to off-road riding. The TCK70s should be out by October with prices comparable to the TrailAttack 2, which have a current retail price of around £136 for the front and £165 for the rear; size depending.
Sizes initially available
110/80 R 19 59V TL TKC70 M&S – 120/70 R 19 60VTL TKC70 M&S – 140/80 R 17 69T TL TKC70 M&S – 150/70 R 17 69V TL TKC70 M&S – 170/60 R 17 72V TL TKC70 M&S – 150/70 R 18 70T TL TKC70 M&S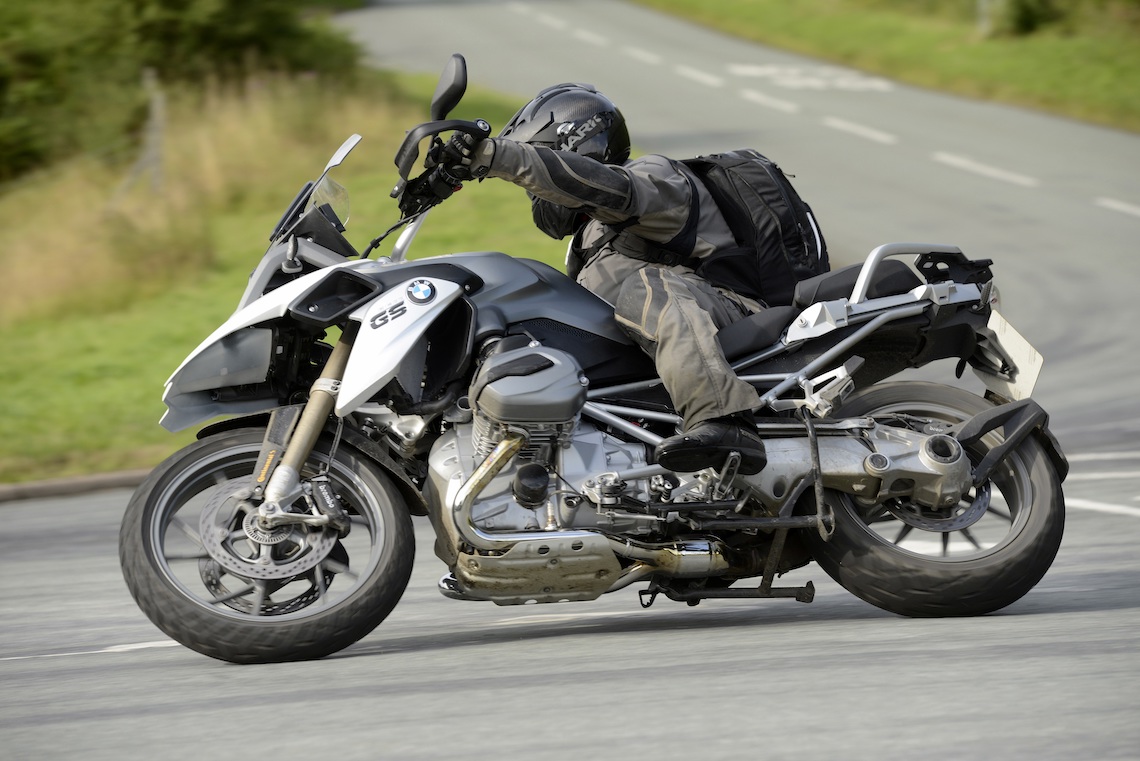 The Test Bikes
Continental assembled a mixture of bikes; all large capacity adventure bikes as this is the sector the tyres is being aimed at. There was a sizeable batch of BMWs with either R1200 GS or GSA variants, a pair of Triumph Tiger Explorers, a Honda Crosstourer, half a dozen V-Strom 1000s, a KTM 1190 Adventure (which everyone fought over), a V-Strom 650 and a handful of Yamaha Super Ténéré. All were shod in TKC70s that had been used by the previous week's test group. In total the tyres, by the time the test was over, had covered approximately 700 miles. Continental's claim is for them to last 6,000 miles, though this is something we're unable to comment on. More time with them will be needed as they do feel quite soft to the touch, suggesting they could wear quite quickly.
On Road
We covered a total of around 180 miles on the road-loop (see left hand panel for way-points), covering everything from open fast-sweeping a-roads to single track gravel based b-roads. At times the surface was dry, at other times wet and the weather; raining. What impressed most of us was the level of grip through all conditions. In the fast sweeping sections you didn't have to hold back. You could ride at your usual pace with no sense that the tyres had a forty percent off-road bias. Transition from upright to lean angle was also smooth and progressive, with no noticeable roll of the tread block and no audible noise or rumble from the tyre. Chatting to Chris Moss, a bike journalist who has raced at the Isle of Man TT, he reckoned that on the V-Strom 1000 (which he'd ridden extensively) the TKC70s offered more on-road grip than the OE Bridgestone Battle Wings. He said he could push as hard as he wanted on them and that they were a very good performance road tyre.
The conditions we didn't get to try them in were on the motorway or in deep standing surface water. There was some speculation that perhaps the tyres wouldn't be as good in the latter as there are no clearing channels across the main contact point with the road.
Overall though, on the road the tyres were excellent, with it only up above speeds of 90mph that you started to feel a little movement in the tread. Certainly, despite the semi-knobbly look, on the tarmac the tyres performed more like a road tyre.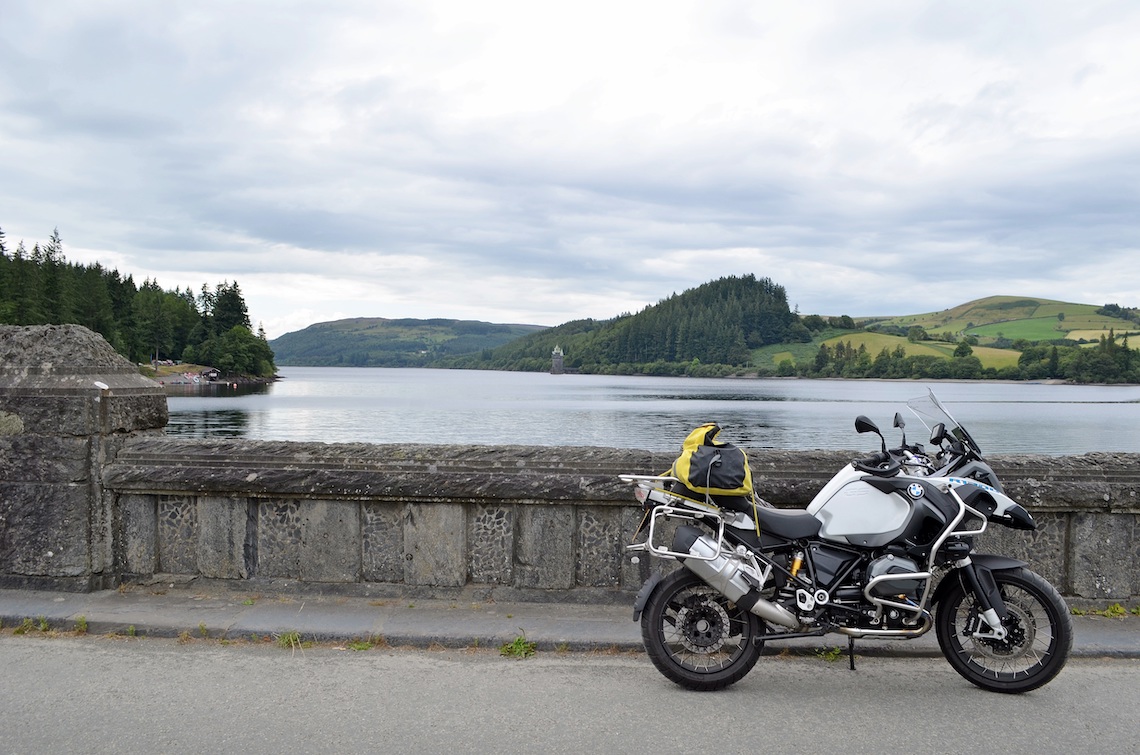 Off-Road
The off-road circuit was predominantly fire trails and forestry commission service roads; so hard-packed gravel with shallow gradient curves, the rain making for quite a solid, dust-free base. Mixed in with this were steeper rockier descents, stretches of relatively muddy farm tracks and some grassy sections. Testing the tyres in abstract, as we were, it was difficult to say how they would compare to rival tyres, but the fact that twenty testosterone fuelled blokes managed a full day's riding in these conditions without any major incidents perhaps says a lot. There were a few spills; mainly on the muddy sections, but riding behind a GS on TCK80s and seeing how easy the front tyre washed out on that is a reminder that any big bike in muddy off-road conditions has to be ridden with care. On the gravel sections the front end had enough grip to make good progress. Push too hard and you could feel it start to wash. The rear offered good grip, with most bikes ridden with traction control turned off. In this setting you could spin up the rear with relatively ease, though only when provoked.
On grass the grip from the front was reasonable, and the rear controllable as long as your remained light on the throttle. In conclusion the tyre is more than up to what is realistically 90 percent of most rider's ability. They would, for example, have been
more than up to the task of the recent Midlands and Salisbury Plain ABR Rallies.
Away from the official test route; we attempted a climb of a steeper, muddier path with exposed tree routes and rocks. With momentum the tyre would retain some traction, but soon span out once the incline increased and the mud thickened. This was clearly the limit of the tyre's ability; reminding that this isn't a full off-road option, but one perfectly suited to intermediate green-laning and for modest exploits in to Morocco. Despite the abuse, the tyres didn't look to have cut up too bad and showed very little sign of wear.
Conclusion
The TKC70s impressed on the off-road sections. More so, they impressed on the road where the grip in all conditions was as good as any road-orientated tyre. It was this transition between being a great road tyre, and a perfectly capable off-road tyre that made the greatest impression. If they succeed in lasting the claimed 6,000 miles then the TKC70 will prove a good option for anyone wishing to go on a long road-based journey, with some decent off-roading along the way. To Morocco and back perhaps.
The Rivals
Over the page we display other tyres aimed at the adventure bike sector, though as Dave, our tyre expert says, when choosing a tyre you need one suitable for your worst possible scenario. So if you're going to ride off-road in mud, then you need a tyre that can cope with that. There's no point compromising as it'll just leave you stranded. The motto is; decide how and where you're going to be riding your bike, and choose your tyre accordingly.
WHAT'S A TYRE LAUNCH LIKE?
It was the first tyre launch we'd been to and an interesting experience. Continental – through various means; some from manufacturers, some from rental companies – had amassed some 30 bikes, all fitted with the tyres and to be ridden by a similar number of journalists they'd flown in from all over the world. The week before it had been a mixture of Mexicans and Spanish, this week it was the Brits, the French, the Americans and the Finnish. Most had flown in to Birmingham airport taking
the train in, whilst the UK journalists had all made their own way there by bike. It was a three day event, arriving the first afternoon to be greeted, seated and fed, then day two the road route, with Graham of Continental leading the pack of 20-odd bikes at the front, and Tony from Trail Riding Days acting as back marker sweeping from the rear. Bike journalists tend to ride hard, with some keen to be at the front of the pack. As with most big launches a dropped marker system is used, with the rider behind the lead tasked with sitting at a junction until the rest of the riders and sweeper comes through. You see some hair-raising follow-the-leader over takes, and there was one French rider who insisted on riding on the wrong side of the road despite ending up in a ditch on one occasion. In these rather artificial environments it's hard to get a true gauge of a product; be it a tyre or a bike; which is why we hope to run a pair of TKC70s over a longer duration.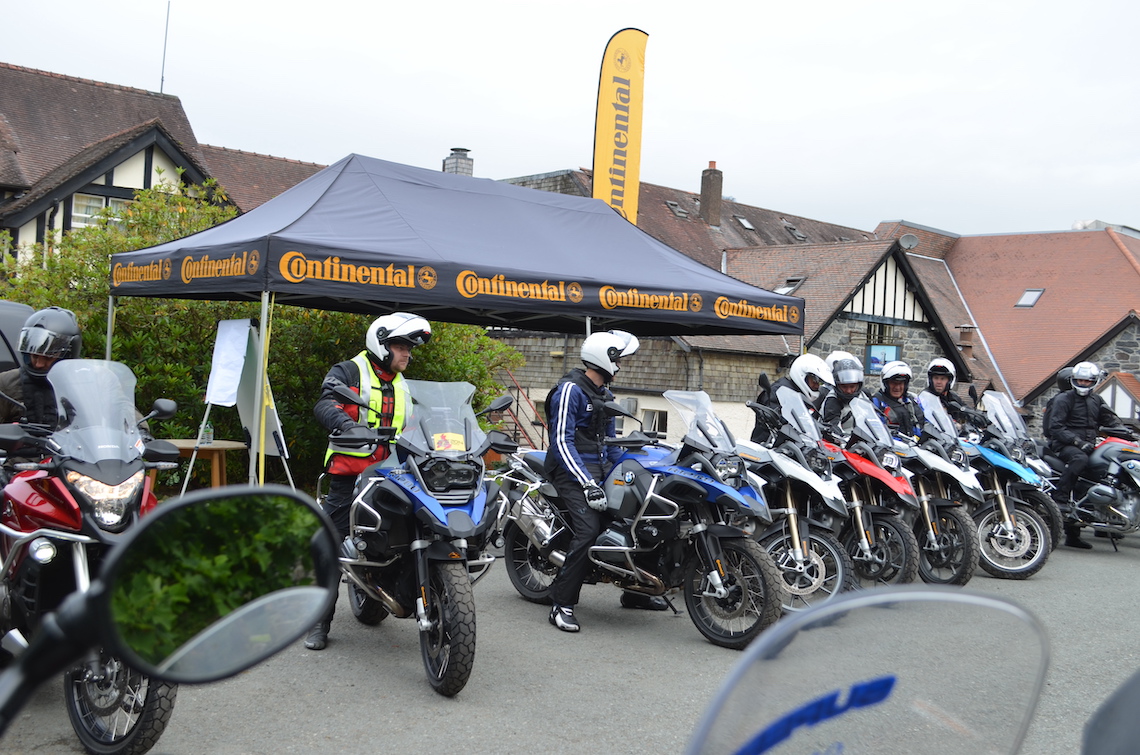 OFF-ROAD RIDING IN THE AREA
The guide for the off-road section was a local guy by the name of Tony who runs his own trail riding company called Trail Riding Days. He was a great bloke, an excellent rider and even better guide. To discover the best off-road riding in North Wales give him a call; Phone: 01938 500734 or 07980 185623 or email; [email protected].
ROUTES WE RODE
For a good road ride around some of the best parts of North Wales enter these destinations in to your sat nav.
In the morning (104 miles) Llanwddyn, Rhos-y-gwaliau, Trawsfynydd, Harlech, Barmouth, Aberdovey, Abercegir. In the Afternoon (90 miles) Abercegir, New St. Talybont, Nant-y-Moch Reservoir, Blaenrheidol, Ponterwyd, Llangurig, Llanwddyn.
LAKE VYRNWY HOTEL AND SPA
We were staying at the spectacular Lake Vyrnwy Hotel and Spa, only mentioned here as if you need somewhere nice to whisk away the missus or the mistress we can think of no better place. Remote, spectacular scenery with stunning roads to get there, this old fashioned hotel isn't cheap but does feel like a world away from the rest of the UK. The Lake was formed back in 1881 when the UK's first stone-built dam was built to blockade 400 or more streams that flowed into the Vyrnwy Valley; the water from the reservoir used to supply the city of Liverpool. The hotel overlooks the water and was originally built in 1890, then extended in 1910 to coincide with the visit of the Prince of Wales. There's now a spa, country pub, restaurant and an old fashioned atmosphere. Best of all there's no phone signal (or very little), making it a good place to go off grid for a while. The manager, Anthony, is also operating motorcycle tours from the hotel, with more information available from www.lakevyrnwy.com/history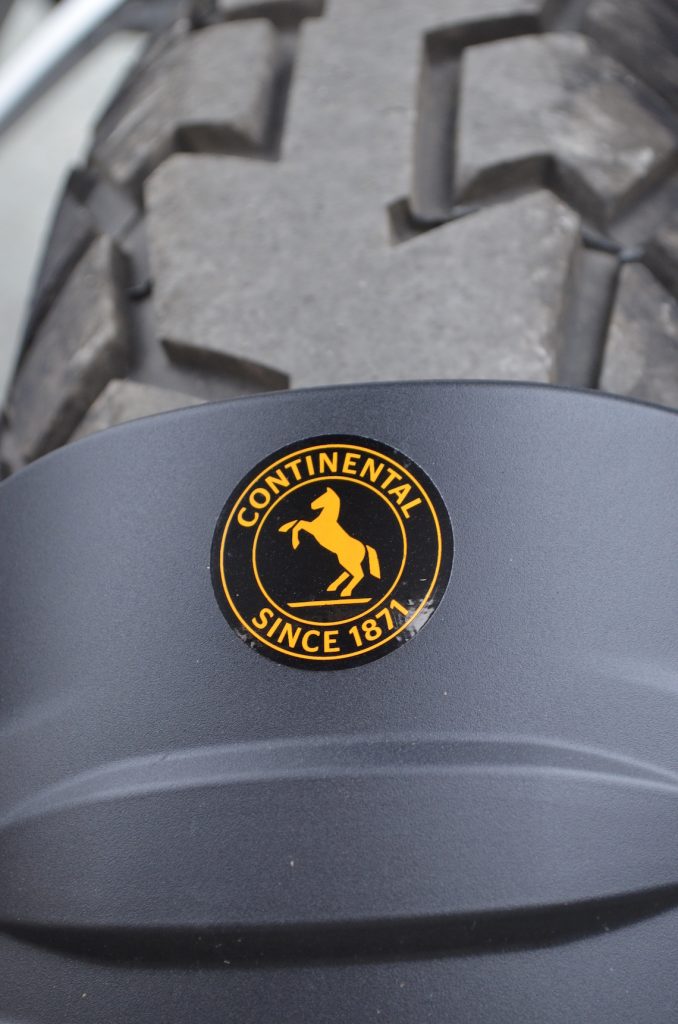 THE ALTERNATIVES
Other tyres to consider; just be sure to do your research first…
1. Bridgestone Battle Wings Good on tarmac & light trails, offering decent wear levels.
2. Continental TKC80 On-road performance compromised, effective off-road.
3. Mitas EO7frx  Long distance all-rounder with 40/60 split on/off road.
4. Continental TrailAttack2  More road-biased than TKC70; based on same carcass.
5. Mefo Sport Explorer MFE99 Brought in by www.zenoverland.com. By all accounts a decent tyre.
6. Dunlop Trailmax TR91 More suited to asphalt than dirt. Decent all-rounder.
7. Mitas EO8fr Street profile, with reasonable performance on loose ground.
8. Heidenau K60 Scout Good reviews for durability and grip. They look aggressive too.
9. Metzeler Tourance Next  Improved mileage over previous Tourance EXP. Road biased.
10. Metzeler Karoo 3 Less aggressive than TKC80s but still more dirt biased than most.
11. Avon Distanzia Decent longevity with a typical 80/20 on-road bias.
12. Pirelli Scorpion MT901 Sit nicely in the middle offering similar intent to TKC70.
13. Michelin Anakee III  Increased longevity and getting good forum reviews.