Product tester and retired traffic police officer Paul Jennison tests the latest line-up of Bluetooth intercoms to find out which works best for keeping in touch…
In its purest form, riding a bike is the best way to escape the humdrum and be exhilarated by the wind blast and freedom that accompanies any ride. Not that long ago the last thing we would have considered was any form of distraction, such as music, or a conversation on the phone. But let's face it, in this all too gadget-ridden world, none of us are ever that far away from a mobile phone, which, despite the lack of activity, still feel compelled to check every few minutes to see if someone has actually texted or called. 
I know I'm not alone when sometimes I want to be able to take a phone call on the move or listen to my music or indeed a GPS for guidance. There are plenty of bikers out there who feel the same, otherwise there wouldn't be a market for these things! Many even buy dual units, so they can chat merrily away to their other half on the pillion. Each to their own I say! 
I have had many types of communication ringing in my ears for more years than I care to remember. It was something that was the norm in my previous career as a bike cop so I'm quite used to it. But I do also like to enjoy the 'silence' associated with riding my bike from time to time. 
On my own bikes I have tried a variety of comms systems from cheap rider/ pillion intercoms to expensive versions that are hard wired into the bike's electronics. The latter type has always served me well, but I didn't really like the 'wired' connection. It was a hindrance when getting on and off the bike and the headsets quite often broke down and needed replacing. I have tried early Bluetooth systems too, but these were not good, with lost connectivity being a major pain in the bum every time I fired up the system, so they got consigned to the attic. 
The technology has improved in recent years, with more reliable connections and smaller, more streamlined units, that do not look so onerous when stuck to the side of your lid, not to mention the units that several helmet manufacturers now produce that complement their helmets perfectly. 
The beauty of Bluetooth over hardwired systems is that they are quick and easy to connect to your devices without the need to do anything to the bike's internals. There are no trailing wires and they can be fitted pretty much to the helmet of your choice, only taking a few patient minutes to fit into your lid. 
The range that some of these units work to has also increased. They can be used for bike-to-bike intercoms without the need for a stand-alone radio base-set to work through. Okay, it's never going to be a massive distance and will require line of sight, but you'll be able to chit-chat with your mates on the move if that's your desire. 
What we have in this review are three stand-alone units and three helmet specific kits that are compatible with the best in test helmets from recent reviews; X-Lite X551, Schuberth S2 and Shark Evoline 3. I have used all six over a prolonged period on a mixture of road and weather conditions to give them all a good going over. What suits me may not be the same for everybody, but it does give you a general idea as to what's out there if you are thinking of a comms set-up or upgrading your old one…
Pros and Cons of helmet specific units 
As mentioned some helmet manufacturers now produce lids and a specific Bluetooth unit that will fit directly into them. These are generally smaller units and complement the styling of the helmet by hardly being noticeable. The helmet will have provision for the speakers and associated wiring and may even come ready wired for plug 'n' play. They work particularly well, sometimes better than non-specific units, but the limitation comes when you want to change helmets. Then you have to buy the same model again, or one from their range that is compatible. And as these units are often as expensive as the lid itself, it can be a major investment as opposed to the 'fit any helmet type' that can be used over and over on any helmet of your choice.
Scala Rider Q1/Q3 Solo 8/10
SRP from £109.99(Q1) £169.99 (Q3) | www.pama.com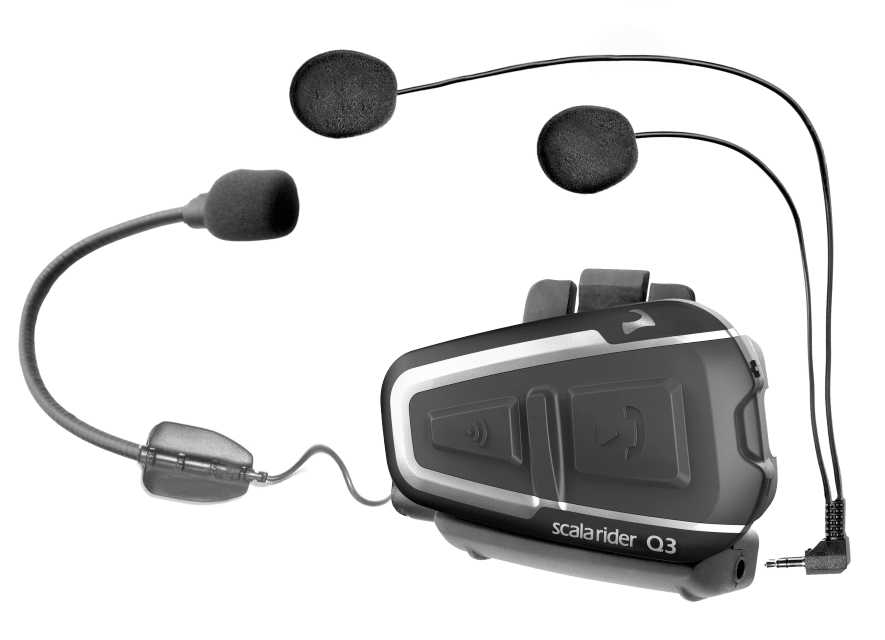 I have used a Scala handsfree device before – a couple of years ago – and if I'm honest I was never that impressed. As a means for having telephone conversations on the move it was good, but the Bluetooth connection dropped out frequently, especially when used with my GPS units, meaning it had to be paired repeatedly. Add to that the FM radio, which rarely worked well enough to be able to enjoy, so the system was consigned to the man draw. 
I am however pleased to say that the new generation Q1 and Q3 systems seem to have conquered the early gremlins and give trouble free comms when riding. The Q1 is a basic rider handsfree, which can pair with another Scala unit used by a pillion. The Q3 has the higher specifications, enabling it to be used as a bike to bike intercom, with a range of up to a kilometre, and can be used with up to four riders. 
Installation is straight forward enough, using the clamp onto the shell mount. Sighting the speakers and microphone was not a problem, and didn't compromise the test lid's original comfort. 
Audio quality is very good and telephone conversations can be held without the need to shout by either person, even at speed. Music streaming is achieved via A2DP from smartphones or Bluetooth Mp3 players wirelessly, with play/pause and track selection. The Q1 and Q3 both have voice controlled activation (VOX) for telephone response and background noise volume control, that will increase/decrease the volume depending on the prevailing conditions or speed. Both have a built-in FM radio receiver with six pre-set stations. 
In a Line: Better than they used to be, that's for sure.
Midland BTX1 System Twin Pack 7/10
SRP £199.99 | www.feridax.com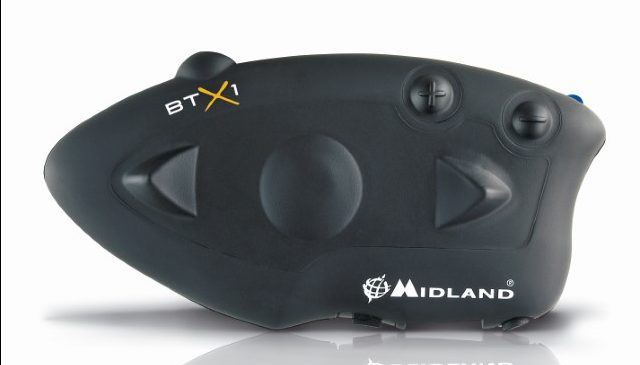 The BTX1 is a basic intercom system that comes with two units, allowing rider and pillion to be able to chat up to a range of ten metres apart, which is far enough in reality as if you get further apart than that then something is very wrong! If you wanted bike to bike chat then this can be achieved with the addition of a compatible PMR 446 radio, connected to the BTX1 via Bluetooth, but it would mean both bikes had to have the same facility. 
Although the unit houses the battery power source, it has to be said that the unit is quite slim at just 18mm thick. It has a universal fitting kit that should attach to just about any helmet you require, by either clamping it to the shell or using the adhesive mount. This unit was tested when clamped to a Shoei GT Air, a lid that will easily accommodate an intercom system. The fit was achieved in a matter of minutes and did not affect the normal comfort. 
Once paired with a device, there were no connectivity issues and the audio quality was good. The automatic volume control also meant that as the speed increased so did the volume to account for the additional background noise. The BTX1 also has Voice Operated Exchange (VOX), which is great for hands free telephone response. 
It does not have a FM radio, but will stream music from a phone or Mp3 with play/ pause and track select capability. For the money it's a great little unit for two up touring, especially as two units are included in the price. 
In a Line: A good value for money intercom.
Interphone F5XT 9/10
SRP £379.99 | www.nevis.uk.com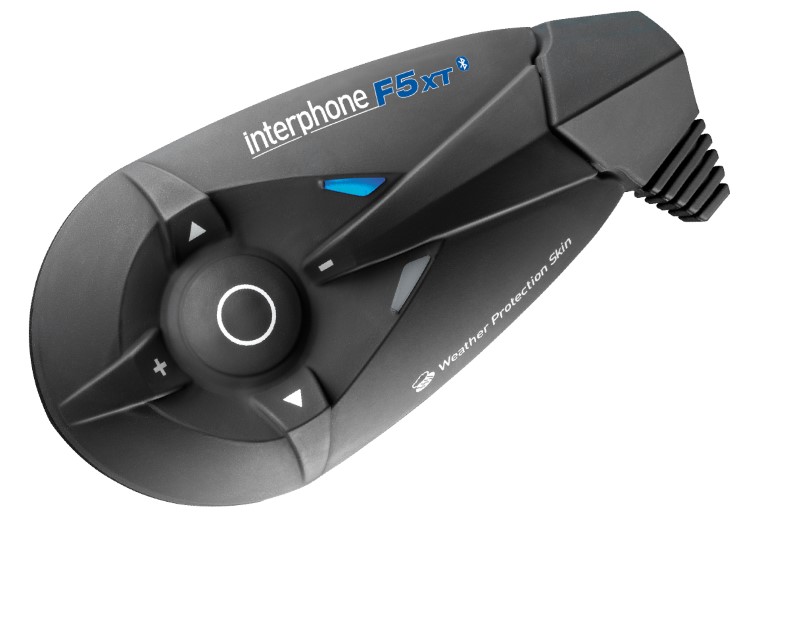 As a stand-alone unit that can be attached to pretty much any helmet of your choosing, the F5XT, for me at least, certainly takes some beating. Our unit had been fitted to my Arai Tour X4; it was simple enough to fit and was comfortable when in use. I will admit that the F5XT, like most universal systems, is bulky to look at. That is because they house the batteries that power them, but it's not too bad once you are used to it. 
It can be clamped to the shell, or stuck on using the supplied mounting brackets. I opted for the clamp type and it is held in place securely enough. Once I had identified the best position for the ear speakers and microphone, these were held in place by Velcro, with the wiring easily secreted behind the lining. 
The connectivity is spot on and I never experienced any disconnection issues. The sound quality is very good, as is the telephone conversation capability. Even at speed, normal speech is all you need. The unit has voice prompts to let you know what mode the unit is in, be it phone, music, intercom etc. and it will tell you who is telephoning you just in case you want to ignore it! 
The intercom range is excellent, too. Two bikes both using F5XTs can converse up to 800 metres apart. The system will also allow up to six units to be paired, and then the range is extended to nearly a mile and a half (conditions allowing). 
It also has an eight station memory FM radio, as well as the normal music streaming from an audio device. 
In a Line: The best stand-alone unit I have used… recommended 
Sharktooth Bluetooth System 7/10
SRP £199.99 | www.nevis.uk.com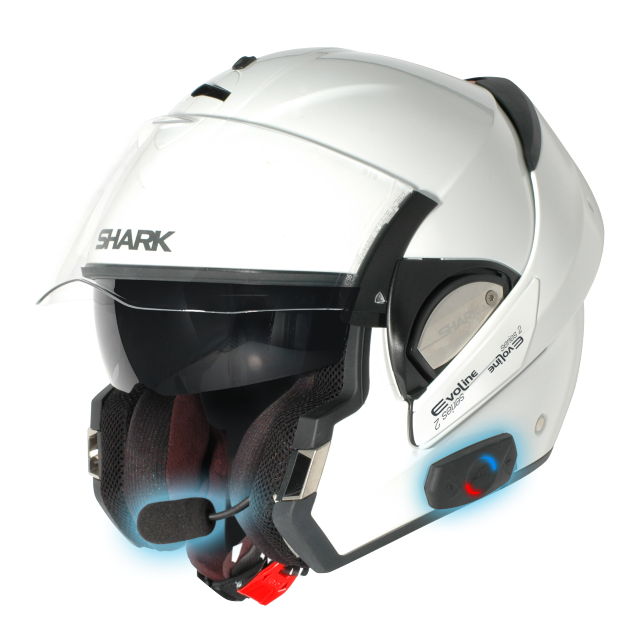 The Sharktooth system will fit a wide range of Sharks' more popular range of helmets. I have been using ours in the Evoline 3, which I enjoy wearing especially in the warmer weather and when touring. The only visible signs of the unit are a slim control panel, which is stuck to the left side of the lid and the obvious boom mics when the front is lifted. 
The fit is pretty straight forward, as the inner lining and EPS shell have been made to accept the battery pack, speakers and associated wiring, but I would point out that you need to make sure the speakers are in the correct position over the ears for the best results (I had to readjust a couple of times). The features are simplistic compared to some of the others, but in essence, there is all you need to be in touch and have audio on the move. 
It is capable of bike to bike, or rider to pillion intercom, over a line of sight distance of up to 500 metres with another Sharktooth unit. It can be paired with your mobile phone, GPS or a Bluetooth mp3 player, where the audio sound quality is reasonable, even at motorway speeds, as the volume is automatically increased or decreased thanks to the built in background noise reduction control facility. 
Conversations at higher speeds are not as clear as some of the others, but are improved if the chin bar is lowered to the full face position. 
In a Line: A nice compact, simple unit for those that like their Shark lids.
Nolan N.Com X-series BX4 9/10
SRP £239.99 | www.motogear.co.uk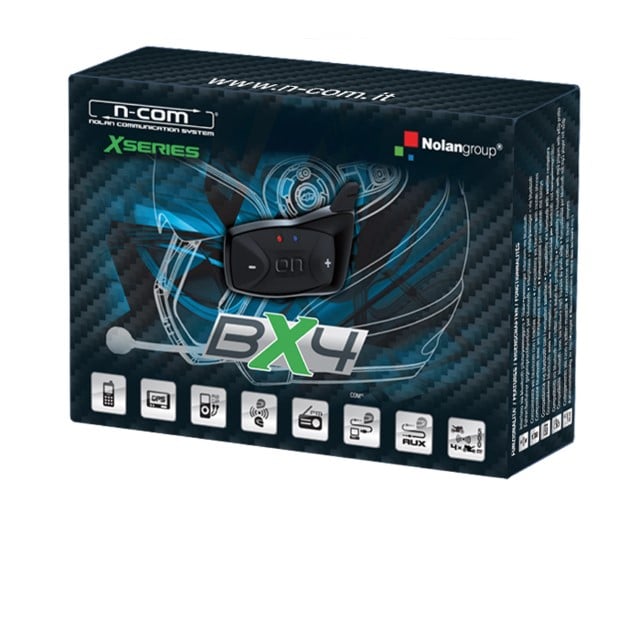 This particular system is made by Nolan, specifically for their X-Lite range (Nolan is the parent company to X-Lite), with our unit fitted to the very popular dual sport X-551 lid (check out the web site for a list of further applications). Aesthetically, it is slim and does not protrude too much from the side, and has easy to use glove friendly operating buttons. 
The helmet is made ready to accept this comms set-up, with speaker recesses and routing for the wiring and microphone, so once it's fitted it's hardly noticeable. 
This unit is very versatile, because as well as the usual hands free phone operation, it is also compatible with A2DP Mp3 players, meaning it will stream music straight from your phone or other device. In addition, it will connect to up to four other units, including other brands, making it very usable. It can also be used as a bike to bike intercom within a range of 500 metres (line of sight), and has a facility to host conference calls and GPS information, allowing other units to receive the data. It also has a built in FM radio, capable of having six pre-set channels. 
In use, the sound clarity is excellent, with clear and concise two-way conversation at motorway speeds. Likewise, the music playback is good quality, but the FM radio isn't the best, though I've never found this facility to be that good on any unit. The Bluetooth connection never drops out, which is very much a bonus point. At the time of going to press Nolan is launching a 'plus' version of the N-Com, which will pair with any other device for bike to bike communication, with a controlling app available for android smart phones, enabling you to change the settings from your handset. 
In a Line: Excellent comms system with great features.  
Schuberth S2 SRC Bluetooth system 8/10
SRP £329.99 | www.tranam.co.uk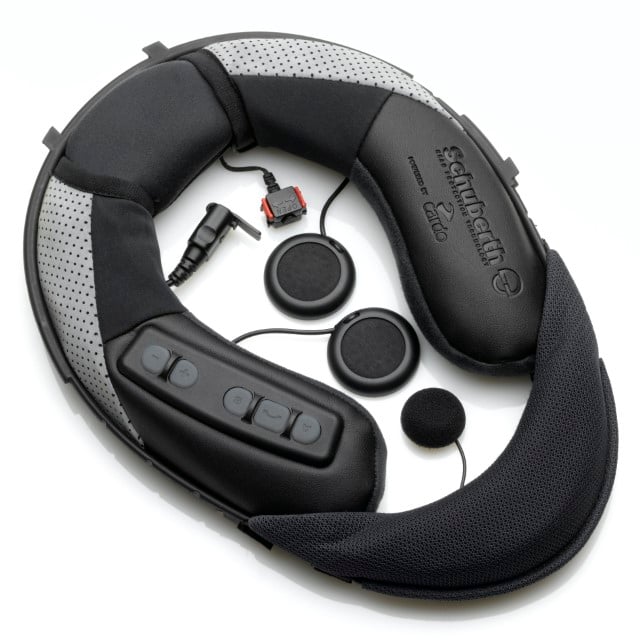 Although this kit is specifically for the S2 helmet, Schuberth also makes one for the C3 flip front. Overall, Schuberth lids are very popular, but do have a hefty price tag, and so do their comms units. I have to say though, for me, it was the easiest to fit. Also, because the controls are mounted in the replacement acoustic collar – making the device barely noticeable – the quality of sound and the features can almost justify spending another £330. 
The unit is made by Cardo; specialists in producing Bluetooth systems, such as the very popular Scala kits (see separate review). As mentioned above, Schuberth has incorporated the Schuberth Rider Communication (SRC) into an acoustic collar, replacing the original and proving to be an easy swap. The ear speakers fit into the recesses with Velcro, whilst the microphone is attached to the inside of the chin bar. The helmet has an integral antennae built into the shell during the manufacturing process, which then plugs into the unit to give better reception for the VHF six station radio. RDS (Radio Data System) allows automatic channel search, with it helping if you set the channels up via your computer before use.
The Bluetooth holds its connection throughout and the sound quality is good whether talking on phone, intercom or just listening to music. The intercom connects with compatible units for up to 700 metres (line of sight) for bike to bike or pillion chat. And the VOX for voice operated operation and AGC (automatic gain control), which increases or decreases the volume depending on background noise, are very useful features. 
In a Line: A pricey system, but if you have the helmet it will complement it.