A week of Indonesian exploration awaits Aussie ABR Ian Neubauer 
After finishing high school back in the early 90s, a group of us flew to Bali for 'Schoolies Week', a graduation celebration held across Australia for all school leavers. Standards of decency and libel law prevent me from sharing the details of what we got up to, but let's just say they were the seven most debaucherous days of my life. So when my old lady suggested we hit Bali over last year's Christmas break I was happy to oblige – on one condition: after spending a week (and a month's salary) treating her to enough fancy meals, spa treatments and shopping sprees to sink the Love Boat, I'd get to go off and explore the rest of Bali on a bike.
The Road to Ubud
Bali's tourism hotspots are located on the island's southern isthmus – a bottleneck around which traffic flows at a crawl.
But on the Saturday morning I made my escape from Kuta, the traffic moved so slowly at times it felt like it was going backwards. Back home I would have made short work of it by sneaking along the gutter or between lanes of stalled cars, but over here there are so many people on scooters that I'm hard pressed to find even a square foot of empty road. It takes me hour to get around the capital Denpasar on the Jalan Ngurah Rai Bypass: a distance of some 6 miles or so.
The traffic starts to thin out when I exit the bypass – as does the road, reduced to one-and-a-half lanes – and I have no choice but to sit behind trucks and buses breathing in diesel fumes. But the locals are far less patient, risking their lives to overtake larger vehicles as oncoming traffic roars towards them. I imagine the road fatalities here must be appalling, especially considering bikers don't wear helmets and aren't adverse to talking on their mobiles or smoking cigarettes as they ride.
It's early in the afternoon when I finally reach Ubud – a temple town set in the lush rainforest in south-central Bali. After finding a hotel I go for a walk, checking out the many arts and crafts shop and shrines on the main drag. I'm just getting into the swing when rain starts bucketing down, so I run for cover at a restaurant called Murni's Warung. Set on the banks of a raging river amid thick green jungle, Murni's is a warm three-story haunt wallpapered with relics and antiques. The most interesting is an old codger from Victoria called Peter who Murni left in charge while overseas. From the second I sit down he has me in stitches, regaling me with stories of encounters with dodgy Balinese police.
"The other day a cop pulled me over and demanded to see my driver's license. But like most people in Bali, I don't have one," he says. "I told him in Indonesian I don't speak English. When he replied in Indonesian, I told him I didn't speak English. It went on like this for a few minutes until he threw his arms up in despair and walked away. The moral of the story is that if you do get stopped, the easiest way out of it is through humour. The last thing you want to do is get angry. Then they'll really screw you."
'Good advice,' I think to myself and mentally file it away.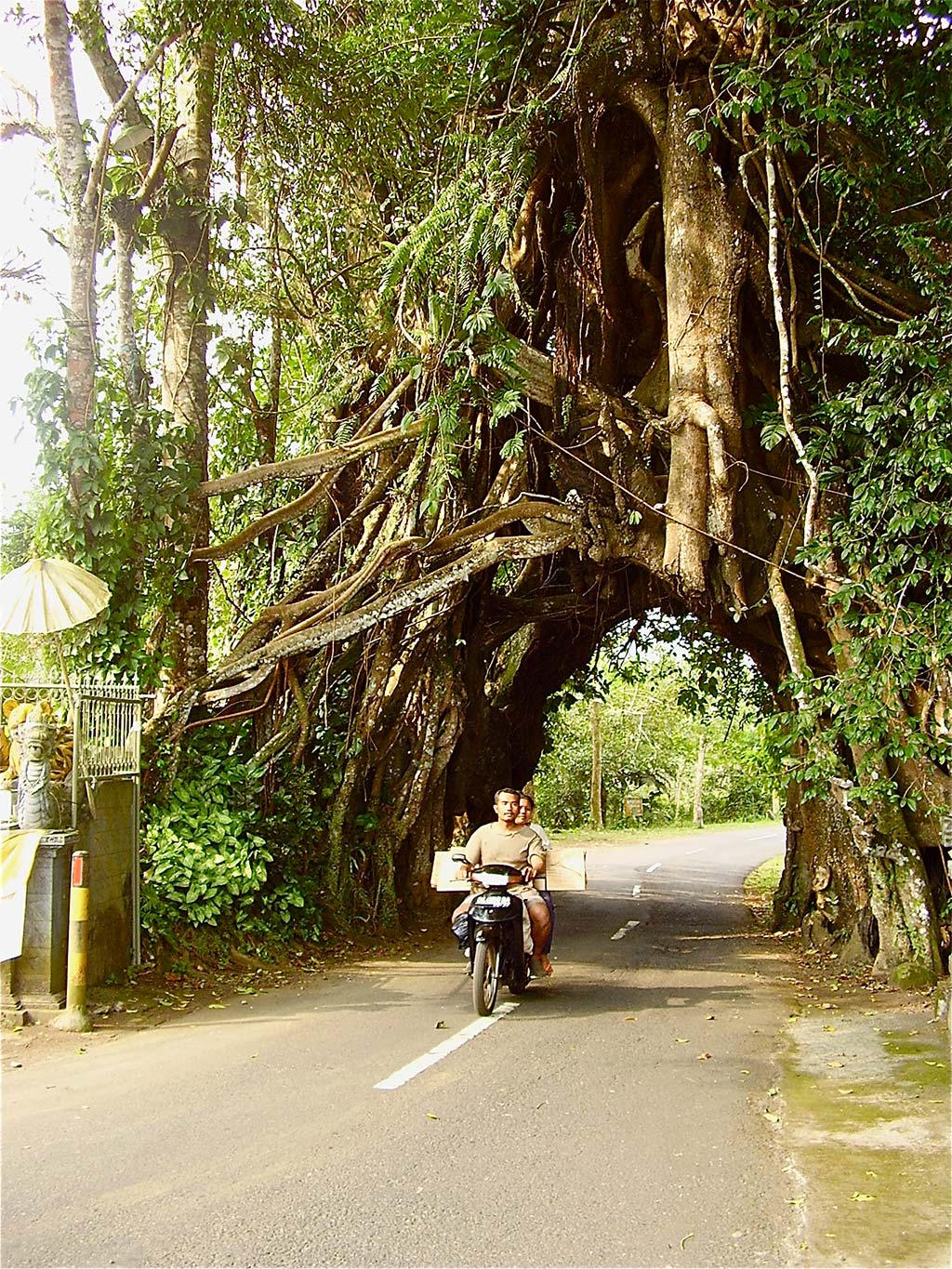 Over the rainbow
It's the middle of the wet season and the rain beats down relentlessly through the night. By morning the worst of it's over, so I head out early before the downpour starts up again.
My first destination is the Gunung Kawi Archeological Park, 12 miles north near the village of Tampaksiring. From the car park, a steep staircase leads to a small valley where I find 10 mammoth tombs chiseled into a cli. face. They're thought to be at least 1,000 years old and I would've been happy to sit there for hours taking it all in. As I'm thinking this it starts spitting, and I decide to hit the road. My next destination is Sideman, a peaceful little town in the Selat Valley.
Google maps tells me it's 45 minutes from Tampaksiring, yet with the rain starting and stopping like a broken record, my progress is reduced to a crawl. The good part is that whenever I pull over and seek refuge in a shop, bus shelter or home, I'm greeted with open arms. The Balinese are super-hospitable people; they love trying on my helmet, posing for photos and making me cups of potent black coffee.
I pass the towns of Gianuar, Samplangan and Semarapura, then turn off from what passes for a highway here to a small road that winds its way up into the hills.
I read somewhere that this is one of the most breathtaking rides in all of Bali and that it is: ebbing and _ owing through pockets of rainforests, emerald-green rice paddies and quaint little villages lined with brightly coloured storefronts, Hindu temples and shrines. The tra. c is minimal but the road is ripped to bits. Every time I hit a pothole the front shocks on my roadie bottom out and jar me right to the core. Then the rain returns, but this time in sheets, coupled with thick fog that reduces my visibility to 5 metres or so. The dream road becomes a nightmare and my average speed is reduced to about 6mph.
By the time I reach Sideman I'm shivering from the cold and feel like my shoulders are about to fall off. But after a hot shower the pain and all memory of the discomfort I suffered getting here fade into history. Set on the foothills of mighty Mount Agung – a 3,000-metre high stratovolcano that claimed about 2,000 lives when it last blew its top in 1963 – Sideman has got to be the most lush and fertile place on the planet. Late in the afternoon, when the sun peers over the clouds for a brief moment, a double rainbow appears making the waterlogged rice paddies sparkle. Adventure riding is not always easy, but the rewards are sensational.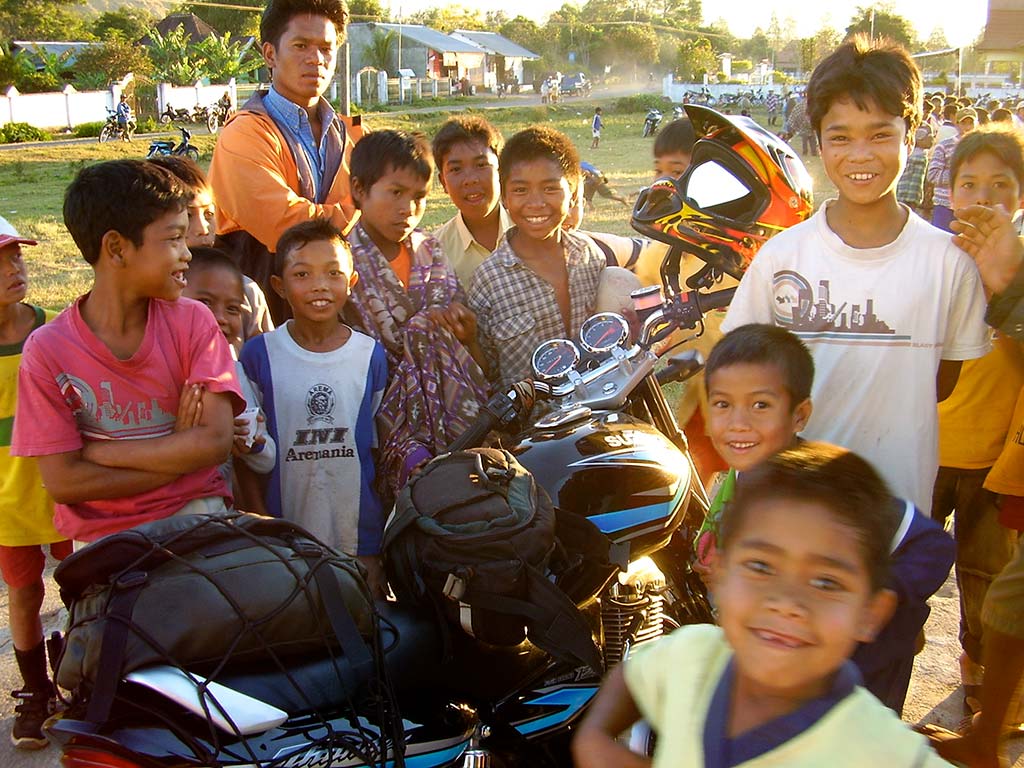 Beach life
The rain returns in the morning and within a minute of setting out from Sideman I'm soaked to the bone. I consider heading back to Kuta and calling it a day, but when I hit the apex of the hills overlooking the south coast and see nothing but clear skies ahead – and ominous dark clouds behind me – I decide instead to recalibrate my route so as to avoid the interior.
The new strategy bears fruit in a matter of minutes and I find myself coasting down a long windy road leading to a wide open plain where warm tropical winds leave me dry and high. An hour later I arrive at the beach town of Candidasa, where a billboard tells me it's like 'Kuta in the 70s'. With a single beachside strip lined with cheap restaurants and whitewashed resorts and bars, and none of the hawkers that make Kuta unbearable, it seems whoever came up with the slogan is right on the money.
With the sun now bearing down on me, I decide it's time for a swim. Enquiries lead me to a spot 3 miles to the east, where a re trail that cuts through dense coconut groves ends at the aptly named White Sand Beach. About half a mile long and fronted by sugar-white sand and a coral reef, it has to be one of Bali's best kept secrets. I rip out my snorkel and fins and spend a good hour or so checking out the coral and all the marine creatures that call it home, then cruise up to a small warung (restaurant) where I stuff myself stupid on barbecued snapper with rice and spicy Balinese sauce, washed down with a couple of Bintangs, the local larger of choice.
Dark clouds return in the afternoon, but the rain holds o. and my drive to Amed – a small dive resort on the Bali's easternmost headland – is a dream. With stellar views of Mount Agung, absolute beachfront access and only a few dozen vehicles and scooters, Amed is even more chilled than Candidasa. It's the perfect place to sit back, relax and put aside all the trivial crap I worry about back home – and sink beers with the locals and backpackers.
Two days pass before I even contemplate leaving. And when I finally do depart, it's with a heavy heart, a pickled liver and the email addresses of a half-dozen new good friends.
Mind that tree!
I'm still grinning from ear-to-ear as I roar out of Amed and up Bali's north coast. Traffic is nonexistent and the road is smooth and wide, curling past pristine stretches of rocky coastline interspersed with halfmoon bays.
After three hours of uninterrupted, motorised bliss I hit Singaraja, the old colonial capital and Bali's second largest city. The traffic returns with a vengeance and there's nothing I can do but sit and steam in it. From Singaraja, I cut south straight through the centre of the island – a beautiful, winding road laced with enough hairpin turns and knockout views to last a lifetime. I stop for the night at the village of Munduk, then continue in the morning towards the south coast.
I'm about 6 miles from the ocean when I encounter the most unique and unusual thing I've seen in Bali so far, or the world for that matter: a Banyan tree so wide that the road actually cuts through the middle of it. Passing through it, I feel like I'm entering a magical world and can't help turning around and reliving the moment over and over, much to the amusement of a bunch of kids on the side of the road. I later learn that Banyan trees are holy to the Balinese as they are thought to protect the land from evil spirits, which is why a road gang went to all the trouble of tunnelling a hole through this one instead of chopping it down.
When the road ends I reconnect with the coastal highway and make my way back down to Kuta to hand back the Suzuki. It's been a fantastic little trip – one I can recommend to riders of all levels of experience, so long as you have the right safety gear, are willing to be extra patient when overtaking and aren't too fussed by the rain.
It may not have been as wild as my first trip to Bali, but it's just as memorable.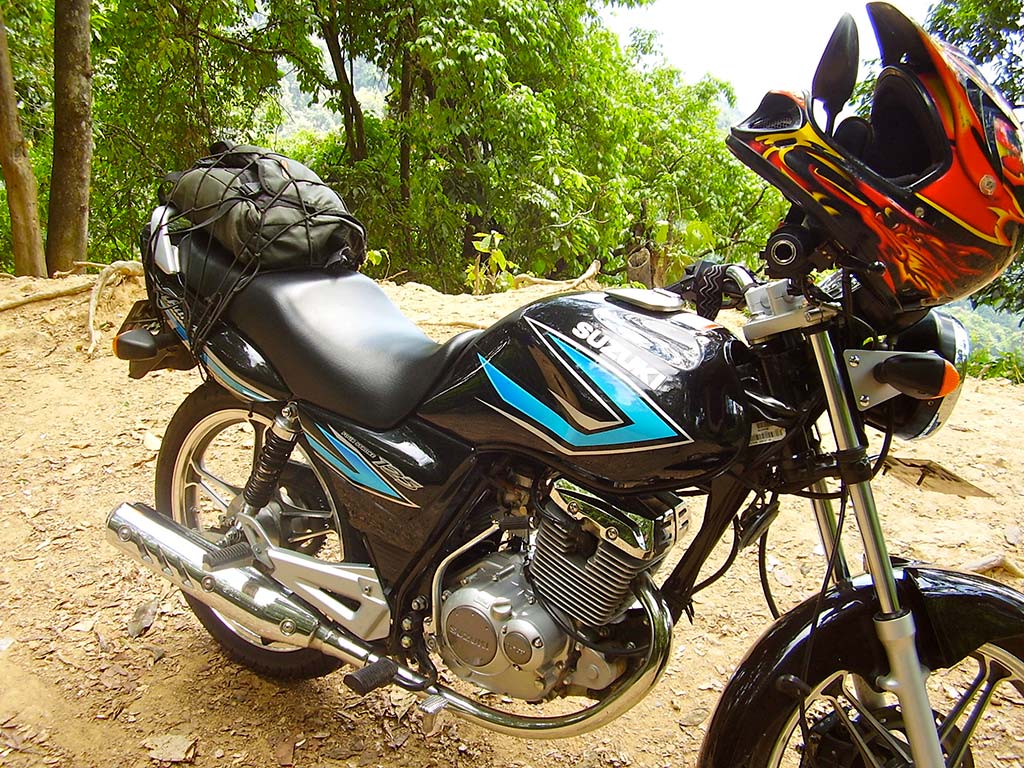 The bike
The first half of day one of my Bali freedom ride was spent getting my hands on a moto. I had my heart set on one of the Indonesian-made Kawasaki KLX 150Ss I'd spotted a few of the locals riding around, but when I tested one at a rental place at Kuta, I discovered the donk lacked anything resembling grunt, so I opted for a Suzuki Thunder. With roadie suspension and fairings it was totally unsuitable for driving o. -road, but at 250cc, its engine had a lot more guts than the Kwaka's, and most of the roads I followed on this trip were well sealed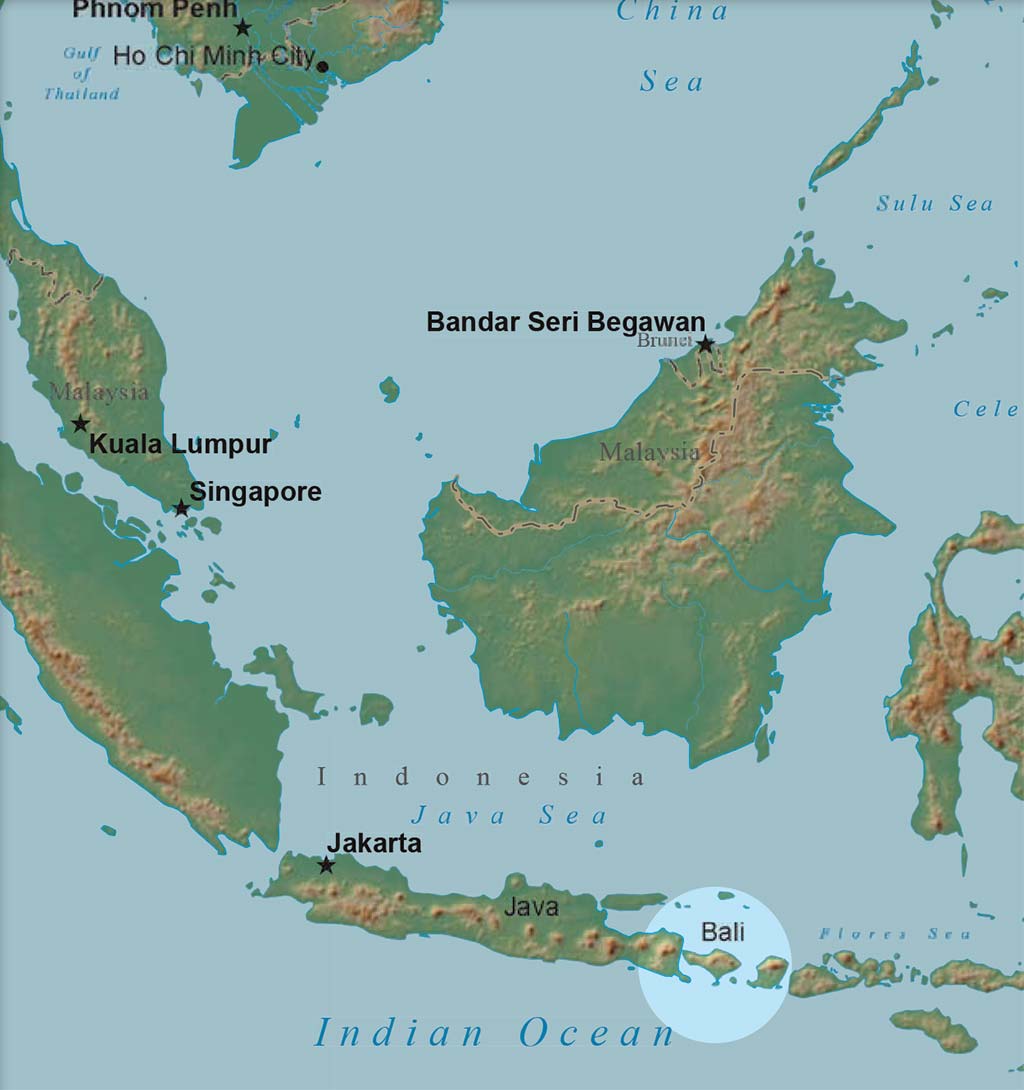 Bali
Where? Bali is one of the western most islands among Indonesia's Lesser Sunda Islands o. Borneo's south coast. It's located between Lombok to the east and Java to the west
What? It's the largest tourist destination in Indonesia, famous for its specialised cultural arts, breathtaking beaches and lush, green jungles
Who? The island has a population of around 4m and its predominant religion is Hinduism; there are an estimated 20,000 temples or pura on the island. Its native tongue is Balinese, although most residents also speak Indonesian and English, owing to the island's thriving tourist industry. Bali is steeped in a tradition of highly skilled and ornate arts and crafts, including dance, sculpture, painting, leather, metalwork and music
When? December-March sees the west monsoon bring heavy showers to the Bali, but the rains usually fall overnight leaving the days sunny but humid; in June-September humidity is at its lowest and the island is dry. High season for tourists is July-August and Christmas through to New Year
Why? Besides its breathtaking beauty – 'paradise' is a word frequently used to describe Bali – and colourful culture, Bali is a goldmine for ABRing routes, offering a variety of terrains from mountain twisties and scenic coastal routes to off-road mud-plugging jungle. Just watch yourself on all sides when riding in the city; rules of the road don't apply in Bali!
Bir Bintang
Or 'Star beer' as it translates in English is the best-selling pint in Indonesia and is produced by a subsidiary of Heineken. At 4.7 percent for the Pilsner (a malty, hoppy number not unlike good old 'Heiney'), it's probably best not to have too many while out riding, but for the lightweights there's a shandy version called Green Sands, which is mixed with lime and comes in at around 1 percent. ABRs: know your beer!