Julain Challis went exploring through Italy to see whether or not Benelli can break into the adventure bike market, with the new Benelli TRK 502 X. Here's how he got on…
It's a big ask. For a tiny company like Benelli to break into the lucrative adventure bike market from its factory in the hills of rural Italy, it seems unlikely but carving the new TRK 502 X through the sweeping hairpins and fast back roads around Rossi's hometown of Tavullia, it doesn't seem out of the question. The bike is genuinely grin-inducing and unexpectedly fun to ride and as I chase after the appropriately named Lorenzo, my guide for the day, I'm pretty hooked on the Benelli.
Now for all you more informed readers, there are a couple of slight inaccuracies within the opening paragraph. First off, the TRK 502 X may be a new production model, but it's based on an existing bike within the range, the TRK 502 launched last year. For 2018, Benelli has decided to wave the off-road wand very lightly over the more road-based model to create the X version. The changes are not that massive, but the addition of wire-spoked wheels, a higher-level exhaust, tweaked suspension, a centre stand and some new graphics make the 502 X suitably different to its older sibling, even if the 19/17 wheel combination indicate that not that much off-roading is actually anticipated – much the same as most of the adventure sector then…
The second point to clarify is that while Benelli may still be based at the original site it has occupied since starting back in 1911, the Pesaro facility no longer manufactures the machines that leave the factory gates. When you speak to riders, most will probably know that Benelli is Chinese-owned, but few will realise that this has been the case since way back in 2005, when the Qianjiang group took ownership of the historic marque. Fifteen years of successful, if admittedly unlikely, partnership between Italian design flair and Chinese manufacturing and Benelli now has a range of nine bikes from stylish 125s to retro scramblers and now, its very own adventure bikes. But is the TRK 502 X any good?
First impressions
From the moment you see the TRK, you can tell that Benelli and its Oriental partners have had a clear eye on what sells within the adventure sector. It's impossible to ignore the design cues from the BMW GS range, the Ducati Multistrada and maybe even a touch of the Triumph Tiger. Talking to the chief designer on the 502 X project, Marco Belluci, over a predictable lunch of pasta and red wine, he freely admits that their bike was 'inspired' by the GS range, but that also he hoped that his design had some of the spirit of their awesome TNT 1130, the bike he rides to work every day. And you can't blame Benelli for reading the market, benchmarking the competition and looking to emulate the appeal of the most successful adventure bikes in the world. All the other manufacturers do it to a lesser or greater extent and, for Chinese companies, imitation is a common strategy.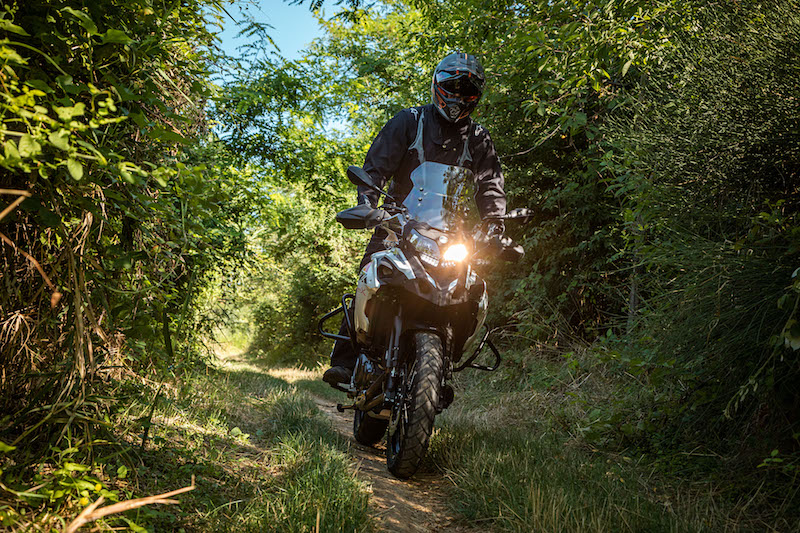 The TRK 502 X may only be a 500cc twin, but it's physically a big machine, and its width and stance could easily fool you into thinking it's at least twice that capacity. Sit on the bike and it's high too, with an 850mm seat height and wide petrol tank – weighing in at 235kg fully fuelled, this is certainly no lightweight enduro machine.
In terms of the rest of the machine, the design manages to maintain a balance between chunky and lightweight that works well. The trellis of the upper frame drops down from the tank shrouds to the plastic-covered steel plates around the swing arm mounts, before the similarly slim and sinuous twin tubes of the swing arm stretch to the back wheel. The large alloy end can sweeps up high towards the rear of the bike, with stylish twin rectangular outlets. It's a good-looking package with plenty design flourishes that have been the hallmark of Benelli since the beginning of the last century
Urban jungle
For the first part of the test ride, Lorenzo jumps on his identical TRK and shoots off towards downtown Pesaro as if he's late for Mamma's lasagne. With mere seconds to get used to the controls I set off in pursuit through the busy streets and endless roundabouts of his hometown. Straight away the bike feels beautifully well-balanced and planted. The width and weight immediately become both unnoticeable and irrelevant, and I'm chucking the bike from left to right through the traffic as if I've owned it for years. If you know anything about bikes, you'll know that being able to do this on a machine you've only been sat on for less than five minutes is a massive plus. There is no thought in my mind that I need to nurture and cosset this bike to get used to it – I've gone from stranger to comfortable familiarity within a few miles and that's impressive.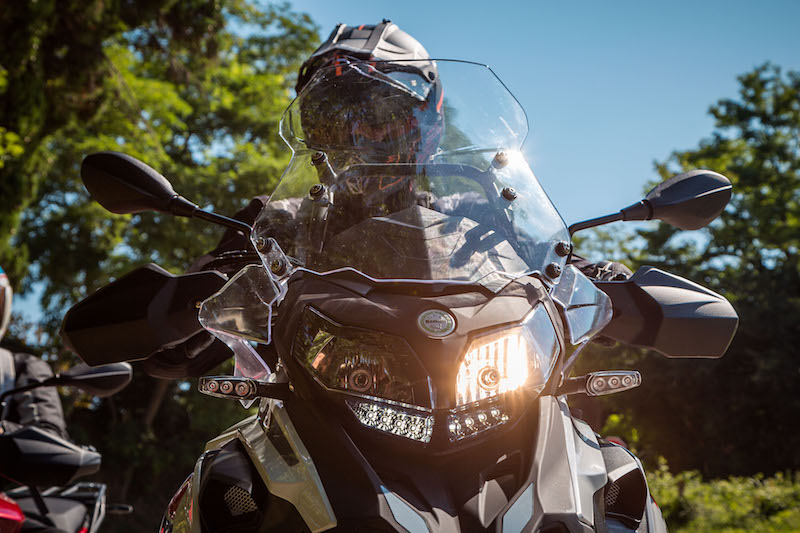 But before I get too effusive, I have to mention the elephant in the room with the Benelli. The TRK 502 X is fitted with possibly the most stupid crash bars I have ever seen or indeed had the opportunity to ride with – and I've been on a fully pimped Indian spec Royal Enfield! The main bars are fine, but then they've welded on a pair of loops either side just below knee level that stick out wider than the handlebars themselves. Who in their right mind thought that this was a smart thing to do? I guess if you had panniers on they'd serve to remind you the width of the back of the bike, but for weaving through traffic on an already wide machine they are a complete liability. The only reason I was happy to ride away from the bustling streets of Pesaro was to leave behind the ever-present risk of jamming the Benelli between two Cinquecentos. If I'd seen a road worker with a disk cutter, those outriggers would have been sliced off like salami…
As we climb into the suburbs through a series of steep switchback hairpins, I get a chance to evaluate the controls rather than concentrate on the traffic. The six-speed gearbox on the bike is wonderfully smooth and lacks even the characteristic clunk into first of just about every Japanese bike I've ever owned or ridden. It's so smooth I find myself checking the dashboard to see if it's actually engaged, not an experience I was expecting from a bike made in China! The clutch, although old-school cable operated, is buttery too and responds equally well to abuse or careful use. With a similarly light throttle action, there's little to detract from the riding on the Benelli.
Open county
With the rooftops of Pesaro disappearing behind us, it's a chance for the TRK to stretch its legs and it does this in an utterly enjoyable and rewarding way. OK, with a 500cc twin engine pulling this relatively heavy chassis along it's never going to have neck-breaking, sports bike type acceleration, but to be honest, if you bought this bike expecting that, you've missed the point.  The motor develops its maximum power at 8,500rpm, just below the red line and maximum torque at a few thousand rpm earlier at 6,000. In practice, this translates into a sweet spot that starts at around 4,500rpm and builds pleasingly towards 8,500rpm as the exhaust note emits an ever-angrier rasp. If you want to scream it up towards the limiter in each gear it's up to you, but the Benelli is at its best short shifting a tad to keep things around 7,500rpm and bubbling along nicely.
What's incredible is just how good this engine feels. There's inevitably a heap of derision piled onto anything with a Chinese motor – commonly from those who have never actually ridden one – but piloting the Benelli through these roads, the motor could easily be Japanese, Austrian or even German. If Honda had actually built the CRF450L that people wanted, rather than the enduro bike they got, then the motor could easily have felt like this and buyers would have been delighted. Benelli has plans to bring in a 700cc version of the TRK and if they do, it will improve an already sweet motor.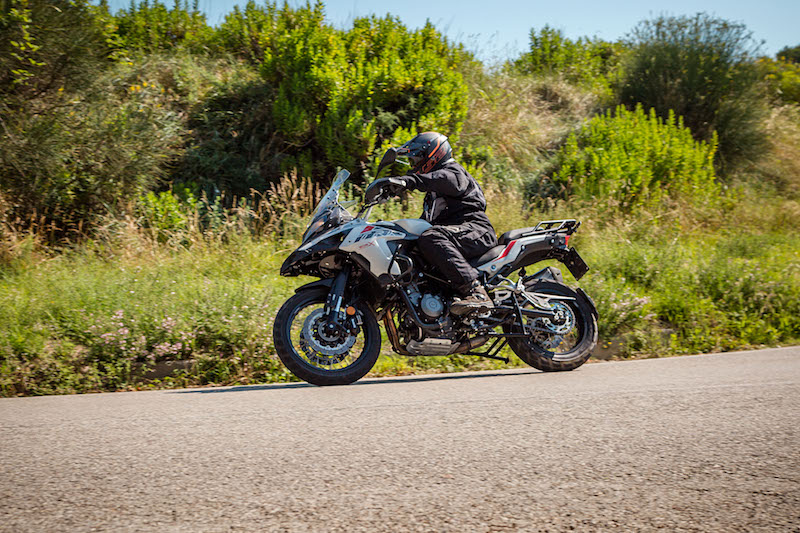 On the wider roads there's a chance to evaluate the cockpit and riding position, and again the TRK is ticking the boxes. The bars are wide and high but not so much as to feel unwieldy, and the relationship between seat height, footrests and bars works well. Not once did I think I wanted to tweak the positions of the bars or levers or wish that the pegs were lower, further back or forward. The clocks are on the minimal side of good too, with an analogue tacho sitting next to a digital speed and gear indicator and smaller displays for the clock, trip, temperature or whatever you feel is important. The screen is tall enough to shelter the clocks and take away a good proportion of the wind but is not adjustable.
Dropping away from the high country above Pesaro, the roads become a bit less cared for and began to give the bike's suspension a bit of a workout. The Benelli's forks are not adjustable but when few riders ever bother to touch the multiple options their bikes come with, this is no bad thing – they do their job well and keep the front wheel firmly planted. At the rear, there's a single centrally mounted shock that operates like KTM's PDS system rather than a use a linkage. There is adjustment for preload on the spring, and adjusters for both compression and preload to ensure the optimum setting for your style of riding and weight. Set at the factory for an average weight rider, the suspension was just right for the terrain we were riding through and kept the rear wheel suitably controlled throughout.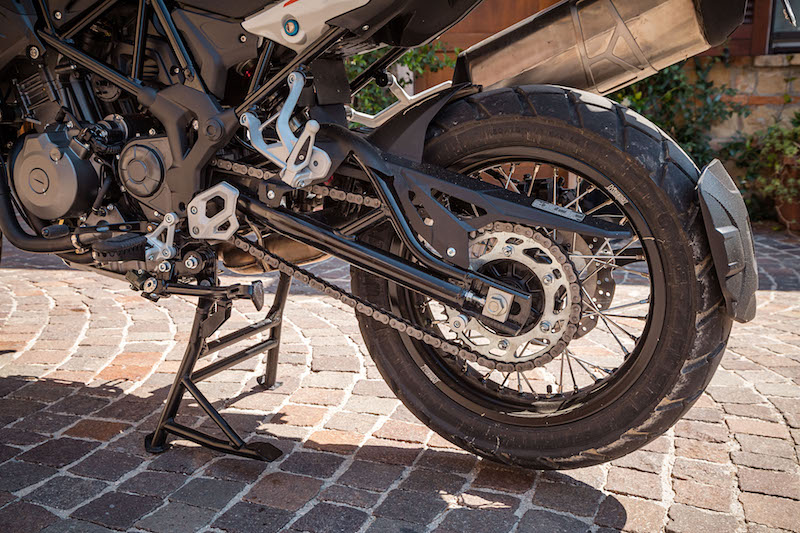 The brakes on the original 502 model seemed to come in for a bit of criticism, but it was hard to find fault on the X version. The calipers, twin dual at the front and a single potter on the rear, are Benelli's own, rather than the ubiquitous Brembos, but nonetheless do the job well when required. The bike has ABS at both ends as its sole concession to electronic trickery and if you're going to have any external assistance in controlling bikes of this size, then that's the one to have. The system can also be turned off if you prefer, by using the button on the left-hand side of the bars, which is useful for the odd off-road escapade or more spirited riding. I only got to experience the ABS system kicking in once after heavy braking on a small gravel patch going into a steep downhill right, and the momentary release of the front brake was enough to stop any drama immediately. Otherwise on good, dry and hot roads, the brakes hauled the bike up whenever and wherever asked without troubling the computers.
A bit of rough
As this bike is purported to be an off-road capable machine, we had to give it a test on some light off-road going to see how well the Benelli coped with the rough stuff. In reality, in such dry conditions, you could have successfully piloted a Honda Goldwing along the trails to the north of Pesaro without any difficulties, so taking the 502 onto the light gravel roads was hardly going to test it. Like most manufacturers of the bigger adventure bikes, Benelli isn't really imagining prospective riders to be handling anything too hardcore, so easy and flowing gravel trails are the most likely haunts if it should ever venture away from the black top.
That said, the 502 X did feel at home on the trails. The footpegs are good and wide (please note, Honda) and if you really wanted additional grip from them, have removable rubbers on them that detach to reveal some pretty purposeful looking toothed footpegs underneath. The bike is narrow enough at the back of the tank to make standing easy, although the fact that it gets so wide quite so quickly means you can't really lean forward to take your weight over the front on the uphills. Predictably with un-adjustable forks, road-biased dual-sport tyres and a 19-inch front wheel, the Benelli would soon reveal its off-road shortcomings if you decided to get a hustle on across rough ground, so if you do intend to take on some trails on the 502, a gentle bimble will probably be more advisable than anything approaching Dakar speeds. Horses for courses springs to mind – if you want to head seriously off-road then there are far better bikes than the Benelli to choose from.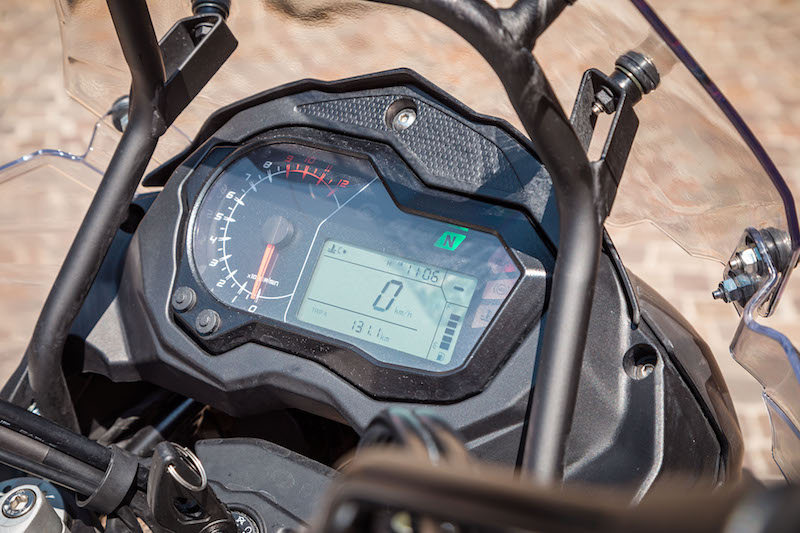 One addition that the X has is absent on the road-based model yet is invaluable for both off-road and on-road maintenance. When so many adventure bikes come with just a side stand, despite the near impossibility of changing wheels without a centre stand, it's a nice touch that Benelli has gone the extra mile and provided this as stock, rather than charging another £150 for one after you've bought the thing.
This not only means that you can carry out basic tasks like adjusting the chain with relative ease, it also means that you theoretically could mend a puncture out on the trails. Whether any Benelli owner will ever actually do this seems unlikely, but if so, there will probably be a pair of unicorns standing by to pass over the tyre levers…
Heading home
Our route continues through Tavullia and takes us right past Valentino Rossi's ranch in the rolling hills outside the town. As we stop for an obligatory selfie with Vale's house and his supermoto track behind us, it's evident just how important bikes and Benelli's are to this region. At coffee a few hours earlier, two locals had tried to buy the test bikes from us, and an elderly couple had come over to admire the bikes and explain how passionate the old man had been about Benelli's in his youth. The old lady had reached out to touch the tank badge like it was a holy relic, whispering the name with genuine love.
With the sun high in the sky it's time to head back to the Benelli factory and consider whether the TRK 502 X can go head to head against the existing machines from the mainstream manufacturers. And I'd have to say yes, it can, and not only that, it can do it really well.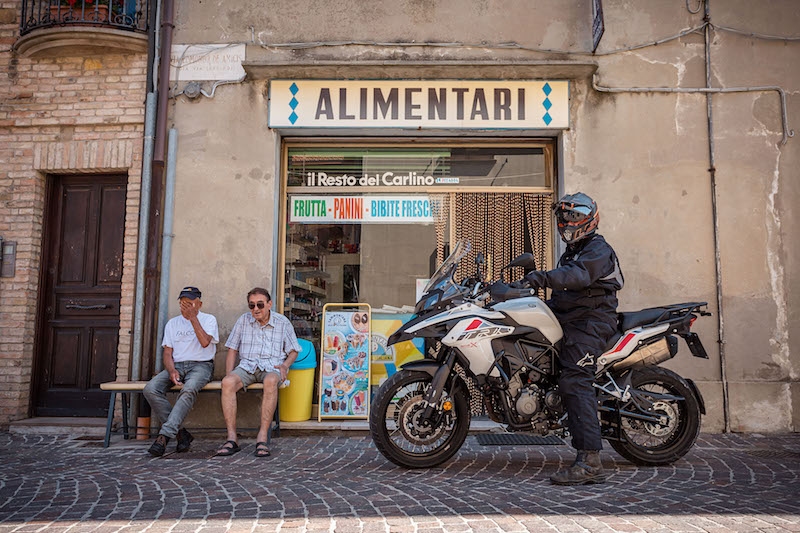 Priced at a pocket-friendly £5,499 and coming fully A2 compliant, the TRK 502 X is not looking to lock horns with the 1200GS or KTM 1290 Adventure – that would be far too ambitious, not to say stupid. But it can compete with the likes of Honda's CB500X and the Suzuki 650 V-Strom, both of which are considerably more expensive. Against these bikes it proves to be just as competent, and in terms of looks and riding experience, can beat them at their own game. And against the Royal Enfield Himalayan, a similarly left-field machine, there's just no contest – the Benelli is superior in just about every possible way.
In that case, what's the downside? Well, of course it's going to be the reticence of riders to buy into what is essentially a Chinese bike. We all know that the Chinese just make crappy pit bikes, don't we?  But those attitudes are changing, and if you look at the market within the 125 and moped sector, younger buyers are rejecting those pre-conceived and dated ideas and voting with their wallets. Chinese manufacturing is no longer the poor cousin to their Japanese or European counterparts, and the bikes now coming out of this enormous country are ever more sophisticated and competent.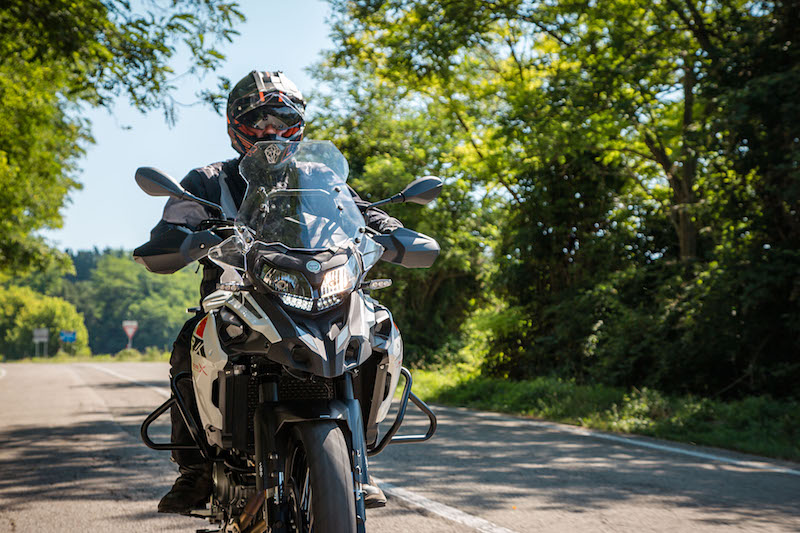 You might write off Qianjiang as a serious bike manufacturer, but it is one of the largest producers in China, employs a staggering 10,000 people and makes hundreds of thousands of bikes. By teaming up with this enormous firm, Benelli effectively outsourced its manufacturing while maintaining its design, a decision that has kept the company alive and continuing to produce exciting and beautifully designed bikes.
So, should you buy one? Well that depends on the type of person you are. If you buy with your head then undoubtedly bikes like the Honda win out every time; dependable, solid, safe, all those adjectives can be found with the CB500X and you can be pretty certain you'll be happy together. But if you buy with your heart and fancy something a bit different, a bit away from the mainstream and something that when you park up people want to talk to you about, then maybe the Benelli is the bike to go for.
Faced with the Honda or the Benelli, I'd be far happier to open the garage and see the Italian smiling back at me.

Benelli TRK 502 X specs at a glance
Price: £5,499
Engine: 2-cylinder, liquid cooled, 4 valves per cylinder, DOHC
Displacement:  500cc
Maximum power: 35kw / 47bhp @ 8,500rpm
Suspension:  Front; non-adjustable 50mm USD forks. Rear; swing arm with central adjustable shock
Front Brakes: twin 320mm floating discs with twin piston calipers and ABS.
Rear Brakes: single 260mm disc with single piston caliper and ABS
Front tyres: 19" alloy rim with steel spokes. 150/70 tyre.
Rear tyres: 17" alloy rim with steel spokes. 110/80 tyre weight  235kg (wet)
Tank capacity: 20 litres
Seat height: 850mm
Ground clearance: 220mm
Colours: White, Red, and Grey
ABR Verdict
As a commuter: The Benelli would work well as a commuter, but only if the journey didn't involve too much urban traffic. At 235kg with a fairly wide body, this is not the bike for filtering between cars or squeezing down back streets.
As a weekend tourer: As a bike to take out and enjoy at the weekends, the Benelli is in its element. Good looking, well-mannered and with enough pep to make the A roads a blast, you'll be grinning through to Sunday night.
As an off-roader: As with most larger boned adventure bikes, the TRK 502 X doesn't excel as an off-roader – it's too heavy, too wide and too breakable. If you want to go off road, get a dirt bike, not a Benelli
As a continental road tourer: Thanks to a great riding position, comfortable ergos and a competent engine, the Benelli would be a strong choice for blasting through the continent. Load up the hard luggage and go.
As an RTW overlander: OK so this is not difficult – would you choose an Italian-designed bike with a Chinese engine to travel into the most remote corners of the earth? If the answer is yes, you either need a psychological check-up or you really love a challenge…
As a pillion carrier: With a raised and well-padded seat, generous handles and well positioned rear pegs, the Benelli's pillion accommodation will keep your passenger happy for miles on end. Happy passenger, happy rider.