Over the past decade, the Missenden Flyer has gone from making home movies for friends and family to becoming one of the UK's most successful motorcycle YouTube stars, accumulating more than 40 million views of his videos. James Oxley met up with the man behind the 'hey kids' catchphrase to discover the secret to his success. 
From home videos to 40 million YouTube views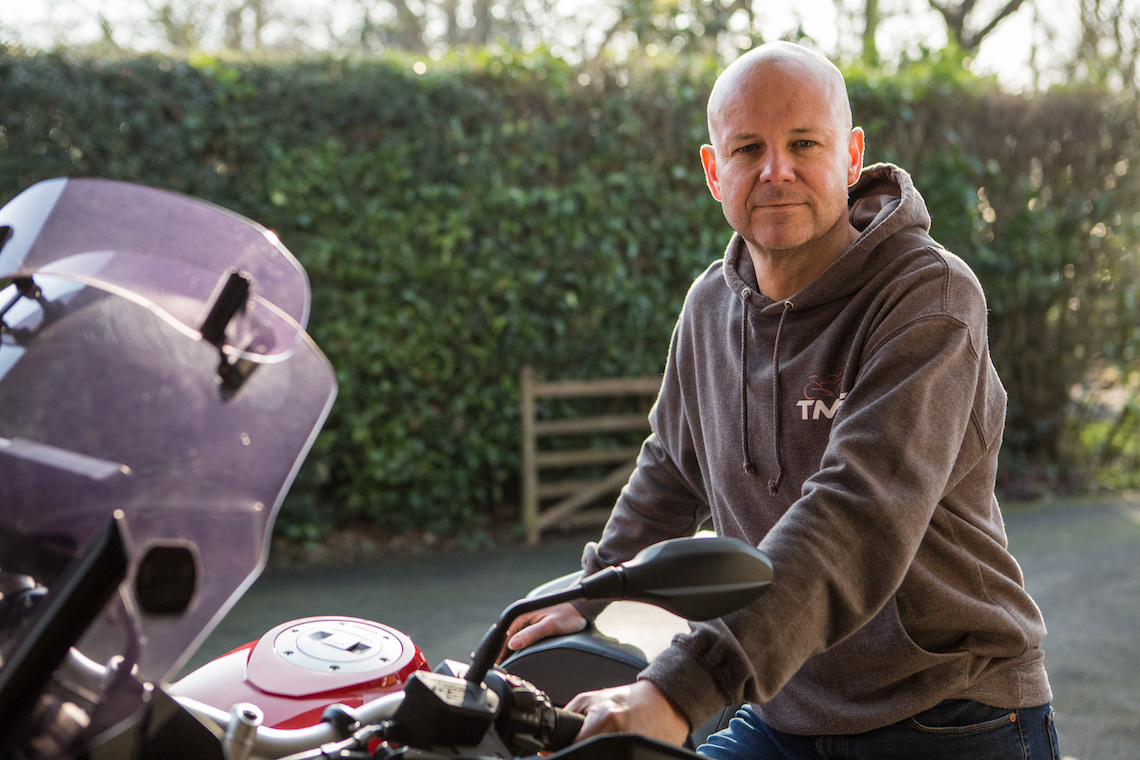 When the Missenden Flyer, or Andy as he is known away from the internet, told his teenage daughters he planned to give up his 'proper' job work full time on YouTube channel, his announcement was met with a little shock and some scepticism. The words 'social suicide' may even have been uttered in a typically teenage fashion. However, it was during a family night out that the kids realised their old man may be onto something. 
"We were at a restaurant", Andy explains. "And one of my daughters, who was 18 at the time, said 'dad that man keeps taking photographs of me with his phone'. I thought what's going on here?
"I couldn't see who it was, but then my Mrs said 'no, he's not taking pictures of you. He's taking pictures of dad'. And, sure enough, he came over and said 'I've watched all your videos'. I thought it was hilarious. From that moment on they thought there must be something in this."
There certainly was something in it. Over the past decade, Andy has gone from making home videos to share with family and friends to accumulating more than 150,000 subscribers and 40 million views on his YouTube channel dedicated to motorcycling, called The Missenden Flyer.
In that time, he has become a household name to bikers across the UK and is having a growing influence on the motorcycle industry. Thanks to his love for a gleaming BMW R 1200 GS and a passion for motorcycle touring, he has struck a chord with adventure bikers in particular.
But what is it that has made this affable chap from the home counties become an unlikely internet motorcycling sensation who regularly gets recognised in the street and has fans queuing up to meet him at motorcycle shows? And, is being a full-time motorcycle internet star the dream job seems? I took a ride to Great Missenden on a sunny morning to find out.
The winning formula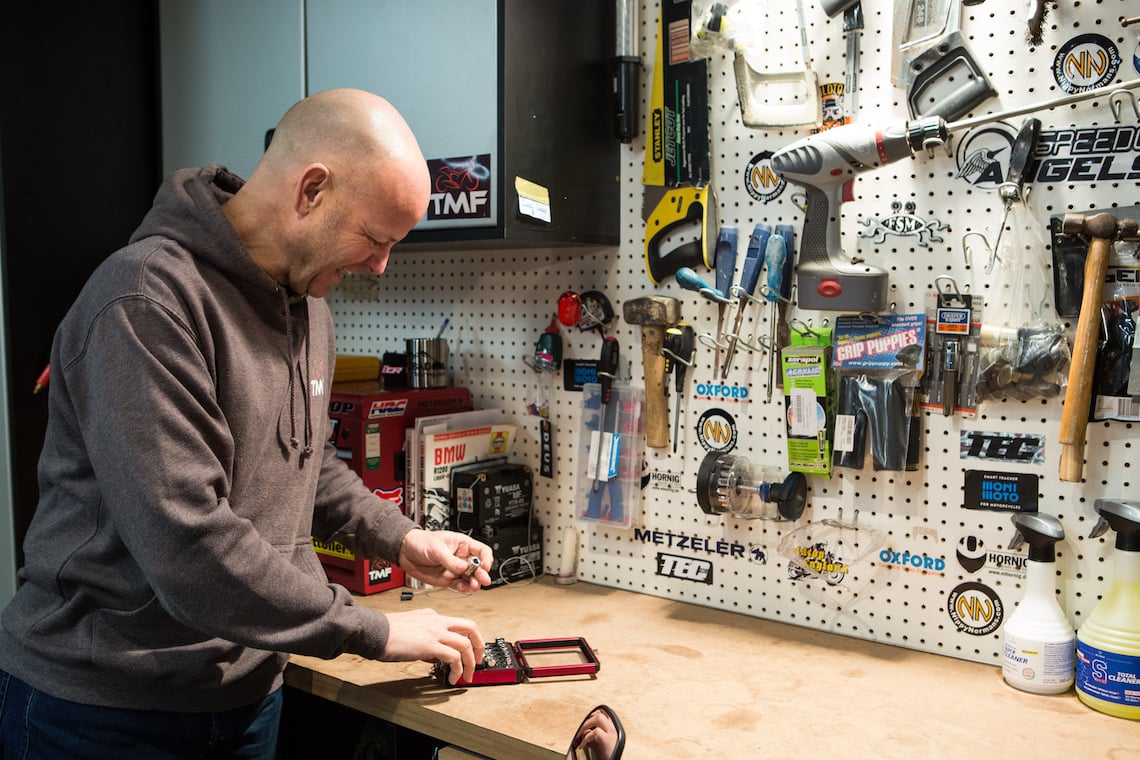 After pulling into Andy's ample driveway, the door to his house swings open and the Missenden Flyer greets me with a beaming smile.
Over the next 30 minutes of chat and banter, it becomes clear the YouTube personality millions of people enjoy watching on camera is the same engaging and chatty guy who's making me a cup of tea in his kitchen.
There are no airs or graces, no façade. He's just a genuinely likeable chap who enjoys talking about bikes, but in his case, he does it to millions of people. That likeability is a key ingredient to his internet success.
He has no film crew, minimal video equipment, no studio, and his approach to production is as simple as it gets. He's basically a bloke stood in his garage, or riding a motorcycle, who talks to you about bikes like you're one of his mates. It has proved a winning formula.
"I think people watch for a number of reasons", Andy says. "One is because they are fairly similar to me. The vast majority of my viewers are of my sort of age, so between 30 and 55. I'm at the top end of that. I'm not an expert at riding or doing stuff on my bike, or anything like that, so they see the trials and tribulations. I mean, I made one video about how I cocked up taking an oil filter out of my bike and it got loads of views."
He adds: I'm not threatening to them because I'm not a big burly track rider, or a massive bearded Harley-Davidson person. So, I think that's a long way of saying, I like to think people are just like me. That's why they watch."
When did The Missenden Flyer take off?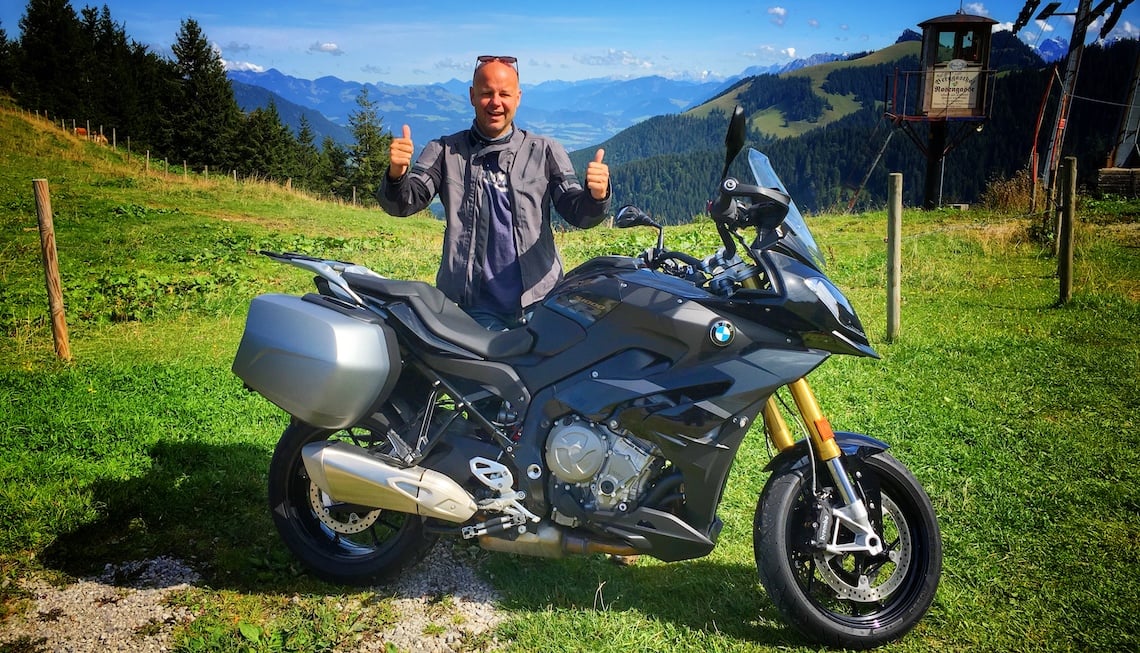 Giving up his day job and heading up a successful motorcycling YouTube channel was never an ambition of Andy's. He was a successful freelance project manager, a keen pilot, and a husband and father in his forties when internet stardom came a calling.
After making a series of home videos about flying, skiing and motorcycling for his own amusement, which he would upload to the internet, Andy noticed his biking videos were notching up plenty of views throughout the world. So, in 2012 he decided to make them more regularly, producing one a week around work and family commitments.
Andy says: "I did that for a while and then it did start to grow. I got to the stage where I'd paid my mortgage off, I'd got a reasonable pension, I had this other business that was generating a bit of cash and I said to my Mrs, look this YouTube thing, I think there might be something in it.
"If I could just make a few hundred quid a month out of it I've got the bases covered. I wouldn't have to do my 'day job', which was lucrative, but there was nothing about it I enjoyed.  So, that was the October of 2017 when I thought right, I'm going to go for it now. I've left my job, I've got time on my hands, I'll crack on. So, I did three videos a week and then suddenly that's when it rocketed off and went nuts. Within three months I was easily making my few hundred quid."
Building a brand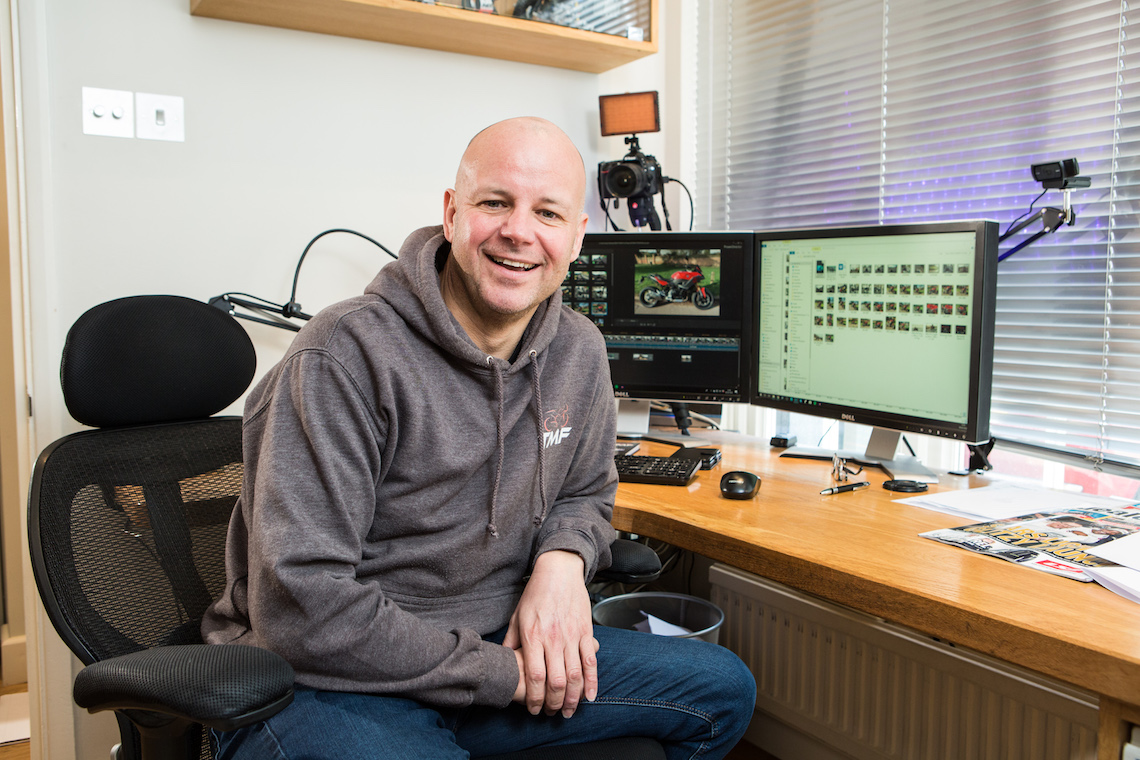 Andy spent the next couple of years crafting and sharing those three weekly videos. He borrowed bikes from motorcycle dealers and manufacturers to review while riding local roads (and famously, among his loyal following, got stuck behind a seemingly endless stream of white vans).
He gave detailed updates about living with the bikes he owned and machines he borrowed for longer periods. He also reviewed motorcycle gear and created a popular series of videos talking about the latest news in the motorcycle world.
And, as the YouTube channel grew, Andy was also able to indulge in his passion for motorcycle touring by taking The Missenden Flyer on the road, filming himself on bike tours in the likes of Gran Canaria, Norway, Scotland and Spain. As the video output increased, so did the workload and Andy soon found himself working morning, noon and night to keep up with a video schedule that he had planned out a year in advance.

"There's lots to it that people don't see."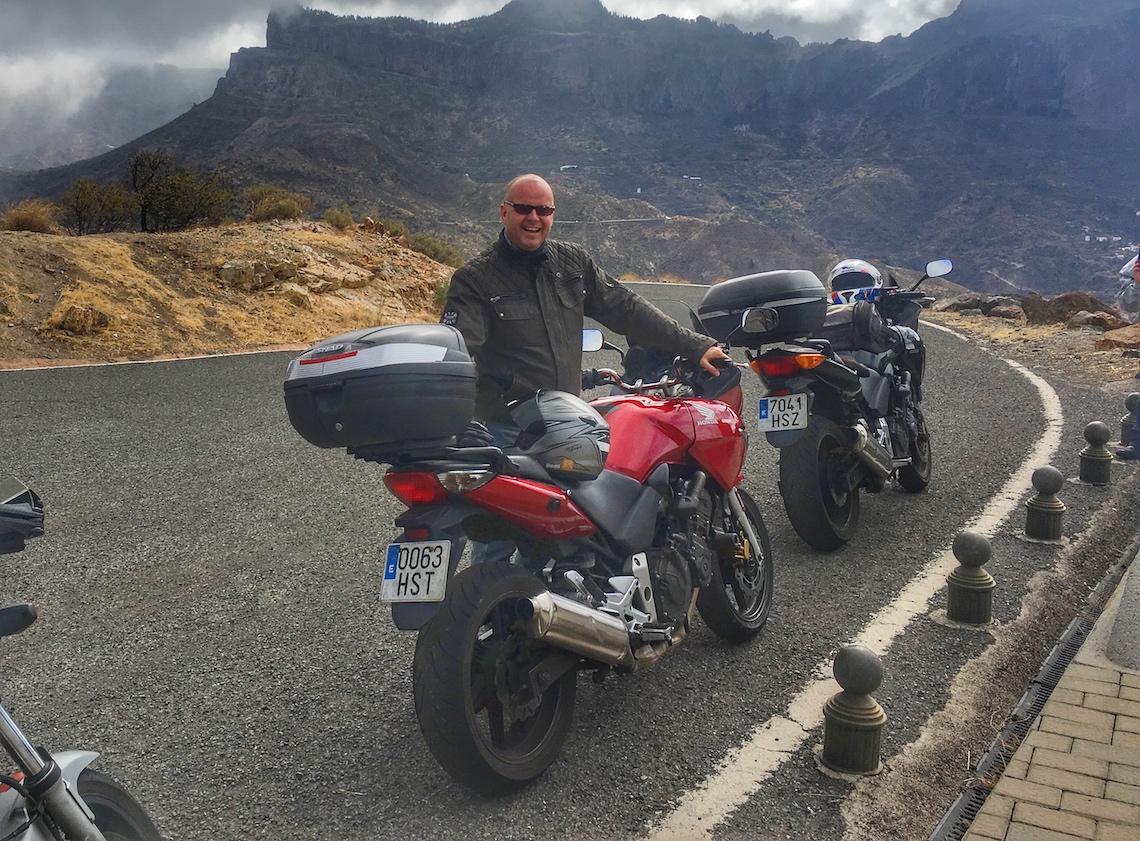 He says: "There's lots to it that people don't see. In fact, filming the YouTube video is probably the minor part of my typical day. There's always some pre-work no matter what the video is. So, if it's a bike review, obviously there's a bit of research to do on the specifications.
"There are usually some phone calls to do like organising with dealers or manufacturers to lend you the particular bike concerned. Obviously, then there's the filming part of it and then the editing part which usually takes way longer than the actual filming does. I quite enjoy that side, I think it's the creative process. I'm not very good at editing but quite enjoy it.
"And then there's scheduling of course. I have a schedule of videos that I'm going to do. I try and do a bit of variety. I don't want to do five (bike) reviews one after the other. I like to do a tour video and then maybe a review of a bit of kit, and then maybe a bike review, and then maybe a something about maintenance in the garage to keep it varied."
He adds: "Once a video has gone up it doesn't end there. People are commenting all the time and once you get a backlog you soon know. I usually start in the morning. I'll be on my phone in bed at like 7 am and I'll be answering comments that have come in overnight from around the world which is brilliant. I love all that but it is quite easy to let it take over your world and you end up with no spare time, so I'm trying to back off a little bit this year."
A passion for motorcycle travel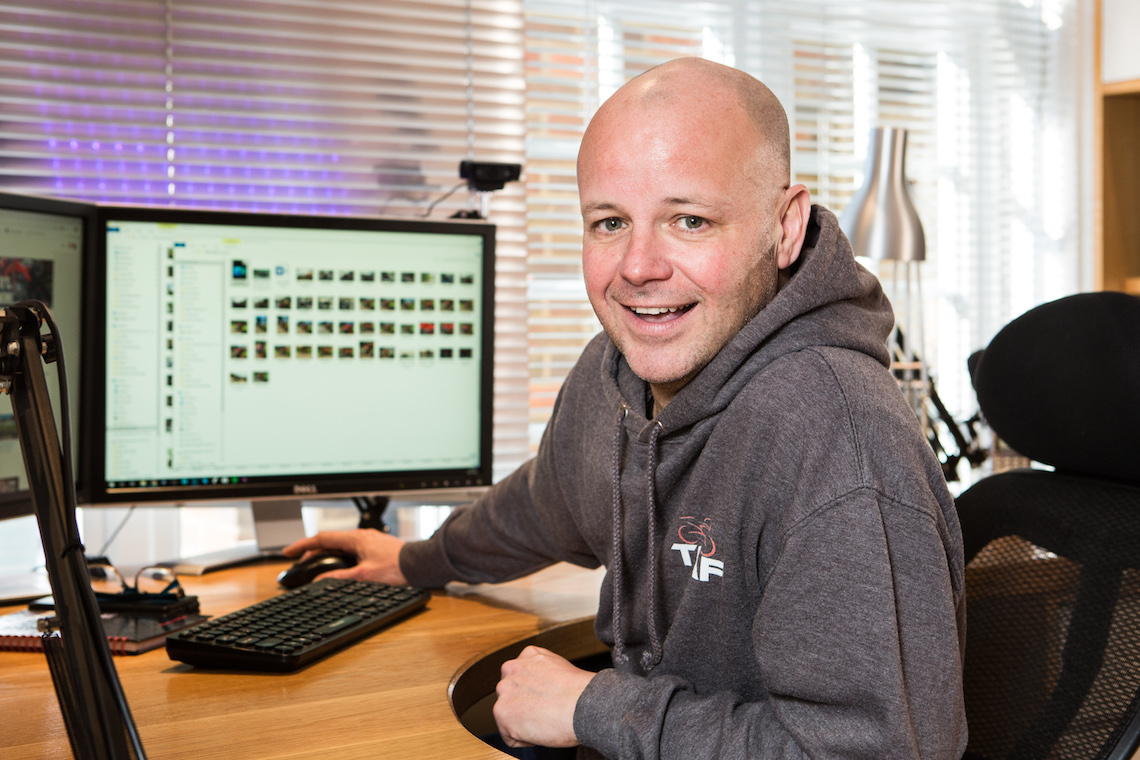 Becoming an online motorcycling star may involve hard work but Andy speaks about it with such passion and enthusiasm that it's clear he enjoys every moment. However, like so many adventure bikers, his eyes light up when he talks about his travels abroad.
Andy says: "Biking for me is all about where the bike takes you. I do like the bike per se, I like the technology and I just like motorcycles obviously. I like anything that moves of its own accord, I'm amazed by that, be it cars, bikes, planes. So, it's where you can go on the bike that I really like. At the end of the day, what I like doing is jumping on the bike and going somewhere I've not been."
It's his love of travel and the fact Andy regularly cites the BMW R 1200 GS as this favourite bike that had led to the Missenden Flyer becoming closely associated with the adventure biking world.
So, what it is about the GS that has won his heart despite owning a garage currently featuring a Triumph Bonneville Speed Twin, a Royal Enfield Interceptor, a Ducati 899 Panigale and a Honda CRF250L.
Why the GS?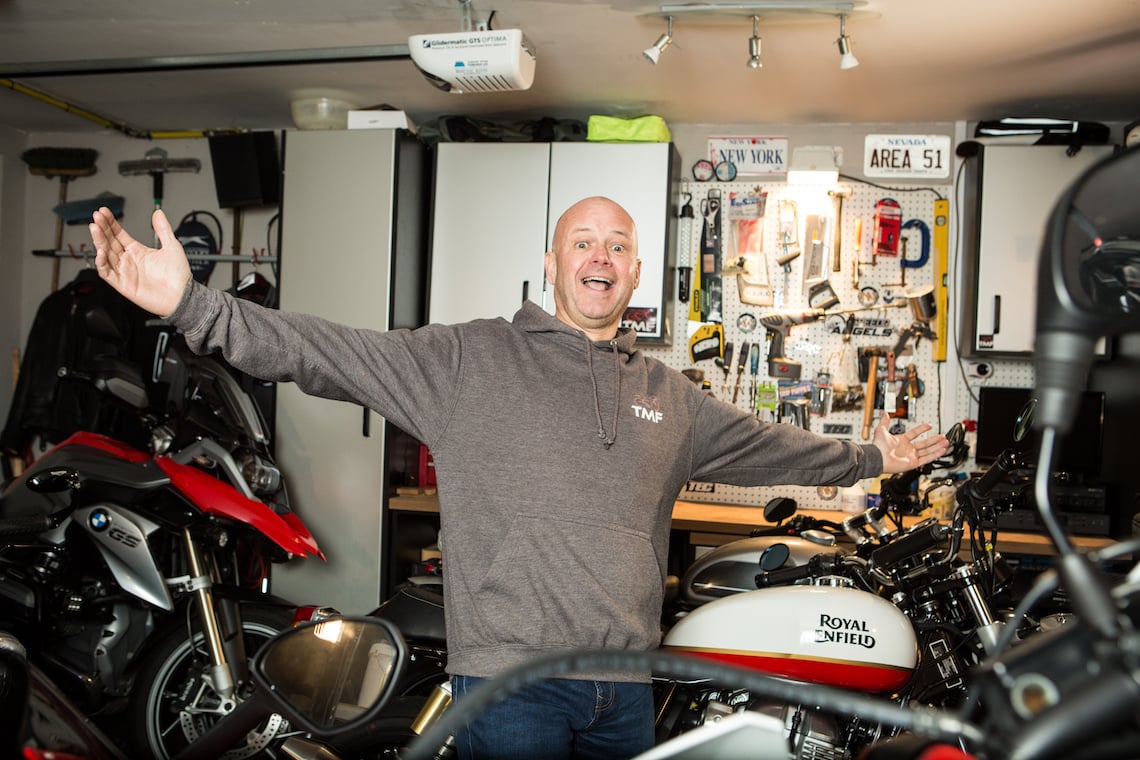 Andy says: "A question people often ask is, out of all the bikes I've got, if I could only have one what would it be? And, there's no doubt it would be the GS and that's because it's a great all-rounder.
"It's not the best bike to do a track day on, it's not the best bike to go touring on or commute on, but you can do all those things on it if you want it, and that's what I like about it. I've been lucky enough to ride a lot of different bikes and I've not yet found one that ticks all of the boxes as well as the GS does. I don't know why, but it has that image of being an old man's bike.
"I saw one video which said the GS was where bikers go to die, that sort of thing. I think these are people that haven't ridden it, or maybe they aren't as old as me and don't have such aching bones."
This last comment underlines something that became clear about The Missenden Flyer the more time I spent with him. He goes to pains to ensure he doesn't offend anyone and makes every effort to understand other people's point of view. The mindset leads to a sense of inclusiveness that comes through clearly his videos and which I'm certain is a contributing factor to their success.
A cynic may suggest this is a carefully crafted on-screen persona designed to appeal to as many people as possible, but after spending the day with Andy, I've come to the conclusion it's genuine. He is simply a thoroughly nice bloke who has worked hard and deserves his success.
"I never expected it and long may it continue."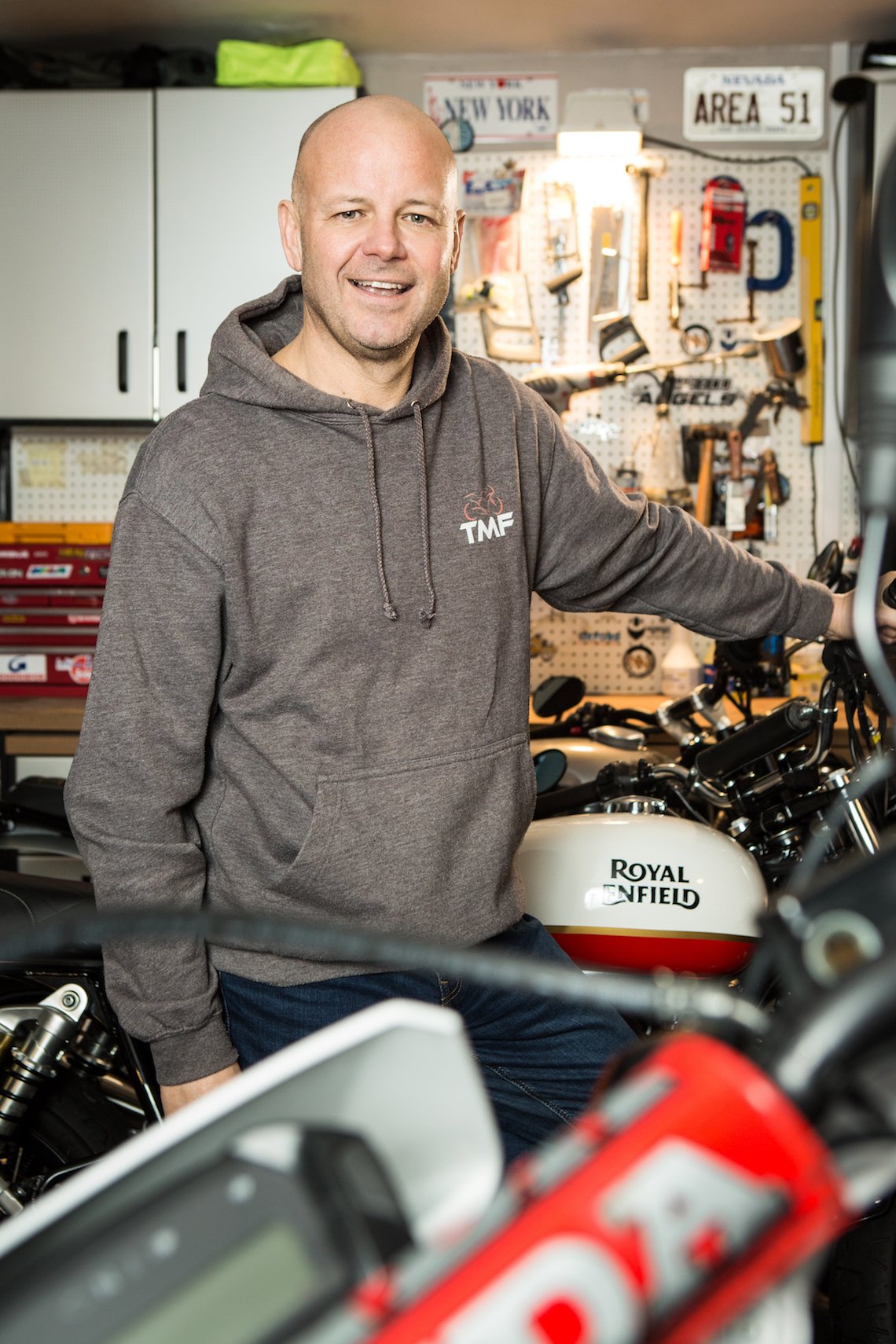 Andy says: "If you had said to me five years ago this would be where it ended up (I wouldn't have believed you). I don't know where it's going by the way, but I hope it continues forever because that would be great.
"I am conscious that YouTube could press a button and suddenly it's gone. I do realise I'm extremely fortunate and lucky to be in this position and, as long as I can continue to do it and YouTube operates the way it does now, I shall continue to do it. I never expected it and long may it continue."
Despite their earlier misgivings, Andy's daughters have been 100% supportive of their dad's online success, to the point they've even made guest appearances.
He says: "I've had one who was a pillion on a scooter review I did. She wanted me to blur out her face so I did, but she enjoyed that. On another one, I was doing a review of some waterproof kit, so I was standing by the house and she was squirting me with a hosepipe, so they've made some cameo appearances now.
"It's funny, suddenly it's gone from social suicide to when I can I be in your videos?"