Cover photo taken by: World spins as fast as we ride
One winter's night, early in my riding career, my hands became so cold and numb while riding across the south of England, that I was forced to use my right hand to support my left to pull in the clutch lever to change gear.
As I discovered, our hands are on the front line against the elements during winter riding, meaning they are usually the first body part to suffer when the temperatures plummet. With this in mind, investing in a quality pair of winter motorcycle gloves is one of the best things you can do if you want to increase your comfort when the temperatures drop.
Any winter glove that's worth its salt will need to keep your hands warm, dry, comfortable and well protected. This may sound simple, but if they meet all these criteria, you'll find winter riding a lot safer and more pleasurable than if they don't.
So let's get to it. The below gloves all scored eight out of ten or above during our winter motorcycle glove group test, so come with the ABR seal of approval.
---
Alpinestars
WR-2 v2 gloves – £119.99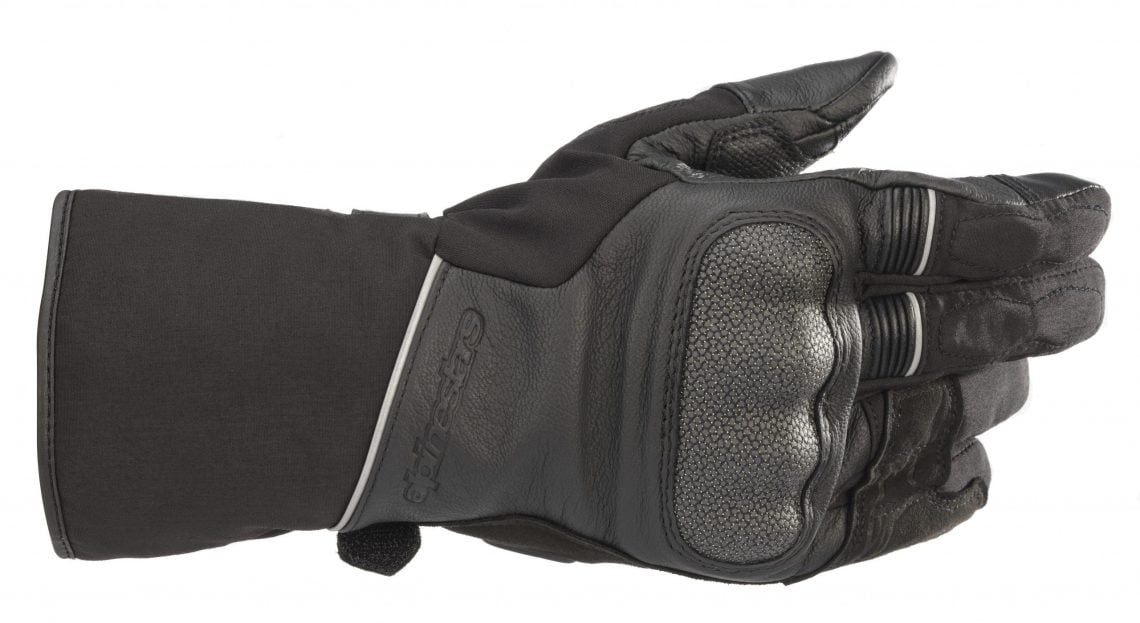 ABR Rating: 8/10
In a line: Typical Alpinestars quality, a great glove for the majority of winter riding.
Apinestars kit regularly performs well in ABR tests as it's typically well made, well designed and great to look at.
The WR-2 v2 gloves are no different and, featuring a Gore-Tex waterproof membrane and PrimaLoft insulated fill, they're also well specced. In typical Alpinestars fashion though, the sizing is on the small side, so you'll probably want to order a size up from usual if you end up opting for these.   
For a winter glove, the WR-2 v2s are rather slimline and don't have the bulk you'd expect to find on dedicated gold weather mitts. This is down to the use of PrimaLoft Silver insulation, of which there's 80g of it present. This will provide a great amount of warmth for the low bulk, but if you're planning on riding in temperatures close to freezing, you'll likely want something more substantial.
The Gore-Tex lining is also well encorporated, with the gloves passing our submersion test with no leaks.
Impact protection is provided by a hard knuckle insert, which is well placed and comfortable in use, while you also get a PU palm slider to help prevent your hand from snagging on the tarmac if you're unfortunate enough to be sliding down it.
Elsewhere, a finger bridge on the third and fourth finger is designed to prevent finger roll and separation, while there's extra padding on the thumb and the palm is reinforced.
While the fingers are touchscreen-friendly (and super responsive), it's disappointing to note that there's no visor wipe present.
---
RICHA
ARCTIC GTX – £119.99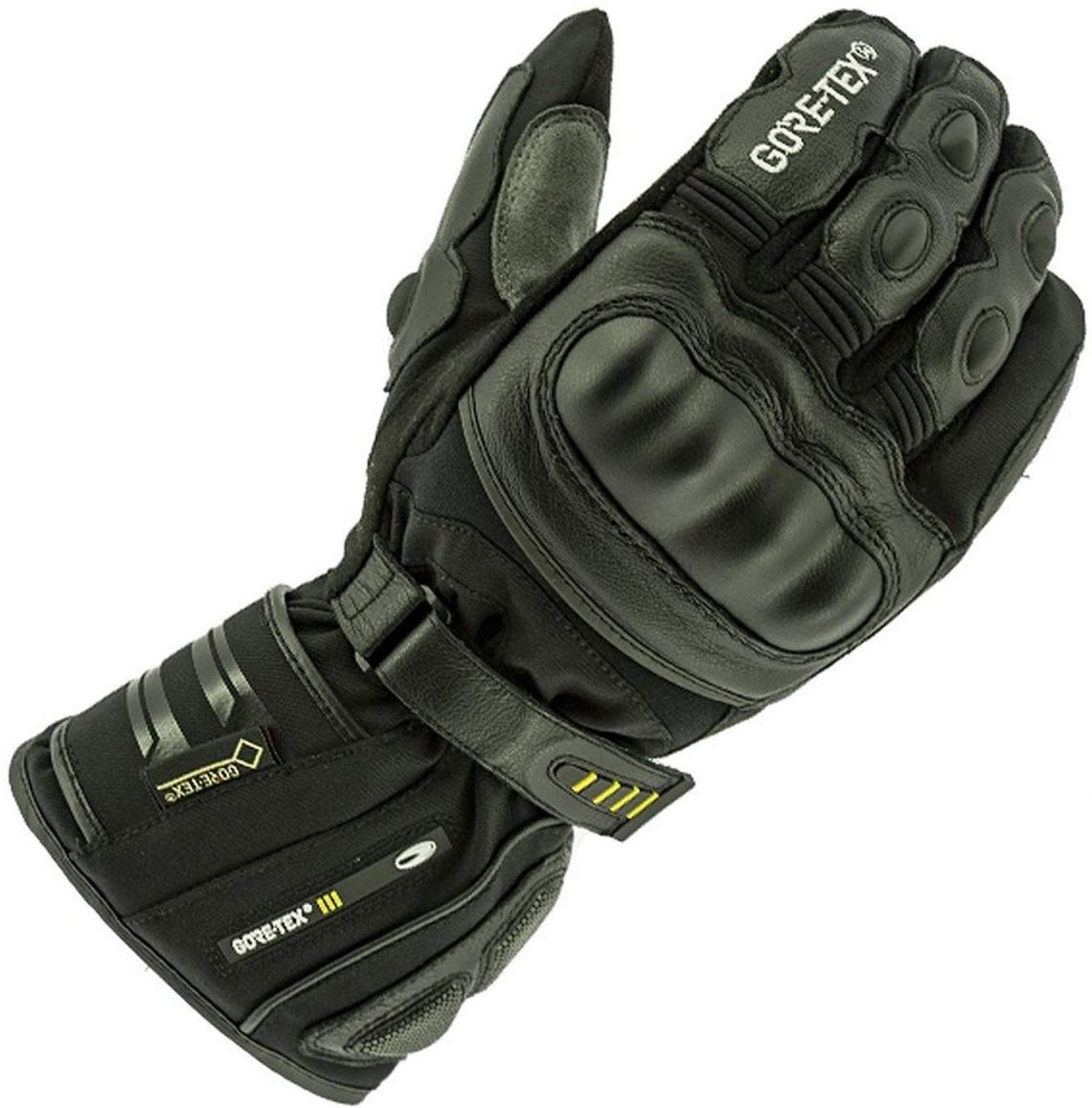 ABR Rating: 8/10
In a line: A strong performing winter glove at a competitive price.
In designing the Arctic GTX, Richa has managed to combine function and form to produce a stylish and comfortable winter glove. 
At first glance, it's impossible to miss the fact the glove features a waterproof Gore-Tex lining, thanks to the presence of no less than three of the company's logos.
But the presence of Gore-Tex is a big selling point for motorcycle gear these days so you can't blame a manufacturer for letting you know they've invested in it. With this in mind, the Richa glove passed our waterproof test with flying colours, not letting a single droplet reach my hands.   
In terms of protection, the Arctic GTX features hard armour on the knuckles, two middle fingers and thumb, with softer foam protection on the little finger, palm and wrist. The glove is made from a combination of leather and textile material, with leather prominent in the places your hands may slide along the road on in the event of a spill.
The Arctic GTX slipped on with ease, even when my hand was a little wet. The Velcro wrist strap and cuff fastener are easy to fasten securely. Once on, the soft internal padding immediately felt snug and comfortable to the touch, with enough insulation to keep my hands warm while riding on a cold night in October.
Handily, it also features a visor wipe, but the gloves aren't touchscreen compatible.
For a winter glove, the Arctic GTX is nice and flexible, which meant I didn't lose too much dexterity in working my bike's controls. The fingers were slightly on the long side for me so, as with any glove, I'd recommend trying before you buy. For the money, the Richa glove is hard to beat.
---
BMW Pro Winter – £125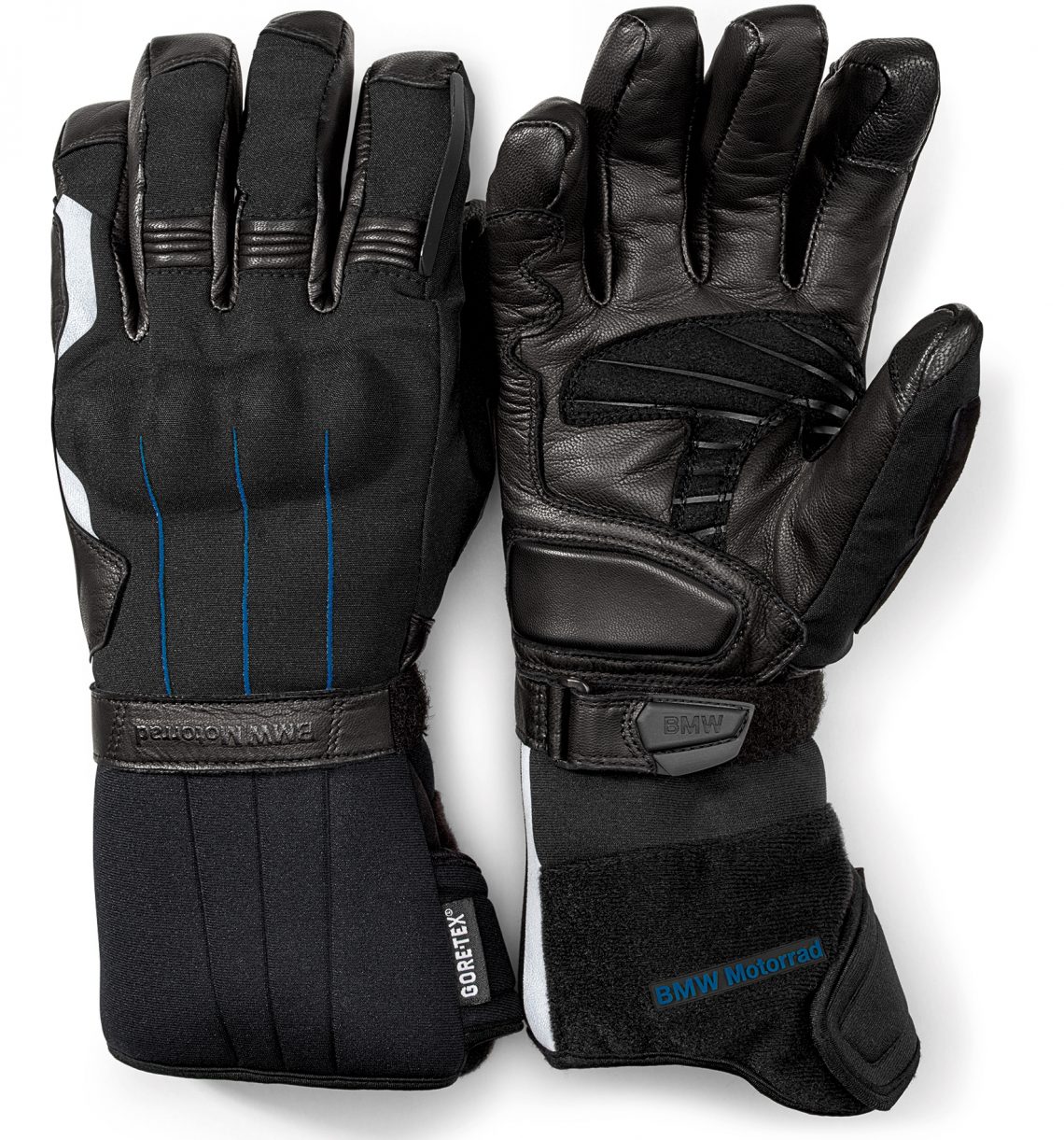 ABR Rating: 9/10
In a line: A comfortable glove for covering long distances in winter
It can be easy to dismiss branded gear sold by a motorcycle manufacturer if you don't ride a bike made by that particular company. However, when it comes to BMW's Pro Winter glove, you could be missing a trick, particularly as the branding is so subtle most people won't realise it's there.
If you Ducati, Triumph and Honda owners out there can look past the logo, you'll get a premium quality winter glove that cossets your hand in comfort and style. The Pro Winter is made from a combination of leather and textile material, featuring a cosy fleece liner on the inside.
It's a substantial glove with plenty of insulation to keep your hands warm but that does mean you lose some feeling from your bike's controls. The glove is on the stiffer side, although experience has shown this should loosen up over time.
Protection comes in the form of hard knuckle armour on top and double thick leather on the ball of the hand. The Pro Winter glove is easy to slip on and off and features two Velcro fasteners, one on the wrist and one on the cuff, that are easy to use.
Overall, this a serious winter glove for those of you who cover long distances in colder temperatures. If you ride a BMW, they would be the perfect accompaniment to your GS and, if you don't, buy them anyway, just don't tell your mates.
---
REV'IT!
FUSION 2 GTX – £129.99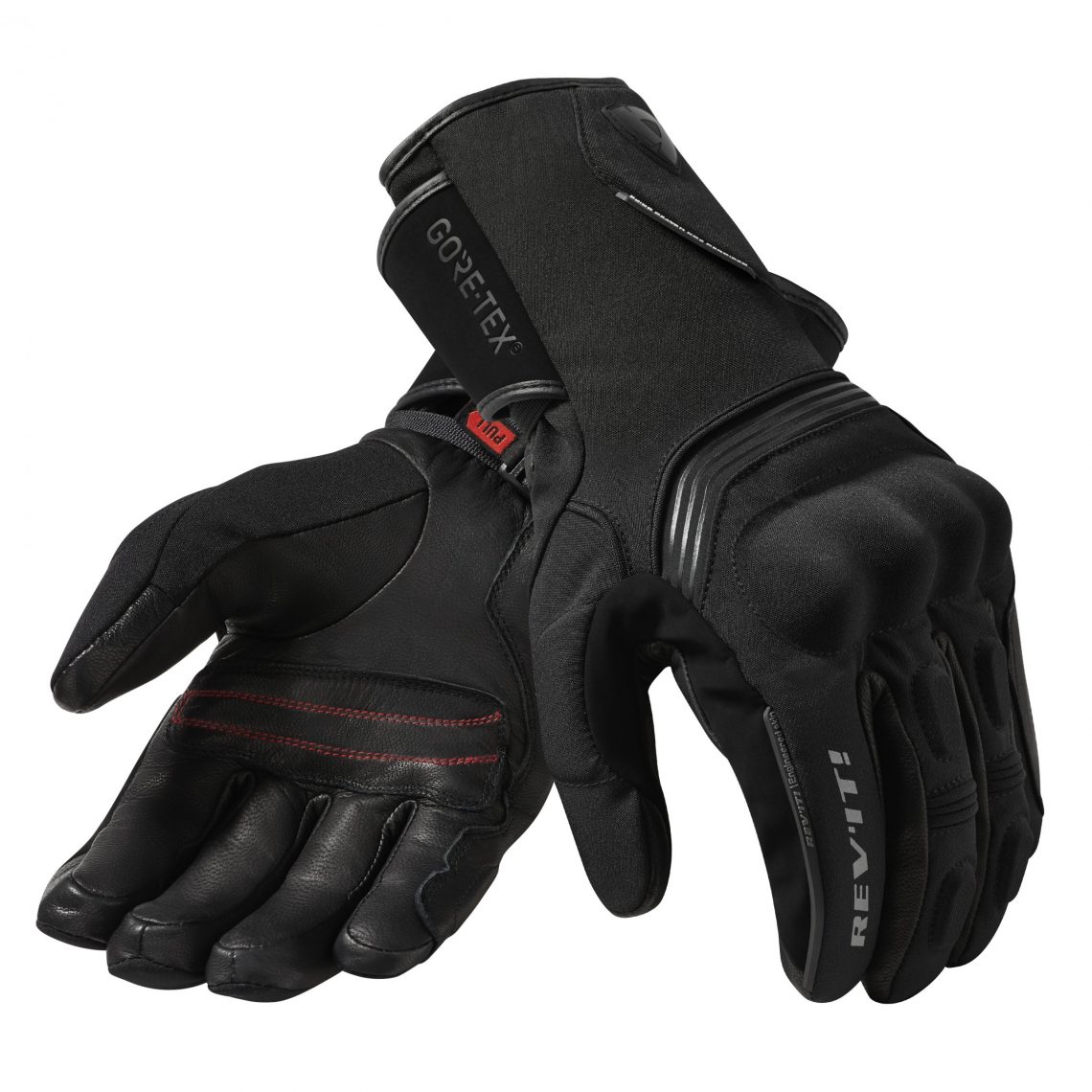 ABR Rating: 8/10
In a line: An excellent winter glove I enjoyed riding in.
I've worn REV'IT! motorcycle gear for quite a few years now while commuting and touring in all weathers, at home and abroad. I often recommend it to people because I like the combination of style, performance and innovation the Dutch manufacturer's gear offers. 
However, all this means my expectations are incredibly high when I test a new piece of their kit. REV'IT! has set the bar high with me and it would be difficult not to feel disappointed if their new gear wasn't as good as the stuff I've used before.
I needn't have worried when it came to the Fusion 2 GTX. It is a stylish, comfortable, and strong performing winter glove. It offered plenty of flexibility to operate my bike's controls with ease, while packing enough insulation to keep my hands warm on the road.
The Fusion 2 GTX features a waterproof and breathable Gore-Tex membrane to keep hands dry and warm in the rain. The glove passed our waterproof test with ease.
The gloves have a quality feel to them, with plenty of double stitching on neatly joined seams. It is made from a combination of leather and fabric, with protection coming in the form of hard knuckle armour, finger knuckle protectors, a hard palm slider and foam on the thumb and fingers. The Fusion 2 GTX also features a visor wipe and it is touchscreen compatible.
However, I did find the Fusion 2 GTX a little difficult to slip on and off.
This was due to REV'IT!'s single motion closure system around the wrist which is used instead of a Velcro fastener. Once on your hand, the system provides a secure fit around the wrist, but I had to give the glove a good tug to get it on or off.
---
DAINESE
SCOUT 2 Evo GORE-TEX – £149.95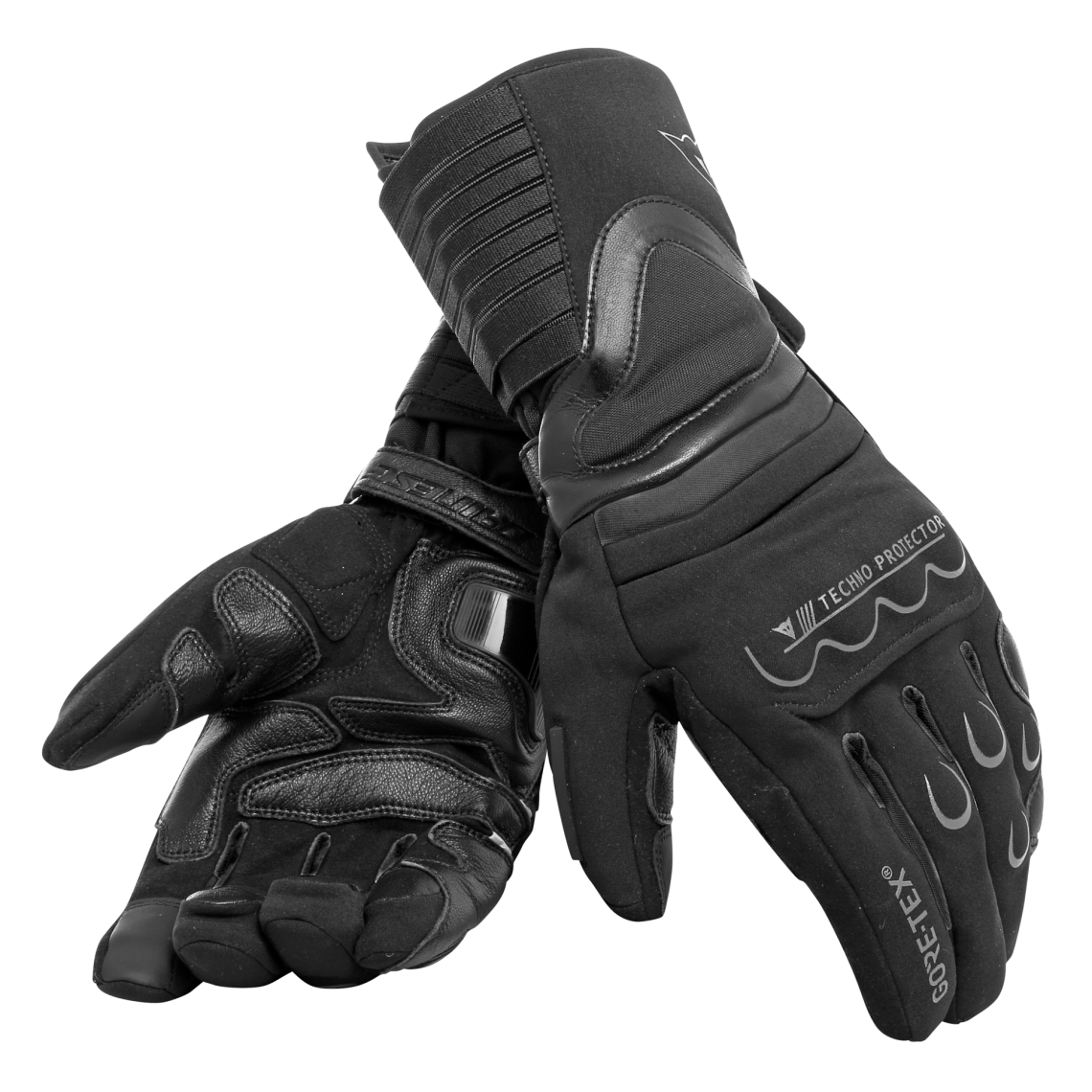 ABR Rating: 9/10
In a line: An excellent glove that I would be happy to wear all winter long.
The Dainese Scout 2 feels like a quality piece of gear from the moment you put it on. It's made from a combination of textile and leather, with hard armour located on the knuckles fingers and palm to protect your hands from an impact.
Slipping it on is an enjoyable experience as your hand nestles in the soft thermal padding. The Velcro wrist and cuff straps are easy to use and provide a secure and comfortable fastening.
The Scout 2 successfully walks the line between providing thick enough insulation to keep your hands warm, while retaining enough flexibility to ensure your hands don't lose too much feeling at your bike's controls.
This is a premium glove so it came as no surprise to find it had no problems passing our waterproof test. This is achieved through the presence of a Gore-Tex waterproof and breathable membrane that will keep your hands dry and warm when it rains. The Scout 2 slides on easily, even when I tested doing so when my hand was little wet.
Overall, it's a high-quality glove that would be perfect for winter touring. It is styled subtly, and features welcome finishing touches like a visor wipe on the thumb (personally my favourite spot to place one), and touch screen compatibility on both left and right gloves
---
Held Twin Gloves – £175.99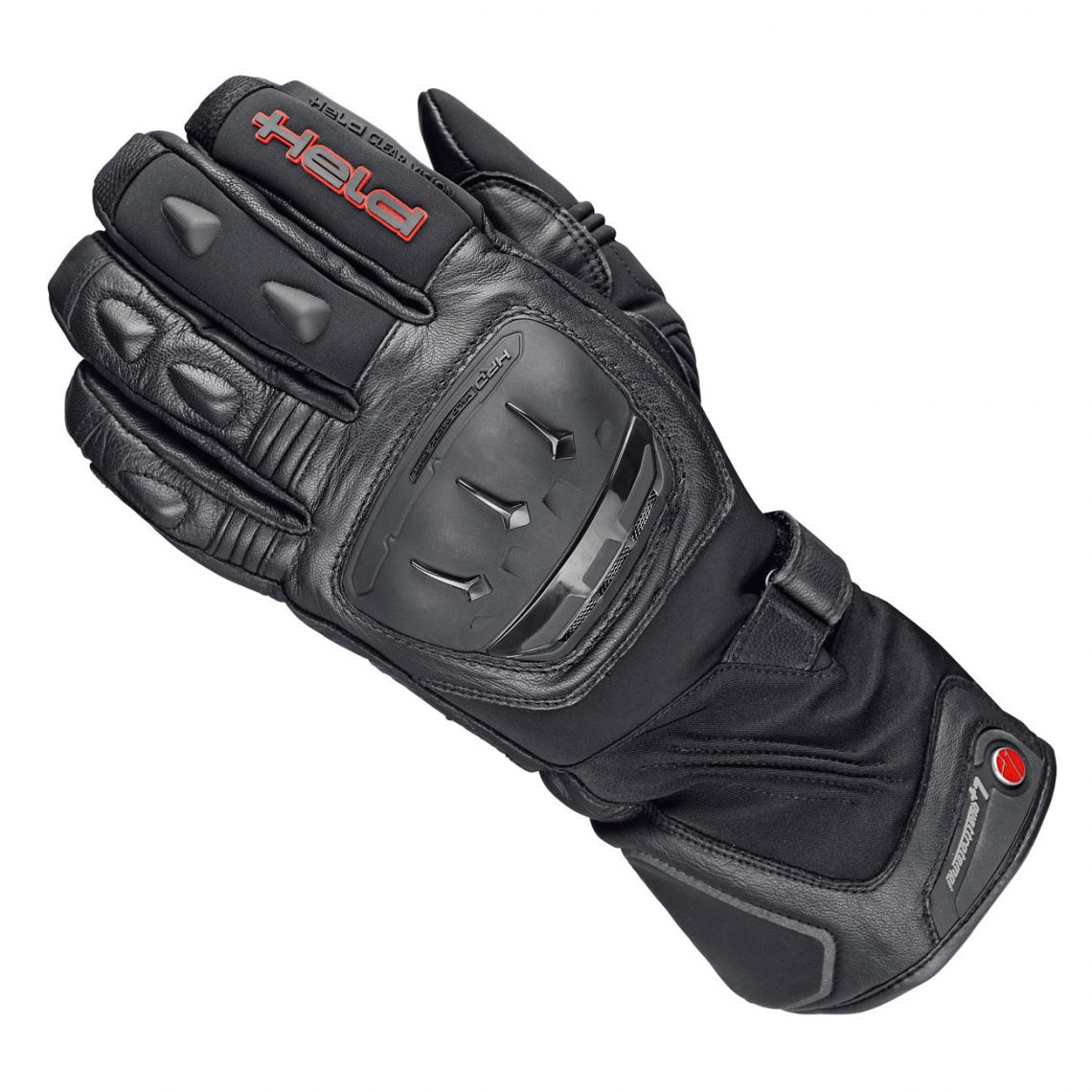 ABR Rating: 9/10
In a line: Exceptional warmth and comfort, if you get cold hands while riding, these are the gloves you want.
The Held Twin Gloves are expensive, there's no two ways about that, but there's no denying that they're a quality pair of gloves. Waterproofing is provided by a Gore-Tex membrane, while Gore 2in1 technology makes an appearance, splitting the inner glove into two chambers, one dry and one warm (though both are fully waterproof).
For keeping your hands intact, the Twin Gloves come will equipped, with hard knuckle and finger armour, plus reinforcements in high-abrasion areas. 
In terms of warmth, the Twin Gloves are some of, if not the, best I've tried. Slip your hands into the 'warm' chamber and you'll be dipping into a luxuriously high-loft fleece-lined glove that's exceptionally comfortable.
I've ridden for days in torrential rain (where I was pleased to make use of the handy and effective visor wipe) and even temperatures barely above freezing in these, and on all occasions my hands have remained warm and bone dry for the duration of my rides.
So warm are the Twin Gloves, that I've even found myself not using my heated grips on a lot of my winter rides, and that's impressive.
There is a slight downside to this incredible amount of warmth though, and that's how chunky the gloves are. For the first 600-or-so miles of wearing them, operating switchgear and even pulling in the clutch was a tricky task.
My hands felt clumsy and, truth be told, I was ready to give up with them as things were just uncomfortable. That would have been a huge mistake though, persist with them, give them time to break in and they'll loosen to the point where they're no bother, providing more feel of your bike's controls.
If you're someone who suffers from cold hands when riding, I can confidently recommend these. Once you get past the initial stiffness, they'll be one of the best winter riding investments you'll have made.
---
Dane Nordborg Gloves – £169.99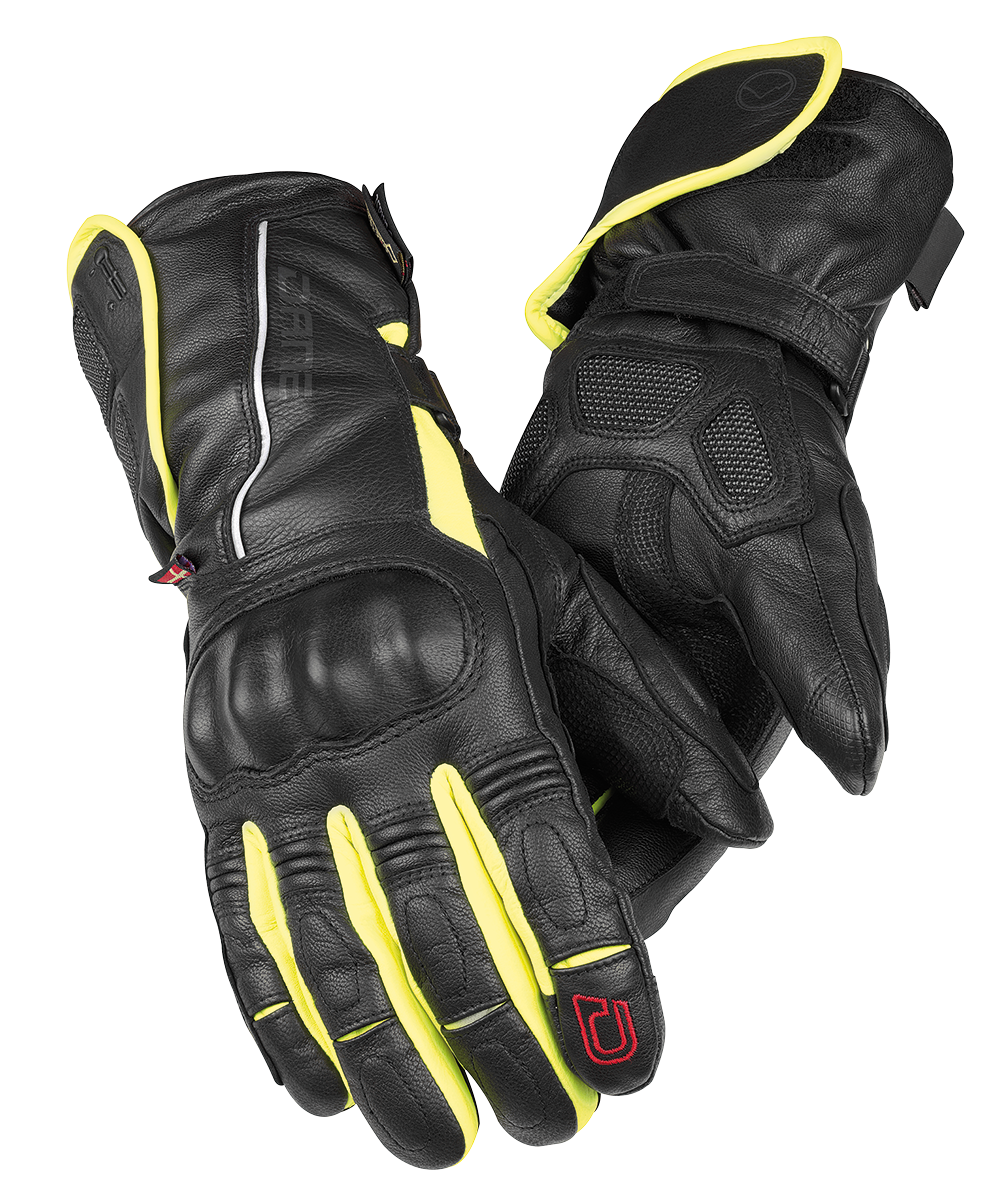 ABR Rating: 9/10
In a line: If you're looking for a top-spec pair of gloves, check these out.
I've been reviewing Dane products for a good few years now. When I started, the brand was relatively unknown in the UK, but as time has passed I'm seeing more and more of its kit on UK roads, and it's not hard to see why.
The company makes some great kit, and ABR publisher, Alun Davies, has been wearing the Osted laminated jacket since 2015 he likes it that much. For this review, we've been trying out the Nordbord gloves which, at £169.99, are the second most expensive pair in this review.   
A look at the specs list will reveal what's behind this high price. Dane has taken just about every top-of-the-range technology and stirred it together in a cauldron to create the Nordborg.
You get; a premium goatskin leather outer, Gore-Tex's Gore Grip technology, touchscreen-friendly fingertips, SuperFabric reinforcements in areas likely to see abrasion in an off, 3M Scotchlite reflective material, an Outlast lining, PrimaLoft insulation, and Visco-Lab knuckle protectors. If you were building your dream team of impact and weather protection technologies, this would be it.
But how does it all come together? Well, the gloves initially feel a little restrictive on the first wear, but allow them time to 'break in' and they're excellent.
They're fully waterproof, they allow for great tactile feedback from your bike's controls, and they provide a great amount of warmth considering their low bulk. The visor wipe works well and the touchscreen-friendly fingers are very handy.