You don't have to be made out of money to own good riding kit! While there's definitely truth in the saying 'you get what you pay for', it's worth noting that there are some excellent pieces of kit that won't break the bank.
To prove this, we did a comprehensive group test on textile jackets and found that there were actually a good selection of decent jackets available to riders. Here, we select five of the best textile motorcycle jackets for under £200.
Richa Infinity – £199.99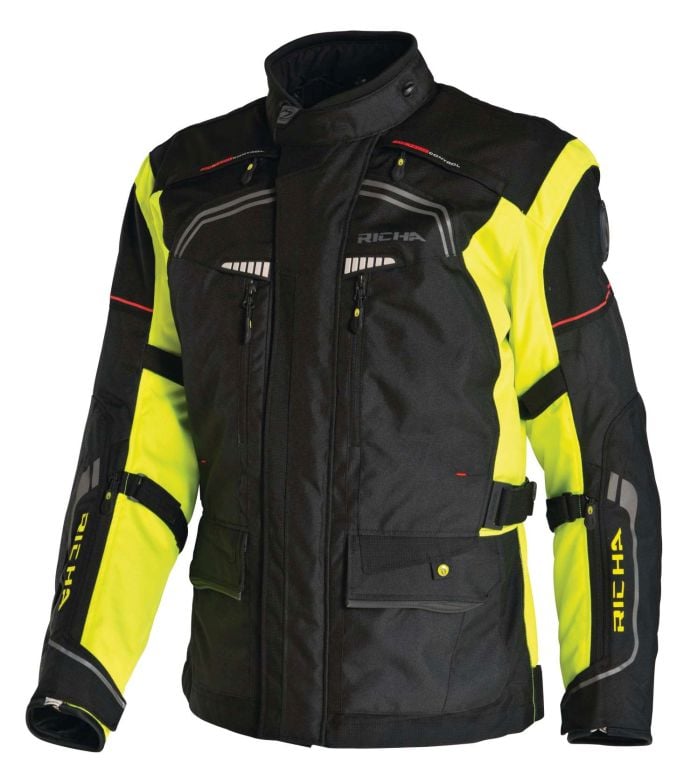 Richa is a well-known brand that produces a huge range of jackets catering to all budgets. The Infinity jacket is at the cheaper end of their range but was still the most expensive in the group test. So is it worth the money?
We'd say so. The jacket features a great venting system with a series of vents on the front (protected by storm flaps), arms and rear. There are also plenty of adjustment points on the waist, arms and neck to ensure a decent fit.
One of the benefits of costing slightly more than the other jackets on test is the quality of armour included as standard. There are CE-approved D30 inserts for protecting the elbows, shoulders and back – the most substantial on test.
Overall, the jacket looks good, feels comfortable and the removable thermal and waterproof liners are great for adapting to the riding conditions you find yourself in. The only thing that lets it down is a lack of pockets.
Style: 9
Protection: 9
Value: 8
Versatility: 9
Overall: 9
Oxford Montreal 2.0 – £129.99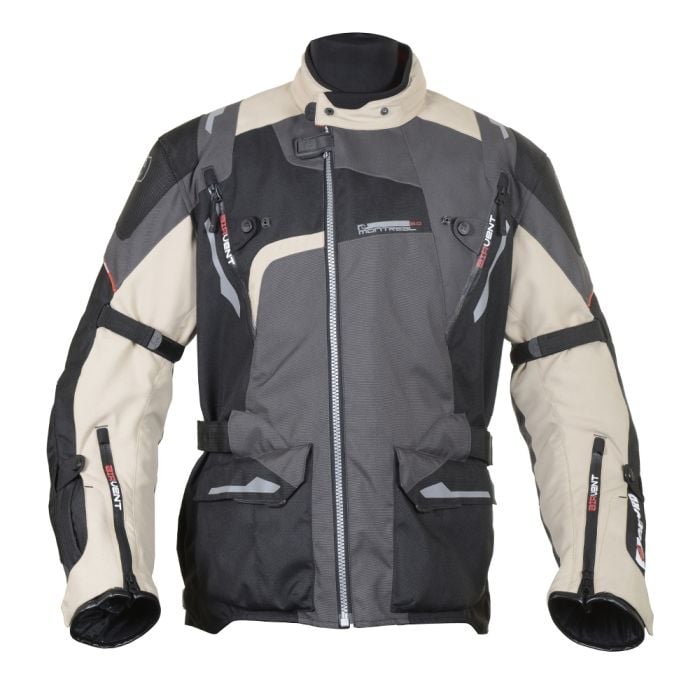 The Montreal 2.0 comes with a two-year guarantee, a removable thermal liner and a fixed waterproof liner all for just under £130 – a brilliant price point. Thankfully, the quality is just as impressive.
A great ventilation system is hampered slightly by a fixed waterproof liner acting like a windbreak behind the openings. Having said that, the number and size of the ventilation points do aid the rider in warm conditions.
The jacket also comes with detachable CE-approved shoulder, elbow and back armour while there are plenty of adjustment points to aid the fit regardless of body shape. There are only two front pockets but these are supplemented by a large rear pouch and an internal pocket.
A really useful addition is the built-in rain hood which stops the water from dripping down your jacket – a nice touch. Overall, the Montreal 2.0 is a great-looking, heavily featured jacket that is well worth considering for a shade under £130.
Style: 10
Protection: 8
Value: 10
Versatility: 9
Overall: 9
Spada Compass Adventure Pro – £199.95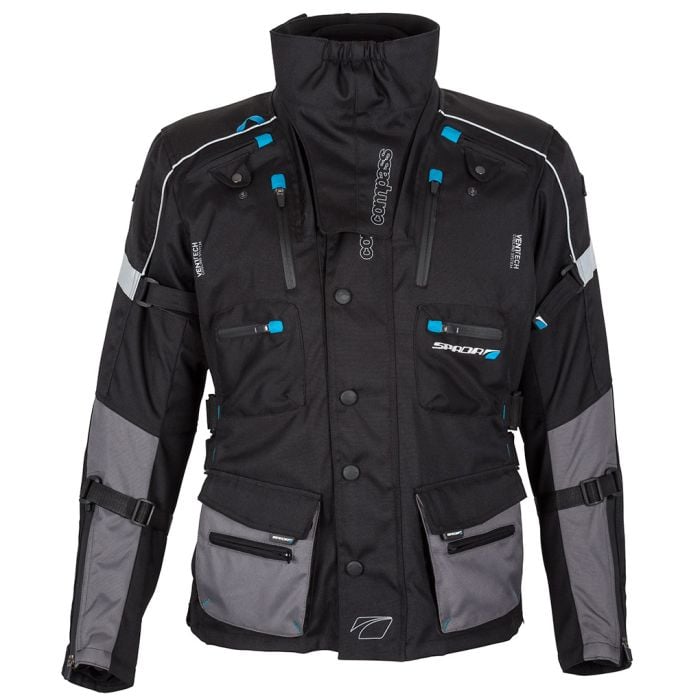 The Compass Adventure Pro is a four-piece jacket consisting of an outer shell, detachable waterproof layer, thermal layer and a zip-in storm collar (really useful in wintery weather).
While the waterproof lining protects you from the wet stuff, it is worth noting that the jacket becomes saturated rather quickly resulting in a heavy, cold outer shell.
Ventilation-wise, the jacket really excels. Spada's 'Ventech internal air cooling system' uses a mesh lining between layers to increase air circulation while the numerous vents can be held open by press studs.
Decent adjustment points help provide a good fit while CE-approved back, shoulder and elbow armour offers substantial protection. You'll also find no shortage of storage with a total of 14 pockets, plus a useful pouch for a water bladder on the back.
Style: 8
Protection: 9
Value: 7
Versatility: 8
Overall: 8
Stein STJ-535 – £109.99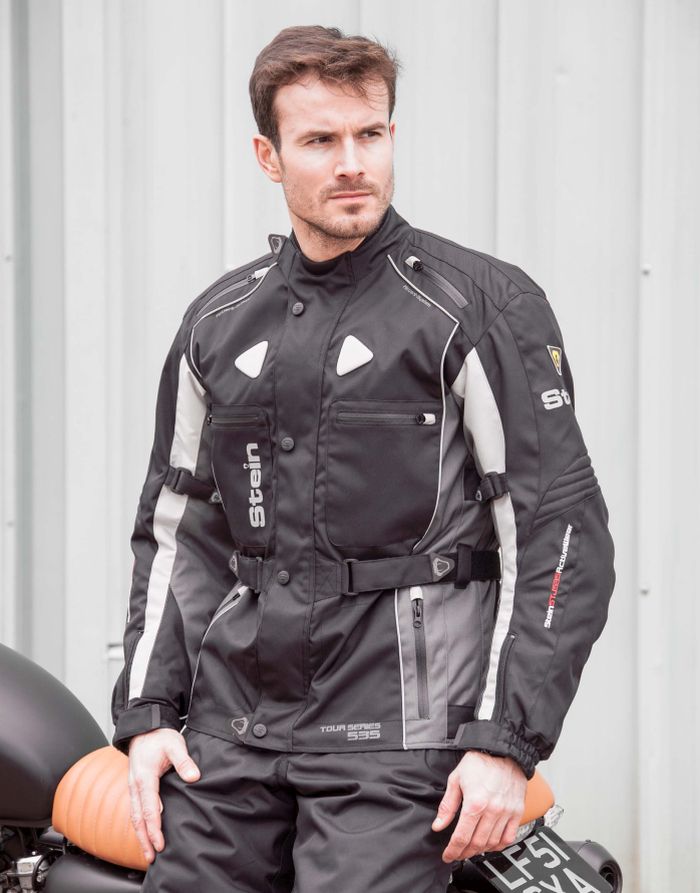 Stein is a relatively new brand to the UK market that produces several budget-friendly garments. At a shade under £110, the STJ-535 on test here offers great value, though it's not without its issues.
Ventilation is one area where the jacket lets itself down with a limited number of small vents. This, combined with the fixed waterproof liner, meant the jacket ran very hot in testing and actually had to be turned inside out to dry at the end of the day.
In terms of fit, the jacket has a range of adjustment points that makes it extremely comfortable no matter the body shape of the rider. The main zip is also good, although it has no zip tags and operates from left to right making it slightly fiddlier than other jackets.
Storage is not a problem with plenty of pockets, but protection only consists of CE-approved armour inserts for the shoulders and elbows which is a shame. Despite that, this jacket has to be considered for its value alone.
Style: 8
Protection: 7
Value: 9
Versatility: 8
Overall: 8
Buffalo Endurance – £125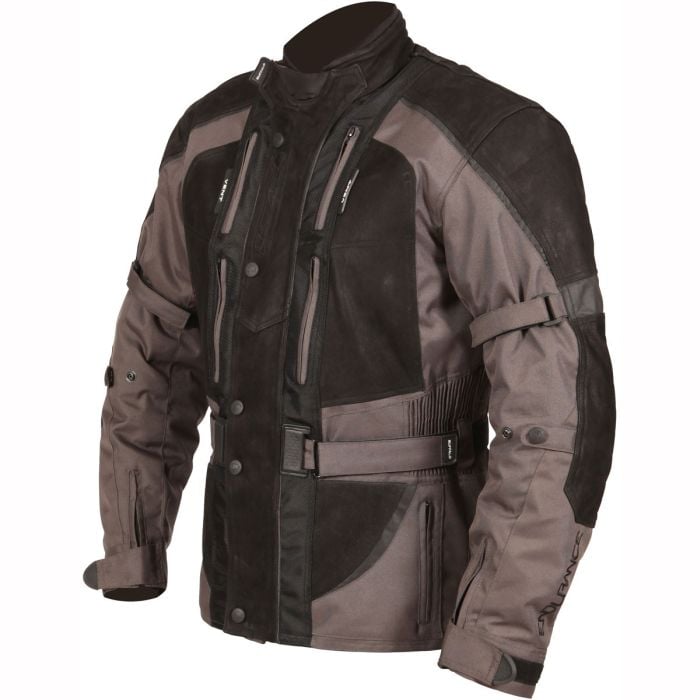 The Endurance jacket differs to the other garments in this test in that it consists of both textile and high-quality leather. The latter material is concentrated in the high wear/impact areas offering brilliant abrasion resistance in event of an off.
Unfortunately, the leather also means that the jacket does feel heavier and can get waterlogged rather quickly, so the added protection does come at a price. CE-approved shoulder, elbow and back armour also come as standard which is great to see at this price point.
Ventilation is respectable with a variety of vents at both front and rear allowing a fairly decent crossflow in warmer weather. There are also four front pockets with durable zips providing plenty of storage, though the lack of zip tags is a frustrating omission.
Generally, the jacket looks good and also fits well thanks to a series of adjustment points on the waist, upper arms and lower arms. While we wouldn't necessarily want to wear the jacket while riding off-road, it's a very decent, affordable option for road-going motorcyclists.
Style: 7
Protection: 8
Value: 8
Versatility: 7
Overall: 7