Four years ago, I couldn't leave the room I was living in. I couldn't walk down my road without having at least one panic attack, and I certainly wouldn't have dreamed of getting on a motorcycle, let alone riding my own.
This is mainly due to past traumas but my mental health got especially bad during my teenage years. Having suffered from depression and anxiety from a very young age, I then developed PTSD when I was at university in Sheffield. In short, I was on a downward spiral, until I discovered the world of bikes.
And here I am now, sat writing a travel article for ABR after riding solo to the Alps and back. What a turn of events. I started motorcycling in June 2019 after buying a little Suzuki RV125 VanVan. I instantly got the bug for motorcycling so I set off around the North Coast 500 in Scotland with my boyfriend's mum.
However, after a mishap at the very top of the Highlands, I ended up finishing the trip solo. Don't worry she's okay, she just dropped her bike and needed recovering back home.
Despite the mishap, I loved every minute of the trip around Scotland so the following summer, armed with a full motorcycle licence, I set off from my home in Derbyshire to my sister's house in the Swiss mountains on my new Suzuki DL650 V-Strom. It was my first solo trip across the channel and if that wasn't exciting (and scary!) enough, I decided to do it during a global pandemic.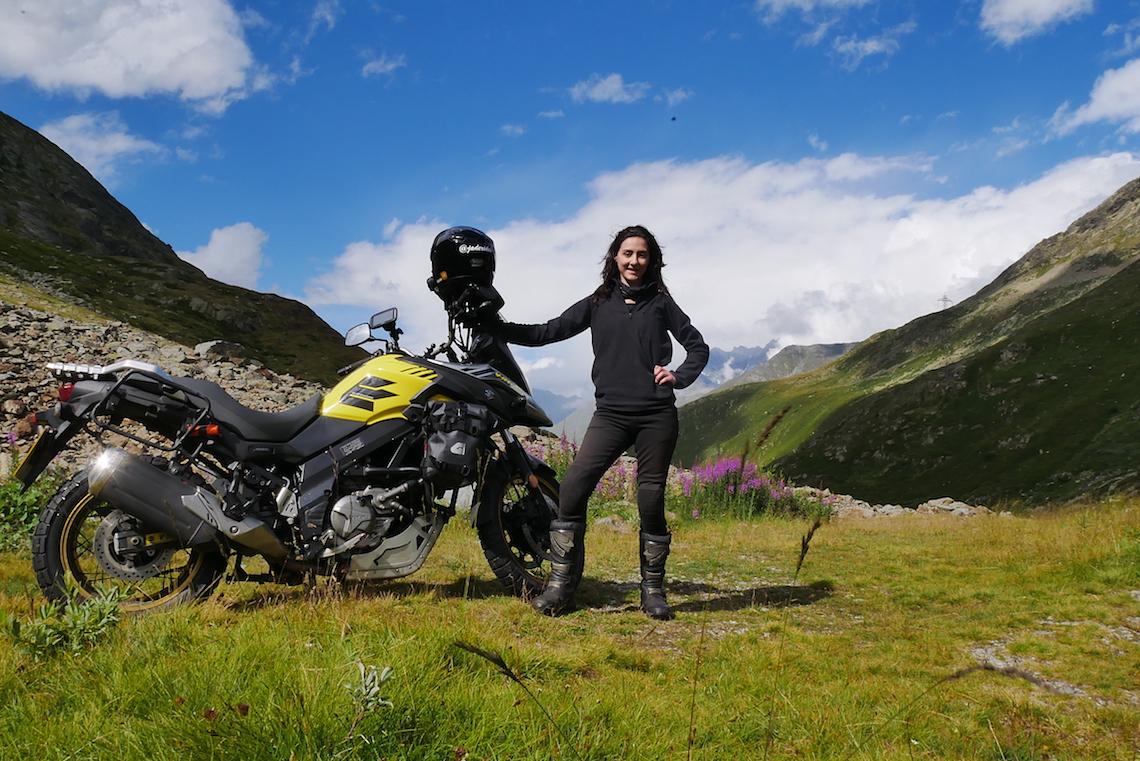 Heading to the Alps
Before leaving, I admit I almost cancelled the whole journey as I was so anxious about leaving home. On top of that, coronavirus was constantly in the news and no one seemed to know if there was going to be a second lockdown (which eventually happened in the autumn).
It also didn't help that I was due to get back to the UK just 10 days before starting a new teaching job. This wouldn't usually have been an issue, but it became one when the Government decided to implement a 14-day self-isolation rule for anyone returning from an ever-changing roster of foreign countries. France and Switzerland weren't on the list yet, but surely it was only a matter of time.
The night before I was due to depart my concerns about leaving became overwhelming. However, with the coming morning, I kicked myself up the bum and came to the realisation I was more than capable. My bags were packed and off I went.
The first day of my trip coincided with an unusually warm heatwave in England. I was baking inside my textiles so I made an emergency detour to Bike Stop in Stevenage to splash some cash on a cooling mesh jacket. Feeling much more comfortable, I rode down to Folkstone where I stayed in an Airbnb for the night before taking the Eurotunnel to France the next morning.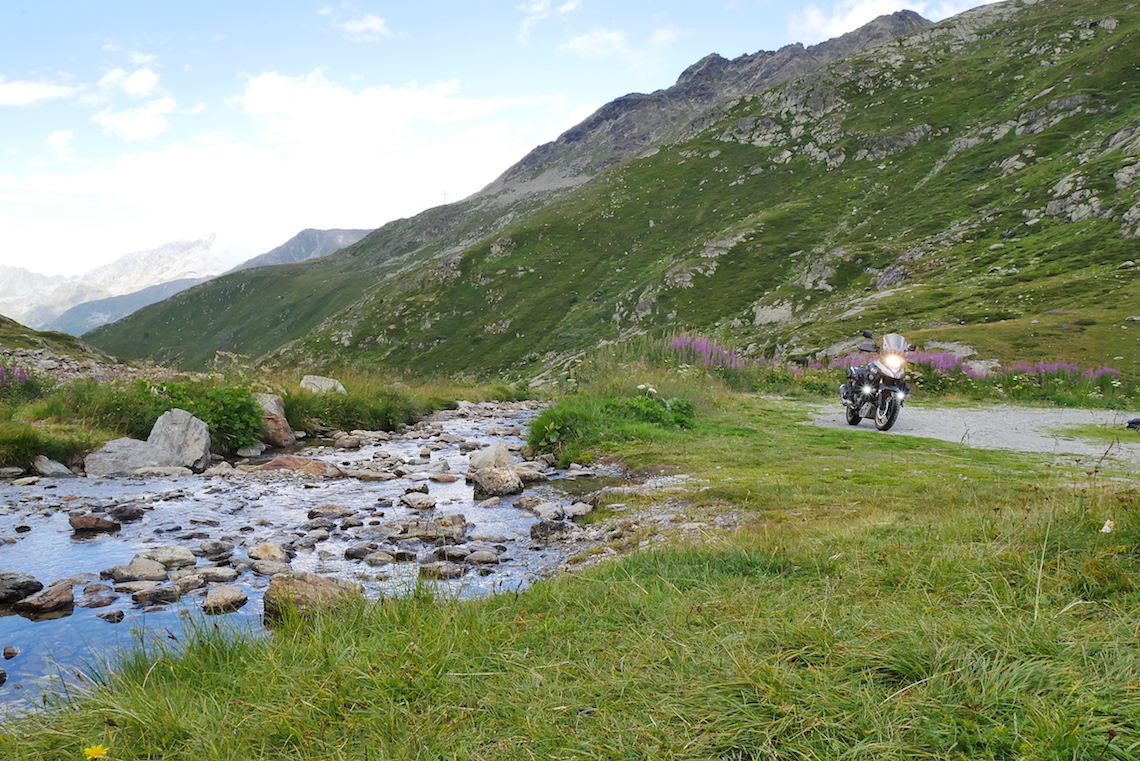 Heading to the continent
Travelling through the tunnel was a new experience for me, and I was pretty nervous. The fear of claustrophobia and having a panic attack whilst trapped inside a carriage under the sea was very prominent in my mind. Well, I survived, but not only that, I actually really enjoyed the experience and I met some lovely bikers along the way.
Arriving in France, I felt a rush of excitement although it was very odd riding on the other side of the road, and at this point, I regretted not learning what different road signs and laws were in France prior to being here. Oh well, I'd just have to learn by doing.
I set a destination on my TomTom SatNav, changed my speedo from miles to kilometres, and off I went heading towards what I thought would be a small lake near the medieval town of Troyes, some 250 miles away. With my bike for company, loneliness wasn't an issue, plus having music to listen to helped when the boredom of riding northern France's not so winding roads eventually set in.
I'd ridden pillion on a very similar route the year previously, and recognising certain roads and scenes provided a reassuring familiarity, although I have to say it's far more comfortable riding your own bike than being on the back of someone else's.
A few hours later, I arrived at Lac d'Orient where I would spend a quiet night wild camping in solitude under the stars, or so I thought. Honestly, I thought I'd taken a wrong turn and ended up in Skeggy on a summer weekend because there were hundreds of people swimming, sunbathing, and partying on the beach. I parked up and had a walk around to see what was going on.
It certainly wasn't the quiet lake I'd imagined while looking at the map back home. People were swimming and drinking at a beach bar while music played on a stage area. It was great fun and the temperature was still over 27C at 8pm. I had a swim and made some friends from Paris who had travelled there to enjoy some summer sun and cool off in the lake.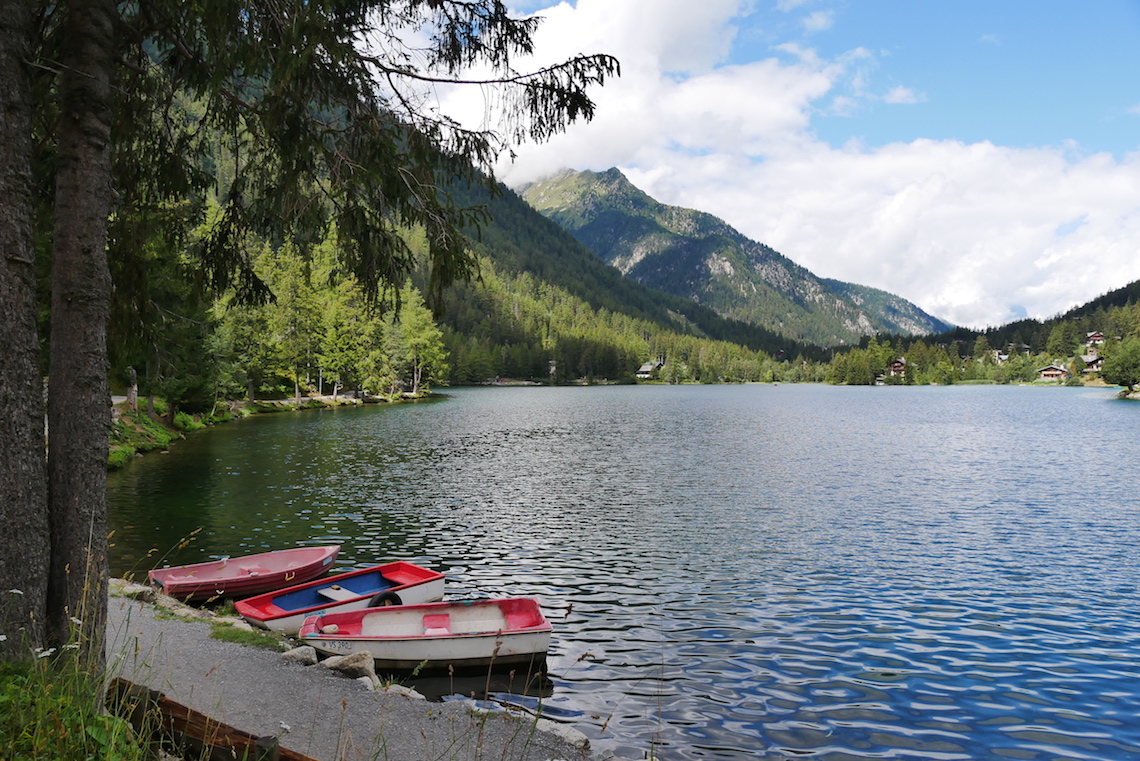 First night wild camping
Eventually, I pulled out my camping stove and the packet of vegetable rice I'd bought earlier in the day. After eating my 'gourmet' dinner, I set up my tent, had a drink at the beach bar, and managed to get settled in for my first solo camping experience, before a storm came. With lightning every few seconds and a fierce wind making me regret my lack of tent pegs, I woke up the next morning feeling grateful I hadn't ended up in the lake.
I enjoyed another bathe in the beautiful lake before packing up and starting the journey to my sister's home near Verbier, Switzerland, some 300 miles away. My plan was to stay with her for a week before returning home. The ride was certainly more interesting than my journey down northern France the previous day.
As I rode, I had a theatre of Alpine vistas for company and the smell of crisp mountain air in my lungs. My ears filled with the steady purr of my bike's engine, the revs rising and falling as I swept through seemingly endless twists and turns of pristine, manicured tarmac. Although, I do admit that after riding so many miles over two days, my bum was starting to ache a lot.
As the Swiss border approached, the clouds in the sky began to look ominous. I had my Gore-Tex jacket strapped to the top of my bag in case I needed to quickly change into it, but the temperature was still so hot, I was desperate to carry on as far as possible without stopping. Too late…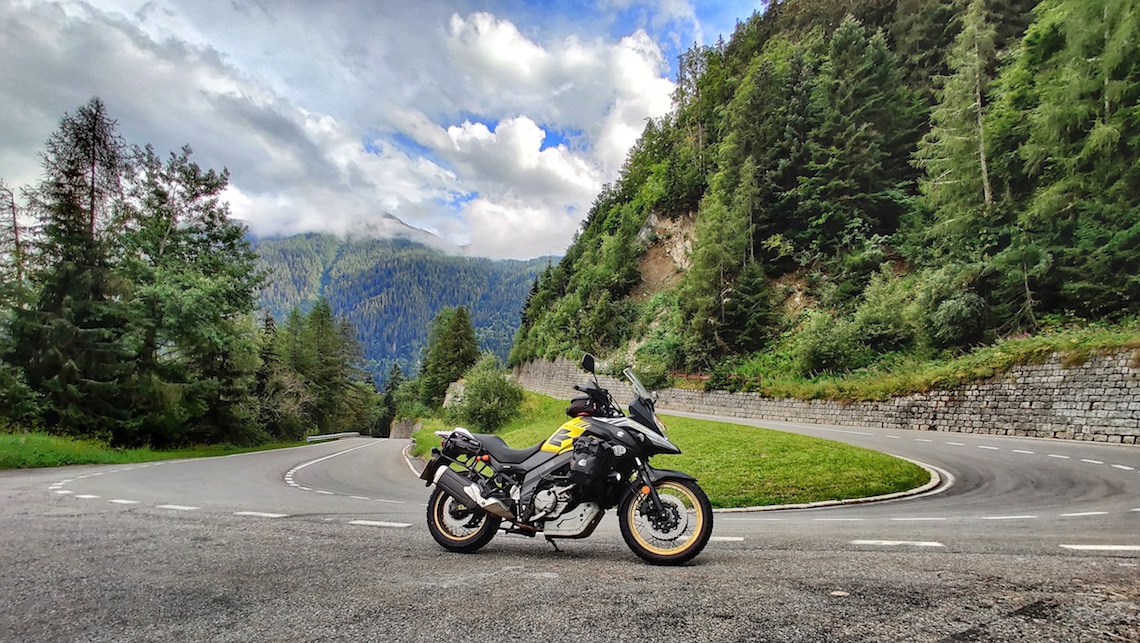 Riding through a deluge
The heavens opened up and very soon drenched my mesh jacket and riding leggings. I felt more than happy chugging along in the rain though, it's all part of the adventure, after all. I rode past a few other bikers who had pulled over to put rain suits on but I just carried on. I figured the warm air was going to dry me off at some point. Another 50 or so miles down the road, I crossed the border into Switzerland and rode through Lausanne along the shore of Lake Geneva, before approaching the Alpine village of Verbier two hours later.
At this stage the rain became heavier and heavier, and although I'd changed into a waterproof jacket by this point, water had got into my boots and had completely soaked my leggings. To make matters worse, I took a wrong turn and started climbing into the mountains.
I knew this wasn't right way but the downpour was so heavy I could barely see at this point. However, I could make out what I thought was my sister's house in the distance so I gave up with the SatNav and followed a small road heading in the right general direction. What a nightmare that road turned into.
It was a dead end that became a gravel track. I was barely able to see a thing, I was absolutely soaked from the waist down, and I had never taken a bike with any luggage on a steep gravel track before. The problem was there was nowhere to turn around so I carried on hoping it would bring me to some sort of road, which by luck it did. I arrived on my sister's doorstep looking like a drowned rat but the day had been a great adventure.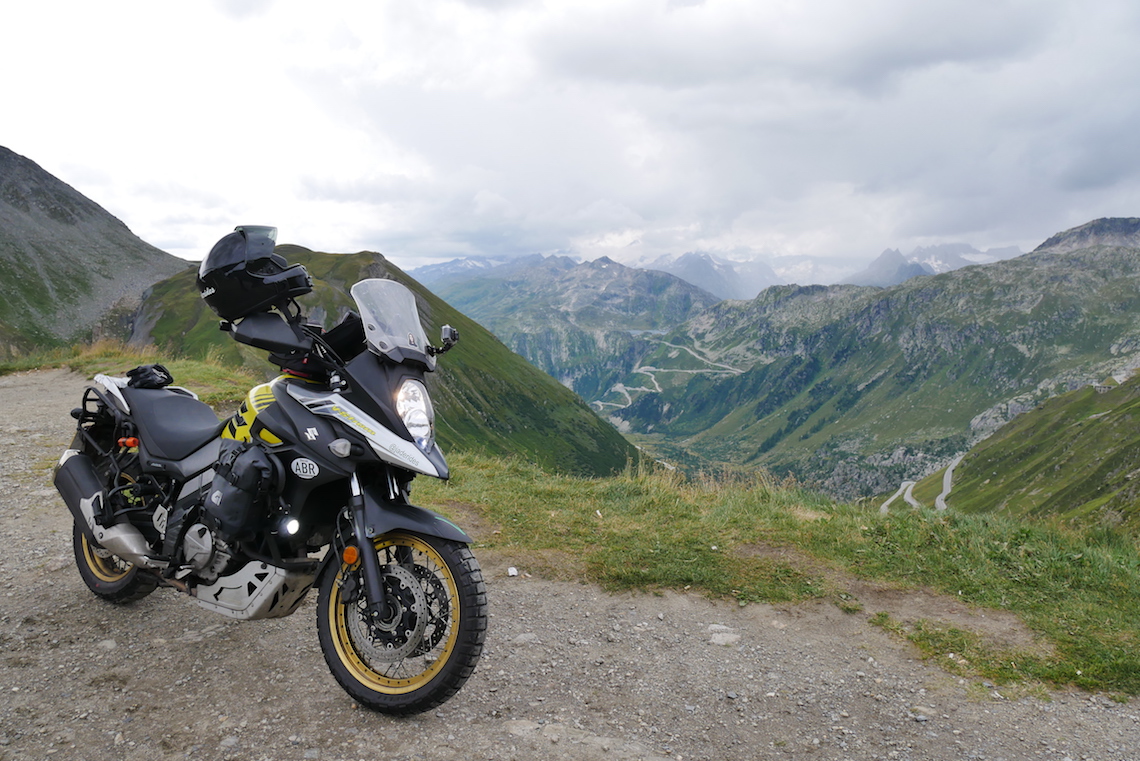 Riding the Furka Pass
The next couple of days I spent off the bike and enjoyed being with my sister Mel and her two-and-a-half-year old son Arto. I hadn't seen them since Christmas so we had lots of catching up to do.
Exploring Verbier, swimming in the local thermal baths, and visiting lots of playgrounds to keep the little one entertained were all part of the itinerary. We had a good chat about my struggles and my sister was relieved that biking had not only helped me in that sense, but it had made me get out of my hometown and travel the world, something I'd had no interest in doing while growing up.
I enjoyed spending time with my sister and my nephew, but I was also itching to get back on my bike so, as soon as I could, I set off to ride the famous Furka Pass. At the bottom, I met two fellow British bikers from East Anglia, both in their early 20s like me. They'd hired a van and driven from the UK with their bikes in the back to tick off some of iconic passes in the Alps, including this one. After chatting for a while, we decided to ride up together.
For anyone who's ridden the Furka Pass, you'll know how spectacular the road and the views are. For those who haven't had the privilege yet, I can't recommend it highly enough.  It was the first time I'd ridden a proper mountain pass and I was in awe of the snow-capped peaks that provided a dramatic backdrop to the ride.
The tight hairpins climbed high into the mountains and, in places, had no barriers at all. It was scary stuff. Luckily the switchbacks were so close together that, if I started worrying about the plunging down the mountainside, the thought would disappear as soon as the next tight bend approached.
I've never focused so hard on a road before, particularly when I met coaches full of holidaymakers coming the other way. It felt so satisfying when we all reached the top. A few jubilant photos later, the three of us set off around the mountain to the nearest restaurant for a drink. Unfortunately, I lost the lads on the way, but we'd already exchanged details and we still talk now, another bonus of travelling.
The next day, I took a short ride up Mont de l'Arpille and parked at a train station where I met up with my sister. We took three funiculars up to the spectacular Émosson Dam which is built on the most beautiful turquoise lake and is surrounded by mountains. We hiked for four hours over rocky climbs, icy cliffs, and along with some easier tarmac paths, although they were steeper than they looked!
Our plan was to go and see dinosaur footprints dating back 250 million years but instead we spent too long enjoying the food at a little chalet restaurant and we ran out of time. Mind you, I'm sure the footprints won't be going anywhere soon.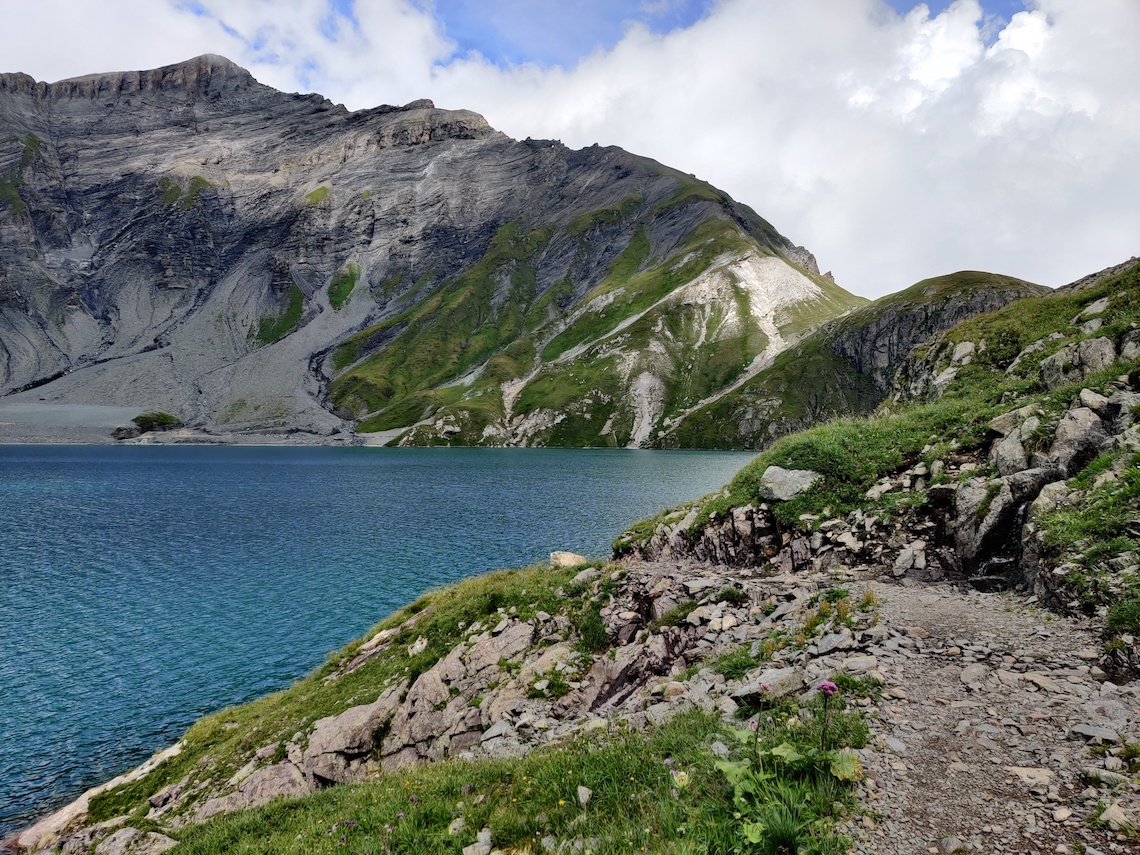 Tackling a few more passes
I had a few days left before embarking on my homeward journey and I was itching to ride another mountain pass, so one day, when sun was shining, I set off to discover the Great Saint Bernard Pass located about 25 miles away. All I can say was wow, what a road. It contorted its way up the mountain side in an exhilarating series of twists, turns, and hairpin bends, amid some of the most spectacular scenery you can imagine.
I'd become hooked on the adrenalin of riding mountain passes by this point and I wanted even more from this ride, so I took a little detour off the side of the road and pulled out my camera out. I spotted a small footbridge across a stream which ran down the mountain so, after waiting a while for some hikers to get out of sight, I took a sneaky ride along a trail to the little bridge and put my bash plate to some good use in the process.
As I rode back over Great Saint Bernard Pass, I pulled over in a layby to admire the view and spotted another little river, although there was no bridge across it this time. I could see there was enough room on the other side to turn a bike around so I figured I may as well set up my camera and tripod and get some action photos of me crossing the water. I hit the timer, ran back over to my bike, got into position to cross, and then freaked out and froze.
What if I fall off? What if I get trapped underneath? What if I can't turn around? Eventually I shouted at myself and just did it. That's the biggest issue I have with riding off road, I overthink and then get myself into a massive panic over anything and everything. It's a lot easier to take the easy option and quit but I knew I'd be mad with myself if I didn't try. Plus, I knew the photos would be worth it.
After the massive build up, crossing the stream was the easy part. Turning around in the boggy ground, not so much. Twenty minutes later, and after stripping off two layers of clothing, I finally managed to turn my bike around after rocking her backwards and forwards  an inch at a time. It was just enough to get her out of the soggy rut I'd got stuck in and relieved, I rode off.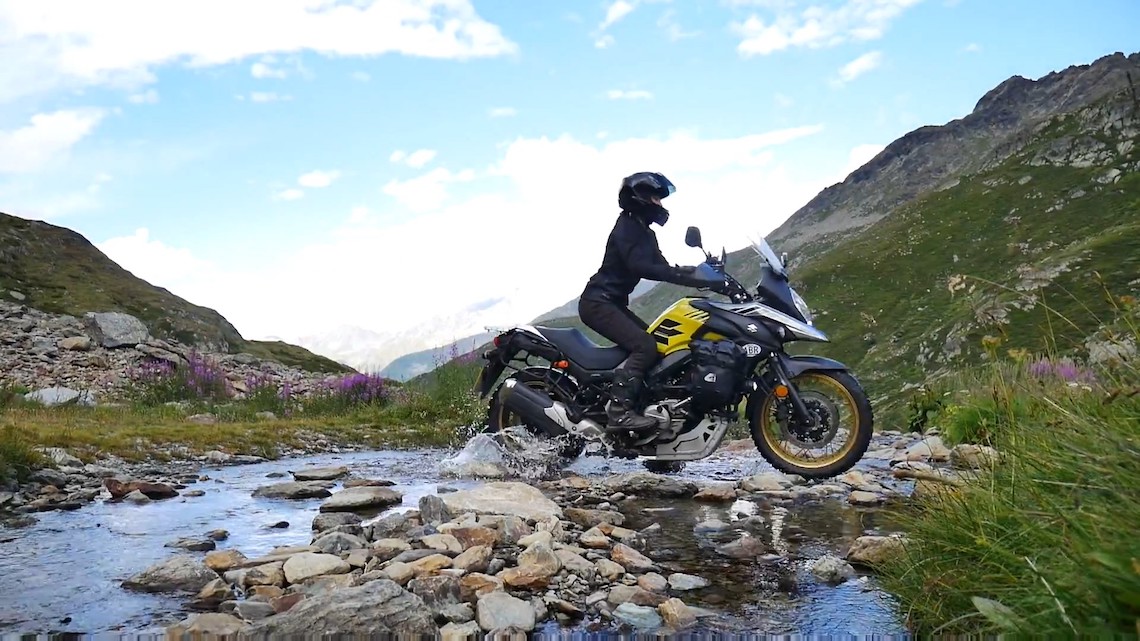 Despite the struggle, or maybe because of it, I'd had one of the best days of my life, because the whole ride felt like a proper adventure and I overcame the voices of doubt in my head. Looking back to my anxiety-ridden past, this trip really did open up my eyes to a whole new world and way of living. If I could ride abroad solo on a motorcycle after having my licence for less than a year, what else could I do?
More travels planned for the future
Unfortunately, I'd have to wait to find out because by now the UK Government had announced anyone travelling in France would soon need to self isolate for 14 days on their return to the UK. Knowing my new job was starting in less than 14 days, I had no choice other than to ride all the way from Switzerland to the UK, around 630 miles in one day, in a race against the clock before the new rules kicked in.
I was fortunate to only flash one front facing speed camera as I rode fuelled on caffeine, a rarity for me. I returned to the UK, exhausted and hungry but in time not to have to quarantine myself. I'd never truly appreciated just how bored someone can get while riding a motorcycle until my intercom ran out of battery with about three hours of my journey left to go. However, it did give me ample time to reflect upon my trip and the future.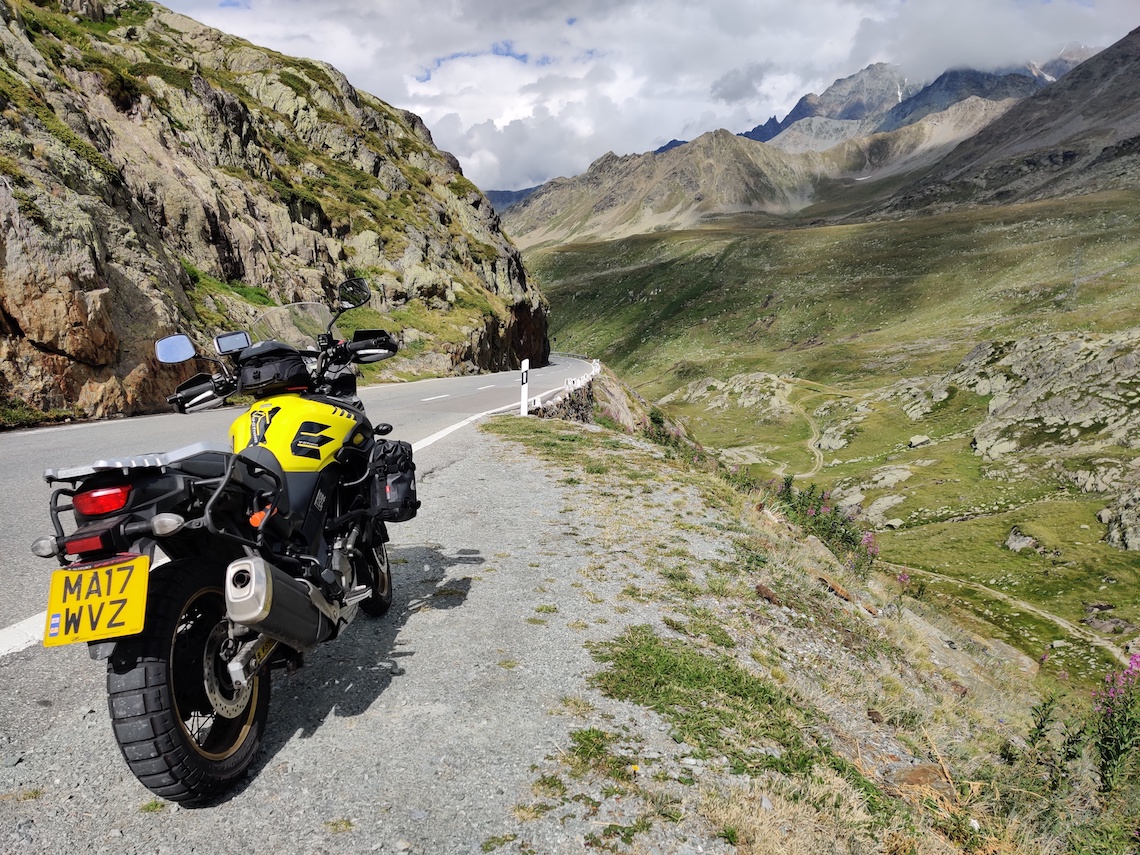 I won't bore you with all the highs and lows, but along with the good points, I did have some difficult times, particularly during the nights. However, getting on the bike and pushing myself out of my comfort zones took away so much of the noise in my head. In fact, since my first ride on my Suzuki VanVan 125 some 18 months ago, I've realised that being an adventure bike is about so much more than your means of transport, it's a lifestyle.
It has encouraged me to explore the world, to get into photography, and it's given me the confidence to open up and share some of the personal battles I endure daily. It's also led me to meet so many lovely people and even write in this magazine.
My boyfriend Nye and I are ultimately planning to circumnavigate the world on our Yamaha WR250Rs in the future, a trip I'm preparing for by doing lots of off-road riding. Our plan is to follow a similar route to Ewan and Charley's Long Way Round journey, including the Road of Bones. What an adventure that will be!