Picture an adventure bike on tour and I can almost guarantee that the motorcycle you're thinking of has hard luggage attached to it. In fact, pop down to the shops and out of the five adventure bikes you see on the way, I'd bet that at least three of them are sporting boxy, aluminium panniers. Hard luggage systems have almost become as synonymous with adventure riders as the fabled peaked helmet or two-piece textile suit, and for good reason…
Not only do a set of robust panniers look great when fixed to our adventure bikes (especially when sporting an ABR sticker), they're also incredibly practical. They offer security, plenty of storage space, and they're often quick and easy to use and remove when it comes to packing up at the end of a long day in the saddle.
But motorcycle panniers are not simply metal boxes with attachment points. There's a lot to consider before you decide that hard luggage is for you, and with so many different types of panniers on the market, knowing where to start can be a tricky task.
If you're starting to suffer from buyer's anxiety at the thought of luggage systems and pannier racks, then you're in the right place. In this feature we're going to take a dive into the world of hard motorcycle luggage to help you decide whether it's for you, and what you should look for when buying. To do so, we got together with the Italian motorcycle accessories manufacturer, Givi, who make some of the best hard motorcycle luggage that we've used.
Metal or plastic hard luggage for your motorcycle?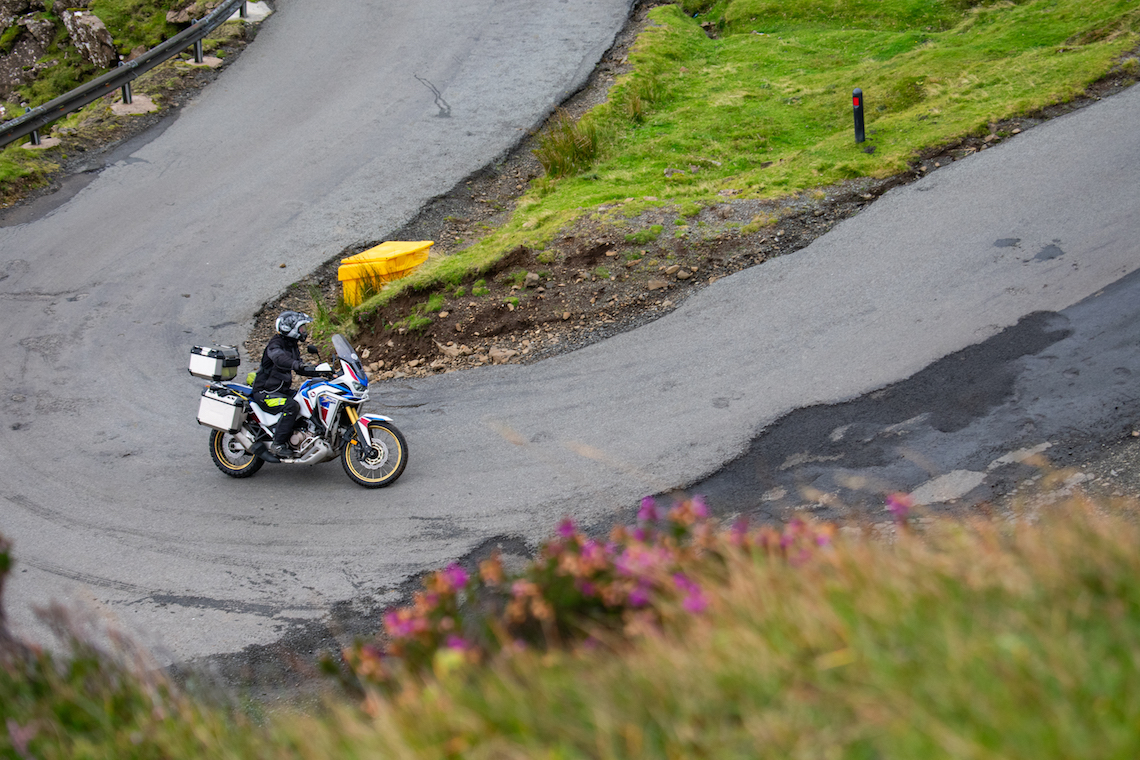 When we talk about hard luggage, we're typically referring to robust panniers and top boxes constructed with either a metal or hard plastic outer shell. Aside from the obvious, what's the difference between the two?
Metal panniers, such as Givi's Trekker Alaska panniers, are typically made of aluminium and offer a good balance between strength and weight. I'll hold my hands up here and say I've dropped my bike a few times with metal panniers fitted and, despite a few scuffs and dents to remind me of my carelessness, they're still functional and waterproof. And everything inside has remained intact and protected.
This peace of mind comes at a cost though as metal panniers are typically more expensive than plastic luggage.
In comparison, plastic panniers are often cheaper and lighter than their metal equivalents (check out the Trekker II panniers from Givi as an example), and they are more flexible so they're more likely to retain their shape if they're knocked or bumped. Their drawbacks, though, are that they can offer a little less protection for your belongings, and they don't tend to look as gnarly.
Clamshell or top-opening?

Once you've chosen between metal or plastic hard luggage, you can take a closer look at how the boxes open and how you access your contents inside them.
On the whole, hard luggage offers a far more user-friendly experience than soft luggage when it comes to opening and closing. There's no faffing with roll-top closures or fiddling around with zips, instead you simply pop a latch and in you go. I'm a particular fan of a top-opening design which uses a hinged lid at the top to give you access to your belongings, and you'll typically find aluminium boxes using this type of opening.
They're easy to use on-the-go, as your kit won't tumble out onto the road when you open the lid up, and it's also easy to pack them to the brim and use every inch of space inside. Givi's aluminium Trekker Dolomiti boxes are the perfect example of this.
Of course, this approach does have its downsides, and you'll need to ensure that anything you may need in a rush (tools, waterproofs, sunglasses) are packed last to save you from digging around at the bottom of your pannier like a truffle hound when the rain starts falling.
On the other side you have a clamshell design, which features a hinged side that opens to allow you access. This approach is handy when it comes to top boxes but can be inconvenient on a set of panniers, as your kit can tumble out if you're not careful.
To get around this, some manufacturers have got creative, and Givi's approach on its range of plastic Trekker boxes (pictured above) is a particular favourite. They're designed to be used as either a top box or a pannier, so feature the best of both worlds with a traditional clamshell design when used as the former, and a top-opening hatch for when they're used as the latter.
How it fits to your bike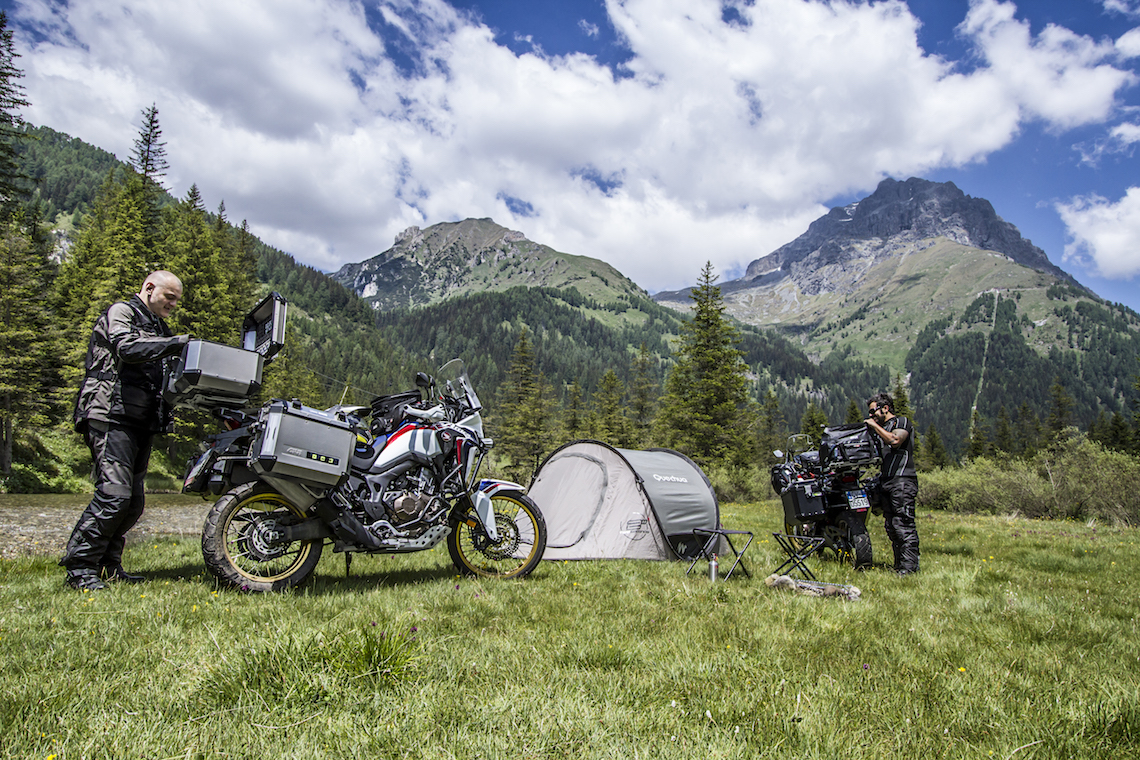 How your hard luggage fixes to your motorcycle is also another important consideration. All hard panniers need to be fixed to a frame that's been installed on the bike, but approaches to the problem vary and we've seen some particularly fiddly examples in our time, including a system that required you to screw in plates from inside the boxes (a pain if you were fully packed).
The gold standard is a system that is secure, so your panniers won't fly off mid-way down the M6, but also quick and easy to use when you're packing up each morning.
One of our favourite approaches is Givi's MONOKEY® patented fitting system, which uses just one lock and key to open the lid and disconnect the pannier or topbox from its frame, allowing you to remove your luggage with complete ease. Re-fitting a MONOKEY box is also simple and doesn't require a key, and your panniers just lock into place with a slight push.
There's a reason many manufacturers, including Honda and Triumph, stock Givi-made aluminium luggage as optional extras.
Accessories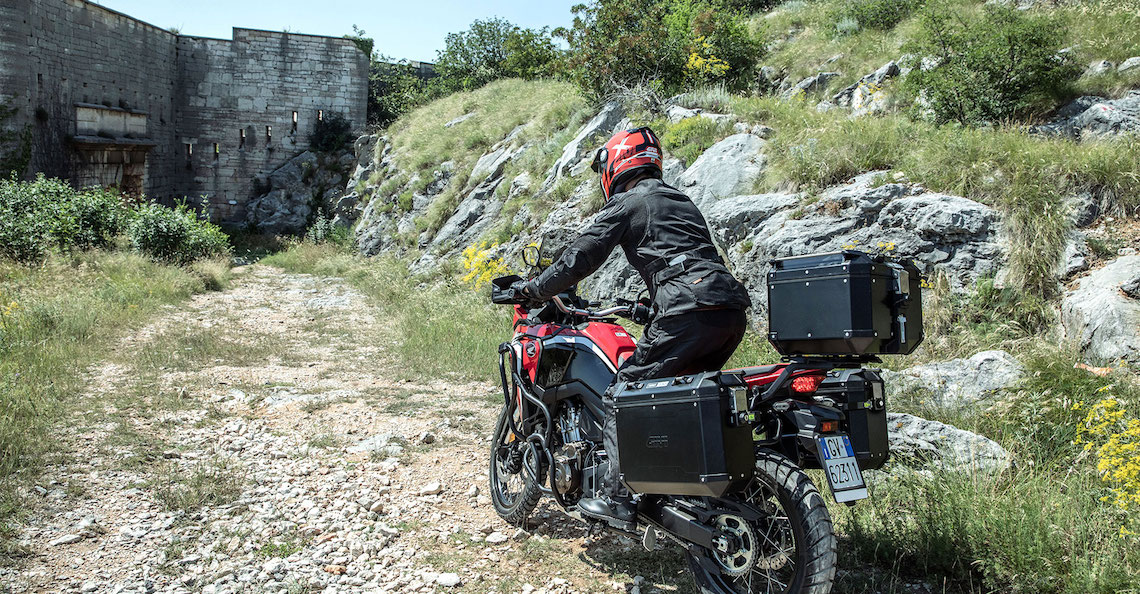 Finally, it's worth thinking about what accessories you'll want fitted to your hard luggage. While the boxes themselves over plenty of storage, a range of mounting points can give you the option of adding just that bit more when you set off on a two-wheeled adventure.
For example, I like to strap my tent to the outside of my panniers, which keeps it away from the rest of my kit when it's wet and lets it dry out as I ride along, so a set of sturdy loops to hook bungee cords to is a must.
Other accessories that can be fitted to hard luggage include fuel bottles, tool boxes, internal nets for the underside of lids, and even additional soft bags that can be mounted on top. And don't forget those all-important carry handles which are so useful when lugging your boxes in to the hotel after a day on the road.
Check out the accessories page when you buy your hard motorcycle luggage to see what else can be added on.
Givi hard luggage
Hopefully this guide will help you on your search for hard luggage that is right for you.
And, now that you know a little more about what to look for, why not head over to the Givi's website to check out the Italian brand's full range of panniers and top boxes today.