It's hard to think of a country with more iconic motorcycling roads than the USA. Names like the Pacific Coast Highway, Route 66, the Million Dollar Highway, and Pikes Peak roll off the tongue with ease.
But it's not only the roads that are famous. Iconic sights like the Grand Canyon, Yosemite, Monument Valley, the Hoover Dam, and Death Valley can be reeled off like a Hollywood A-list of destinations to see before you die.
But in a country that popularised the road trip as we know it, there is one journey that stands out for us above all the others – the coast to coast. Crossing this vast and eclectic country along its highways, byways, turnpikes and back roads has long fuelled the imaginations of novelists, musicians, movie makers, and the everyday man and women with a thirst for the horizon.
On the road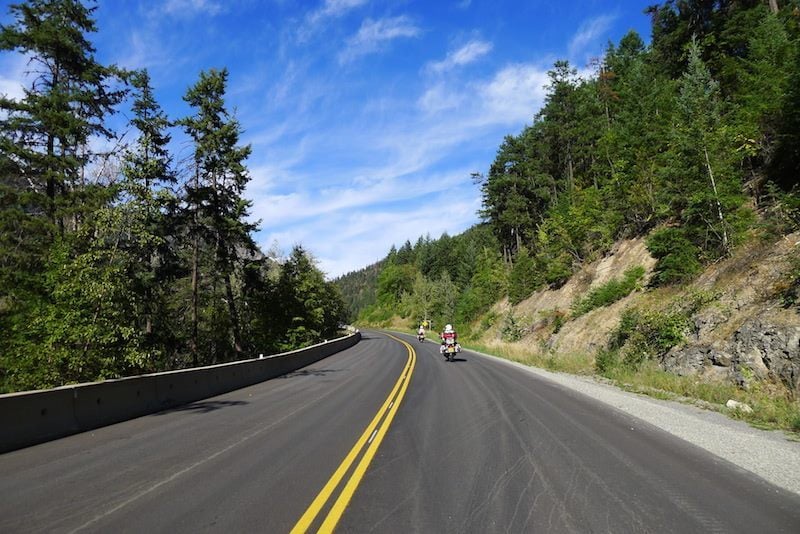 Whether you're coming of age like Jack Kerouac's Sal Paradise in the novel On The Road, or you're following in the counter culture tyre tracks of Easy Rider's Captain America, a coast-to-coast ride across the USA is a journey of discovery you'll remember for the rest of your life.
One of the joys of the coast to coast is the fact you can start and finish wherever you want, as long as you travel from ocean to ocean. But with this freedom comes tough choices. For every road you ride and sight you see, there are thousands you miss out on.
When faced with decisions like this, we tend to seek out local knowledge. So, we contacted USA motorcycle travel experts Unchained Tours to put together the ultimate USA coast-to-coast road trip. One that balances must-see attractions and iconic roads with the opportunity to immerse yourself in the journey and experience the true spirit of the great American road trip.
Unchained Tours have crossed the USA on motorcycles hundreds of times and the journey that follows is their tried and tested route.
Norfolk, Virginia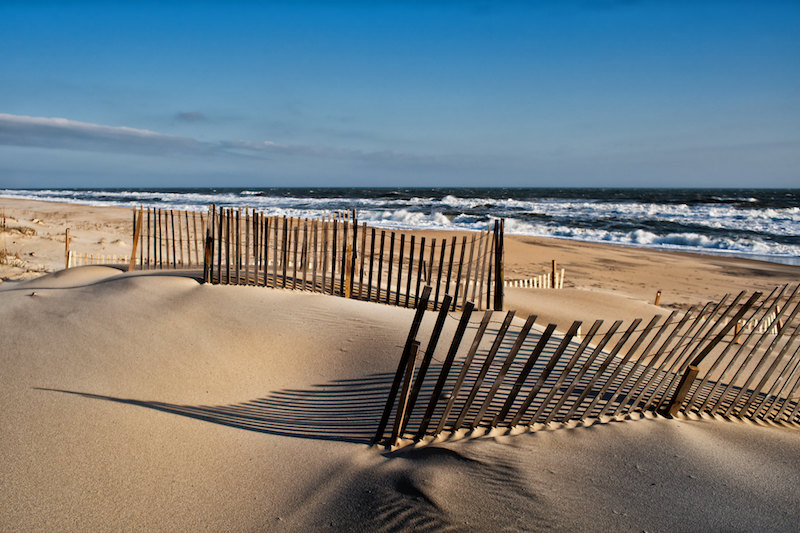 Photo: Peter Thornton
Unchained Tours recommends shipping your bike to the USA rather than renting once you're in the country. The thinking behind this is you can ship your bike, luggage and all your gear in a container, and be ready to ride immediately, without the hassle and fuss of renting bikes and gear. With this in mind, the tour company recommends shipping your bike to Norfolk, Virginia, on the Atlantic coast and beginning your coast-to-coast ride from there.
Great Smoky Mountains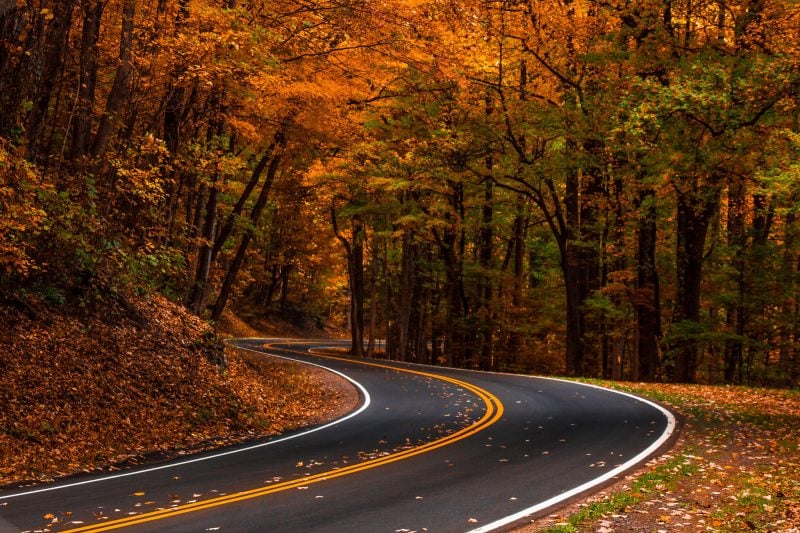 Photo: Arnab China
Leaving Norfolk behind, the route drops down into North Carolina and heads to the Great Smoky Mountains and the infamous Tail of the Dragon. Also known as Deals Gap, this twisting road features 318 curves over 11 miles. It's an iconic road for bikers in this part of the USA and one you'll be glad you ticked off your bucket list.
Lynchburg, Tennessee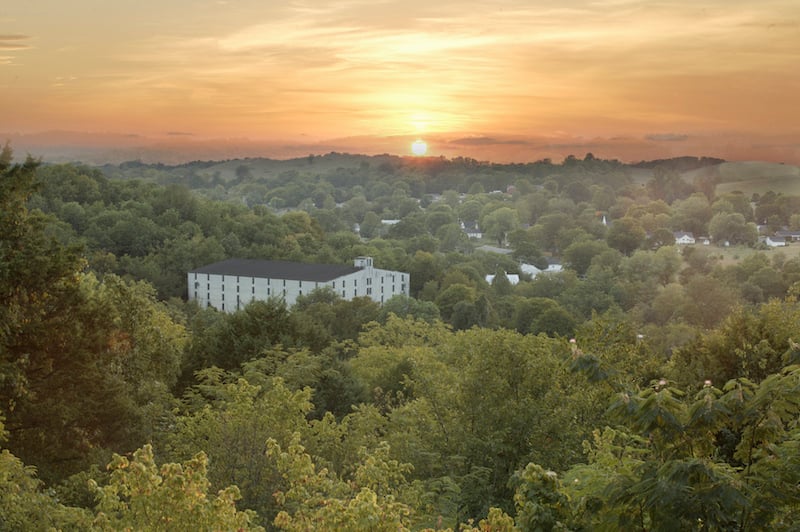 The Jack Daniel's Barrelhouse
Crossing into Tennessee, we ride to the small town of Lynchburg. Despite having a population of less than 6,500 people, it's become a world-famous tourist attraction thanks to its local produce, Jack Daniel's Tennessee Whisky.
You can take the distillery tour and relive fond memories of your journey in the USA every time you pour yourself a Jack and coke back home.
Texas Plains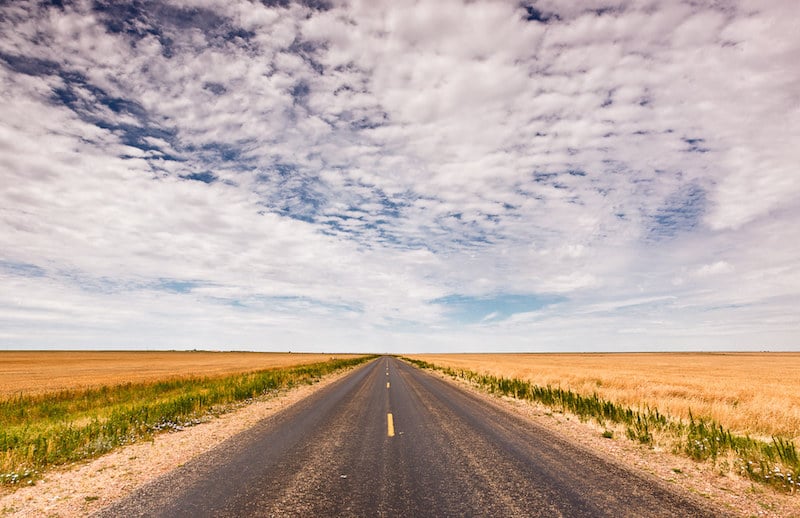 Photo: Jeff Lynch
Our route crosses Arkansas into Texas and across the Texas Plains. This is big country. You'll roll your wheels under huge skies across the prairies, along arrow straight roads stretching to the horizon. You can almost taste the freedom.
Pikes Peak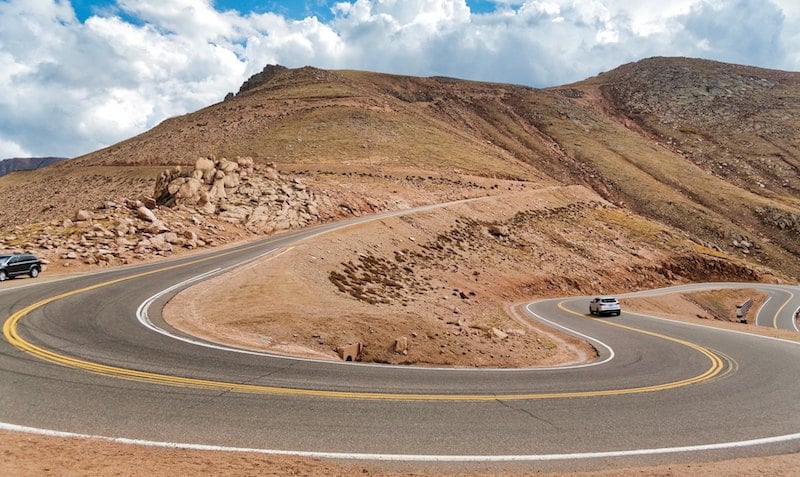 Photo: Simon Morris
Heading north through Texas, our route dips into New Mexico and then into Colorado to the legendary Pikes Peak. This snaking stretch of road is the location of the annual Pikes Peak International Hill Climb. Featuring 156 turns spread over 12.42 miles, this stretch of highway has become a must-ride mountain road for bikers around the world. It's so good, Ducati named a Multistrada after it.
Million Dollar Highway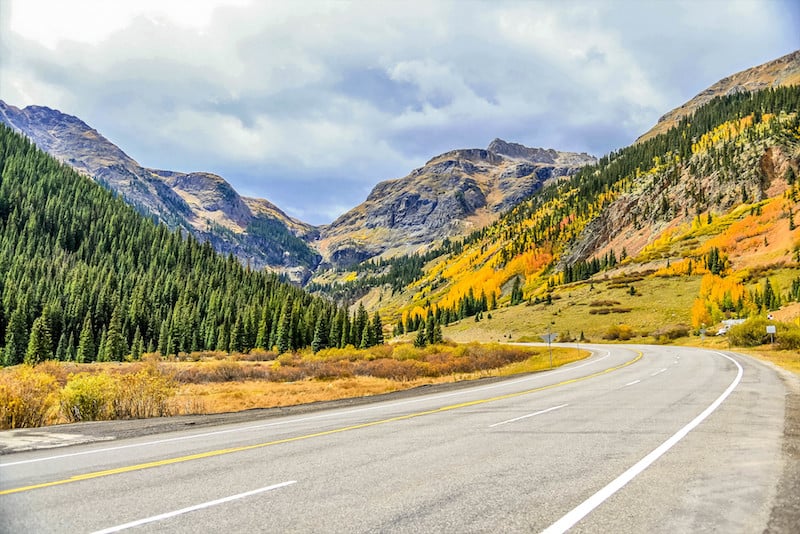 Photo: Roadtrippinwithbob
Our journey continues through Colorado heading south west to ride the Million Dollar Highway. This is one of the most scenic rides in the USA, built at a huge cost through the inaccessible San Juan mountains. Expect plenty of tight turns, magnificent mountain roads, and a highway cut into the side of cliff faces.
Bryce Canyon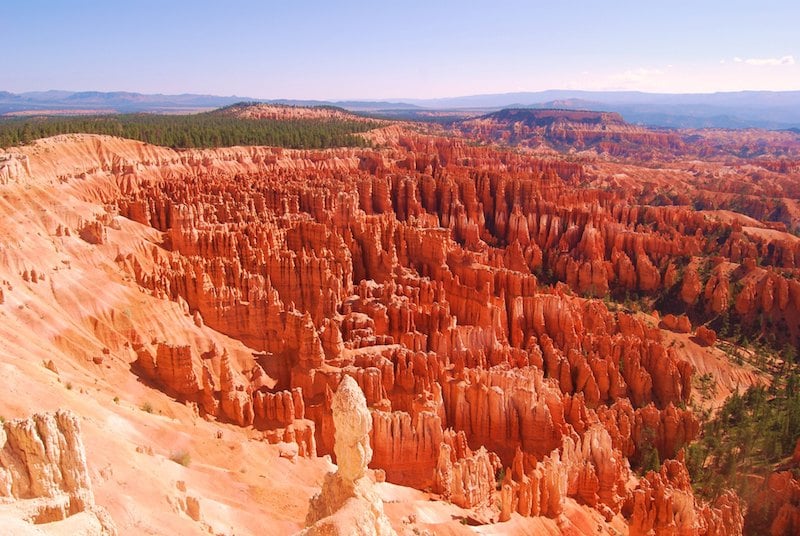 Photo: Santee2
Our route leaves Colorado behind and takes us through Utah to one of the most beautiful natural landscapes in the USA, Bryce Canyon. It features the largest concentration of hoodoos (irregular columns of rock) on earth. Rather than simply being one canyon, this geological marvel is made up of a series of natural amphitheatres.
Grand Canyon National Park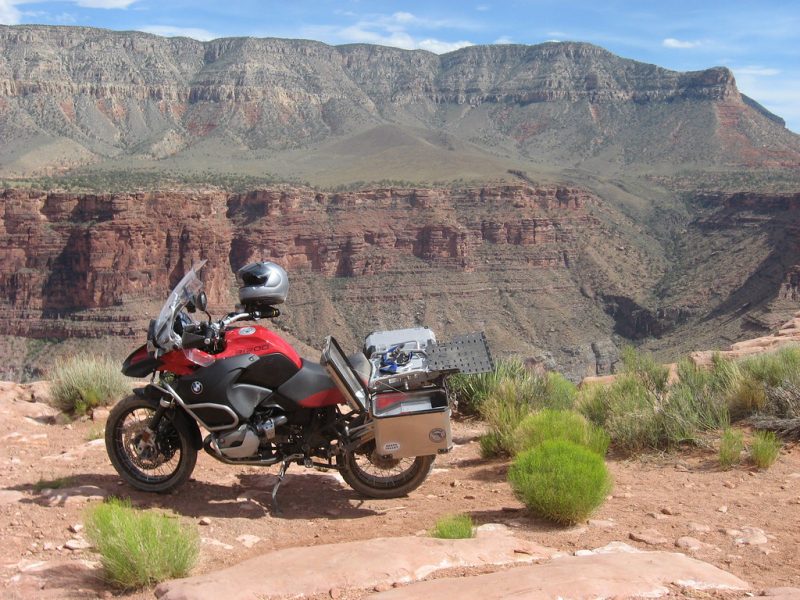 Photo: vegas1200gsa
No journey across the western states would be complete without a visit to the Grand Canyon. We cross the state line into Arizona to marvel at this natural wonder which was carved out of the rock over millions of years by the Colorado river. In total, the Grand Canyon is 277 river miles long, up to 18 miles wide and one mile deep.
Hoover Dam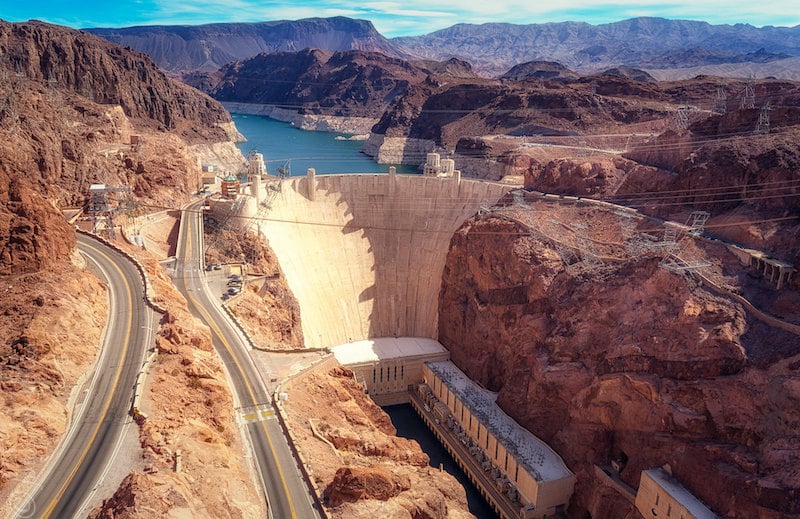 Photo: Nikka
Located in the Black Canyon of the Colorado River, the Hoover Dam is a marvel of modern engineering. It stands 221 metres high and produces enough hydroelectric energy to power the lives of 1.3 million people each year. Riding across the nearby bridge, you get a stunning view of the dam in all its glory.
Las Vegas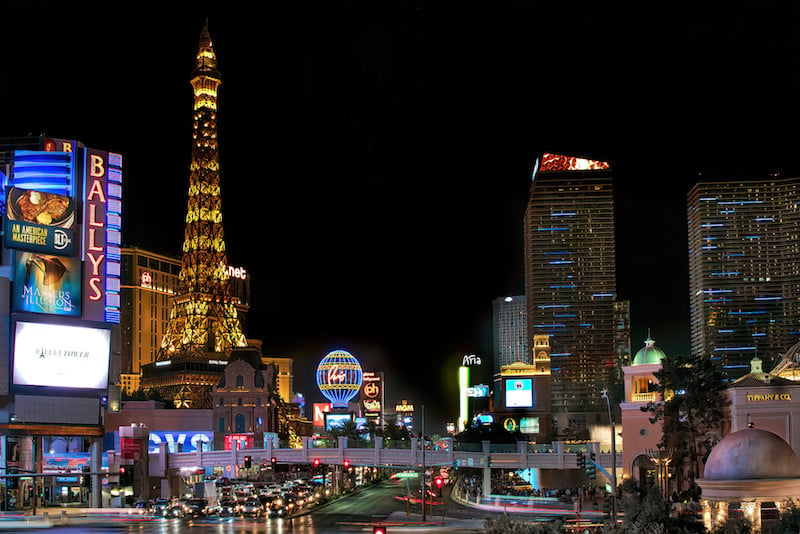 Photo: Daryl DeHart
There's something special about cruising along the Las Vegas Strip at night on a motorbike. It's loud, it's brash and the lights are dazzling, but boy is it fun. Park up the bike and indulge in the delights of Sin City for the night and hope your hangover isn't too bad tomorrow.
Death Valley

Photo: 1Bike 2People 4Aid
Leaving the bright lights of Las Vegas behind we cross into California and ride through Death Valley. Famously known as the hottest place on earth, this rugged and barren landscape has a beauty all of its own. Cruising through this desert is an other-worldly experience. Just ensure you take plenty of water with you.
Yosemite National Park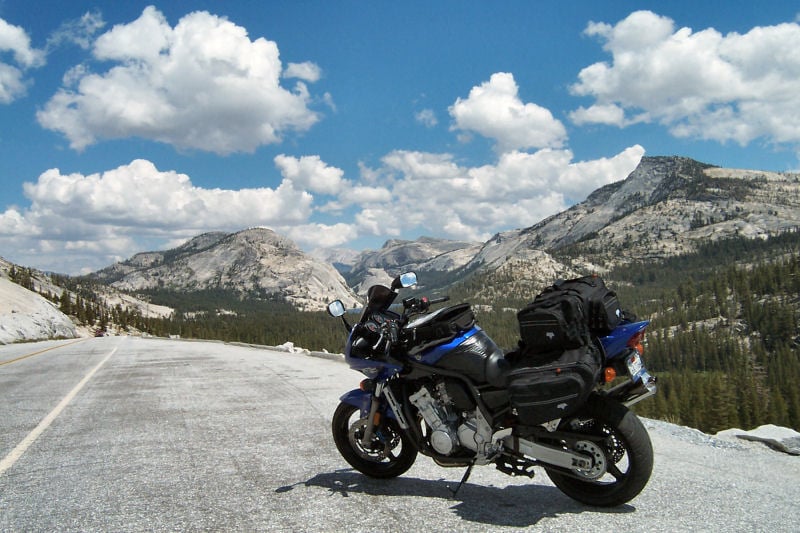 Photo: Darren
Staying in California, our route winds north to Yosemite National Park. This majestic landscape is world-renowned for its natural beauty. Expect to see waterfalls, giant sequoia trees, and awe-inspiring cliff faces like the iconic El Capitan. As you ride through the park, you may well encounter one of the 300-500 black bears living there.
Pacific Coast Highway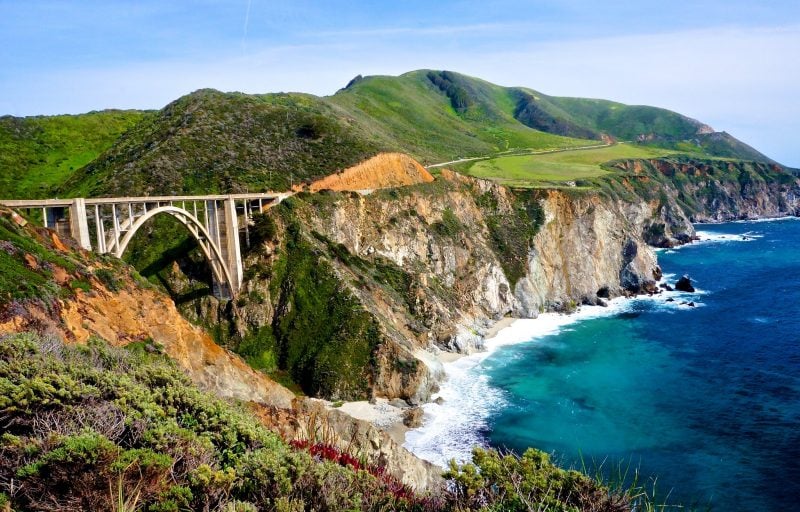 Photo: Mark Owen
From Yosemite, we head west across California to one of the most famous roads in the world – the Pacific Coast Highway. This stunning ribbon of tarmac runs along the length of the country, but it is the stretch of California coast that has fired the imaginations of travellers for generations. Cruise along this iconic highway and soak up the spectacular ocean views that have signalled the end of so many coast-to-coast adventures across the USA.
There are plenty of memorable places to finish a coast-to-coast journey, whether you put the brakes on at San Francisco Bay, Santa Monica Pier, or Santa Cruz Boardwalk. Unchained Tours will ship your bike back to Europe from the town of Santa Rosa. With this in mind, we'll end our journey on the Marin Headlands overlooking the Golden Gate Bridge before cruising north along the Pacific Coast Highway and finally dropping our bike off at Santa Rosa.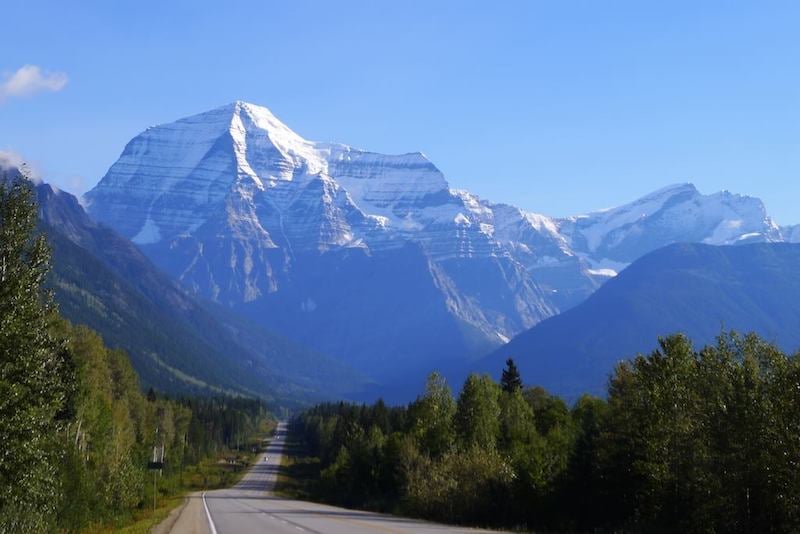 Ride this USA coast-to-coast road trip
Do you want to ride this route? Unchained Tours will lead you on a three-week adventure along this spectacular coast-to-coast route. You'll be provided with an experienced and knowledgeable guide and support rider who'll ensure you have the ride of a lifetime. All accommodation is organised on your behalf so you can spend your time enjoying the ride.
Take your own bike or rent?
It's a decision all of us living outside of the USA have to make when planning an American road trip on two wheels. Renting a motorcycle in America can be costly, but shipping your bike can be a huge hassle, especially if you're only spending a few weeks on the road. Unchained Tours hits the sweet spot by shipping your motorcycle to and from the USA for you in one of their fully insured containers.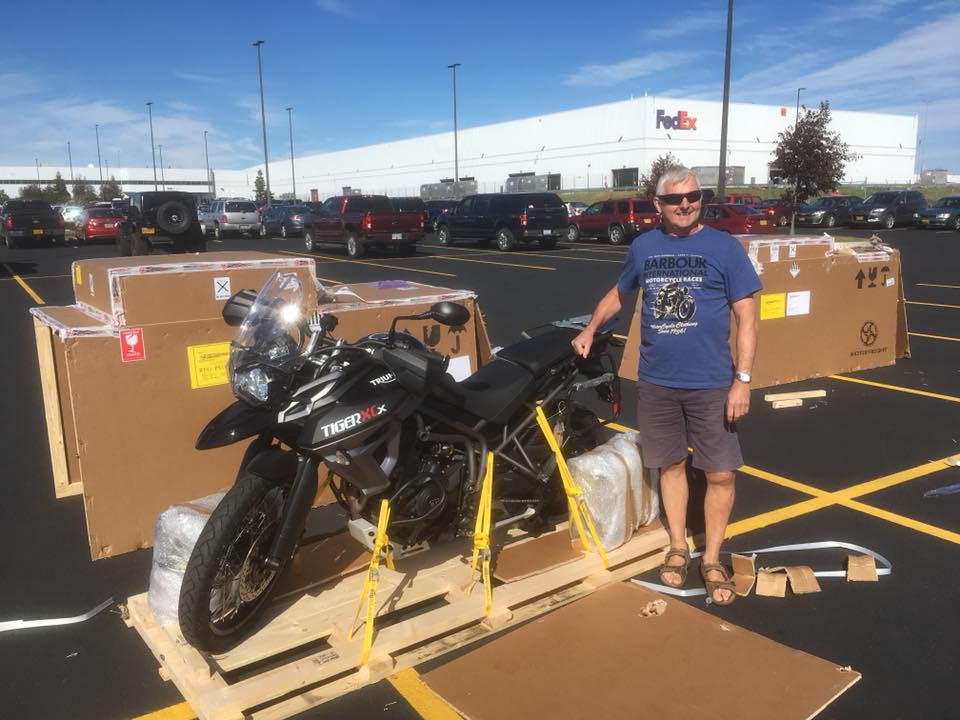 They handle all the paperwork so all you need to do is turn up and ride your bike away. Even better, you can pack all your gear inside the container, so you don't have the hassle of renting helmets, jackets, or any equipment abroad.
Unchained Tours
Elsewhere in the USA, Unchained Tours offers adventures in Alaska, the Pacific North West and through the mountains and canyons of the West. For riders looking for adventure outside of the America, Unchained Tours also organises journeys through Patagonia, Portugal, and Morocco. The company will ship your bike and gear to all these destinations so you can arrive and ride without fuss. Sounds perfect to us.