Today is International Women's Day, which is a global day celebrating the social, economic, cultural and political achievements of women all over the world. Here at Adventure Bike Rider, we wanted to take the opportunity to celebrate some of the badass women in today's adventure bike riding community, and just some of the impressive things that these epic female adventurers have achieved.
So, without further ado, here are eight incredible women who we believe are some of the most inspirational female adventure bike riders of today.
Elspeth Beard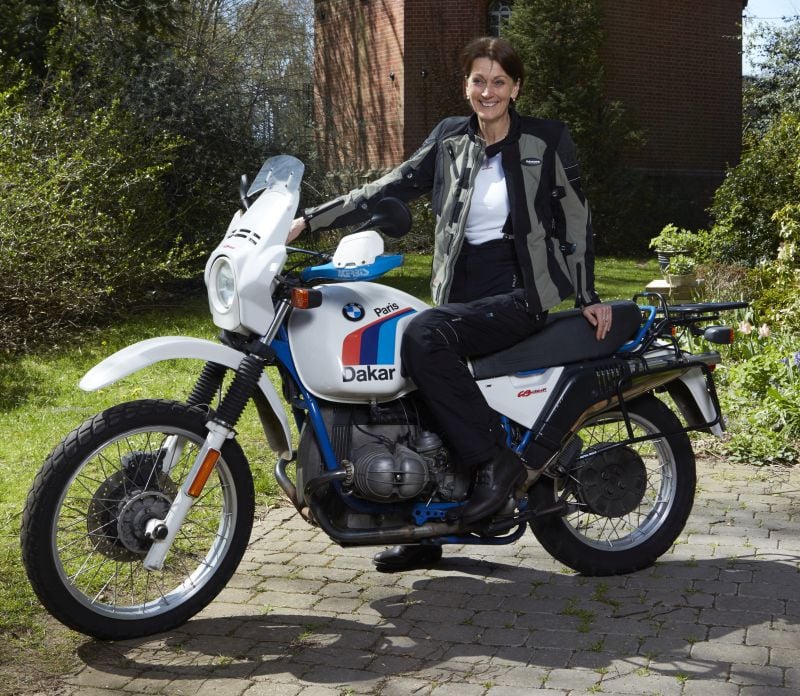 Photo: Will White/Motolegends

www.elspethbeard.com | IG: @elspethbeard
Elspeth is an adventure motorcyclist and award-winning architect. In 1980, she completed an epic solo motorcycle trip around the world on her 1975 BMW R 60/6 flat-twin, becoming the first British woman to achieve this incredible feat, at the age of just 23. She crashed in Australia, fought hepatitis in Iran, forged permits in India and now she lives in a beautifully restored Victorian water tower. In early 2017, Elspeth Beard released a book about her incredible journey titled Lone Rider: The First British Woman to Motorcycle Around the World.
We asked Elspeth what advice she'd give to women wanting to get into adventure riding…
"Get out there and just do it, it's important in life to face and overcome your fears and take yourself out of your comfort zone. You don't know the person you are unless you are prepared to test and push yourself and find out. Adventure travel completely changed my life and made me the person I am"
Aldona Temperatura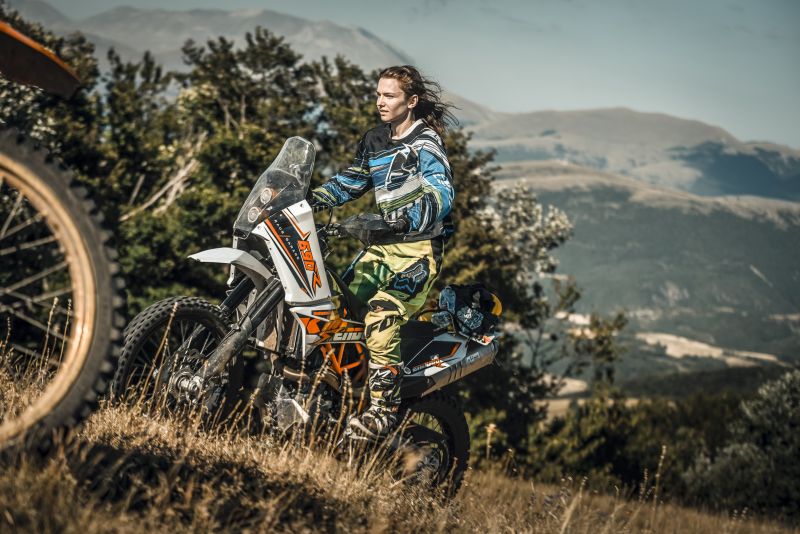 Photo: Alessio Corradini
www.motopudra.com | IG: @moto_powder
Aldona is an art teacher, writer, passionate motorcyclist and true bad ass from Lithuania. She used to be a DJ, but, these days, in her spare time she transforms into a fierce enduro rider and rally organiser. She organised an incredible motorcycle ride for the blind and the visually impaired, which saw around 150 bikers around the country give free motorcycle rides to those who cannot see so they could experience the joy, thrill and exhilarating sense of freedom that motorcycling gives you.
We asked Aldona what advice she'd give to women wanting to get into adventure riding…
"Although adventure sounds very romantic, it's also a rough fight. Someone must prove to a patriarchate society that there is a right to have a passion; someone needs to struggle for her own motorbike and afford her goals; later continuing the world requires a stamina and kindness to cherish challenges. But mostly it is a fight with your attitude to life: fears, stereotypes, boundaries and faith. But it is so relieving to mature, create and share your soul fire with others! Thus it's never too late to rock'n'roll! And you look more beautiful without mascara, but sparkles in your eyes!"
Steph Jeavons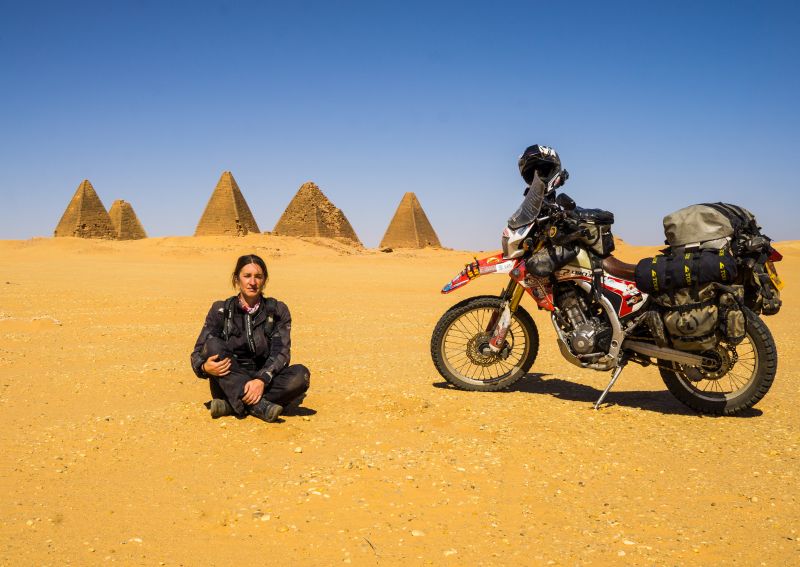 www.stephmoto-adventurebikeblog.com | Twitter: @OneWomanOneMoto
Steph set off in 2014 to ride around the world, and is still going to this day. In 2008, she set up her own off-road motorcycle school in the UK as well as desert tours in Morocco. Steph has ridden across the Atlas Mountains and in the Sahara Desert five times, ridden across the USA from coast to coast, and also worked with Nick Sanders to help him set up his expedition centre in Machynlleth.
We asked Steph what advice she'd give to women wanting to get into adventure riding…
"Get some off-road experience in if you can. This will boost your confidence no end. Remember that it is about having fun and the relationship is between you and the bike and no one else. Have fun with it and laugh at each mistake you make. You don't have to be an expert – as long as you are having fun!"
Claire Elsdon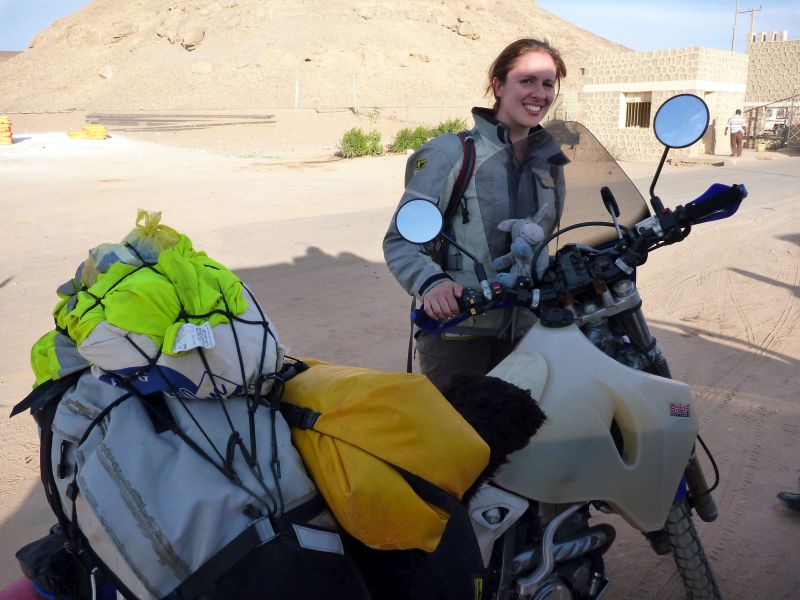 www.pikilily.com | IG: @pikilily_tz
In 2012, Claire quit her job and set off from London (on her Suzuki DRZ) on a solo trip of a lifetime to ride the length of Africa. Five years later, and she's the mastermind behind Pikilily, an incredible charity based in Tanzania, which aims to educate riders in the art of motorcycle maintenance and road safety. In 2018 alone, the charity trained well over 1,000 people, equipping them with new and invaluable skills. They've also renovated two motorcycle ambulances, and have trained five women to ride and maintain those bikes, as well as providing lessons in self defence and first aid.
We asked Claire what advice she'd give to women wanting to get into adventure riding…
"One of the best parts of getting into adventure motorcycling has been meeting so many incredibly inspiring, friendly and supportive women who have already made extraordinary journeys and are happy to set your mind alight with the adventures to come and reassure you that whatever happens, you WILL find a way through and later, those will be the best stories you have to tell! After those conversations, nothing seems impossible!"
Lisa Thomas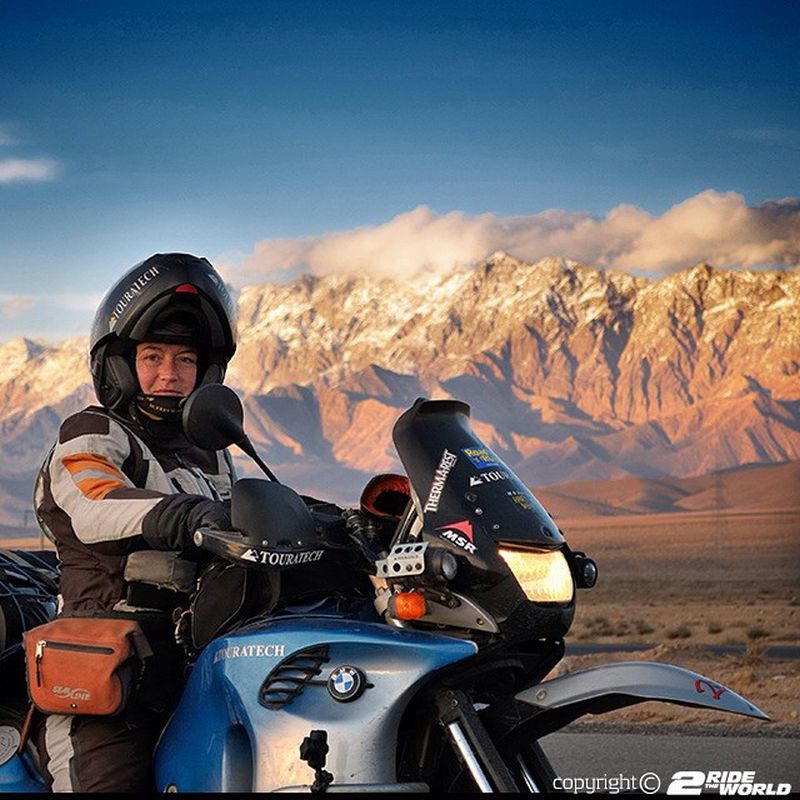 www.2ridetheworld.com | IG: @2ridetheworld
Lisa is an adventurer, photographer and renowned motivational speaker who has shared her incredible experiences and life stories with over 100 live audiences across the globe. Considered one of the world's foremost female adventure riders, Lisa has ridden longer and farther in a single journey than any other female motorcyclist in history. After riding 450,000 miles, unsupported through 78 countries and across six continents, Lisa's impressive adventure more than earned her place in the record books.
We asked Lisa what advice she'd give to women wanting to get into adventure riding…
"As female riders we need to make sure we are setting our own goals and ambitions. I've learnt that adventure means different things to different people, irrespective of their sex. To one person it might be negotiating a gravel car park and for another, it might mean riding to the ends of the world. Women need to realise their own power. It's all too easy for female riders to limit what they think they can achieve by taking to heart the words of the many naysayers, who are only interested in telling us what we can not do or achieve. 
"So, get out there and enjoy yourself. As long as you're enjoying the riding, you'll want to ride more and with each mile ridden your confidence will grow with your experience. Remember, adventure motorcycling isn't a competition. There are no limits other than those we set for ourselves. Ride safe, ride far and enjoy yourself. You're more capable than you realise."
Kinga Tanajewska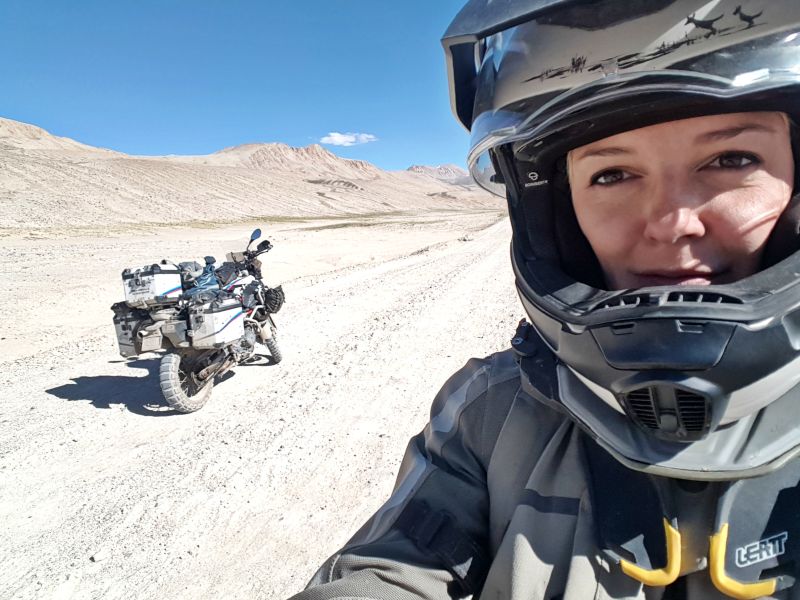 www.onherbike.com | IG: @onherbike
Kinga is an adventure rider from Poland, and her two biggest passions in life are motorcycling and Blues music. After an opportunity in her construction career meant a move to Australia, Kinga decided to take the chance to make one of her dreams come true – a solo ride around Australia on her motorcycle. She called it 'Tour de Oz' and raised money for The Shepherd Centre along the way. After receiving compensation for a head on collision in Australia, Kinga decided to grab another opportunity with both hands by quitting her job and embarking on a RTW trip. Throughout this journey, she is raising money for a disabled child in Poland named Franek, all the money she raises will go directly to helping him and his family lead as normal a life as possible. You can find out more and donate here.
We asked Kinga what advice she'd give to women wanting to get into adventure riding…
"One life, one chance! Don't be scared and get into it while you can. Start with a smaller bike and practice, practice, practice… Pick easy routes and, when you feel you're improving, then choose the more challenging ones. And always remember, you don't have anything to prove to anyone… Just enjoy the ride."
Danell Lynn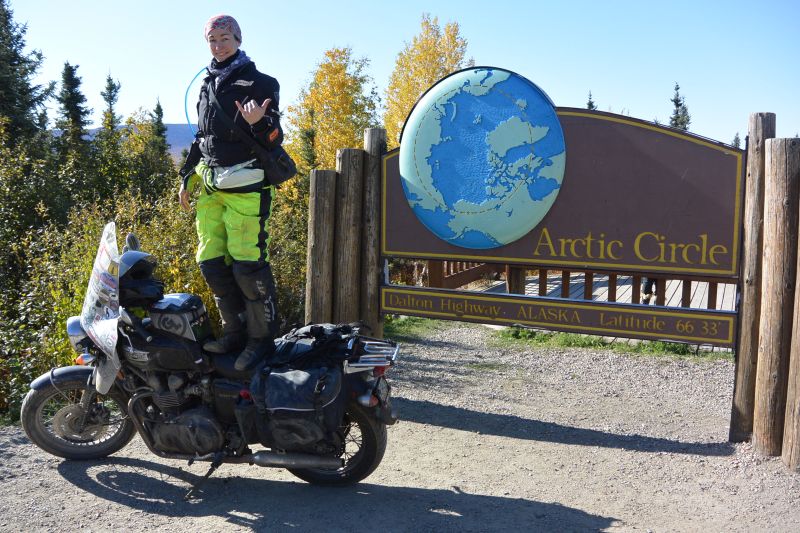 www.danelllynn.com | Twitter: @danelllynn
Danell is an adventurer and world-recording breaking globe trotter. She is the first solo woman ever to break the world-record for longest journey by motorcycle in a single country, and she currently holds that record with 48,600 miles. Danell has also appeared in a documentary called The Ride of My Life where she was the sole female rider, she was also the a rider for an expedition named Expedition Electric. Danell strives to do humanitarian work as she continues to travel the globe, and she has travelled in 45 countries. Her aim is to keep the number of countries visited larger than the number of her years on this earth.
We asked Danell what advice she'd give to women wanting to get into adventure riding…
"GO! You will forever regret it if you don't follow a dream, and rarely will you look back and say – man, I wish I never got into adventure motorcycling! So my best advice is give it a go, take a course see if you like riding and then head into the open world! Experience new cultures, embrace differences and set out to live the fullest life possible!"
Eglé Gerulaityté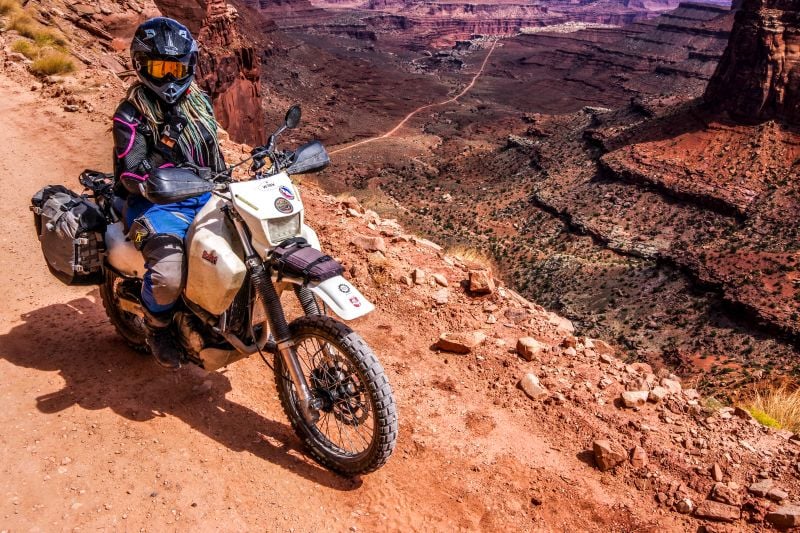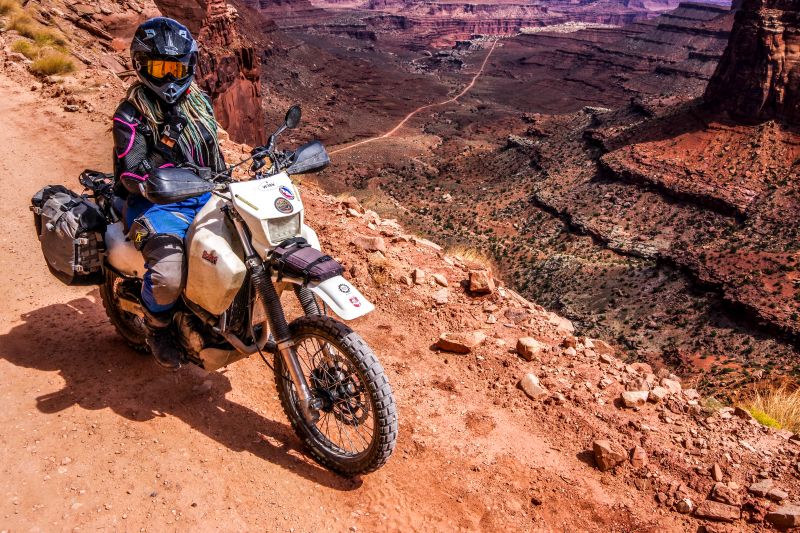 Photo: rtwPaul
www.womenadvriders.com | IG: @rtwegle
Eglé is a freelance journalist, self-titled two wheeled hobo and self-confessed kombucha addict. She's originally from Lithuania, with a background in philosophy, international relations and journalism. Eglé wrote a book titled A Testimony of a Vagabond, which was published in her hometown Vilnius and she runs Women ADV Riders, a website for women adventure riders worldwide. She's been on a slow, indefinite RTW journey on her motorcycle since 2013, she's ridden through Europe, North America and South America, and next up on her journey she'll be riding through, Cuba, Jamaica, Panama, Russia, Mongolia and the Stans. Eglé rides a Suzuki DR650 named Lucy (after Lucifer) which she loves dearly, but when she's old and rich, she might switch to a sexy new Honda Africa Twin.
We asked Eglé what advice she'd give to women wanting to get into adventure riding…
"Don't overthink it. There's no such thing as the perfect adventure bike, perfect gear, and perfect skills. What matters is how you feel about it! It may sound a little intimidating at first – getting your license, choosing your first motorcycle, working on your skills, but it's really not that big of a deal. Learning to ride a motorcycle is not like piloting a plane! Break it down into baby steps: go take a riding lesson; try a helmet on. You don't have to get everything right from day one. Adventure is all about attitude, so just go for it and have a blast – you'll figure everything else out as you go along."
Have I missed your favourite female adventure bike rider off the list? Let me know in the comments section below. I'd also love to know what advice you'd give to women wanting to get into adventure riding.