When saddle fatigue strikes during a day out on your bike, there's little you can do about it, a fact that touring bikers will know all too well.
I experienced the phenomenon myself recently. After a day exploring the best roads in England's South West, I had to endure a three-hour motorway slog back home on a saddle was giving me a serious case of bum fatigue.
The rest of the ride was spent wriggling around and even hovering above the seat in an effort to get the blood flowing back to my numb cheeks. When I eventually made it home, I was left waddling like John Wayne. Having spoken with plenty of other touring bikers over the years, I know I'm not the only rider to suffer from this.
So, what's the solution? We could invest in a premium comfort saddle, but they tend to be pretty expensive. However, I've found a low-cost alternative, the ComfortAir Seat Cushion, which has been inspired by technology used to reduce the risk of pressure sores in wheelchair users.
This knowledge proved transferable to the world of motorcycling, where saddle soreness often comes as a result of the same type of all-day pressure points that can cause issues in wheelchair users over time. So, how does it work?
How does the ComfortAir Seat Cushion work?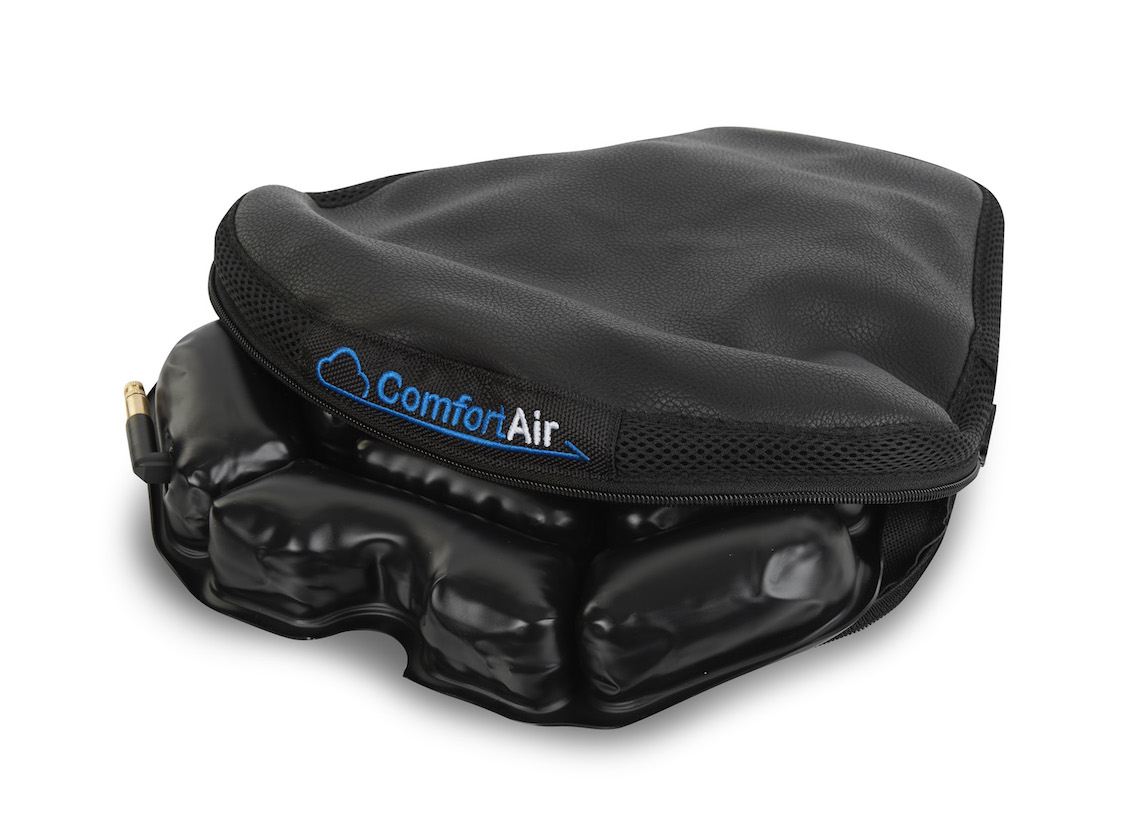 To understand how the ComfortAir Seat Cushion works, it helps to initially think of it like the beaded seats you often see cab drivers sitting on.
But, instead of physical beads, the seat cushion uses a grippy outer cover which holds the inner seat pad, made up of interconnected air cells which conform to the shape of my behind and help to evenly distribute my weight across the saddle.
The free-flow of air between these pockets means that shifting my weight provides a massaging effect while I'm riding (which is what those beaded seat covers do), keeping blood flowing and staving off that dreaded numb-bum.
The air pockets also allow for cooling air to flow through the cushion, reducing the emergence of hot spots or uncomfortable sweating during the warmer months.
I was also pleased to discover the seat cushion comes in four different sizes, with different models for adventure bikes, big tourers, cruisers, and even a pillion pad. This approach makes sense. Our bikes are as varied and unique as the riders that sit on them, so a one-size-fits-all approach for a product providing tailored comfort simply wouldn't work.
Finally, I was glad to see that the two straps securing it to my saddle were sturdy and strong, but are also covered to prevent the straps scratching or scuffing my bike's paintwork or saddle over time.
You can discover the ComfortAir Seat Cushion for yourself here today, where it's available to buy with a 30-day money-back guarantee if it doesn't improve your riding comfort in the saddle.