In 1980, even BMW's most passionate fans would have struggled to predict that the R 80 G/S, which the manufacturer had just released, was about to become one of the world's most iconic bikes.
The truth is, the first G/S was a bike of convenience for the Bavarian company. A wave of new four-cylinder Japanese models were flooding the European market and taking a chunk out of European manufacturer's sales. BMW needed a model that could be put into production quickly, ahead of its own K series, which was set to be released in 1983 and go toe to toe with the Japanese bikes.
The bike would have to be new and exciting enough to draw attention in a crowded market. It would also need to be quick and easy to produce. As luck would have it, the bike BMW was looking for already existed in it's own workshop.
What started out as a pet project among a group of BMW engineers sparked one of the most successful motorcycle ranges of all time. That pet project was a prototype R 80 G/S based around the manufacturer's signature boxer engine and spare parts from other models, that had been used in trials competitions, but never put into full production. It was the perfect solution to BMW's struggles.
In the 40 years since the release of that groundbreaking bike, the letters GS have become the most iconic acronym in adventure biking history. So, four decades on, we've taken a look at BMW's 40th anniversary GS line up, to see just how far the German manufacturer's adventure bikes have come in that time.
The birth of an icon: The R 80 G/S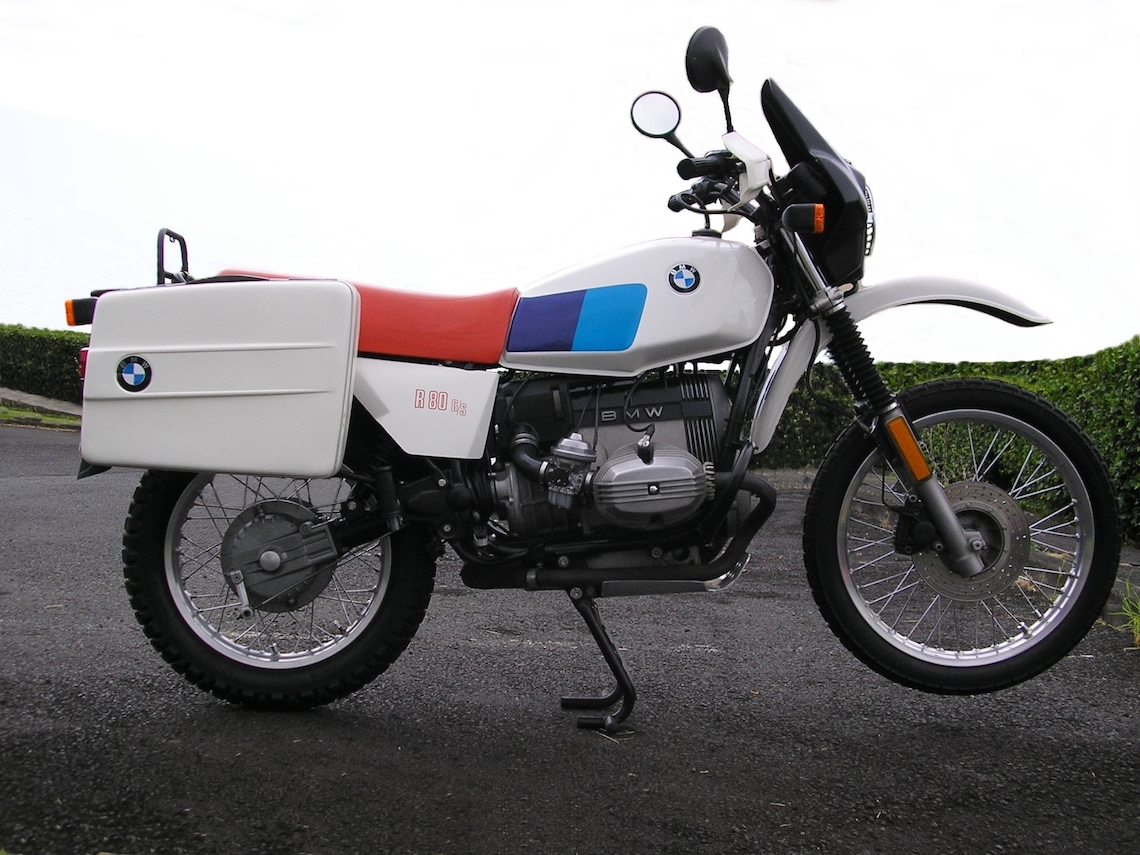 The BMW R 80 G/S is widely regarded as the world's first adventure bike. With G/S standing for Gelände/Straße, or off-road/road, this all-rounder took a unique approach to motorcycling.
Most bikes at the time were singularly focussed on either touring, riding quickly, or off-roading. Suddenly, there was a bike designed to do all three. It could cover big distances on tarmac, handle itself off-road, and carve through the twisties with ease. The combination of a trail-friendly 21-inch front wheel, a single-sided swingarm with shaft-drive, a torquey 797.5cc air-cooled boxer engine, and long suspension travel had never been seen on a motorcycle before.
The biking press was taken aback by the G/S, which seemed to park itself firmly on the fence. But, this early confusion wasn't reflected on the forecourts, where it proved an instant success, selling almost double the 3,000 model figure that BMW had expected. An icon was born.
40 Years of the GS line up: Today's icons
Fast forward 40 years, and what has changed from that first trail-blazing G/S?
For starters, that Gelände/Straße moniker has been altered to GS, now meaning Gelände/Sport. While that may be a minor tweak, the growth of the range certainly isn't. The current GS line-up boasts eight adventure bikes, catering to a range of styles of riding and riders.
To celebrate 40 years of heritage and innovation that has gone into each of them, BMW has given each model a special lick of paint, as well as a few premium features included as standard, to pay tribute to the black and yellow 'Bumblebee' R 100 GS, the successor to the R 80 G/S.
R 1250 GS and GS Adventure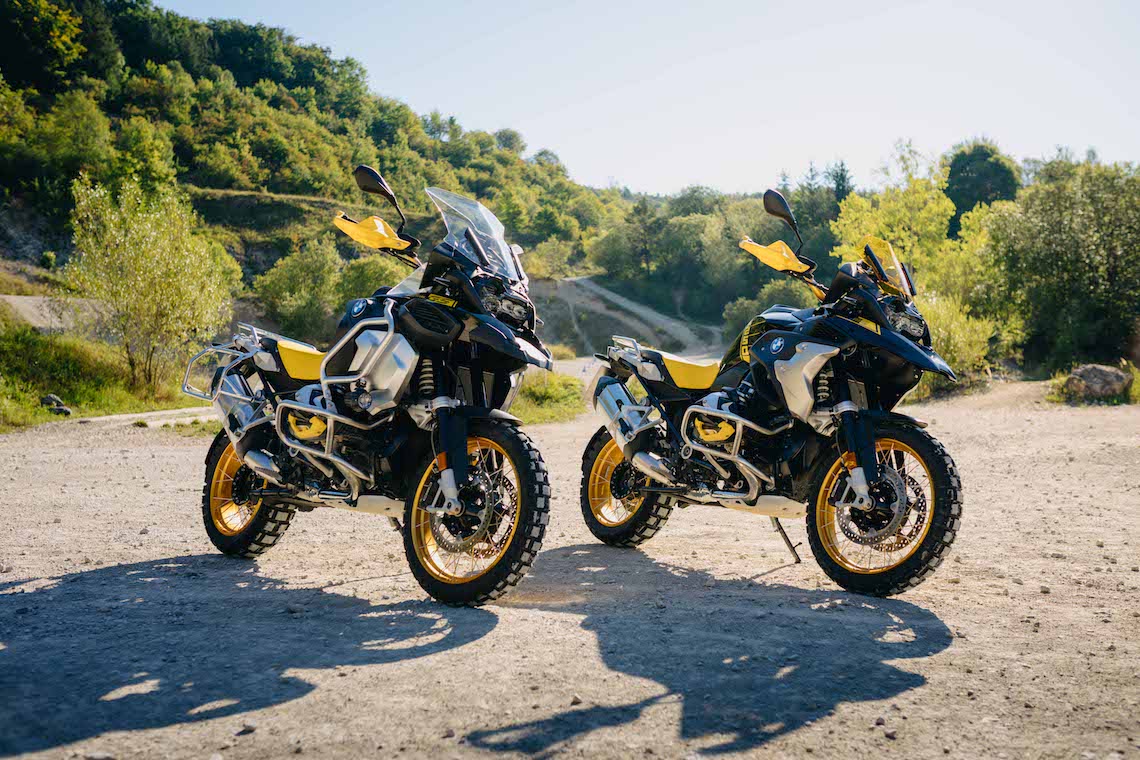 The most recognisable GS is undoubtedly the manufacturer's flagship adventure bike, the R 1250 GS and GS Adventure. BMW's world-conquering big-capacity bikes rose to popularity in the post-Long Way Round adventure biking boom of the early noughties, and it still tops sales charts almost 20 years on.
While the essence of the R 80 G/S remains, a shaft-driven bike that is as comfortable touring on the road as it is riding off of it, complete with 21-inch front wheel, a torquey engine and the low centre of gravity afforded by the iconic boxer engine, both the R 1250 GS models boast rather more technology than the original bike of old.
From the innovative ShiftCam technology to advanced cornering ABS, Dynamic Traction Control (DTC), and a new Eco riding mode, there's a wealth of technology included as standard in the special release 40 Years GS editions of each bike, with the Adventure variant slightly more specced up for added long-distance ability.
F 850 GS Adventure, F 850 GS and F 750 GS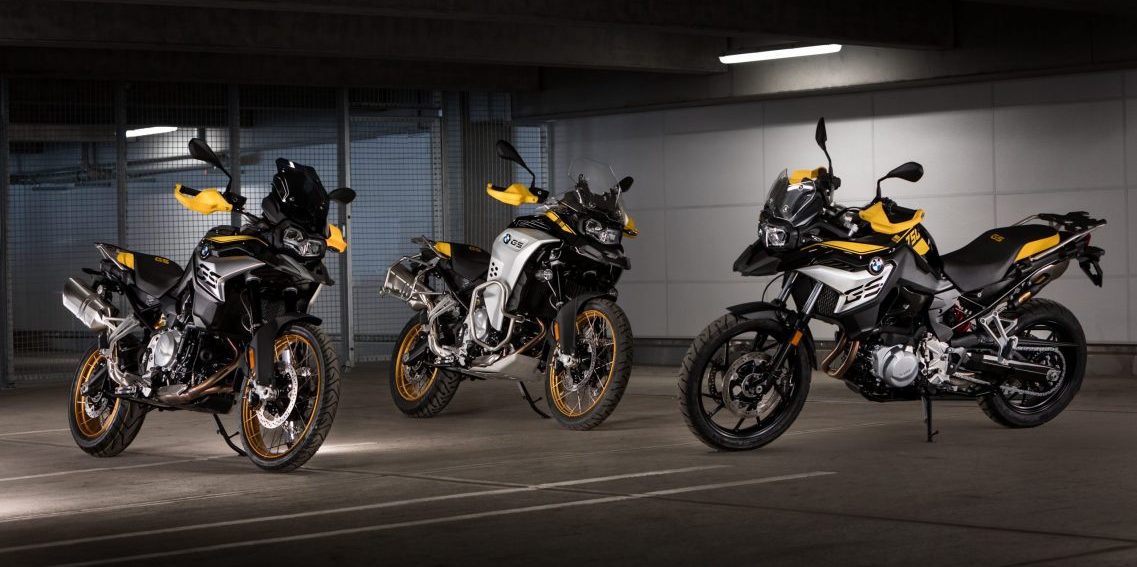 Alongside these flagship models, BMW has built on the success of its mid-capacity adventure bikes with three updated models, featuring similar sized engines to that which was first seen on the R 80 G/S.
All three are based around the same 853cc parallel-twin cylinder engine, although the F 750 GS has been slightly detuned to provide a more accessible and manageable ride.
The 40 Years GS edition models come with the same 'Bumblebee'-inspired black and yellow colour scheme, as well as some touring-friendly features for the road, including LED indicators, a USB charging device on the dash, as well as ABS Pro and DTC, which would usually feature as optional extras.
R nineT Urban G/S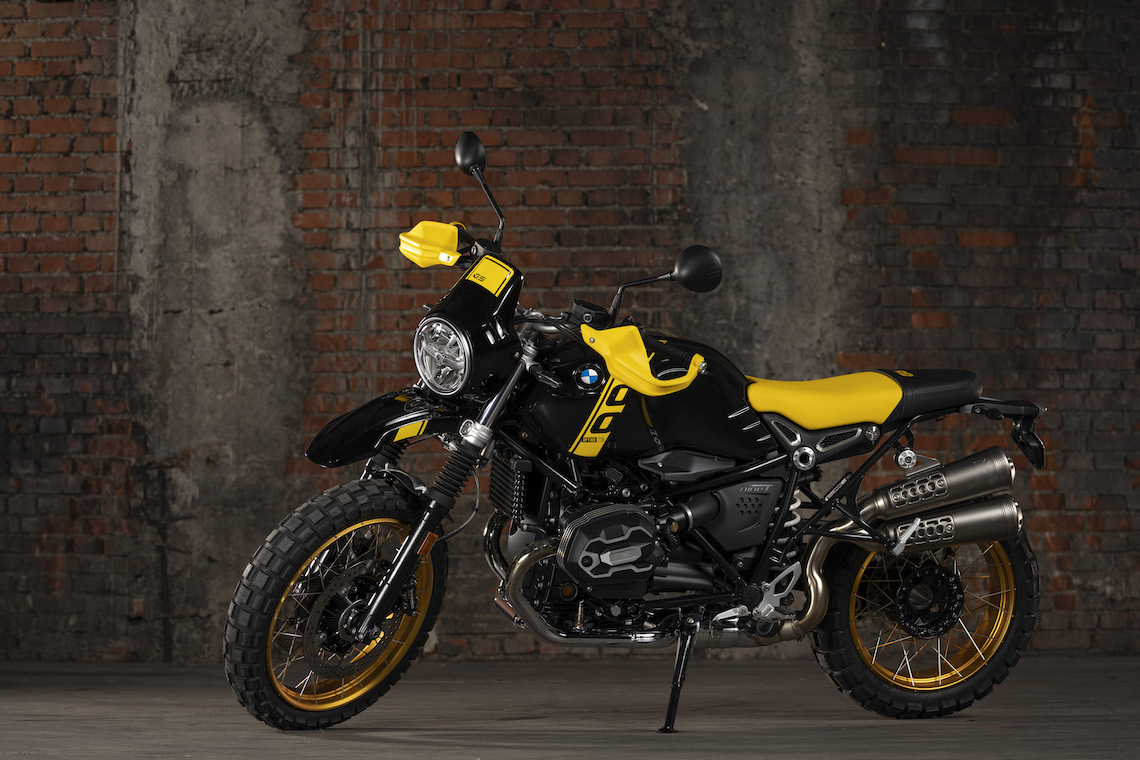 The R nine T Urban G/S may not look like a typical adventure bike at first glance, but boy is it easy on the eye and a throwback to the original GS' that graced British roads '80s. It harks back to a time when BMW released the R 80 G/S Paris Dakar model to celebrate consecutive victories in the infamous north-west African rally.
While you probably wouldn't want to take the Urban G/S to Dakar any time soon, it does feature big block knobblies, a high-slung scrambler exhaust, and a big front mudguard to help it cope with light off-roading on gravel or dirt trails.
And, during tarmac-based adventures, the 1,170cc boxer engine produces plenty of power, 109bhp to be precise, to make for a thrilling ride. It's a bike that ABR Editor James reviewed recently and enjoyed immensely, and you can read his verdict in the latest issue of Adventure Bike Rider magazine.
G 310 GS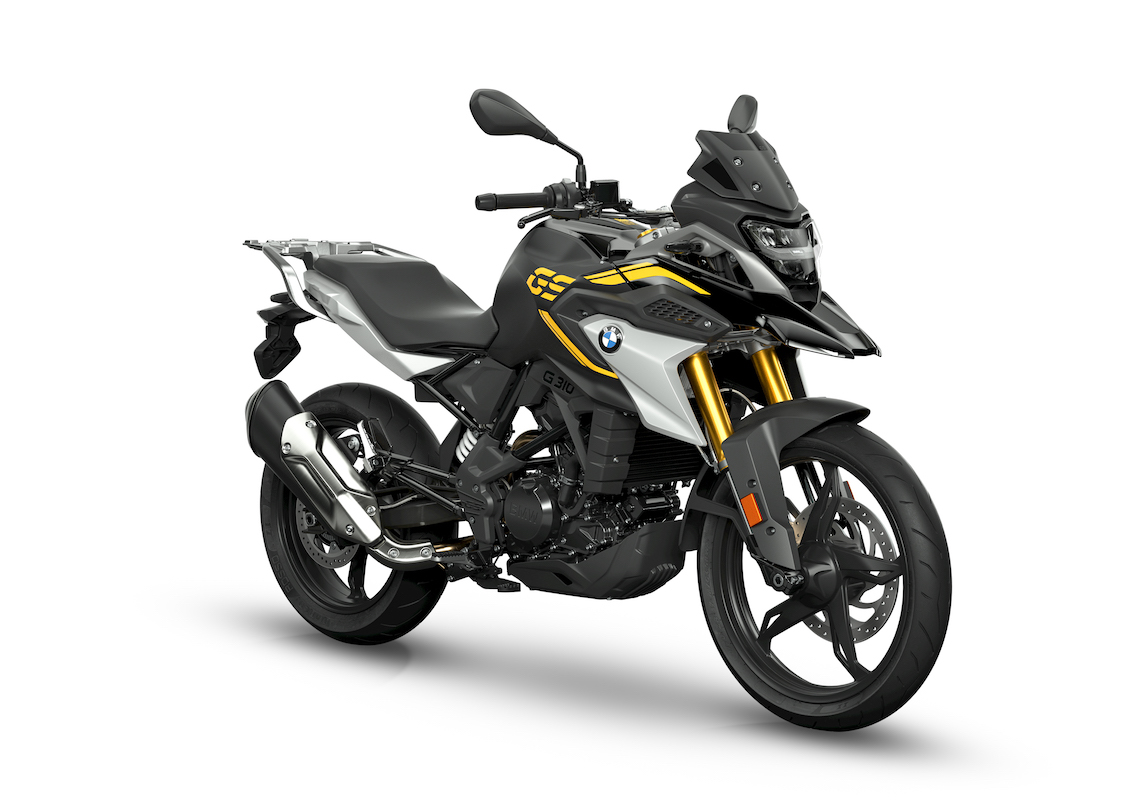 For new riders, or those looking to downsize, BMW has also released the G 310 GS.
Smaller than its siblings in the GS line up, it comes equipped with a peppy 313cc single-cylinder engine, weighs in at a relatively light 175kg (wet), and offers low seat height of 835mm, making it the most accessible GS on the market at the moment.
And, like the bigger bikes in the range, it's also been given the eye-catching 40 years GS edition makeover, featuring LED lights, a slipper clutch, and ride-by-wire throttle to deliver nimble small-capacity riding.
40 Years of the BMW GS
After 40 years, it's clear to see that BMW's GS range has changed immensely from the original R 80 G/S that rolled off production lines in 1980. It's not been a bad run for a bike that started life as a prototype, designed as a hobby by the keen off-roaders working in the Bavarian manufacturer's workshops at the time.
Now, with eight GS' in the line up ranging from the world-conquering R 1250 GS to the accessible, first-rider friendly G 310 GS, it seems that BMW is intent on delivering an adventure bike for any biker, at any stage of their riding career. You can view the full GS range here.