Romania isn't your usual touring destination, but with some of the best roads in Europe and a rich and interesting history, it should be. Ferry Fodor tells us why you should ride Romania in 2015.
ABR: Tell us about Romania and what it has to offer as an adventure motorcycling destination: 
FF: Romania is not your usual popular adventure motorcycling destination, being quite unknown and less promoted than it should be. But I'm happy to see that it has started to pick up over the last few years as I meet more and more motorcyclists on the roads during the summer. Riding is the perfect way to experience the incredibly diverse and magnificent landscape, unique traditions and welcoming people of this great country.
ABR: Is Romania a safe place to ride? 
FF: It is perfectly understandable that some people might be concerned for the safety of their bikes when travelling to a new place but Romania is most certainly a safe place to ride. Almost half of the population lives in the village and there is still a sense of community. You will not see anyone in Romania too stressed about chaining their bike.
ABR: Is it an expensive country to travel in? 
FF: Flying to Romania at peak summer times can be a bit expensive, otherwise visiting Romania is not expensive. There are plenty of traditional B&Bs and affordable hotels, fuel is cheaper than in the UK and food is affordable and delicious. Not to mention how cheap beer is! Stay away from getting a fine though, they are not cheap. 
ABR: If my bike breaks down while I'm riding in Romania, is it easy enough to find a mechanic with knowledge about motorcycles? 
FF: Finding a mechanic with knowledge about motorcycles is not hard but how long it takes for him to get to you or being recovered and taken to a garage will depend on how far you are from a larger city. As there is usually one major route connecting two places it can get time-consuming.
For our tours, we offer a backup bike and support vehicle and are also working with a national recovery company that can take a broken-down bike to the best garages around Romania. We are also developing our own database of local mechanics and local recovery companies to be able to solve problems as quickly as possible and with the least amount of disruption to our tours. 
ABR: What are the most suitable bikes for riding Romania on? 
FF: Because you can quickly get from one type of road to another and surfaces can be unpredictable I would recommend dual-sport bikes for the best experience. That way if the weather has affected sections of roads and the authorities have not been quick to fix them, you will not be set back in your journey. 
ABR: Are you allowed to ride off-road in Romania?
FF: That is the best bit! Off-road riding in Romania is allowed and beautiful! Unpaved and mountain roads are public and free to use and can take you to amazing wild areas to explore the unspoilt nature Romania is known for. That is why the best and toughest off-road race in the world, the Red Bull Romaniacs, is organized in Romania.
ABR: What about camping? Are there any laws about wild camping? 
FF: Camping in Romania is not as organized and popular as it is in other countries and there is nothing stopping you from camping almost anywhere. You don't even have to go to areas too remote, local people are happy to let tourists camp on their land. Lighting fires though, including barbecues, is restricted to specially allocated areas.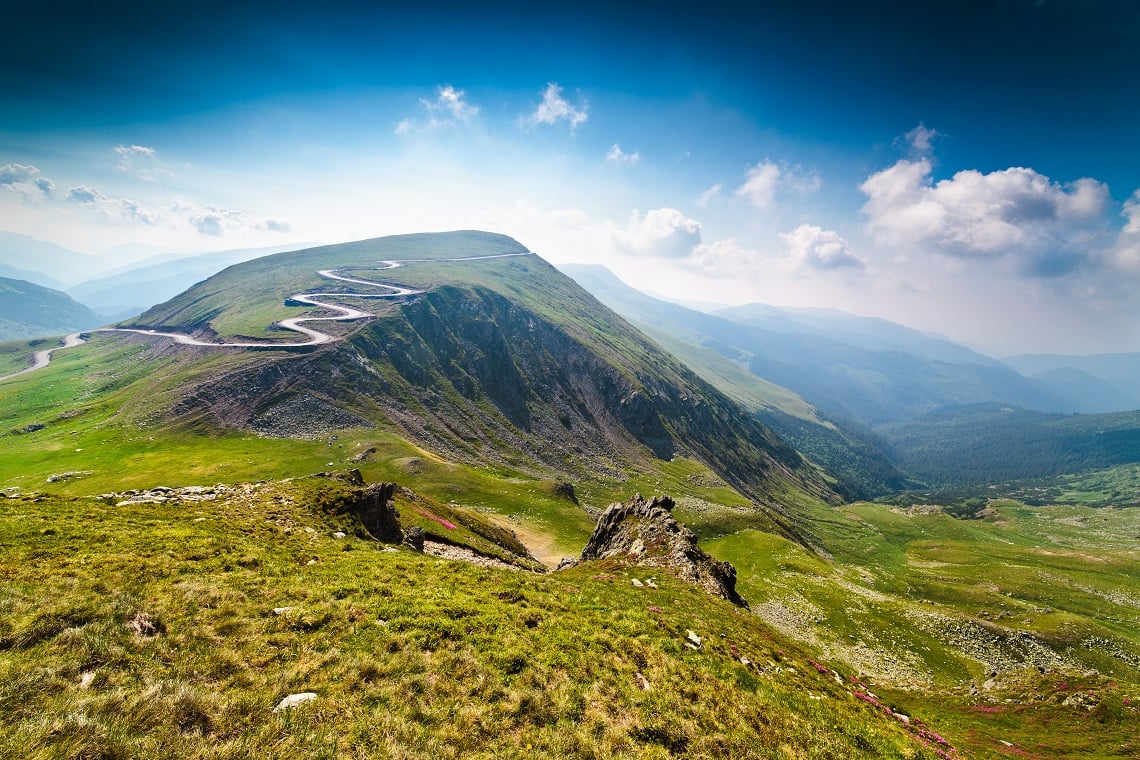 ABR: Which are the best regions to ride, and why? 
FF: Out of all the Romanian regions, Transylvania has the most to offer. Amazing landscapes, the Carpathian Mountains, fortified churches in UNESCO villages, great food and people, culture and history and the best roads to ride that include Transfagarasan and Transalpina. If you are interested in religion and history, Moldova is great for a monastery tour and Maramures is another great area for landscapes and beautiful traditions. 
ABR: Are there any areas I should avoid? 
FF: No, I can't say there are. 
ABR: What are the 'must do' areas and best roads to ride? 
FF: Transylvania is a must-do with cities like Alba Iulia with its Vauban citadel one of a kind in Europe, Cluj Napoca, Sibiu (European Cultural Capital in 2007), Brasov and Bran Castle nearby, and Sighisoara where Dracula was born. Not to miss are famous villages like Biertan and Viscri, with fortified churches and beauty that have convinced Prince Charles to invest in the area to help protect its unspoilt beauty. 
ABR: What's the food like? 
FF: I am Romanian, I can say the food is great! Traditional food is flavourful and delicious and I have not met anyone who disagrees. 
ABR: What else is there to do, other than ride? 
FF: For when you don't ride you can visit beautiful cities or relax in nature, find local events like medieval festivals, concerts, the Red Bull Romaniacs competition or check out the nightlife. Our first Red tour takes us to Sibiu right on time to see the start of Red Bull Romaniacs, the toughest competition in the world.
ABR: What's the benefit of going on a guided tour of Romania rather than touring by yourself? 
FF: Each way of travelling has its own appeal but if you prefer to have someone else dealing with making all the arrangements and sorting out anything that might happen while on tour then going guided is best. Although it is safe and many people speak English, the system is different and what could be best than a native guide for peace of mind.
ABR: How many different tours do you offer?
FF: We continuously customize our tours taking customers' feedback into consideration and for 2015 we have two on-road tours and one off-road. In the on-road tours, we have picked the very best of Transylvania to highlight and compliment the best roads, Transfagarasan and Transalpina. The off-road tour will show you a bit of wilderness in Apuseni, on the western side of Carpathian Mountains.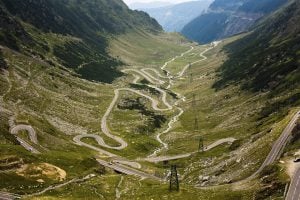 ABR: How long do they last? 
FF: All tours last for six full days, you arrive the day before and depart the day after. 
ABR: What do they include? 
FF: The on-road tours include an IAM (Institute of Advanced Motorists UK) trained tour guide for the whole tour, six days of riding, seven nights accommodation in carefully selected hotels, all breakfasts, lunches and dinners and the accompanying non-alcoholic drinks and entrance to tourist places. 
ABR: What riding abilities are your tours for? 
FF: We request an intermediate or higher level of riding to be able to cope with any situation that might present itself during this adventure. 
ABR: Is there any preparation you need to do in advance of riding Romania? 
FF: Preparations are similar for any riding holiday, you need to make sure your motorcycle is fit and ready and tyres have at least 1.6mm of tread. You must have a European Health Insurance Card (EHIC) in the event that you need medical treatment. You should also check that your insurance covers travelling in Romania, breakdown and repatriation and any hire vehicle required. 
ABR: When is the best time to ride Romania? 
FF: Because riding in Romania wouldn't be complete without riding over Transfagarasan and Transalpina and they are closed over the winter months, the best time to ride is in the summer.
Ferry, along with his partner Mihaela, runs a tour company called Motoride Transylvania (visit www.motoridetransylvania.com). They offer three guided tours, two on-road and one off-road, around the most interesting and exciting areas of Romania.
The Ferry is IAM (Institute of Advanced Motorists UK) trained and the tours are as much about experiencing the culture of the country as they are about riding the best roads on offer. The spectacular Transfagarasan Highway The Carpathian mountains are full of beautiful roads.
---
Romania Motorcycle Tours
While Romania is an incredible riding destination it's just over 1,000 miles from Dover. You can either make that 1,000-mile ride as enjoyable as possible but eat into your time in Romania or you could fly out to Bucharest and book yourself on an organised bike tour. Romania Motorcycle Tours specialises in two-wheeled travel around Romania and Eastern Europe and has a host of adventures around the country that will suit everyone.
You can choose to take part in a guided multi-day tour or, if you'd rather take things at your own pace, there are self-guided options. In either case, for your money, you get use of a bike (either a BMW 1200GS, BMW 650GS or a Suzuki V-Strom 1000), a detailed itinerary, hotel information and all accommodation. 
All tours start from Bucharest, within easy reaching distance of the Henri Coanda International airport, and your transfers are included if you opt to join one of the guided tours. Prices start from €826 for the Romania Motorcycle Tours Carpathian Mountains tour if you ride the 650, €956 for the 1200GS and €768 for the V-Strom 1000. For more information visit www.romaniamotorcycletours.com.
---
Off the beaten track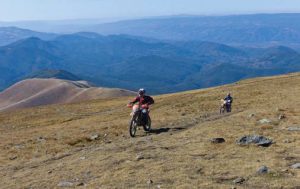 If off-road riding is your thing then Adventuromania has just the trip for you. The company offers guided tours which are suitable for everyone from beginners to experts and, as the routes are 100% off-road, you don't even need to have a motorcycle licence to join the fun.
The Adventuromaia HQ is in southwest Romania in a small village called Brebu Nou. From here ABRs will be treated to roughly 100km of riding per day over varying terrain through the hills and mountains. All of the riding is done on single trails off-road (hence not needing a licence) and the experienced guides will choose the routes based on the technical ability of your group (minimum six riders).
Prices start from £475 for two days of riding to £895 for five days of riding and all accommodation, fuel, bike hire, meals and airport transfers are included. Visit www.adventuromania.co.uk for more info.
---
Vampires and bikes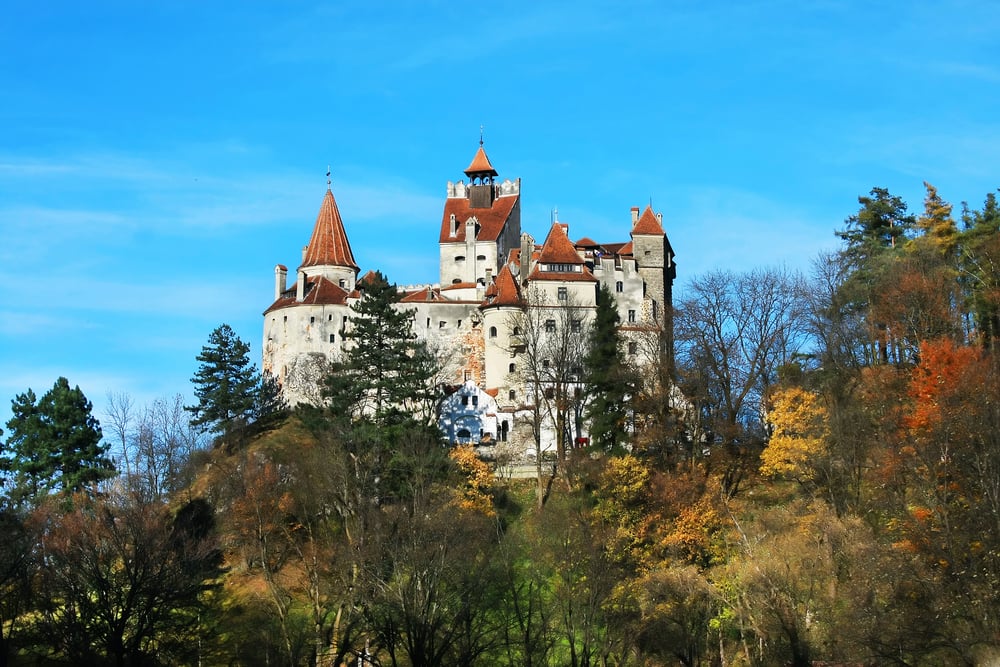 If a trip through the Carpathian Mountains, visiting iconic places like Dracula's Castle, doesn't get your senses tingling then you might be one of the undead too. Ride In Romania offers a 12-day trip through the beautiful mountain range and while on the tour you'll get the chance to learn about Romanian tradition and culture.
The ride starts and finishes in Bucharest and takes in the most spectacular roads and scenery that Romania has to offer, including the famous Transfagarasan Highway and the Transalpina (Romania's highest paved road reaching 2,145m).
You'll have the choice of riding a BMW F650GS, BMW F800GS, BMW R1200GS or the BMW R1200GS LC and prices range from €1,860 (approx £1,447) if you'll be riding the F650GS, to €2,460 (approx £1,913) for the R1200GS LC. Everything but fuel, museum entrance and flights are provided at this cost. Visit www.rideinromania.com for more info.