David Zimmerman recounts his epic assault on Far East Russia's notorious Old Summer Road.
Since the Long Way Round aired in 2004, the Road of Bones in the Russian Far East has become a sought after scalp for adventure riders around the world. Indeed, for myself, riding the Road of Bones has long been an obsession, and in 2014, I rode it when I travelled from Mongolia to Magadan.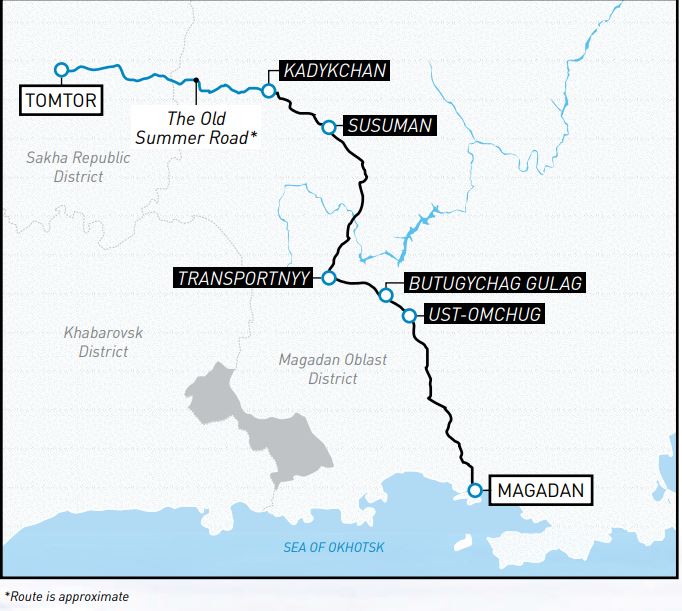 My route took me over the infamous Western BAM, and then on to the M56 Kolyma Highway, the official name for the Road of Bones. Unfortunately, I had to bypass the most interesting and challenging section, known as the Old Summer Road because the rivers were not crossable by motorcycle in August. 
After returning home I decided that I would return to Russia to ride the elusive road, and it all started with an invitation from my friends in Magadan. First I thought about spending one week there, and then all of a sudden I was shipping my bike from Moscow to Magadan with big plans in mind.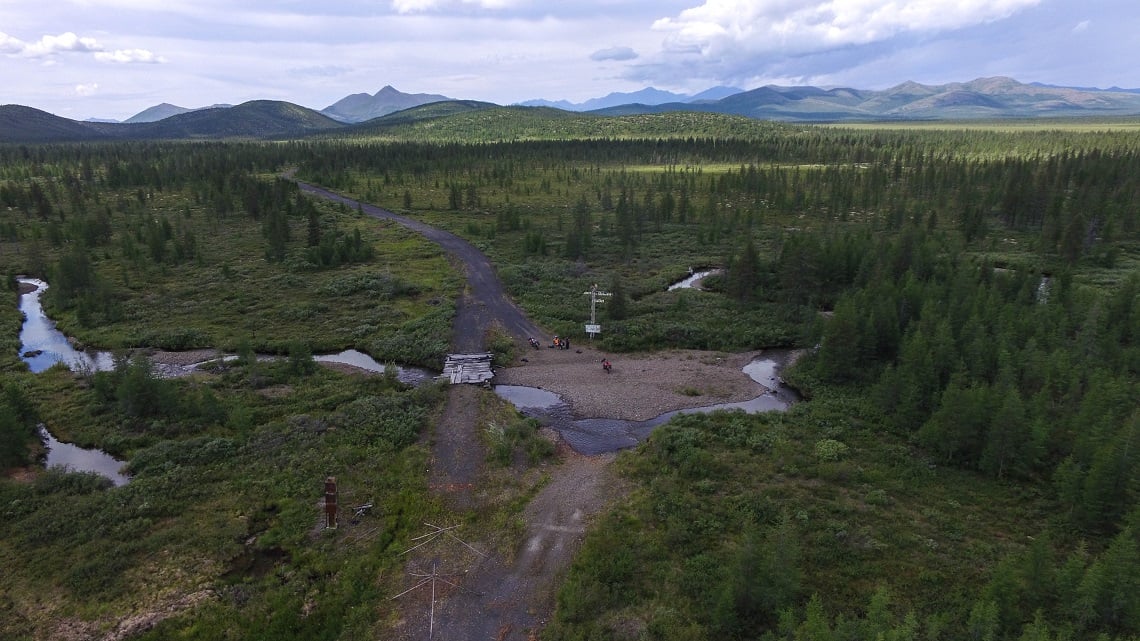 My friend Uwe, with whom I did the first trip two years ago, was riding from Sweden to Magadan, and so we agreed to meet there and ride the Old Summer Road together. After conquering that we'd head to the Western BAM again and attempt the 110 zimnik (winter road) on the eastern shores of Lake Baikal. As you will soon discover, things would not exactly go to plan, but I guess that's why we call it adventure riding. 
Stuck in Magadan
My plane landed four hours late in Magadan, but fortunately my friends Pavel and Sasha hung around to wait for me. They introduced me to the town on a proper Russian lad's night out. It always starts with a Banya (Russian sauna), some food and some vodka, then a proper restaurant (always the same one) with more food and more vodka, and finally nightclubs, with even more food and much more vodka.
It takes a certain constitution to survive this, but considering I'm Swiss and not Russian, I didn't manage too badly, I must say. Maybe it's because I didn't drink half as much as them.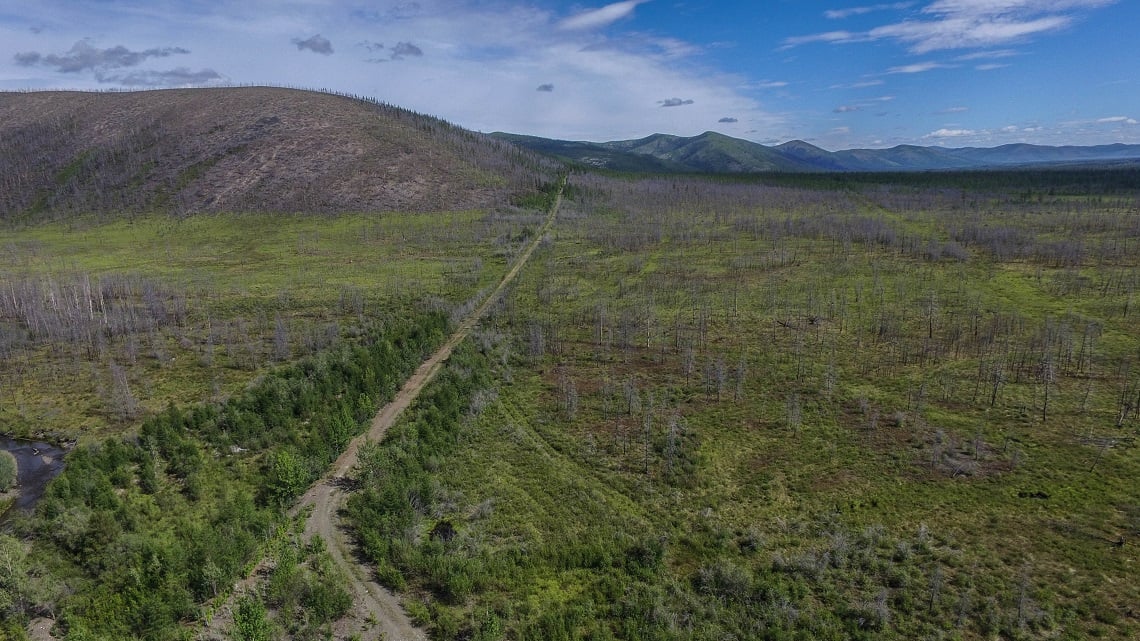 In the Russian Far East, the summer is short and often very wet. Unfortunately for me, this year was no exception. Rain every day, clouds and temperature bearly over 12C. But that was just the beginning. 
Firstly, I heard from Adrian, a friend riding from Romania to Magadan, that the federal road between Ust Nera and Magadan was cut. A whole section had been washed out by the river after heavy rain. He was stuck there with other riders for several days until some locals organised a crossing with little boats.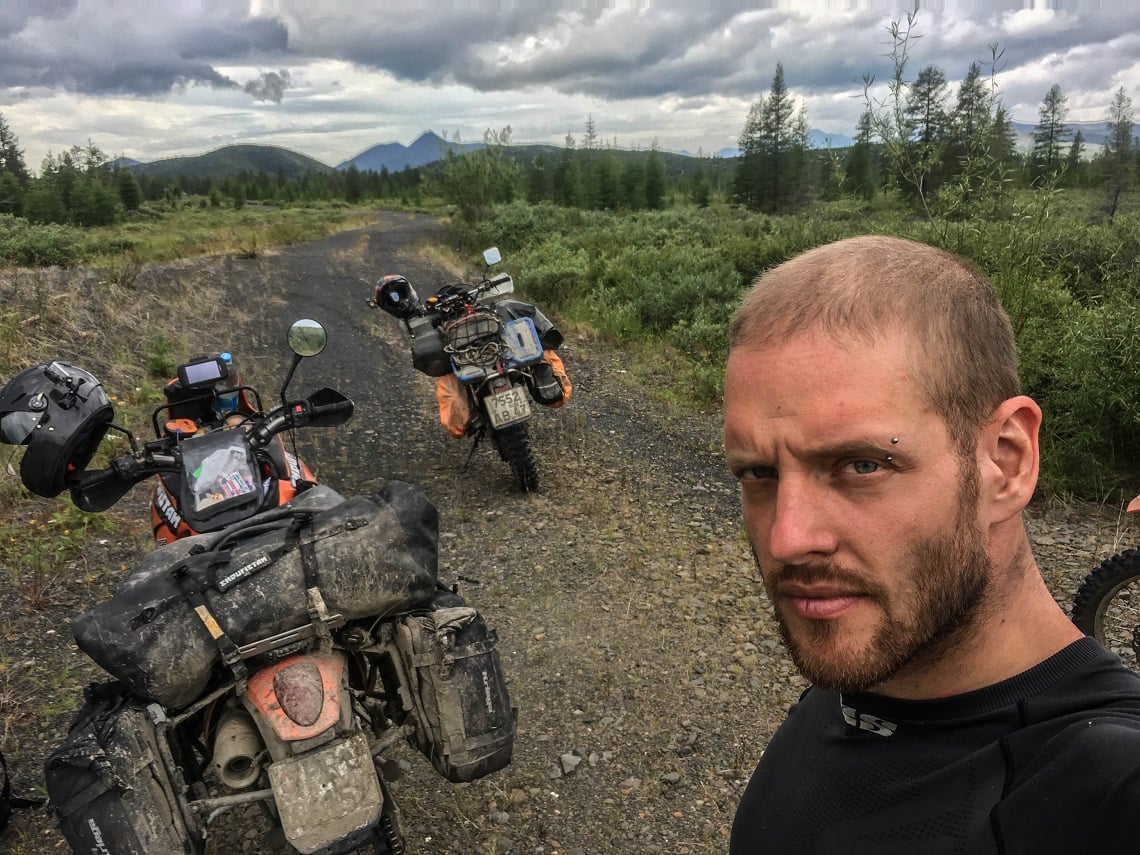 On top of that, I got bad news from my friend Uwe who had teamed up with Adrian in Yakutsk and was supposed to join me in a few days to start the trip together. He broke his rear hub and had to get his bike transported back to Yakutsk. The damage was beyond repair, even for a Russian mechanic and that was the end of the trip for him. 
So now, all of a sudden my plans had fallen apart. The new federal road was closed until further notice because of the damage and riding the Old Summer Road alone was out of question.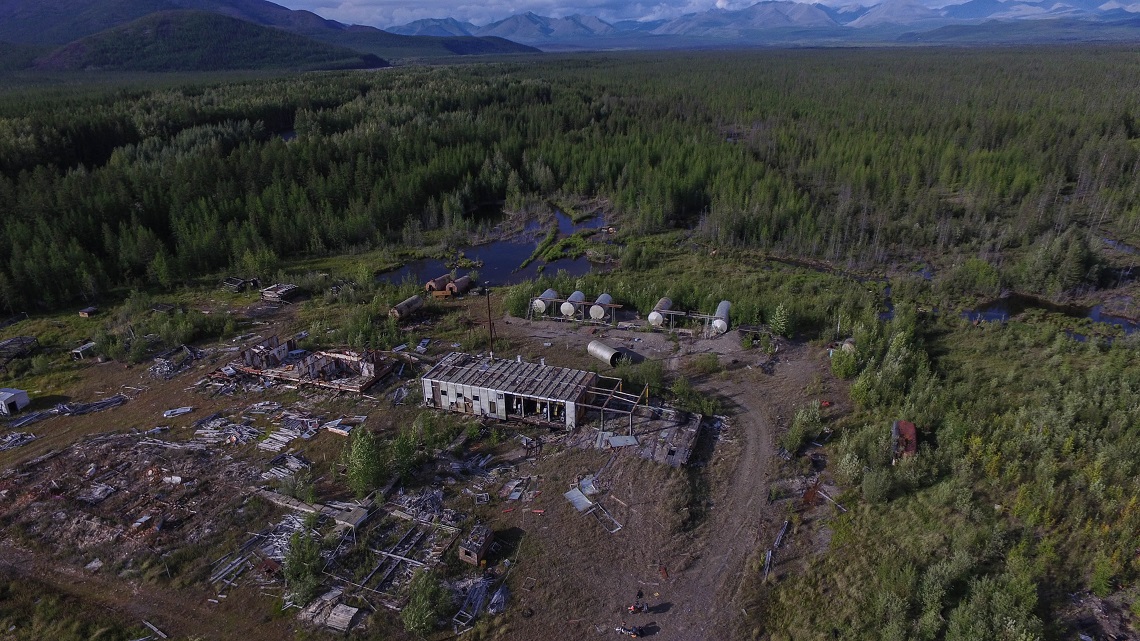 I waited a few days more, trying to figure out what to do, spending the evenings drinking with my friends and tasting caviare and great food. I even went on a fishing trip for the first time in my life. 
When Adrian finally made it to Magadan luck struck back when we went out to meet the two Russian bikers who he had travelled with from Yakutsk. With them were half a dozen other guys, mostly locals.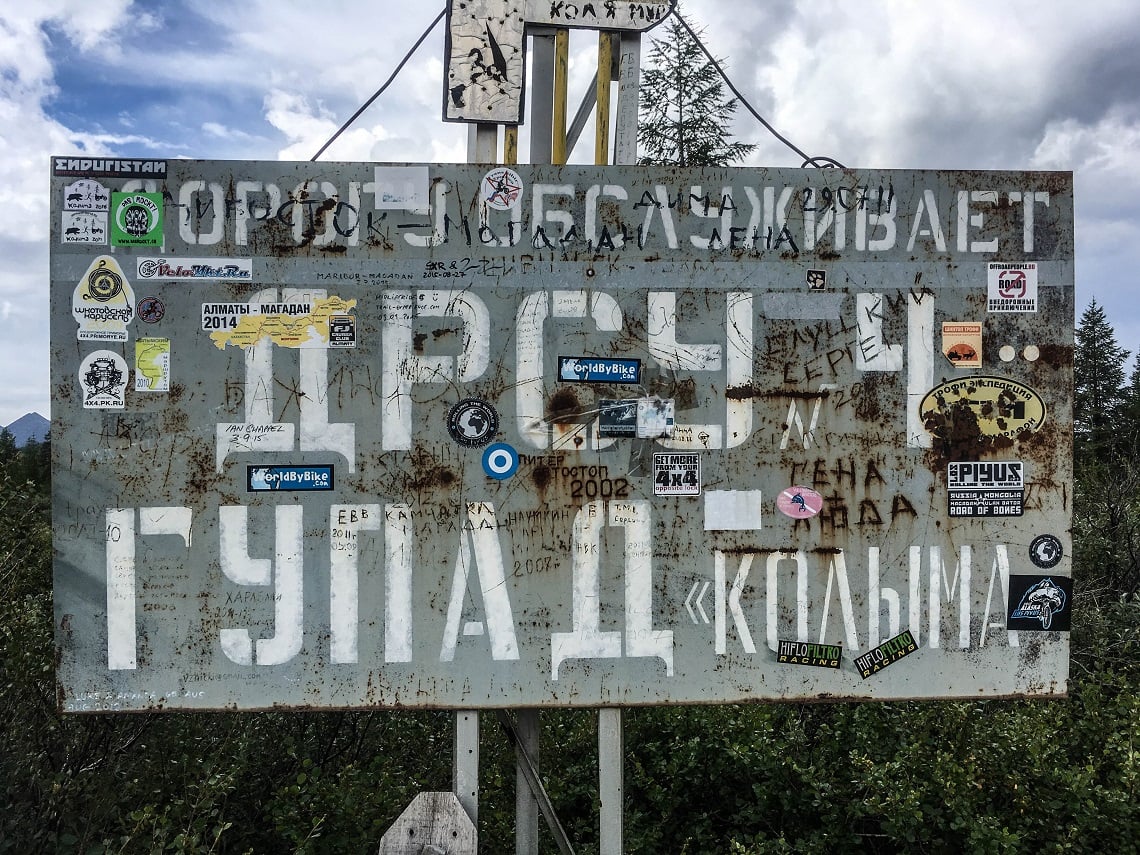 Destiny, or call it chance, put me on the same table as two guys, Misha, from Saint Petersburg, and Dima, from Belarus, that had the same plans as me. 
They arrived on their own in Magadan last year, met in the city and decided to leave their bikes here and come back the next year to travel together. After the Old Summer Road, they were planning to ride the Eastern BAM and end their trip on Sakhalin Island. We decided that we would ride together. 
The Tenkinskaya Trakt and the Butugychag Gulag 
Misha and Dima arrived one hour late, with a third biker who they had partied with last night, another Dima, travelling on his own from Blagoveshchensk. 
The 370-mile federal dirt road between Magadan and Susuman is a busy and terribly dusty road, where fatal accidents are common because people overtake at high speed without any visibility. There is an alternative track going south of the M56 Kolyma, the Tenkinskaya Trakt. 
The Tenkinskaya Trakt, which goes through half-abandoned settlements like Ust-Omchug and Transportni, is a surprisingly well maintained and pleasant dirt track. Travellers don't usually ride it because it's not part of the Road of Bones, but having ridden both, this section is actually much more interesting to explore. We hardly met anybody, and even had to wake up the woman at the petrol station in Ust-Omchug to fill our tanks.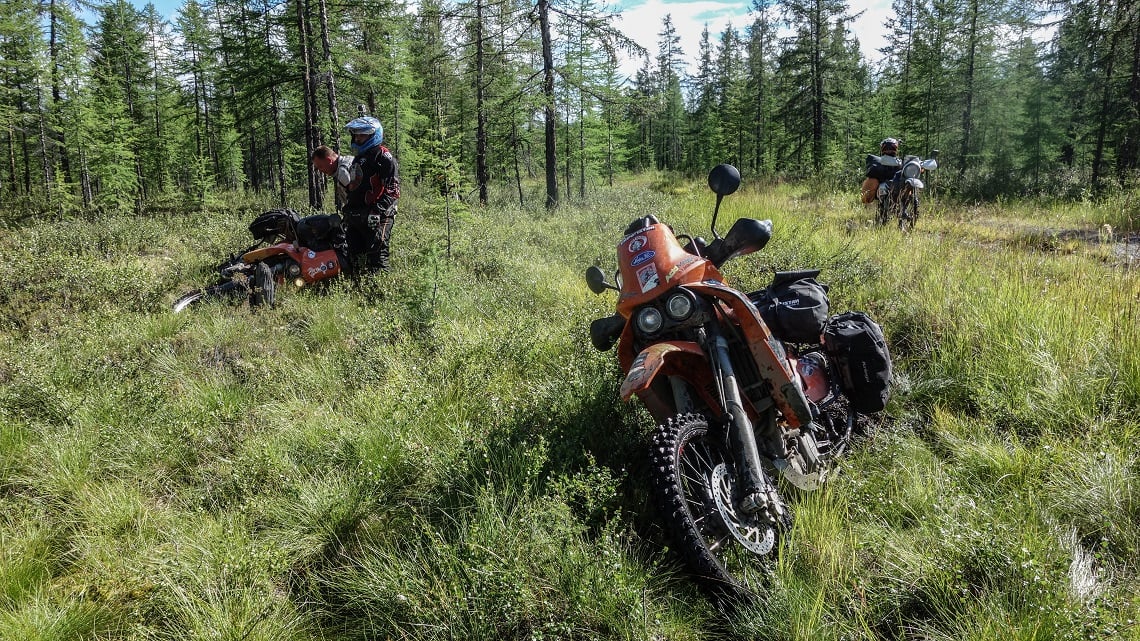 On the first night, we camped on the roadside, 25 miles from Ust-Omchug, just in front of a little yellow sign saying that we were entering a radioactive area and that water should not be consumed on any occasion. 
We planned to visit the Butugychag Gulag, and Without GPS coordinates, we would never have found the track going towards it. The turn off from the main road is not indicated and is almost invisible. 
During the Stalin era, the Kolyma region was home to hundreds of forced labour camps, mostly mines, and this one is said to be one of the worst. From 1945 to 1955, prisoners mined uranium here, with no protection whatsoever. Life expectancy was counted in months. During winter, the temperature would go as low as -60C. There is very little information about this gulag, even in Russian.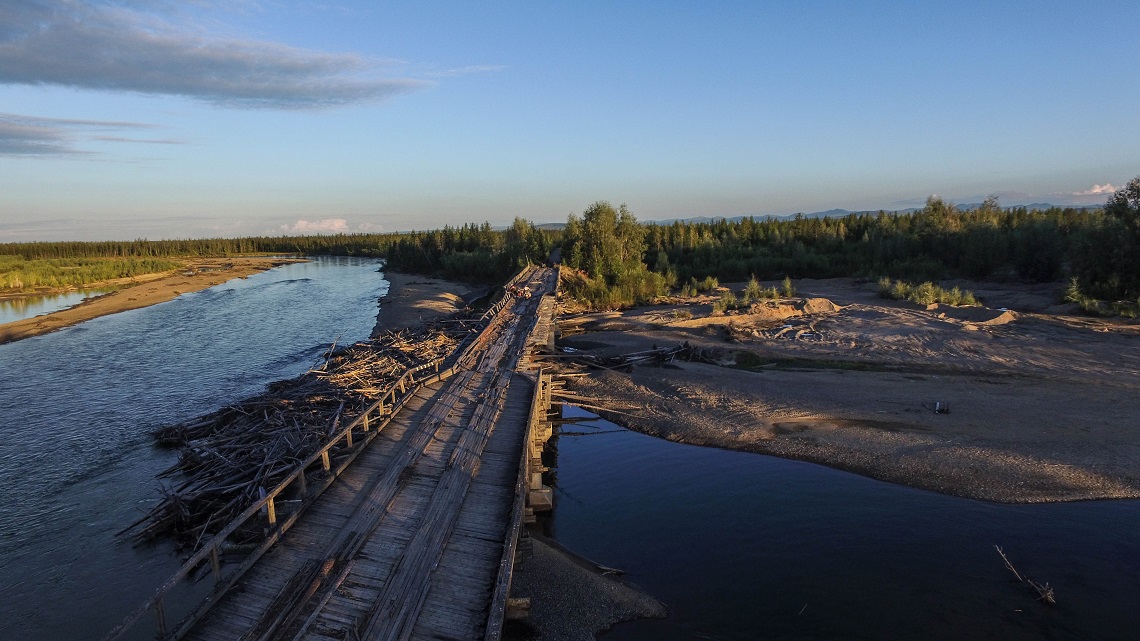 The next morning, we headed toward the camp. The five-mile-long track was quite challenging, having been abandoned for more than 60 years. Trees grew everywhere on the track and mud and big stones made progress difficult. When we got to what used to be the uranium factory, we had to leave the bikes and continue by foot, walking on huge stones in the middle of a river. 
From this point on, there was not even a track left to follow. Misha had a sketch of the camp, and it seemed that it was covering a huge area. It started to rain heavily and after hardly progressing for over an hour we decided to head back. The area was just too big to explore in such a short time. 
We saw some rusty shovels, railway tracks, building ruins, the rest of a jail and heap of shoes. It's hard to imagine what really happened here now that everything is gone. 
Once we were back at the uranium factory, the rain stopped and I was able to take some nice footage with my drone, especially from the radioactive sand dunes, where even my Russian friends wouldn't go. 
Susuman: Getting ready for the Old Summer Road 
We made it to Susuman the same day, late in the evening. The last 180 miles of the Tenkinskaya Trakt was a great ride with some of the nicest landscape I've seen in the region, especially on the pass. I even saw three wolves on the side of the road, first thinking they were dogs until I realized that they didn't run at my wheels like dogs usually do in Russia. 
Susuman, like most cities in the Kolyma region, looks like some post-nuclear war city from a movie. Half of the buildings are falling apart and most factories are abandoned. It's hard to imagine how people can live here. 
Dima had a contact here from his way to Magadan. He called Nikolai, one of the few local bikers, who hosted us for free in his garage. It was funny to see that he had a chopper, despite living in a region where there are no paved roads at all. Some instant noodles and a few shots of vodka later, and we were asleep shortly before midnight.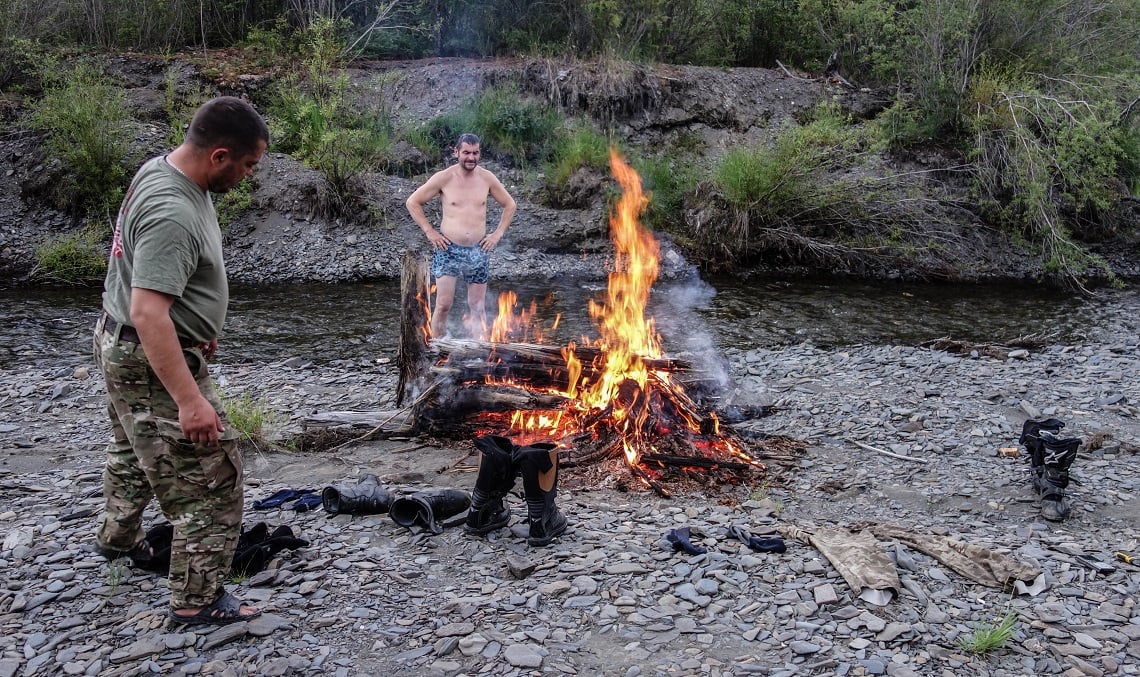 About 20 years ago, Nikolai had been working on the 'cable', a kind of phone line between Tomtor and Magadan. When we told him about our plan to ride the Old Summer Road, he strongly advised us not to do it. He said that it would be impossible. All the bridges were rotten and the rivers would be wide and impossible to cross. On top of that, the area is known to be home of many bears. 
The following day we prepared for our assault of the road by buying enough cans and instant noodles to survive at least one week, cigarettes, beers and chocolate. We also bought four tubes from an Uazik (Russian vehicle manufacturer) truck, in case we had to build a raft to cross the rivers. 
After filling our tanks and taking an extra 25-litres of fuel in canisters we were finally ready to go. From here on, we would not have any phone coverage before reaching to city of Tomtor. 
On the way, we stopped in the ghost town of Kadykchan, a place I visited two years ago that fascinated me. This city was built by gulag prisoners and used to be home of over 9,000 people until the end of the '80s. The coal mines were completely shut in 1996 after an accident, and almost everybody left the city. It is said that some inhabitants stayed there until 2010, without heating nor running water. 
The Old Summer Road
When we left Kadykchan and took the turning toward the Old Summer Road it was already 5 pm. There was no sign or indication, just a track. We were lucky that we were riding near the Arctic Circle, days are pretty long and on top of that we had perfect weather. 
The first broken bridge came shortly after. The Arkagala River was big. At first, we didn't know if we would be able to cross it, and it took us a while to figure out where to do it. In some places, the water was thigh high and it wouldn't have been possible to cross with the engine on, because the airbox would have been submerged. Eventually, we found a longer, but shallower place and successfully forded our first river.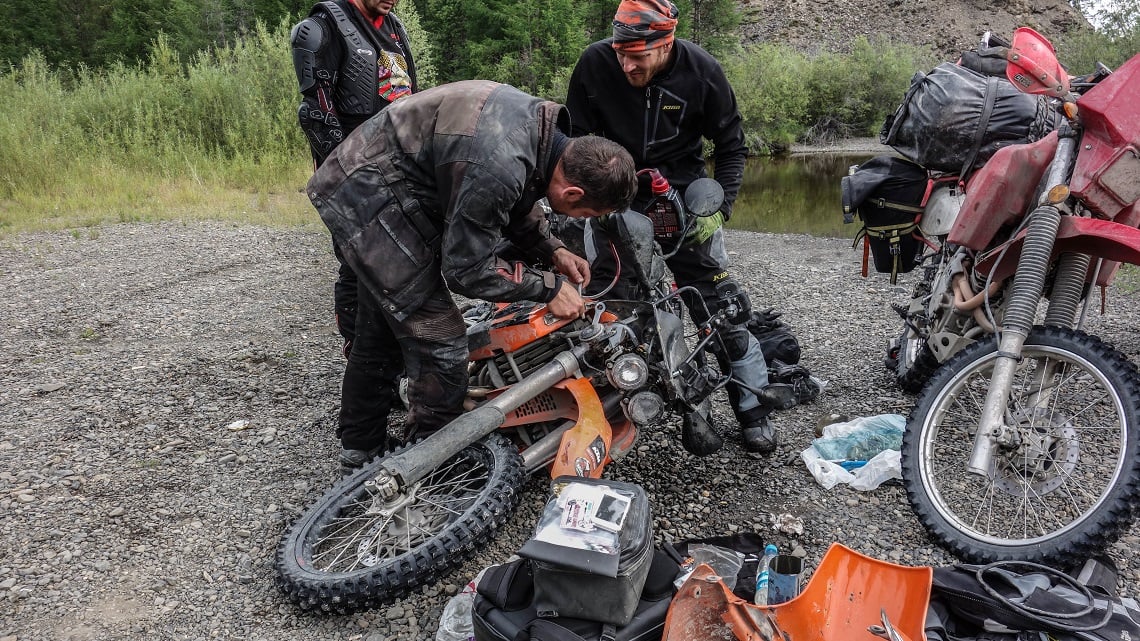 We set up camp on the banks of the next river and started to prepare dinner. I was happy to count on my Russian friends as I always travel without any cooking gear to save weight and space. They were carrying everything you can imagine, except a microwave. Misha even had a small radio and we listened to some Russian bands while eating and drinking a homemade alcohol called Samagon. It contains up to 70% alcohol and makes vodka look like a soft drink. 
As they were having a wash in the river, I thought that it would be a good idea to join them, until I was butt naked and I had one foot in the water. My heart stopped beating and I almost froze alive. How on earth can they bathe in this water? At that moment, I finally understood that we are not made from the same mould, Russians and us. I put my clothes back on again. I'd rather stink a few days than freeze my ass in this water while being eaten alive by mosquitos.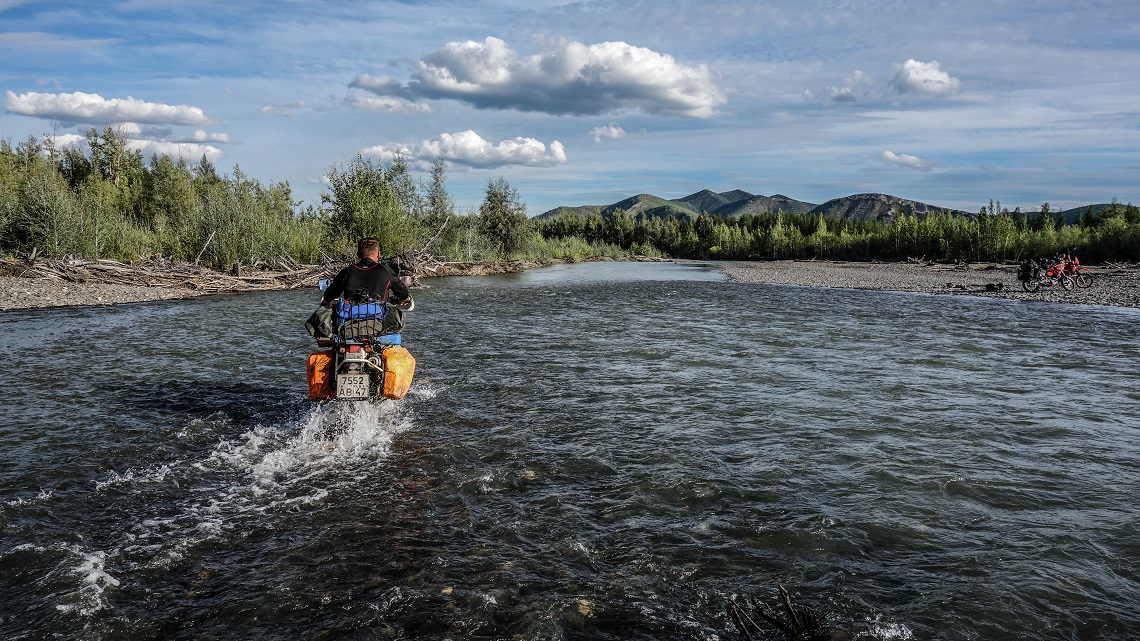 We woke up the following morning to nice weather and blue skies. My travel companions might be heroes when it comes to cold water, but in the morning they are slower than sloths. First, they need a cup of tea. Then, warm food, a cigarette, a shot of Samagon and, after an eternity of packing their stuff, a last cigarette before leaving. 
I was leading the group and riding with confidence until I crossed a river without checking my line. When my engine stalled and I felt water up to my balls, I knew that I had fucked up. We lost two hours draining my engine, changing oil and filters and on top of that I felt really stupid, but the guys didn't mention it.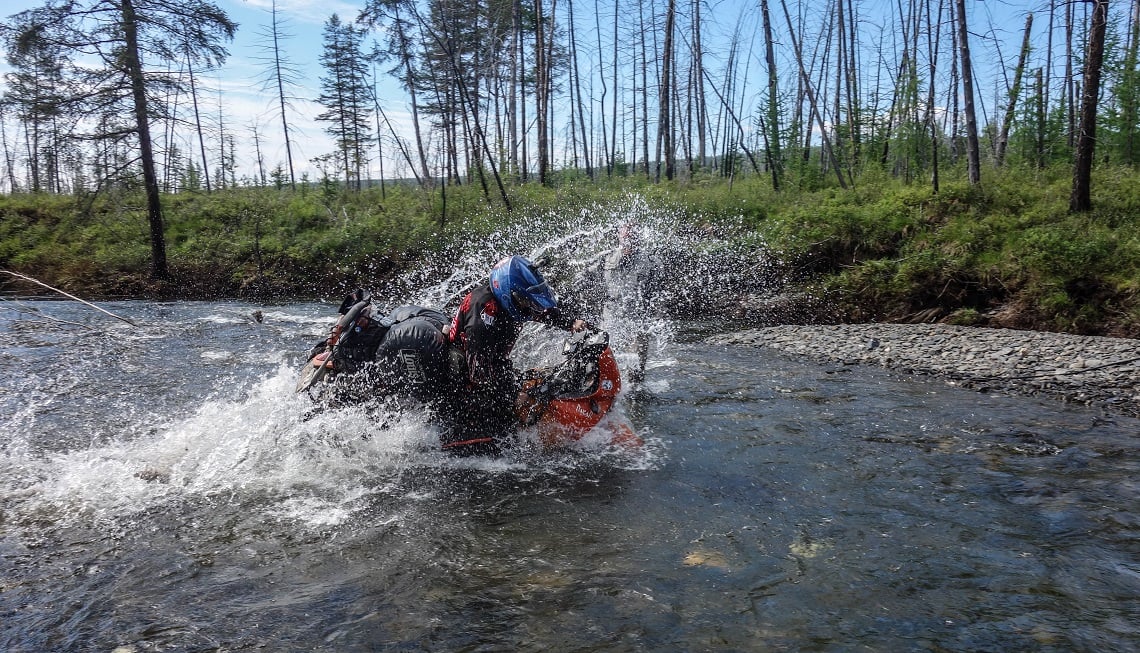 Back on the road, the ride was becoming more challenging by the mile. In some places, whole sections of the track had disappeared and we had to go back and cross the river to find another way to get back onto the road. 
For us, the biggest difficulty was the bogs. It was impossible to know how deep they were without stopping and walking through first. At first, we did it, but then we got bored because there were just hundreds of them. We started trying to take the sides, but sometimes it was even worse because the soil was like a swamp. As there were four of us, we were all put to use getting the bikes out of the mud when we got stuck, and it happened again and again.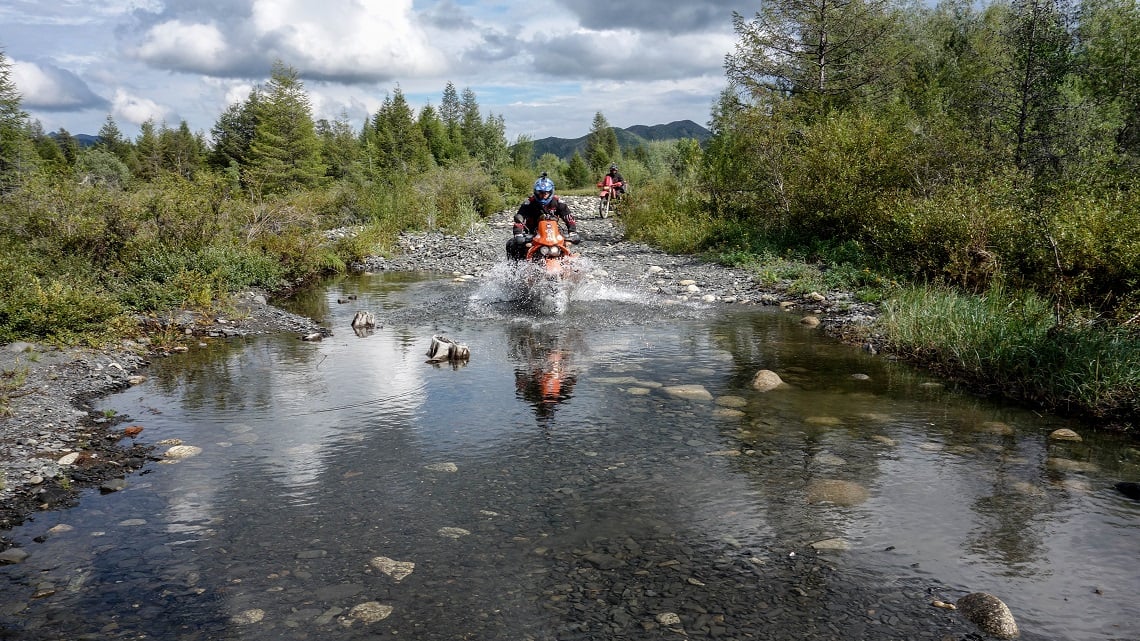 On one occasion Misha tried so hard to get out by himself that he burnt his clutch. He couldn't ride his bike anymore. We had to attach it to Dima's XR600 with a rope and pull him for several miles until we stopped on the side of a bigger river where we decided to set up camp for the night and try to fix his bike. 
As far as I knew, there was no way to save a fried clutch. With over 100 miles still to go until Tomtor, and about the same to go back, it would be terrible if we had to pull his bike all the way. 
While the guys were ready to open the engine cover to have a look at the clutch I realised that there was absolutely no play in the lever. So first, we adjusted the cable correctly and the little Suzuki Djebel was running again without problem! What a relief! Today we had two problems that could have put an end to our trip, but we were still in the game.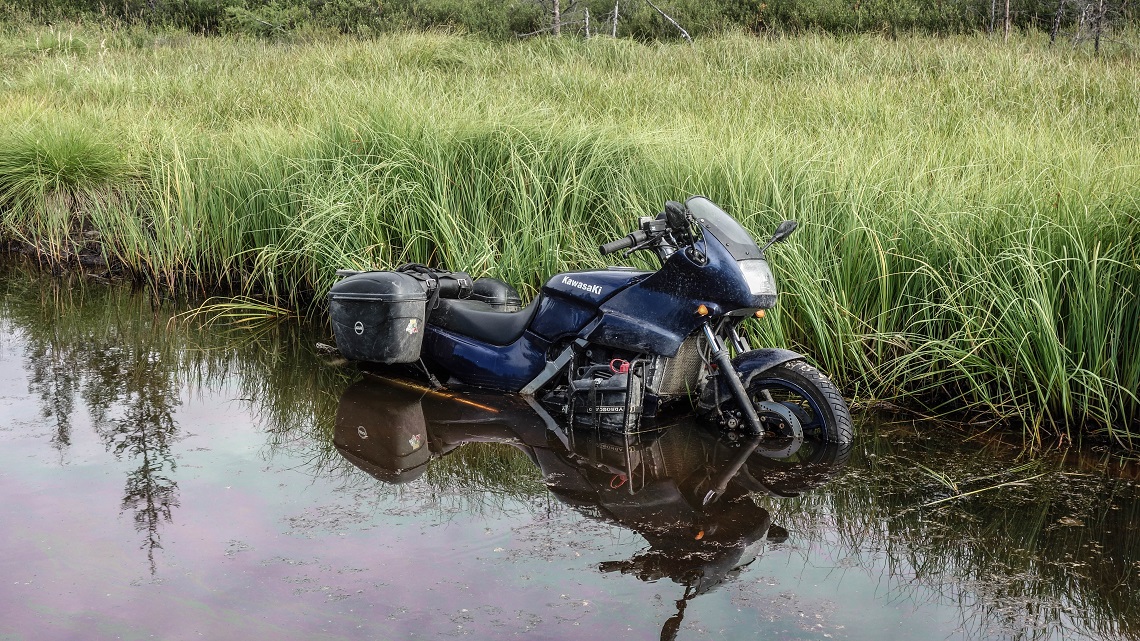 This little teamwork victory was celebrated with some Samagon and instant noodles with meat cans, our usual dinner. I was carrying most of the food and was happy to see my luggage getting lighter day after day. 
When we would run out of Samagon, there would always be another bottle in Dima's luggage. They call themselves 'Alcotourists', and Dima even has a logo on his riding gear, '>1% rider'. 
On many occasion, we saw bear poo and pawprints on the road. To try to keep them away from the camp, we made a huge fire close to our tents and we all had safety flares. I'm not sure whether it would have been helpful if a bear showed up, but at least I felt safer with it. 
I found that the biggest difficulty of riding the Old Summer Road was psychological, always wondering what would be next, and how much further we could go. On our GPS track, we had dozens of river crossings indicated, and we knew that each one could mean the end of the trip if it was too deep. We knew as well that there would be a non-return point, where we couldn't go back because our fuel reserves wouldn't last. 
The following day saw some of the hardest riding so far. It took us two or three hours to complete the first 10 miles. Around 85 miles from Tomtor, we ran into the weirdest thing I could have imagined on this road. We found a Kawasaki GPZ in the middle of a bog. A street bike with road tyres! 
All the riding gear was left on the side of the road. The bike had a Lithuanian plate and as it turned out, Dima had met the guy on his way to Magadan about two weeks ago. What a coincidence!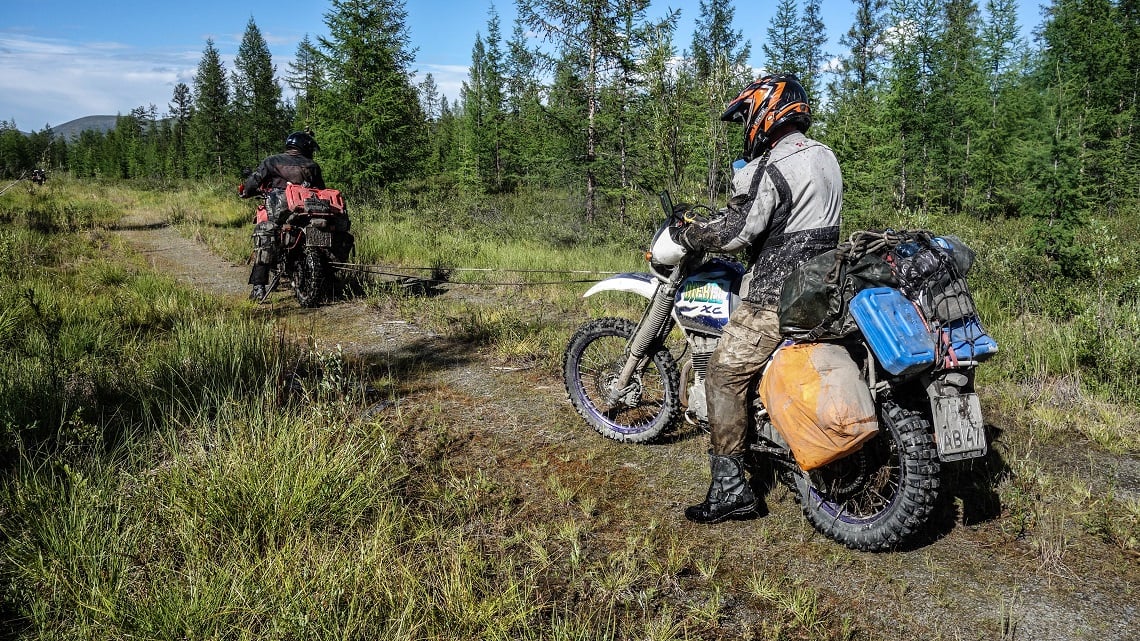 We had no idea how long this bike had been stuck here, and we assumed that he must have been walking back in the direction of Tomtor. While we were really worried about him, the presence of his bike was good news for us. If he had managed to get here on this bike, no matter how good a rider he is, we would surely make it to Tomtor with ease. 
The road began to get better, especially as we entered the Oymyakon district. The old rusty sign was still there, with a few stickers from previous adventure riders. After putting ours on it and stopping for lunch we went on. 
There were still a few tricky river crossings to negotiate, and in one of them, Dima slipped and drowned his Honda. We had to change the oil and filter, like we did with mine. About 60 miles from Tomtor the track was getting much better. We reached Tomtor in the beginning of the evening, dirty, exhausted but really happy. 
We were the first of the year to complete the Old Summer Road, but more important than that was the fact that we did it! 
Of course, I have to admit that a big part of the success has to do with the weather. It was warm and dry, the rivers were low; we couldn't have dreamed of better conditions. I can't even imagine how the road would have been if it had been raining. 
We found a guesthouse in the middle of Tomtor. Our hosts invited us to use the wooden heated banya while they prepared dinner for us. There was no running water, but what a pleasure it was to have a banya, and to finally have a warm shower with a bucket of wooden heater water. 
Bad News… 
In such a moment, what could possibly go wrong? Well, before long I was hit with the realisation that my waist wallet containing all my documents (passport, motorcycle registration, border crossing documents, money) was missing. I opened every pocket and searched all of my bags several times. I must have lost them somewhere on the road. 
Needless to say that the celebration of our accomplishment had a bitter after-taste for me. Our host prepared plenty of tasty Yaku – tian food, and Dima, short of Samagon, opened his last bottle. It was called Sprit, and it's a 100% alcohol he mixed with water. 
The next day we went to the only policeman in town, who usually doesn't work during the weekend, who agreed to talk to us about the missing guy. He hadn't heard anything about him, and he didn't want to fill in a document about the loss of my papers either. 
It was already too late for me to go back to look for my waist wallet, so I went with the guys to Oymyakon, 25 miles from Tom – tor, known as the coldest inhabited place on Earth. The temperature in Oymyakon reached -71.2C in 1924. Apart from a monument, there's nothing interesting to see there. It was somehow strange to stand in the coldest inhabited placed on Earth, sweating in our motorcycle gear, with a temperature over 30C.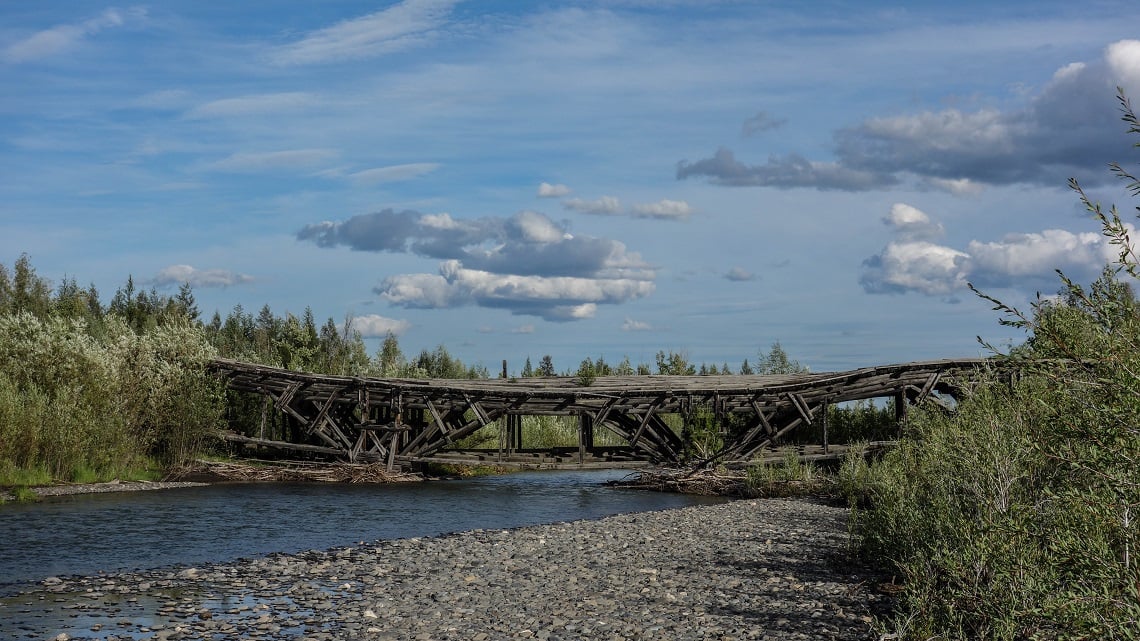 The following day, the guys left towards Khandyga to continue their long trip to Sakhalin. I decided to go back alone, as far as I safely could, to try and find my documents. I left all my gear in the guest house and drew back almost 60 miles without finding anything. The bike was light and I already knew the track, so I could ride faster and I didn't stop once. I had the best day riding from my whole trip, a real blast! 
After having to wait two more days for the only bank in Tomtor to open, I left my great hosts, Susanna and Sacha, and went on toward Khandyga. The other half of the Old Summer Road from Tomtor until the turning for the federal road proved easy going, with only two river crossings.
It was also a relief to see that the two largest rivers had recently had new bridges built over them. Honestly, I was so happy not to have to cross the Kyubeme river on my own. It was huge! 
The federal road has improved a lot since 2014, but it was still dusty as hell and full of trucks. In Khandyga I struggled to find a place to sleep. The next morning, after losing two hours for nothing at the police station, I went on under heavy rain. I felt totally depressed.
The federal road became a nightmare, slippery and muddy as hell. At some point, I was riding under 20mph in 20cm deep truck ruts, and when I finally reached the ferry crossing over the Aldan river, I had to wait for four hours. 
At 10 pm, I was still some 60 miles from the second ferry to cross the Lena river towards Yakutsk. I wouldn't make it. In a village, I asked around and I found a lady that accepted to host me for the night in her house. She even prepared dinner for me.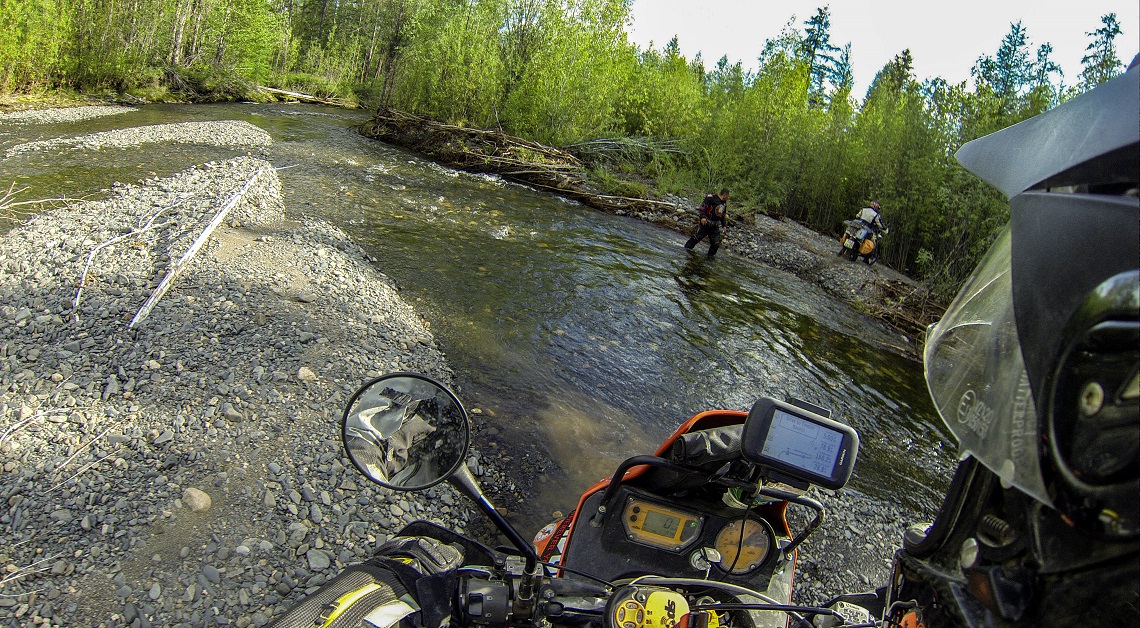 Once in Yakutsk, I managed to find a police station. I had to write a deposition in Russian with the help of a gorgeous policewoman who would fill the form for me because my Russian writing is pretty bad. Then, I contacted the Swiss embassy and started to organize myself in case I needed to fly home.
The big question was what to do with the bike? Sasha, a cool biker I met here two years ago, told me they could keep it in their club garage. I was glad to see him and his friend, Andrey again. 
Thanks to Facebook, I knew that a group of six Irish guys (one car and five bikes) would soon attempt the Old Summer Road as well. I sent them the coordinates of our last camp, where I thought I lost my wallet, and they told me they would keep an eye open for me. 
The Final Rush 
After six days, I got the message that I had hoped for from the Irish guys. They found my documents and had just arrived in Tomtor! Unbelievable! In three days they would be in Yakutsk. 
I just spent one short evening with them and the local bikers eating in an Uzbek restaurant. at was the first time in three weeks spoke in English. 
After having spent seven days in Yakutsk it was time to move on, and quickly. 
I had to be back at work in a few days and had more than 2,200 miles to go. I took the quickest way I knew. I made it to Ulan Ude, where I contacted Ivan, a friend I met there five years ago, and he arranged a place to store my bike until next year. I finally got it all sorted at 11 pm the day before my flight home! 
What happened to the others? 
Through Vkontakte (the Russian Facebook) we found the Lithuanian guy. He was safe. After getting his bike stuck in the bog, he continued by foot for three days until he reached the federal road and hitchhiked to Magadan, from where he flew home. What an incredible story! 
My travel mates were not so lucky. On their way to Tynda, Dima's KTM 640 started to leak oil from a crack in the frame. He already had a leak at the beginning of the trip, but now it was impossible to continue. He had to put it on the train to Moscow and fly home.
The other Dima managed the ride home to Blagoveshchensk but his XR650 was about to blow up as well. Misha, on his little Djebel 250, made it to Sakhalin as initially planned, but took the Trans Siberian highway instead of the Eastern BAM. 
The Irish, English and German guys had a story of their own. Initially thinking about doing the 110 as well, they had to give up even before starting the BAM. One guy broke his leg and the other his front rim and his rear damper. They had a lot of troubles with the car as well. Shortly after they completed the OSR, the weather changed and it began to rain again.
---
The Bike
I rode a 2004 KTM 640 Adventure, with 28,000 miles on the clock. I chose this bike for the first ride in 2014 because it's the lightest adventure bike on the market (160kg) that comes with proper off-road suspension, a 25-litre tank, a reliable engine and good carrying capacity.
I'm using Kriega Overlander 60 soft bags, which in my opinion is the best system on the market, an Enduristan Sandstrom PackSack and Enduristan Sandstorm 2H tank bag. The bike is almost stock. I removed one of the brake discs on the front and replaced the clutch slave cylinder (the original is a weak point). 
On this trip the only problem I had with the bike was a broken mirror and broken centre stand when my bike fell over while parked. I could get all of this fixed for a few pounds.
---
Want to ride the old summer road?
Shipping my bike from Moscow to Magadan took approximately six weeks and cost me around €400 (£350), crate included. The price depends on the volume and weight of your motorcycle.
The company Avia Partners can ship from and to Magadan by plane as well. Website: www.avia-partner.ru. Oleg Abdulov: +7 914 852 25 22 (he speaks perfect English)