In an effort to revisit his youth, John Norris heads to an icy, snowy Snowdonia to attend Britain's longest-running motorcycle rally, the Dragon Rally.
Three hours on the road and I am riding through the Brecon Beacons in falling snow on a bitterly cold February morning. I'm alert and concentrating hard. The fact that I am riding a very new motorcycle helps me focus.
Well, when I say 'new' it's fairer to say 'recently new to me'… it's actually 20 years old but it has survived those two decades without a scratch. It's a feat aided no doubt by the meagre 33,000 dry-weather miles showing on the clock.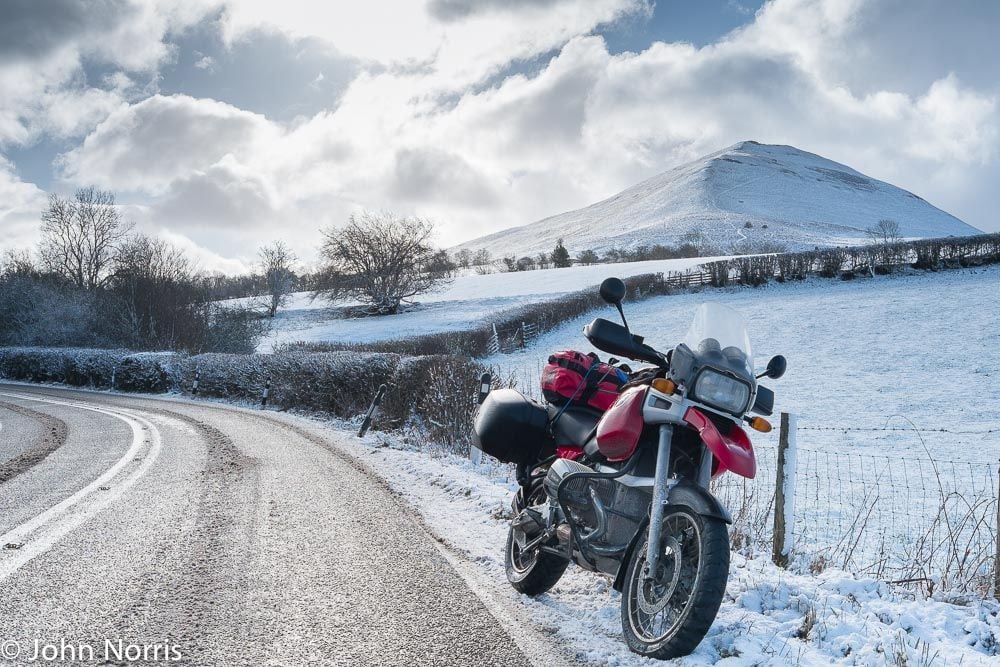 How does a great bike like this only get used an average of a mere 1,650 miles per year? Under my ownership, however, it is now blathered in grimy salt and snowy slush with the potential in the current weather conditions of getting freshly bent!
The reason I am risking my lovely new-old GS 1100 and perhaps my own general well-being is because, for the first time since circa 1983, I'm heading off to the infamous Dragon Rally, Britain's longest-running bike rally established in 1962.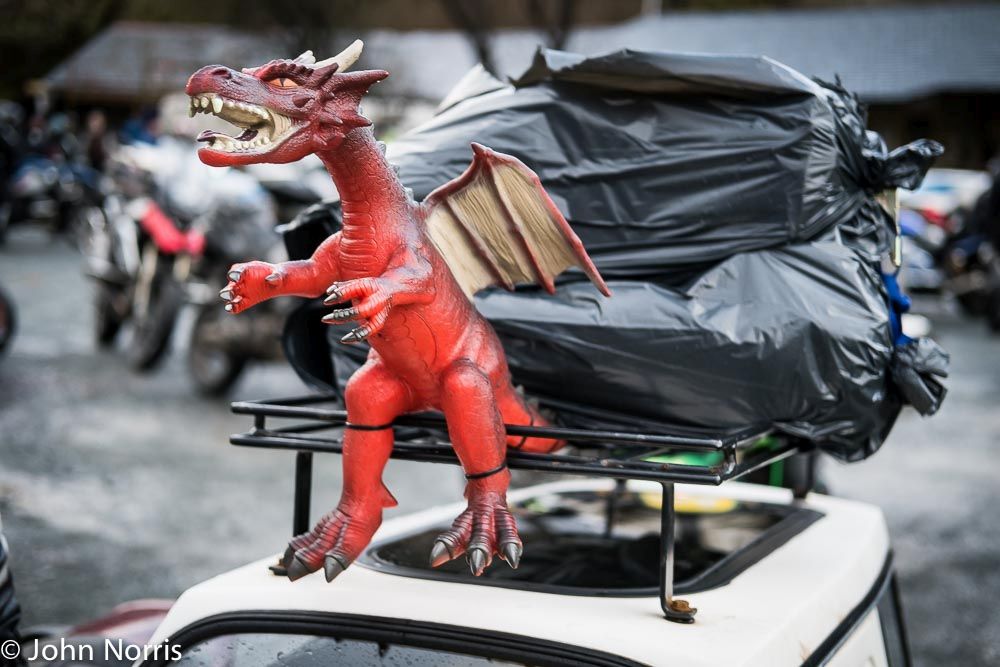 I stopped going to this legendary event because I emigrated to France or, perhaps I left the country so I wouldn't have to go to the Dragon any more? In either case, it seems I couldn't stay away indefinitely.
Of course, you have lots of time to think about stuff on a long ride and my mind on this journey (when not too occupied with thoughts of survival or the next brew stop), was drifting back through the years to a time when I and my group of mates would ride to bike rallies all over Britain with nothing but a bacon butty, a piss-up in a noisy muddy marquee and the night in a cheap, leaky tent at the end of the ride for our trouble.
Like any youth that grew up in a small Lancashire village in the 1970s, priority number one was: 'when and by what means can I escape?' The answer to my yearning came in the un-promising form of a 50cc Puch Maxi moped.
It cost £40 and within a few days of ownership, I was familiar with the art of pedalling, pushing and also the inside of a temperamental carburettor. With this in mind, in retrospect it seems fairly bold that I set off for the Lake District's Kirkstone Pass, a distance of some 35 miles bearing in mind that Cumbria is not flat.
Having successfully topped out on the famous Lakeland pass many hours later (aided by no small amount of pedal power), it was evident I had to upgrade as soon as my financial situation improved. Fast forward a couple of years and I was riding to bike race meetings on a succession of Yamaha's pokey little RD two strokes and, as soon as I was armed with a full licence, on bigger bikes.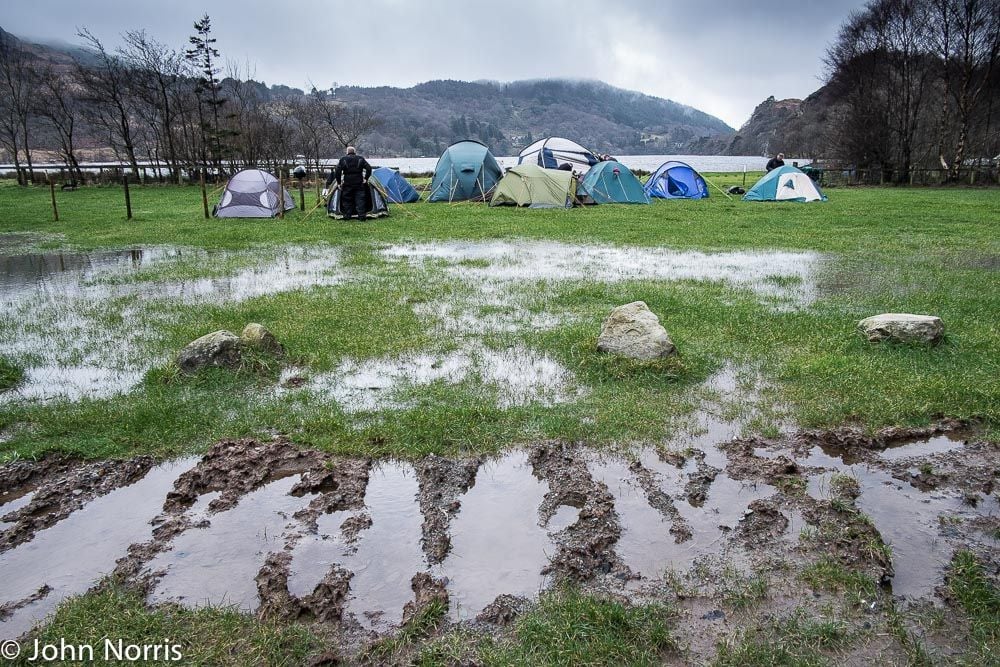 A group of us began camping whole weekends at places like Oulton Park, Donnington and Oliver's Mount over in Scarborough. We lived for the weekend and the ride to new places and it was the atmosphere of camping and meeting like-minded bikers that was a big part of the draw.
Pretty soon I realised I was more interested in the riding and the socialising than I was in watching other people racing around a circuit and we switched our allegiance to the delights of bike rallies.
They gave us an objective and an excuse to explore the best roads we could find, riding as far as we could go and back in a weekend. Eventually, I just planned journeys in an ever-increasing radius from home, and even my going to rallies fell by the wayside in favour of pure travel adventures.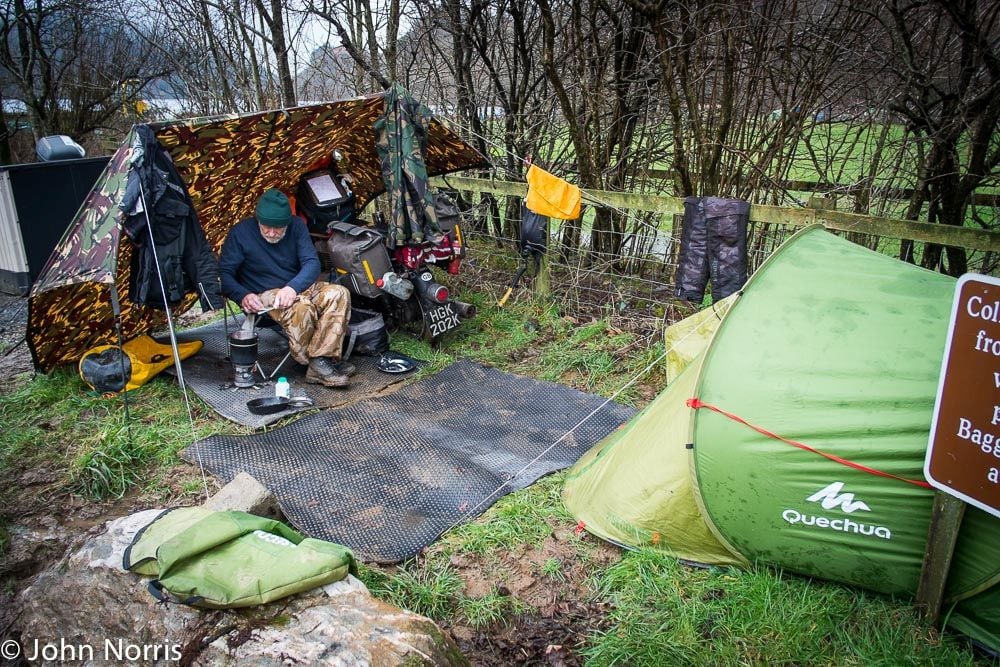 That was until now when being only recently repatriated here in England, I found myself once again ensnared by the mysterious lure of the Dragon Rally. It's a fair ride from Dorset to Snowdonia where the rally is traditionally held but, on the plus side, the route can take in some of Wales' best roads.
The catch is that the Dragon is held in February and 2018's wintry weather was turning out to be just what the rally is notorious for. The snow, which had been settling on the road and the fields, was now easing off.
Suddenly, the sun broke through, the road was clear and I got the best of the classic stretch of the A483 up to Newtown. I love riding in winter, it isn't for everyone, but if you are suitably kitted out and on a well-maintained bike, it has a unique appeal and reward.
The ride north just seemed to get better, culminating in beautiful Snowdonia and the austere snow-covered slopes the Llanberis Pass. The next day, Saturday, was rally sign-in day and it was lashing down with rain! The rally location is revealed to participants only when they arrive at the Conwy Motorcycle Club registration office.
With that done it was back on the road, now at a leisurely pace with hundreds of other bikes riding well spread out along the route all the way to the campsite which, for 2018, was just a few miles away in the heart of Snowdonia.
The camp field was waterlogged and extremely muddy and, not surprisingly after the recent foul weather, some parts were completely underwater. At least the rain had stopped.
With the tent up, I headed off to the campsite bar where Conwy Motorcycle Club was handing out hot soup for the new arrivals. I like this part of the event, where people are relieved to have made their winter journey in one piece and are keen to chat about bikes and travels as they warm up.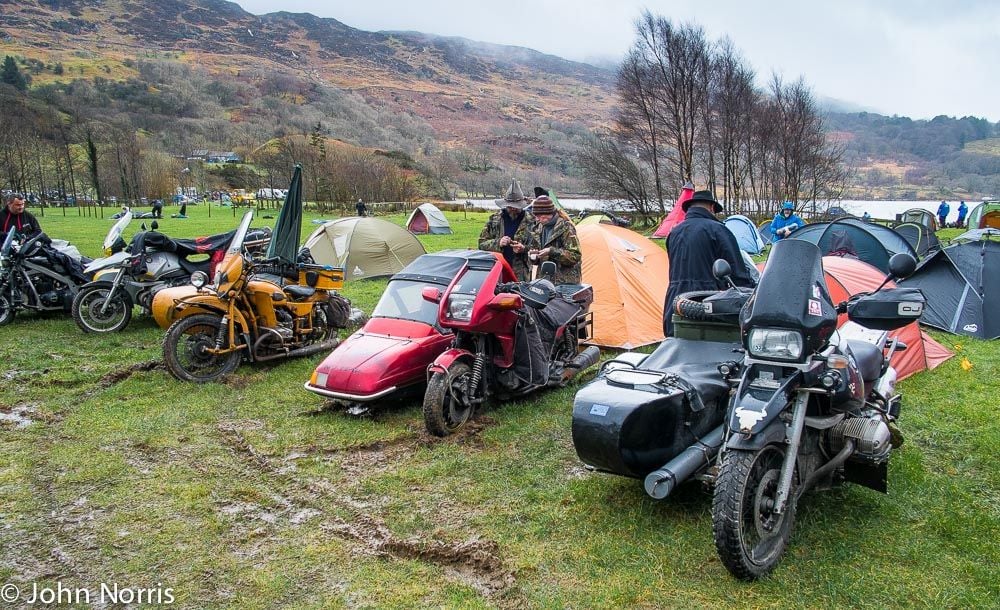 It's also time to pick up the coveted enamel badge, t-shirt, and other paraphernalia. Later in the evening, the rain started up again driving most folk into the bar, which was rammed. In the barn, conversation was somewhat harder where the traditional heavy rock band were blasting out covers and originals, creating an ambience pretty much unchanged from my distant recollections of the 80s.
During the night, the wind picked up and threatened to carry my tent away, only foiled by the fact that I had cunningly tied it to the bike and there is no wind on earth that can shift a stationary GS 1100.
At one point, I heard a scream and peered out to see a portable toilet blown over, face down on it's door and sliding along the track. I closed the tent flap. If the scream I heard had come from inside the loo, I told myself, there was nothing I could do for him… Sometime before dawn the temperature plummeted.
I woke up in my crispy, frozen, snow-encrusted tent. It was pretty damn cold outside where there was a scene of desolation; collapsed tents, snow on the ground, a bitter wind and muddy ground worthy of a battlefield. Spots of rain flew past horizontally.
Perhaps I exaggerate, but it seemed the weather had also stayed true to my memories of Dragon Rallies gone by. The great spirit of this bike rally remains. The easy-going camaraderie of bikers gathering from all over the UK and even far-flung parts of Europe.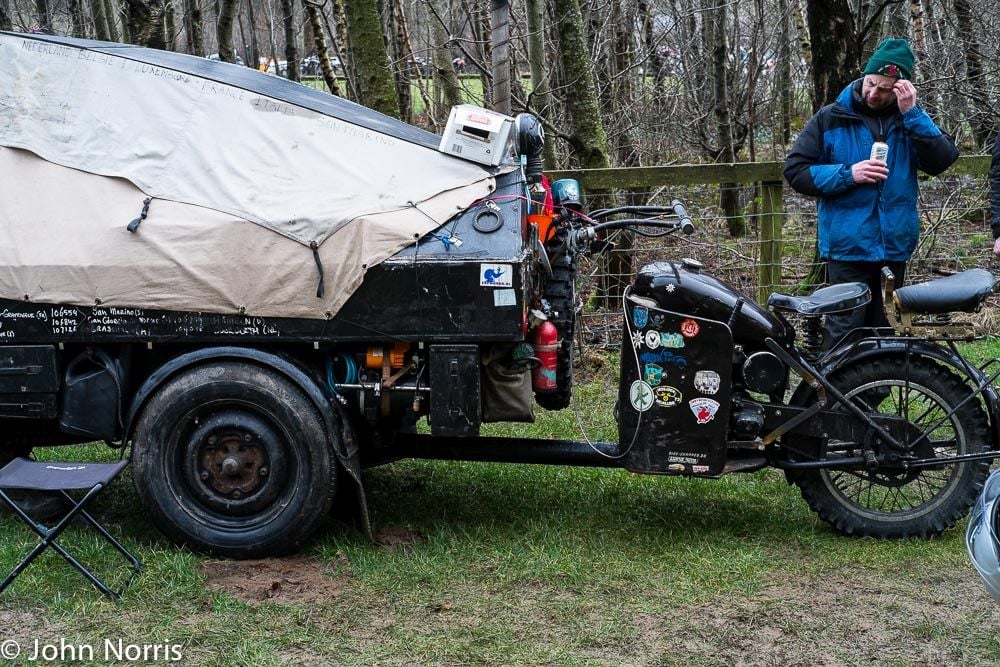 The wonderful setting and the amazing range of bikes from eras past and present is there; adventure bikes, sports bikes, old British bikes, big Panther singles with sidecars, MZs and Cossacks, you name it! The Dragon is an old-school rally so don't expect a lot of activities and daytime entertainment laid on.
The rally is all about the people you meet, about wandering through the campsite talking bikes and enjoying the fabulous site location in the heart of Snowdonia's brooding mountains, lakes and rivers. It also gives you a good excuse to drag the bike out of the shed for a good long ride when it's all too easy to sit there waiting for Spring to arrive!
My intended route back was to head east over the fells towards Bala and then down to Telford to visit a friend but, close to Beddgelert when the road started to climb, the corresponding drop in temperature was enough to turn the icy drizzle to a treacherous frozen glaze over the road (more lethal by far than the snow I'd encountered).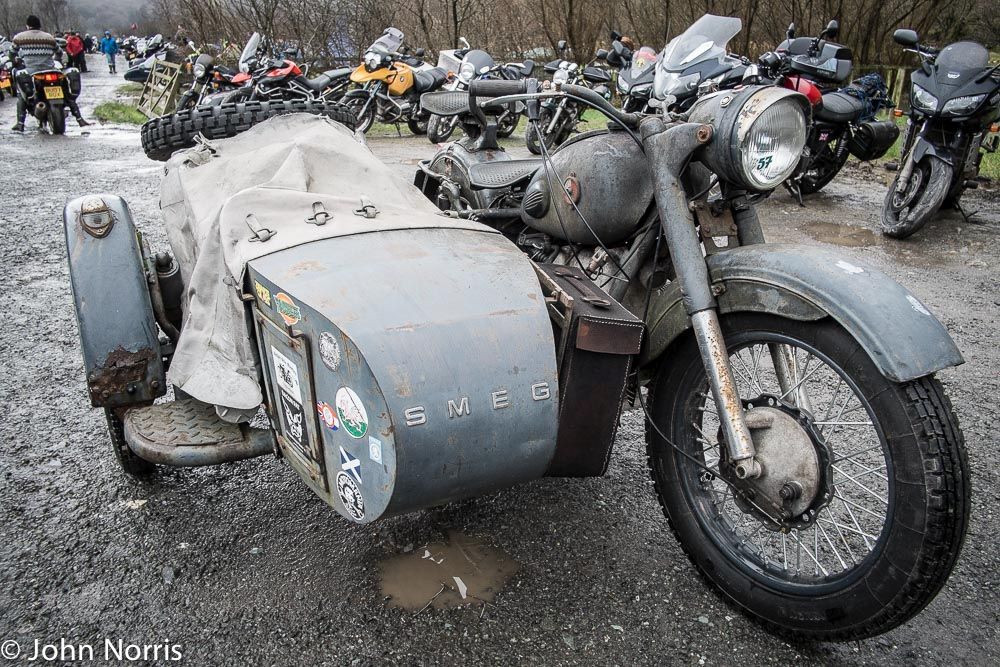 Good sense forced a quick change of plan and I headed directly south instead, returning the same way more or less that I had come. The empty roads and beautiful Welsh countryside meant it was no real disappointment.
While living in the Alps I had acquired infinitely better clothing (and camping gear) than I ever had in the 80s, so items such as the down vest I was wearing under my bike jacket and the heated handlebar grips kept me fairly comfortable.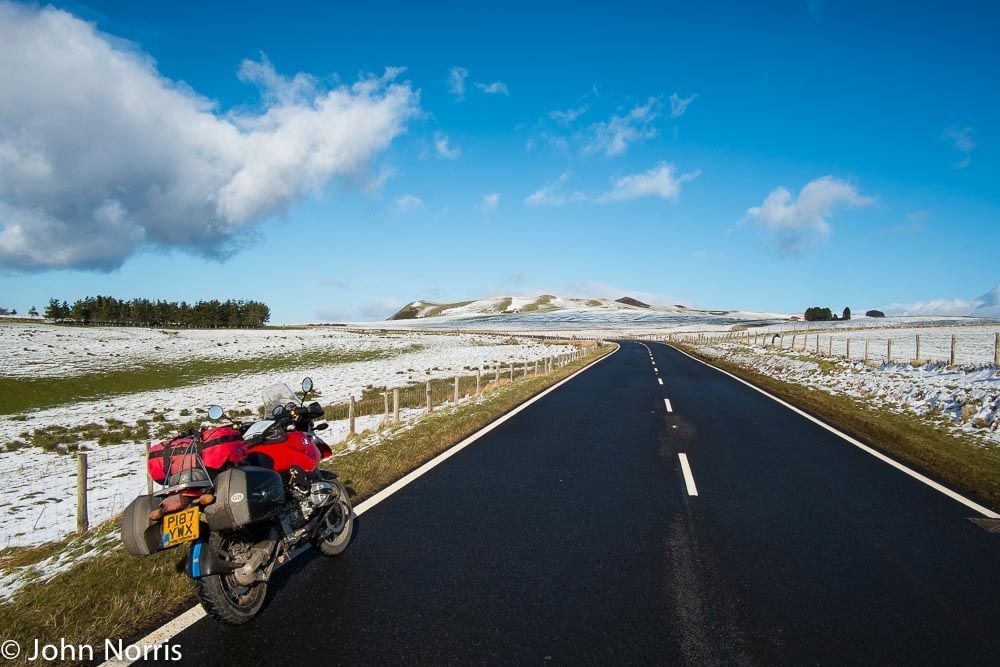 By the time I got back to Bridport, it was dark and had been raining hard for the last hour of the ride. My first thought as I kicked out the side stand in my own driveway was, 'well, that was a fun trip down memory lane but… I don't really think I need to do it again'.
But, strange as it may seem, even as the best summer in decades unfolded and I notched up mile after mile of sublime dry, warm-weather riding, that sly old Dragon crept back into my consciousness.
I realised how much fun it had all been, the challenge of the ride, the wild winter scenery, the empty caravan-free, tourist-free roads… So, the other night, my Google search for 'Dragon Rally 2019' gave me the typically sparse but strangely alluring information… 'Details for 2019 will appear here in the Autumn'. Will I be able to resist…? (postscript…I wasn't and I have my 2019 ticket now!)