Desperate to find more hospitable winter riding conditions, James Oxley heads to the island of Gran Canaria, where the sun shines year-round – Images: Pierre Maelzer
When attempting to rent a motorcycle in Gran Canaria, I recommend you don't turn up unannounced at a series of rental companies, drenched in sweat and looking increasingly desperate with each new rejection.
Certainly don't dump a week's worth of touring gear on an office floor, with no clue about where you plan to stay, and expect a business owner to loan you a shiny new Africa Twin for a week.
And if you do find someone trusting enough to rent you a motorbike, do not be surprised to be told winter is actually peak tourist season near the equator and all the bikes have been booked online in advance for months.
This was the situation my friend Pierre and I found ourselves in just hours after landing excitedly at Gran Canaria Las Palmas Airport. With each new rejection, our week of adventure exploring this volcanic island paradise by motorbike was slipping from our grasp.
However, my training as a journalist taught me never to take no for an answer, and there was one more lead to explore before we succumbed to a Brits abroad week of sun loungers and cocktails by the pool.
After some pleading, banter and attempts at biker camaraderie, a salesman at the third rental company to reject us suggested he might have a friend with bikes available and said he would call him.
We listened intently to one side of the phone call, not understanding a word of the fast-flowing Spanish conversation, but trying to gauge by the tone of the salesman's voice whether or not he was successful. The tension was unbearable. "He has bikes", the salesman finally said. "Two BMW 650s. Do you want them?"
Pierre and I nodded with a mixture of relief and excitement. We didn't stop grinning as our new friend drove us in his van through the streets of the tacky tourist resort of Playa del Ingles to our saviour, the BM bike rental company.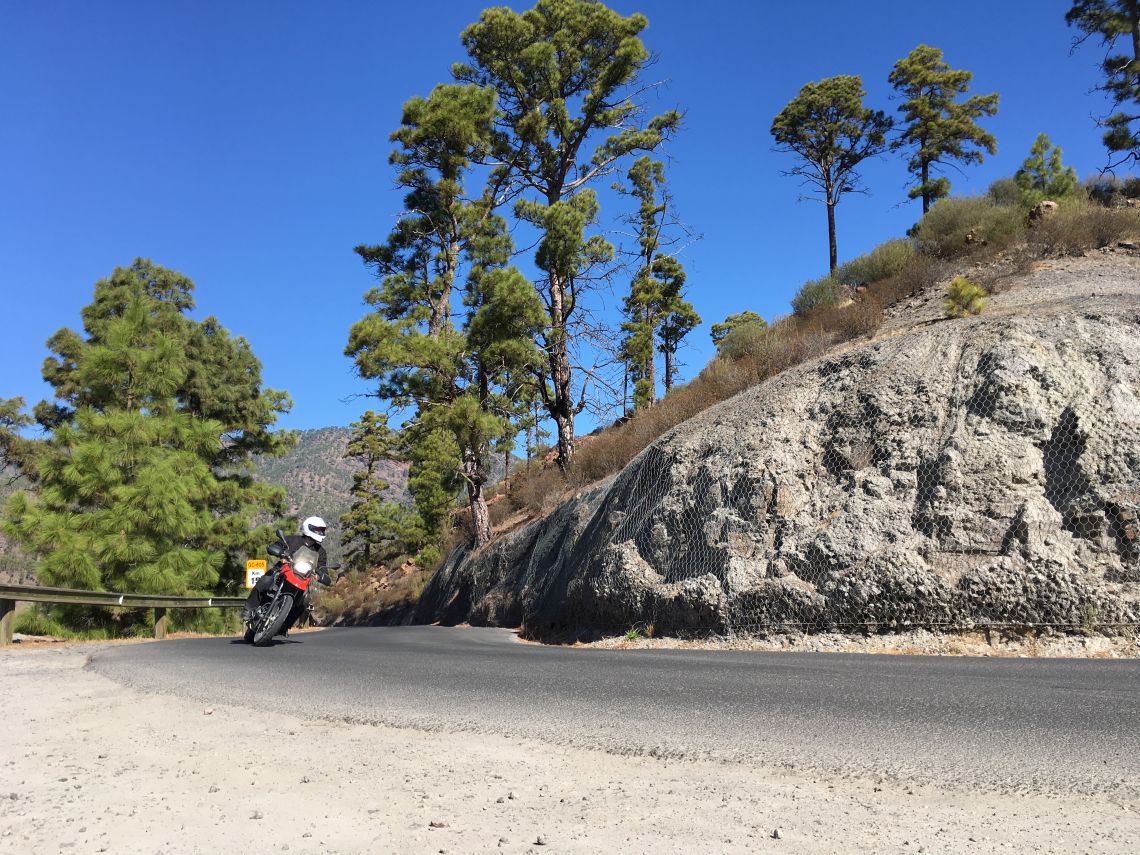 Unlike the people we had been speaking to all morning, the avuncular owner didn't seem to care that we had no hotel address to give him, nor that we had no idea where we would be parking his bikes overnight.
Instead, he took pity on two sweaty Englishmen and regaled us with the tale of his wife who ran off with a supposedly gay lodger and then, a few weeks later, returned home pleading for forgiveness. The plea fell on deaf ears.
He was certainly an eccentric character, but we listened with pleasure while watching him fill out the paperwork required to rent us two battered and bruised BMW G 650 GSs. They were perfect.
A flurry of signatures later, we finally launched ourselves with gusto onto Gran Canaria's roads, delighted to be riding motorbikes and exploring somewhere new again.
Despite having only 47bhp, the GS engine gave a satisfying thump of power at the twist of the wrist, accompanied by a manic putt-putting from the single-cylinder engine.
It was to this satisfying soundtrack that we followed the coast road around the south of the island, with no plan other than to find somewhere to stay overlooking the sea.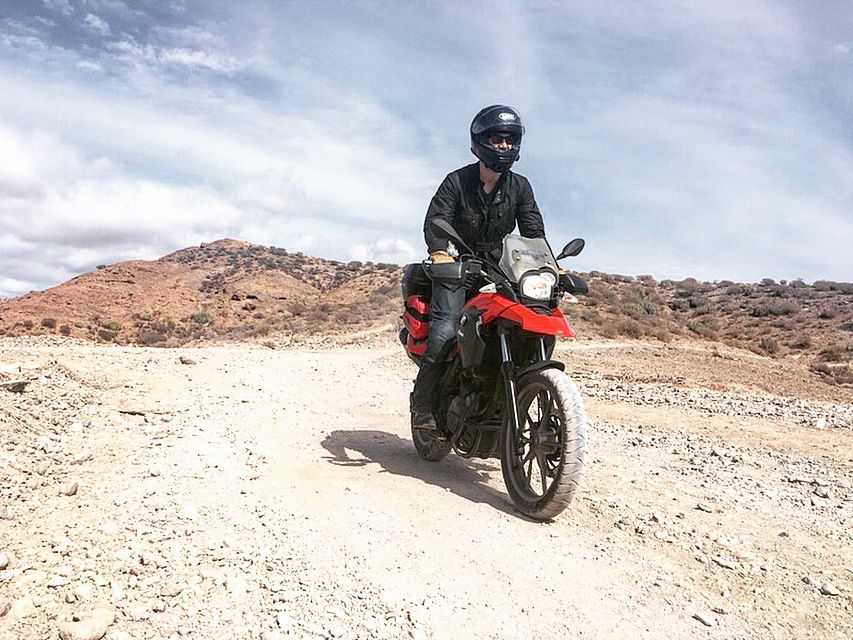 However, this romantic ideal was abruptly halted a couple of miles later by a road closure. Traffic was being diverted inland towards a monotonous-looking motorway.
As we stopped to check the map for an alternative, I noticed a rocky trail disappearing off into the hills behind us. Further off in the distance was another that led down to the sea.
"Do you think those two trails link up in the middle?" I asked Pierre.
He spent some time studying the landscape, a hand shielding his eyes, looking like an explorer about to strike off into the undiscovered country.
"I've got no idea", he finally said. "I guess there's only one way to find out."
With nothing to lose other than daylight, we turned off onto the trail delighted to feel our tyres scrambling for grip on the dusty surface of loose rock below. I felt a nervous exhilaration at taking a bike I had such little experience with off-road so soon.
But what the hell, it was so scratched up by previous riders, one or two more dings would probably go unnoticed.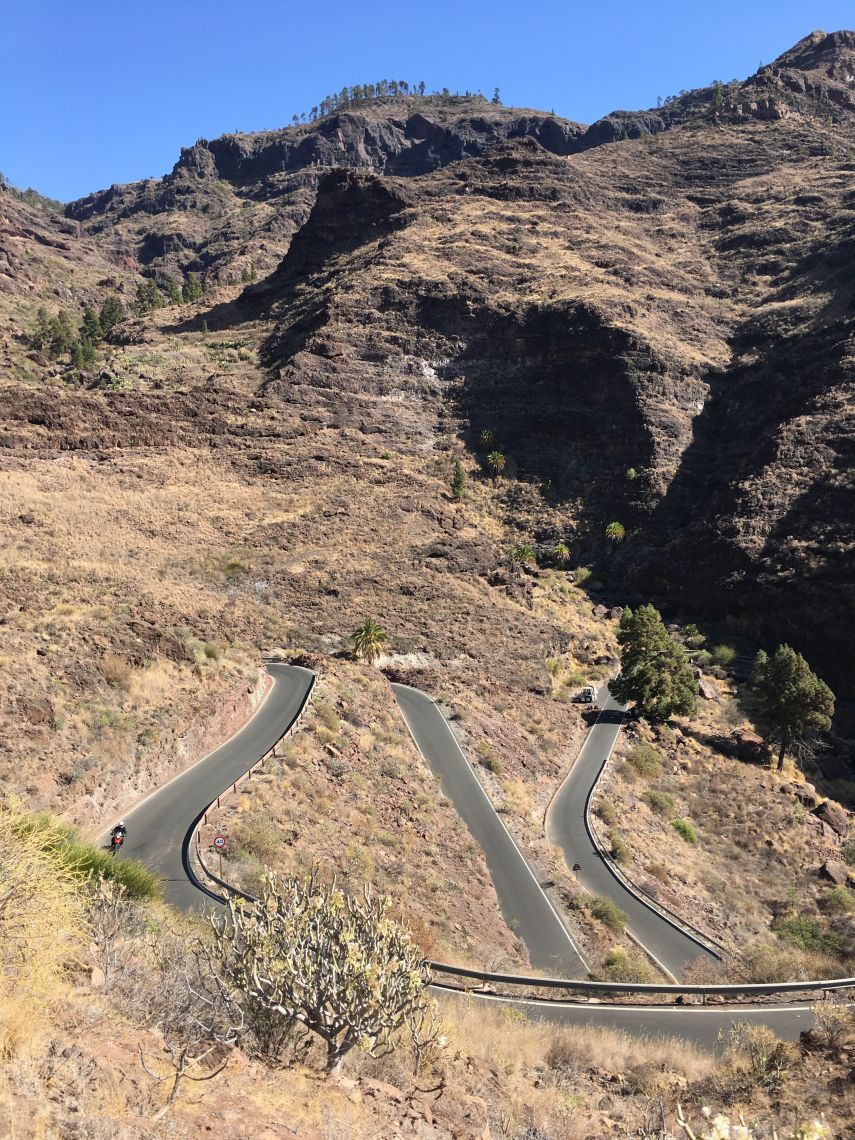 We followed the trail as it wiggled around the edges of a hillside, switchbacking around bends as we gained elevation. I felt euphoric as I stood upon the pegs feeling the bike move around beneath me. We had saved our holiday from disaster and the riding was already amazing.
It was shaping up to be a cracking week of motorcycling in the sun. It was actually a desire for winter sun that led Pierre and I to Gran Canaria, one of a cluster of Spanish-ruled islands nestled off the northwest coast of Africa.
Year-round blue skies and sizzling temperatures make it a haven for European tourists looking for a lazy fortnight of sun, sea and sangria, but we had something more exciting in mind. Despite measuring just 600 square miles, I'd heard the island was home to some of the best motorcycling roads in the world.

Our current trail was living up to the hype as we crested its summit and rode along a glorious ridgeline with 360-degree views of the volcanic island. Despite sporting barely legal road tyres, the little BMWs were proving great fun to ride on the rough stuff.
It was my first time riding a Bavarian Motor Works machine but I was already getting an inkling as to why the GS brand is so loved by adventure bikers.
Despite relishing every second, I was growing concerned we may literally be on a road to nowhere. With no camping gear to rely on, all we had packed were credit cards, toothbrushes and a change of clothes. Not a recipe for a comfortable night under the stars.
So it was with some relief that the trail finally swung to the left, leading us down to a sun-dappled ocean in the distance.
Any disappointment that our rocky diversion had come to an end was short-lived. A few minutes after returning to the tarmac we found ourselves carving around the coast on a beautiful ribbon of road clinging to the edge of a series of towering cliffs. It was joyous riding.
Breathtaking ocean views, an exotic island to explore, and turn after gorgeous turn to lean our bikes further and further into.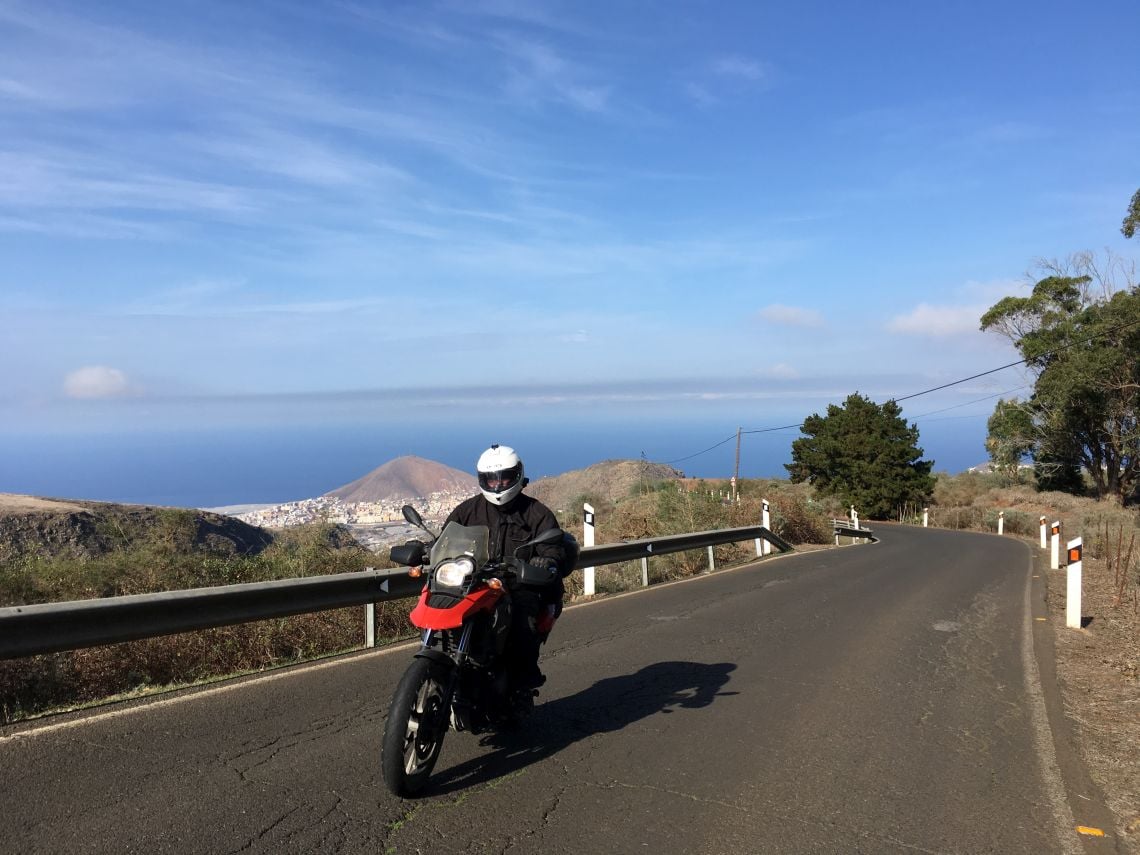 We followed this road to the far south-west of Gran Canaria where we discovered the coastal highway doesn't actually stretch around the whole island. Instead, outside the small town of Puerto de Mogan, it swings inland into the arid hills of the interior. At this point, we decided that exploring the rest of the island could wait. We needed to find somewhere to stay.
We cruised into Puerto de Mogan, its white stonewashed houses perched in a jumble on the side of a rugged volcanic cliff. The town overlooked a beautiful crescent bay of golden sand and turquoise sea, but despite this, it seemed far enough away from the tourist hordes of the south coast to have retained some of its original character.
We parked the bikes and lugged our gear up a steep cobbled street in search of a hostel we had spotted on Google Maps. There was no name sign but a colourful mosaic stretching up the side of a building indicated we had found the right place.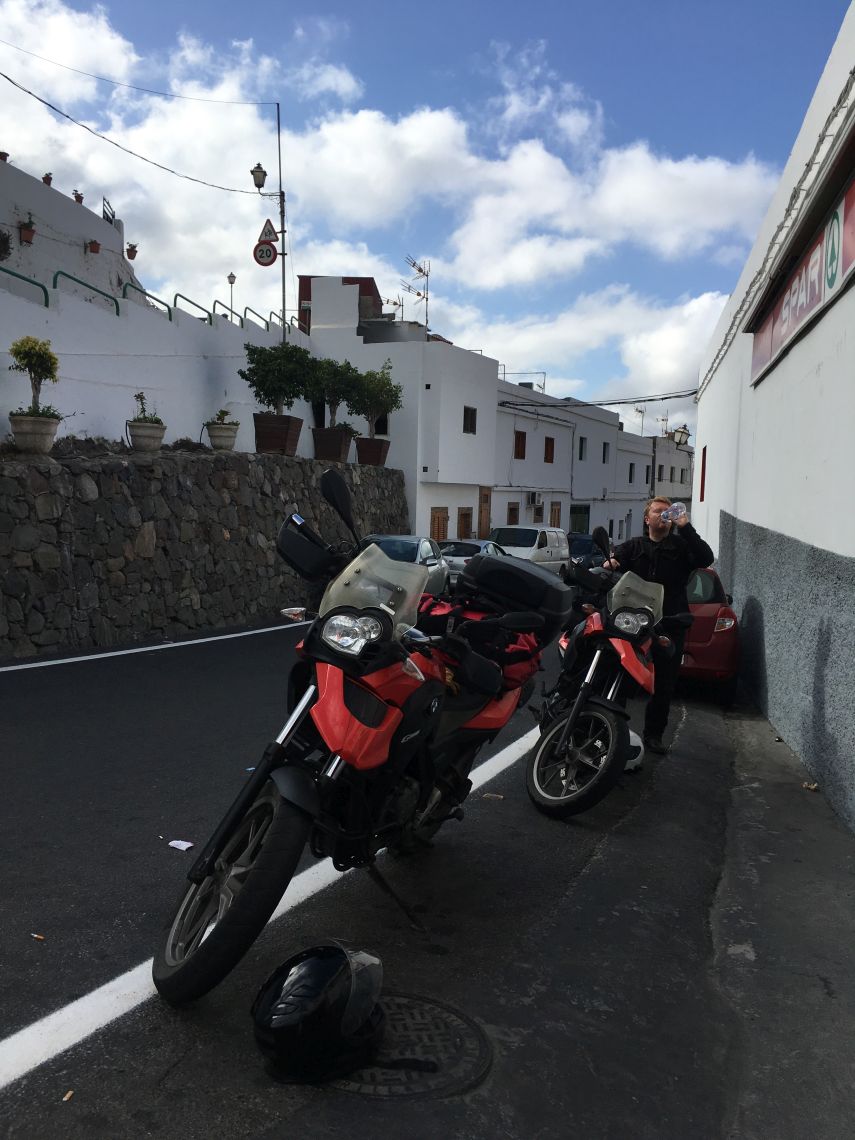 The guy behind the reception desk seemed very stoned which I took as a good sign we had stumbled upon a proper backpackers' hostel. While I managed to get a bunk in a shared dorm, Pierre was allocated a spot on a communal sofa on the roof terrace.
He seemed sceptical about the sleeping arrangements until he spotted the group of women he'd be sharing the space with that night. I left him to make friends while I took a shower ahead of exploring the town.
I immediately felt at home in Puerto de Mogan. It reminded me of my hometown of Newquay in Cornwall. Both are old fishing villages overlooking beautiful golden beaches that have become tourist resorts. Both also have a vibrant mix of people – tourists on beach holidays mixing with drifters, travellers and backpackers, with enough locals to preserve the authenticity of the towns.
I contemplated my habit of travelling to different places in the world but ending up in communities very similar to home. I lived in Canada for a spell and stayed for the most part in a ski resort, finding a community of travellers and backpackers to share adventures with.
I also spent a couple of months travelling in the USA, glued to a Pacific coast that has attracted generations of people looking for adventure, riches and a new life.
I guess a person's reasons for travelling have a big influence on their final destinations. A moment of self-realisation was beckoning but my thoughts were rudely interrupted by the overpoweringly sweet smell of aftershave. I looked up and there was Pierre freshly showered, wearing a crisp shirt and smelling like an airport terminal perfume counter. It was time to explore Puerto de Mogan's nightlife.
We woke the following morning only vaguely hungover and poured over a map of Gran Canaria to plot a route for the day. Our tried and tested method of motorbike travel is to pick a location and follow the wiggliest roads we can find to get there. In Gran Canaria, we were spoilt for choice.
Most of the roads on the map looked like a recovering alcoholic with the shakes had drawn them. The challenge was in finding a straight section of road. We decided to head for Roque Nublo, a giant volcanic rock that towers proudly over the centre of the island. It is a geological tourist attraction and seemed as good a spot as any to ride to.
The temperature was already sticky hot outside as we rode our bikes out of town. I was falling for the feisty little GS with its capable engine and eagerness to please. I especially liked the riding position which felt more like sitting in a comfy chair than on top of a motorbike.
My feet were positioned further forward than on my Honda CB500X and Triumph Bonneville at home, which meant my legs had close to a 90-degree bend at the knee. It was a wonderfully comfortable cruising position, which was something of a surprise on a little adventure bike.
It also combined a low seat height with a decent amount of ground clearance, inspiring confidence off-road.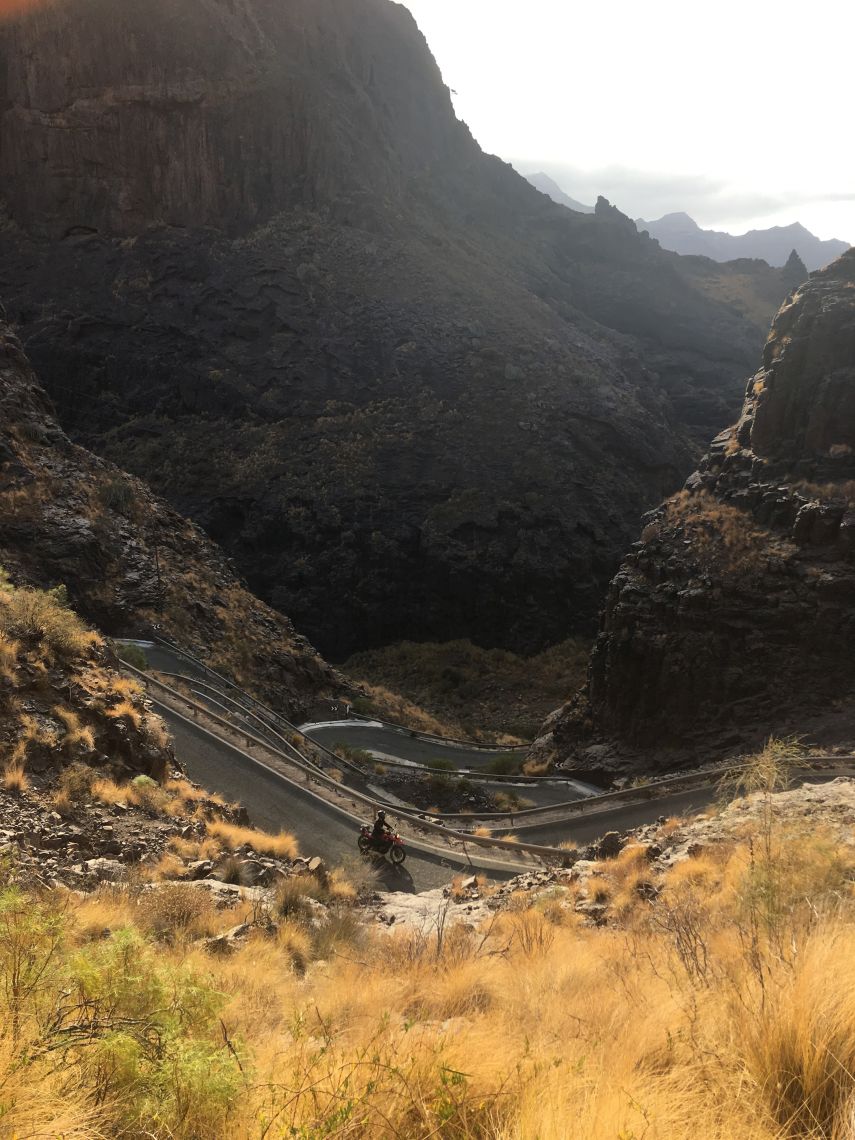 Today though, we would test the GS's road riding credentials to the max. After a few miles of gentle curves, we turned off the main highway and headed into the hills. The roads were simply sublime and cemented my view that Gran Canaria truly is a world-class motorcycling destination.
We carved along silky ribbons of twisting tarmac for mile upon heavenly mile, climbing high into the interior of the island. We gorged ourselves on hairpin turns and flickable esses, but unlike the Alps or the Pyrenees, traffic was so light we had these incredible roads almost exclusively to ourselves.
Our world-weary rental BMWs didn't miss a beat. We had obscene levels of fun throwing the lightweight machines into corners, scrapping their pegs and pushing their knackered old tyres to the limit. I know there are many bikes out there better suited to this style of riding, but I was having too much fun to care.
We didn't stop grinning as we climbed off the bikes in the busy car park at Roque Nublo. It would have been a moment for a high five if I hadn't spent the best part of a minute wrestling my sweat-drenched gloves off my hands.
Despite the fact we had pulled up at the second-highest point on Gran Canaria, at almost 2,000m above sea level, the fiery heat was so intense it was all we could do to slump on the floor in a shady spot and devour Calippo ice lollies.
Roque Nublo, also known as Cloud Rock, was an impressive sight. It was formed by a volcanic eruption 4.5 million years ago and ever since it has stuck up an 80m tall middle finger to the forces of erosion that have whittled down the land around it.
I would like to say I got a close up look at this geological marvel, but the thought of hiking the trail to its base in Kevlar jeans and motorbike boots wasn't an enticing one. Pierre and I settled for taking selfies from a distance instead.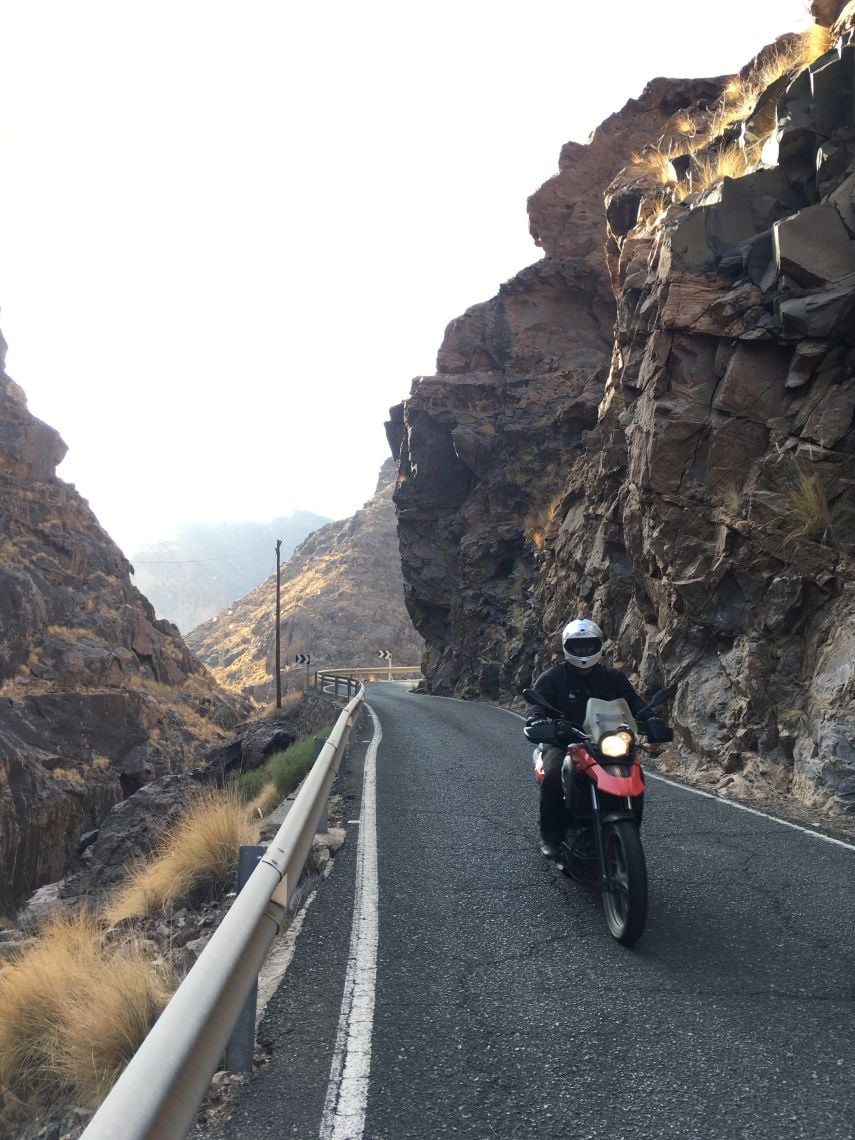 We spent the rest of the day carving lines through arid gorges straight out of an Indiana Jones movie. We climbed glorious switchback after glorious switchback up rugged mountainsides, and we stopped countless times to draw breath and marvel at the sheer drama of the volcanic landscape unfolding for miles in front of our eyes.
If I hadn't known better, I could have sworn these were views of Kazakhstan or Mongolia, not a little island famed for Brits aboard package holidays. I thought for a moment about the thousands of tourists currently drinking beer in bars, watching football on the big screen and slowly turning pink in the sun in the busy holiday hotspots only 20 or so miles away.
At that moment, I thanked God I ride a motorbike.
We stayed at the hostel in Puerto de Mogan again that night. I drifted off to sleep, tired and content while Pierre made friends late into the night with a pretty Swedish backpacker. It had been a day to remember with the promise of more good times to come.
Little did I know that the following day I would crash a motorbike for the first time.
"Shit, are you ok?" Pierre shouted frantically over the intercom. He had been following me up a hillside after I turned off the road onto an inviting trail.
It had all happened so quickly. One moment I was stood on the pegs, head up, picking a path through the trees with my eyes, the next moment I was tumbling painfully downhill with my arms and legs flailing in the air.
I remember the GS wobbling erratically beneath me as I lost control of the bike. I opened the throttle in a last-ditch effort to regain some momentum but to no avail.
The bike lurched to the right and I flung myself from the footpegs to avoid getting crushed beneath it.
My spring must have been a little too tightly coiled as I found myself tumbling head over feet downhill, a lumbering gymnast with the world spinning around me.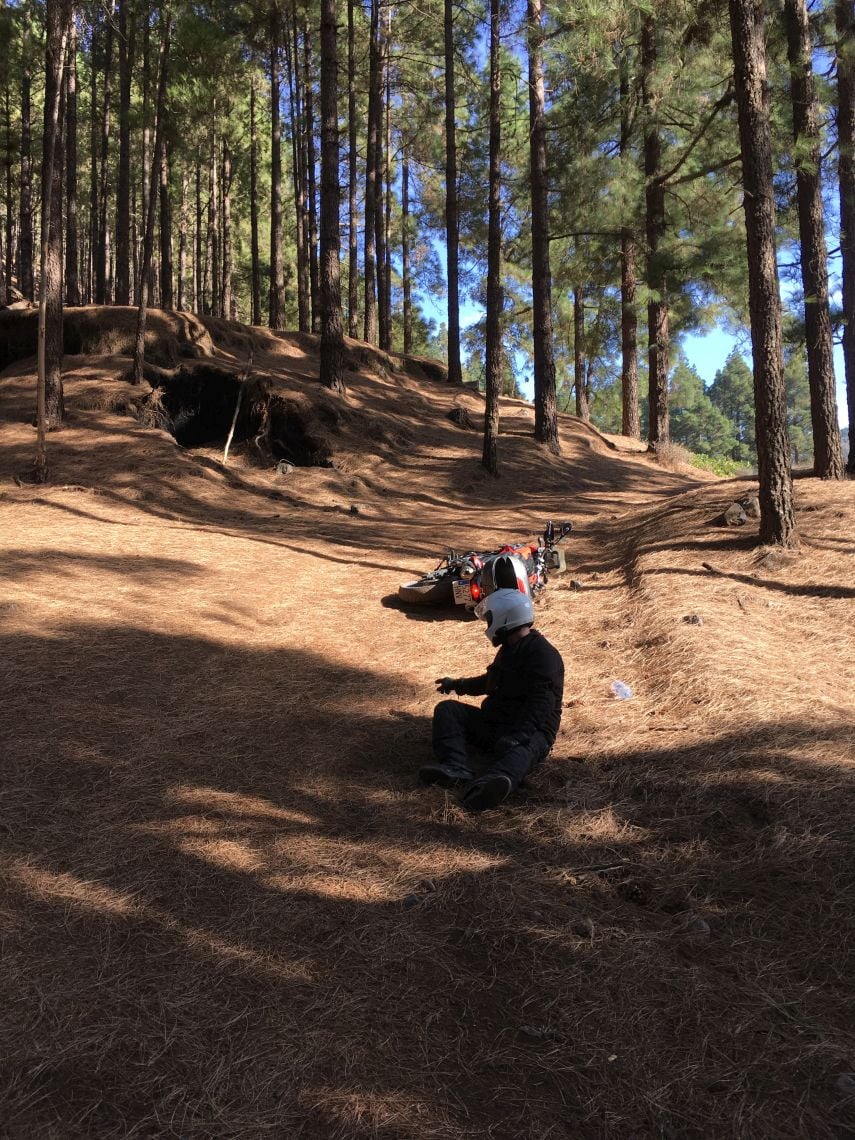 For some reason, my initial reaction was to laugh hysterically into my helmet while bouncing downhill. The laughter was broadcast over my intercom which eased any fears Pierre had that I was seriously hurt. My leg was sore and my ego severely bruised, but apart from that, I was fine.
Lifting the bike back up proved a challenge as we discovered the ground was covered in a fine layer of pine needles, which felt like walking on ice. Finally back in the saddle, I gingerly tiptoed down the hill, a little wiser about my own limitations as a rider.
I soon recovered my confidence and we gorged ourselves on sublime roads for the rest of the day. We were zig-zagging our way towards a hostel I had booked that was a cave burrowed into a hillside in the interior of the island.
The setting felt like a remote planet in a Star Wars movie, even more so when a shirtless blonde guy looking every bit like a young Luke Skywalker met us out front. He had a gentle, calming quality that gave the impression he had not experienced a stressful moment in his life.
Unfortunately, his boss was more serious when he informed us there had been a mix-up and the hostel was fully booked. It seemed strange as there was no one else around and we were nearing early evening, usually a busy time at hostels as people prepare dinner.
It all felt rather odd and I got the uncomfortable feeling there may have been some anti-biker sentiment going on. This led me to be even more polite than usual but the boss stood firm and young Skywalker looked on apologetically, so much so that he brought us a beer as we sat out front searching online for somewhere to stay.
The silver lining was that we got to ride 30 more twisting miles of Gran Canarian roads that night to a hostel on the island's remote west coast that we had managed to book on our phones. On Google Maps, the route looked like someone had tied the road up in knots, it was that twisty.
The quality of riding on this island really was beguiling. We were a few miles away from what we hoped would be our final destination of the day when the sunset. There were no streetlamps in this part of the island, so I thanked my lucky stars the lights on our BMWs worked.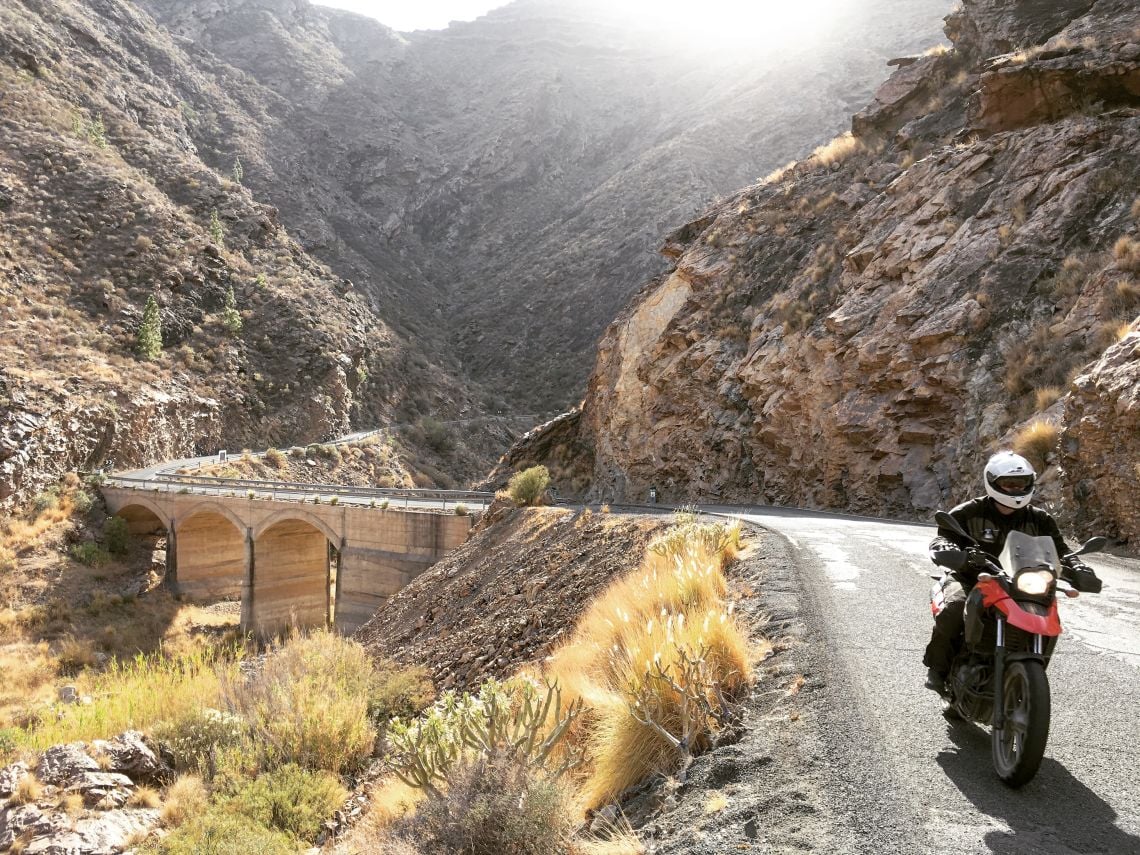 After a couple of wrong turns, including following a delightful track that led down to the ocean, we finally turned our engines off and collapsed onto the sofas of the hostel's open-air terrace. It was run by three beautiful and charming young Italians, two women and a man, who were travelling themselves before stumbling across jobs at this remote location.
I felt a little groggy the next morning after spending much of the previous night drinking red wine and talking with one of the Italians while Pierre got his head down early, but I was determined to shake off the tiredness so I could enjoy a fifth and final full day of riding before we needed to return the bikes and catch a flight home.
We were aiming to finish the day at Las Palmas de Gran Canaria, the island's capital city located in its far north-east corner. It was less than 60 miles by road, but they were some of the most exhilarating miles of our lives.
If you can imagine squeezing all your favourite motorcycling roads from around the world onto an island, it would probably resemble something like Gran Canaria. To have so many brilliant biking roads in such a small geographical area is a blessing.
The scenery is also hugely diverse. It has become a guidebook cliché to call Gran Canaria a miniature continent on an island, but that day Pierre and I were happy to experience that cliché. We cruised along golden beaches fringing turquoise seas, we rode through lush forests covering vast areas in a blanket of green, and we experienced searing temperatures as we carved through rocky canyons, seemingly barren and devoid of life.
The view from Pico de las Nieves, the second-highest point on the island, encompasses this diversity with a majesty reserved for those extra-special places on earth. Unfortunately, my memory of the spectacular view is clouded somewhat by a beautiful Ducati Multistrada 1200 that glistened in the sun.
We'd followed its rider and pillion for a mile or so as it glided up the mountain to the lookout point we were now stood at. I don't think I've ever wanted a motorbike more than at that moment.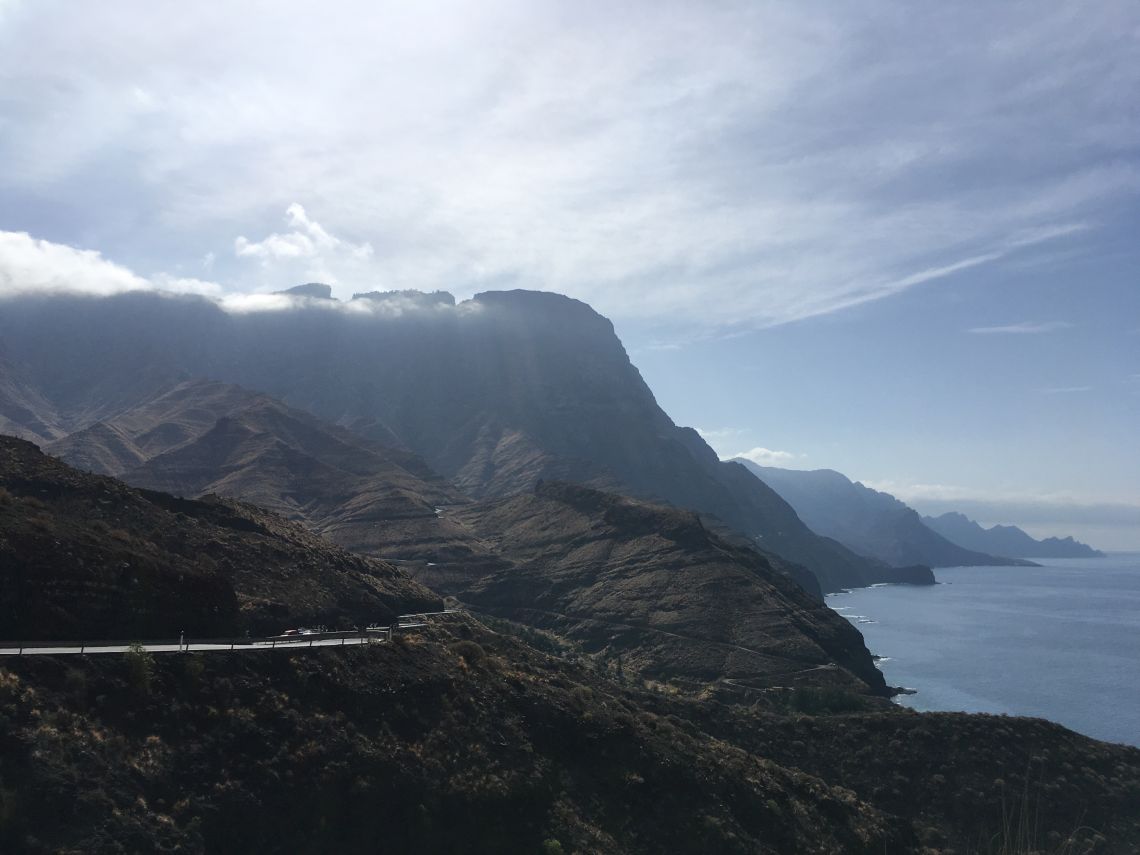 With dreams of Ducati ownership still fresh in my mind, Pierre and I rode to Las Palmas de Gran Canaria and navigated a maze of city streets to the hostel we had booked online the previous night. Usually, I like to try and get under the skin of a new city, but I couldn't gather the enthusiasm.
Throughout the past week we had been treated with warmth and curiosity wherever we went. We arrived in people's lives amid a whirl of noisy engines, big smiles and tall tales from the road. People were intrigued to know where these sweaty, dusty Englishmen on motorbikes had come from and where they were going.
They wanted to share in our adventure, however fleetingly, over a bottle of wine or while watching the sunset from a hostel roof terrace. And we asked for nothing in return other than somewhere to lay our heads and some good conversation. Arriving in the city was a completely different scenario. We were just two more bikers among many thousands.
That night Pierre and I ate dinner sat outside a bustling restaurant next to the beach. It was a beautiful spot but I couldn't shake the feeling something was wrong.
"I think it's because we're not bikers anymore. We're just normal people in the city." I said to Pierre.
"Dude, bikers are people too. We may not be normal, but we're people." He joked, but he understood the sentiment.
I looked at the people walking up and the down the beach boardwalk and I realised how much riding a motorbike had helped define who I am. Having the freedom to go where I want, when I want and not having to wait for anyone else has certainly made me more impatient than I used to be.
But it has also made me more self-reliant, more confident and more willing to try new experiences.
Pierre drank his beer silently as I articulated these thoughts into words. He then took a moment to digest the concept before replying: "Mate, if you're this full of shit after five days of winter sun, you're going to be a nightmare to live with when we ride around the world".
He's probably right.
---
The Bike
While it was not my first choice of motorcycle for this trip, the BMW G650GS proved a perky and reliable travelling companion. Even with well-worn road tyres, it was lively and confidence-inspiring off-road thanks to a combination of decent ground clearance, a low seat height and its relative lightweight.
On Gran Canaria's perfectly smooth, twisting roads it proved enormous fun and surprisingly comfortable. OK, a Ducati Multistrada or similar adventure tourer would have been better suited to this type of riding, but the little GS did a grand job. I have definitely developed a soft spot for the plucky motorbike.
---
Want to ride the Gran Canaria
If a week off is all you can wangle from work, then Gran Canaria is a perfect destination to mix some winter sun with a mini-motorcycle adventure. There are plenty of affordable flights to the island from various UK airports because it is such a popular package holiday destination.
We flew with EasyJet direct from Luton Airport to Gran Canaria Las Palmas Airport in November. Return flights cost us around £150 each. The flight time is four hours and 30 minutes.
There are two main choices for motorcycle rental once you arrive in Gran Canaria. Either head north to the capital Las Palmas or, like Pierre and I, go south to the sprawling tourist resort of Maspalomas. There are bike rental outlets in both areas featuring a selection of adventure, touring and street bikes. Just be sure to book in advance before you leave the UK.
Gran Canaria is one of Spain's Canary Islands. The language spoken is Spanish and the currency is the Euro. Despite being located off the west coast of Africa, it has a very European feel and English is widely spoken. Vehicles drive on the right.