THE GREATEST ROADS ON MIDDLE-EARTH?
Ian Neubauer swaps the dirt for something altogether more dignified: an all-inclusive road tour of New Zealand's South Island
The sudden rush of pain that swelled up in my calf after coming off a dirt bike in the highlands of East Timor was the wake-up call I needed. It was only a matter of time before I suffered a more serious injury and found myself in a medivac or operating theatre. So, after 10 years of riding trails in some of the most exotic places on earth, I decided it was time to hang up my body armour and find a more genteel way to get my rocks off.
But there was no way I was giving up on travel, or motorbikes for that matter. So the obvious answer was to move on to road-based adventure. And where better to get started than a little place not far from my home in Australia – New Zealand.
In sync with my new lifestyle, I also opted to can my usual strategy of getting off the plane, hiring a bike, hitting the road and simply seeing where fate takes me. Instead, I booked an all-inclusive 11-day self-guided tour of the South Island with Paradise Motorcycle Tours NZ. And while journalistic integrity requires me to disclose that my tour was provided gratis in exchange for glowing media exposure, I say without reservations the trip has ruined my ability to enjoy a road trip again. Because no matter where I go, nothing will ever top NZ in terms of friendly people, surface quality, beautiful scenery and unadulterated riding fun. Here's the lowdown…
Alpine ride to Punakaiki
No wonder so many New Zealanders choose to live in Australia; it never bloody stops raining! I spend all of day one riding north out of Christchurch to the hot springs village of Hamner Springs and half of day two loving my BMW F 800 GS but absolutely hating the weather. But when it finally stops raining, I find myself gasping 'Ohmygod' over and over as the road snakes its way through the mist-shrouded mountains of Lewis Pass. The northernmost of the South Island's three main passes, this is alpine riding at its very best – a succession of sweeping corners and hairpin turns that curl up on each other like an asphalt stairway to heaven. 'If I get taken out around the next bend by one of the thousands of dreaded campervans eating up the road, I'll ride to the afterlife with a grin on my face the likes of which St Peter and even Lucifer have never, ever seen,' I think to myself.
I stop for lunch at Reefton, an old gold rush town known as the Town of Light after it became the first place in the Southern Hemisphere to turn on electric street lightning in 1888. I have a yarn with two riders – Ian and Arthur from Auckland – who give me the gossip on the coppers ("They're licence-killers and very keen to hit bikers"), the outrageous cost of registering a motorcycle in NZ ("they just ramped it up from $264 (£146) to $544 (£300) a year to cover the costs of all the cars that keep knocking us over") and their favourite road on the South Island ("the West Coast, absolutely stunning on a good day, can't be beat").
Later in the afternoon, after several more hours of alpine riding bliss, I get to see it for myself. Rising, falling, curling and undulating along the grey-black beaches of the Tasman Sea, with panoramic ocean views around every corner, the West Coast road is all that and more. I go giddy with pleasure while slewing sideways into corners comprising every imaginable combination of radius, camber and gradient, barely noticing the rain that returns with a light 'pat-pat-pat' on my helmet until it grows into a downpour that drenches my gloves and outer layer but doesn't even come close to soaking my enthusiasm.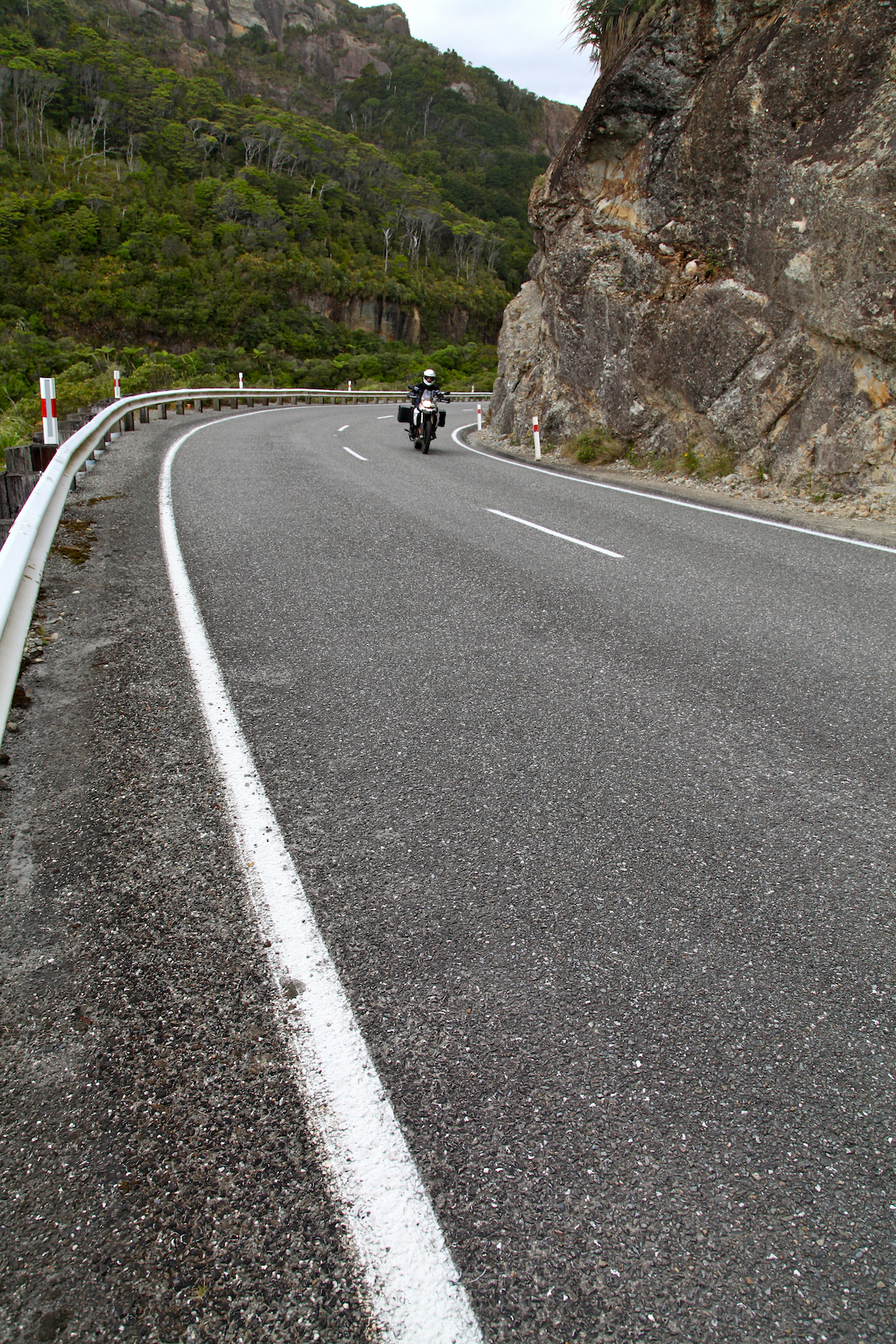 "It's grand and beautiful and goes on forever and ever," says Deckland Clancy, a BMW R 1200 RT-mounted rider from Ireland who I meet that night in the pub at a Punakaiki, 240 miles from Christchurch. "Riding in this country gives you an incredible sense of just being there in the moment that I haven't felt anywhere else before." And I reckon he might be right.
The ice run
The next morning I rise to see the first patch of blue sky I've encountered in NZ. I hit the road without delay and ride nonstop to my lunch stop at the town of Hokitika. Grand old sandstone buildings line the streets in testament to the gold rush that brought tens of thousands of prospectors here from as far as Wales and China in the early 19th century. Back in those days, Hokitika had more than 100 crappy hotels; today it has about a dozen catering to the new-age frenzy of tourism the region now owes its prosperity to. There are more campervans than cars on the streets, one of which comes within a few centimeters to taking out my Beemer when the driver attempts to reverse park. He's about to try it a second time when I pull my camera out and aim it right at the daft prick; it's all the motivation he needs to move on.
The next leg of my journey – the 'ice-run' along The Glacier Highway – makes the previous days' riding seem like a walk in the park. Standing like gods in all their glory, peaks glistening with snow even now in the tail end of December, are NZ's colossal Southern Alps. No wonder Peter Jackson choose this part of the world to film the Lord of the Rings trilogy; I half expect to see a war-canoe manned by elves or trolls sailing down one of the fluorescent blue rivers that gush from the slopes.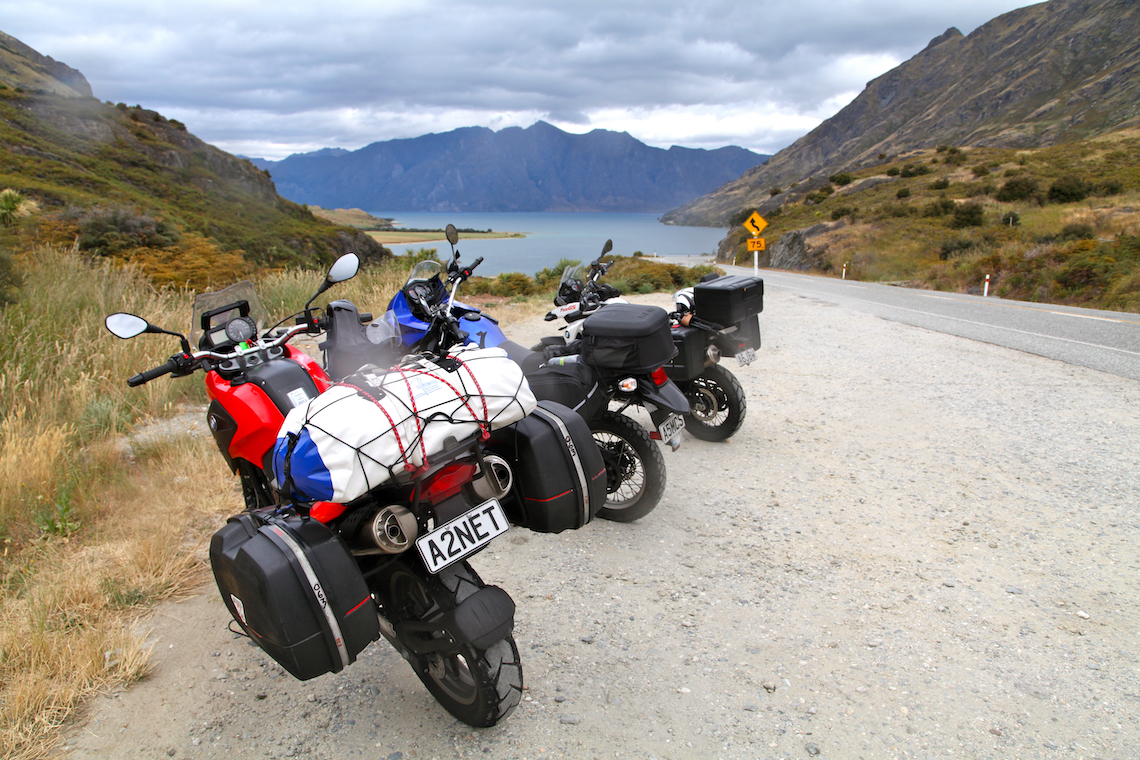 Late in the afternoon I find myself arching into a set of switchbacks, barely braking with the kind of sustained, peg-threatening lean that only successive days of fast riding can breed. Suddenly I feel a vacuum and then a gush of air as another BMW R 1200 RT-mounted rider flies right past me as if I were standing still, giving me a little wave before he vanishes around the next curve.
Half an hour later I see him parked on the shoulder of the road, admiring the view, so I stop off to say 'g'day'. To my surprise it's a chick, well, a woman to be exact, in her 50s or perhaps early 60s. Her name is Paula Woodside – born in NZ, raised in the US and now working as merchant mariner in Italy. Paula has ridden all over the world, but like every other rider I meet on this trip, she reckons NZ is the cream of the crop. "Every corner, every turn, is a treat," she says. "And you don't have to travel thousands of miles to see it all. It's very compact."
A few hours later I hit Westland National Park, passing Franz Josef, a ski resort named after a long-gone Austrian Emperor that lies under the gaze of a giant snow-capped ridge; and then onwards to Fox. Fox is a cool little village with a very cool name about 150 miles from Punakaiki. It's lined with trendy restaurants and pubs heaving with backpackers, families and random travellers. I meet up with Paula, share a bottle of wine and a pizza then turn in for the night. Tomorrow I'm going to get up early to do the craziest thing ever: climb the 7-mile long block of ice that is Fox Glacier!
High lights
There are few places in the world where Glaciers are found this close to the coast. Likewise, there are few places in the world where it bloody rains this much! When my ice guide Max from Switzerland and I reach the bottom of the glacier after a leisurely 30-minute stroll from the car park, it's absolutely bucketing! Max explains the high precipitation is essential to maintain glacier at this latitude, but says it's too wet to climb and suggests we head back to town and try again in the afternoon. I tell him thanks but no thanks: there's a road out there with my name on it and glacier or no glacier, that's what I've come here to do and there's no way I'm missing even one day of it.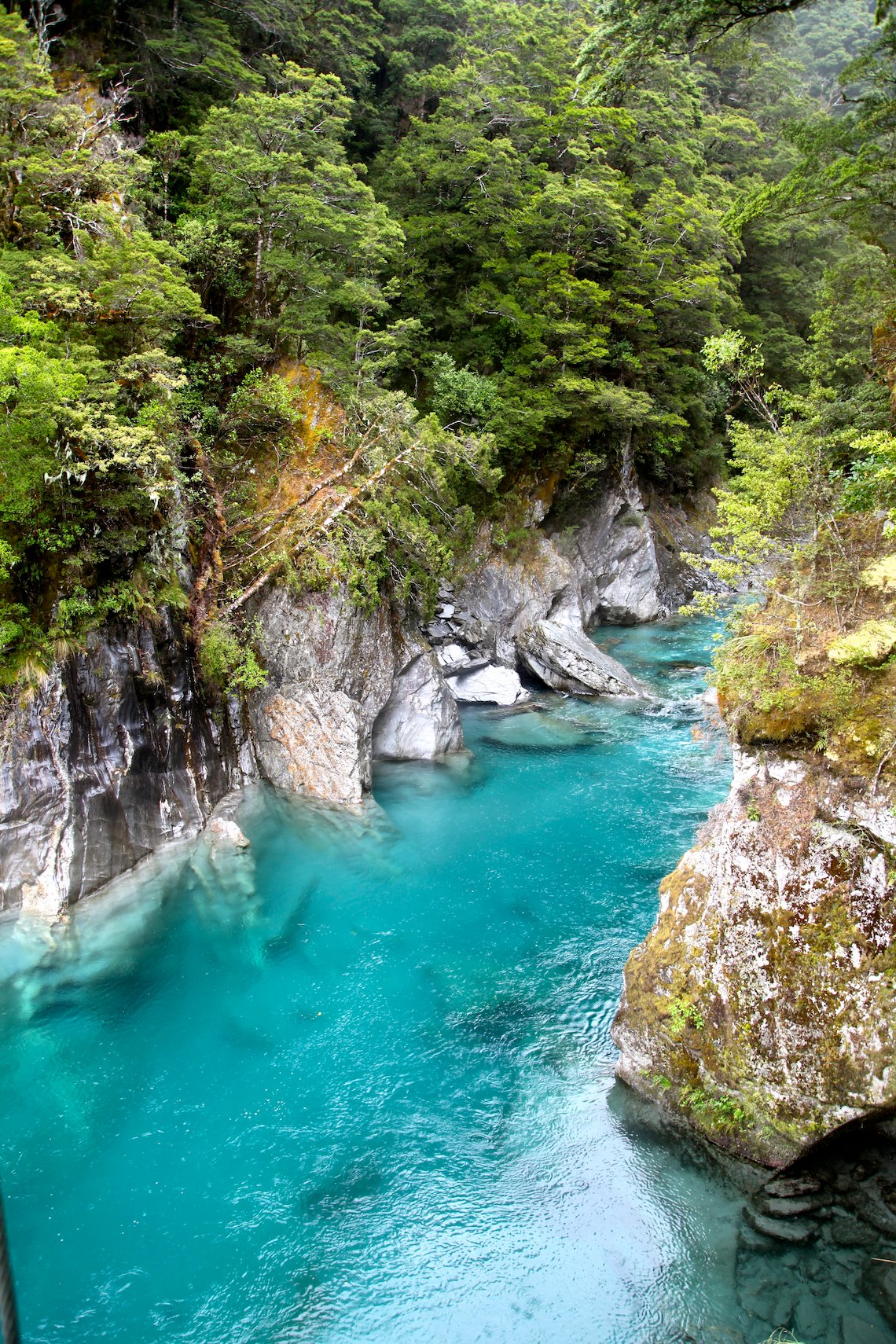 An hour or so after exiting Fox, the rain dissolves in a drizzle as I leave behind the temperate rainforest of the coast and enter the warmer, drier Central Otago region. After a quick lunch break at Haast Village, I surge onwards towards the Haast Pass and again find myself repeating heretical expressions of incredulity through the vent in my helmet. To my right is a 2,000m-high forest-clad ridge. To my left is a river system I cross and re-cross on a series of suspension bridges under which glacier-fed waters rush past cutting their way through rocky gorges. Despite my need for speed I pull over onto the shoulder time and time again just to admire the view and check out a number of the short bush walks outlined in my customised, plastic-wrapped itinerary. The choicest of all is Blue Pools – a 15-minute stroll through a moss-covered beech forest filled with bird calls that takes me to a rock pool with water so clear that the trout swimming in it there look like they're suspended in thin air.
In no time at all I'm back on my bike, shooting through the Makarora Valley where I stop to wax lyrical with Toby and Sabrina, a German couple riding pushbikes, about our mutual hatred of campervans and the schmucks who drive them. "Zie crazy bastards are passing too close to us!" they lament.
When the valley ends I hit Lake Hawea, formed by one of the region's many hydroelectric dams. The road undulates like a ribbon along its banks until I reach a narrow isthmus of land called the Neck that affords magnificent views of neighbouring Lake Wanaka. The rain clears up in a matter of seconds and I'm treated to a light show unlike anything else on earth, the sky stretched with dusty layers of purple and red while the lake, bathed in sunlight, modulates in a hundred different shades of blue. I pitch forwards, giddy with speed, the space, the beauty and the inimitable freedom of it all as Pink Floyd's Shine on You Crazy Diamond screams through my earphones. There's no traffic, no houses, no fences, no farms, just me and this single, divine road.
It's the last day of the year and I have a long ride today, 250 miles to make it to the city of Oamaru on the east coast to welcome in 2013 with John Munro, son of the late and great Burt Munro from The World's Fastest Indian fame.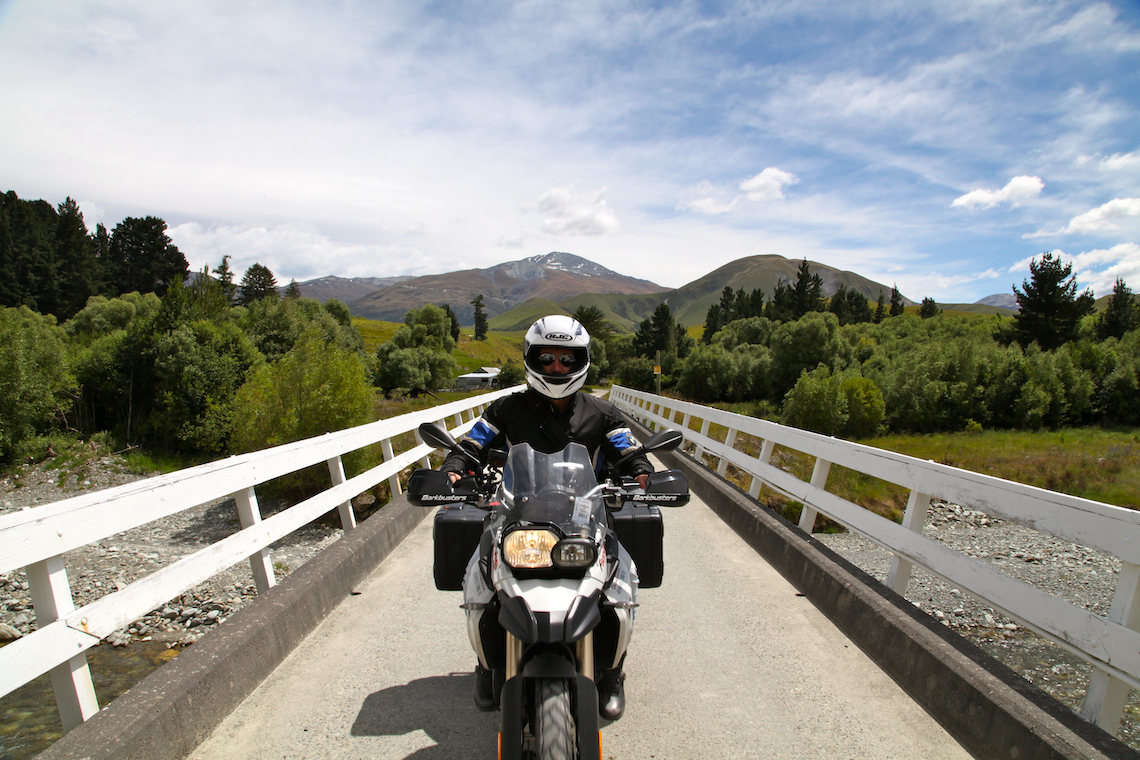 It's hard to believe that tonight also marks the midway point of my journey. I've visited so many beautiful places in this country and I still have many more to go: Mount Cook, Lake Tekapo, Dunedin, the Catlins, Invercargill, Te Anu, Milford Sound and Queenstown at the end of my trip.
But for now I have to contend with howling 60mph winds that throw me like a rag doll around the highway on the Lindis Pass. Yet it's only weather and nothing to prevent me from enjoying a country that seems as if it were made for motorcycling. I can't rate it enough.
Ian was five years old when his parents took him on his first overseas trip to Tahiti. As soon as he finished high school in Australia, he hit the road, spending years backpacking across Europe, the Middle East, South America, Southeast Asia and the South Pacific. He's combined his work as a journalist and passion for off-road touring to travel to and through some of the most exotic countries in the region, including Cambodia, Laos, China and the Philippines. Ian loves nothing more than charging solo through strange lands, getting to know the locals and covered in mud. It's a tough job, but someone's got to do it.
Heavenly highway
The Glacier Highway, or Route 6, runs along the West Coast of New Zealand's South Island at the foot of the Southern Alps and is considered one of the most scenic rides in the country. The route passes through three national parks and takes in two of the region's most spectacular glaciers – Fox and Franz Josef, among others. It also passes by Aoraki/Mt Cook, which at 3,754m is the Southern Alps' highest peak. With this kind of scenery for inspiration, it's easy to see why big budget films such as the Lord of the Rings trilogy and The Lion, The Witch and The Wardrobe were filmed on the South Island.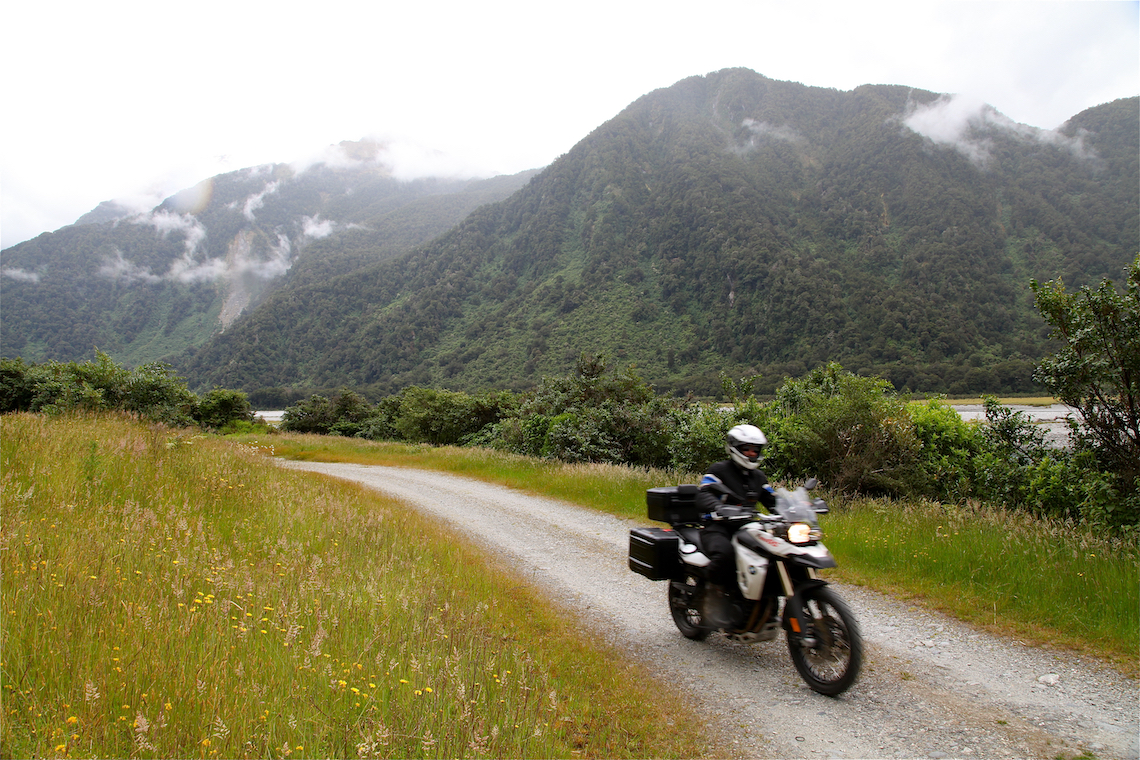 Want to do this?
How long does it take? New Zealand is a remote group of islands in the Southwest Pacific comprising the South Island, which Ian visited, the North Island and numerous smaller islands. The South Island, sometimes referred to as the 'mainland', is the larger of the two main islands and covers over 58,000 square miles. Ian's trip was an 11-day self-guided tour with NZ-based company Paradise Motorcycle Tours (www.paradisemotorcycle-tours.co.nz), covering Hanmer Springs, the West Coast and Glacier Country, Haast Pass, Fiordland, Central Otago, Queenstown, Dunedin, Lindis Pass, Mt Cook Aoraki, Lake Tekapo, and Christchurch. The company also does a 14- day self-guided tour of the South Island, or if you really want to make the most of exploring this part of the world by bike why not take a look at the three-week North and South Islands tour?
When to go? Ian visited New Zealand towards the end of December, with January-February being the warmest time of the year and July the coolest. Rainfall varies across the South Island; the West Coast can be very wet while inland, places like Mackenzie Country, Canterbury, are arid dry.
Get there: Flights are available to Christchurch, NZ, from most major UK airports with Virgin Atlantic, Emirates and Singapore Airlines. Cheap deals are available online from around £800 return and the average flight time from the UK is about 26 hours.
Accommodation: Ian's trip included B&B accommodation, but some of the more expensive tours on offer from the same company incorporate stays in four-and five-star hotels. New Zealand is backpacker country, though, and while cheap B&Bs and hotels can be had from around £25-50 a night, budget hostels abound with prices starting from £15 a night if you're not too fussy about who you share a room with!
Paperwork for you: You can ride in New Zealand on a full UK licence, which you must carry with you at all times along with your passport. A visa is not required to enter New Zealand. Travel insurance is a must and it should cover you for riding abroad. NZ is a long way from anywhere, so be sure it covers repatriation as well.
Paperwork for the bike: To hire a motorcycle you'll need to produce a valid drivers licence and your pass- port. Motorcycle insurance is generally covered in most bike hire agreements, though there's usually an added charge for this. If you're planning on shipping your own bike to NZ, James Cargo Ltd can transport a BMW R 1200 GS motorcycle to arrival into Christchurch for £1,895 by airfreight or £845 by ocean. See www.jamescargo.com. You'll also need a carnet de passage to import your bike.
Is it for you? New Zealand is for all intents and purposes a biker's paradise. Motorcycle touring doesn't come more gobsmackingly amazing than this, and coming from a journo who's had the pleasure of riding in some of the world's most exotic locations, Ian's verdict on the riding in NZ is high praise indeed. It seems the roads and scenery are just made for motorcycling. If you're planning on travelling from the UK, though, this isn't a cheap trip. Probably more a once-in-a-lifetime experience. And why not? If you're going to blow the grandkid's inheritance, what better way to do it than exploring 'God's own country' by bike? Just watch out for the orcs…

Five things you didn't know about New Zealand
Frozen meat, the Hamilton Jet, tranquiliser guns, bungee jumping and the world's fastest motorbike are among the things attributed to NZ inventors.
Most people will be familiar with the Haka, an ancient Maori war dance, but how about a more sedate way of saying hello? A hongi is the traditional Maori greeting, used in a similar way to a handshake. It involves pressing your nose and forehead to those of the person you're greeting. Kia Ora is the informal Maori word for 'hi'.
Dinosaurs are alive and well in NZ. The native tuatara is the only remaining beak-headed reptile in the world; every other species of this reptile family died out 65 million years ago when T-Rex walked the earth, but the Tuatara survived. They can live for up to 100 years and pose no threat to humans. Phew!
Over 20 percent of New Zealand is comprised of national parks, forests and reserves, which puts it among the least polluted places on earth.
In New Zealand, the kind of kiwis you eat with a spoon are called 'kiwi-fruit' or 'Chinese gooseberries', to differentiate them from the chicken-sized flightless bird, which is the country's national emblem and the reason New Zealanders are affectionately known as 'Kiwis'.
The bike
There are stacks of companies in NZ that'll hire you a Beemer, Triumph or Harley and set you up on a self-guided tour. Yet none have scored better reviews on Tripadvisor than Paradise Motorbike Tours NZ. An 11-day tour of the South Island starts at $3,344 (£1,826) per person for a couple sharing an 800cc machine with B&B accommodation, a pre-programmed GPS, 24-hour roadside assistance, airport transfers and a Milford Sound cruise and all the riding gear you'll need except for boots; or as much as $8,503 (£4,644) per person on a 1200cc machine staying in four and five-star accommodation. To find out more, visit www.paradisemotorcycletours.co.nz.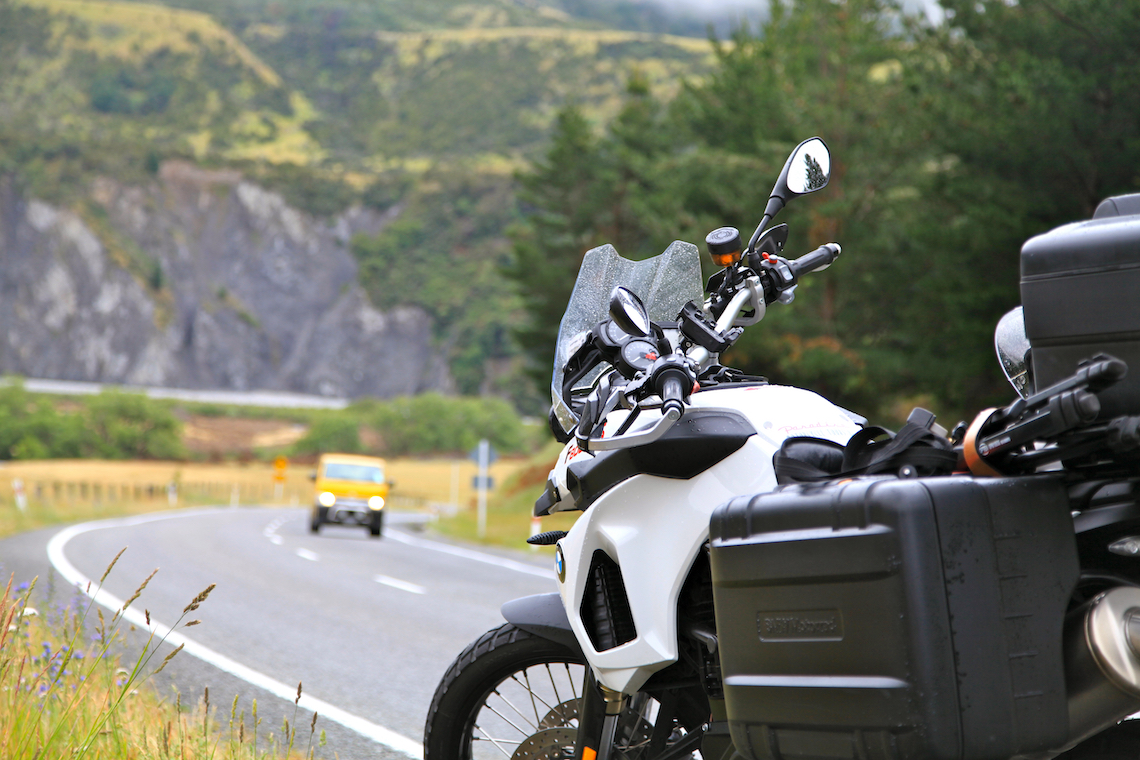 Photos: Ian Neubauer