The Future's Orange…
Determined to escape the tarmac and tourist traps, Graham Hoskins mounts a KTM and points it towards the Pyrenees
Like many riders approaching their golden 40s, I still love the backside in the air and sti­ff necked thrills of sports bikes, but my lower back and niggling shoulder issues, less so. So, I duly acquired myself a second hand R1150 GSA and joined the ranks of the pseudo-adventurers. On various trips it took me to Croatia, up a 'family-friendly' trail in Switzerland and through a few deep puddles in mid-Wales. Something was still missing though. I wanted to ride for days without seeing tarmac, to set up my tent where there were no shower blocks, and follow a route which couldn't be found on a map. With only a week away from home to spare and European levels of funding available, my options felt limited.
I remembered reading an article a few years ago about a solo rider who wanted some memorable off-road touring in Europe. He had considered various parts of the Alps and Pyrenees but on the basis that most of the inhabitants and law enforcement communalities in the Alpine countries tended to treat off-road touring motorcyclists like they were three-headed aliens with a bad case of smallpox, he opted for the Pyrenees. I trusted his recommendation but not my ability to navigate across the mountains on roads without white lines or signs.
The answer presented itself following a simple Google search for 'off-road routes, Pyrenees'. French publisher Vibration was able to provide a rally raid-style road book which gave me a 1,008km route of which 60 percent was off the black grippy stuff. It would take us from Collioure in the south-eastern most corner of France to the Bardenas Reales desert in north-west Spain. The 'road book' would give kilometre by kilometre instructions, just like the Dakar rally riders had always used; it also provided a set of GPS points for the satnav. There was only one small snag: it was all written in French. Luckily, if you can read left/right/straight in French, you can pretty much follow the road book. If not, it's about as much use as a handbrake in a canoe. So, 80 euro later, I was in proud possession of said French manual and ready to rock and roll.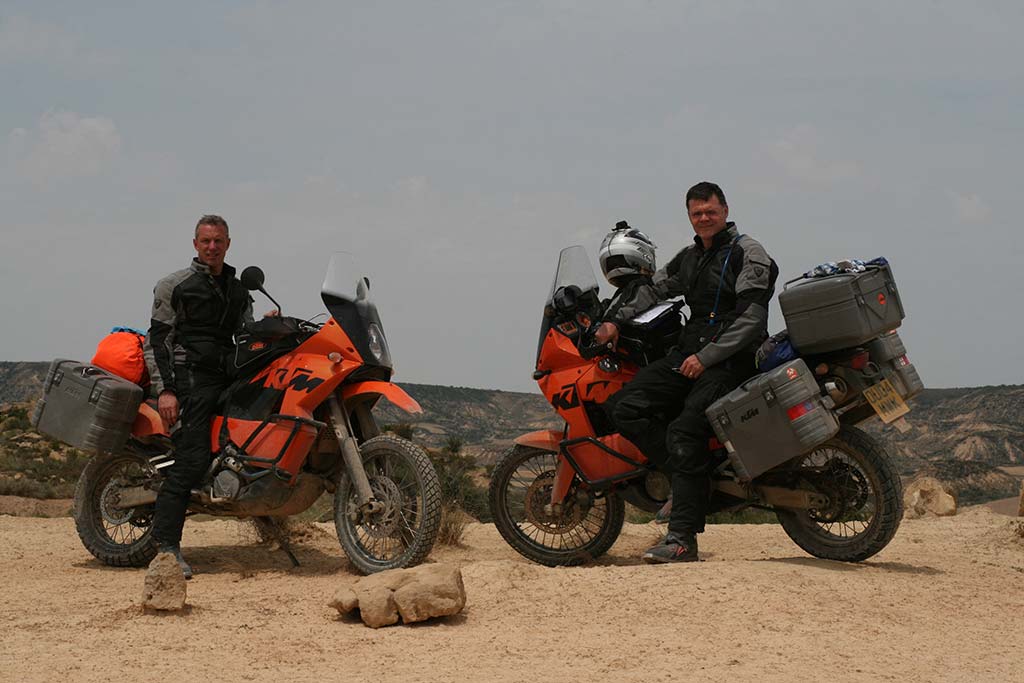 As the focus of the trip was to cross the Pyrenees on the KTMs, getting there was just about making it as quick and comfortable as possible. I had heard of a magical option where someone else would take your bike while you supped some vino and got your head down on a gently rocking bed. Et voila! The once-mighty French Motorail. Sadly, the Motorail stopped running from Calais in 2009 and there are no firm plans to restart it, which is a genuine shame. It's a great way to get to the south of France if you're not bothered about riding down there. It was old, very rustic, well past its best and the way that the bikes were strapped down on the open carriages was Neolithic compared to modern ferry journeys. It took three French train 'jockeys' up to 10 minutes on each bike using wheel clamps and packing tape to secure each machine. Despite all those negatives, I absolutely loved it and would use it again in a heartbeat should it ever be reprieved. If the idea of taking the easy option for your backside appeals, there are still Auto Trains which can be caught from Paris.
The off-road route started just outside of Collioure which is right in the south-east corner of France just north of the Spanish border. It's a pretty coastal town with some pleasant little eateries about 30 miles east of the E-15. We'd jumped over the border for a night out in Loret de Mar the previous evening and the journey back up over the border into France had been among the first of the trip's many revelations. I'm no prude and I'm well aware that prostitution is pretty rife all over Europe, but I didn't expect to see 'ladies of the night' sitting on white plastic picnic chairs along the side of the forest road!
But I digress, let's get back to Collioure. It's the perfect way to prepare for some pretty intense 'soft-roading'. It's important not to get this Pyrenean route confused with serious Enduro-type riding. Every trail along Vivaction's route is theoretically passable by a 4×4, quad or motorcycle which gives some insight into the difficulty level. Having said that, I'd like to see 4×4 getting through, over, round and under some of the obstacles we encountered, but if you want narrow stream beds, impossible-looking climbs and pure Enduro adrenaline then you need to choose something else.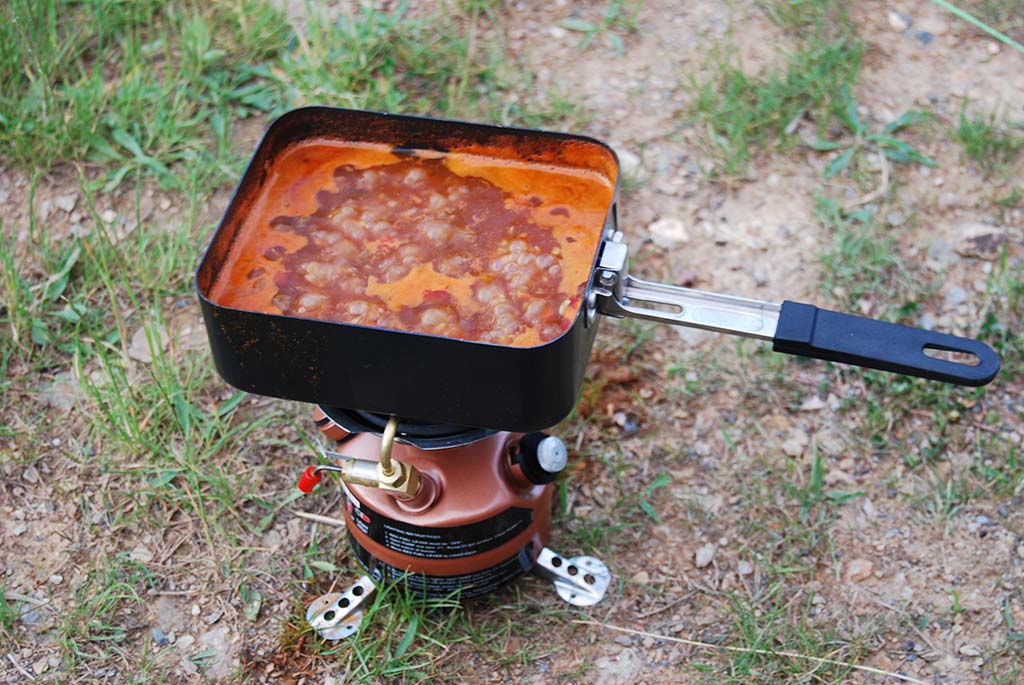 One of the most amazing things about this route was variety of scenery and surfaces to traverse. Even on that first day we went from drizzly rain, barren, loose-rocked and gravelly coastal hillsides to steamily warm forest valleys winding up through miles of sandy switchbacks. These trails are all doable by pretty much any competent rider. Having said that, the first time you do, you have to drop all the hard-learned skills from many years of tarmac riding. As you try and wobble round one of the aforementioned sandy switchbacks, every fibre of your body is screaming at you to sit down, put your feet on the deck, de-throttle and slam on the anchors. However, the off-road rule book says stand up, push your weight forward for grip and give it gas. It takes some balls the first time. And be prepared to fall off. Those sandy switchbacks were a bitch. We were both off in the first half hour of the ride.
But you quickly learn that the metal grips on the foot pegs are there for a reason (obviously you need to take the rubber inserts out first) and that standing up on them lowers your centre of gravity. Combine this with the gyroscopic effect of your wheels spinning faster and it can rescue you from tipping over. You even get used to moving forward with your front wheel sliding around and not necessarily facing the same direction you are. It might sound like a nightmare but it's hellishly good fun; took me back to being a spotty teenager learning to ride for the first time in the local woods on an RD50. It's physically exhausting, sweaty, dusty, and you swear a lot. You couldn't have wiped the smile from my face with a petrol-soaked rag.
Part of the 'real deal' we were looking for on this trip was the chance to do a bit of wild camping. No mobile phone signal, no civilisation within sight or hearing distance and certainly nothing in the way of running water, unless it was the babbling brook sort. The perfect site was found overlooking the Spanish foothills of the Pyrenees, watching the towering cumulonimbus storm clouds forming over the mountains to the north. It didn't feel quite so perfect when the clouds decided to dump on us like a fire brigade over a film set, though.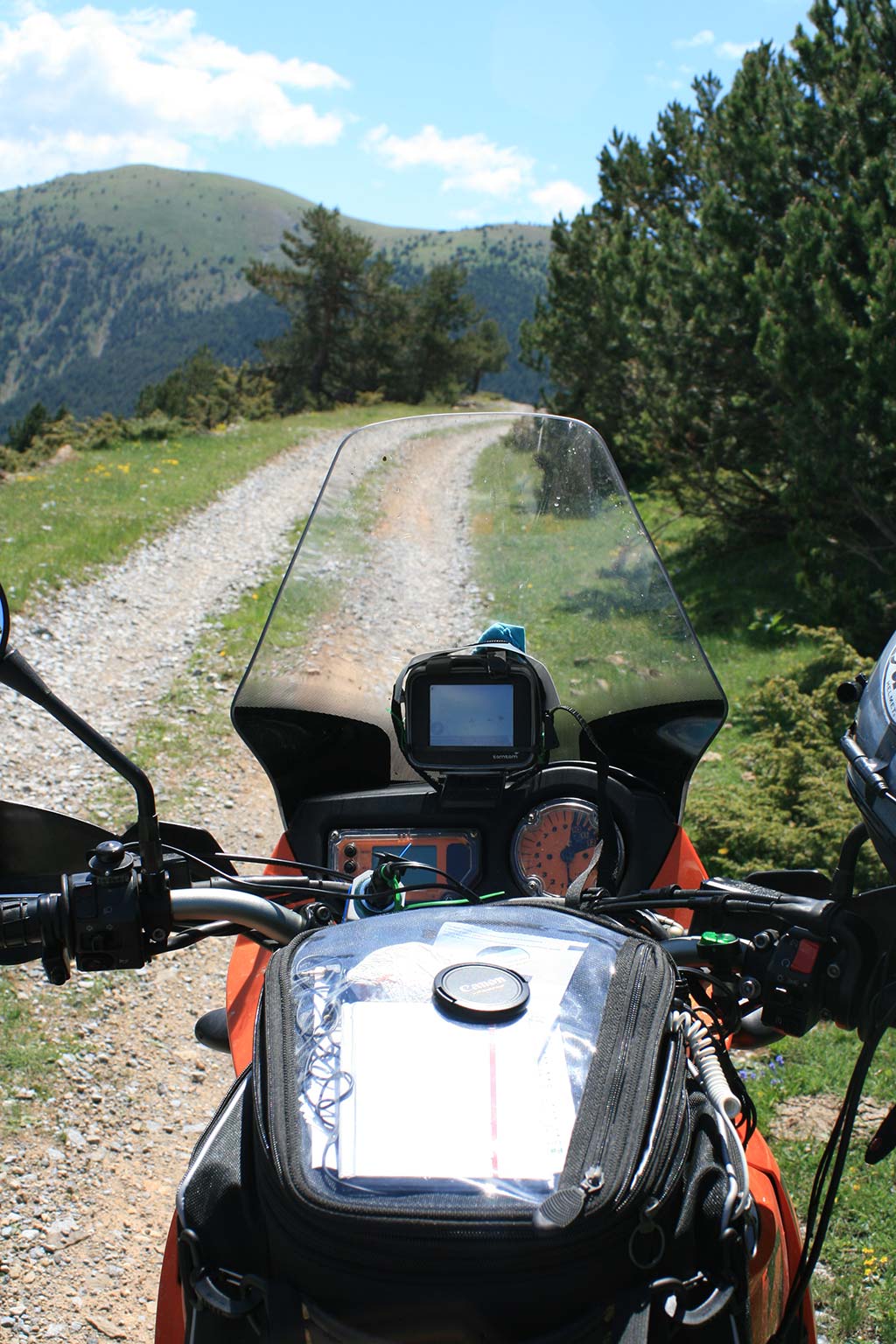 We could have coped with the rain and broken sleep but my riding buddy has an almost pathological fear of lightning and when the sky was lit for the first time around 4.30am and the thunder started shaking our teeth, he was determined to pack up our mountainside campsite and retreat to the plains. We'd done that a couple of years ago on another trip and I didn't relish the prospect of navigating narrow slippery tracks in the dark and pouring rain. We compromised with that ever-so British fixer-upper, a cup of tea. Being a good and sympathetic pal I then took the piss and videoed him jumping out of his skin with abject terror every time the sky lit up with a crash!
Navigating using a combination of the road book and pre-loaded satnav 'waypoints' was not too difficult, despite the need for continuous translation. The road book comes in an A4-sized format so I binned the idea of a handlebar mount, which would have been like trying to read my speedo through copy of The Times. I opted instead for a technological solution and bungeed it on top of my tank bag.
With hindsight I might have been better off trying to see round it on the handlebars. Looking down at the road book every few minutes, translating the French, checking 'kilometre-age' against the waypoints and looking for the corresponding little red dots on the satnav – all at the same time – made for some worrying moments, particularly on the soft or slippery stuff. Note to self for future reference: only take your eyes off the tracks to read the navigation equipment when travelling in a slow, straight line, with particular attention to avoiding trees, large boulders and other stationary or immovable objects.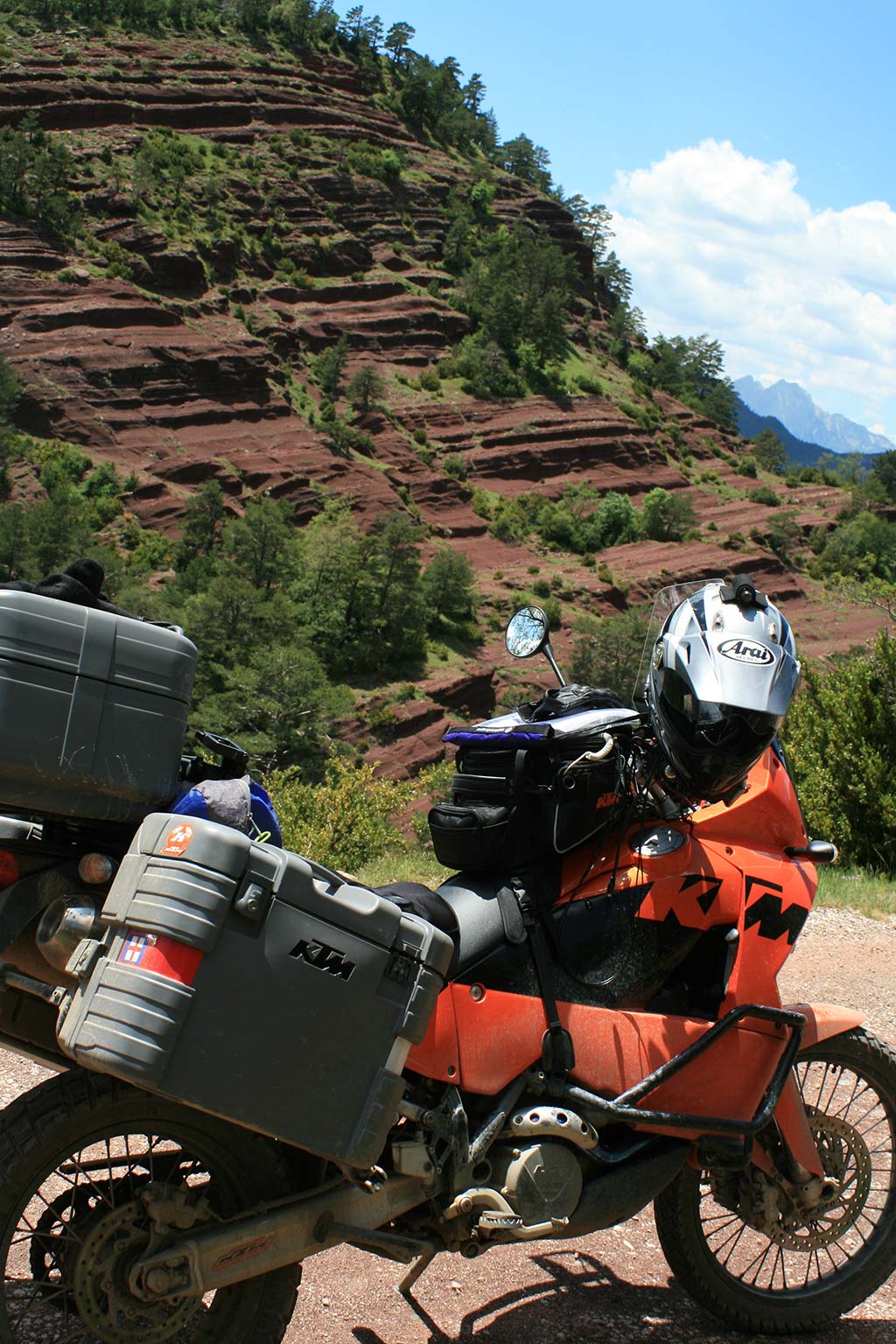 The total length of this road book road is around 1,000km with just under 70 percent of it off road. Each day mixes the off-road with the tarmac but the route planners and writers have paid as much attention to the quality of the roads as to the wonderful variety of off-road riding. Every day was a revelation but one of the very best was a four-hour stretch starting from Col de Toses at 1,797m high. It took in everything from heart-stopping gravel sweeps around valley heads to Mars-like landscapes and hill-hugging twisty tarmac. If you could picture the Devils Punchbowl, remove any vestige of civilisation; add a loosely gravelled track and two heavily laden KTMs and you would have us at the start of this incredible section. The Mars landscapes were actually a mix of red rock formations set against vivid green carpets of grass sprinkled with pine trees. The rock formations were like half-baked dough balls stacked on top of each other and left to ooze slightly over the sides. My friend described them just as accurately as piles of baked red dog doo-doo. Either way, you get the picture.
And the tarmac! The only extraordinary biking roads south of Hadrian's Wall that have not been destroyed by winter pot holes are patrolled by zero-tolerance Welsh coppers and big-brothered by our tall yellow-backed enemies. The tarmac on these Spanish roads was as flawless as diamond but as sticky as duct tape. And the roads were empty. I can only guess that as we were so high up and so far from the beaten track that no one needed to use the roads.
We could see two or three corners ahead so we could make like Valentino on race day, working our magic, apex to apex. Maybe I'm getting a bit carried away with visions of grandeur but they really were great.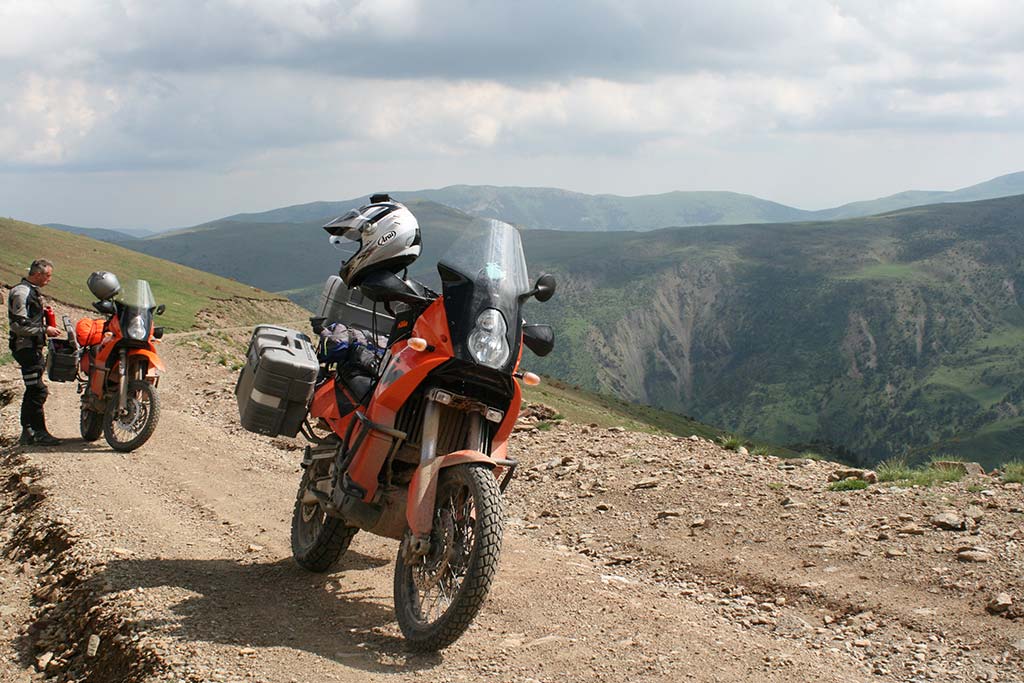 We didn't limit ourselves to rough camping. The Vibraction route is well provided with campsites. Camping Can Fosses in Planoles was idyllic. Nestled along the side of a deep green valley, it was a comfortable stay with that most important of campsite facilities – decent toilet paper. And showers, of course. We had taken a small but plentiful variety of tools. We figured as long as it was minor, we'd be able to fix it. We'd just finished a magnificent section of tarmac when my pal pulled up. 'Mate, this could be serious, I can't change gear. Feels like something's bust in the gearbox,' he said. My pulse wasn't racing too hard as I knew we had breakdown recovery. However, that's not much good if you can't contact them and our wonderful, isolated mountain pass was wonderfully bereft of any mobile phone signal. Not the end of the world as I would have just had to ride to somewhere where there was a signal. I needn't have panicked though. It was just his gear change lever come loose from the spline. Good job we spotted it though. If it had come off completely, it would have been a bit tricky changing gear without it!
Our second 'rough' campsite was also stunning and we almost missed it. A decision had been made to stay on a meadow a few kilometres earlier, but a local had asked us if we wouldn't mind moving down the track a way, as we were currently on a national park area. Can you imagine your local English farmhand asking politely, 'I say, sir, would you mind awfully moving your tent just a smidge down the track?' I don't think so. The more likely order would be, 'Oi!, what the **** are you doing? Get off my ******g land and take all your ******g ***t with you. ******g bikers!' Pero los españoles locales son maravillosos! So eventually, our camping spot was found high in the mountains before the next town, Tremp, which in turn was about 25km further down in the foothills. I didn't even miss the luxury of a hot shower as I'd taken along my solar shower bag – fill it, hang it, warm it with solar power and voila – instant hotel room.
The road book gave us plenty of accommodation options in addition to the route itself. We could have stayed in hotels, B&Bs or guesthouses. If you're looking for hotel luxury then miss this bit out! If, however, the experience is more important than the amenities, then try out the guesthouses. We stayed at such a place in Loarre – one which you would never have identified as a guesthouse from the outside. It was just like every other ramshackle little house in the terrace. The only clue was the numbers on the bedroom doors inside. There was no sign outside and we had to be guided to it by a considerate local hotelier. We coughed up peanuts for a warm, clean room with a shower and they let us park our bikes out of the rain in their garage. When we turned up soaking wet and tired, they invited us into their own sitting room to warm up in front of the fire. They didn't speak a word of English but we still managed a hand signal and broken Spanish conversation about our respective children. And, I think we could only have paid about 30 euros.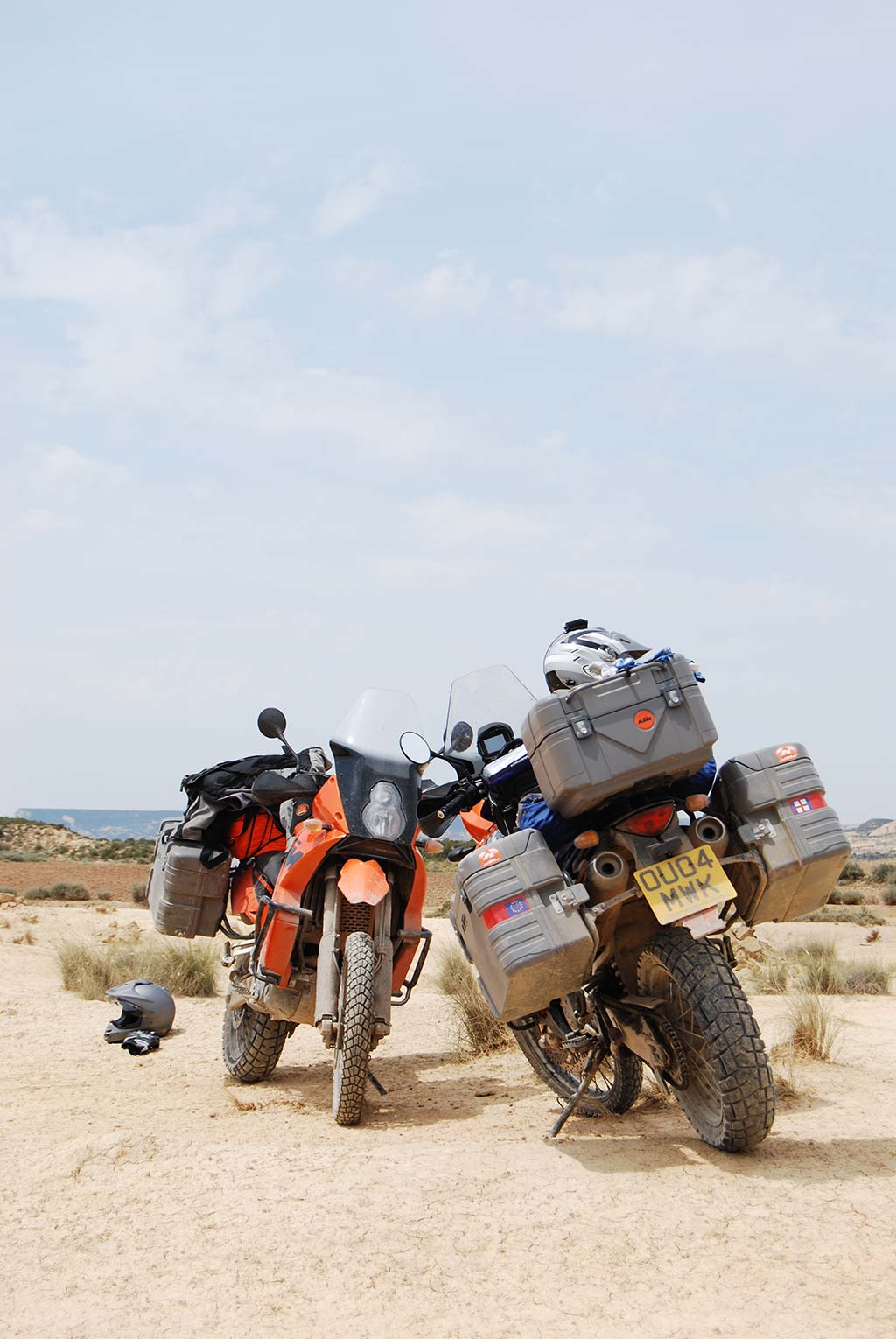 One note about the Loarre area – make sure you make time to stop at Chateau De Loarre. Even if you're not a corduroy-clad professor of medieval architecture, this one is worth it for the magnificent photo opportunity. If time allows, also stop at the Lake Barasona Reservoir, or in the vernacular, 'Embalse De el Barasona'. It is what it says on the tin but when you are hot and tired, it's exhilarating. Stopping there had nothing to do with bikini-clad local women sunbathing. Promise.
By now we were running out of time to complete the trip and had abandoned the route in favour of a direct road to our next point of interest. We covered a few hundred kilometres by road and among our many campsite gems, we found one little 'brown' one. This unexpected nugget was slap bang in the middle of the dusty industrial town of Huesca. This was not one from the road book. My friend TomTom had directed us to it. As we were winding our way through the back streets, I was convinced that the satnav was leading us on a game of find the 'non-existent Spanish campsite'. However, in the heart of the town, behind particularly unfriendly looking concrete walls was a beautifully kept campsite. With a great pizza restaurant within the grounds!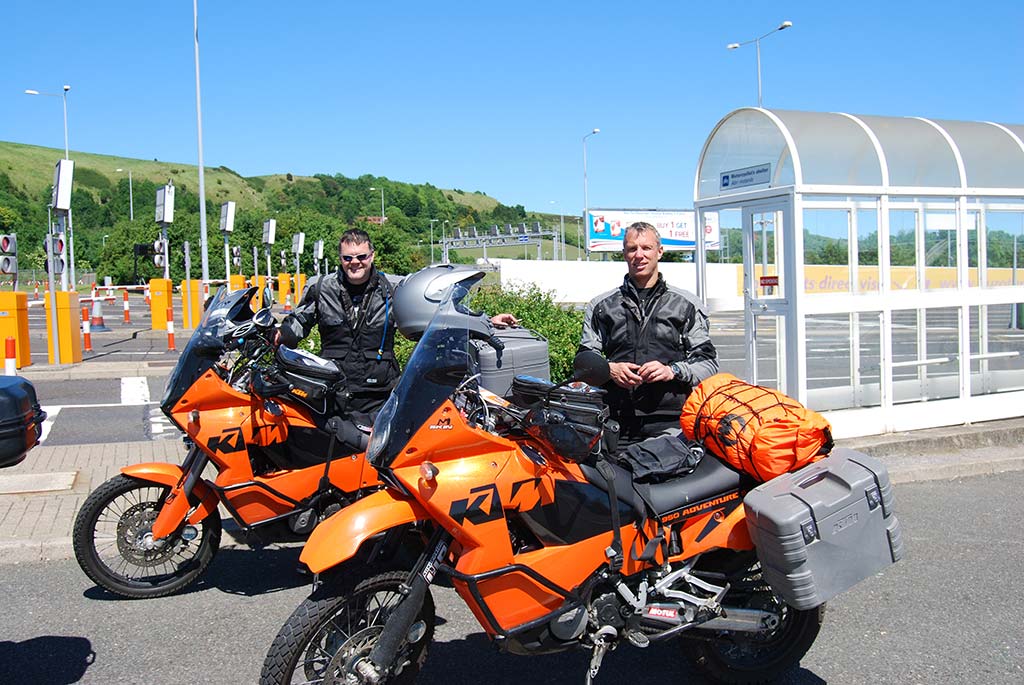 The last planned destination on our route was north-west Spain's best kept secret: The Bardenas Reales Desert. Yes! It's a real desert! You could drive straight past it without knowing it's there, but by some fluke of local weather conditions, there's a desert slap bang in the middle of the Spanish mountains. We're not talking pure Sahara here, but it is definitely Spaghetti Western-type territory. The Bardenas is (apparently) a mix of clay, gypsum, and sandstone formations created by erosion and are unique in Europe. They cover 45,000 hectares which is real money is 174 square miles, but the most important thing is that they're virtually empty and that means you can shoot along the gravel tracks at rally speeds and if you fancy, drop off all your luggage and do some Dakar sand riding. Doing 90mph along loose gravel tracks on a fully laden Adv bike was something of an adventure. Buttock-clenchingly scary at times and almost clean pants time at others but it's an absolute must.
This brought us to the end of the Vibraction route and almost the end of the tour. We still had to ride back through France but broke up that arduous auto route journey with a stop at Le Mans and a quick spin around the sections of road track open to the public; it's definitely worth a visit. Looking back, I still find it hard to believe that in just eight days we did so much: desert, mountains, snow, rain, steaming valleys, thunder, gravel, sand, tarmac, hot, cold – the list could be almost endless. In terms of variety, I've never done anything like it before or since.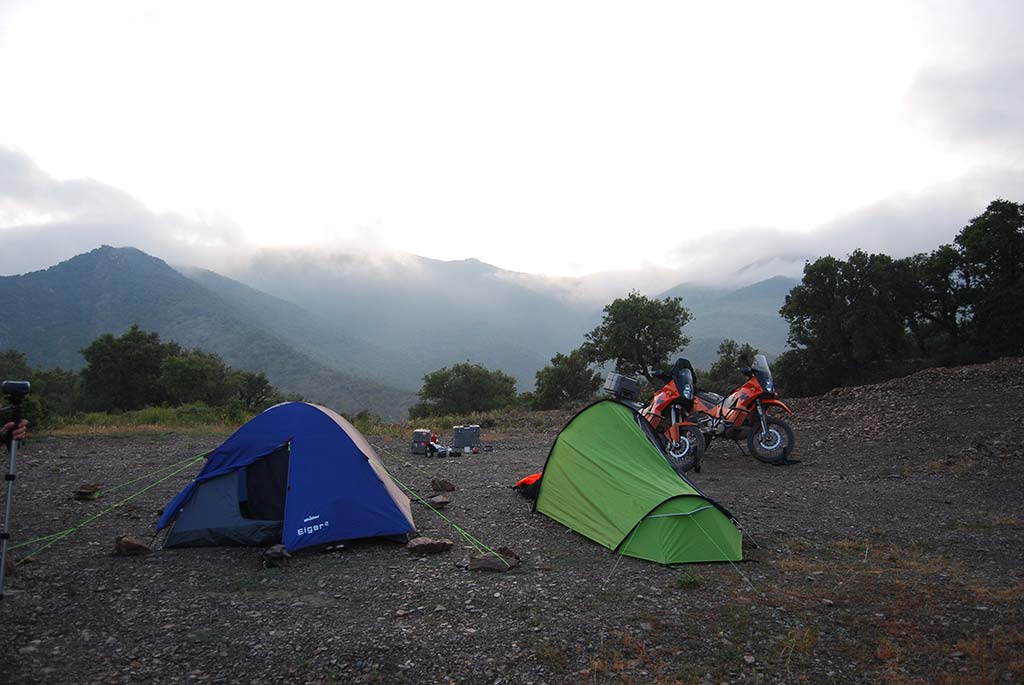 Must Ride Pyrenees
Lake Barasona Resevoir
Chateau De Loarre
Bardenas Reales Desert
All the mountain tops
Every and any part of the route which veers off road
The Bikes
I'm lucky enough to have two. When the aches and pains allow, I ride a very well worn but faithful '97 Fireblade: 38k miles, one Cat C right-off , almost no servicing in the last eight years but the force is still strong with the mighty Honda RRV. The majority of the time my trusted steed is a '05 KTM 950 Adventure (occasionally referred to by my kids as BOB – Big Orange Bike. I, of course, would never do anything as daft as name a motorbike, ahem!). Lots more engaging to ride than a GSA, better off -road by a country mile, but give me the beemer for a long-distance ride any day. Just one final comment of BOB – when it's fully loaded with boxes and top box, the front wheel has tendency to forget its purpose on fast tarmac turns!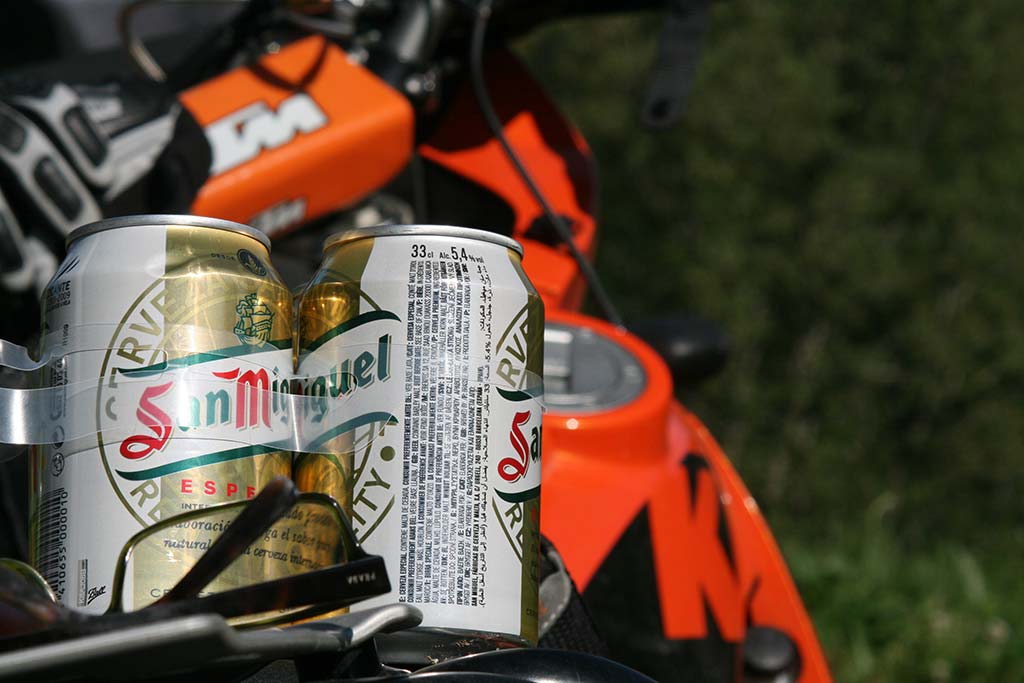 'I've never been to the Pyrenees'
After advice on all the must-see, must-do, must-ride mountain hot spots? Log onto the forum at www. adventurebikerider.com and ask fellow ABRs for ideas like reader Mark Young did. You're sure to get myriad suggestions…
'Check out Europes Grand Canyon – the Odessa Canyon. Just over the French border from the Odessa you'll find the spectacular Cirque Du Gavarnie.'
'If rocks 'n' stuff are not your thing, don't forget you can shop till you drop in Andorra. Handy to know if you're not going alone.'
'The guys are right about the A75. Cracking bit of auto-route where you will not be in top gear all the time.'
'In Spain you have to treat Satnavs with considerable caution – they lie! Either saying that perfectly good roads are dirt trails or vice-versa!'
'Don't worry about booking accommodation as there are loads of sites to just pop into, that way if you like somewhere you don't have a schedule to keep. Col de Tourmalet was excellent; I wouldn't even bother planning a route. Just get there, pick a point in and a point out, and explore.'
'You must do my most fave bike road – the N152 to Ribes de Freser. Remember to take some breaks to capture the scenery and chat to the many other bikers who'll also be parked up.'
'La Masana to Arinsal, turn off for PAL keep going into Spain (Tor) and enjoy. Dirt track-ish but doable on a TDM850. It's all brilliant.'
'You must ride from St Junien – Rochechouart – St Mathieu. Awesome road! Rochechouart has one of the twisted spire churches, too, and a big castle overlooking a valley, it's a lovely photogenic village.'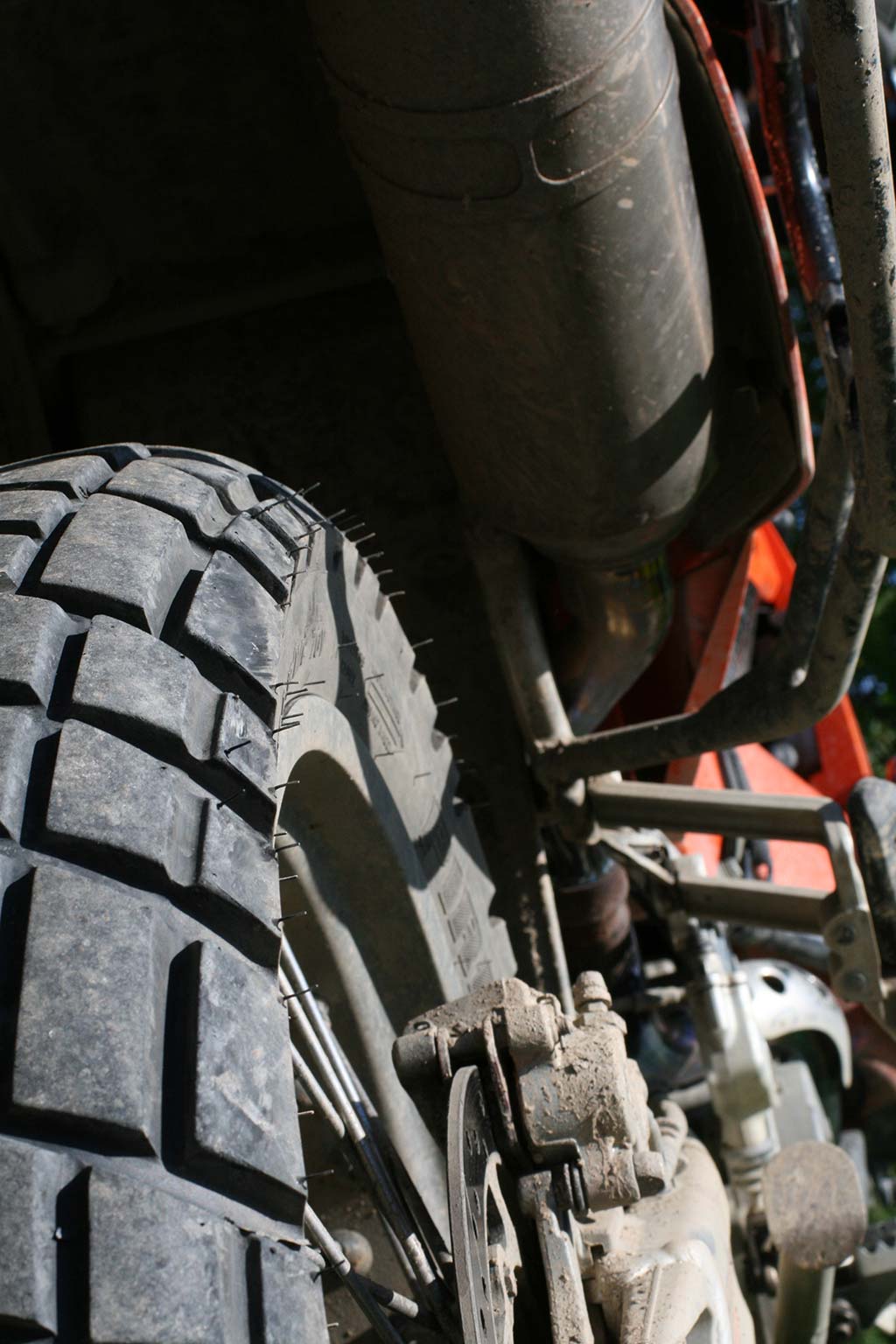 Climate
Mountain weather is always fickle and the Pyrenees is no exception. It's worth bearing in mind, however, that on average the range enjoys around 300 days of sunshine per year. Dodge the 65 crap ones and you're laughing! Thunderstorms are frequent during high summer and can be sudden and violent. If camping, take a bucket and a teddy bear for such eventualities.
Pack your Pyrenean Panniers
ABR Mike Stevens, retail director of Cotswold Outdoors, has a BMW R1150 GS; here are his essential gear tips for summer in the summits… 'Conditions in the Pyrenees in the summer are mostly warm but can range from boiling hot on the plains to thunderstorms and cool temperatures in the mountains,' says Steve. 'With all those mountain roads you'll want to watch the weight and pack size, too – you'll want to be comfortable but also able to hustle along when necessary.'
Tent
Vango Halo £170 or the Vaude Mark 2 £325
Both offer plenty of space, solid construction and dual entrances. They are also well vented and able to stand up to a bit of adverse weather.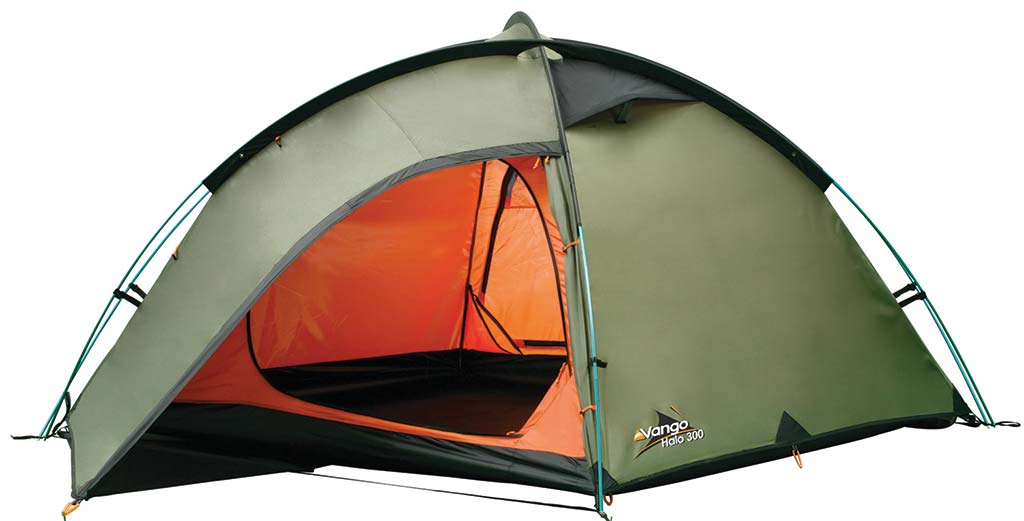 Sleeping Bag
Mountain Hardwear Lamina 35 £100
Comfortable at 0°C with minimum weight and pack size. It has a side zip for ventilation when camping on the plains but will be warm enough higher up, especially if used with a liner.

Kip Mats
Mountain Equipment Helium 2.5 £39 or for extra comfort the 3.8 £45
Both offer serious comfort at a superb price and limited weight and pack size, so there's no danger of having to slow down through those mountain twisties.
Stove
Primus Mimer Duo £20
A great low-cost option; it's simple to use, has a tiny pack size and isn't restricted to the Primus-style gas cartridges but can also be used with Camping Gaz resealable ones, which are easier to get hold of on the French side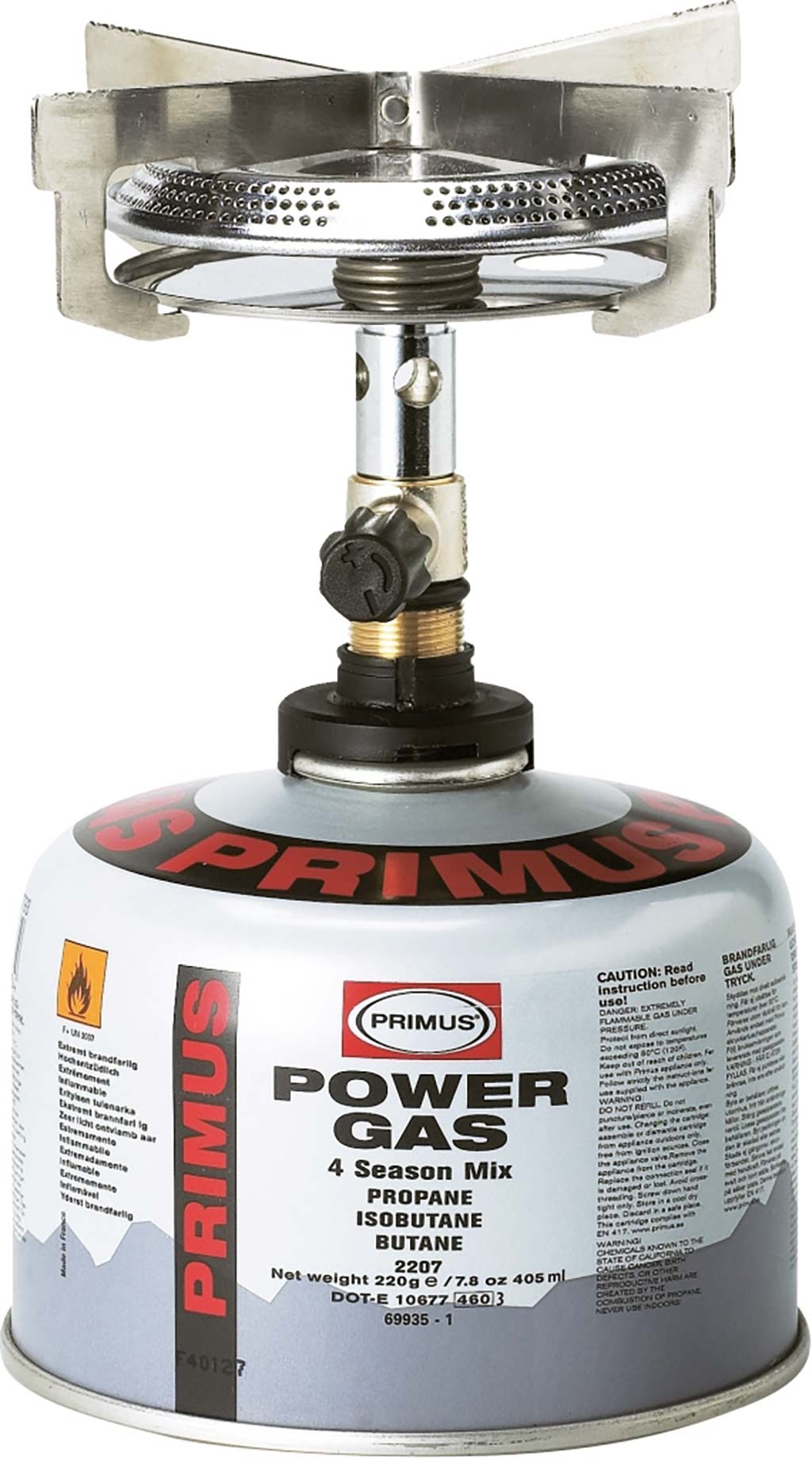 Cook kit
Vango Cook Kit 1 or 2 is excellent value £18 and £22
Solid, basic kit that just does the job well!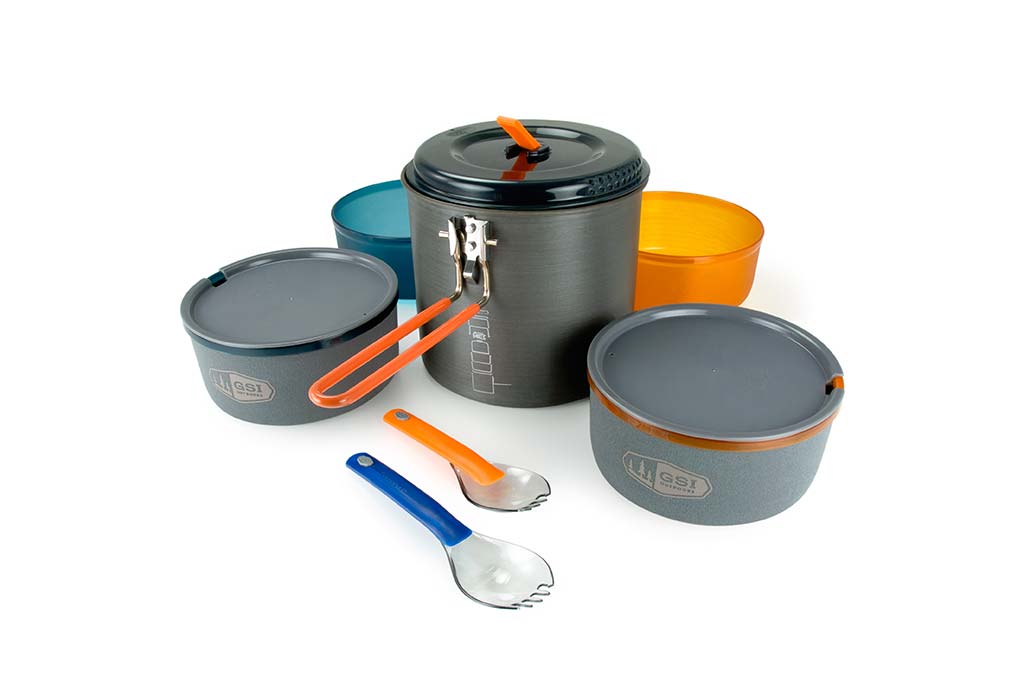 Luxury Items
Lifeventure Microfibre Towel £25
Super-soft travel towel – go for the XL option if you're feeling really opulent!
Titanium Spork £15
Possibly the most useful cutlery item ever and its made of Titanium – can it get any better?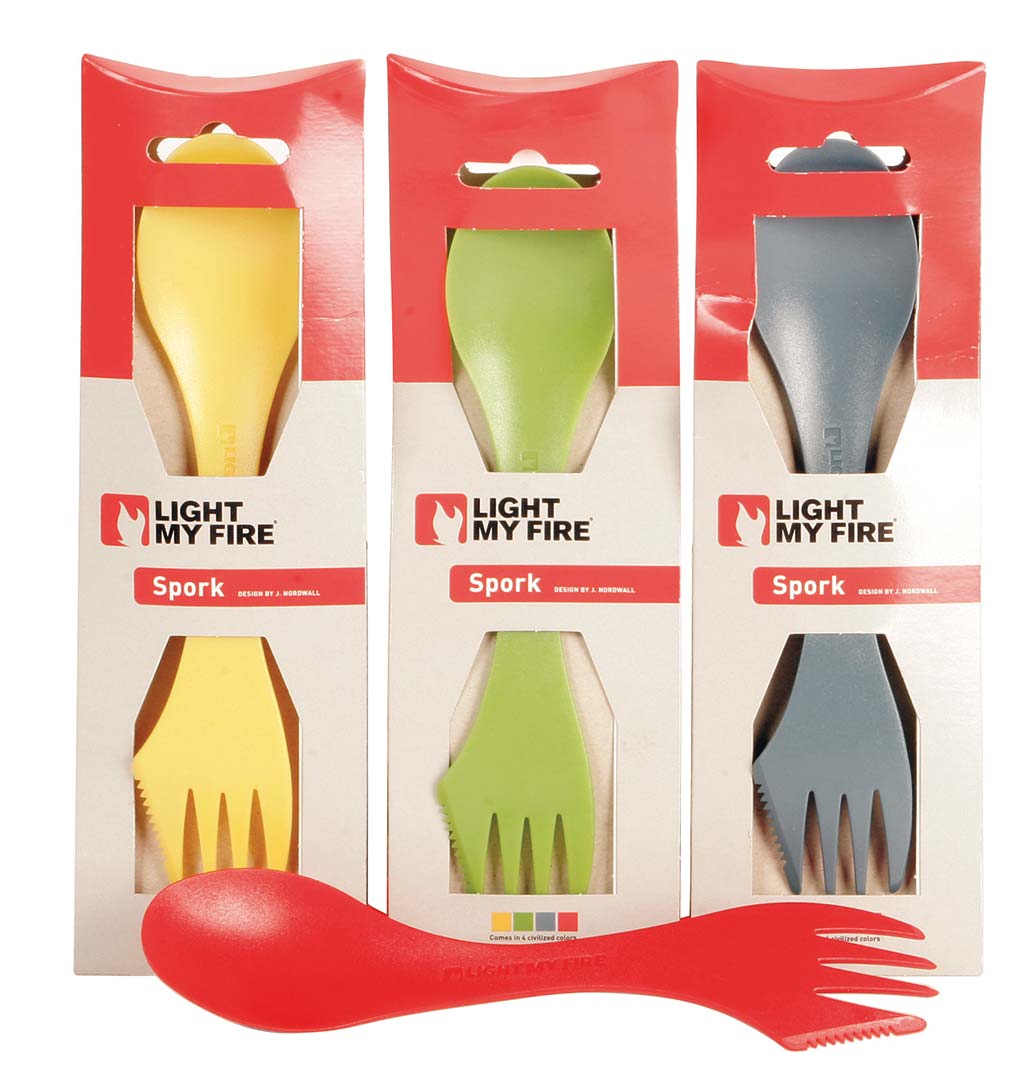 Pyrenean dos
Take an electronic tyre pressure gauge, mountain bike pump and tools. It sounds so obvious but I bet 90 percent of riders wouldn't check their tyre pressures every day. Do it. It'll make the taste of enjoyment so much sweeter.
Ignore any and all references to <Brokeback Mountain> from your small-minded friends. There's nothing the least homoerotic about two biker blokes camping on a mountainside together.
Take your camera and camcorder and take more pictures and footage than you think you'll ever want. You can't go back and take more.
Plan your fuel stops – the last thing you will want to do is whizz past a gas station because you are full of the spirit of Pyrenean freedom, only to run out of petrol 20 miles later on top of an isolated mountain.
Speak to the locals and the people you meet along the way – say hello and greet everyone with a smile, handshake and your sunglasses/helmet off. Some locals in the tourist trade are a bit weary of travellers but most appreciate the effort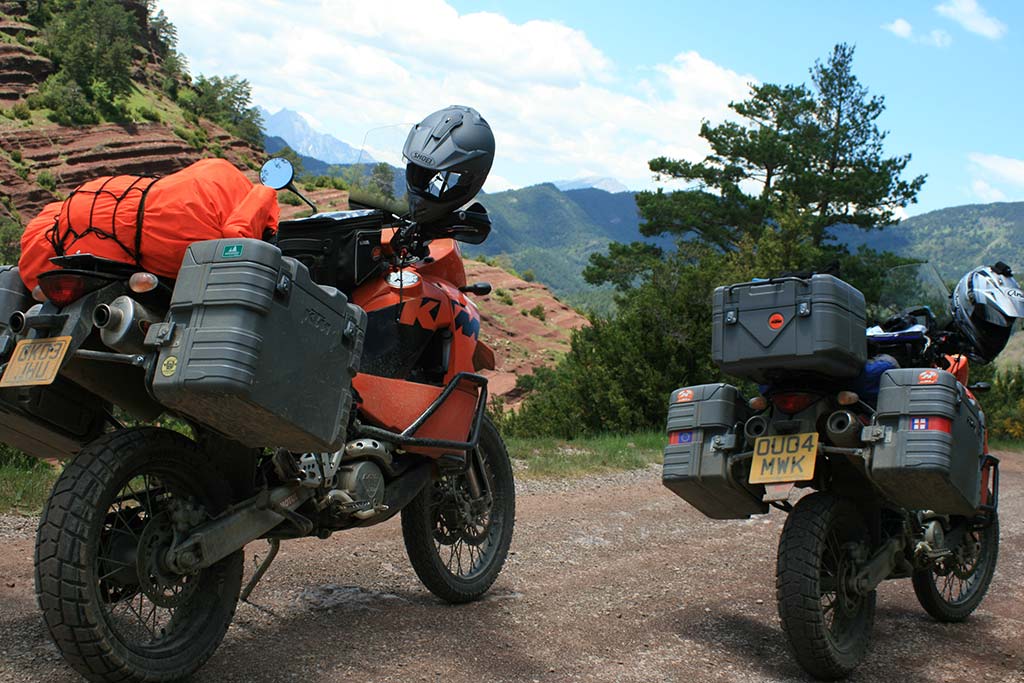 Pyrenean don'ts
Ignore local signs – if something says no camping, don't camp there. If it says shut the gate, shut it
Leave anything behind or abuse the countryside in any way – I'm not trying to sound like some cranky old activist. I'm being totally selfish. If we abuse it, they'll stop us using it!
Promise your loved ones that you'll call them every evening. Some of these trails are well away from a mobile phone signal
Think you can guess at what the road book says – if you're not sure, use Google translator before you go
Ignore the road book/satnav combination and think you know better. The route has been put together by professionals – trust it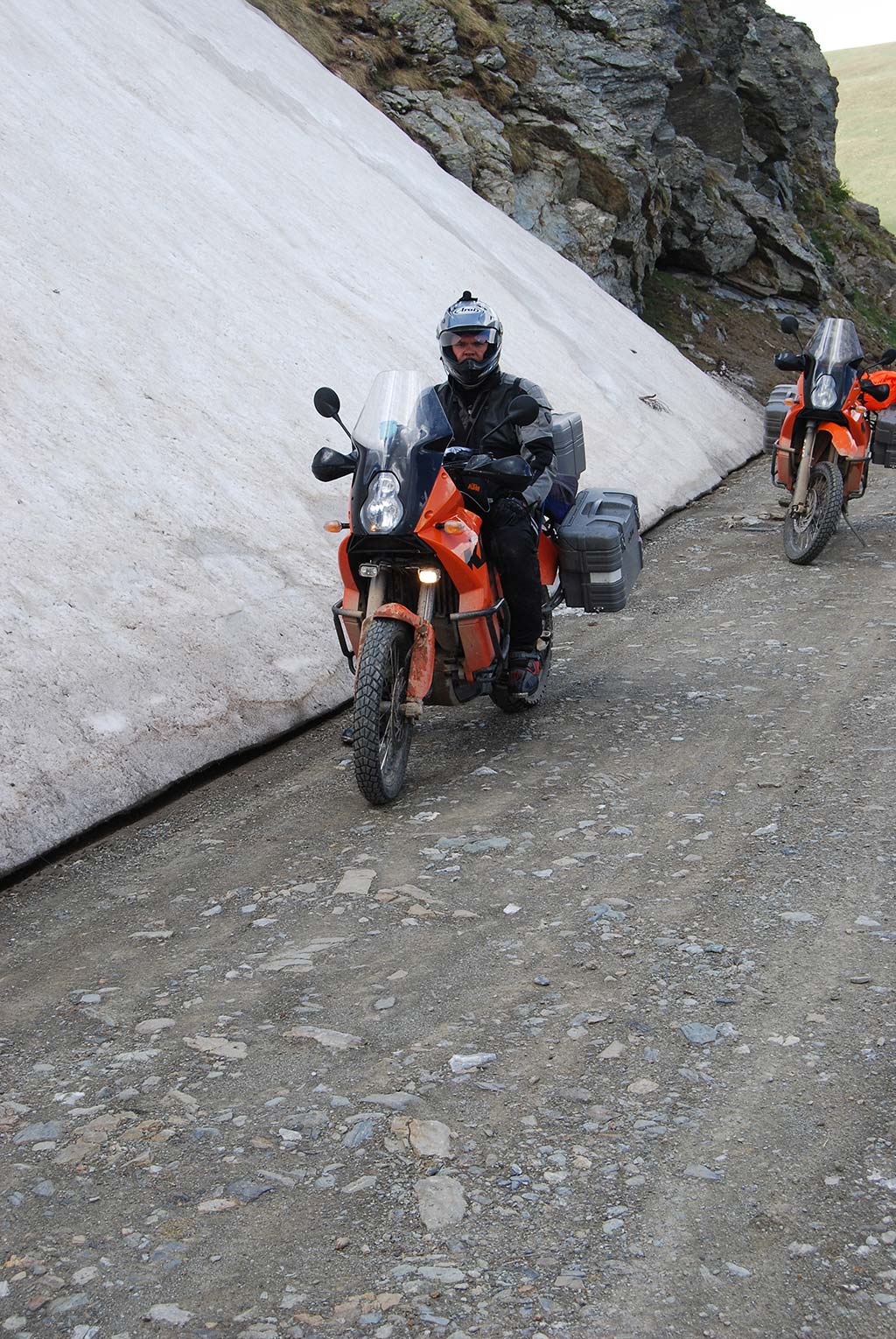 Useful contacts…
Tour companies
Alpinett: www.alpine-tt.com
Bike Normandy:
www.bikenormandy.com
Equipment
The KTM Centre:
www.thektmcentre.co.uk
Road book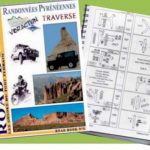 Graham planned his route using Vibraction's rally style Randonnees Pyreneennes Traverse road book, €80 from vibraction.pagesperso-orange.fr (no need for the Ws). The route notes are all en Francé, but, if Graham's to be believed, a very basic grasp of the language and a satnav is all you'll need to be on your way – allez!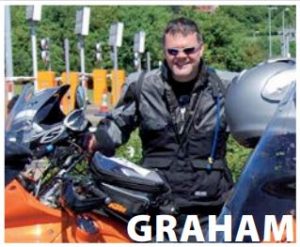 Who's Riding?
Graham Hoskins is a lover of all things two-wheeled. An occasional adventurer with more aspiration than activation, he's also a motivational speaker, wannabe TV documentary maker, and (not forgetting the day job) management consultant. Graham's a father of three and husband to one very understanding Mrs H!