Fred Leeming hits the mountain trails of Piedmont, Italy, and discovers that you don't have to travel halfway around the world to have an unforgettable adventure.
In a world of absolutes, there are two kinds of adventurers, those who like it rough and rugged, and those who prefer the comfier, smoother option; this rule doesn't quite carry into Piedmont, a region in the northwest of Italy that easily satisfies the desires of both.
It's funny that we always find ourselves dreaming of adventures in far away lands, crossing deserts in Central Asia, navigating muddy trails in Africa, road-tripping across America, yet we often overlook the availability of superb routes much closer to home. The Italian Alps have it all; breathtaking scenery, dirt tracks, winding roads, amazing culture, delicious food – the list goes on.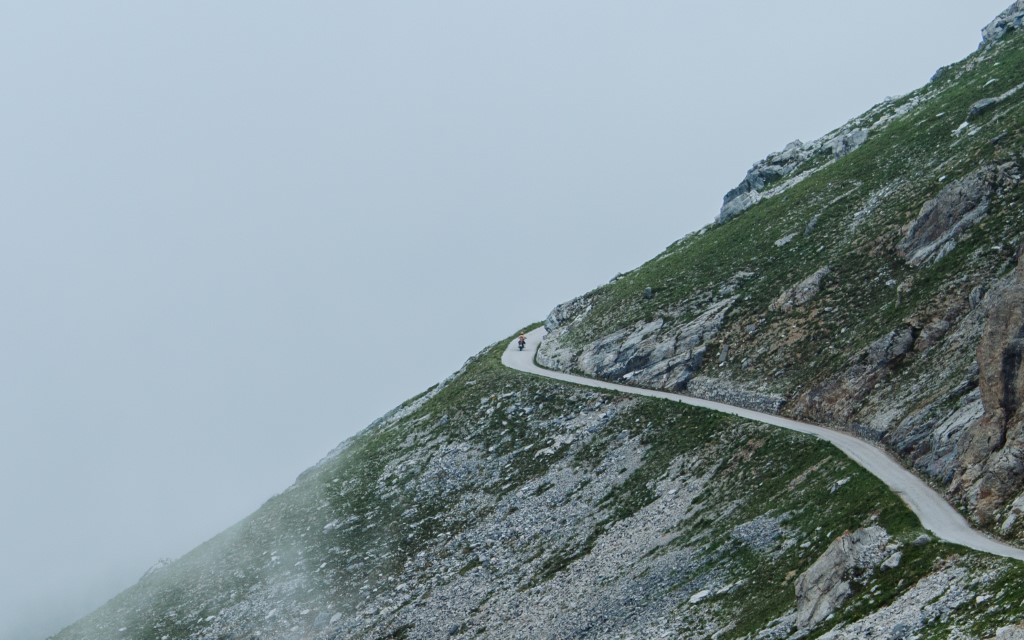 Bearing this in mind, I couldn't have been more excited as I stepped out of Turin airport, still bleary-eyed from the convoluted travel across and from London. I was meeting up with Francesco who was keen to show me a new route he was planning on including as one of the many popular tours he runs under Central Italy Motorcycle Tours.
He drove me to La Virginia, about 50 miles southwest of Italy's old capital where we checked into a lovely Agriturismo. For those of you who aren't familiar, Agriturismo are tourism schemes set up by farmers; generally, they come in the form of old farm-houses converted into hotels with restaurants providing a selection of delicious food made from local produce.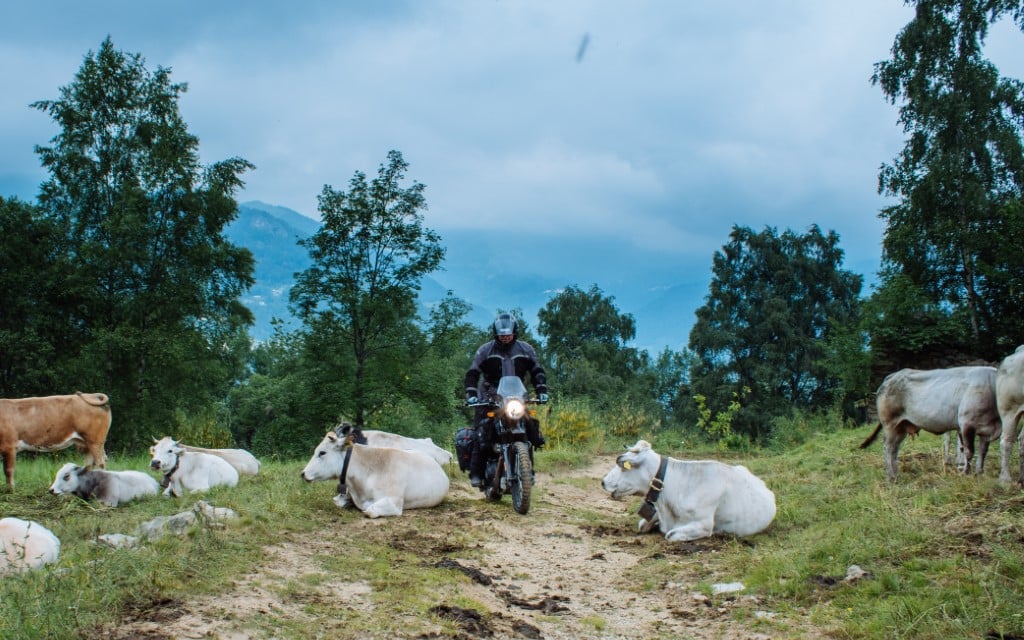 Francesco treated me to a gorgeous four-course meal, washed down with lovely beer (and a bit of wine too!), as we discussed the week ahead. I went to bed very content and excited about the week to come. 
Our guide, Roberto, joined us in the morning, a man with a big smile that rarely leaves his face. Our bikes were ready and waiting, three new Royal Enfield Himalayans. I'd wanted to try one out ever since its release, and I was really looking forward to giving it a whirl.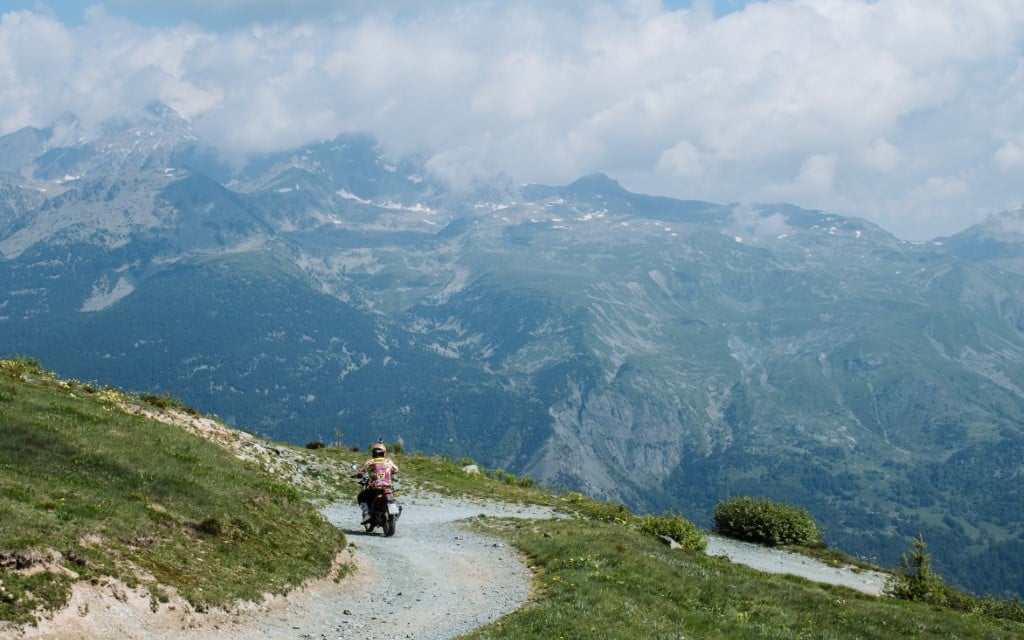 My bike had different ideas though, and in classic fashion I picked up a puncture in the first mile. I'd normally find this frustrating, but we were very laidback, and when you can enjoy a fresh Italian coffee whilst your puncture is fixed for you, can you really complain? 
The weather was overcast, which gave us a nice respite from the heat as we climbed up windy roads, and after not too long we found ourselves on some dirt tracks. Roberto has lived in this area for over 20 years, and he knows the roads like the inside of his helmet.
We switch from tarmac to dirt a number of times as he navigates towards an unknown destination. The riding isn't too technical and is perfect for easing into the bike and the trip in general.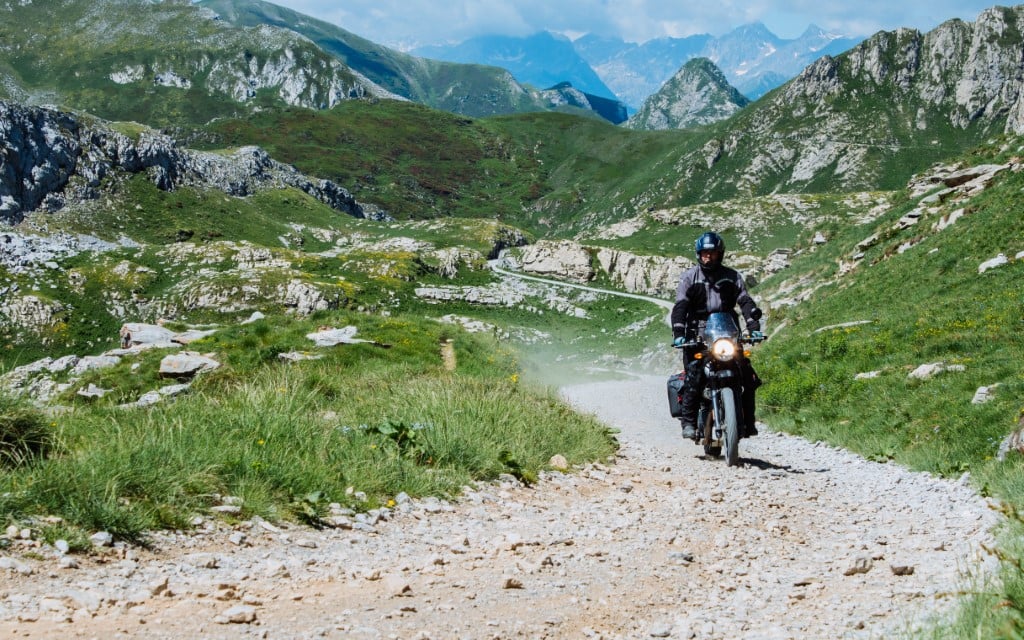 We have lunch at a ski resort and then carry on riding into the late afternoon, at one point we found ourselves on a beautiful old military road built by Napoleon (not personally, I assume), which attests to the amazing history of Italy's dirt road network. 
The farm buildings we pass are all typically Italian and rustic, but have huge slabs of slate for roofs, something I've never seen before. The clouds start to gather and darken and the irritable realisation that we're about to get quite wet sets in.
However, it ends just as quickly as it starts, and we pull into our final destination for the evening, the village of Marmora. It's a beautiful alpine settlement, very traditional, one of the buildings dates back to 1436. Roberto, Francesco, and I enjoy a well-earned beer in this beautiful setting before being treated to another four-course meal; this is the sort of life you get used to very quickly.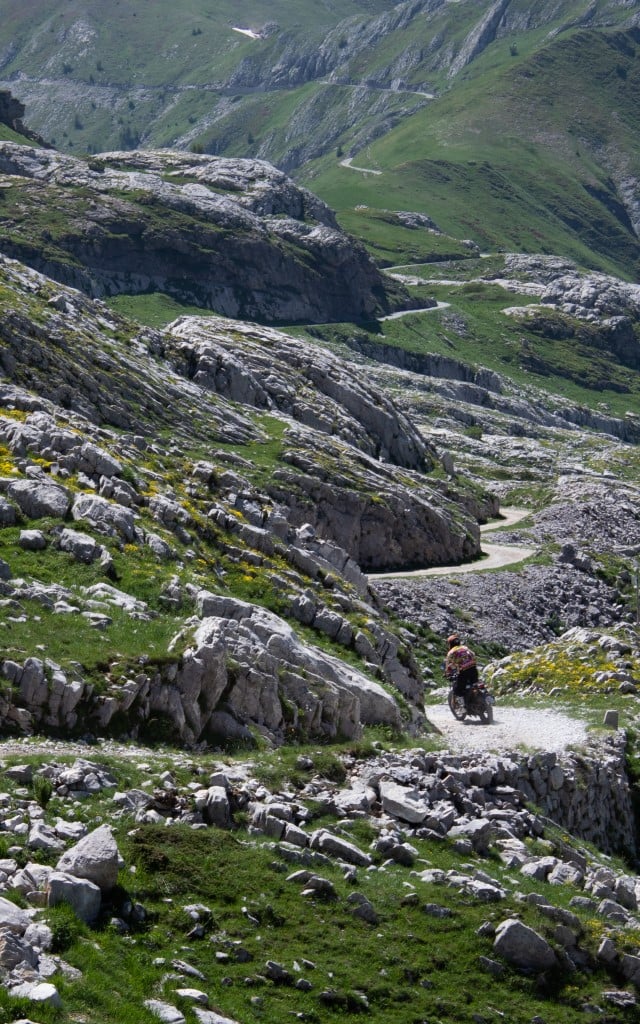 We were treated to glorious sunshine in the morning and some twisties that made me beam with joy under my helmet. These roads were cut out of the sides of cliffs, taking us up through a deep gorge in serious style. We were travelling up to the village of Elva, a settlement carved out of the side of its host mountain, with gorgeous panoramic views.
This place is remote, allegedly so remote that recently a very old local lady proclaimed she'd like to visit the next village along before she died, for she'd never even left Elva. We carry on climbing, moving onto dirt roads going deeper into the alpine mountains. If it weren't for the occasional sightings of vintage Fiat Pandas then I might not have been certain we were in Italy.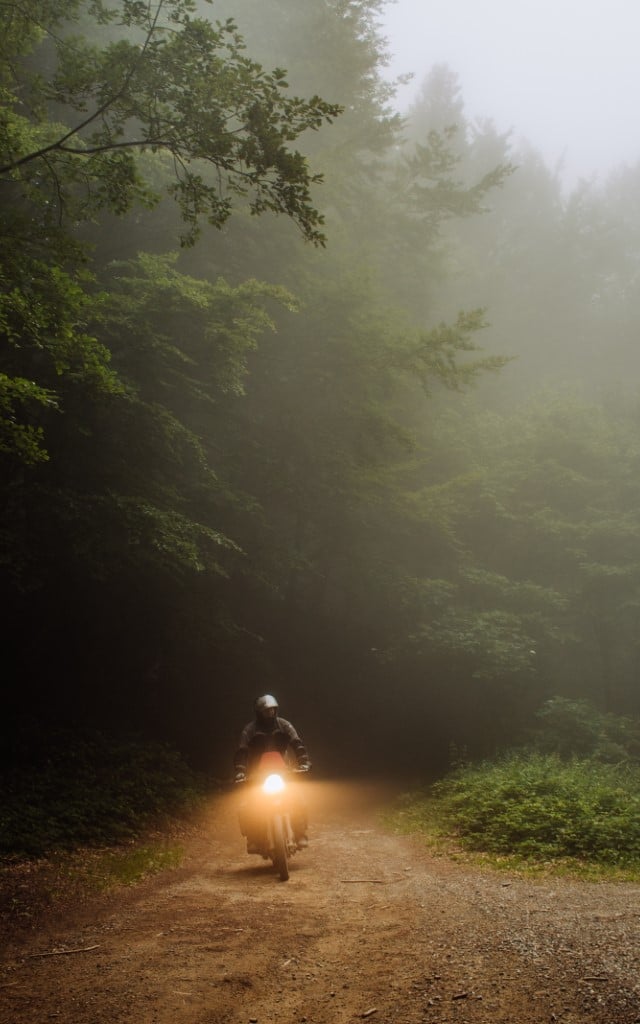 One of my favourite moments was when we came over the brow of a hill and turned off our gravel road and onto an even smaller dirt track that wound its way onto another hill and skirted around the side of this huge green mound, backdropped by snowcapped mountains all the while – its hard not to grin like an absolute idiot in situations like these. 
We travel at a very nice pace; fast enough for a thrill, but also leisurely enough to take in all of the fantastic 360-degree views constantly on display. For a landscape photographer, this part of the world is a paradise, and very spoiling.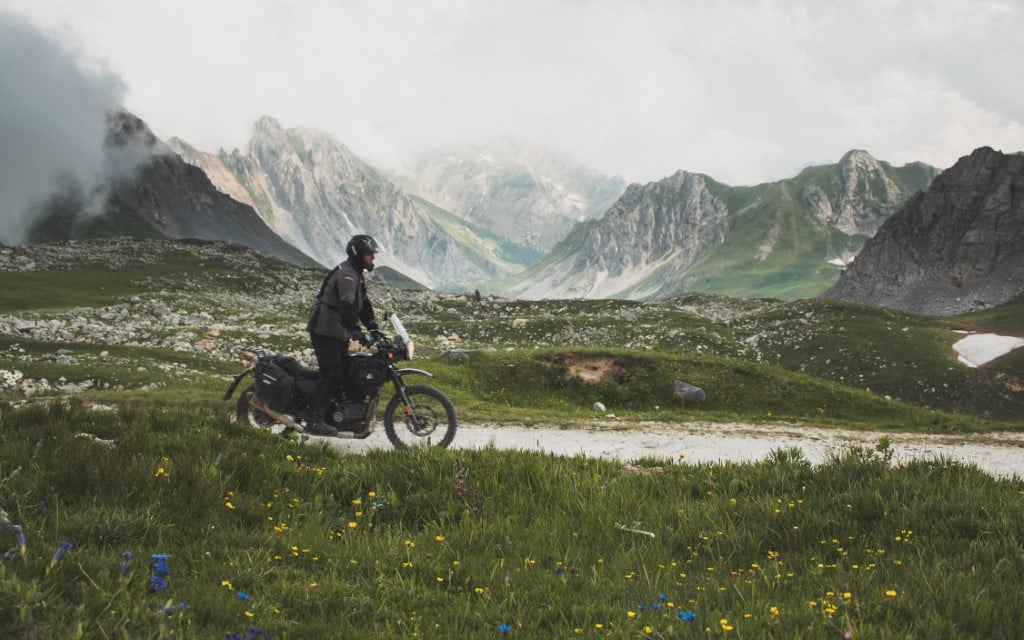 After a morning of twists, turns, heat and dirt roads, a lunch of wild boar pasta hit the spot. We can't stop for long though, as we're back on the Himalayans and heading up l'Altipiano della Gardetta; a single dirt track that winds up through mountain tops and along a beautiful plain of green grass where you are surrounded by giant rocky outcrops lined with snow. 
It's truly surreal, these are some of the most amazing roads I've been on, and the topography is reminiscent of the famous Dolomites, 300 miles away to the northeast. I'm constantly stopping to take photos, but even at this high altitude the heat makes me want to keep on moving so that the breeze can cool me down.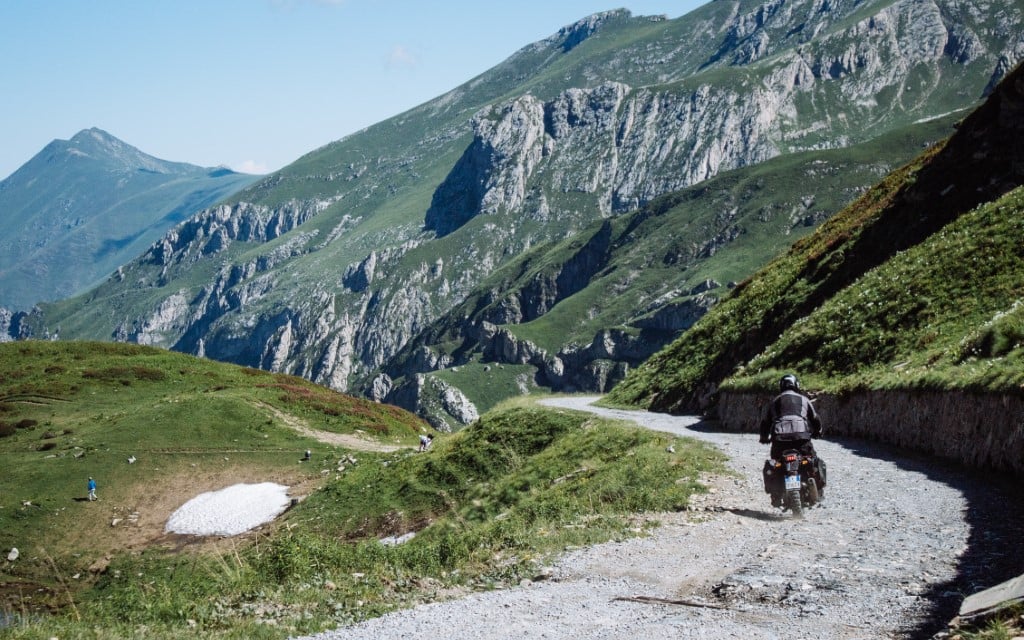 Despite this, there is still snow around (hard to believe, really), so much in fact, that we couldn't finish the altipiano, as the road was blocked by a snow-drift that had still not melted. Not to worry, Roberto knew an alternative route which involved passing by old WWII forts.
Coming back down the hill, a thick fog descended, and we nearly collided with a group of idiots on Vespas who were trying to take a selfie together whilst moving in the middle of the road. The front idiot came off in this attempt and almost took me down with him, I hope they at least got a good pic. 
The fog cleared and was replaced by a torrential downpour and thunderstorm. We took shelter with the Vespa riders under an overpass and waited it out; this wasn't the sort of rain you wanted to be riding in. At a break in the deluge, we went for it, but the respite didn't last long and we spent the last hour of riding getting soaked through.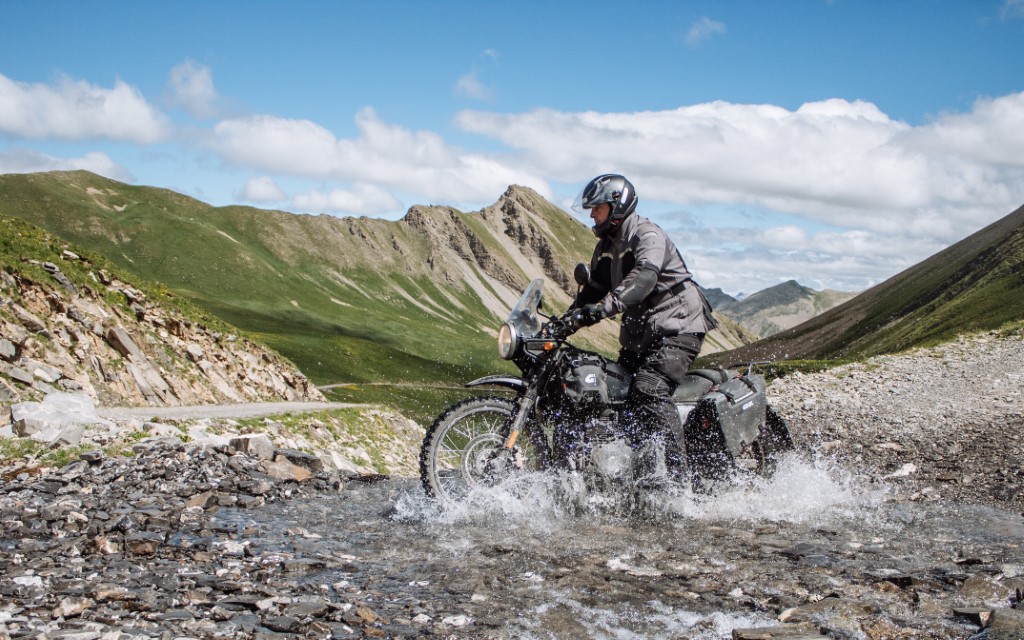 I had made a gamble (a pretty safe one I had assumed) when packing my bag that my waterproofs would be unnecessary, boy did I regret that, although to be fair my waxed Merlin jacket did an amazing job keeping my top half dry.
At one point, the rain was so bad I could barely see out of my goggles, so I was more than relieved when we pulled into our hotel and sat down to another four-course meal, washed down with cold beer, and England playing in the World Cup on in the background. Well earnt. 
One night wasn't enough time for my kit to dry out, so I had to grit my teeth and gingerly climb into sodden trousers at the beginning of a new day. Luckily, the sun was out in full force again, and once back on the Himalayan I was dry in no time.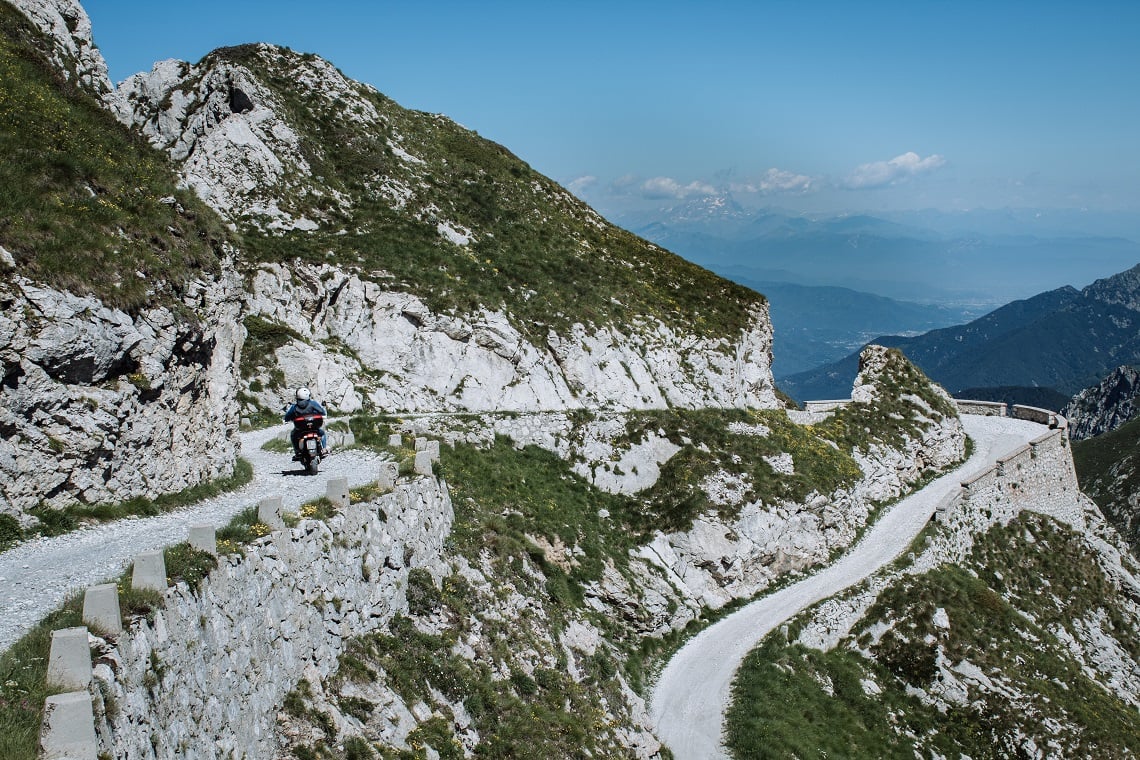 As mentioned, I had been very excited about the prospect of getting to know Royal Enfield's latest creation. Its classic look fits in well with the Italian surroundings and rustic villages. It's got an incredibly smooth throttle response, and can be quite fun leaning into corners too.
However, I can't help but feel that its weight and lack of power make it quite sluggish. Having said that, it handled everything I chucked at it without fail, and I have no doubt that it would be right at home in the Himalayas. 
Most of our third day was spent on the Via del Sale, the Salt Road. This road is part of a network of trading routes in northwest Italy that have been around for more than a thousand years. Merchants carrying precious salt from the coast would cross the mountains to trade, returning laden with wheat, wine and cheese.
But these days it's almost empty and forgotten, apart from adventurous two-wheelers, although at the weekend I'm told it can get busy, so we were lucky to be there mid-week. I'm continually amazed, not only by how extensive the dirt road network is here, but also how good quality it is.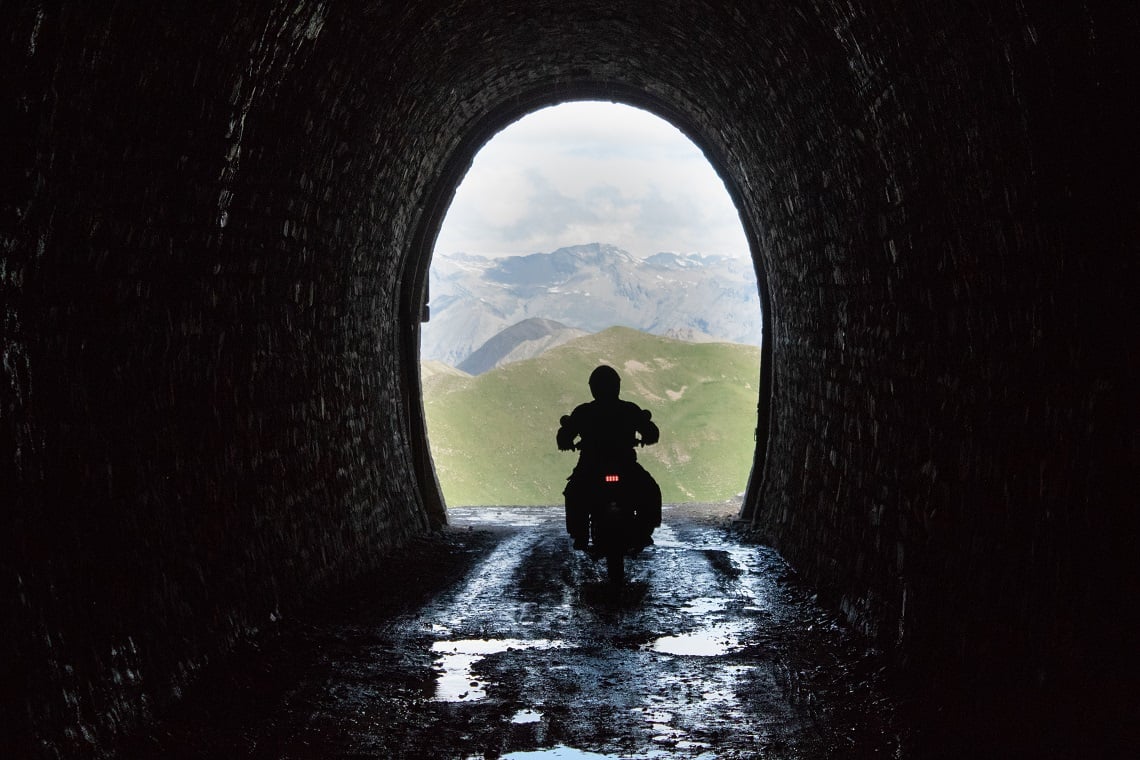 The Via del Sale may cost €10 to travel on, but it is incredibly well maintained and therefore a small price to pay. If someone offered green lanes like these at home, I'd bite their arm off – hell, I'd take the other one for good measure too! But for now, I had over 60 miles of gravel to enjoy. And what an amazing 60 miles it turned out to be. 
Once again, the sun was shining on us as this road took me from scenic view to scenic view. We were above the tree line here, but it was still so green everywhere, with outcrops of rocks and patches of snow to give it all a very epic feel. At one point there was the most amazing hairpin that wound around a large rock, backdropped by the impressive Monte Viso.
I was so preoccupied, jaw almost on the floor, gawping around me that I very nearly went straight into Roberto. Luckily, I skidded to a sheepish halt about 20cm from his tail, a kind reminder to keep my eye on the track ahead.
We climbed higher, surrounded by an amazing field of pink Rhododendrons on either side of us; a statue of Christ that slowly crept into view only heightened the feeling of other-worldliness. He sat on top of a ridge, surveying the awesome surroundings and we parked our bikes at his feet and enjoyed some pre-packed sandwiches stuffed with gorgeous cheeses and Italian hams. 
The riding suddenly got very technical, and I used this as an opportunity to really give the Himalayan a run for its money and took myself off ahead of my two friends. I was having a lot of fun, the road was dropping with quite large rocks and boulders to navigate, and I had to check myself when a sudden clang announced a nice new dent in the sump guard. Apologies Francesco!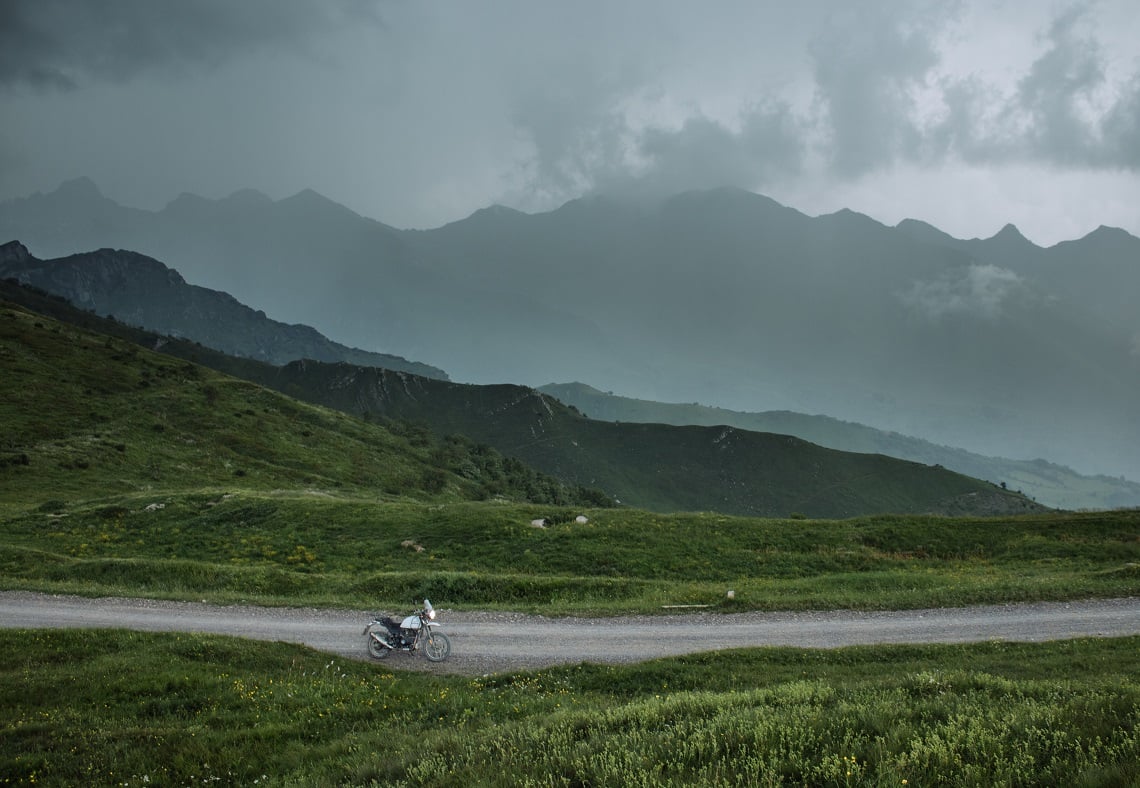 We passed through some old tunnels, which were very dark and very wet underneath, I'm not going to lie it was quite sketchy riding. We'd also been warned that donkeys like to take sanctuary there in the summer as they provide cool shade, so that kept us on our toes. We took a break and were serenaded by the sounds of cowbells ringing through the valley. 
As was becoming a bit of a habit, the fog once again shrouded our adventure, at times I could barely see further than 10m in front of me. We dropped down into an apparently ancient forest, and you'd have been forgiven for thinking it was haunted or magical.
The fog still lingered, but the sun shone through the canopy, creating a mesmerising effect. We ended our day in the rustic small town of Molini di Triora, and I took the opportunity to walk up the small, colourful streets and back alleys that hid small churches and statues, a very peaceful end to a truly amazing day. 
The next day, our route took us across the border into France, and we were provided with the opportunity to indulge in a bit of culture and had a quick look around the stunning Chapelle Notre Dame des Fontaines. For the first time on the trip, the number of miles spent on tarmac outnumbered those spent on dirt tracks, but in no way was this unwelcome.
We were treated to some lovely little twisties that provided a lot of entertainment, but we were racing against the weather as thunderstorms once again conspired against us. I was almost turned to a crisp when I risked running up onto the brow of a hill to snap a photo of the ominous-looking crowds looming over my bike and lightning struck the hill opposite.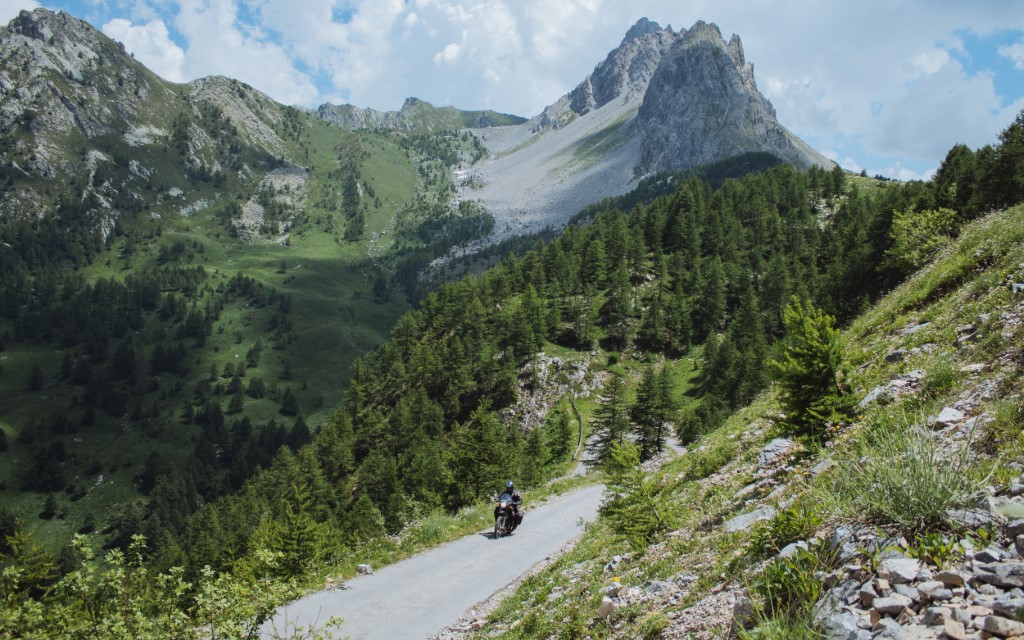 I ran back to the Enfield with my tail between my legs and we just managed to make it to a café before being soaked again. This time it didn't last long, and we had time to enjoy a cup of coffee before continuing on to our hotel. 
Somehow, Friday, our final day on the bikes, managed to outdo all the rest. It started like every day before it, with a delicious breakfast of salami, cheese, and croissants. We had a short bit of riding on tarmac before Roberto turned us off the main road towards the Embrun Valley, which may be familiar to those of you who have ventured to this part of the world before.
We slowly veered more off the beaten track, and the quality of road slowly deteriorated, which I always take as a good sign. We crossed a bridge, and from behind a crop of trees, a wide luscious green valley opened up, flanked by two grey mountain walls topped with snow.
It was truly amazing, and there wasn't another soul in sight, save for a lone shepherd looking after his flock. The road runs all the way up to the Col du Parpaillon, a tunnel that connects to the Ubaye valley on the other side. 
Once again, I used the opportunity to scout out ahead by myself. Waiting for the others to catch up, I made friends with some very endearing marmots and soaked in the surroundings, its difficult ending a trip on such a high. Luckily, the Royal Enfield had different ideas.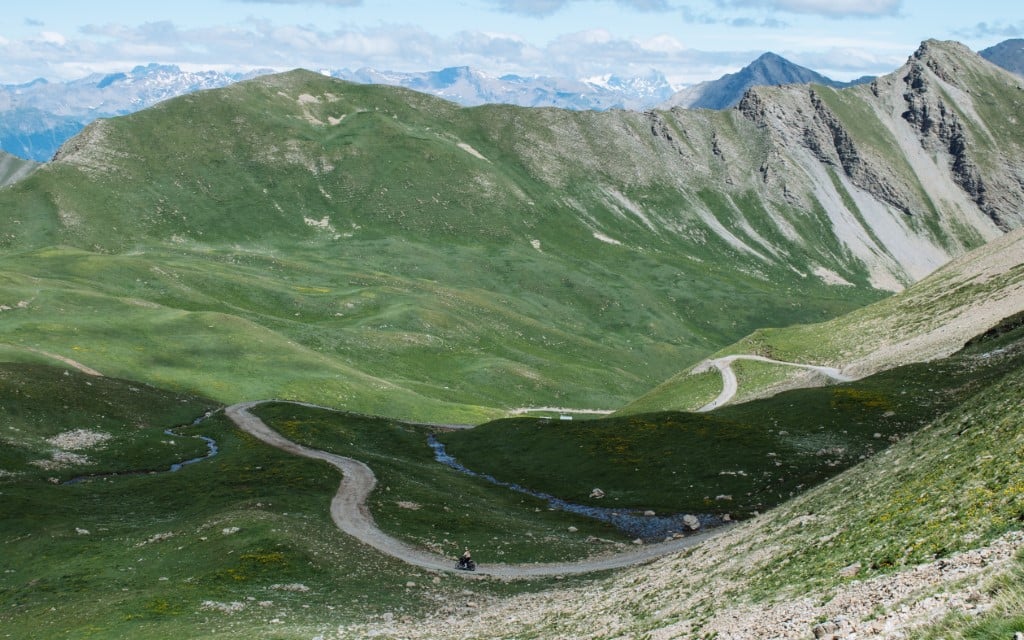 Coming back down the valley on the other side of the tunnel I suddenly lost all response from my front brake. Somehow, the brake cable had snapped and leaked all of its brake fluid. I can't tell what caused this exactly. Never mind, Francesco gallantly gave me his bike for the remainder of the day.
We had a delicious lunch of Tartiflette (literally just cheese, cream, bacon, potatoes and more cheese) and then we were back on the bikes for a beautiful sunny ride back over the Italian border to our starting point in La Virginia. It was all smooth and curvy tarmac which gave me the opportunity to reflect on the incredible week I'd just had as we glided towards our final destination. 
All in all, it was a mini adventure that had everything; punctures, breakdowns, amazing tarmac roads, awesome dirt roads, jaw-dropping scenery, nature, and wild and beautiful weather. Top this off with delicious food, wash it down with cold beer and quality wine and you have yourself the ingredients for a truly incredible experience.
Over five days, we had covered about 600 miles, well over half of which were on dirt tracks, which I think is very impressive. Italy is an amazing country, filled with culture, and right on our doorstep, it simply can't be ignored as an adventure destination.
The network of roads that I was guided through was never-ending and I left feeling like I had just scratched the surface – thank god for Roberto and Francesco opening my eyes to this stunning corner of Europe.
If this sounds like it's up your street, then I can assure you it probably is, whether you're a hardcore adventurer or someone who likes to take it a bit easier, this trip has something for everyone.
---
Want to ride in Piedmont?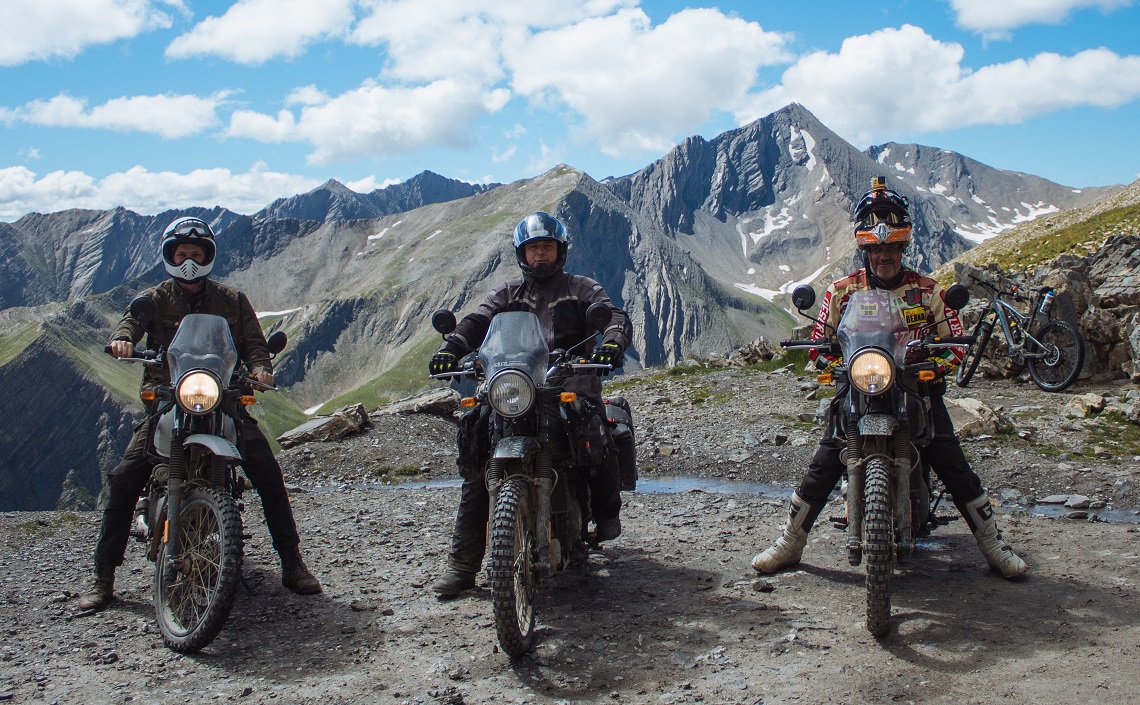 Fred was in Italy, riding with Francesco from Ways to Trails. The company, which is a new initiative, offers adventure motorcycling but at a slower, more relaxed pace where enjoying the scenery and culture of the locations your riding through is top priority.
Francesco likes to point out that his trips are not races, they don't seek the thrill of speed or pulling wheelies, instead, the pleasure is found in the most interesting, traffic-free roads and minor dirt tracks, where you can absorb the history and scenery in a relaxed way. 
The Alps tour, which Fred was on, sees you exploring an area of the Maritime Alps on the border between France and Italy. Here, you'll find a great variety of minor dirt roads in excellent condition, which allow you to get a true feeling of adventure as you soak in the glorious mountain views, and you don't need to be Chris Birch to ride them. 
Prices start from approximately €1,500 (about £1,350) for shared rooms, and €1,900 (£1,711) if you'd rather your own space. This price includes six nights' accommodation, breakfast and five full days of riding with a knowledgable guide and support vehicle. Head to www.ways2trails.com to find out more information about the routes, including how to book.