Dubbed 'the last frontier' of the Philippines, Palawan is a place of breathtaking beauty and backbreaking roads. Ian Neubauer hits the dirt on a Honda XR200 to find out more…
A 90-minute flight from Manila deposits me in Puerto Princessa, the jumping-off point for visitors to Palawan. A representative from Honda Philippines meets me at Puerto's tin-can airport and takes me by motorised tricycle to the local dealership. The company has kindly provided me with its biggest and best moto – an XR200 with racing decals. You can buy a new one here for about $2300 (£1,480) or rent a used model for $15 (£9.65) a day.
After checking into my hotel I start asking around for up-to-date information on the state of the roads. My enquiries lead me to Kinabuch, a bustling bar owned by a former national motocross champion. Butch, as he's called, is a godfather of sorts and offers to provide me with a guide at his expense. I'm blown away by his generosity and humbly accept on the condition that he sells me a cold beer — or 10.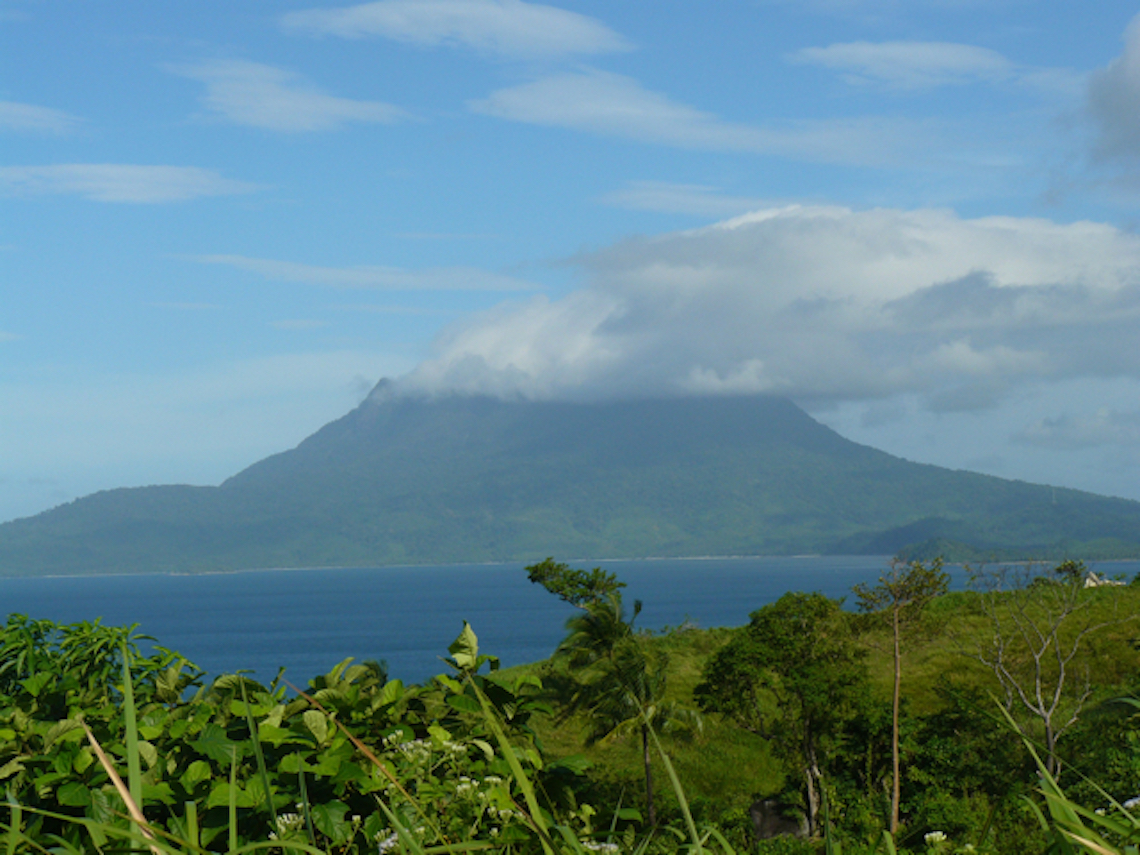 Photo: Ian Neubauer
We don't need roads
I crawl out of bed at sunrise and head back to Kinabuch to meet my guide. Ronnie drives an ambulance to pay the bills but, like Butch and myself, has dirtbiking in his veins. Today's ride is a 127-mile run from Puerto to Quezon.
The road out of Puerto is bumper-to-bumper with tricycles and trucks and swarms of motorbikes. We're nearing the outskirts when we get pulled over by the cops, at which time Ronnie shows his worth. He tells them in Tagalog – the Filipino tongue – that I'm an FBI agent on a top-secret mission. They take one look at my body armour and snap into salute, then bring the traffic to a standstill to speed us along.
We cruise for 12 miles along the National Highway before turning west onto a rock-strewn dirt road. The road ebbs and flows like a roller coaster through the hills, offering dazzling glimpses of the South China Sea. An hour or so later we hit the west coast, stopping at palm-fringed Nagtabon Beach.
After a refreshing swim we continue down the coast, on a road that cuts through a series of crystal-clear streams. We pass villages and churches that double as schools, from where children run out to scream hello. Monkeys and pigs scoot out of our path but goats and buffalos refuse to budge. The conditions are perfect and there's no traffic at all apart from the odd jeepney – the brightly coloured 'stretch jeep' buses – overloaded with locals.
Late in the afternoon we arrive in Quezon, a rustic town set on the coast. Quezon is home to the Tabon Caves, where human remains dating back 47,000 years have been found. But the caves are offshore and only accessible by boat. I'm too exhausted to contemplate exploring now, so we check into a guesthouse and in no time I'm asleep, dreaming of dirt whizzing past my feet.
Photo: Ian Neubauer
We're back on our bikes at the break of dawn for a 93-mile ride from Quezon to Rio Tuba on a road that's still being bulldozed. A flock of herons intercepts the rising sun as Pink Floyd works its magic through my iPod. I'm exactly where I want to be; life will never get better than this.
From the village of Rizal we cut west across the island, through a ramshackle road that meanders high into the range. We find ourselves careering through thick white mist on a thoroughfare that barely resembles a trail. It widens dramatically when we hit the east coast, flattened to a pulp by huge mining trucks. Dust clouds and diesel fumes spew from their wakes, turning the air into a hostile mass.
A few minutes later we arrive at Rio Tuba, a mining town reputed to be Palawan's answer to the Wild West. It consists of a dust-blown piece of highway about a mile long, lined with brothels, beer houses and hardware stores. Half-naked children harass me for change and every second man carries a machete or gun. The people here have a vacant look in their eyes, their spirits crushed by a life in the mines.
I'd be happy to leave this dump straight away but Ronnie wants to visit his cousins overnight. They live in a concrete bunker surrounded by rubbish. The air is thick with mosquitos and huge sandflies. It reeks of sewage, but I bite my tongue. Like all Palawanians they're hospitable to the max.
Photo: Ian Neubauer
Undercover brother
We'd intended to continue to the southern tip of Palawan, to an area inhabited by Muslim tribes. But the local constabulary advises us to turn around for fear we could lose our heads. The Moro International Liberation Front (MILF) is active in the area and would love to sink its talons into a foreign journalist. Palawan's tourism industry was decimated in 2001, when
20 tourists were abducted from a luxury resort. Two were killed in a US-led rescue and the island saw a massive beef-up in security as a result. There have been no repeat incidents since but we don't want to tempt fate and heed the cops' advice.
We head north along the east coast to Brooke's Point, named after a British explorer who landed here in 1850. It lies under the shadow of Mount Matalingahan, which at 2,085m is Palawan's highest peak. It's also home to a bustling marketplace, where Ronnie digs into a bowl of pork rind and rice. I wander off to find something better suited to my tastes. The best I can come up with is a box of cornflakes and a carton of long-life milk.
I'm sitting on the beachfront stuffing my face when a Filipino man strikes up a conversation. He asks all the usual stuff like my name, where I come from and if I'm married or not. Then he starts probing deeper than most, enquiring about my profession and reason for visiting Brooke's Point.
I brush him off and make to leave, at which time he outs himself as an undercover cop. He flashes an ID card that looks like it was made on a kitchen table and instructs me to jump on the back of his bike. MILF provocateurs were recently seen in the area, he says, and all tourists are now required to register at the police station.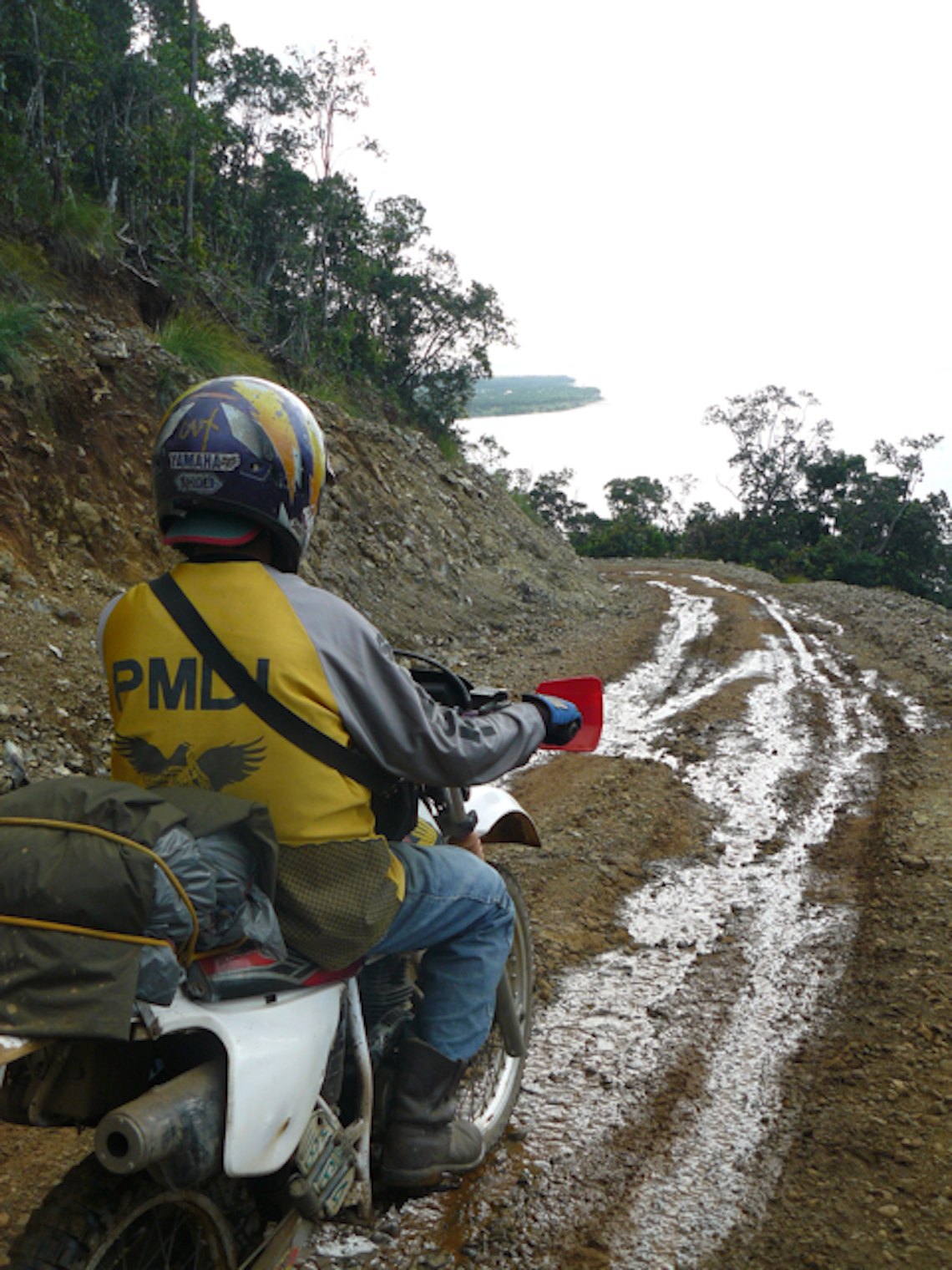 Photo: Ian Neubauer
I become instantly suspicious of the dude, rip out my camera and start photographing him. But instead of going psycho or running for the hills, he pulls out a comb and starts fixing his hair. A moment later Ronnie rocks up and it turns out they know each another. The cop gives us his number and tells us to call should we encounter any trouble on the road.
We continue north to the town of Aborlan, where we turn off onto on an unmarked track. It quickly disappears into a patchwork of paddy fields bordered by clay and elephant grass.
The trail takes us to a small cottage where Ronnie's wife and little granddaughters live. They run out screaming and scamper up to his bike, smothering him with kisses. His wife is more subdued but sneaks a smile at her man when she thinks I'm looking away. Ronnie's Mrs turns out to be a whiz in the kitchen, whipping up a delicious roast chicken, and Ronnie and I stay up drinking into the night.
Sucker for waterfalls
We head back to the National Highway, passing through the capital again and continuing north for another 24 miles. We then turn off onto a dirt road to Sabang, home to one of Palawan's only surf beaches.
Steamrollers sit dormant on the side of the road, their handiwork visible in patches of bitumen. But the stuff in between is a downright mess, with ditches the size of bathtubs and foot-deep tyre tracks.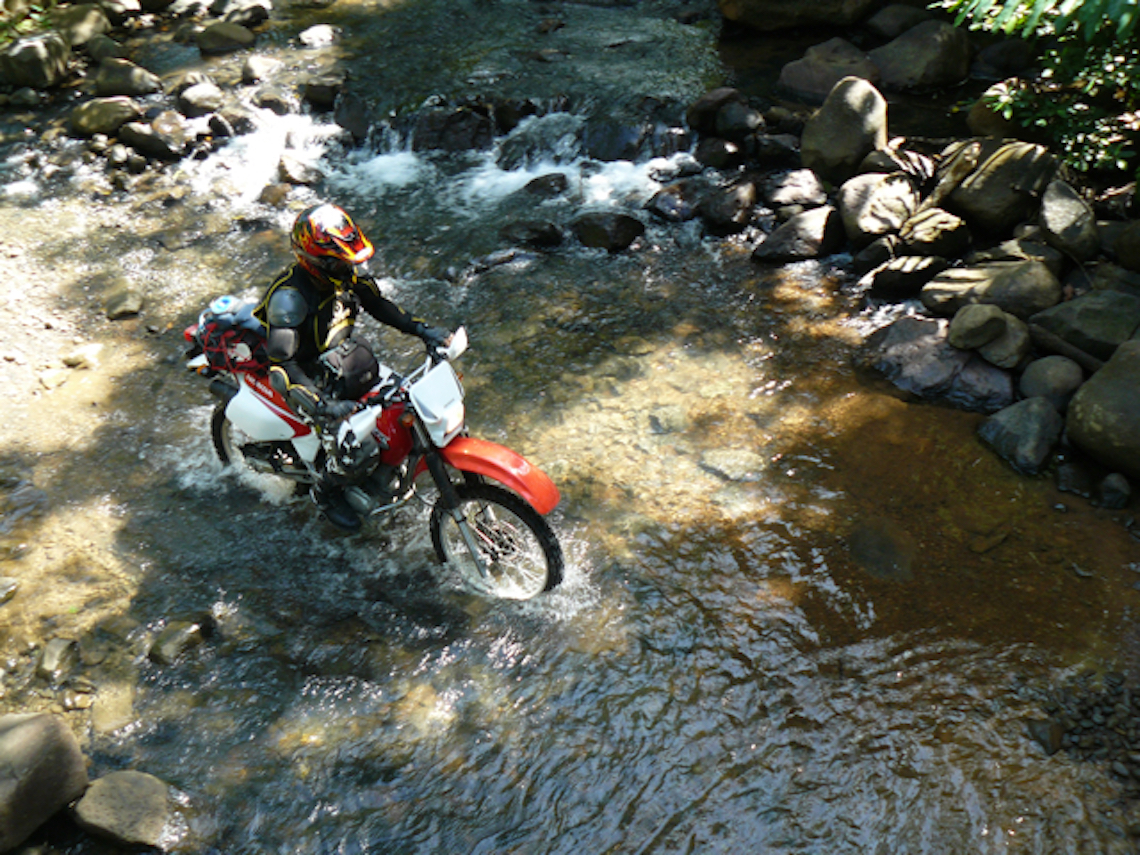 Photo: Ian Neubauer
We reach Sabang by 2pm and check into a bungalow that sits right on the beach. Jungle-clad mountains cast shadows over a coast lined with palms and coconut trees. But the main attraction here is a subterranean river that passes through a cave that runs 8,000m into the earth. It's the longest navigable underground cave ever found and a UNESCO World Heritage Site. But our hangovers have only begun to abate and we decide to call it a day.
We check out the subterranean river as soon as we wake and are back on the road by 10am for a 127-mile ride to Port Barton. We follow our tracks back to the National Highway and take in another 30 miles. From here we turn off onto a red clay road that leads to another section of the west coast.
The road ascends into a mountain range covered in the thickest jungle I've ever seen. Higher and higher and higher it goes until we're enveloped by thick white mist. I think it can't possibly get more beautiful than this when we pass a sparkling waterfall. It splashes out of a clearing five meters high and collects in a crystal-clear pool edged by a pebble beach.
I pull over and ask Ronnie to join me for a swim but he mumbles something about his dislike of beaches. I tilt my head but leave it at that, strip down to my underwear and jump in for swim.
"Give it a go," I tell Ronnie after I get out. "It's really refreshing. Nice and cold."
"I don't like beaches," he repeats. "It's not a beach. It's a waterfall." "Leaches," he reiterates. "I don't like leaches."
I gasp with horror, stretch my drawstrings out and check to see if the family jewels are alright. Thankfully there's nothing out of the ordinary down there, but I'll never look at a waterfall the same way again.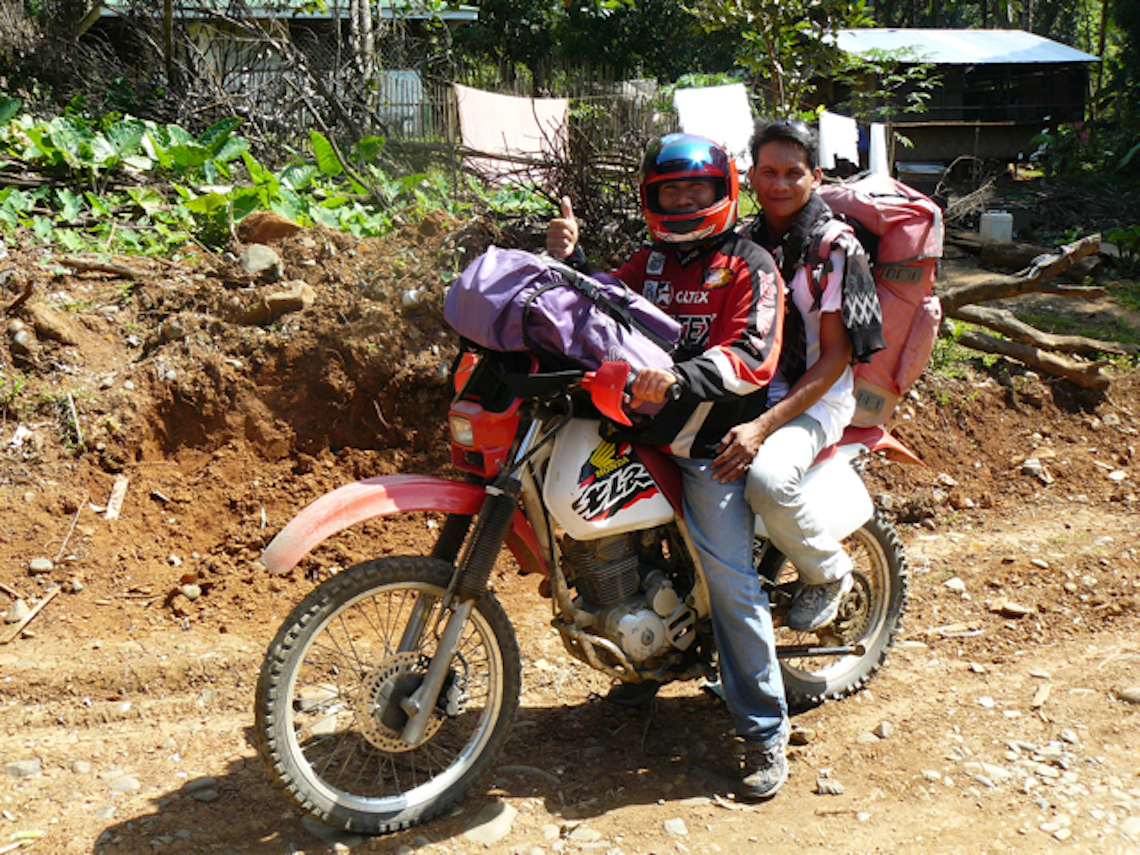 Photo: Ian Neubauer
We continue along the mountain path, which ascends for another mile or so until it hits the summit. It offers breathtaking views of the South China Sea and a series of inlets ringed with coral reefs. We coast down the mountain in neutral gear, taking in the jungle's sounds. We reignite our engines once we reach the plateau, hooning our bikes as fast as they'll go.
It's early in the afternoon when we reach Caruray, a fishing village fronted by wide sand flats. We score some low-grade fuel sold in pop bottles and head back into the mountains, this time due north.
The trail dissolves into a thin red line that at times disappears under masses of hanging vines. It's crisscrossed with a maze of rivers and streams, the deepest of which are connected by semi-collapsed bridges. Ronnie gets off his bike and assesses their sturdiness with a kick before looking up and waving me through. It's the most fun I've had on two wheels in my life, yet like all good things it eventually ends.
The trail spills out onto an extremely bumpy road that leads to the village of Port Baton. It sits behind what is arguably the most perfect beach in the world, with sugar-white sand and water flat as a lagoon.
Copping off
Our sleep was interrupted last night by a thunderstorm. We're in the middle of the dry season now but in Palawan it can rain at any given time. It continues to drizzle after we rise and has no doubt made a mess of the roads; it's another 70 miles to our destination of Vicente.
Within minutes we're knee deep in mud that finds its way into every nook and cranny of our bodies. I sweat like a pig as I navigate through the muck, inching along in first gear. It takes us an hour to cover the 14-mile long swamp that ends at the National Highway. From here we coast along blessed bitumen until we reach the turnoff for San Vicente. It's a sleepy little town also perched on the west coast, on a peninsula that divides Pagadanan Bay and Long Beach.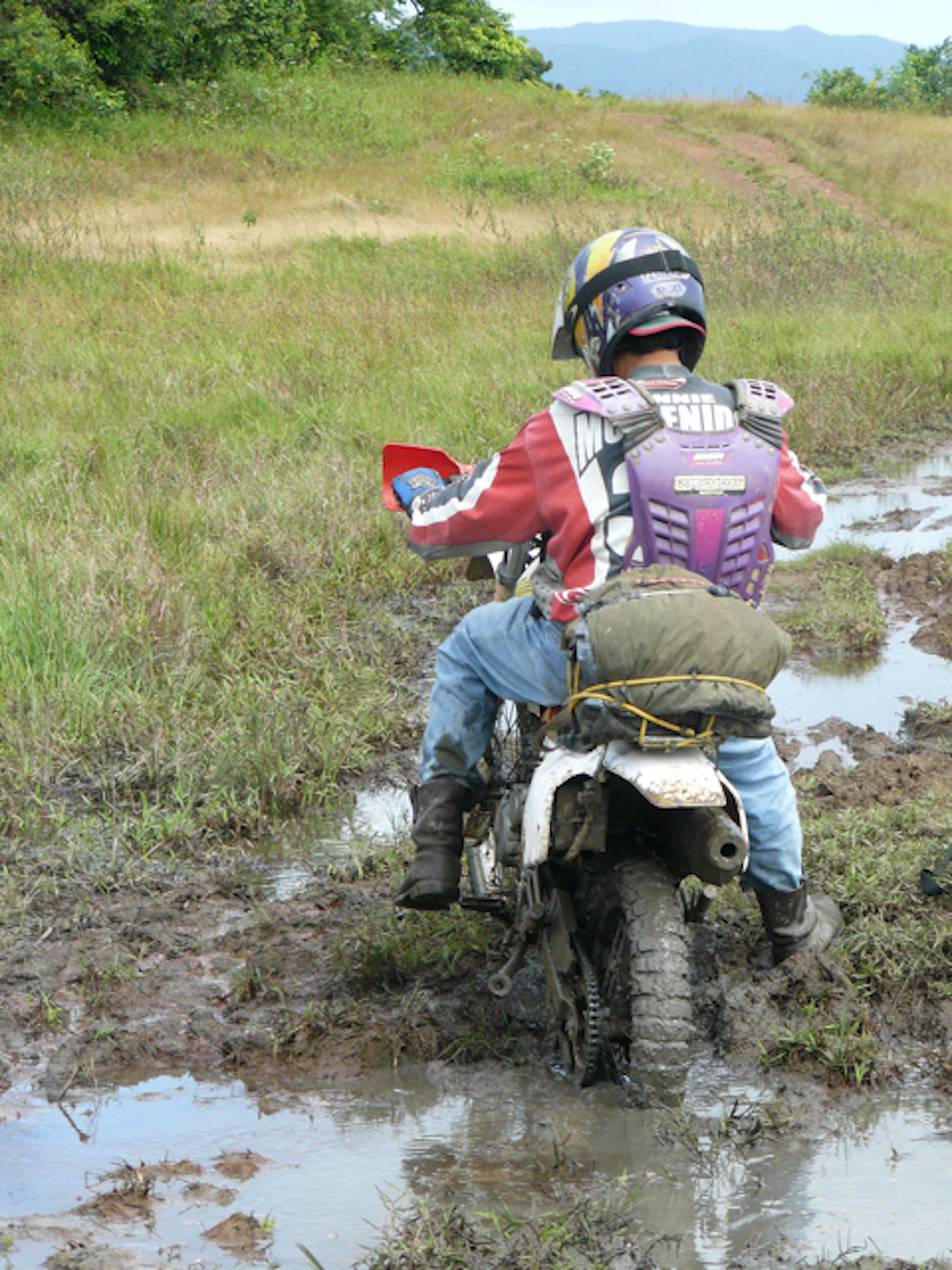 Photo: Ian Neubauer
We're flying along a dirt road that runs parallel to the surf when we decide to career onto the beach. It's an exhilarating experience – burning along the break – bubbly white froth rushing under our feet. We coast back onto the road on the outskirts of town, right in front of the San Vicente Police Station.
A cop standing out front signals for us to dismount and frogmarches us to the office of his chief. She's a stocky tomboy with a haircut to match who looks like she could handle herself in a brawl. But Ronnie quickly gets her on side, saying we're on assignment for a foreign magazine.
The chief tells us she's also into dirtbikes and offers to show us the sights. I tell her it's not necessary but she's ada- mant and instructs us to come with her.
We find ourselves tailing of a convoy of SUVs, eating diesel and clouds of dusts. A few minutes later we arrive at a lookout where the chief orders me to take happy snaps. I've got no choice but to comply with the charade that goes on for the best part of the afternoon.
Eventually we're led back into town and to a guesthouse built on a hill.
I grab a shower and take a seat on the balcony, enjoying the view of Pagadanan Bay. The sun is about to set and the sky is alight in a fresco of colours and dazzling lights. The setting is perfect and I'm about to nod off when a terrible racket fills the air. Someone's cranked up a sound system as loud as it can go, through which the Backstreet Boys and Celine Dion terrorise me. Within an hour I begin to lose my mind and ride down to the waterfront to give the DJ what's for. But he tells me to go play with myself and I return to the guesthouse with my tail between my legs.
Back home I'd be more forceful, but it's unwise to get physical in this part of the world.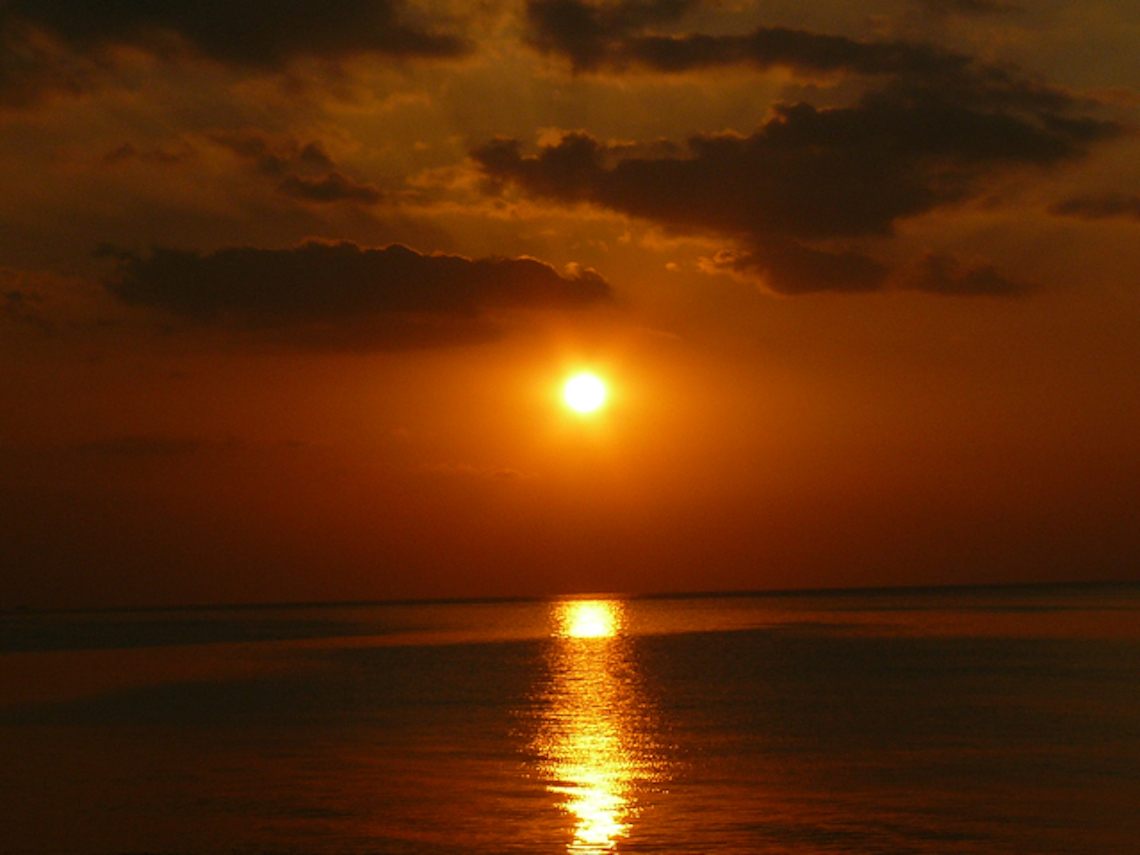 Photo: Ian Neubauer
I try to sleep but it's not possible, the noise infiltrating every recess of my mind. Then I get an idea and race down to the police station where I voice my grievances to the chief. She orders one of her men to take care of it, and invites me to help her polish off a bottle of red. We talk about the terrorists in the south, about our favourite motorbikes, our hopes and our dreams. By the time the bottle is finished I've made a new friend and promise to visit on my way back to the capital.
Bushwackers
We're joined in the morning by a friend of Ronnie's called Niel who owns a hotel in the resort town of El Nido, 90 miles away. It's the northernmost population centre of Palawan and the last stop on our tour before we return to the capital.
We're eager to finish with a good old bush-bash and find it in the form of a rough coastal track. An old man we pass advises us not to proceed, which only encourages us to persevere.
The first 20 miles are not overly bad, with meter-deep erosion lines and more broken bridges. But it soon degrades into a fiasco of carpeted with roots and fallen trees. The trail rises and falls at angles nearing 45 degrees that are too steep for our 200s to handle. We have to unpack the bikes one by one and wheel them uphill in the stifling heat. We finish our water much too quickly and dehydration begins to sets in.
As if on cue the heavens open and monsoonal rain gushes down. Fifty per cent of the track is now underwater and the rest morphs into thick grey mud. I'm charging across a foot-deep stream when I hit a large stone and come tumbling off. I fall off twice more before getting across, screaming out words unfit for print. Then a series of topples begins, with all three riders eating mouthfuls of mud. But the really humiliating part is yet to come, when the old man we shrugged off earlier overtakes us on foot.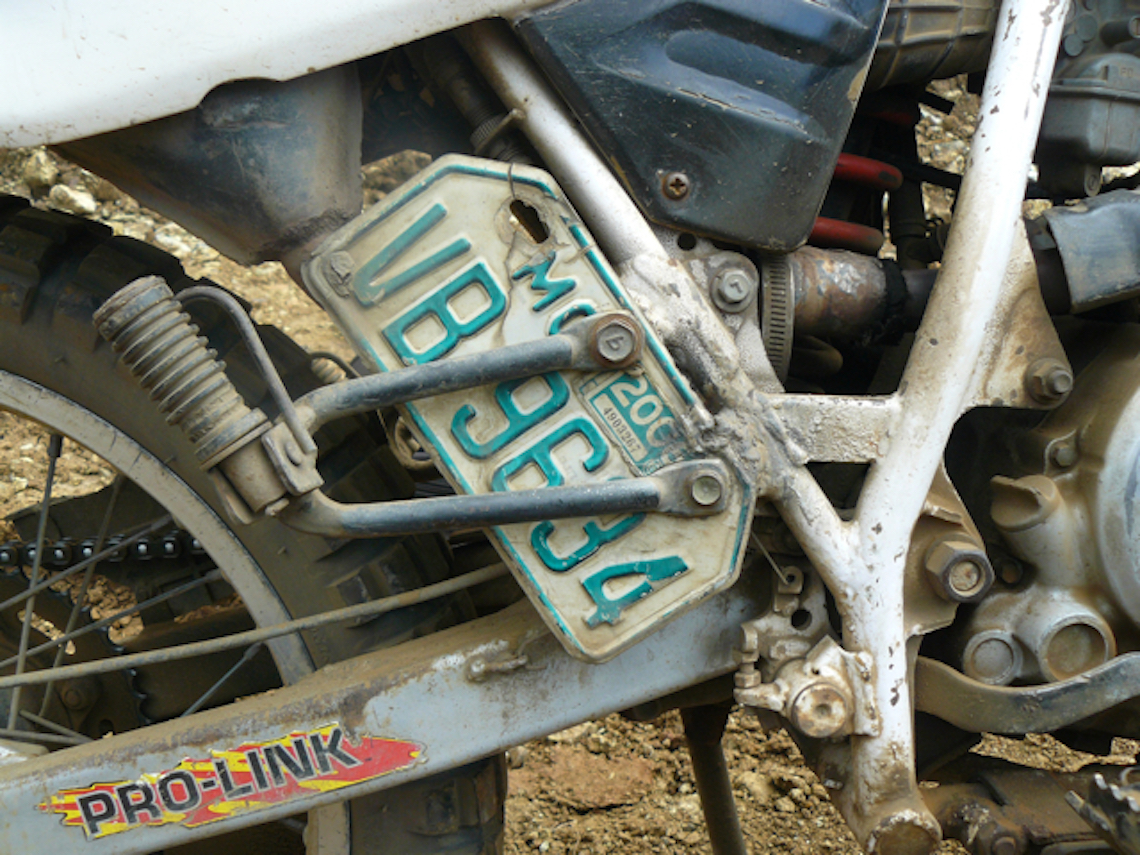 Photo: Ian Neubauer
By the time we reach the National Highway we look like refugees, covered from head to toe in mud. Ronnie's lost a few tools and I've chipped my favourite helmet, but otherwise we're in good shape.
Later in the evening we're chilling at Neil's hotel, watching catamarans glide into the beach at El Nido. I ask Ronnie what he thinks of my riding skills and he tells me he reckons I'm okay.
"Really?" I ask, fishing for elaboration. "Yeah," he replies. "You very good". His words are music to my ears and a high point to end our adventure.
Palawan facts
The island province of Palawan is a collection of 1,780 islands and inlets situated in the western border of the Philippines, 60 nautical miles north of Borneo. Bounded on the east by the Sulu Sea and the South China Sea to the west, it's approximately an hour's flight from Manila, or 24 hours by boat
The rainy season lasts from June-December; January-May is the best time to visit. Palawan has a monsoon climate from November-February in the north-east and June-October in the southwest
Wildlife abounds in Palawan. The islands are home to over 600 different species of butterfly and numerous endemic creatures including the Palawan peacock-pheasant, Philippine mouse-deer, and Palawan bearded Pig, as well as endangered sea turtles
The capital, Puerto Princesa City, is located on the western provincial island of Palawan. It has a population of just 210,508, making it one of the quietest cities in the Philippines. The province is a melting pot of 87 different cultural groups and races. Most of the population is Roman Catholic
There are 52 languages and dialects spoken in Palawan. Tagalog is the most widely spoken, which means 'river dweller' in its native tongue
The name Palawan is thought to come from the Chinese word pa-lao-yu meaning "The Land of Beautiful Safe Harbor" and paragua, the Spanish for umbrella', because the shape of the main island resembles a closed parasol, sort of (see below)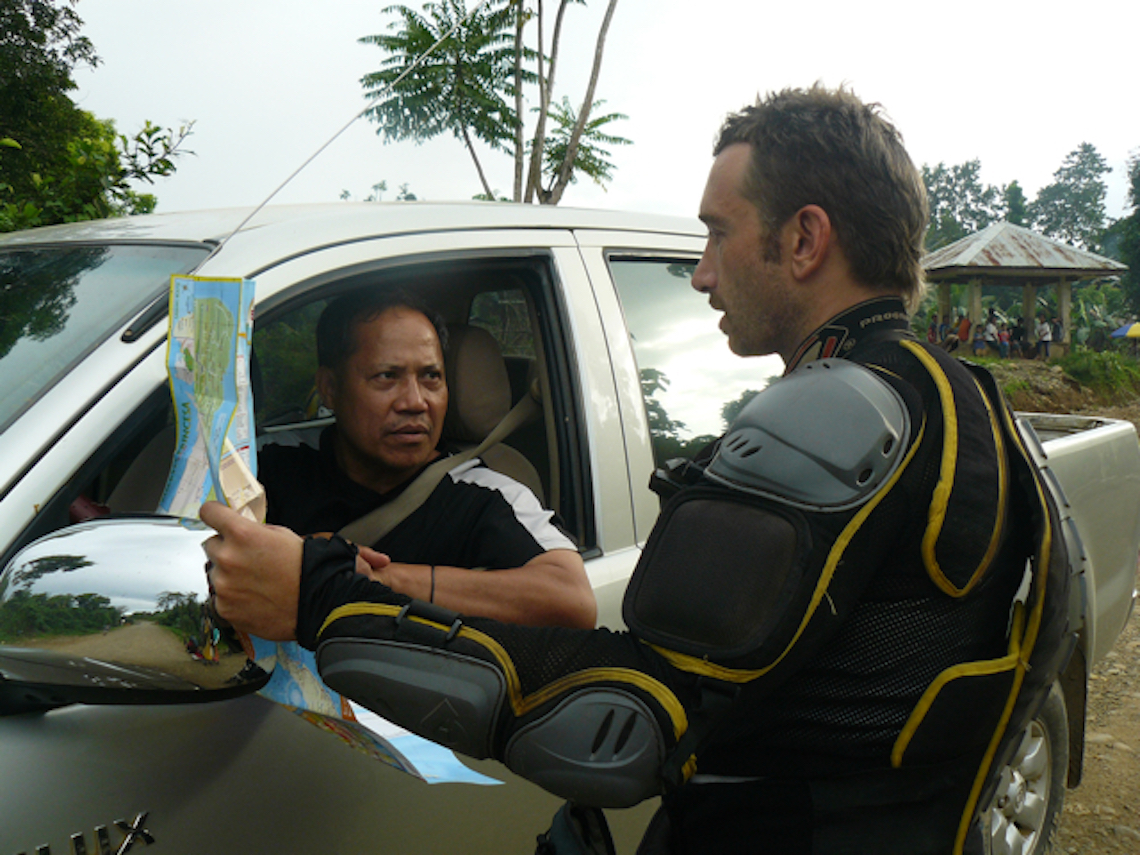 Photo: Ian Neubauer
Palawan: A bit of history
In 1962, the remains of a man and a woman, carbondated at 47,000 and 16,000 years old respectively, were unearthed in the Tabon Caves complex, Quezon, Palawan. The caves have since become known as 'the cradle of Philippine civilization'.
Early inhabitants of Palawan came from three migratory sources via the Balabac land bridges. These were the Pgymies, Indonesians and Malays. Before Spain discovered Palawan in 1521, evidence suggests that the locals were already trading with China, particularly in the coastal areas of Calamianes, owing to the many ancient Chinese jars, pieces of porcelain and other artefacts that have been unearthed there.
At this time, Palawan was known as the Province of Calamianes, with Taytay as its capital. However, poor transport and communications made governance almost impossible, so in 1859 the province was divided in to two factions: Castilla and Asturias. Castilla included Cuyo, Taytay, Calamian, Busuanga and the adjacent islands, with Taytay as its capital. Asturias comprised all municipalities south of Taytay down to Balabac, and Puerto Princesa was its capital.
Castilla and Asturias were short-lived though, and in 1862 a royal decree divided Palawan again into two new provinces: Calamianes and 'Paragua'. Bacuit was added to the former and a tax-free policy was levied for 10 years to encourage migrants to settle there. In 1873, the capital of Paragua was transferred from Taytay to Cuyo.
The peace treaty between Spain and the USA in 1898 gave way to an American regime in Palawan. In early 1902, a military government was established with Major John Brown as lieutenant governor, and on 23 June, 1902 America established the Civil Government of Paragua with Major J Brown as the appointed governor.
In 1905, folllowing Act No. 1363 of the Philippine Commision, the name Paragua was changed to Palawan and the capital was transferred from Cuyo to Puerto Princesa.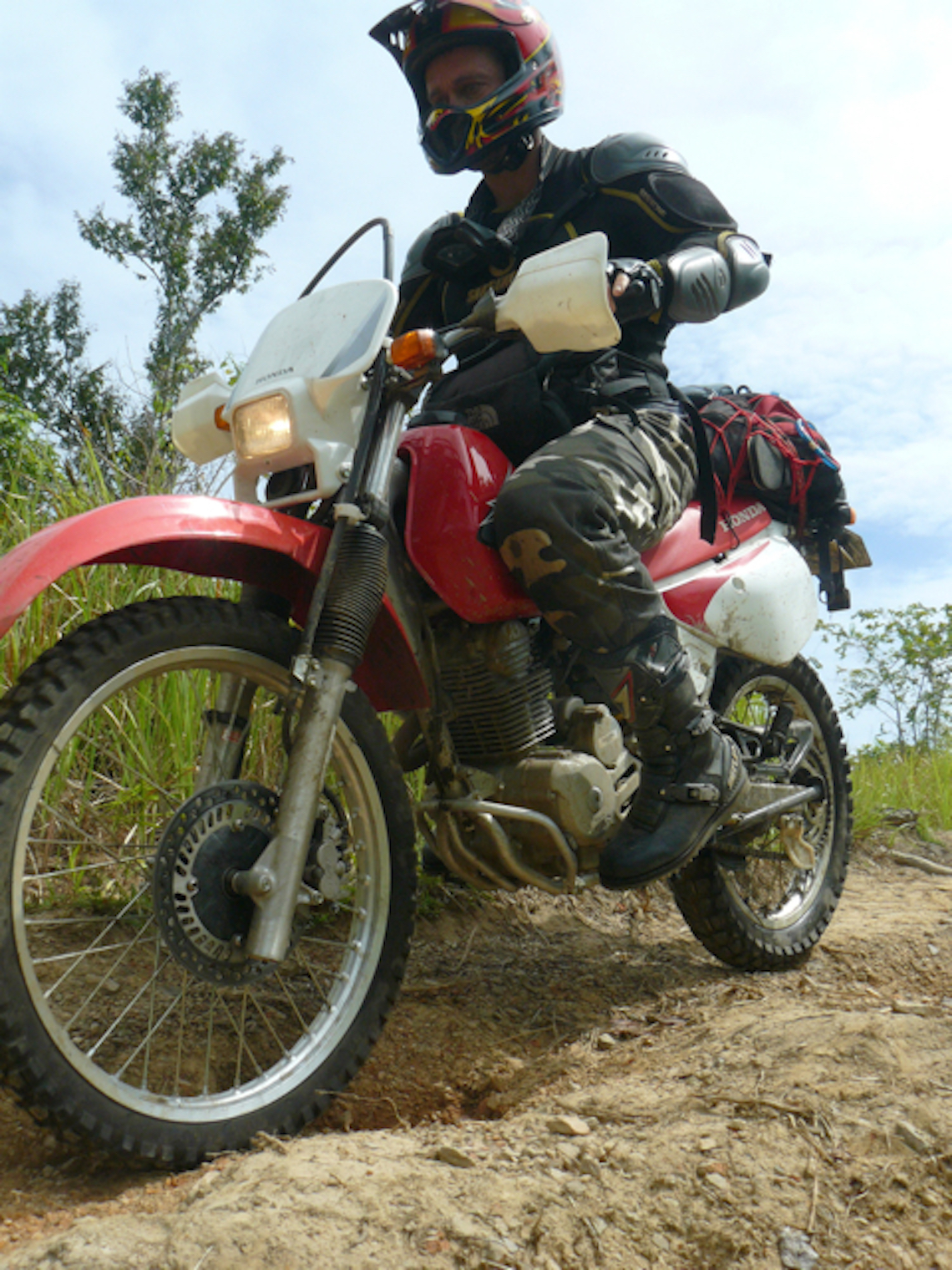 Photo: Ian Neubauer
American governance was a success. Its policies, which placed emphasis on education, agriculture, medical care, and the rights of tribal minorities, were embraced and its democratic ways and new approach to politics united the Palawan people.
On 18 May, 1942, following the outbreak of World War II, Japanese Imperial Forces occupied Palawan. They established garrisons in Coron, Puerto Princesa and Iwahig. Consequently guerilla were formed in three sectors, led by Captain Carlos Amores in Calamianes, Dr. Higinio Mendoza, Sr. (governor elect 1931-1937) in the Mainland and Emilio Tumbaga in Brooke's Point. Palawan was liberated in 1945, but owing to its remoteness, Japanese holdouts were still present in the Phillapines as recently as 1974. The most famous Japanese holdout is second lieutenant Hiroo Onada, who was discovered 29 years after Japan's formal surrender and 15 years after being declared dead in his home country.
Who's riding
Aussie writer Ian has combined his work as a journalist and passion for off-road touring to travel to and through some of the most exotic countries in the region: Cambodia, Laos, China and the Philippines, the last of which was sponsored by Honda.