Do you yearn to earn a living from the seat of a motorcycle? Hideout Leather's director Kathryn Jennings spends her days designing and making custom-fit riding kit. Gear fetishists, this is your dream job…
When art-lover Kathryn Jennings was told by her dad that there wasn't a lot of money in making clay pots, the creative youngster decided to look elsewhere for inspiration. She found it in the form of a fashion design course, but it wasn't until taking her final exams that she began working with leather.
"I was looking for someone to make up some leather garments for me from some of my designs," explains Kathryn, or Kate, as she's known to friends. "I'd exhausted all the underground 'sweatshops' in London; no-one was interested. Luckily I found a guy making hand-made motorcycle clothing just outside Cambridge. As it was out of season and the business was quiet, he agreed to help me." And the rest, as they say, is history.
This 'guy' was Peter Hamlett, who founded Hideout Leather in 1979. From helping her out with making sample garments, Peter took Kate on, first as an assistant and then as an apprentice. Eighteen years later, 38-year-old Kate's now director of the business following Peter's retirement in 2006.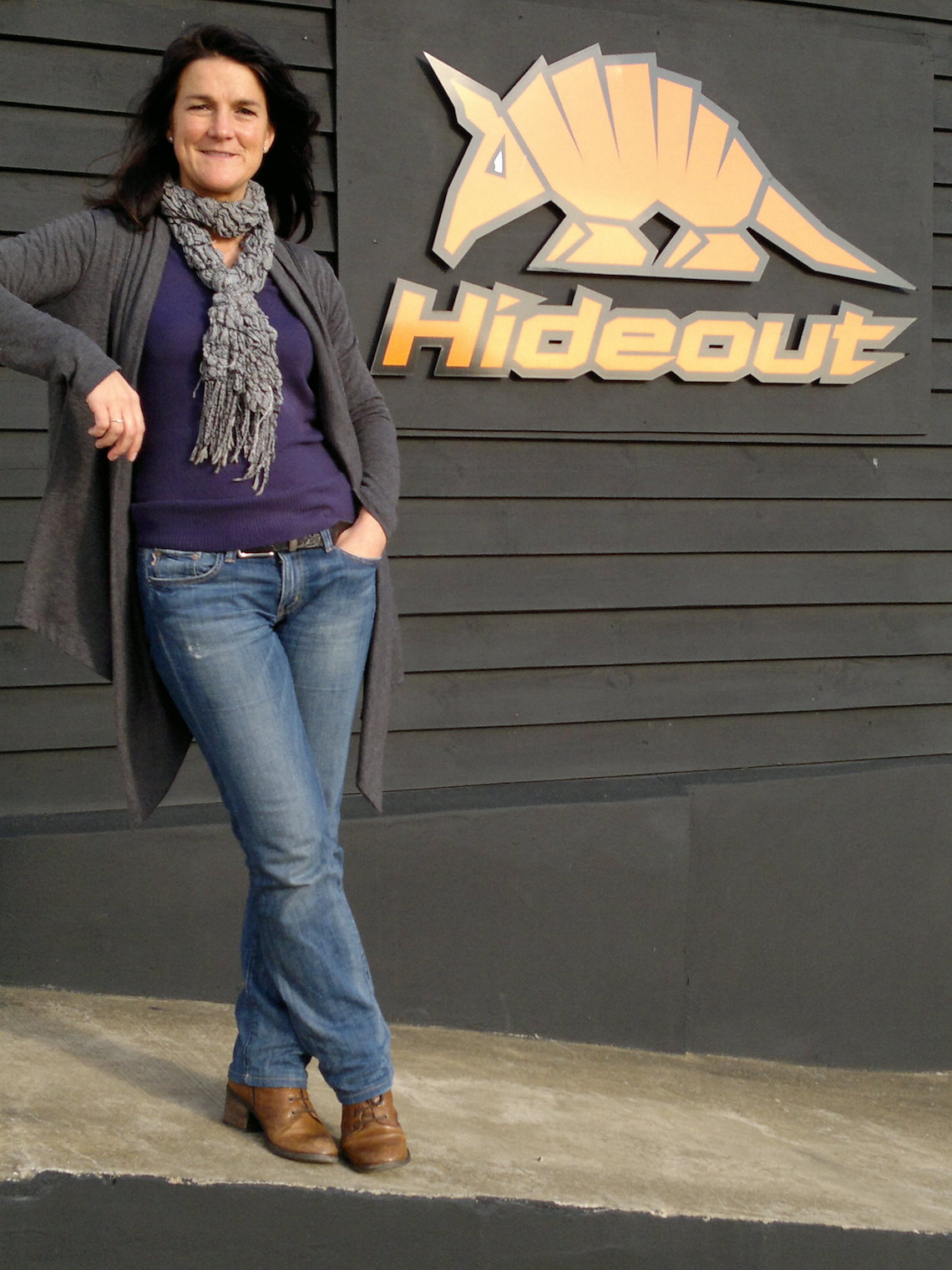 Suits you
Hideout's best known for its custom-made leather riding gear. Kate estimates that she's made around 7,000 sets of leathers to date, some of which have been for the likes of Steve Parrish, Kenny Irons, and more recently, TT sidecar winners John Holden and Andy Winkle. Hideout also makes clothing for professionals in the police force, MOD, and ambulance service, to name a few, as well as civilian riders. But Kate's in no doubt over who she'd most like to make clothing for. "It has to be Prince Harry!" she says. "I'd make him a beautiful custom-made cruiser-style jacket for his Harley."
As the business has grown so too has its staff and now runs with a tight team of five talented ladies who specialise in everything from cutting garments to servicing, altering and retro-fitting bike gear. Hideout's clothing lines have also expanded and recently branched out into the adventure textile suit market. "More and more people now want the diversity that textile suits offer,"Kate explains."The Holy Grail of biking is to produce a garment that's 100 per cent waterproof, breathable and lightweight for riding in hot weather, with the same protective qualities as leather. I decided it was about time I took up the challenge."
The company's textile Hideout Hi-Pro Suit is made from C-Change material, a revolutionary 'intelligent' waterproof and highly breathable fabric which independently reacts to changing temperatures and activities. This means that breathability or heat-retention increase or decrease depending on conditions and the wearer is always comfortable. The design also incorporates
a Kevlar layer and adjustable Forcefield high-performance CE-approved armour as well as a Coldblack coating on the outer that reduces heat build-up on dark fabrics. Other nifty features are its twin cuffs, which enhance waterproofing, and detachable liners for summer or winter riding.
The suit's development has been a slow and carefully thought-out process, as well as being testament to Kate's experience in the business. "Having spent 16 years altering and repairing other makes of clothing, I found that there was always a compromise, either in waterproofing or fit." She says. "I wanted to develop a textile suit that delivers everything a biker requires. We believe that this suit could revolutionise the wearer's riding experience."
Kate also sought the help of local com- pany Advanced Riding Techniques (ART) in test-riding the suit, and through a process of trial and error, the design was finalised last year. "Everyone has been very positive and excited by the Hideout Hi-Pro Suit as it's so unique." says Kate. "Being a three-way laminate fabric and available made-to-measure, as far as I know there is no one else offering this option."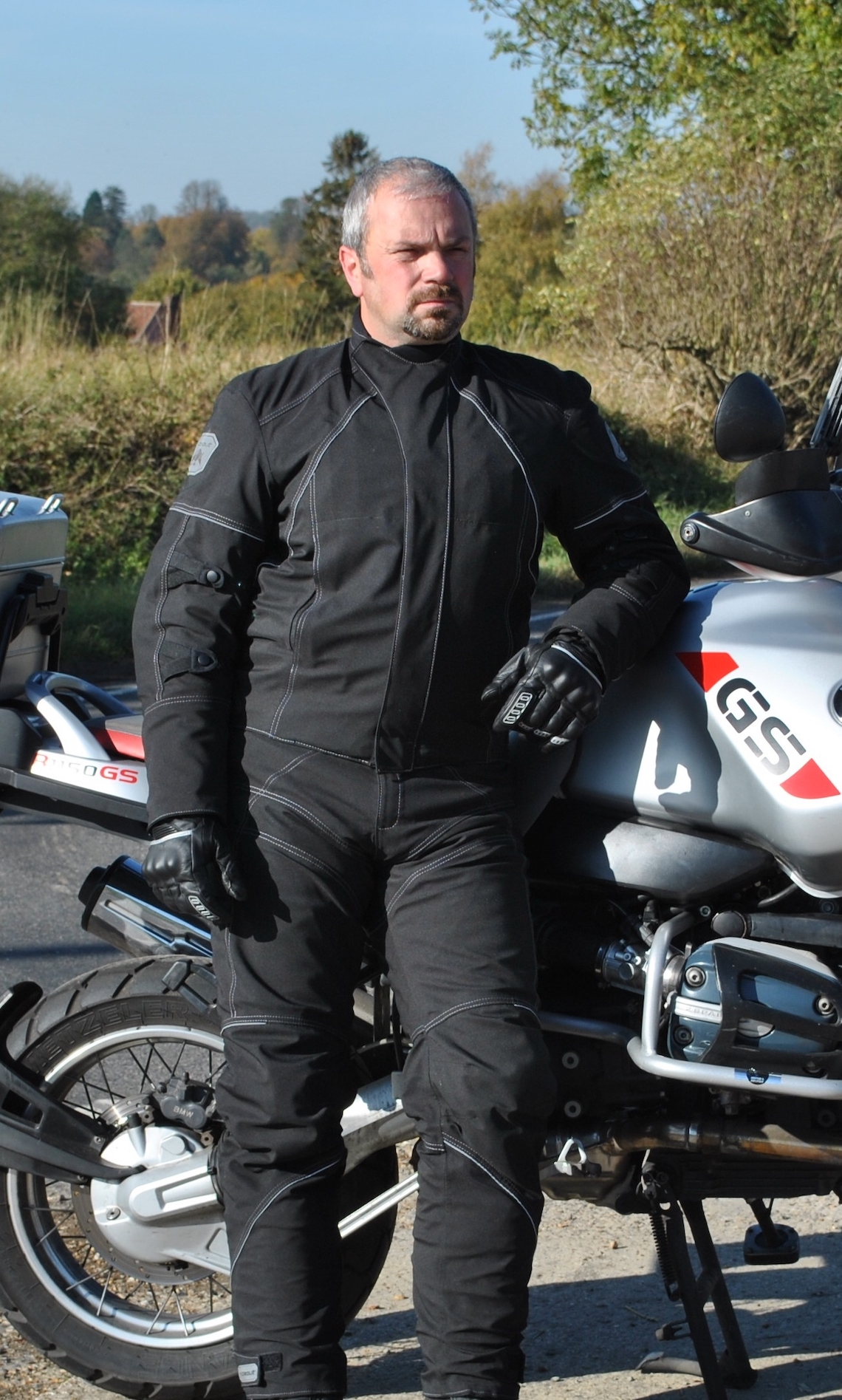 Sew and sew
Whether it's leathers or textiles she's dealing with, the process of making a riding suit is virtually the same. "The body is bro- ken up into zones from 1-4," Kate explains. "These denote high-low impact areas, and each of these areas requires a different level of abrasion and impact protection." After going through the various colour options with her client Kate then measures the rider in the clothes they usually wear under their biking gear before cutting a pattern to those measurements. The fabric's then cut to the pattern and the pieces are sent to the machining room, to be tacked together for a first fitting. Once the client's tried on the suit and Kate's happy with the fit, it's finished in house before being sent away for weather proofing. When it returns, the linings and armour are put in and it's ready to be worn.
"I love that we can hand-craft a suit from a pile of leather or fabric – we actually make something from nothing!" says Kate. The best part of the job, though, comes from customer satisfaction. "I love my customers. They've become my friends over the years," she says. Following an ac- cident, one very grateful client made Kate his first phone call, to thank her personally for the Hideout suit which saved him from injury. "Our motto is 'never compromise on safety'," Kate explains. "My mission is to keep my customers safe by offering them the best advice on fit a safety."
Although every Hideout suit is made to the same exacting standards, each one is unique. Prices range from £345 for a pair of leather pants to around £1,680 for a custom-made textile suit, and the challenges that come with making each piece of kit are just as diverse. "Every day's different," says Kate. "Small suits are just as difficult to make as larger ones. We also make specially tailored garments for customers with specific needs, such as restricted movement or lost limbs, which is always a challenge."
Ride on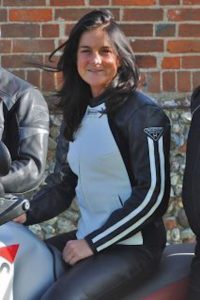 As well as designing and making gear for bikers, Kate's now a convert herself, although it took her a while to finally take the two-wheeled plunge. "I didn't take my test until 1999," she confesses. "I wanted to see what all the fuss was all about but I was scared stiff! I'd seen the worst side of biking first, with the hundreds of crashed suits I'd mended; it didn't exactly have me clambering to take my test!" Curiosity and the desire to better understand the needs of her clients got the better of Kate's fear though, and she's never looked back. "I love the camaraderie," she says. "Biking breaks through all social divides, and wherever you go, people talk to you. I love that."
Hideout's future is looking pretty rosy, too. "We're currently working on a new lightweight trick race suit which we'll trial over this season," says Kate. There's also a longer adventure-style textile jacket in the pipeline, as well as the Hi-Pro ladies' jacket, and a new-look company website.
To find out more about Hideout's custom-fit leather and textile clothing, or to make an appointment, see www.hideout-leather.co.uk, or call 01799 584 828