MEDIA MASH
Emily-Jane Cave and Sam Manicom check out stuff to fill the gaps in your bookshelf
Title: Wollongong to Woolwich
Author: Will Wilkins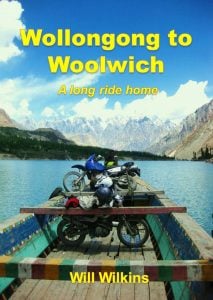 A good adventure story doesn't need any added bull, and there's none to be found in this book; just a sensible amount of prep, some very positive attitudes and a thirst for the road.
Combine these qualities with Will and Kate's respect for people and their countries, awareness of climate and terrain, and their ability to adapt and take advantage of whatever opportunities and challenges the road puts in front of them, and result is a tale
that anyone enticed by the thought of travel will enjoy.
Will shares their sometimes dramatic stories in a warm, very honest and wonderfully down-to-earth way. He weaves humour, compassion and a sense of the ridiculous into the tale with a flowing and completely unpretentious style, which has you wanting to turn the pages ever faster.
The negative? The print quality of the colour photos isn't great, but even then, the 72 shots give an excellent taste of real life on the road; the smiles and the dramas.
I thoroughly enjoyed reading about this journey across Asia, and I very much like and agree with the help section at the back of the book. Excellent advice. SM www.wollongongtowoolwich.co.uk, £9.99, (paperback; also available in e-book format)
Title: The Harley in the Barn, More Great Tales of Motorcycle Archaeology
Author: Tom Cotter
Foreword: Pat Simmons of the Doobie Brothers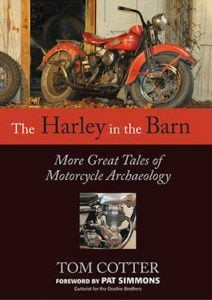 Ever dreamed of unearthing a two-wheeled treasure? Some long-forgotten relic of a motorcycle, secreted away by a farmer, collector, or one that's been dumped and left to rot? This book is for the Indiana Jones of the biking world; those with a keen eye, adventurous spirit and a passion for nostalgia.
Following on from Cotter's 2009 book, The Vincent in the Barn, The Harley in the Barn charts the remarkable tale of 40-plus bike finds by curious riders, mechanics and motorcycle-lovers, some barely recognisable as machines while others are so rare and precious it's a wonder they weren't on Bonhams' missing list.
Each tale has its own twist, from chance encounters and fated opportunities to plain bare-faced cheek, and the before-and-after colour photos showing some of the restoration projects – in particular a stunning 1938 Indian, rescued from a chicken coop in the North Carolina Mountains – are simply gobsmacking.
There are also tips on how to go about 'barn-hunting' for yourself. So, you never know; the next afternoon country bimble may be the start of a whole new kind of motorcycle adventure… EJC www.motorbooks.com, £16.99, (hardback)
Title: A Ride in the Sun (or Gasoline Gypsy)
Author: Peggy Iris Thomas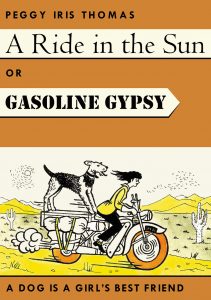 In the early 1950s Peggy Thomas travelled 14,000 miles through Canada, the USA and Mexico on a 125cc BSA. The story has been lost in the dusty archives of overlanding books for a long time, but has been very rightly brought back to life by author and overlander Gordon May.
A Ride in the Sun, and the US version Gasoline Gypsy, are perfect titles in that they set the mood straightaway. But what makes this journey back in time such a good read?
From the very first page, Thomas has you riding with her and learning at the same rapid, eyes-wide-open pace that she does. Many people told her that she couldn't make this trip, let alone on a tiny BSA, but that just spurred her on. Very quickly we learn that she's a girl who doesn't let such things stop her, and this attitude allows her to find her way into adventures that many would never dream of making a reality. But they could. And this is just one of the things that make this book such an excellent read. There are plenty of ups, and courageously dealt with downs, and with her recounts of these, Thomas brings home to the reader what a fine thing motorcycle overlanding is. Her descriptions of places and people are spot on and I was sad when the book came to an end. The strange thing is that this could almost have been the story of an adventure that happened last year; read it and you'll see what I mean. Frankly, it's not often that I call a book 'delightful', but that's just what this is. Don't miss out on it. SM www.overlandtoegypt.co.uk, £9.95, (paperback)