Alun Davies spends a day up on the mountains of Wales on the new KTM Freeride. A great trail bike that blurs the ground between trials and enduro…
The role of a motorcycle journalist has changed over the past 10 years, especially so when it comes to new bike launches. Back in the days before 'social', things were pretty chilled and relaxed. We'd arrive at the designated venue, check out the bike on display and then nonchalantly retire to the room/pool/bar for some male grooming in preparation for the main riding event the following day.
Not so now, from the moment we meet at the airport it's mobiles at 10 paces as a barrage of competitive tweets and posts clog up intercontinental bandwidths, informing followers and fans that we're at the airport and feeling excited. This virtual warfare continues as we compare and contend who has the largest reach, engagement and thumb calluses. And then we board the flight and enter a calm state of suspended social combat, much like what must have existed on the Western Front around Christmas 1914 where an unofficial ceasefire led to opposing sides exchanging gifts, singing carols and playing games of football.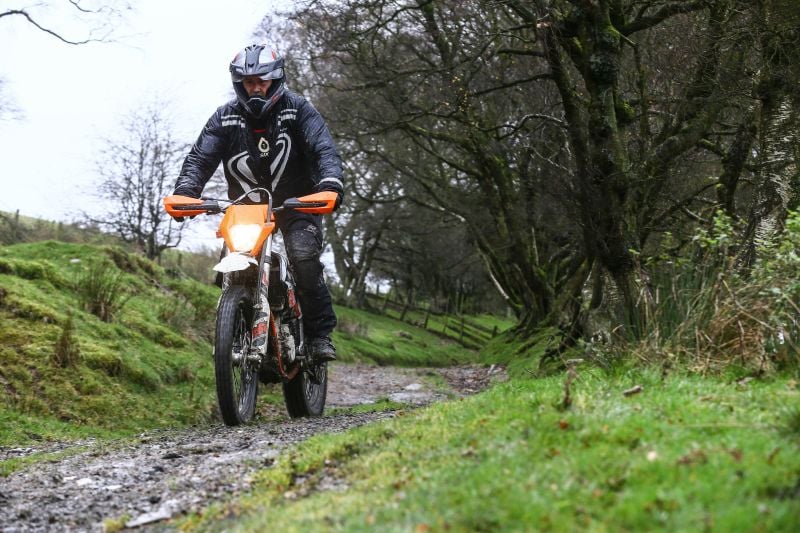 At the destination airport, Wi-Fi is re-engaged and the unofficial truce is officially off. This has been the case over the past couple of years, stretching from the wilds of South Africa to the highlands of Morocco and the deserts of Peru, where the availability of 4G has made sure that selfie combat is 24/7. Many a time I've arrived back from a launch displaying all the classic symptoms of PTSPD – that's Post Traumatic Social Posting Disorder for all you non-socialites – and needed a sit down with a nice cup of tea and a biscuit before being able to function properly again.
But what's all that got to do with the new KTM Freeride 250? Well it's like this. A strange thing happened as I exited the A5 to the west of Oswestry on a dark, damp night in October. I was en-route to the Ady Smith KTM Off-Road School near the village of Llanarmon Dyffryn Ceiriog (LDC) in the Berwyn Mountains of Wales when, without warning, my 4G signal disappeared. The situation was as grave and as grim as it sounds, and it would not return for the next 24 hours. Oh lordy.
Whilst you can get posting power on the summit of Everest, in the deepest valleys of the Alps, from the back of beyond in Africa, and from the middle of a desert in Peru, you can't get a sniff of a connection just a few miles off the A5 on the border of England and Wales. I promptly stopped for a sit down, a nice cup of tea and a Welshcake, and considered my options. Old school hand to hand combat it was then.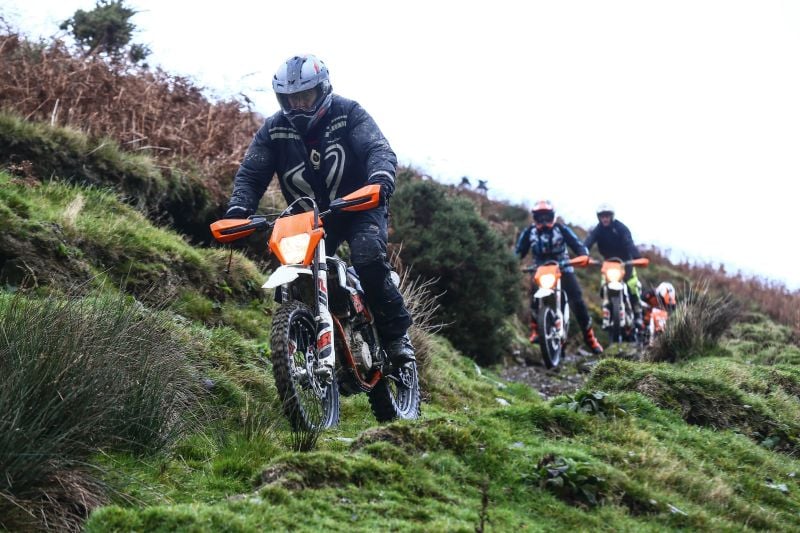 I have a confession here, I just could not get on with the older version of the Freeride. It felt more like a mountain bike in nature, and not enough like a motorbike for my 6ft 2in frame and 16st 8lb bulk. I simply overwhelmed the machine, and when ridden back-to-back with, say, the superb KTM EXC 250, the decision as to which bike to buy was simple. The EXC, every time. The word out of KTM on the new 249cc Freeride was that they had beefed up the bike, especially the suspension, so I was keen to get re-acquainted with it as the low weight, agility and all-round ability appealed to my aging, though willing, body and limbs.
I'm at that stage of life where I still value my time off-road, maybe even more so that when in my younger prime. The difference now is that my main criteria for a trail bike is that it is easy to ride, comes with non-threatening performance and it's no struggle to pick up when the inevitable occurs. Mind you, I've not been permanently put out to pasture in 2017, I've spent some quality off-road time aboard the company's 1090 and 1290 adventure machines.
The KTM Off-Road School is hidden away up a remote valley in the Berwyn Mountains and staffed by Ady Smith, a man with a host of off-road credentials. My riding partners for the day weren't half bad either, and included a UK motocross champion, top-end enduro riders and a championship winning trials rider. What's interesting about the Freeride is the claim that the bike is half enduro, half trials, and at the same time perfectly suited to the green lane leisure riding fraternity. On first inspection it certainly fits that bill, it looks like what would be the romantic outcome of a close relationship between an enduro and trials bike.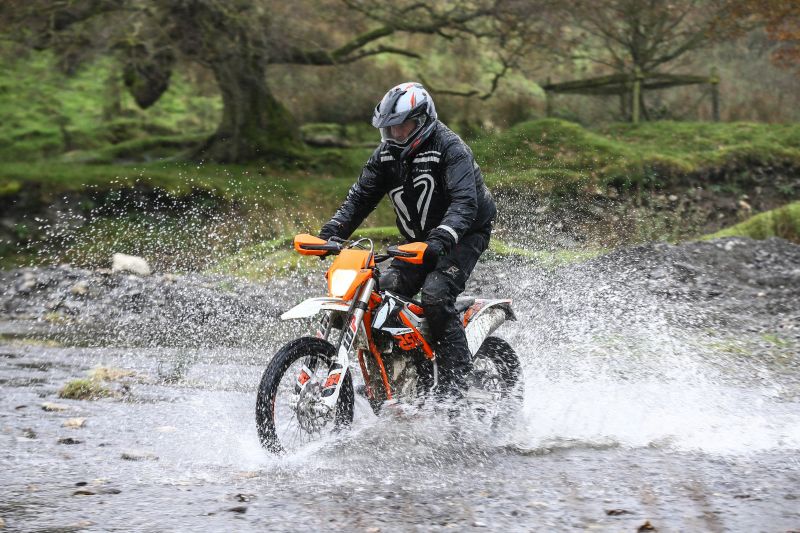 There's a long, narrow saddle with the five-litre petrol tank tucked away under the seat. It's not what you'd call a comfortable bike to sit on, but only in the same way a peddle bike is a pain in the arse until you get used to it. But then, the narrow lines and flat profile are just what you want when you hit the dirt, mud and trails. Sitting aboard the Freeride, it's so lightweight, streamlined and devoid of fuss that it still has that feel of a mountain bike, but that's no criticism as it's been purposely made that way. I found the holy trinity of hands, feet and arse just about spot on, but could have done with bar risers to make it perfect. The new bars are slightly wider than the previous version, which I like, plus the footpegs are reversible, offering 8mm of backward movement, which some riders may find better suited for both comfort and more precise control.
One point to mention here is that the seat height of 915mm might appear to be high and intimidating, but the narrowness of this bike makes it feel a lot lower than most others, and getting a foot or feet on the ground is not as impossible as it may appear for shorter riders. And weighing in at 97kg there isn't a great deal of bulk to unsettle you either. There aren't that many features to keep you entertained at a standstill, but the bike does come with open hand guards, key ignition and a basic digital dashboard if you need to know how fast you're riding up or down a vertical banking – more about that later. It also comes with trials tyres, the Maxxis Trialmaxx, which have been made specifically for the Freeride 250.
We kicked off the day by riding around a motocross track which was muddy, rutted and, naturally, contained plenty of good old Welsh water. From the off, it was apparent that the new suspension fitted to the 250 was an impressive upgrade over the previous version. Either that or I'd lost a lot of weight I've yet to find out about.
The front end is fitted with split design WP 43mm Xplor upside-down forks, and comes with 250mm of travel. The 'split design' means that whilst both legs contain springs, the rebound is taken care of in the right stanchion and the compression in the left. The theory goes that they work better by just doing one job at a time, and in practice I'm inclined to agree. Both functions are easily adjustable, but I was happy enough on the stock settings and didn't bother with any tinkering.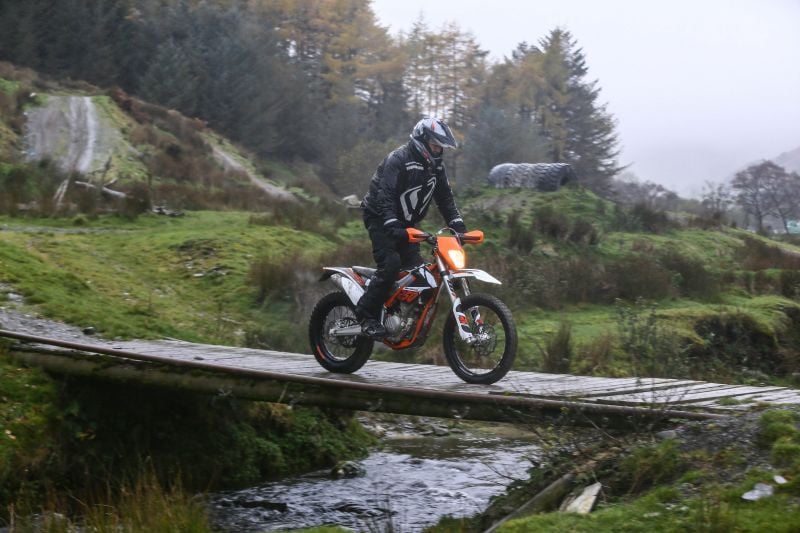 The rear shock is a new WP Xplor PDC unit mounted directly to the swing arm, and comes with 260mm of travel. The unit is adjustable for both rebound damping and compression, but once again the stock settings performed spot on. I found the bike to be firmer, more stable, better handling, and not once, even when jumping over whoops, did I feel the setup overwhelmed or getting out of shape when landing. The new suspension, in my experience, is a very welcome upgrade on the previous model and transforms the Freeride into a bike I could see myself living with. My only qualification here is that I was not racing the bike, nor hitting the jumps at overly fast speeds, I suspect if I were, then I'd need to look at the company's EXC range.
Whilst I was enjoying bopping around the muddy and rutted motocross track, sliding up and down the seat to gain more front-end grip on tight bends and increased traction on greasy climbs, the more experienced of the group had found a 10m high quarry to play with. I kid you not, watching some of these guys bounce up and bound down a near vertical slope was a revelation for the prowess of this bike, and of their riding abilities.
After a quick ride up a rock-strewn river in the valley floor, the rest of the morning was spent up on the hills, not so much following trails, but blazing them up rocky stream beds and across open Welsh peat bogs. The last time I rode anything like this kind of terrain was a long time ago on a competition trials bike, and yet the only restriction on where the Freeride could go was the guy holding the bars.
It was very apparent that the KTM's ability to tackle technical ground was way above what I'd ever consider taking on these days. It's no trials bike but, along with the Montesa 4Ride, it's as close to one as you're going to get with a seat you can actually sit on without demanding a visit to the nearest casualty department.
After lunch, it was up very steep grassy banks and hills and back down even steeper rocky trails, where the Freeride and this rider were both having great fun. Then it was a long ride out over more Welsh bogs of the type where you're just as likely to sink and become incarcerated in peat as you are to arrive at the dry end.
The low down traction and linear torque from the 249cc engine was superb in these conditions, and even with trials tyres (enduro rubber would have been better still) we chugged through the kind of mulch that would see heavier and less capable bikes buried up to their petrol tanks.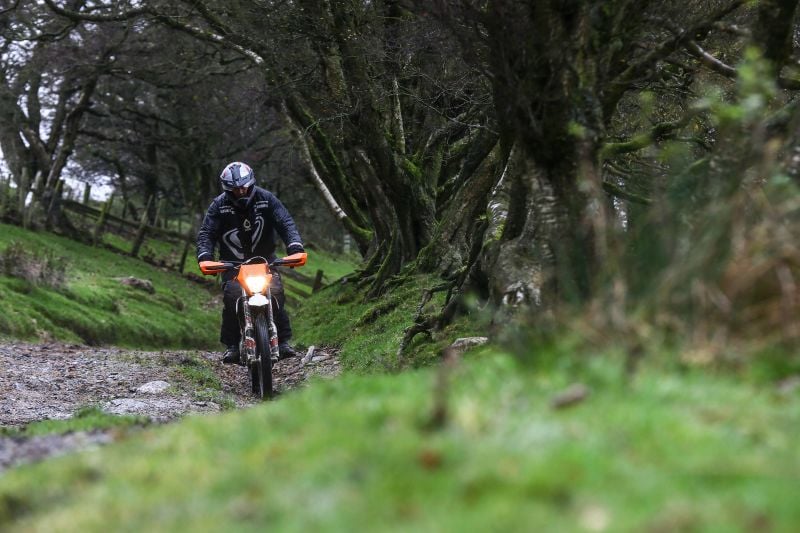 The finale of the day was a quick dash up a farm track to the top of a hill and the steepest decent of the day, back down the course of a gnarly, narrow stream complete with big rock steps and just about every other natural obstacle you'd expect to find on a Welsh mountainside. All in all, a great fun day. And that just about sums up the Freeride 250; if you're looking for a competition machine or something to race, then you'd be better advised to check out the EXC range. But if you're looking for a highly manoeuvrable, lightweight bike that will allow you to have a fun day out on the trails, the Freeride 250 is just that.
In my opinion, it's a great trail bike, especially for those who prefer their green lanes to be tougher and more challenging. But then it'll also appeal to those looking for a premium product with quality components, KTM have not cut any corners here. It'll also appeal to the beginner for its ease of riding, and the older rider who's looking for a lightweight machine that's going to treat him kindly, rather than spit him off. Basically, if you're into leisure trail riding this is a bike to check out.
If it has a downside then it's the restriction of the five-litre petrol tank, and the fact that it's going to take you time to get used to the level of seat 'comfort'. And that's about it. The Freeride 250 will flatter just about any rider; it'll help a novice gain confidence and get more enjoyment out of the experience; it'll transform the less experienced leisure rider into an all-round better rider, capable of taking on the tougher trails; it'll convince the more experienced rider that it's time to turn pro, and as for the pros, they can take it just about anywhere they like. All in all, the new Freeride 250 is a fantastic trail bike and then some.
KTM Freeride 250 Specs at a glance
Price: £6,599
Engine: Single cylinder, 4-Stroke, 249Cc
Transmission: Six gears
Cooling: Liquid cooling
Chassis: Perimiter steel-aluminium composite frame
Subframe: Neken exc aluminium
Suspension front: Wp xplor 43mm split fork. Rear: wp xplor pds shock absorber
Suspension travel: 250mm front, 260mm rear
TyreS front: 2.75-21" maxxis m 7311. Rear: 4.00-18" maxiss trailmaxx
Seat height: 915mm
Weight: 98.5kg (without fuel)
Fuel capacity: Five litres