A Lifetime of Journeys and Interruptions
Sam Manicom travels to Ted's Californian home to meet the man who started it all
"I am very proud that even now people in their late teens are reading Jupiter's Travels. It's crossed three generations now and it's still selling. It seems to have touched some universal chord." Ted Simon
When Ted Simon took a step back from motorcycle travelling, he settled on a small farm in Round Valley in northern California – the 'Wild West' as he jokingly calls it. After being surrounded for four years by the delights and challenges of the world's roads it shouldn't be a surprise that he wanted a place such as this to come to halt in for a while. The idea was to become an organic farmer. His 64,000-mile journey around the world had brought to life a lesser-known side of his makeup.
A recent trip to California gave me the chance to meet Ted at his home. Travelling with Iain Harper, who is a friend of Ted's, we arrived at the farm in the magical glow that only the end of day October light can throw. The first things we saw were the giant shade trees festooned with long tendrils of silvery beard moss. The next, surrounded by a red, gold and orange carpet of autumn leaves, was the single storey house that Ted built himself. The dark-stained and timeworn wooden walls and verandas still stand strong and I found myself wishing they could tell tale on Ted!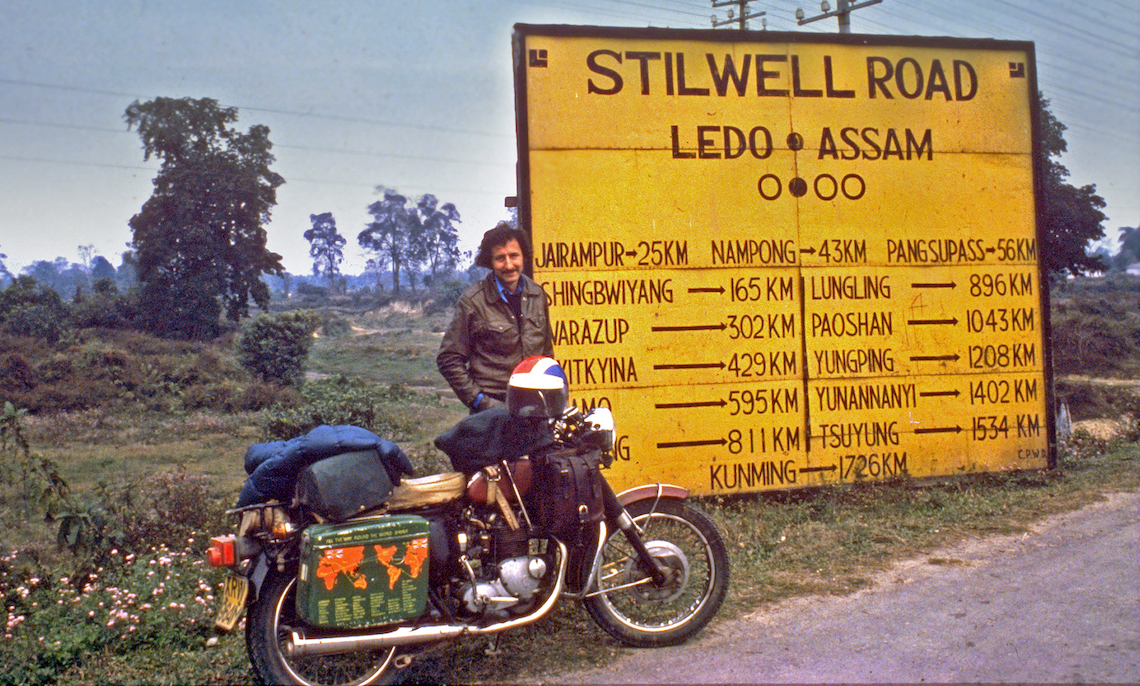 As he showed us around, I realised that actually in many ways he hasn't changed a bit over recent years. I'd love to have the head of hair he's managed to hang onto; he's still pretty fit and his gentle manner hasn't changed a jot from the first time I met him. Almost a decade ago, I was a very wet behind the ears writer for Motorcycle Voyager magazine and I'd been tasked to link up with Ted at the Tesch Treffen overlanding event in the Ardennes. He'd be my first interview! I admit to have been decidedly in awe of the man, but he soon put me at ease and with that gentle manner he carefully ignored my gaffs and the interview worked. I'd started off by asking him to summarise the background to his book Jupiter's Travels. "In October 1973, sponsored by The Sunday Times, I began riding around the world on a 500 cc Triumph Tiger 100 motorcycle. For four years I travelled through 45 countries, submitting articles as I went and I subsequently wrote Jupiter's Travels."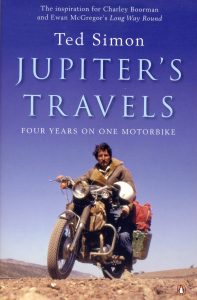 If he wasn't bashful and still so understated in a decidedly British way, Ted Simon could easily claim to be something unique: the man who has influenced modern-day motorcycle overlanding more than any other man in the last 40 years. In fact, I'd lay odds on the point that there are few motorcycle travellers whose lives have not been affected, even inspired, by this man. Certainly, a great number of people know who he is and most will have read at least one of his books. In fact, because of Jupiter's Travels, he could easily be considered to be a parental nightmare; he's a recognisably bad influence. His very distinctive, honest and graphic writing style has led many a dreamer to think, 'If Ted can do it, then so perhaps can I'. He is very proud to have encouraged people to try something different in life. It's important to him that his books have opened a new world to many who have never even remotely considered travelling by bike.
Bearing in mind that Ted is now 82 he is amazingly energetic. Not only does he continue to travel around the world for book signings, shows, and for the opportunity to ride a bike in interesting pretty places, but he does much of the work on the farm himself. Need a new building for the water pump? Ted will do it, but he did admit that, "Lifting the heavier beams to the roof has been hard going this time around." Though he's now sold much of his original land, Ted still grows all their vegetables, organically. You won't find manicured lawns, but his veggie gardens show that green fingers have been at work.
As you'd expect, Ted has found an energetic, attractive and very intelligent partner to team up with. His wife Lida is a darned good cook too. Later on in the evening, she got busy in the kitchen and to go with rib eye steaks – barbecued by Ted – she treated us to Ukrainian home cooking, which was fab.
When you do get the chance to nail Ted in one place for a while you soon find out that he has a real penchant for good red wine. Ted was particularly animated as we talked, but it wasn't the wine. He started by telling us that he is at an exciting time in his life, but then carried on to say something that perhaps shouldn't be a surprise. He told us that over the years he'd become a little jaded at being Ted Simon – Jupiter's Travels. With ups and downs in public interest, he's been that for much of the past 40 years. "It's been an inspiring time in many ways with plenty of surprises, but sometimes I felt that I'd lost a bit of Ted Simon the individual."
"Once I'd moved to California, to begin with my time was very much taken up with writing, organic gardening, and sadly an acrimonious divorce. Then Jupiter's Travels suddenly became a cult book in the USA. A tour of BMW rallies with a cocked-up slideshow followed, and I became a minor celebrity – that was the big watershed moment. But even so, after a while I started to get a bit tired of it. It's as if being that Jupiter's Travels guy was the only thing of any significance in my life – rather a two dimensional me."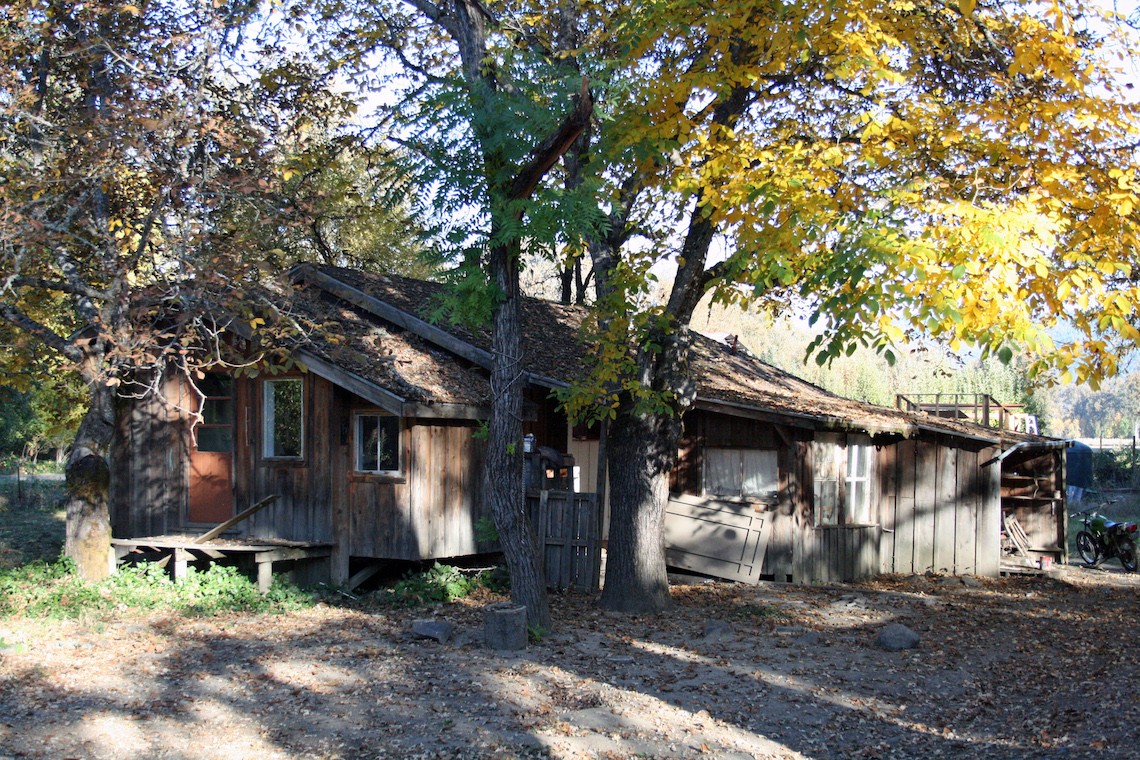 But he kept busy with a real mix of projects during those years and not all of his work has been on his motorcycle travel books. He wrote Riding High (some editions were called Riding Home), which filled in many of the gaps from his Jupiter's Travels ride – after all, how do you fit four years' worth of adventures into just one book? Then, aged 69 and nearly 30 years after his first journey he retraced his original route and subsequently wrote a new book…
Dreaming of Jupiter focuses on how the world and people had changed over the years between the two rides. More recently, he wrote Rolling Through The Isles, which is very much to his usual entertaining and informative standard. However, he's also been very active with articles for newspapers and magazines that have had little to do with motorcycling. As he explained more he went on to say, "One of my early books, The Gypsy In Me, is out of print but I'm getting a lot of requests to bring the book back to life again; it's a favourite of mine. I may not put it into print again but I'm seriously looking at releasing it as an e-book." The book details Ted's search for his mother's and, particularly, his father's roots in Eastern Europe. He mainly walked and caught public transport on his route between Kaliningrad and Romania. He said, "This was a particularly interesting time to be there as it wasn't long after the Communist regimes in Russia, Poland, Ukraine and Romania had crumbled."
Ted has a passion for looking into life as a whole, and at how the things that we humans do affects so much – often to the detriment of our environment. As always, he's a very challenging writer and he treads on toes with intent. If you have read his book The River Stops Here, the story of how water is used in California and natural resources are exploited in general, then you'll know exactly what I mean.
Sitting in his kitchen, the two main reasons behind Ted's current animation came to light. To begin with, 2013 is the 40th anniversary of setting off on his Jupiter's Travel ride and he's celebrated that by publishing a new book. He admits to being both awed by and proud of it. While he was travelling, Ted took what he calls photographic snaps – he felt that he should – but he quickly admits that he is no photographer. "At the time I really didn't know what I was doing." Apparently, the more cynical of his newspaper colleagues were quite blunt about his abilities.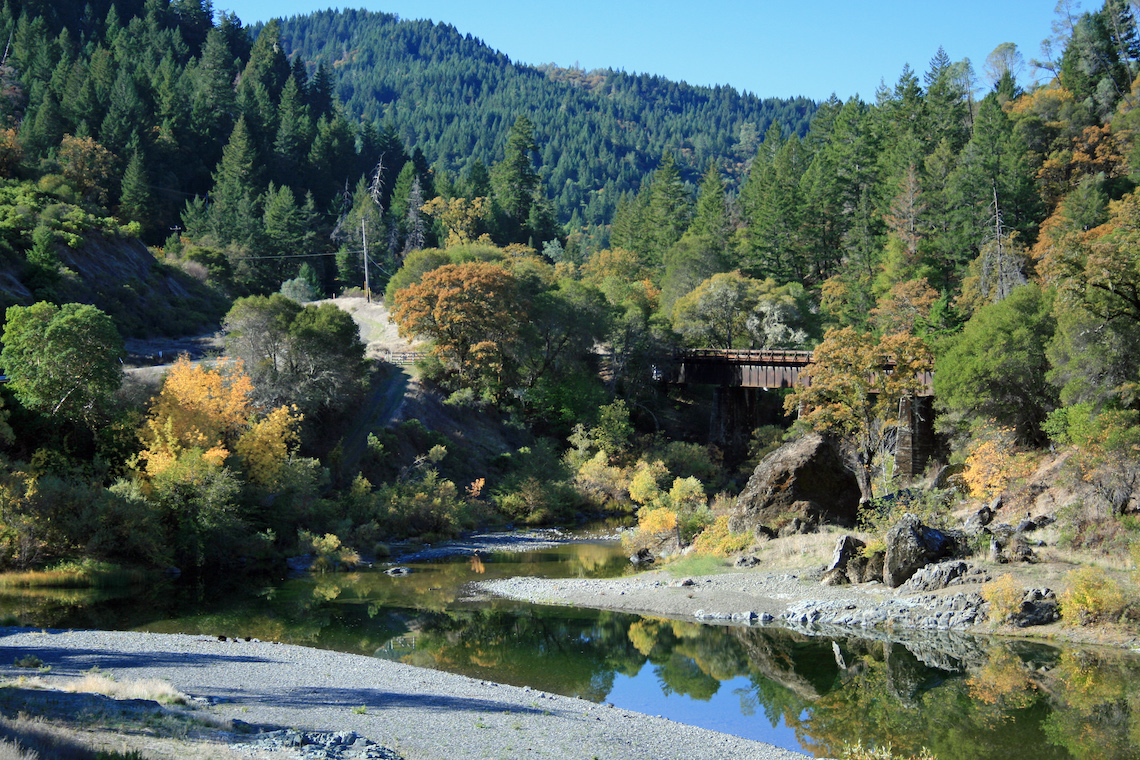 Ted's new book, Jupiter's Travels In Camera, is a sleek, coffee table sized book and as soon as you see it you know why he's so proud of it. "Technological advances have allowed something quite special to be produced from my old Kodachrome slides." However, having heard his comments about his ability with his Pentax cameras, I was keen to see inside it. The quality is spot on and the 300 plus photographs aren't so over engineered that the sensation of time has been lost.
These shots have been languishing in dark corners for four decades, never expecting to see the light of day. What a waste that would have been. There are some simply stunning pictures that any highly trained photographer would be proud of. I think my favourite is of the Turkana women in Kenya. When you hunt out a copy, you'll see what I mean. However, this is just the visual side of things, what about the words to go with the images?
Originally Ted had thought he'd be able to copy and paste sections out of Jupiter's Travels, but he soon realised something important. "Simply trying to match the words would be a missed opportunity." It was at this stage that the project really came to life for him. The photos were going to allow Ted the chance to write about things that have never been published. Jupiter's Travels In Camera gives a whole new layer to the journey recounted in Jupiter's Travels and Riding High.
As I read the new book the first time around, I became very conscious of how his early editions of Jupiter's Travels relied on the graphic word pictures to help him tell the tale. Of course he's a past master at transporting the reader to the road, but the photographs in this new book with their accompanying script, enhance the tale with a brand new dimension. You'll find shots including the camel drivers from Egypt and the deserts of Sudan, gauchos from Argentina, a special girl, truckies from Australia, temples and gurus of India and what Ted calls "The hippy trail home".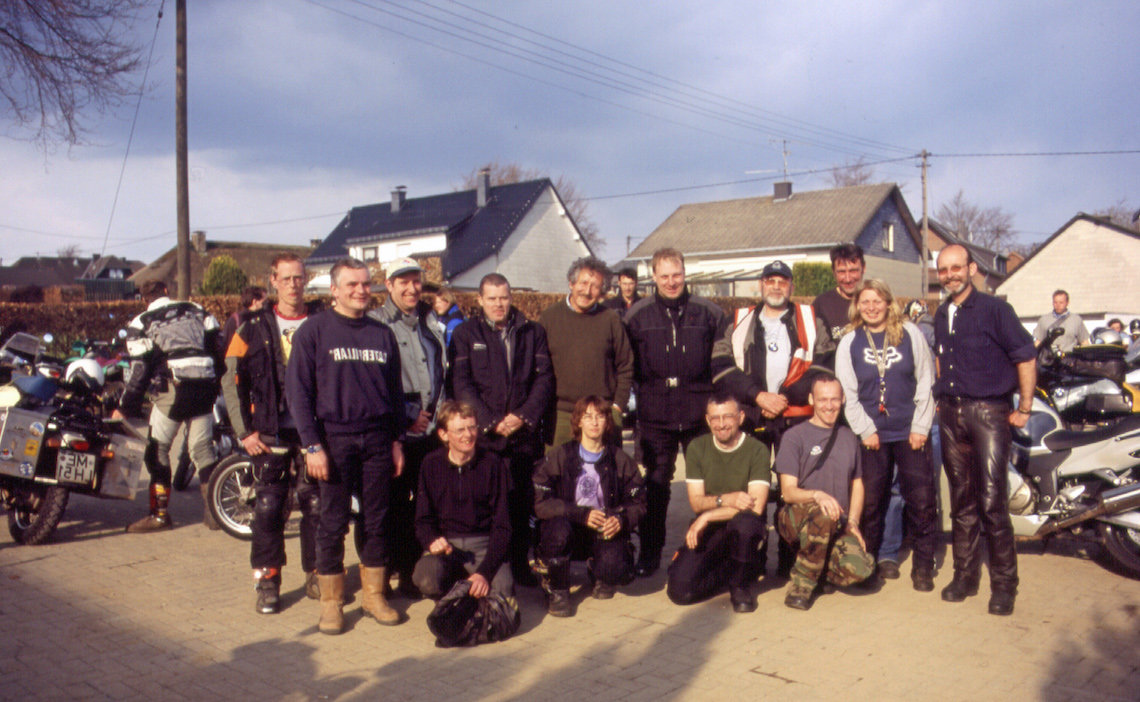 I asked him what he was going to do with the money he earns from the books. His pension plan? "Not likely!" He replied, and so the other reason for the twinkle in his eyes came to light. The next project he has in hand is The Ted Simon Foundation. When I asked him to explain what it's all about he pointedly replied, "It's a way of saving journalism from journalists."
Ted is concerned about the fact that it's too easy to travel the world doing little more than skimming across the surface of the countries along the way. "There's nothing wrong with a person heading out to explore the world on a motorcycle, or any form of transport, with no greater aim than to see some of the world and to be out of the places they know well. But it's a missed opportunity if the traveller doesn't look deeper. Deeper within the countries and cultures they are travelling through, and within themselves."
He's a philosopher and it's very difficult to ignore the depth and reality of his thoughts. Ted is a passionate observer and he's become very much aware that most people don't realise their own potential. His biggest angst comes from the damage done by the mainstream media and uninformed politicians. Ted said, "What I would like is to make it obligatory for every politician to travel alone across India or Africa, preferably on foot. They'd come back with a more useful perspective on life." Now there's a thought…
He went on to tell us, "One of the aims of The Ted Simon Foundation is to encourage overlanders to travel with the ambition to learn about the places they are travelling through. There is no better way to get to know people and their culture than to live and perhaps even work with them for a while. Most overlanders stumble across opportunities, but I want to encourage them to travel with intent." He rounded that comment off with this, "The dumbest question I get asked is 'why did you do your four year journey'? Why would you not want to know what's going on in the world?"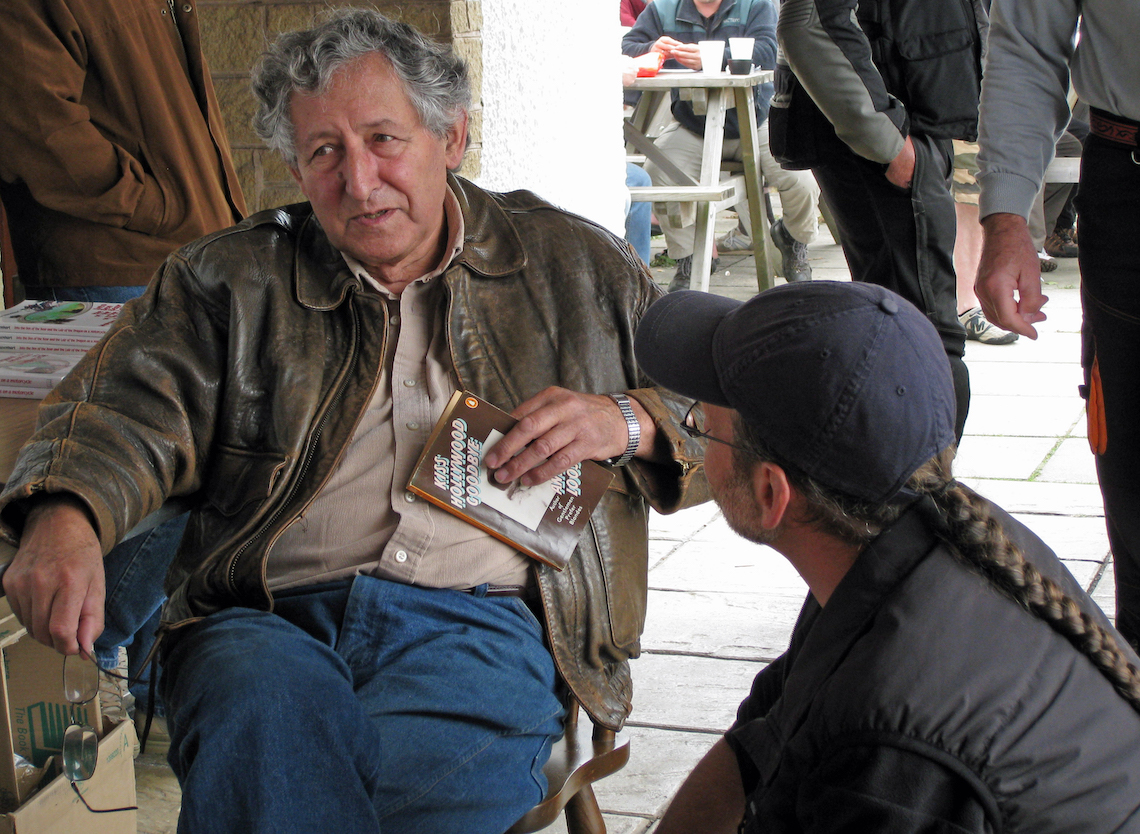 "The main aim of the Foundation is to go some way towards countering the misleading generalisations and sensationalism of the mainstream media. We want to encourage people to return from journeys with sufficient material to write a quality book or make an exciting and insightful film that will shed light on what's really going on in the world. This is the chance to show that people aren't all the pack of terrorists and fundamentalists that the media and too many politicians would have us believe. I'm delighted that the Foundation has such a bank of highly qualified advisors who give their time and expertise freely to new authors and film makers. I hope that travellers will come back with perspective based on reality. It's about sharing their experiences. Modern life narrows people's lives so much they don't realise that the coin has another side. If we as a world are going to survive, we must all get out of our home environments with our eyes, ears and minds wide open and with a social conscience. It's vital to find ways to conquer racial prejudice, xenophobia and all the other things that make the world a difficult place in which to live." We wish Ted well on the adventures ahead.
Find out more about
The Ted Simon Foundation online at jupiterstravellers.org. If you intend to travel with the Foundation's aims in mind and have something special to offer, get in touch. Apply to become a Jupiter's Traveller. If you agree with The Ted Simon Foundation's principals you can support either by joining as a Jupiter's Companion or as a Jupiter's Angel.
QUICK Q&A
Do you have any advice for those planning to set out on a long ride? Scale down expectations. Carry as little as possible. Go slowly. Have faith and a sunny disposition. It'll work out. Just take reasonable care and don't talk too much. Dignified reticence works well.
What do you think the biggest obstacles to modern day travellers are? Being called away from the journey by interruptions from the web and emails. I also think that one of the hardest things today is simply moving the motorcycle around – surcharges, shipping, carnets etc.
Where in the world would you avoid going back to? Actually, the places you 'should' avoid are often the most interesting places.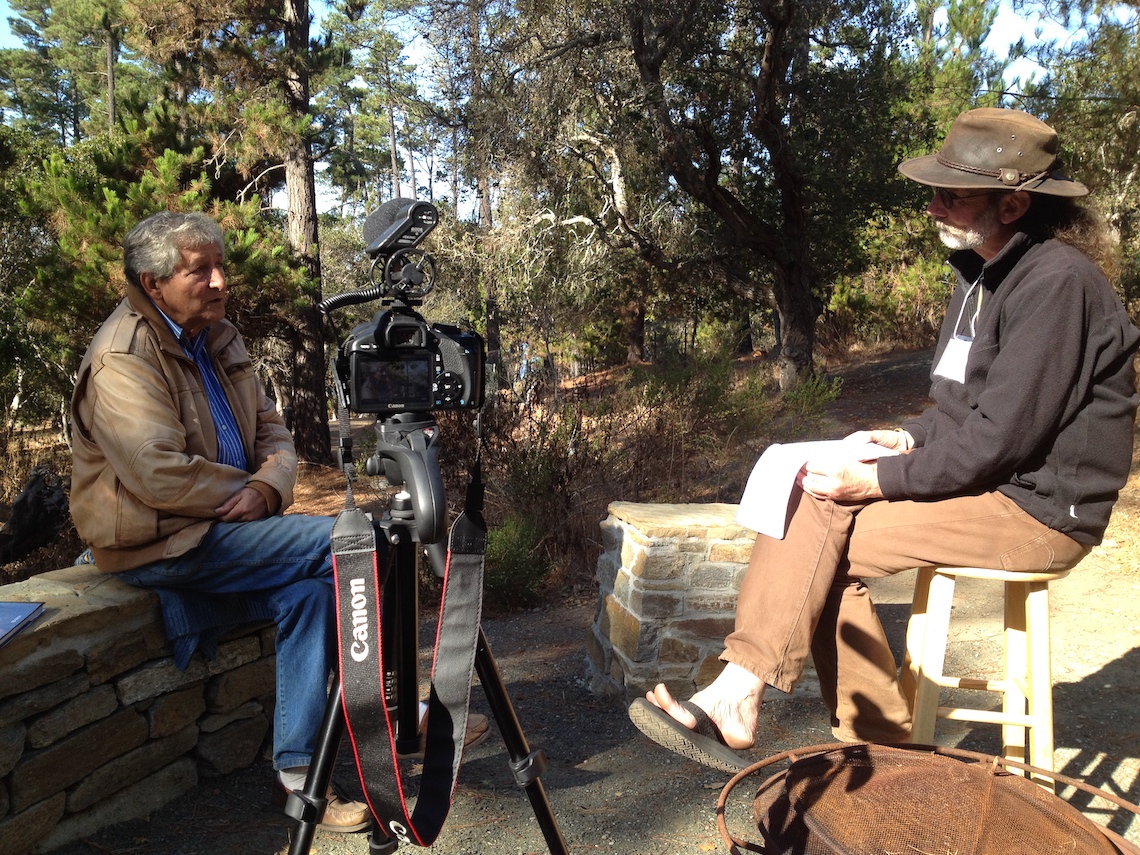 ONE LAST QUESTION
What was your most recent ride?
"I rode single cylinder BMW Funduro 650 from Germany to the Greek Islands. I've had the bike since 1999 and it's stored in Duisburg in the Ruhr Valley by a friend. Why the Greek islands? I wanted to see what it's like to sit by the ocean, eat fish and simply, be in Greece. But more than that I wanted to see where it all began.
The ride wasn't without its adventures either, but as I've said before the interruptions are the journey. On a Sunday morning in Zagreb, half a pint of oil fell out the bike and I had no idea what was going on with it. Still don't know how the petrol got into the oil.
I got it fixed the next day, but then a thunderstorm arrived and I ended up staying in this very interesting city for four days.
As I was heading into Serbia I did what was my first, and I hope last ever wheelie. Of course it was in a petrol station with an audience, and actually I did a lot of damage to the bike but the local people helped me sort things out. Thankfully I didn't damage myself very much.
Greece lived up to its expectations in many ways and the islands were a really good introduction into Greek culture. I'd always wanted to visit the Acropolis in Athens; it felt that it was important to do it. This was also an intense time politically for Greece. There was a frenzy going on around the fascist Golden Dawn party murder and MPs being arrested. Support for the party plummeted from 17% to 4%." Interesting times ahead.
Photos: Sam Manicom