HOT STUFF
GARMIN ZUMO 660/SCALA RIDER Q2 PRO BUNDLE £599.99
What is it? The future (aka GPS in a headset)
What we have here is Garmin's tried-and-tested Zumo sat nav and the new Scala Rider Q2 PRO headset, bundled up in the same box that comes £100 cheaper than buying the two items independently.
Having been a Garmin user for many a year and as someone who's familiar with the company's GPS units, I can confidently say you won't be disappointed with the 660; it is, quite simply, the best motorcycle GPS unit I've used. If I have a complaint, it's the reliability of the locking clasp on the handlebar mount – I once lost a 660 on a Belgium motorway!
The Scala Rider Q2 PRO is the latest offering from Cardo Systems providing bike-to-bike intercom at a distance of up to 700 metres, driver to passenger communication, mobile phone connectivity, GPS connectivity, a built in FM radio and MP3 connectivity. Teamed up the two products mean you can have in-the-ear directions from the sat nav, and all in all this is a good discount off two top-quality products that'll not disappoint.
For more, see www.garmin.com
TUCANO URBANO HANDLEBAR MUFFS £45 per pair
What is it? A new best friend for your hands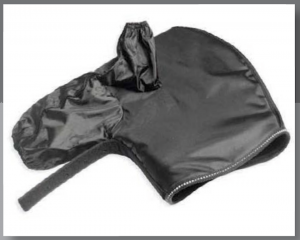 Winter riding can be both an exhilarating and a brutal experience at the same time. I don't know about you but I find a ride through the cold, clean air of a January morning taking in the crisp, clear views of a frost or snow-covered countryside is one of my favourite biking experiences. And pushing things a little further, I find the thought of riding long distances to winter rallies such as the Elephant Rally in Bavaria or the Primus Rally in Norway a disturbingly attractive proposition – I must bring that up with my shrink!
The brutal side of winter riding is, of course, the pain that comes with frozen body parts, especially those at the extremities. Focusing on hands, a good set of liner gloves worn under winter mountaineering gloves along with heated grips sat behind wind deflecting hand guards nearly does the job – 'nearly' being the key word. To turn 'nearly' into 'comfortable' is the holy grail of long distance winter riding and the Tucano Urbano handlebar muffs offer just that.
These Italian-made heavy duty muffs will fit on just about all adventure bikes and although they took a bit of getting used to, the additional wind protection and added insulation they provide will extend your winter riding way past the point you would have otherwise had to stop and de-frost your fingers.
The outer shell is wind and water-proof; it fits over most after-market hand guards and mirrors and is secured via cable ties which are enough to deter the casual thief. The muffs are reinforced at the leading edge and come with reflective piping. The inner is described as 'fur' but it feels like a deep pile fleece to us.
When fitted to the bike they do alter the airflow but not enough to bother us, and once you overcome the psychological matter of your hands not being totally free then riding on bitterly cold days (and rain lashed days) becomes far more comfortable and less painful. See www.nippynormans.com
GROWER'S CUP COFFEE BREWER £2.50
What is it? Flat-pack gourmet coffee on the go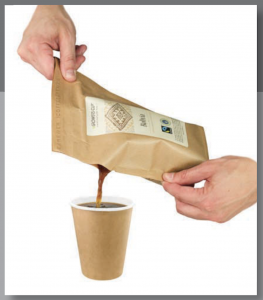 The significance of this canny coffee invention really does depend on how much you enjoy a cup of the black stuff. If you're a coffee connoisseur who simply cannot face the horrors of instant, even when motoring through the middle of nowhere, this could just be the best thing since the proverbial sliced bread incident.
Roughly the size of an A5 sheet of paper, the Grower's Cup Coffee Brewer is a durable, lightweight pouch filled with 24g of organic freshly ground Honduras fairtrade coffee. The built-in filter means there's no faffing about with coffee grains or messy washing up; simply open the ziplock top and pull out the enclosed tab to form a spout, then pour in 1.5l of hot water and reseal the ziplock to allow the coffee to brew. The bottom of the pouch opens to form a base, to allow it to stand, and once your coffee's reached the desired strength (five minutes for mild, eight minutes for strong) it can be poured directly from the pouch into a mug by gently squashing either side of the spout and carefully tipping out the contents.
One brewer is enough for three cups of coffee and once the first one's poured the brewing magically stops, so the rest of the coffee stays drinkable. The brewer's unsuitable for storing leftover coffee on the move, though, so if you wanted to do this you'd need to decant it into a Contigo or similar thermal flask. Real care is needed when pouring, to avoid dribbling scalding coffee on yourself, and it's unlikely anyone but the uber dexterous will be able to use the brewer while wearing motorcycle gloves. But for a touch of luxury on the go this is a nice winter warmer that won't take up precious pannier space. For more, see www.growerscup.com
MOTORCYCLE PLANNER £24.99
What is it? A Filofax for the ABR clan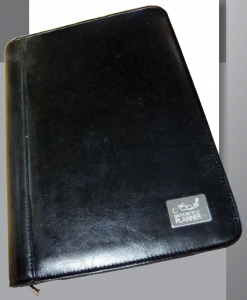 If you remember the 1980s then you'll recall it was all about big hair for the girls, bigger hair for the boys and the Filofax. The six-ringed leather-bound personal organiser became the ultimate 'yuppie' symbol of the decade and losing said Filofax was likened to amputation of at least a couple of appendages.
Well it's a case of back to the future with the Motorcycle Planner, which has revived the Filofax format and branded it with a two-wheeled spin. You get sections to accommodate trip planning, maintenance and service, addresses, phone numbers and all the other add hoc biker info you're ever going to need. Plus it comes with sections to store USB sticks, memory cards, business cards, receipts, CDs and DVDs.
The Motorcycle Planner is one of those items you'll either buy and use until it falls apart or it'll end up in a dark corner under the stairs with the equally eagerly purchased George Foreman grill and bread maker. Me, I quite liked it, but then I went to a Duran Duran revival a few years back – I'm going to deny I said that.
For more, see www.asptrad.co.uk