The Latest And Greatest Biking Kit
TomTom Rider 400 (Feature image above)
From £279.99 | www.tomtom.com
The Rider is available in three options:
♦Rider 40 at £99 which includes lifetime maps of Western Europe.
♦Rider 400 at £99 which includes lifetime maps, speed cameras and traffic
♦Rider 400 Premium Pack at £99. As with the 400 plus car mounting and anti-theft kits and a carry case for the unit.
What is it? All new motorcycle SatNav launched by the Dutch manufacturer with 'thrills' and 'hills' built-in.
Sometimes, even the best of plans are overtaken by current events. Take, for example, the recent world press launch of the TomTom Rider in Malaga, southern Spain. As the UK bathed in early spring sunshine and warmth the Costa Del Sol was in the midst of tropical strength rain, floods and unseasonally low temperatures. On the plus side, I was able to confirm that the all-new TomTom Rider is supremely waterproof.
The 2015 TomTom Rider is not just an upgrade of an older model it is a complete hardware and software re-build from the ground up. The design is all-new, it feels robust and looks progressively modern featuring a 4.3-inch screen with contrast, resolution and back-lighting all improved from previous models.
The screen of the new Rider is an improvement on past models, plus the company has done away with the small visor of the predecessors. In most conditions, the screen is bright and highly readable however, with a low sun directly behind my shoulder the level of mirroring and glare increased significantly to the point where it was unreadable at times. That's not a problem unique to TomTom, and could be said for just about all and any displays.
What's interesting about the screen is the new swivel bracket which lets you navigate in traditional landscape and now portrait view. A handy feature for viewing that little further ahead and it can be adjusted on the move.
One further point regarding the screen is the use of a pressure-sensitive system rather than a conduction system, which allows you to use the screen while gloved up. The main menu items worked very well and quickly when prodded with a gloved finger however there are some touchpad buttons, including the keyboard, which are too small to operate when your hands are covered.
One area I would have particularly have liked to use in-depth, though time did not allow, is the route planning and sharing features using Tyre Pro software. There have been a few issues in the past where the SatNav re-configures routes planned at home on a PC. Plus I would have also liked to have got to grips with importing routes, something that has to be done via SD cards rather than direct from computer to SatNav. All that's for another day.
There's an impressive array of new features on the new TomTom including the 'Plan a Thrill' menu which lets you select the level of twists and turns on a route. There's also a 'Hilly Roads' feature which, when enabled, will take you via the highest tarmac en-route to your destination, something I'm looking forward to using on a tour of the Alps this summer. But it'll be interesting to test these facilities in areas where I'm very familiar with all the road options.
You can plan round trips directly on the SatNav by tapping waypoints displayed on the on-screen map and you get a lifetime of TomTom Traffic and Speed Camera updates to help make ride outs less stressful.
We're big fans of TomTom SatNavs in the ABR office so the launch of the new Rider was an event we'd been looking forward to. As it happened the weather dictated events to such an extent that we had little chance to use and try out most of the new features and with the office test machine arriving too close to print deadline for a full, in-depth review we'll cover what we do know and report fully in the next issue of ABR.
---
RAM Small Tough-Claw Mount with Custom GoPro Adapter
£50 | www.ram-mount.co.uk
What is it? An easy to use GoPro handlebar mount.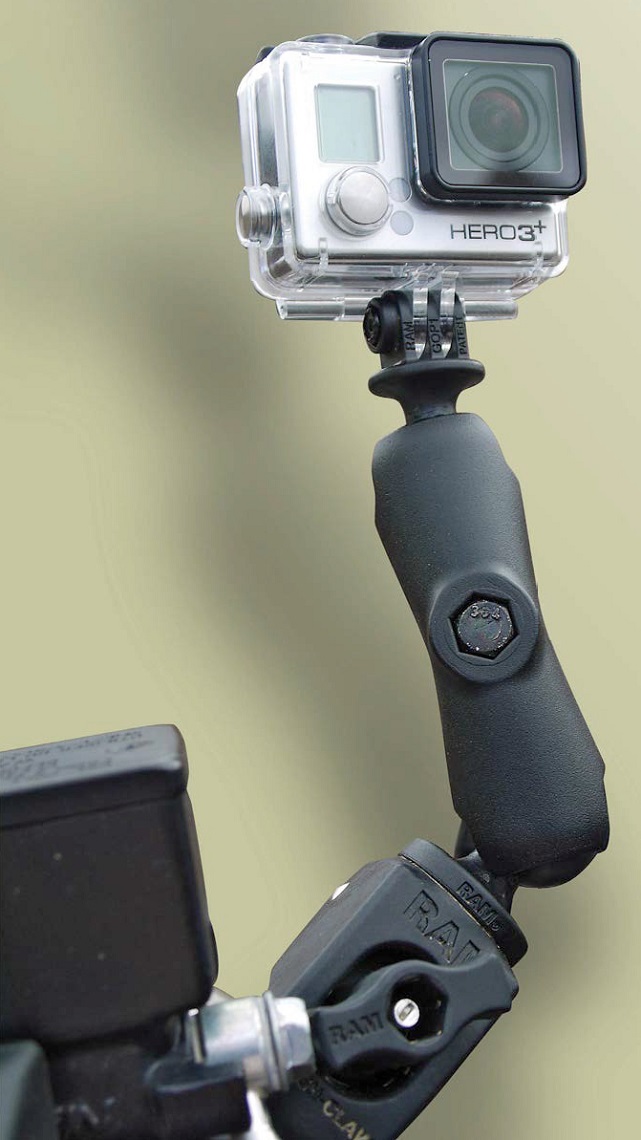 I love my GoPro so when I was asked to strap it onto the bars of a Kawasaki KLX 250 and smash around a Welsh mountain, on what was my first ever time on a motorcycle, I was nervous. Luckily, I was able to get my hands on the Ram Tough-Claw Mount and both my nerves and my GoPro were kept safe.
Initial impressions are that the mount is very sturdy and of a solid build. It's also easy to see how it works without having to look at the instructions, but they're there if required. The mount was easy to fit onto the handlebars of the bike and the turning pegs are nice and big to make fitting and adjusting an easy affair with gloved up hands.
With the prior knowledge that I would be hitting the deck on various occasions on my maiden ride, I was under no illusion that the mount was going to get battered, and it did! Mud, rain, ice, stone, trees, you name it, I rode into it, and apart from some slight readjusting of the position of the arm dusting myself down, the Ram Mount held firm.
The ability to adjust the position of the mount in such a free but sturdy manner comes from the patented ball and socket joint that the product is based on. The ball has a firm rubber outer which offers an element of vibration absorption, some serious toughness and a secure hold when tightening the screw in position.
The clamps have similar rubber strips to help hold the thing in place while also protecting your handlebar from scratches that are so easy to get with other screw-on mounts. It's also nice to know that the Ram Mount comes with a lifetime warranty and this goes some way to explaining the £50 price tag.
All in all, the Ram Small Tough-Claw Mount is a simple and very effective piece of kit. I put it through quite a stern, cold and muddy test which it passed with flying colours and I would certainly trust it with my GoPro's life again.
---
GIVI Smart Bar
£93 | www.givi.co.uk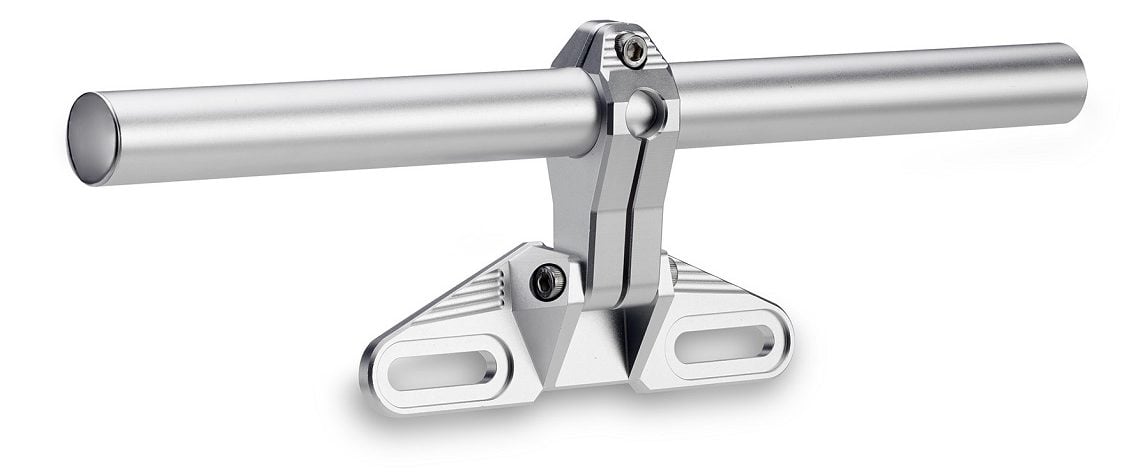 What is it? A cockpit extension bar to offer you more space on which you can mount your gadgets
The GIVI Smart Bar is an additional cockpit bar that's made using aviation-grade aluminium and it can be modified easily to fit specific handlebar widths. If you're wary about scratching your handlebars with abrasive mounts or if you just haven't got the room to add your latest gadget, then it's worth checking the Smart Bar out.
It's easy to fit, nice to look at and once it's on you won't have to worry about damaging your bike. At £93 it's a bit pricey but if you're looking for extra cockpit space check it out.
---
Cataclean 'One Shot' Bike
£12 | www.cataclean.com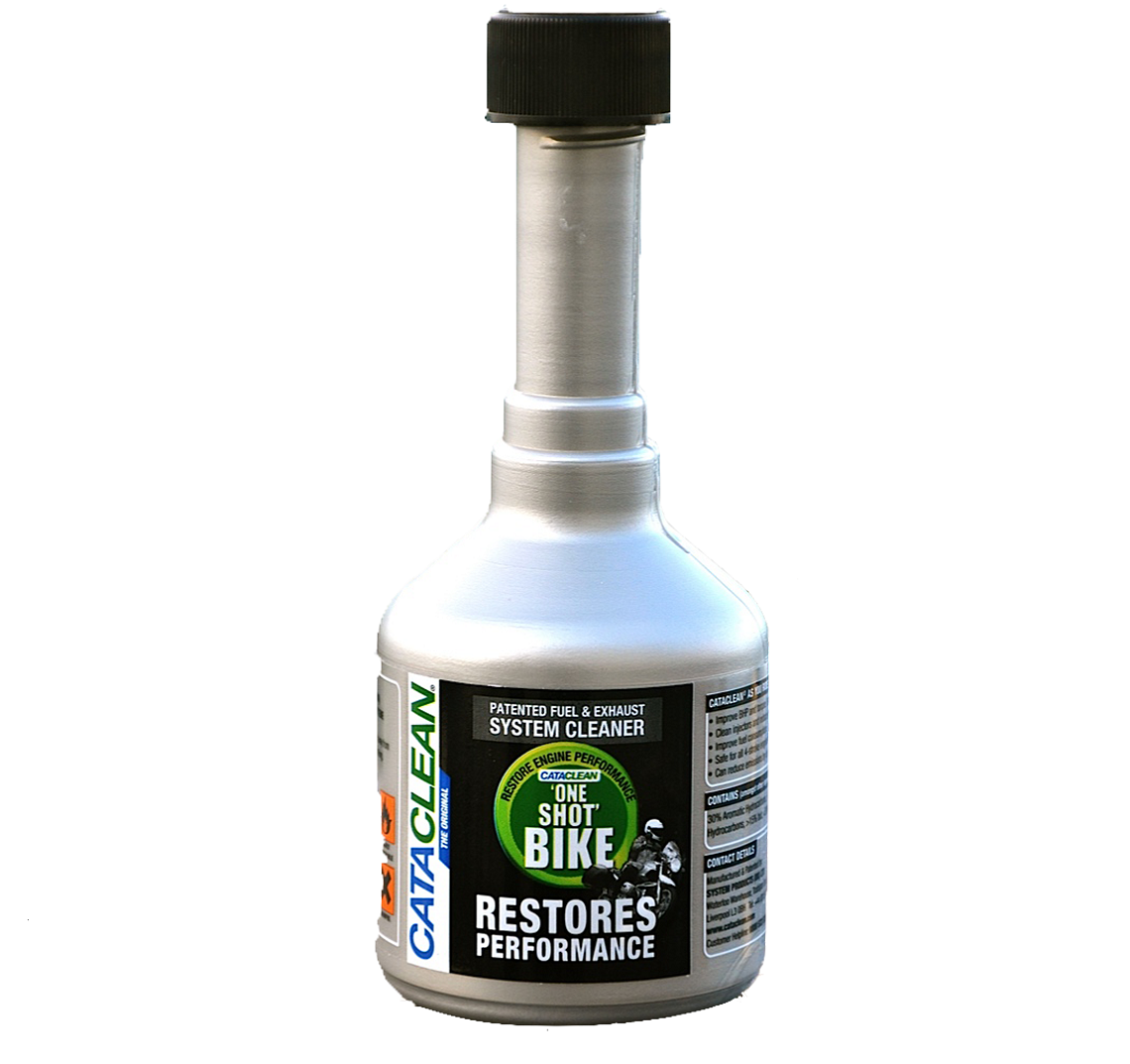 What is it? A pour and go fuel and exhaust system cleaner
'One Shot' Bike is a patented fuel and exhaust system cleaner from Cataclean and for such an inexpensive product it promises a hell of a lot of benefits to your bike. The pour and go solution is claimed to improve BHP and torque, improve throttle response, reduce carbon build-up and clean injectors, improve fuel consumption and reduce emissions by up to 60%.
Using the 'One Shot' Bike is incredibly simple, add one bottle to five litres of fuel, ride 'normally' for 15 to 20 minutes to run the application cycle and then you're good to go. While I can't back up Cataclean's bold claims using science, I can say that after applying the 'One Shot' Bike to my 2011 Suzuki V-Strom and taking it for a short application ride, there was a definite positive change in the throttle response and the bike felt to be running 'smoother' overall.
It's worth mentioning that 'One Shot' Bike has been designed to work with all 4-stroke engines and there are different methods of use depending on whether your bike has fuel injection or not. You can pick up a bottle of Cataclean 'One Shot' Bike for under £12, and for that price, it's definitely worth trying.
---
Dexshell Hytherm Pro Socks
£28.95 | www.nippynormans.com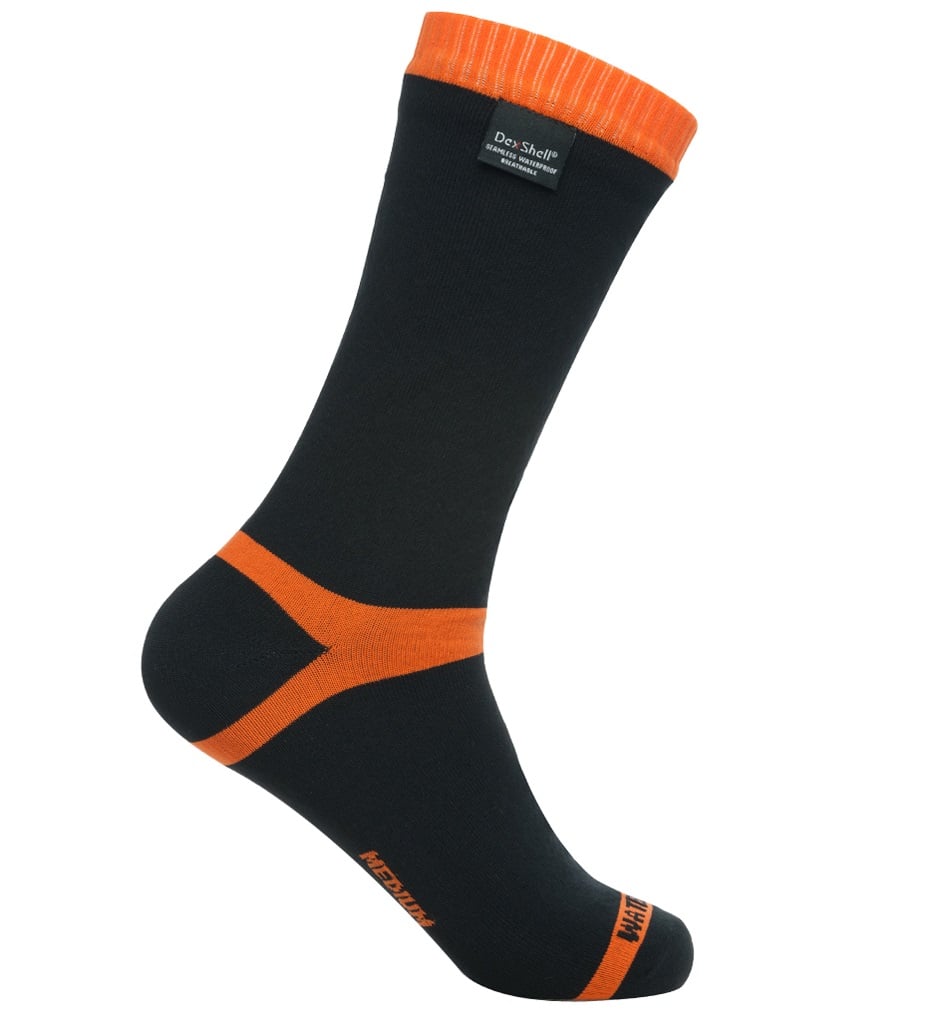 What is it? A pair of warm and waterproof socks.
Cold, wet feet are to biking what Jedward are to the entertainment industry, no one enjoys them, no matter how much you try and avoid them they keep popping up and when they're there it's uncomfortable, painful and you just wish it would all end.
While world powers are still figuring out a solution for the Irish brothers, there is something you can do to help combat the problem of freezing, damp tootsies when in the saddle; get a pair of waterproof, insulated socks. While SealSkinz has dominated the market for the last few years challengers are beginning to emerge, in this case, DexShell, and we've been trying out their Hytherm Pro Socks which retail at a fairly reasonable £28.95.
The socks feature a Porelle waterproof membrane to help keep the water out and a lovely, soft inner that's 40% merino wool to provide comfort and warmth. In use the midcalf socks are easy to slip into, they feel great when on and there's no doubt that they provide more warmth and moisture protection from the outside than a standard sock.
Bear in mind that while the Porelle membrane might be breathable in nature, ultimately in use it'll be at the mercy of how breathable your boots are (as will be the case with all waterproof socks) and you may feel build-ups of sweat on the inside of the sock – this isn't them leaking so don't be put off. In all, I'd rather be wearing a pair of Hytherm Pro Socks on a long ride out than a standard pair of wool socks.
---
Sportouring Power Supply
£129.99 | www.sportouring.com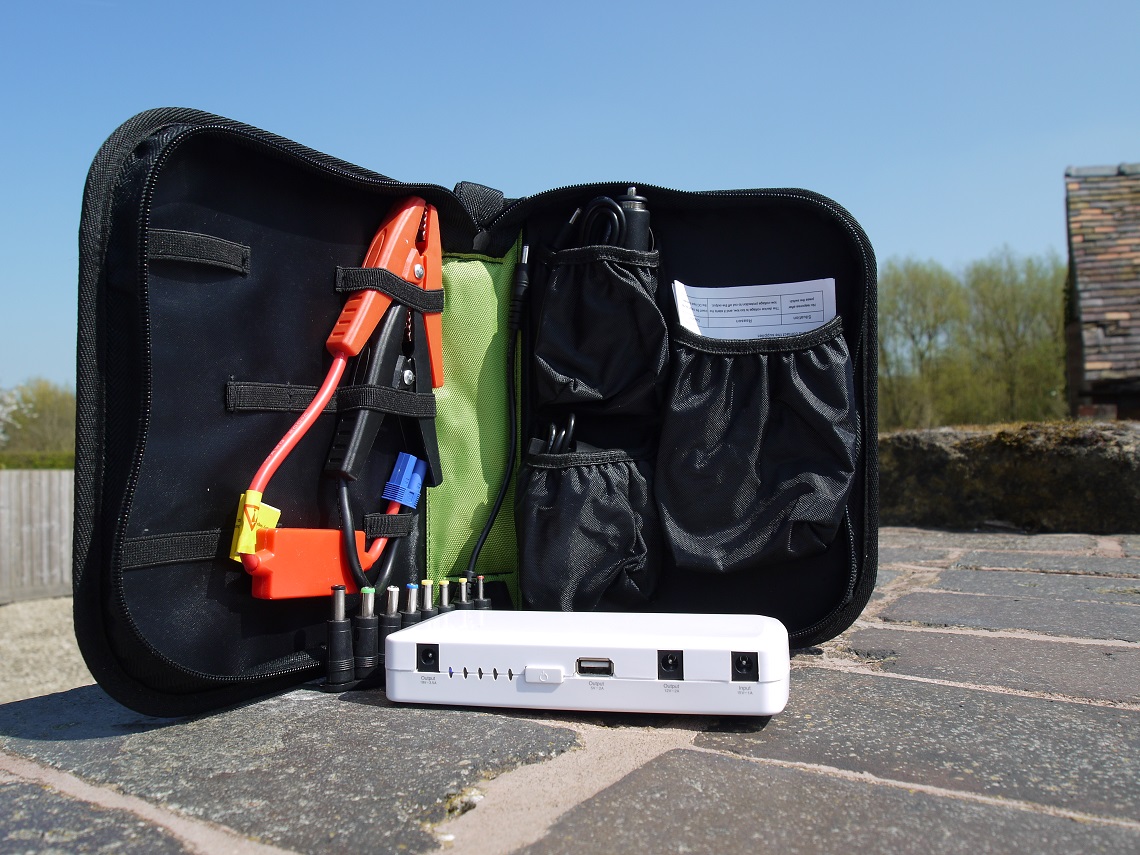 What is it? A small but powerful personal power supply
Ever needed to jump-start your bike but not had another vehicle nearby? Ever run out of charge in your phone, camera, or laptop while on the road? Chances are, you answered yes to most of the above, and that's why you should check out these personal power packs that are becoming more and more popular.
We've had the Sportouring Power Supply on test for a few months and it's a great piece of kit to stick in your panniers when you're heading off this summer. The Power Supply features an in-built Extreme Power Lithium battery which can hold a charge for up to a year, but the most impressive part is that the small battery packs enough punch to be able to jump-start not just a motorcycle, but a truck, multiple times. Thanks to the inclusion of various plugs and adaptors the device also offers you the ability to charge your gadgets, from your phone to your laptop.
For such a powerful product the Power Supply is surprisingly small and comes with all of the cables and adaptors you need to be able to charge your kit and jump-start your bike. Plus you get a nice and tidy carry case to keep it all together in your panniers and it also features a built-in LED torch.