Alun Davies checks out Honda's popular mid-range adventure motorcycle
In one of Ted Simon's books, I think it was Dreaming of Jupiter, the most recent of his around the world novels, he extolled the virtues of motorcycle touring at 50mph. Ted reckoned that by travelling at half a ton the ride was stress-free, he had time to take in his surroundings and, at the end of the day, he would always end up at the same destination were he to have blitzed along at 80 or 90mph. Ted makes a valid point here. Travelling and touring is about enjoying the journey and not so much about arriving, and I reckon he'd have been in his element aboard a Honda XL700V Transalp.
The latest version of Honda's big trail legend is more than capable of travelling at speeds in excess of 100mph, but after six months of living with this bike, I can categorically say that's not what this Honda's about. Up to the legal UK speed limit, the Alp is as stress-free as motorcycling's ever going to get. The riding position, smooth motor and all-round slickness of this machine, combined with a higher screen, make for a peaceful riding experience.
This bike is the motorcycle touring equivalent of lying by the pool with your favourite book, drink and factor 30 sun cream as opposed to launching from the high board, frying your skin and hitting the fleshpots for a binge-drinking meltdown. exciting may not be the best word to describe the Transalp though steady (eddy) would do fine. And it's also one of the easiest bikes to ride you'll ever come across.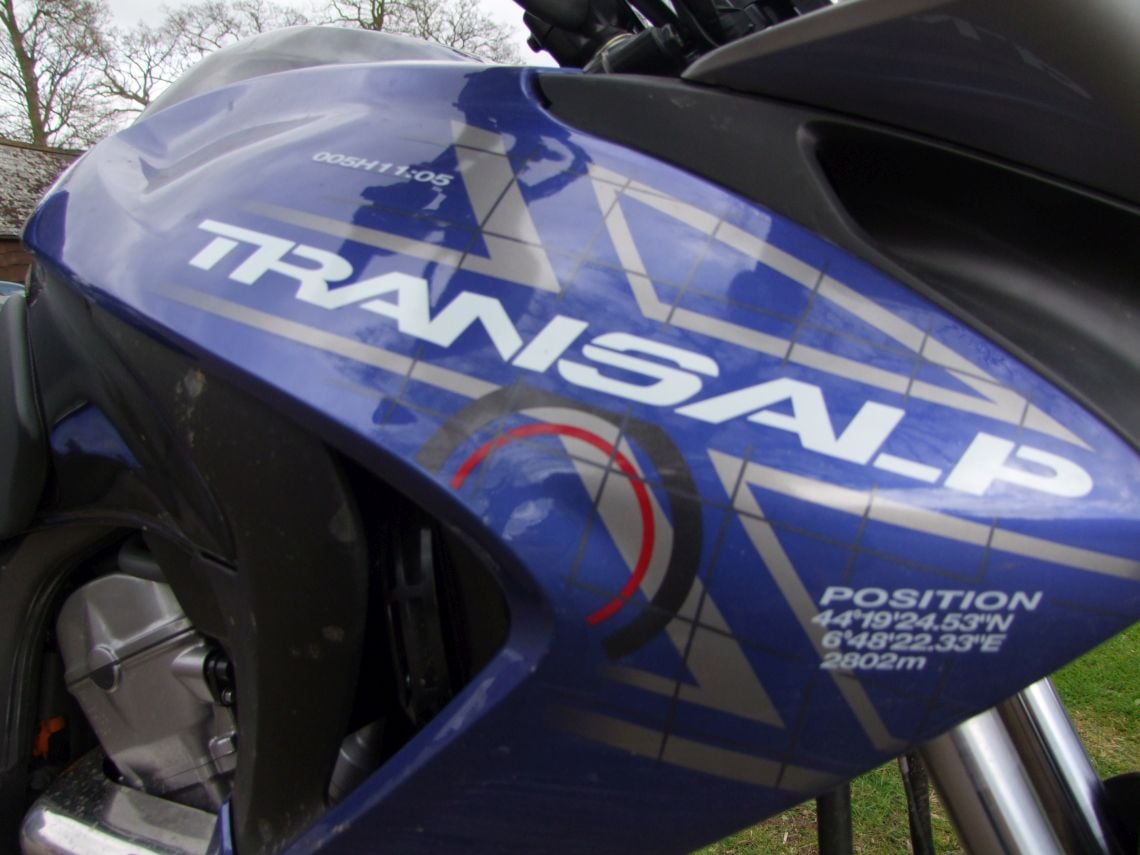 Ok, let's run through a few things about this motorcycle that could be better before moving on to the features that won me over. first off, and this is a big one, this bike comes with five gears and even after months of riding the machine I was still instinctively looking for a sixth.
Of all the bikes I've ridden I don't think I've come across such an obvious omission as the sixth gear on the Transalp – come on Honda, sort this one and you make a great bike fantastic. That said, once I'd mentally adjusted to 'I'm in top' and got on with riding, all was well.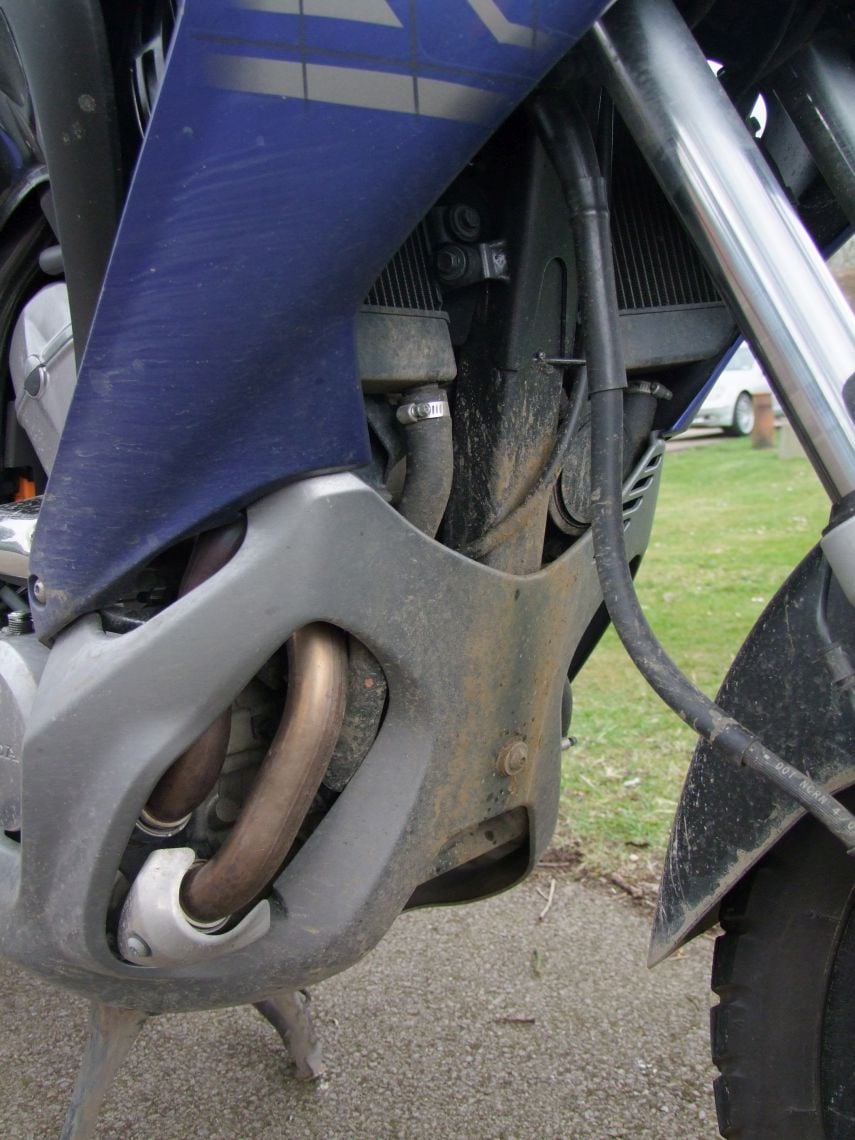 Next up, I'd advise fitting the optional taller screen for protection from the elements. With the higher screen in place, it was like sitting in a bubble that the wind and most of the rain could not penetrate, and visor-up riding at 70mph is tear-free. Great stuff.
As the Transalp does not come with a centre stand as standard it's a good idea to have one fitted. However, the position of the centre stand is dictated by the catalytic converter that looks as if it's been bolted onto the underside of this bike as an afterthought. Even without the centre stand the cat reduces the ground clearance, but with it fitted I was bottoming out the Transalp on the mildest of off-road ruts and bumps.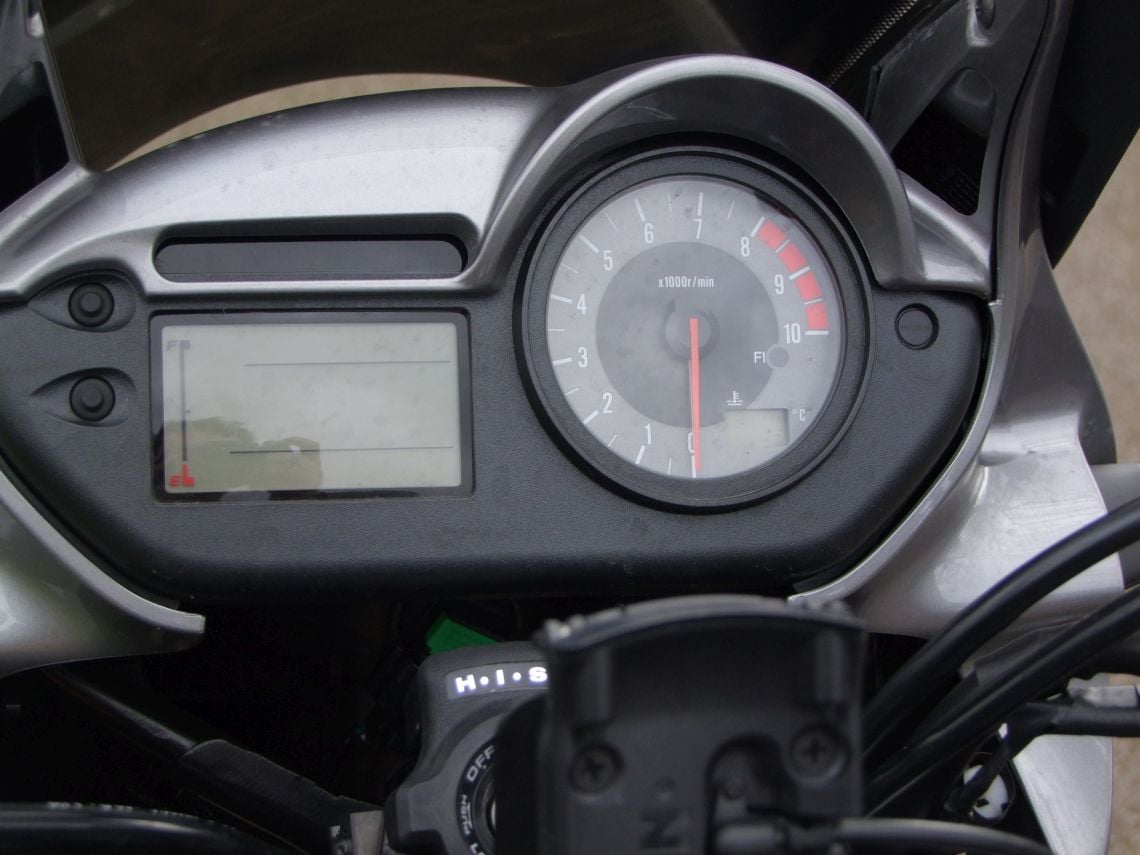 This is definitely something to take into account if you're planning a tour involving anything off the tarmac. In fact, I've come across a few Transalp owners who've got rid of the cat after purchasing the bike.
Sticking with off-road touring, the plastic bash plate really needs to be replaced with a beefed-up aftermarket model and fortunately, companies like Touratech have that covered.
Other Honda supplied options fitted to the Alp included:
■ Heated grips – three-stage adjustment and bloody brilliant for those cold, wet days.
■ Top box – big enough for two lids and complements the bike well, but not of the sort of robust quality I'd want if taking a spill on a desert piste.
■ Panniers – big enough for touring and spot-on for road trips but don't have the sturdy feel I'd look for if heading into the wilds.
■ GPS – Honda brand the Garmin Zumo and I've no complaints. All my riding on the Transalp has been with the top box and panniers in place – as you would when touring – and overall I've got to say this bike is so easy to ride I was thinking of fitting a picnic table to the tank for snacking on the move.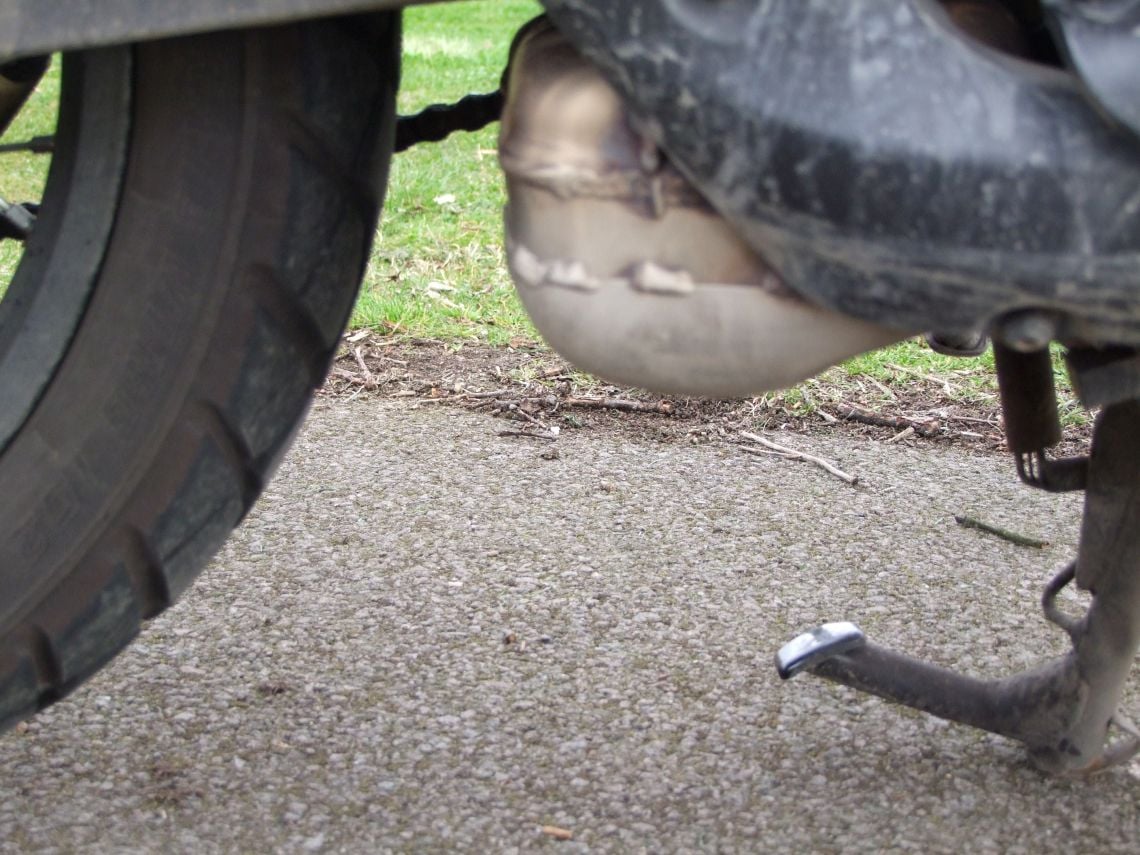 Performance
The 680cc V twin is perky enough to have some fun but it's not what you'd call quick, and two up, fully loaded it's best described as underpowered. But then that's all relative. If you ride like Ted and have the same needs, you'll love this bike. If you want a bike capable of think and pass blasts on twisty A and B roads you'll be looking for more power.
The claimed top speed is 130mph though I can't see how you'd get near that unless you launched off a very big cliff. As an example, 7000rpm had the speedo showing 98mph and the GPS 90mph, so where the other 32mph (or 40mph if you believe the GPS) was going to come from, I've no idea.
In use the engine was smooth, smooth, smooth and comes with an indestructible Honda reputation. nice and nippy around town, acceptable mid-range grunt and, as stated previously, I always felt that it needed a sixth gear at around 70 to 80mph.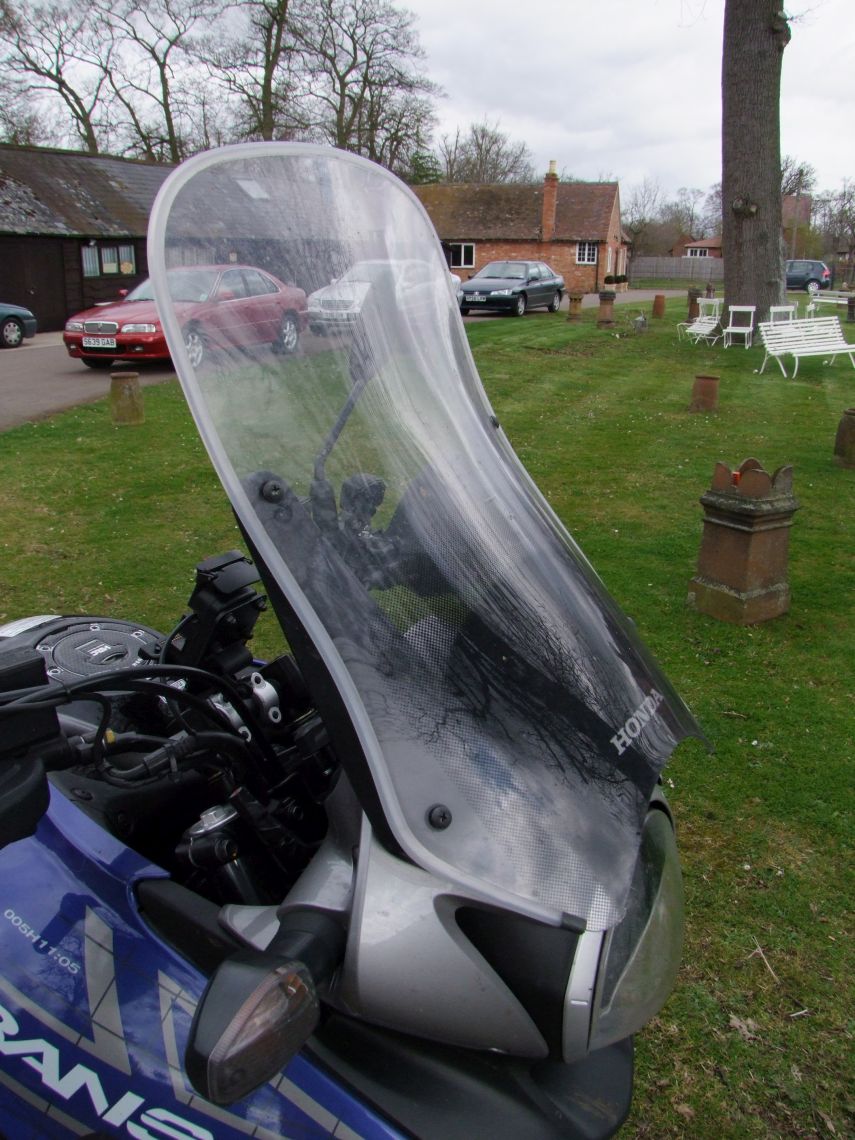 Handling
Stick to legal speeds on motorways and even fully loaded the Transalp will provide you with stress-free bliss that'll have you taking in the delights of the surrounding countryside and singing your favourite tunes with a contented smile on your face.
On A and B-roads the suspension was perfect for having a little fun and soaking up the worst of the under-funded UK road conditions. It was so good, at times I even went looking for potholes. However, push this bike above 80mph and the front end feels light and takes too much concentration for my liking.
When you want to stop, you'll stop. The ABS-linked breaking system is superb.
Comfort
The riding position was perfect, but then I'm 6ft 2in. The seat produced a few hot spots after a couple of hours, so I'd have probably been looking for a more comfortable aftermarket product for a two-week tour.
The pillion was so impressed she'd have it as a fixture in our TV lounge. overall, and I keep coming back to this, ride like Ted and you'll love the performance, handling and comfort of this bike.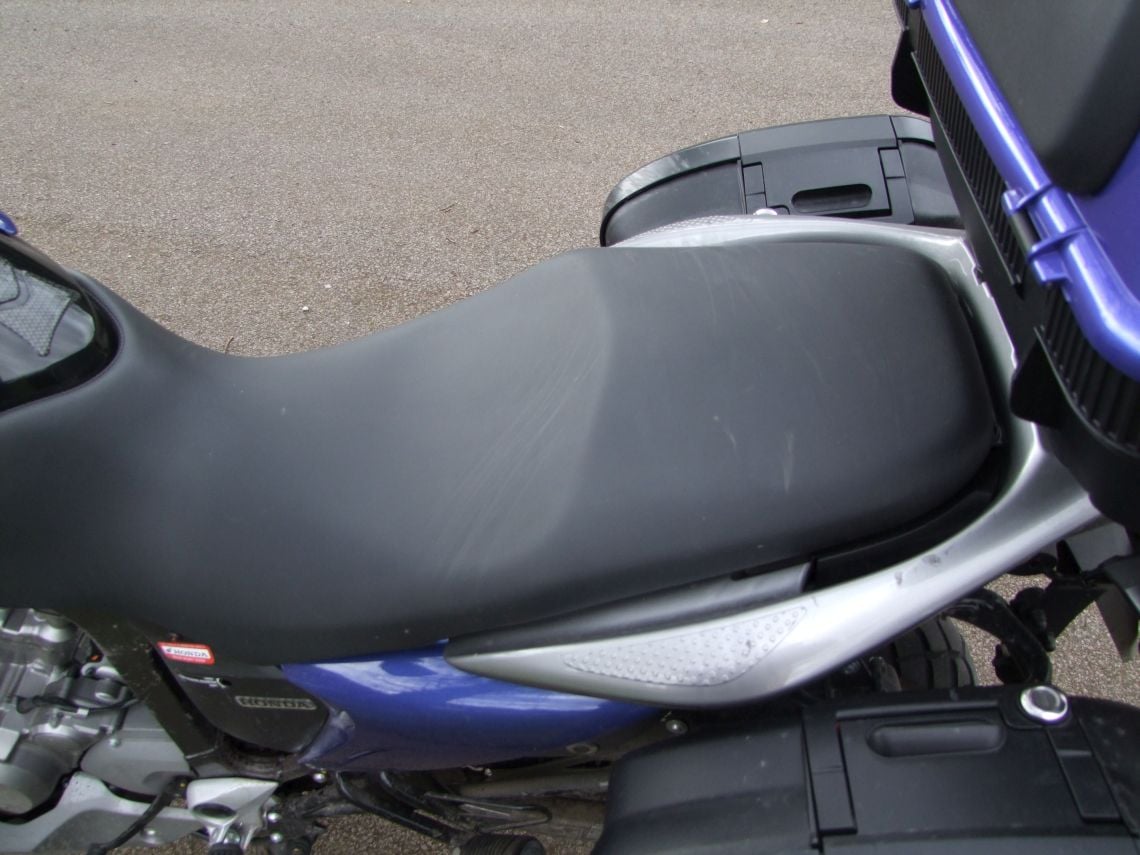 Off-road
Apart from the reservations mentioned above, I'd have no issues taking the Alp out of the showroom and on to hard-packed desert pistes or forest roads. I've also muddied it up on more technical forest trails (with panniers and top box attached) and can confirm that it's top-heavy and needs a change of tyres for mud plugging. However, it's more capable than you'd imagine for a bike that's obviously been designed with civilisation rather than the uncharted wilderness in mind.
If you plan to cross Africa on one of these there are enough aftermarket products to battle-proof this bike. The only thing stopping you would be the thing between your ears.
The Verdict
After six months of living with the Transalp, there was little doubt that I'd changed my riding style. I was content to be patient when looking to pass cars on A and B roads, I was now driving happily at legal motorway speeds and I was enjoying all-weather motorcycle touring in a way I never thought possible – with a stress-free smile on my face.
The Honda Xl700V Transalp is not the perfect round-the-world bike, nor is it a great road tourer (a bigger tank would be nice), but if you're into touring like Ted, and looking for a bike that'll outlive you, you may not find anything better.