When James Russell decided that he wanted to transport his bike to Iceland he knew that there had to be a better way than buying a large van or bike trailer… so he converted a Toyota Hilux to make it the ultimate motorcycle overland transportation vehicle
The use of trailers to transport bikes to their destination has been a bone of contention in adventure biking circles since I first started chatting to other long-distance riders, and the idea of using a van to take your world-conquering machine to the trails always ends up dividing opinion. In reality, jobs limit riding time, knobblies don't fare well on autobahns, and the sheer weight of a fully-loaded bike can make technical trails a headache – a fact I can attest to, having solo toured on a KTM990. So, when my girlfriend and I decided to plan a trip to Iceland this summer, we opted to dent our adventure bike credentials and buy a van.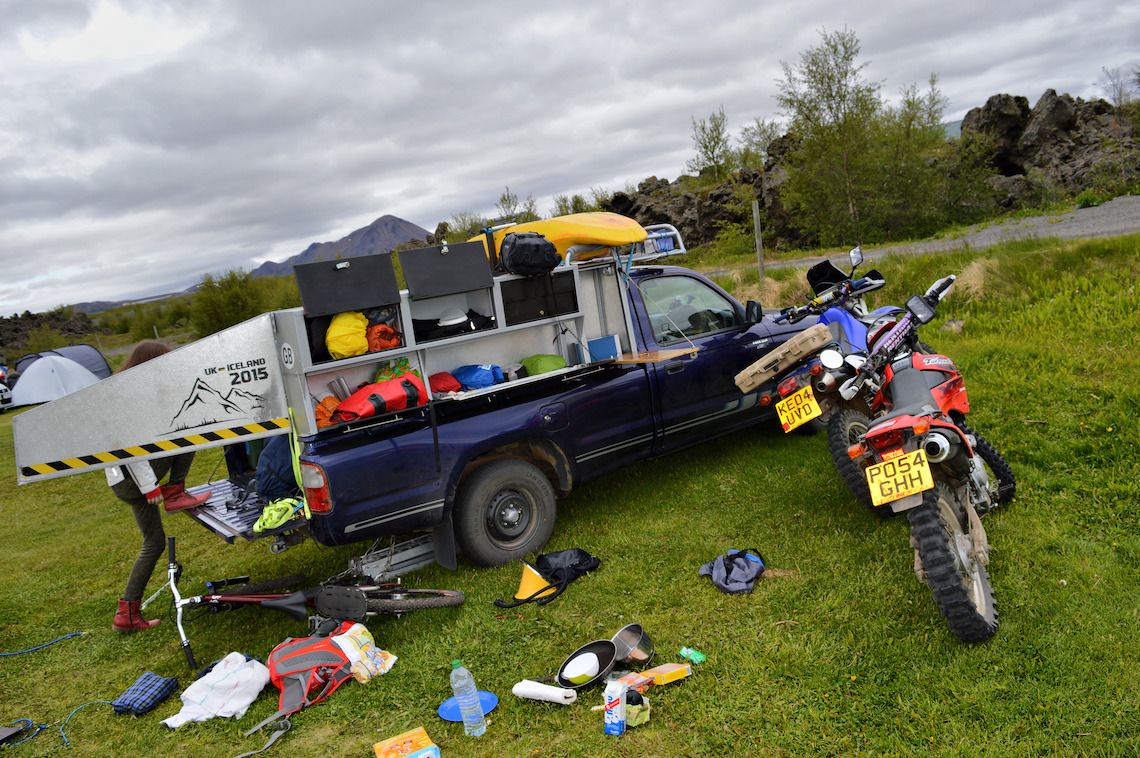 The design brief was that this van must carry three week's worth of food, a kayak, mountain bikes, two trail bikes, two cold humans and all our gear across Iceland, all while remaining small enough to be classed as a 'car' on the ferry from Denmark. Inspired by pictures of glaciers and singletrack, we went ahead and booked a ferry to Seyðisfjörður, leaving ourselves four weeks to find, buy and prep a van to drive 4,000 miles to Reykjavik and back.
As anyone planning a sub-Saharan uprising will testify, you can't go wrong with a late '90s Toyota Hilux. So, after a quick classified search, I hopped on a train to Leeds and returned with what was to be our home for the next month.
With just over two weeks remaining, working on a budget of around £400, we set about raiding Gumtree and eBay for materials. The next 10 days were spent surviving on mugs of tea peppered with metal filings and doing 12- hour welding stints in the garage.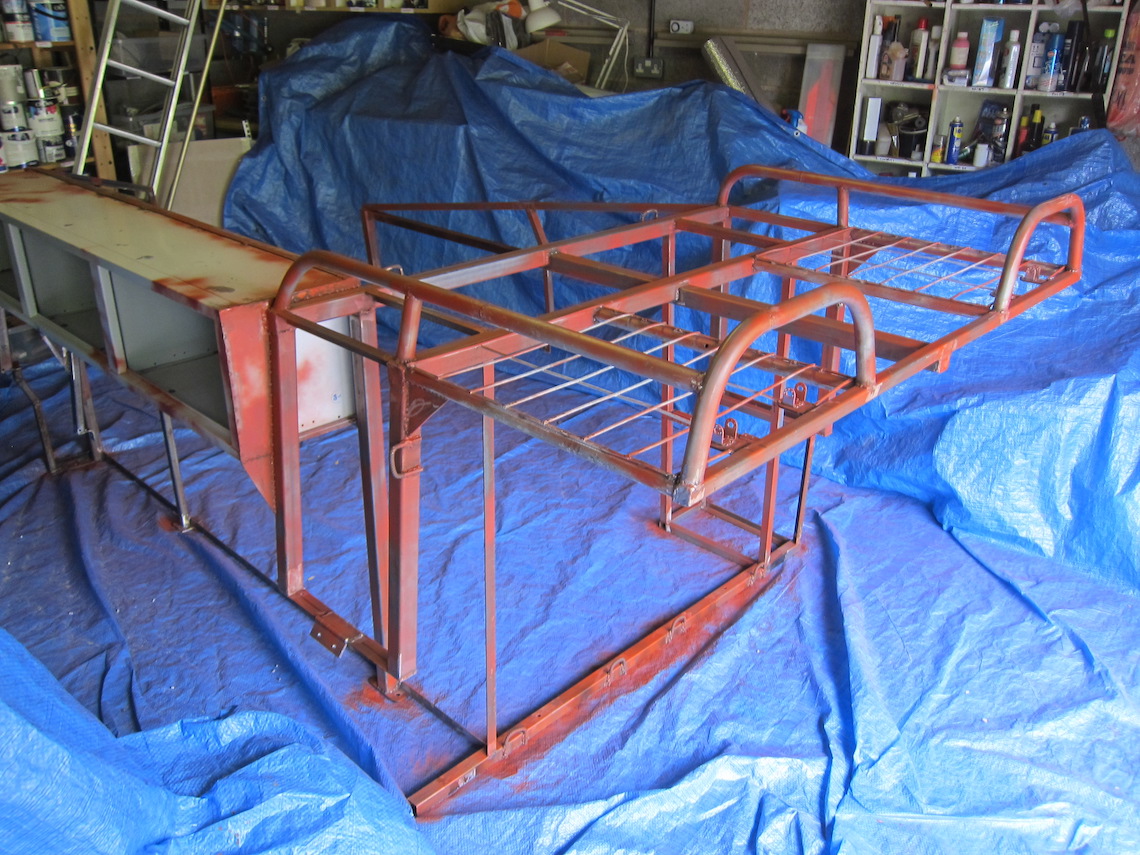 The first section was a heavy-duty roof rack to take the kayak and larger bike spares. Built from a combination of box section, old dog cage and climbing frame parts, we ended up with a rack braced to the load bed that was capable of taking the weight of two people. For that full overland effect, it was finished with four spot lamps: perfect for a trip to a country where the sun never sets.
Holding the bikes in place on what would likely be fairly poor roads was a bit of a challenge. I eventually ended up bolting a cross piece to the pickup bed with four heavy tie-down points welded on. This allowed the bikes to be cranked down against the cab using ratchet straps – similar to how many of us have carried motocross bikes on trailers, the compression of the forks stops the bike bucking – and we strapped the rear wheels to the tailgate to stop side-to-side movement. The bikes fitted in the bed snugly and were loaded using a folding ramp.
The right-hand side cupboards were made from a pair of old school lockers. I cut these down, plated the doors, and fitted key locks so that the truck could be left securely while we were out on the trails. A plywood cupboard folded down to provide an area for prepping noodles.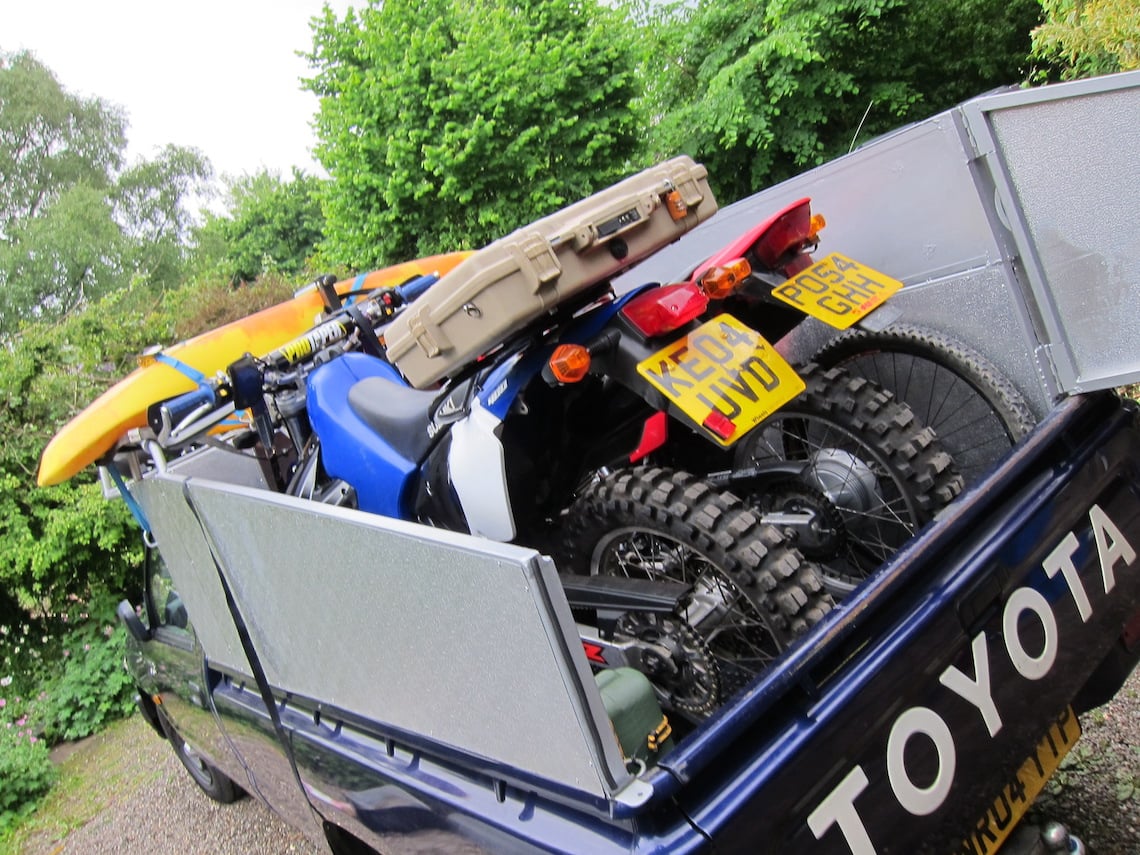 On the other side of the truck, I built a waterproof cupboard to house a mini-fridge and a car battery; hastily pinched from my work van, this let us keep Icelandic delicacies cold and powered a 12v tyre inflater for the bikes if required. The whole framework was finished with Hammerite and all the panels were sealed and riveted.
We wanted the option to leave the bikes packed up ready for the next day, so, while we still carried tents, I also fitted a tarp to the truck which allowed the two of us to sleep fairly snugly in the load bed.
Scandinavia did its best to throw wind, rain and snow at us over the time we were there, and the van acted as radiator, kitchen and bedroom while returning 35mpg over the whole trip. While it didn't quite perform like a GS on the road sections, it's fair to say that some of the trails we attempted would have been miserable on a 200kg bike. Being able to carry lightweight bikes and the spares/fuel to keep them going enabled us to ride the best bits Iceland had to offer!
---
Do you have your head in the shed?
If you've got a DIY bike project to share, email details to [email protected] with a few pics of your handiwork, and if it's featured we'll send you some stickers for your pimped up steed.