Alun Davies reports back from Tenerife on the new Harley Davidson Sports Glide – a bike that's been described as a cross between a cruiser, commuter and tourer.
On a press launch, it's incumbent for the riding journalist to be acutely aware of what's going on, obviously. It's then our moral and professional duty to reflect deeply and report back fairly and honestly based on observations, experience and performance. 
Motorcycles are not cheap these days and I'm well aware that there are going to be riders reading this right now thinking I might just buy a Sports Glide. With that in mind a straight bat is a prerequisite for penning these reviews, so I'll kick off by telling you my overriding impressions. 
Riding a motorcycle around the twisty Alpine style roads of volcanic Mount Teide in Tenerife is like taking a shopping trip around Waitrose or Marks & Spencer on a busy Thursday afternoon. The roads are full of pensioners tootling around at a snail's pace and stopping for extended periods in inappropriate places. I felt right at home. 
Riding a Harley Sports Glide around the twisty Alpine style roads of volcanic Mount Teide in Tenerife is like adopting a man spread on your favourite straight back armchair and then holding open a broadsheet newspaper with arms out front at shoulder level. Go on, try the stance right now with this magazine and feel the Harley experience. Now relax, man.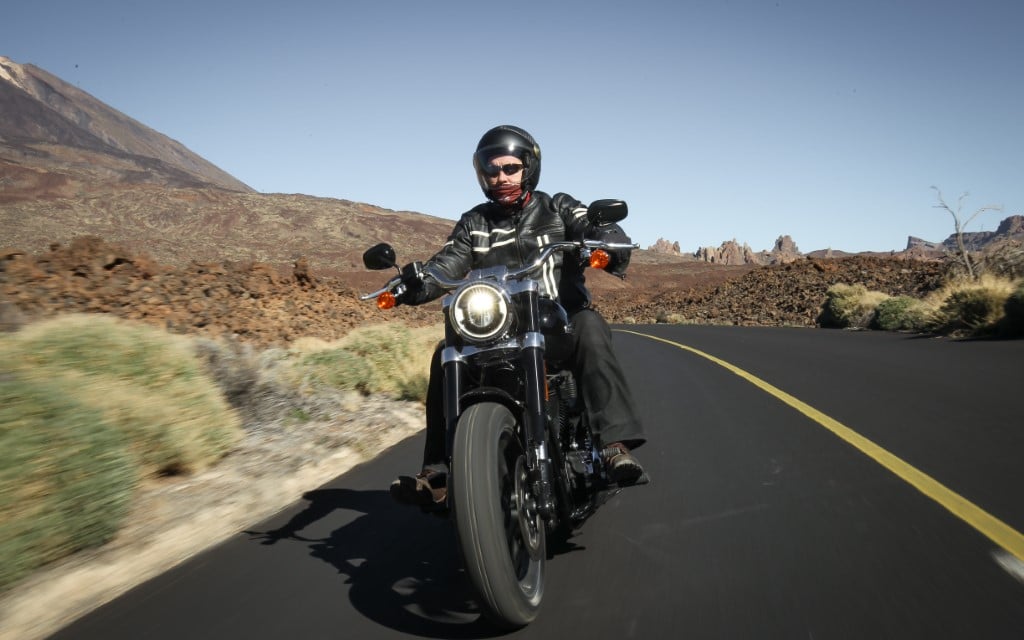 Anyway, this past year I've spent a fair bit of time riding a Harley and there's good reason. Mrs Davies is partial to a long weekend away on two wheels and the pillion on the full-dress Ultra is her undoubted throne of choice. As any two-up tourer would know, a happy, comfortable pillion makes for a successful weekend and we had quite a few of those. 
In its stock form I'd not invite Mrs Davies along for a long weekend on the Sports Glide, the wrath of discomfort would probably induce a seismic flare-up to make Mount Teide's last full-scale eruption appear more like a saucepan overflow. Harley offer untold aftermarket solutions to ease the pillion pain, but essentially the Sports Glide would be a 'me' bike rather than 'our' motorcycle. 
I'll tell you what's cool about the new Glide, it comes with a small batwing style front fairing and a couple of hard panniers all of which can be removed with no sweat and in no time and your tourer takes on the appearance of a cruiser. Harley like to say this new bike is the answer for those who enjoy cruising, commuting and touring. Don't we all. 
A lot of riders are too quick in writing off the American V-Twin machines for a number of reasons. They're not 'real' adventure bikes, they're too heavy, too slow, too showy, they don't take corners and I'm not ready for tattoos, chaps and bandanas. There's at least one valid reason there; only a few of us look good in leather chaps. 
The other reasons are more ideological than real as I can tell you now, that in my experience, a road tour on a Harley can be as enjoyable as on any other machine. Yes, they are heavy but then they're built from metal rather than plastic and they carry the weight down low which in practice is far more manageable than a lighter, more top-heavy motorcycle.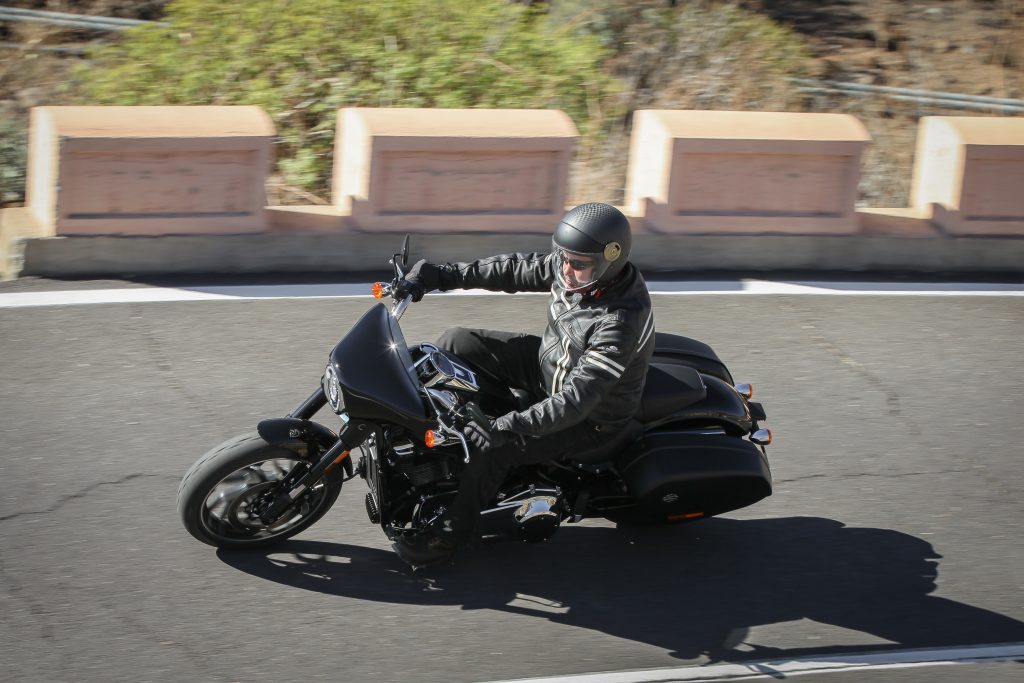 And, as for too slow and they don't take corners, Rossi and McGuinness would have valid points. However if you're looking to keep hold of your licence and still have enough power and performance to cut loose on the twisties, you may well be pleasantly surprised. Let's put it this way, a good rider on a Street Glide will be further up the queue for bacon sarnies than an average rider on a sports bike. 
The Sports Glide is the new boy in the Harley softail range, its build quality, finish and paintwork is second to none and it'll certainly appeal to those who like their machines forged out of steel rather than plastic. 
Speaking of which one, of the main problems Harley have when it comes to new models is that extensive customer research feeds back the message that they do not want change. HD riders like the looks, the sound and the engine quirks. As a point of interest, a Harley engineer once told me it was easier to smooth out the vibes than it is to build in an acceptable level of shake which customers demand. 
The new Milwaukee-Eight (4 valves per cylinder) partly oil cooled engine was launched last year on the company's cruisers models. It produces a phenomenal 107lb-ft of torque at 3250rpm the sort of grunt that would have you riding through a Starbucks drive through in top gear – not quite, but you know what I mean. 
The new engine still produces the Harley throb, but it's most definitely refined from older versions and despite Euro 4 limitations being adopted, HD fans will be pleased to know the signature 'potato, potato' Harley soundtrack still rumbles through the new two into one exhaust. 
The Sports Glide comes with a new stiffer chassis, 43mm upside-down forks and a single shock adjustable for preload. On the ride out, the lean angle limitations of the forward controls became apparent on the first bend where upon I jacked up on the preload, which helped, though still proceeded to touch down on just about every subsequent hairpin.
But then most do not ride a HD in press launch style and I likened the sprung pegs to a marker rather than an impediment to having fun. The handling really is better than you would think.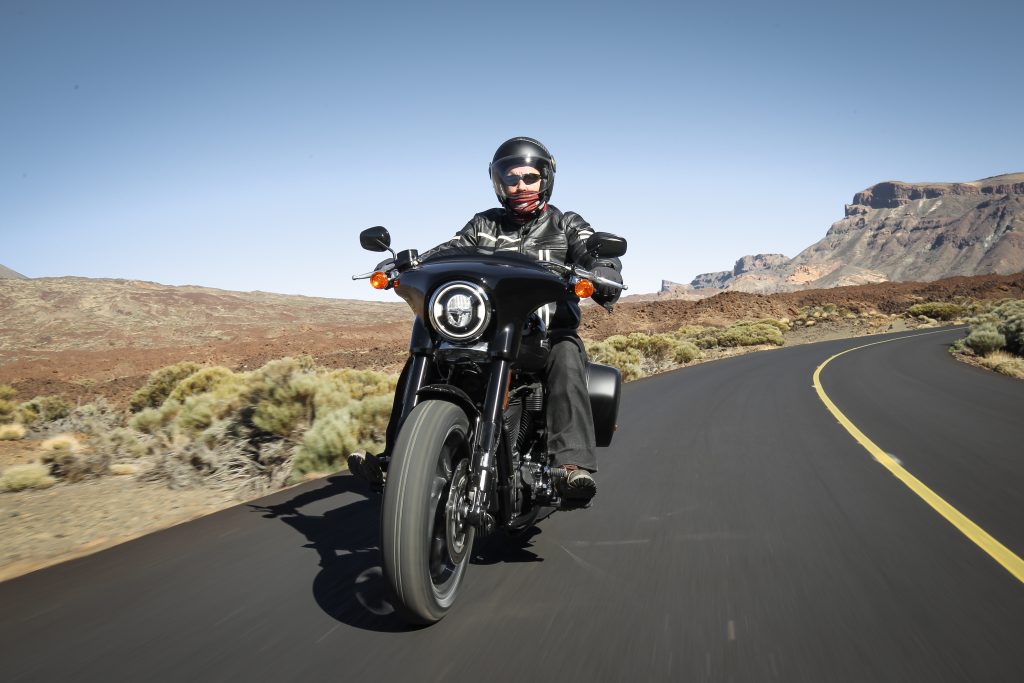 Traditionalists will be pleased to know that you get a heavy clunk when changing gear and if you ride over a sharp hump or pothole you'll still feel a jolt up your spine, though not as vertebrae crushing as with older models. The brakes are smooth and adequate which means they are in tune with the machine rather than a feature to induce a stoppie and ABS comes as standard. 
With the rest of the motorcycle world attempting to make the dash as feature-packed as a space shuttle, the lack of clutter up front on the Street Glide has old school appeal. You get a single, tank mounted analogue speedo with a small LCD insert which will let you know the time, range, trip details, fuel level and revs should you have a mind to know. You also get a USB charger. 
Conclusion 
The motorcycle industry has a well-documented problem and that is the lack of new, younger riders and the aging profile of existing riders. Indeed, the remarkable growth of adventure bikes is in some part down to older riders moving on from cramped and painful to ride sports bikes and onto comfortable adventure bikes. I am a case in point. 
However, as that adventure bike rider ages towards or into his 60s (the average is about 55-years-old) he's going to hit a point where the height and weight distribution of said machines becomes more unwieldly and the 680mm seat height and low centre of gravity of a Sports Glide more appealing. 
A Harley might not appeal to you now, but when your off-road aspirations have gone the way of your ability to pull at the disco, but your love of two wheeled travel is still as intense, a street sports could well start making a lot more sense. 
I've said it before and I'll say it again, an adventure is what happens in the thing between your ears and has nothing to do with the make of the bike you ride. Pop along to a dealer and book a test ride aboard a Sports Glide, you may be surprised how good you still look in leather chaps. 
---
ABR Verdict
As a commuter 
It's not lightweight or what you'd class as nimble, and all that sparkly chrome and lavish finish will demand a lot of rider aftercare if you're into all year-round commuting. 
As a weekend tourer 
The panniers come fitted as standard and are big enough to stash all you'll need for a long weekend away. Perfect for cruising down the highway on those balmy Friday evenings in summer – here's wishing. 
As an off-roader 
You'll not be entering the Dakar on a Street Sport, gravel car parks at a push and only then if there's no alternative. 
As a continental road tourer 
Comfort at motorway speeds is good but would be made better with the optional higher screen and with 50ish mpg and a 19-litre tank you get over 200 miles before top ups, dude. 
As an RTW overlander 
Not the first bike that springs to mind for taking on the Road of Bones – though it has been done on a Harley. If your route sticks to tarmac and you have the time, money and opportunity then why not. 
As a pillion carrier 
In stock form it'll be okay for short pillion journeys though anything further than the edge of town could be in divorce territory. There are better pillion bikes and as with all things Harley enough aftermarket options to make life on the back seat more pleasurable.