In January, Sam Sunderland became the first British rider to win the notoriously difficult Dakar Rally, Harriet Jordan speaks to him to find out more about his legendary ride to the finish line…
Photos: Marcin Kin
In January of 2017, Poole-borne Red Bull KTM rider Sam Sunderland, 28, became the first British person to win the Dakar Rally. In what turned out to be a remarkable tale of endurance, navigation skills, riding nous and resilience, Sam took the lead of the rally on the fifth of 12 stages and held his position all the way to the end.
What makes his ride all the more remarkable is that he had to pull out of last year's Dakar Rally after breaking his leg during the Moroccan-based Merzouga Rally. Clearly not deterred, it seems that Sam came back stronger than ever, finishing this year's record-breaking ride 32 minutes ahead of his nearest competitor, and teammate, Matthias Walkner.
We spoke to Sam to find out exactly what it takes to put in a Dakar Rally winning performance…
ABR: Did you go into the race with a strategy to win?
Sam Sunderland: My strategy was first to arrive at the rest day. I think before the race any one of 10 guys can win, but on reaching the rest day you can limit that to around four. I was just really focused on arriving at the rest day this year, and planned to go from there. Obviously, the goal for a racer is always to win.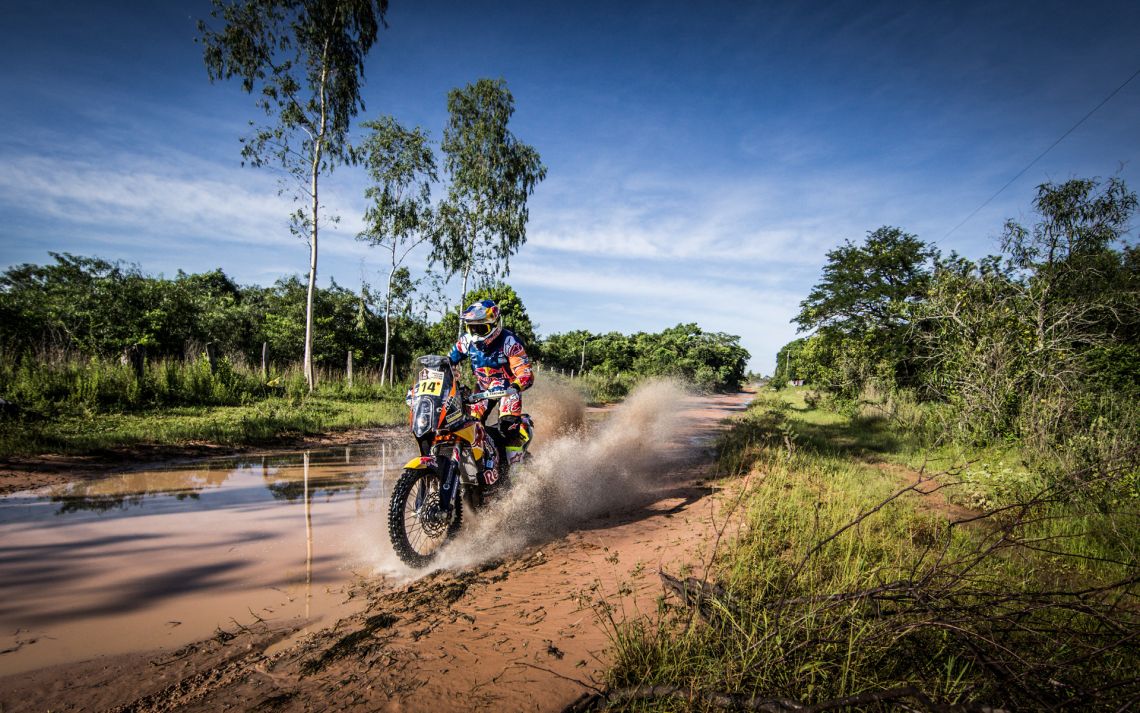 ABR: Did you think much about the podium and how hard it would be to reach it again?
SS: For sure you have those ideas creep in, and you try to not think about winning because it's not over until it's over, but the thoughts definitely came in. It's what I work all year for, make all the sacrifices for, and of course I want to do it again. A lot can happen, as we saw with Toby [Price], but we're all working hard for that result.
ABR: Did you feel you had a point to prove after your accident last year?
SS: In a way, there was a bit of pressure to finish the Dakar, and it's the first one I have finished, so it was really cool to finish first. I don't think I had a point to prove any more than I would have had before. I always feel like I have a point to prove anyway, and breaking my leg was just another injury. You take from it what you can and keep moving forward.
ABR: What were your expectations of the Dakar Rally?
SS: We knew we were going to be in for a rough time. We heard a lot of whispers from the organisers about how hard it was going to be with the different navigation, a different style of navigation and different terrain. They weren't wrong; it was really, really physical, with technical navigation. It was physical riding, not so many fast gravel tracks, but a lot of riverbeds, stones and camel grass dunes. It was tough.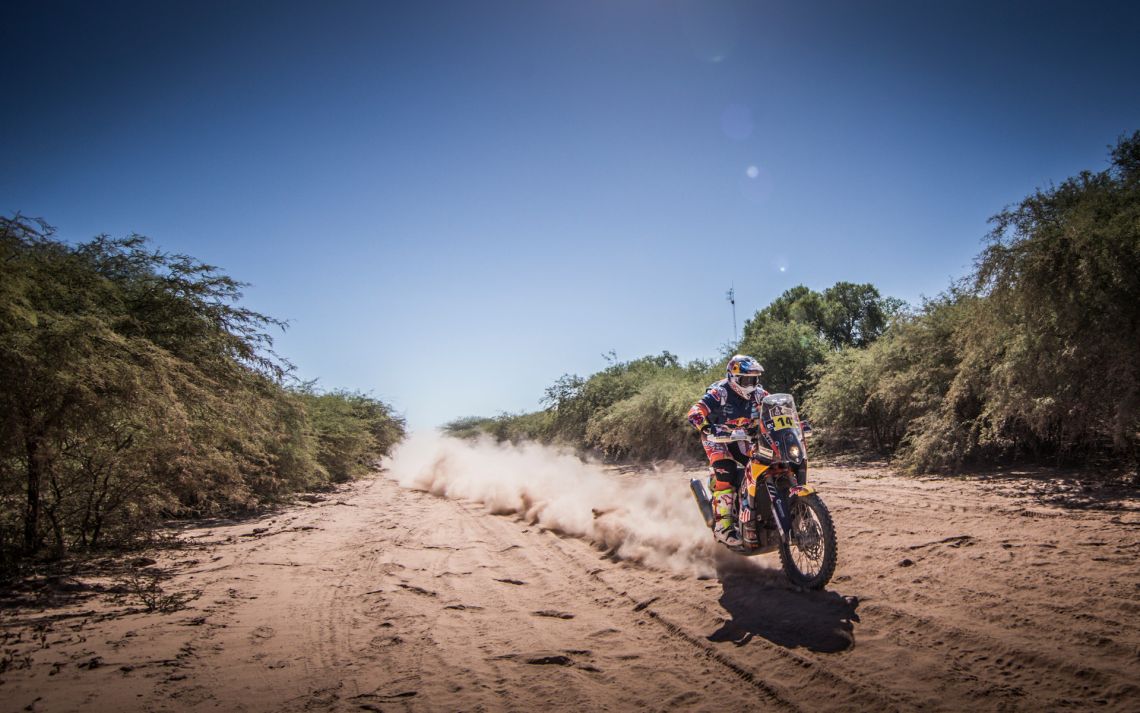 ABR: As last year's winner, your teammate Toby Price had a lot of attention prior to the race, but he went out in stage four. Did attitudes change towards you and your teammate, Matthias Walkner, after that?
SS: I think there will always be attention on the dude that won it the year before, Toby is a really good guy – all the best to him and I think he's getting better now. But no, not from the team side at least. They know we're always going to do the best job that we can anyway, and I don't think it changed. We all want it that much, so it didn't really change anything.
ABR: You've said yourself that there's less interest in England towards the Dakar, how did you get into rally raiding?
SS: Being based in Dubai I raced a desert series there. The first round of the Cross-Country Rallies World Championship is in Abu Dhabi, which is close by. I got asked to do it just a week before the race, which got my foot in the door and it started from there.
ABR: The 2017 Dakar was more navigation based than previous years – how did this affect your experience in comparison to other years?
SS: It was more navigation-based, and it was much more physical. I think I'm still the young guy in the sport, but out of our team, I think I have the most experience now with regards to rally racing. I think it's always a bit of a balance to know how much to push, then how much to navigate and to find a good speed. I really tried to focus on it, but in the end, everyone is trying to do the best job they can do. It was really hard from a navigation point of view. One day you'd make a small mistake and it can cost you time, then the other days the competitors did the same so it was back and forth like that.
ABR: How do you deal with the extreme weather conditions during the Dakar?
SS: That is one of the hardest points. If you went and just sat in the desert all day you'd be exhausted, but when you're riding the bike, you have all the kit on, the heat from the bike, the heat from the sun, and it definitely plays on you a bit. It's the same for everyone, but you have to manage as best you can. You can prepare as well as possible, but there are times you just have to suck it up and get on with it. It is just tough, and this year we went from 46 degrees in Paraguay to two degrees in Bolivia then back up to 45 degrees in Argentina. It was a mixture and it's tough on the body!
ABR: You lead the Dakar for six days. Did this create added feelings of pressure?
SS: Yes, massively. I've led world championship races before and I know there's pressure, but when you're leading that race, which is the biggest one of the year – where all the energy is directed towards, all the budget and all the work and sacrifice from everyone – to lead it that long was really heavy for the mind.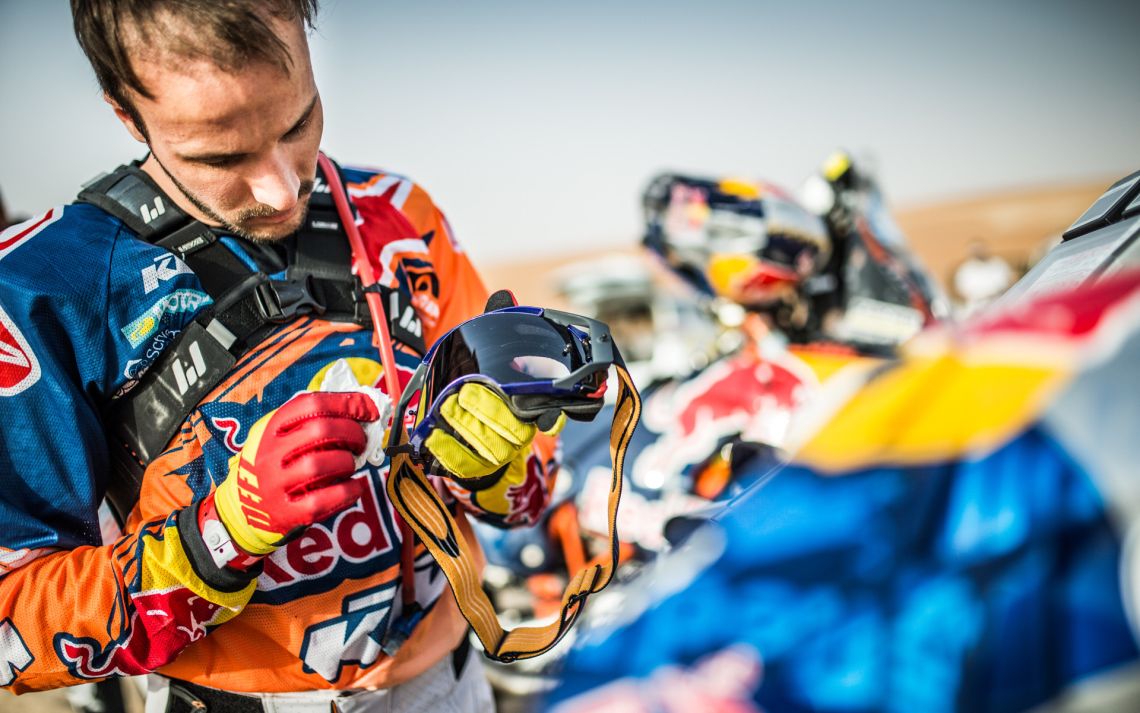 ABR: What did the race teach you?
SS: This year I really was trying to manage it better to arrive at the rest day. I tried to take less risks, take more time to figure things out and I think it really confirmed that it's the way forward – not to take risks and be so aggressive in the first part. I think that was a confirmation that my plan for this year was good.
ABR: Can you put into words how it felt crossing the finish?
SS: It was incredible – I didn't realise what a weight I had on my shoulders until I crossed the finish and felt a massive sense of relief when I did. It was really a cool feeling, very emotional. The sacrifices made, the injuries, the work that has gone into it and it is the one you really want to win.
ABR: What's next in the pipeline for you now that you've won the Dakar?
SS: It's been nice for a few weeks seeing everyone, but it's time to get back to work and start the world championship races. I have to go all-in for the next Dakar and try to repeat the result again.
ABR: You travel a lot for your job and live in the UAE, what's your favourite place in the world and why?
SS: It's always nice to come home to the UK, well when it's sunny – I'm British, and I love being here when it's sunny, although that's not too often. I've been fortunate to visit some really cool countries, but I'm based in Dubai and I really do enjoy it there, certainly in the winter, as the summer is just too hot. In the winter I can ride, go spearfishing, free diving with my friends and do a lot of things I enjoy there.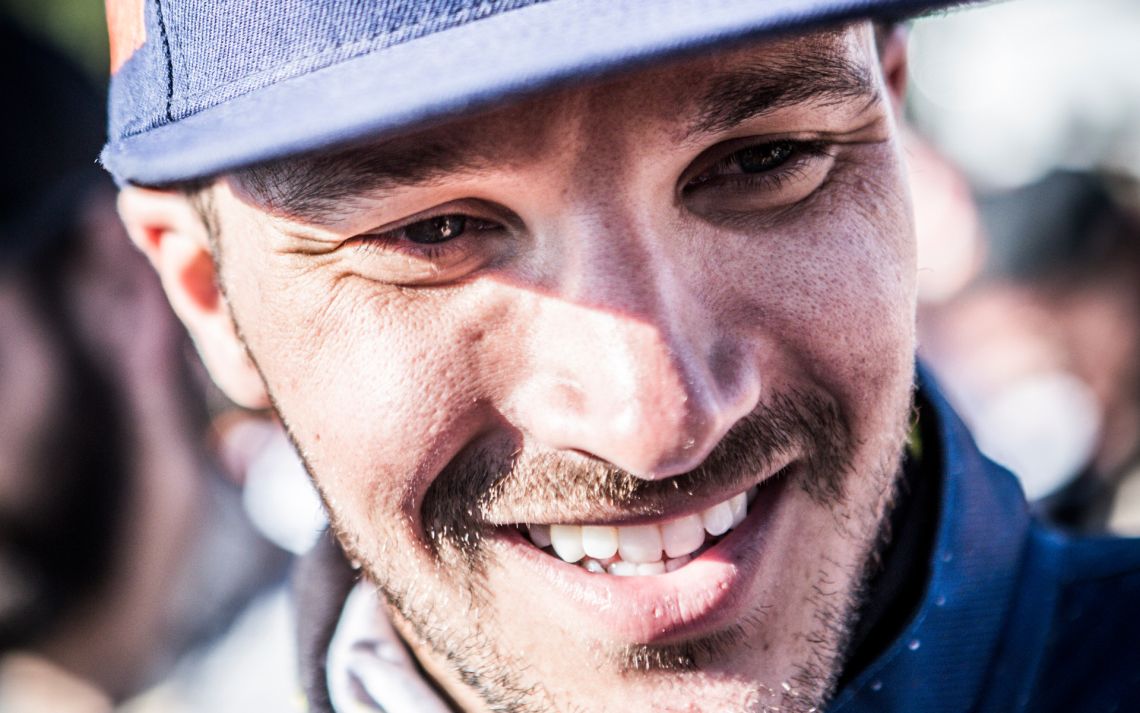 ABR: What bikes sit in your garage?
SS: I have a KTM Factory Rally bike, two KTM 450 SX-F motocross bikes, a mountain bike and a road bicycle.
ABR: What's your favourite bike you've ever ridden?
SS: It's hard to say. My passion started in motocross, so it probably has to be the KTM 450 SX-F. Even though I've ridden for 15 hours a day for two weeks in South America, the first thing I want to do when I get back is rip around a motocross track and lay some whips off, because it's my passion, it's where it started and what I like doing.