Buying a laminated textile touring jacket doesn't have to cost the world, as Bryn Davies found out. 
Before I worked for ABR, and before I even had my motorcycle licence, I was a rather outdoorsy kinda guy. I climbed the Eiger and Mont Blanc before I was legally old enough to buy the beer that I drank to celebrate these successful ascents, and in this time, I developed a great understanding and appreciation for good quality gear and how it can be the difference between a fun day out on the hills and a miserable, uncomfortable one. 
When heart surgery forced me to hang up my hiking boots for a few years and I developed a love for the less intensive two-wheeled form of adventure, this appreciation carried over. I discovered that motorcycle gear needs to be just as technical and well designed as a mountaineering jacket that's made to keep you functioning when clinging to a cliff in the Swiss Alps. 
So, I was bewildered when I bought my first textile touring jacket and discovered that it was a three-layer system, with the waterproof lining separate from the outer layer in the form of a removable drop liner. It makes very little sense to have a waterproof liner that sits in the middle of a three-layer system. When riding in heavy rain, it allows the outer of the jacket to quickly get saturated with water, which in turn gets heavy and cold as the wind chills it.
Not so bad if you're riding along a road in a balmy southern France, but in winter or in conditions that we so regularly see in the UK, it can lead to you experiencing dangerously low temperatures and a damn uncomfortable journey. Conversely, when you're riding in summer and you get too hot, you'll want to open those vents, the effectiveness of which will be severely impacted by the presence of a water (and windproof) liner blocking the airflow.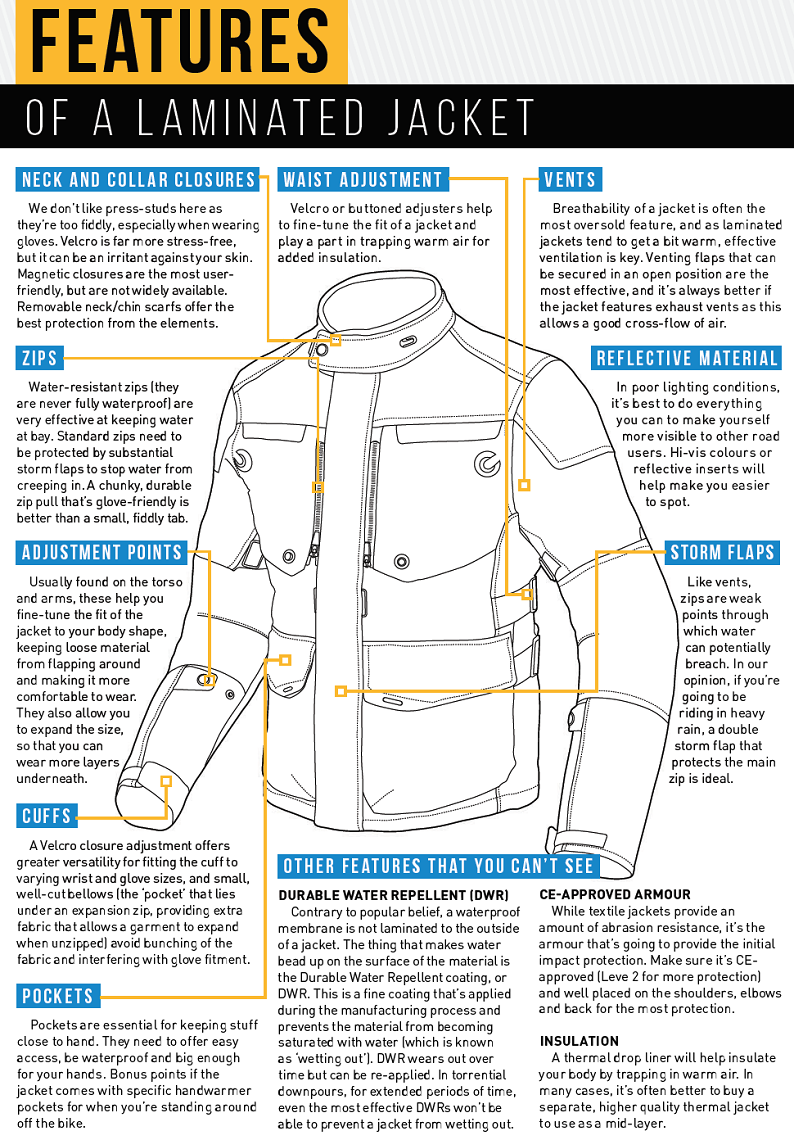 Of course, they're designed to be removed, but even with the best will in the world, you'll be soaked through by the time you've pulled over, rifled through your panniers to find the liner (if you've even remembered to bring it) and then zipped it in and made sure it's watertight, during an unexpected downpour. 
In the outdoor industry, three-layer systems were scrapped almost as soon as they were introduced, and the humble waterproof jacket remained a staple item of gear. In the motorcycle world, we have laminated textile jackets, which perform the same task as a three-layer, but in a far more logical way. 
A laminated jacket will have the waterproof membrane (think GoreTex) bonded to the inside of the outer, protective layer. This means that you'll never leave it at home and, if you're caught in a deluge, while the outer will eventually become saturated with water, it won't be to the extent that it would in a standard three-layer jacket system. They're also far less bulky than their counterparts, dry quicker and, in most cases, fit better. 
Where laminated jackets fall short is in the fact that they can get a bit stuffy when riding in warm weather. With this in mind, the single best feature a jacket can have if you envisage yourself touring in warmer climes is an effective ventilation system. 
For all of their benefits, however, laminated jackets are expensive to buy, and manufacturers will be quick to point out the high costs of developing and manufacturing them, especially as every seam in the garment will have to be taped to ensure waterproof integrity.
Top-end examples of these jackets will set you back over £1,000, but there are bargains to be had, and so in this issue of ABR we're going to be looking at laminated textile jackets under £700. Beyond this price, we move into another level of quality, and we'll be looking at those in the May/June edition. 
---
The Breathability Myth
Breathability is the Holy Grail of all waterproof clothing manufacturers in the UK, be they motorcycle jackets or hiking and mountaineering garments, and the buzzword of choice for clever marketeers and sales assistants. Unlike the hydrostatic head measurement that you'll find on waterproof fabrics (which measures how waterproof it is), you'll not find any meaningful measurements of how breathable they are.
You will, however, find PR fluff along the lines of 'keeps you dry inside' or 'guaranteed breathable'. 
When a jacket is marketed as 'breathable' the term is given as a result of readings from a static mannequin in lab conditions. In the real world, where you and will be using these products, breathability is inhibited dramatically by varying factors to the point where it's not even worth considering, especially so on motorcycle jackets. 
When a fabric wets out (which any fabric will do if it's subjected to rain for long enough), when the fabric is in any condition other than showroom clean, or when the fabric is blocked by various things like items in your pocket and armour, breathability is severely impacted.
It is also proven that for a garment to be 'breathable' there must be a pressure difference between the condition on the inside (hot and sweaty) and those on the outside (cold and dry).
Essentially, that 'breathable' jacket that you bought is only going to be so if it's in pristine condition, dry, uninhibited by armour and you're riding in conditions similar to what you'd experience on the top of Mount Everest. 
So, now you know that your jacket isn't going to breath like the swing tag says it is, what's the best way to ensure you don't get wet from the inside out? Master the effective use of ventilation, and ensure your jacket comes with a venting system that's compatible with your intended use of it.
Tucano Urbano Gulliver Jacket
£229.99 | www.tucanourbano.com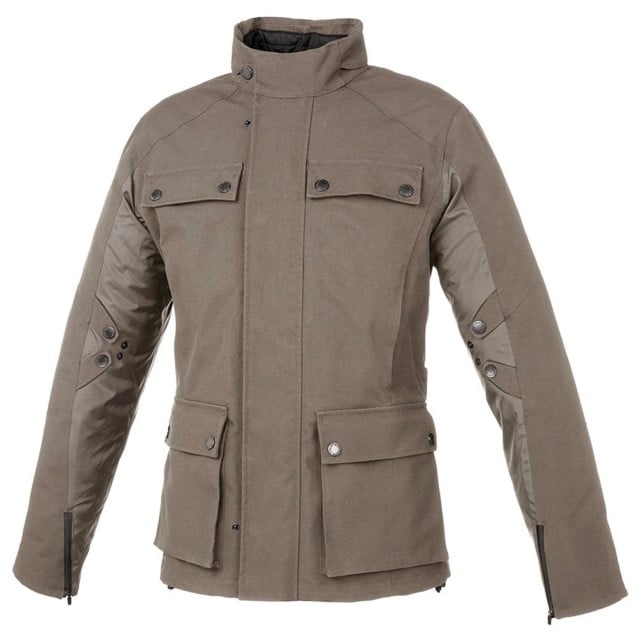 At a penny shy of £230, the Gulliver Jacket is Italian brand Tucano Urbano's entry into this laminated jackets review. At this price it's the cheapest product in test and while, on the whole, it appears to be a well-made piece of kit, closer inspection of the components used highlights the fact that it's a budget choice – most notably the stud buttons, which seem brittle and of poor quality, with one breaking off during our testing. 
It would be unfair to expect top-end quality throughout at this price and elsewhere the jacket mainly impresses. To keep you dry, the Gulliver makes use of a Hydroscud waterproof membrane, which does its job of keeping the wet stuff out well.
A potential weak point in terms of weather protection is the two chest pockets, which aren't waterproof, and if you're riding in torrential downpours for extended periods of time water will ingress and get you wet. The other external pockets aren't waterproof either, but they're backed by the waterproof membrane. The main zip is protected by a substantial two-way storm flap, which is nice to see. 
You also get a separate waterproof hood to wear under your helmet (packed away in the collar), which is a nice touch, even if it does look like something my nan would wear to the shops on a rainy day. In contrast to the thoughtful but ugly hood, the Gulliver comes with a very stylish insulated liner, which looks great as a standalone casual jacket. tw
From a protection standpoint, the Gulliver is nicely equipped with D30 CE-approved armour at the shoulders and elbows, and for an extra £36 you can add a level one back protector. While the sizing does seem to come up a bit small, there is a great amount of customisation in the fit available, with adjustment points up the arms and at the waist allowing you to finetune the fit. 
The Gulliver lacks ventilation, with the only vents being located mid-way down the torso, and they're fairly small. This, then, isn't a jacket that's going to suit you if you're working hard off-road, or riding in Europe in the summer heat as it'll simply be too warm.
Pros:
A lot of adjustability available
Good armour
Great thermal liner
Cons:
Leaky chest pocket
Outer wets out quickly
Lacking in ventilation
IN A LINE: A stylish jacket that's more suited for casual, everyday use

| | | |
| --- | --- | --- |
| Brittle Buttons | Arm Ventilation | Plenty of Adjustment |
Macna Impact Pro
£299.99 | www.factoryagencies.co.uk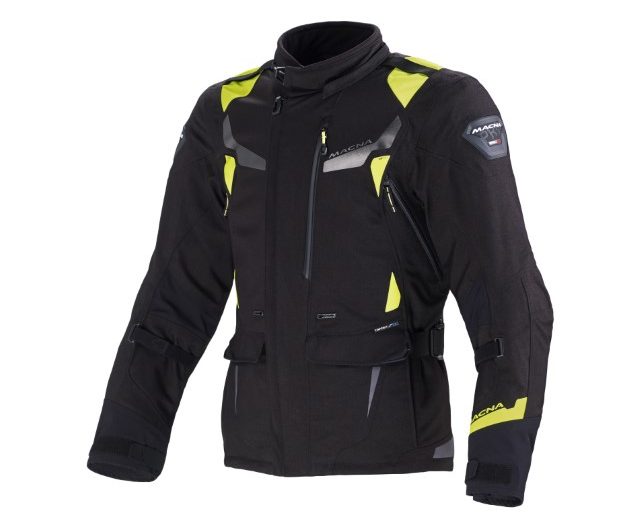 Macna is a Dutch company that's been in the motorcycle clothing game for a quarter of a century, and while the brand's products aren't regularly seen in the UK, they're starting to tap into the market. With the Impact Pro, we have a laminated motorcycle jacket that's amazingly well-specced considering it's the second cheapest in this group test. 
Waterproofing is provided by a Raintex laminate, and in our testing, this was well incorporated throughout. The main zip is a bit strange to get used to at first, consisting of two zips, with the outer one working as a storm flap to protect the inner.
While this method secures the material securely, I would have preferred a standard double storm flap here as the main zip is a weak point and will let water in if you're riding in heavy rain for extended periods. 
In terms of storage, you get a waterproof outer chest pocket, an inner chest pocket, two luxuriously lined handwarmer pockets (which are great when not on the bike), two Velcro-close hip pockets and the thermal liner has a large pouch, which is also useful.
All of these are well made and positioned, though in the case of the hip pockets, they are far smaller than I would have liked, being a bit narrow and a struggle to fit my hands in (I'm a size L gloves). 
Ventilation is provided by two, angled pit zips and an exhaust vent on the upper back. This combination isn't the most effective we've seen, though it'll do an adequate job when riding in typical British summertime weather.
Interestingly, the pit vents feature a Getblock zipper, which is effectively a big ziplock zipper, and while we've had negative experiences with these in the past (Gore LockOut was a nightmare) this appears to work very well and provides a waterproof seal.
The torso adjusters do a good job of fine-tuning the fit around the stomach (great for big lunches), while you also get volume adjusters on the arms and cuffs. Speaking of the cuffs, they might seem oversized at first, but they allow you to get gloves on correctly with ease and can be cinched in effectively. 
Pros:
Innovative jacket
Great handwarmer pockets
Cons:
Small hip pockets
Potential for main zip to leak
IN A LINE: A very well featured laminated jacket for the price.

| | | |
| --- | --- | --- |
| Huge Rear Pocket | Hi-Vis Detailing | Waterproof Zips |
Rev'It Horizon 2
£339.99 | www.revitsport.com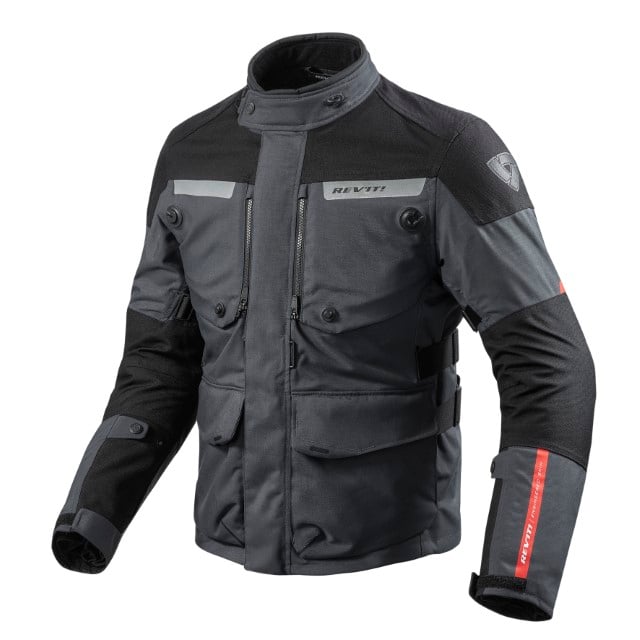 Rev'it has been consistently making quality touring textiles, and I have used the premium Dominator GTX jacket extensively in the past and have had nothing but good things to say about it. For this lower end of the price scale, we've been trying out the Horizon 2, a very well made jacket for this price, which has the looks and feels of a more premium quality product. 
To keep the wet stuff at bay, the Horizon 2 makes use of a Hydratex membrane and this works excellently throughout, while the main zip is secured by a substantial double storm flap, which is our preferred method of waterproofing here. 
When it comes to ventilation, the Horizon 2 excels. You get two huge chest vents which are waterproof when closed but can be securely pinned open to reveal two big mesh panels. These are complemented by a closable exhaust vent, and in use they help to provide an excellent through flow of air that's up there with jackets more than twice this price.
While dedicated summer-weight jackets will be better for riding in intense heat, with the vents are fully opened and the thermal liner removed, the Horizon 2 performs great considering it's a laminate, with a special mention going to the mesh lining that helps wick sweat away. 
The jacket is incredibly comfortable to wear, with it being soft and supple, and for me the fit was excellent, especially after I adjusted the torso and arms. The inner liner is incredibly soft against the skin, and the thermal drop liner is of decent quality, providing enough warmth for three-season riding. The collar is lined with a very soft microfleece, and this feels great against the skin, and it can also be pinned out of the way for when you want to allow more airflow into the jacket. 
Impact protection is provided in the form of SeeFlex CE-Level 2 armour on the elbows and shoulders (which is fantastic for a jacket of this price), and there's a pocket to fit a back protector in. 
Pros:
Great quality throughout
Brilliant ventilation
CE-Level 2 armour as standard
Cons:
No back protector as standard
IN A LINE: A superb jacket for the price.

| | | |
| --- | --- | --- |
| Excellent Ventilation | Double Storm Flap | Neat Collar Adjustment |
KTM HQ Adventure
£510 | www.ktm.com
In a previous laminated textile jacket group test we compiled nearly three years ago, we reviewed the KTM HQ Adventure and thought it was a great piece of kit. The offering we have today is the updated model of that same jacket, and while it's seen a few changes across the board, the HQ Adventure is still a very good laminated jacket. 
Before you even slip your arms into the HQ, you can see that it's a lovely looking piece of kit. The KTM branding is subtle, with the only orange being tastefully splashed on some of the piping and the collar pull. The mix of a mainly textile body with areas of goatskin leather in high abrasion areas looks classy, and also provides peace of mind. 
Protection throughout the jacket is provided by removable Sas-Tec armour on the shoulders and elbows, and this feels well positioned and comfortable in use. There is a pocket for a back protector, though this doesn't come as standard, which is a shame.
Weather protection comes from the inclusion of a tried and tested two-layer Sympatex membrane, and all of the zips are water-resistant. It's a nice combination that helps to keep the overall bulk of the jacket down, while ensuring you'll keep the worst of the weather out. 
Adjustability at the waist and biceps will help you trim in excess fabric where needed to get a snug, comfortable fit, and the jacket is nicely cut to help prevent any riding up when reaching for the handlebars. I love the addition of the goatskin leather around the collar, which helps reduce any chafing in this area. 
In terms of ventilation, the HQ Adventure features two, nicely-sized pit zips and these are coupled with an exhaust vent across the upper back. There are jackets that are better equipped from a ventilation point of view, like the Rev'it Horizon 2, but the HQ Adventure should see you well ventilated enough for all but the hottest road-going adventures. 
Pros:
Looks great
Great cut for adventure touring
Quality zips
Cons:
Venting could be more effective
Only has three, small pockets
Thermal liner isn't the warmest
IN A LINE: A very nice laminated jacket for road-focussed riders.

| | | |
| --- | --- | --- |
| Plenty of Adjustment | Goat Skin Collar | Small Vent on Rear |
Halvarssons Wolf
£519 | www.jofama.se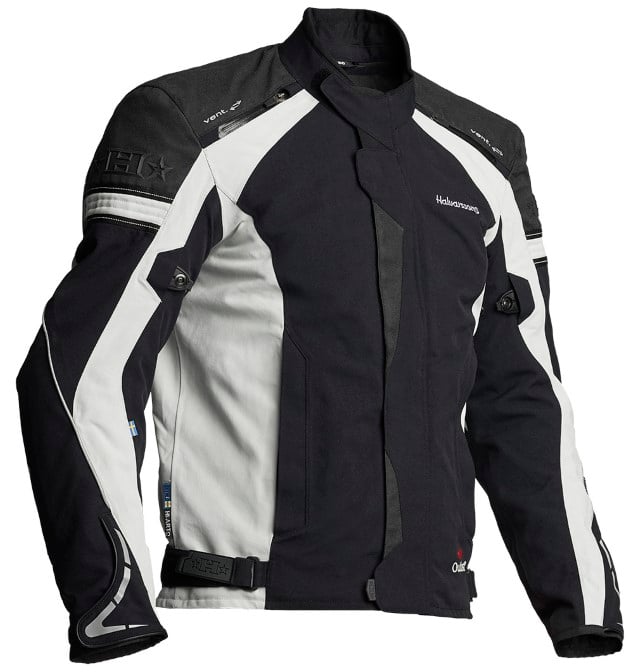 As soon as I saw the Wolf jacket at 2017's Motorcycle Live show, I was excited to give it a go. The jacket is brand new for 2018 and is one of two new laminates for Halvarssons (the other being the Luxor, which retails at £499). 
The Wolf makes use of Halvarssons own Dryway+ waterproof membrane, a material that I've had hands-on experience using for over four years now. In that time, it's yet to leak. As with other Halvarssons products, you get an Outlast thermal lining, and this offers a great amount of warmth for so little bulk. 
In terms of comfort, along with the Rev'it Horizon 2, the Wolf is one of the most comfortable motorcycle jackets I've worn, though some may find the torso a little on the short side. While some laminated textile jackets can feel stiff and restrictive, Halvarssons has managed to make this jacket almost unbelievably soft and supple.
The only area that causes slight discomfort is the collar, which I found to rub on my skin – though this is easily countered by wearing a neck tube. Freedom of movement is almost unrestricted, and at times I forgot that I was wearing a motorcycle jacket with armour included. 
On the subject of armour, you get CE Level 2 inserts on the shoulders and elbows, though there's no back protector included (but there's a pocket for one if you wish to add your own). 
When compared to some other jackets, like the Macna Impact Pro, the Wolf might seem a bit basic. It's all very straightforward, with no unnecessary bells and whistles, and I'm a big fan of this approach. It's neat, it's tidy, there's less to go wrong, and what's there feels exceptionally well made and designed. 
In terms of ventilation, you get two small shoulder vents along with a permanently open exhaust vent on the rear. Both are well protected to keep water out, and while the vents are well positioned to draw air in, if you're going to be working up a sweat, you'll probably want something more substantial – these will be adequate for road riding, though.
A really great touch is the inclusion of a removable hi-vis vest that can be zipped over the shoulders of the jacket. 
Pros:
Incredibly comfortable
Feels well made
CE-Level 2 armour
Cons:
Some will find the torso a bit short
IN A LINE: Comfort, style and quality – an excellent laminated jacket

| | | |
| --- | --- | --- |
| Great Thermal Lining | Shoulder Vents | Adjustable Waist |
Moose ADV1 S6 Off-Road Adventure Jacket
£611 | www.partseurope.eu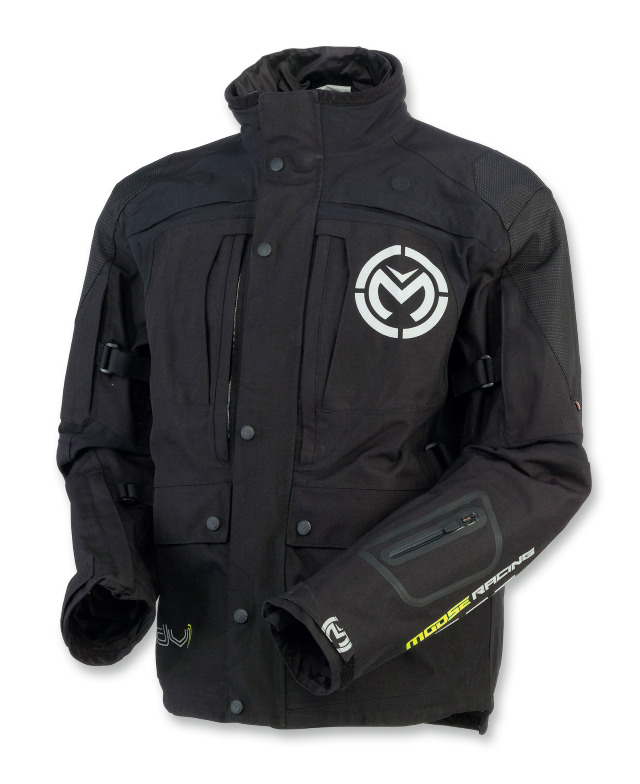 Despite the ADV1 being the first Moose Racing product that I've had the pleasure of trying, the American company has been around for 32 years making gear for competition motorcycling and ATVs. The ADV1 is a fully-featured laminated touring jacket, and at £611, it sits itself in the middle of the price range in this group test. 
Only available in black, the ADV1 isn't going to appeal to everyone, but for those who like what they see, you'll not be disappointed. It's a heavy garment, though it feels well constructed and protective. Waterproofing is provided by a laminated Sympatex membrane, and a thermal gilet is also included. If I were riding in winter, I'd ditch this in favour of a warmer mid-layer though. 
The ADV1 comes with no less than eight pockets (chest, hips, hand warmers, wrist and lower back) so you're not going to be short of somewhere to stash your gear. All of these are water-resistant, and the hand warmers are luxuriously lined with a soft microfleece. The collar is lined with the same microfleece, reducing irritation on the neck. 
In terms of protection, the Moose ADV1 comes well-equipped and feels reassuringly well-built. You get D30 armour inserts on the elbows and shoulders, and this is the cheapest jacket in this group test to come with an included back insert; a Level 2 D30 Viper back protector – a great touch. 
The ventilation system on the ADV1 is comprehensive, with two large chest vents and two pit zips complemented by two exhaust vents on the lower back. While the chest vents aren't able to open particularly far due to their positioning, the whole system still allows for a nice in and outflow of cooling air when riding in warm weather. 
The cut of the jacket is nice and long, making it great for adventure riding, though I found the sleeves to be substantially too long, and my arms aren't exactly short. It's not a deal-breaker though, as the cuffs can be cinched in thanks to the Velcro adjusters. 
Pros:
Feels bombproof
Included back protector
Good ventilation
Cons:
Only available in black
Sleeves are a bit long
IN A LINE: A robust adventure touring jacket that'll keep you dry.

| | | |
| --- | --- | --- |
| In-Your-Face Logo | Handy Forearm Pocket | Chest Vents |
Richa Atlantic GTX
£649.99 | www.nevis.uk.com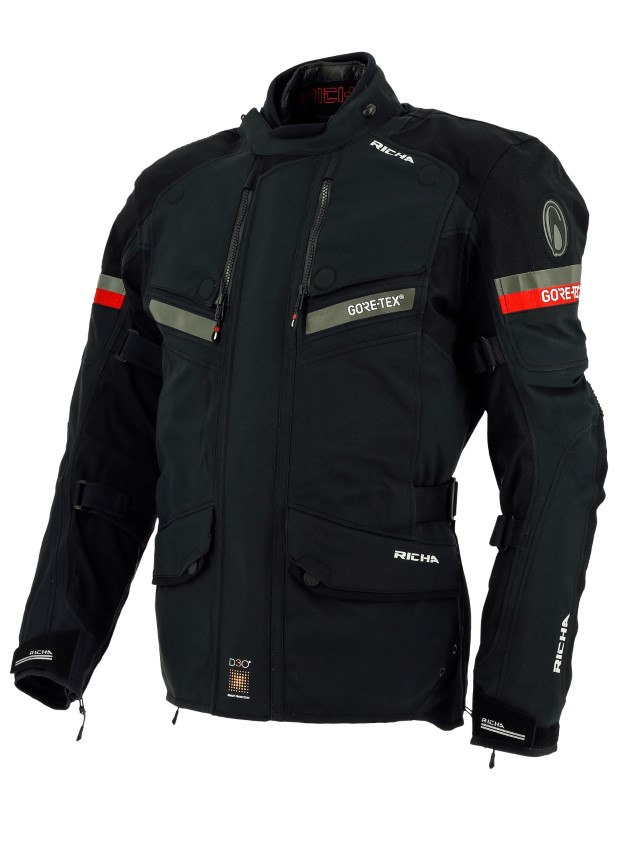 I'm a big fan of Richa, the Belgian company has been manufacturing motorcycle clothing since 1956 and in that 62 years, it has become one of the most well-known brands in Europe. The brand's success in the UK isn't quite as strong as on the mainland, but I'm yet to find a product from Richa that I've not enjoyed wearing.
The Atlantic GTX is their entry into this review, a laminated textile jacket that was released in 2017 and marketed as 'the Swiss knife reinvented', a nod to the suitability of the garment for all weather conditions. 
With that in mind, the Atlantic GTX is the cheapest jacket in this group test to make use of a GoreTex membrane to provide waterproofing. This is the first jacket in Richa's range to make use of the material (previously, only the company's gloves made use of it), and the peace of mind that comes from using the membrane is welcome (Gore demands strict quality control from any brand that makes use of its technology). 
Continuing with the theme of weather protection, the Atlantic comes complete with a very good thermal lining, which is one of the best I've come across in a motorcycle jacket. Rather than being an afterthought, the lining is a whole product in itself, being a very warm and fashionable jacket when worn by itself. 
For warm weather riding, the jacket comes well-equipped with two large chest vents that are secured open with magnets. It's a very simple system to use (almost identical to that found on the Rev'it Horizon 2), and they allow a lot of air to permeate the jacket. These are complemented by an exhaust vent, though it's small when compared to those found on other jackets, and doesn't draw air through quite as well. 
You also get two generously sized, waterproof hip pockets, an internal chest pocket and a few pouches on the inside in which you can store your phone. The cut of the jacket is spot on for touring, and the jacket doesn't ride up when in the saddle. 
Pros:
Excellent thermal liner
Large chest vents
Huge pockets
Cons:
IN A LINE: A very good touring jacket that's well designed and well made. 

| | | |
| --- | --- | --- |
| Great Chest Vents | Effective Double Storm Flap | Huge Waterproof Pockets |
Klim Carlsbad
£669 | www.adventure-spec.com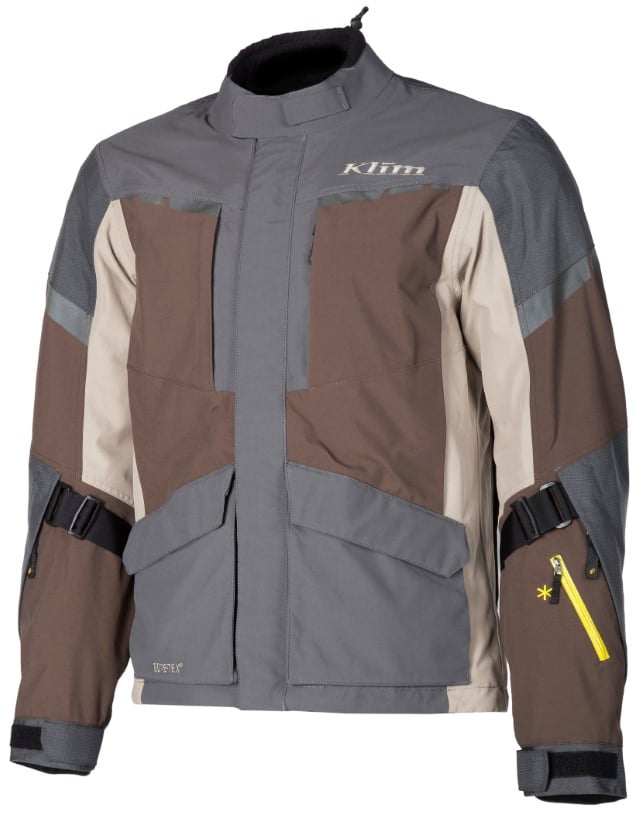 In the world of laminated motorcycle jackets, there are few companies that are as highly thought of as Klim. For years they've been manufacturing excellent quality adventure motorcycling kit that comes highly recommended by most who wear it, and with the Carlsbad you can get a slice of this for a very good price. It's a no-thrills jacket when compared to the other fully-featured offerings in this review, but it does the basics very well. 
Klim says that the Carlsbad was designed specifically to be 'highly mobile, highly vented and minimised bulk' while also maintaining high abrasion and durability standards. With this in mind, if you're looking for a laminate that'll suit you on the trails as well as on the road, this is a good place to start. 
The jacket lacks an insulated lining, though as I usually wear my own insulated layer anyway, this wasn't so much of an issue for me. The jacket makes use of a GoreTex Performance Shell membrane to provide weather protection, and high abrasion and wear areas of the jacket (shoulders, elbows and upper back) are reinforced by 500 denier Karbonite Ripstop fabric.
For further protection, you get D30 CE-Level 1 armour on the shoulders and elbows, and a Level 1 back protector is included as standard. 
While a lot of motorcycle jackets are bulky and heavy, the Carlsbad feels light and unrestricted, offering a fit that's ideal for off-roading.
This is complimented perfectly by the excellent ventilation system which consists of two chest vents, two wrist vents and a further two exhaust vents at the rear, all of which are protected by water-resistant zips. Speaking of water-resistant zips, the main zip of the jacket is also water-resistant, and to further reinforce a potential weak spot, it's also protected by a substantial double storm flap.
A great touch is the included kidney belt, which helps secure the back protector in place, and I also found it to reduce back fatigue while riding. You also get a plethora of storage options throughout, and you'll find two handwarmer pockets, two water-resistant hip pockets, two chest pockets and a further internal pocket. 
Pros:
Lightweight
Unrestricted fit
Plenty of pockets
Cons:
IN A LINE: If you like to venture off the beaten track, you'll want to check the Carlsbad out.

| | | |
| --- | --- | --- |
| Forearm Ventilation | Back Protector and Kidney Belt | Top Quality Components |
Alpinestars Managua
£699.99 | www.alpinestars.com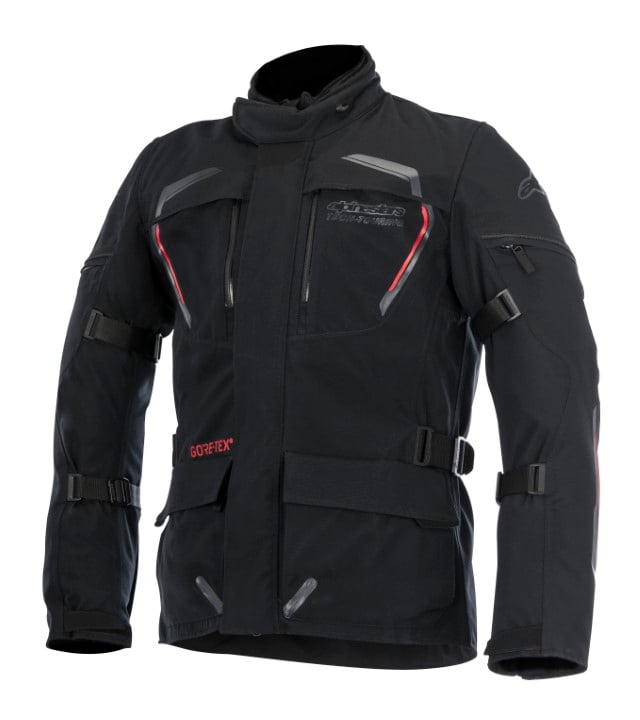 And finally, onto the most expensive jacket in this group test, the Alpinestars Managua, which comes in at a single penny under our price limit. For your money, you get a very well-made jacket that comes with a slew of features and top-quality components to make it a great option for all-weather riding.
For waterproofing, the jacket makes use of a top-quality GoreTex membrane throughout, and this is laminated to a multi-panel outer that features Aramidic fibre reinforcements in high wear areas and GoreTex stretch inserts for an unrestrictive fit in the saddle. 
In terms of protection, the Managua comes with CE-level 2 armour on the elbows and shoulders and these are well placed, though not adjustable. For the most expensive jacket in this review, you'd expect the Managua to come with an included back protector, though this isn't the case, with back and chest protection being available at an extra cost. 
The jacket has a lot of pockets that are of adequate size to keep your essentials close to hand. You get two softly lined handwarmer pockets, two generously sized and waterproof hip pockets, a huge pouch on the lower back and a smaller one on the mesh-backed inner. I would have liked a chest pocket but was happy enough to go without. 
When it comes to ventilation, the Managua features two well-placed shoulder vents along with two large chest vents and these are complemented by a large rear exhaust vent.
When working as intended it's a brilliant system that draws a lot of cooling air through the jacket, though the flaps are very fiddly to secure in the 'open' position, with a thin strip of Velcro on the inside being responsible for this task. When you're not wearing the jacket it's a simple enough task, but with the gloves on it's a faff and you can forget about adjusting it while riding. 
I wore the Managua on the recent Africa Twin Adventure Sports launch, where temperatures were hovering around 0C and we rode through sun, rain and snow. In all conditions, it performed very well, and I was surprised by the amount of warmth provided by the included thermal liner. When riding off-road it did get a bit stuffy inside, but I felt secure and well protected when I coupled it up with a Forcefield back protector.
Pros:
Quality throughout
Warm thermal lining
Water-resistant pockets
Cons:
No back armour included
Chest vent flaps are fiddly
IN A LINE: A well-made touring jacket that's more suited to road riding.

| | | |
| --- | --- | --- |
| Fiddley Chest Vents | Effective Shoulder Vents | Waterproof Pocket |