Bryn Davies and James Oxley put 10 pairs of adventure boots to the test.
One of the joys of riding adventure bikes is their versatility. Whether I'm cruising along at motorways speeds, carving up silky-smooth mountain passes, or having fun exploring a few trails off road, if I'm on an adventure bike, I can be pretty confident it will be capable of all those tasks and more. However, the sheer variety of riding styles and environments associated with adventure biking means the gear we wear needs to be as versatile as the motorcycles we ride.
And, when it comes to riding boots, us adventure bikers are a demanding lot, particularly those of us who want a boot to perform on and off road. Step forward the adventure boot, which combines the demands of riding on tarmac with some of the protective features associated with a dedicated off-road boot, all in one piece of hybrid footwear. 
As is the case when buying any kind of motorcycle gear, I'd recommend taking a few moments at the outset to think about the kind of riding you'll be doing and how much protection you think you'll need. Of course, all motorcycle boots should protect you in the event of an accident, but adventure boots will have additional protective features associated with off-road riding, such as sturdier shin guards, stiffer soles, and more rigid ankle support.
They'll be harder to bend and twist, providing you with plenty of protection if you were to smack your shin against a rock, or drop your bike on your leg on a trail, for example. Unfortunately, the trade-off from all that extra protection is a boot that is less flexible, heavier, and less comfortable to wear than a more road-focused adventure boot. 
So, be honest with yourself about the type of riding you do. If you spend most of your time riding on the road, only occasionally straying off it, you may be better served prioritising comfort and looking at a more road-focused adventure boot.
However, if you regularly ride green lanes on your adventure bike, you might be happy to sacrifice some comfort for the extra protection a sturdier boot offers. The choice will come down to how much value you put on comfort versus protection. Fortunately, there are a plenty of adventure boots on the market designed to meet our various riding needs. 
I'd also recommend giving some thought to the environment you'll be riding in. Here in the UK for example, I would always opt for a waterproof boot because of the amount of time I spend riding in the rain. However, the presence of a waterproof membrane will inevitably make a boot feel hotter in summer, no matter how much a manufacturer claims their boots are 'breathable'.
So, if you're lucky enough to live in a hot, dry climate, then waterproofing may not be as much of a priority for you as it is for me. And for those of you who spend plenty of time knee deep in water crossings, keep in mind that waterproof boots are very good at trapping water in as well as keeping it out. 
With all that said, there is one consideration that is more important than all others when buying an adventure boot, and that is fit. An ill-fitting pair of boots can turn the best of rides into a torturous endurance exercise. Be aware that, just as our feet come in different shapes and sizes, so do motorcycle boots.
For example, footwear made in southern Europe tends to have a narrower fit than those made in northern Europe. It's wise to try a few pairs on from different brands and walk around the shop in them. If you're buying online, ensure you buy from a retailer with a good returns policy. If they don't fit properly, send them back.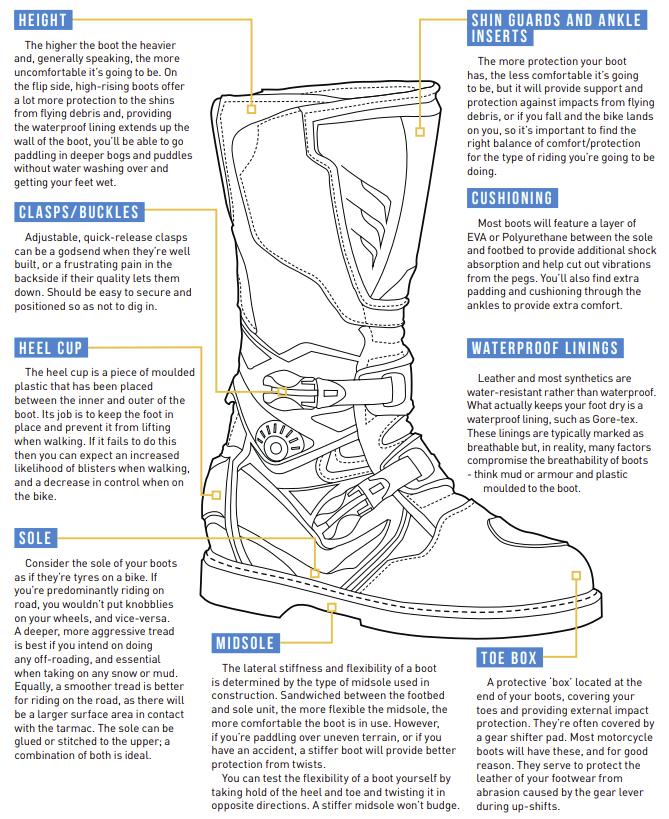 OXFORD PRODUCTS EXPLORER 
£129.99 | www.oxfordproducts.com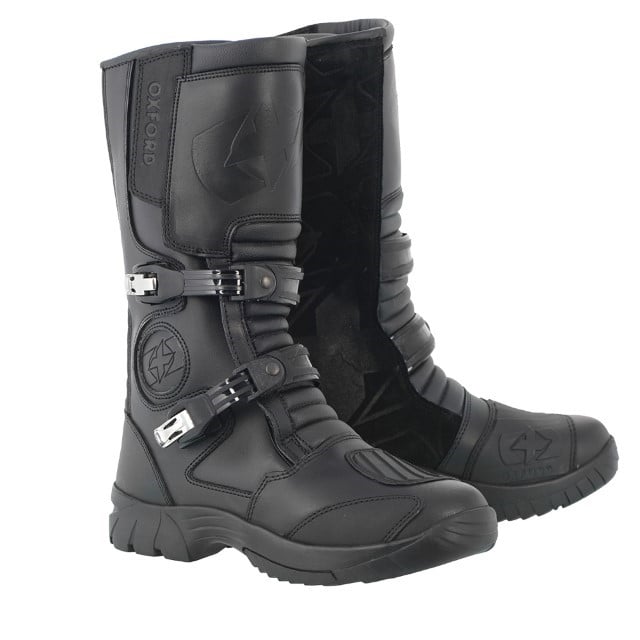 I'll admit to having a soft spot for Oxford Products motorcycle gear. The company seems to specialise in manufacturing affordable products that perform well at their price point. It may not be the most stylish or feature-laden equipment, but it usually does the job it was designed to do. 
Oxford's Explorer adventure boots fit this description nicely. At £129.99 they're the most affordable boots in this test, but they're more than suitable for touring with the odd gravel trail thrown in. 
In terms of protection, the leather boot features a small shin guard along with ankle protection and a stiffened toe cap. It is a stiff boot and I had trouble slipping them on and off my feet, although I'd expect them to loosen up with prolonged use. Once on, they were comfortable and the stiffness is welcome when standing up on the pegs, even if they did prove a bit awkward to walk around in. 
The boot is secured by two adjustable fasteners. They don't close with the most reassuring clunk but I had no issues with them. In terms of weather protection, the Explorer passed our submergence without allowing any water through. It's a full-length boot with a relatively narrow upper section so, as well as wearing textile trousers over the top of it, it would tuck most motorcycle jeans too, making it a good choice for commuting and more casual riding.
While there are more protective and comfortable boots in this test, it's difficult to find fault with the Oxford Products Explorer at this price. If you're looking for a road-focused adventure boot for commuting or even touring and your budget is stretched at the moment, this will do the job without too much fuss. JO
ABR Rating – 7/10
Comfort – 7
Protection – 7
On-Road – 7
Off-Road – 7
Value for money – 8
IN A LINE: A solid road-focused adventure boot at a great price.
RST RAID WATERPROOF BOOT 
£159.99 | www.rst-moto.com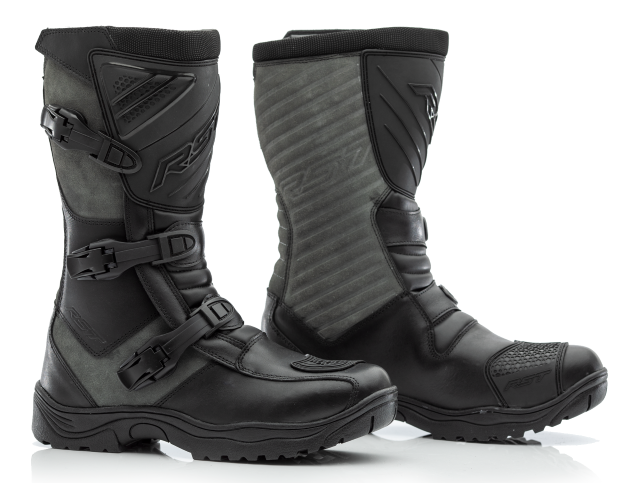 RST is a brand with a habit of producing very reasonably-priced adventure gear that has proved popular with British riders (just count how many RST Adventure jackets you see at your next bike meet). With this in mind, I was intrigued to see how the well-priced Raid Waterproof Boot fared during testing. 
Off the bat, the boots look the deal. The styling is chunky and aggressive, and this is mirrored in the tread which will give you plenty of grip on tarmac and in the mud. The boot is secured via three motocross-style buckles and a Velcro strap at the top, while the moulded TPU shin protection looks substantial. The overall finish of the boots (and the plastic buckles in particular) is in line with the price point. 
While the Raid boots are waterproof, the lining stops just above your ankle. They did pass our submersion test, though you'll get wet feed in deep puddles on river crossings. The suede outer also saturates with water quickly and takes a long time to dry, and I found them to be still wet in the morning after a particularly wet ride. 
The Raid also lacks substantial protection and stiffness, making it more suited to road riding. The shin guard feels more for of a fashion accessory and while the toe box is sufficiently hard, the heel cup is particularly malleable. Combine that with the weak ankle support and you have a boot which is quite easy to manipulate, even by hand. Put it this way, I wouldn't want to drop a pannier on my ankle wearing these, let alone a big ol' adventure bike. 
With all of that in mind, the RST Raid Waterproof Boot is best suited to adventures on the blacktop. It looks the part, is well priced and passed our waterproof test, but falls short in other key areas, such as protection and quality of components. JO
ABR Rating – 7/10
Comfort – 7
Protection – 6
On-Road – 7
Off-Road – 6
Value for money – 7
IN A LINE: Competitively priced but best suited to tarmac tours and adventures.
ELEVEIT T SPIRIT 3 
£219.99 | www.tri-motive.com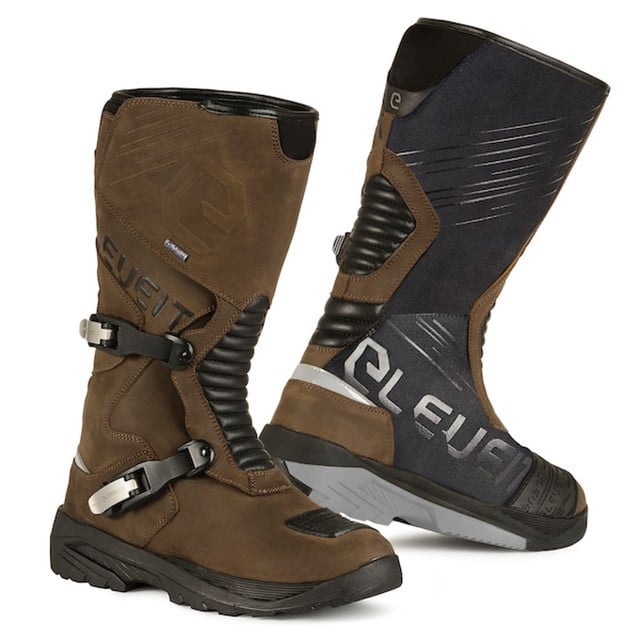 Eleveit may not be as well known as some of the other brands in this group test, but it is owned by the founder of Oxtar (now called TCX) so the company has plenty of motorcycling pedigree. Out of the box, the Italian design of the brown and black version I tested looks good, with a mix of full-grain leather and suede alongside two aluminium fasteners.
Protection comes in the form of polyurethane shin guards, and ankle, toe and heel armour to give reassurance in high impact areas. The boot itself is one of the more flexible on test and there was very little stiffness and support around the ankles. 
The boots slip on easily and have a soft padded interior that makes them comfortable to wear, although the fit around the bridge of the foot and ankles is odd to say the least. While the rest of the sizing is good, here they are huge and feel more like wellies than motorcycle boots. 
Eleveit describes the T-Spirit 3's E-Dry lining as 'water resistant' rather than waterproof, but the boot passed our submergence test without a hitch and I'd be happy to wear these on rainy tours. The rubber sole features a tread pattern which works well on hard, dry surfaces but may see you slipping and sliding on muddier trails. 
Overall, the Eleveit T-Spirit doesn't have the quality feel or levels of protection of other boots at this price point. That being said, if the odd shape fits your feet, it'd be worth checking them out. JO
ABR Rating – 7/10
Comfort – 7
Protection – 7
On-Road – 7
Off-Road – 6
Value for money – 7
IN A LINE: A solid road-focused adventure boot at a great price.
FORMA ADVENTURE HDRY BOOTS 
£259.99 | www.factoryagencies.co.uk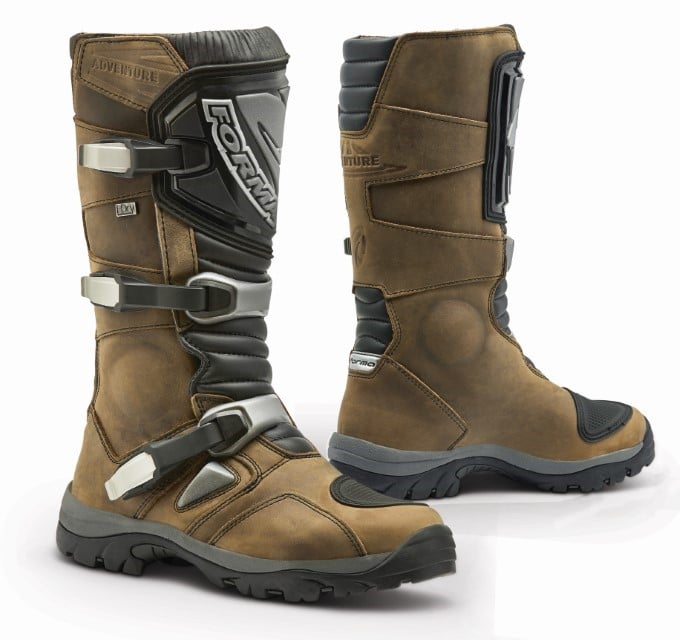 The Forma Adventure Boots have long been a favourite amongst the adventure motorcycling community. For years they've provided a good level of performance at an affordable price, and in the last ABR group test of adventure boots, I gave them a rating of 8/10. Recently, Forma has introduced a more premium version of the boot, the Adventure HDry, which takes all of the good stuff from the standard model and sprinkles some sugar on top. 
That sugar comes in the form of beefed up aluminium buckles and the inclusion of a laminated HDry membrane which replaces the Forma Drytex bootie of old. They also come in a slightly different colour, a lighter brown. For these updates, you'll be paying an extra £50, bringing the Adventure HDry into the mid-range price point. 
The upgraded waterproofing does the job of keeping the wet stuff out, though I never found that to be a problem with the standard boots. The more durable aluminium buckles however, are a welcome addition. Elsewhere, the boot is much the same. 
The sole unit provides a great compromise of on-road performance and off-road traction, while it also offers enough stiffness in the arch of the foot to make standing on the pegs for prolonged periods comfortable, though the forefoot and heel areas are a bit softer, adding to all-day comfort both on and off the bike.
In terms of protection, the Adventure HDry boots are OK though not the best. You get ankle inserts and a shin guard, though these are malleable and flimsy and won't be of much help if you drop your bike on your leg. The boots also allow a fair amount of lateral rotation and flexing at the ankle, which is great for comfort but not so great for support and protection. BD
ABR Rating – 8/10
Comfort – 9
Protection – 6
On-Road – 8
Off-Road – 8
Value for money – 7
IN A LINE: Great looking boots that offer a good level of performance.
TCX BAJA WP 
£259.99 | www.nevis.uk.com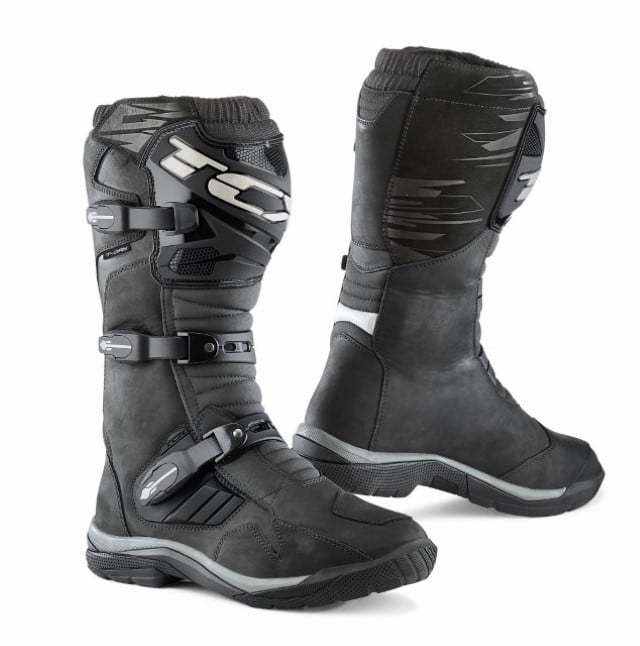 I've worn a pair of TCX X-Blend boots for a couple of years now for commuting and touring and they've proved comfortable, protective and durable throughout. With this in mind, I was excited to try out the brand's full-size adventure boot, the Baja WP. Out of the box it's a stylish-looking piece of footwear made from full grain leather and suede. Behind those good looks is plenty of protection in the form of a chunky polyurethane shin guard as well as ankle armour and reinforced heel and toe cups. The boot is fastened by three aluminium buckles which shut with a confidence inspiring click to provide a secure fit. 
The Baja WP is among the boots in this test that are more suited to road touring with occasional trail riding thrown in. However, it is stiff enough to provide the support needed when stood on the pegs for extended periods of time, while remaining flexible enough to make walking around in them a fairly pleasant experience. That comfort is aided by soft internal padding. While this isn't the plushest I've felt, it does a thoroughly decent job of keeping your feet cosy. 
Waterproofing is provided by TCX's T-Dry waterproof membrane and it easily passed our submergence test and I'd be confident in taking them on tour in changeable weather conditions. You can get a Gore-Tex version for an extra £40, which will give you the peace of mind of a warranty on the membrane. The sole doesn't have the most aggressive tread you'll find on an adventure boot, but there's plenty of grip on solid surfaces. On slippery muddy trails you'll need to take more care. 
Overall, I've been impressed with the TCX Baja WP. It's a good-looking and capable adventure touring boot that walks the line between comfort and protection extremely well. JO
ABR Rating – 8/10
Comfort – 8
Protection – 8
On-Road – 8
Off-Road – 7
Value for money – 8
IN A LINE: Comfort and protection in a stylish package.
BMW GRAVEL EVO 
£290 | www.bmw-motorrad.co.uk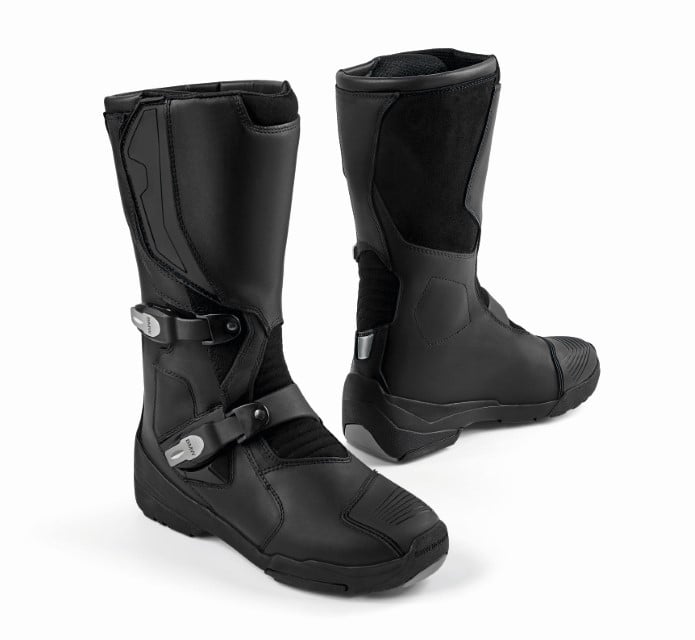 BMW's Gravel Evo takes an understated approach when it comes to styling. A little like the Dainese boot in this test, it could easily be mistaken for a touring boot and, in reality, I imagine that's what plenty of people will use it for. That said, like the name suggests, these will also handle light off-roading well. 
Firstly, a quick note on branding. The use of BMW's name and logo is so subtle on these boots that I wouldn't be put off wearing these on another make of bike. And that's great news because these are very good boots. 
The full-grain leather Gravel Evo slips on nicely and, while it has the reassuring stiffness of an adventure boot, it immediately feels comfortable. The interior padding isn't the plushest on test, but it doesn't need to be because the boot simply moulds perfectly around the foot. In fact, the Gravel Evo walks the line between stiffness flexibility very well. I'd certainly be happy to wear these while exploring out of the saddle. 
Protection comes in the form of shin and ankle guards, as well as heel and toe protectors. This armour may not be in the same league as, say, the Alpinestars Toucans, but they're substantial enough for road touring and light off-road use (they also don't have the bulk and clumsiness of more off-road focussed footwear). Two sturdy metal clasps fasten the boot with a solid clunk that suggests longevity won't be an issue, and the fastening system is completed by a large slab of Velcro on the upper. 
A Gore-Tex membrane provides weather protection and the boot sailed through our submergence test. Overall, I'd be happy to wear this boot on my daily commute and on my next tour. For regular green laning, I'd want something with more of an off-road focus, but for road use with a few easy trails thrown in, this boot will do a top job. JO
ABR Rating – 8/10
Comfort – 7
Protection – 6
On-Road – 7
Off-Road – 6
Value for money – 7
IN A LINE: Style, comfort, protection and quality in a road-focused adventure boot, all for under £300.
DAINESE CENTAURI GORE-TEX 
£319.95 | www.dainese.com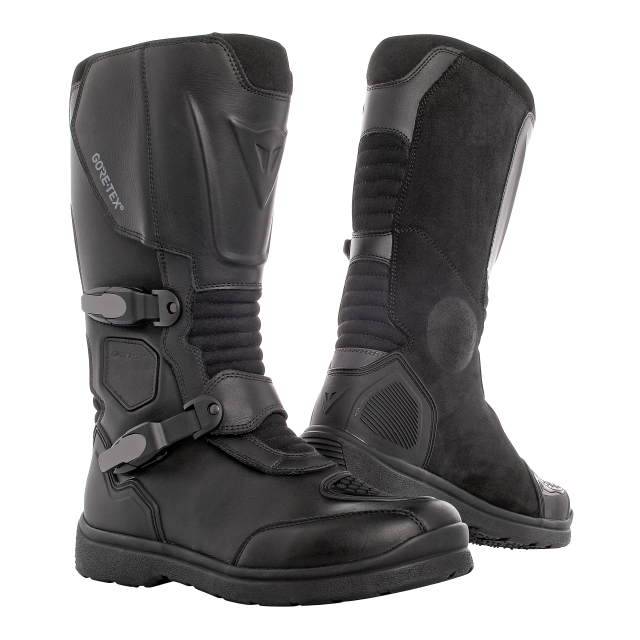 Inevitably, during a group test like this, there will be a handful of products that ooze style and class above the others. In this instance, we have the Dainese Centauri Gore-Tex. Every seam and stitch is neatly finished, the fasteners feel well made and overall the Centauri Gore-Tex gives the impression that plenty of care and attention went into its production. 
I'm a big fan of the boot's subtle Italian design which makes the Centauri look more like a classy touring boot than a rugged, world-conquering adventure boot, but a closer inspection reveals features designed to protect you during light off-roading. The boot is made from full grain leather with reinforced areas around the heel and shift pad for increased durability. 
Protection comes in the form of a shin guard placed behind the leather upper and a heel cup and toe cap. There is also a lightweight nylon ankle guard, though I found this to be a bit flimsy. Despite this, the Centauri Gore-Tex has a reassuringly stiff sole that feels solid when on the pegs. The boot is fastened by two adjustable metal buckles which feel solid and give a reassuring clunk when fastened in place. In terms of comfort, Dainese has nailed it by making the boot stiff enough for protection but flexible enough to walk around in, and this is aided by a soft padding on the inside.
Waterproofing comes in the form of a Gore-Tex membrane and this passed our submergence test with ease, providing top-tier weather protection.
I'd position the Centauri Gore-Tex as a high-quality, comfortable touring boot for riders who spend much of their time on the road but may stray onto the trails once in a while. JO
ABR Rating – 8/10
Comfort – 9
Protection – 8
On-Road – 9
Off-Road – 7
Value for money – 8
IN A LINE: Comfort and quality wrapped up in a stylish package
SIDI ADVENTURE 2 GORE-TEX 
£324.99 | www.sidiselect.co.uk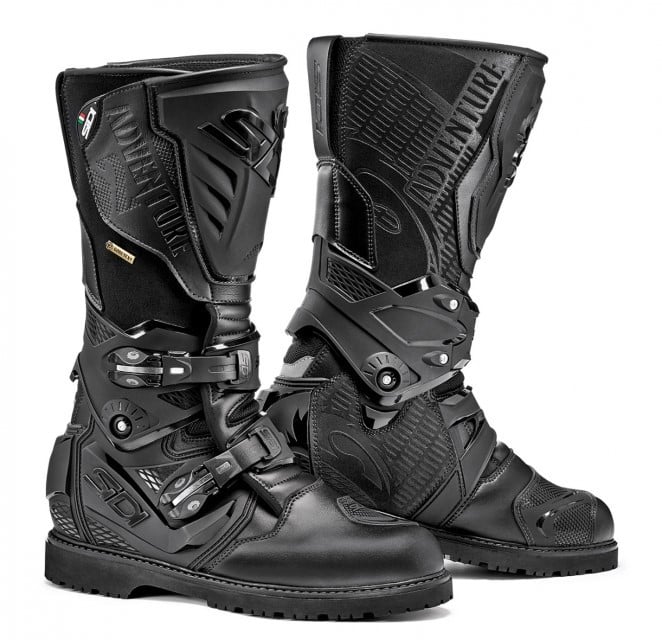 Sidi Adventure boots have consistently come out top in ABR group tests and for good reason. It was this reputation that led me to pick up a pair for myself and put 15,000 miles on them. 
From the off they excelled. They were comfortable from day one for such a bulky and protective boot and, although slightly stiff initially, they soon softened up and didn't feel restrictive or cumbersome. 
They use two high quality motocross-style clasps and a large Velcro tab at the calf to ensure a snug fit. The hinged ankle makes them easy to walk in, although it does create the Sidi Squeak… More on that in a second. 
The majority of the bulk comes from the ample armour and support on offer. The shin guard is large and one of the most protective on test, and the toe box and heel cup further add to this impressive protection. There's plenty of ankle support, which is reassuring, although they do fall slightly short in comparison to the REV'IT! boots in this test. 
There's very little that these boots can't do. During river crossings and days riding through torrential rain, the Gore-Tex lining has kept my feet bone dry. They do tend to run quite warm, but they've been comfortable for me even on mid-summer rides. The boot's tread performs well on and off road, although it is quite soft and has worn down more than I'd like considering the price.
But there is an elephant in the room, or perhaps it's a mouse. The Sidi Squeak. It's not a problem when you're riding, but when you're walking the boots squeak with every step. It's loud, relentless and should be considered before you pick up a pair. 
All in all, they're a fantastic boot at a premium price that will serve you well on all sorts of adventures whether they're on or off road. JO
ABR Rating – 9/10
Comfort – 9
Protection – 9
On-Road – 8
Off-Road – 9
Value for money – 9
IN A LINE: One of the best pair of boots money can buy, but very squeaky…
ALPINESTARS TOUCAN GTX 
£349.99 | www.alpinestars.com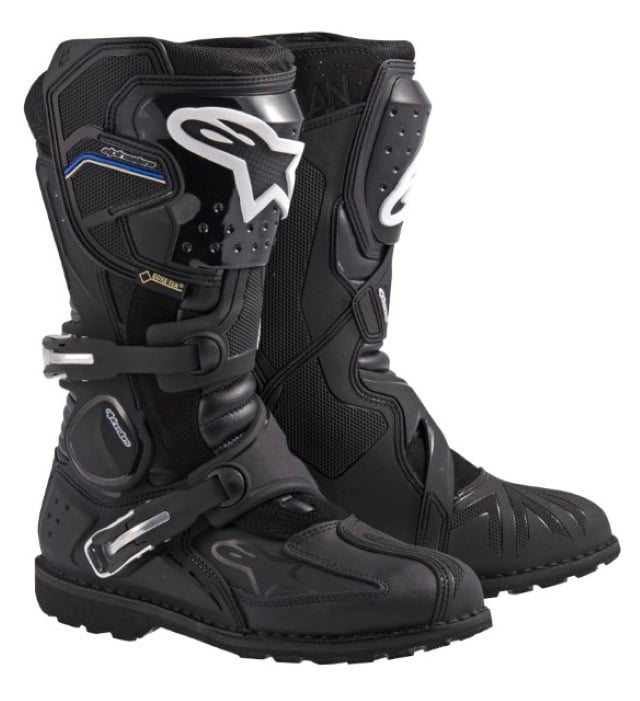 When you test kit for a magazine, it's always a good sign if a product has been a staple in your gear cupboard despite the tantalising advances of others. The last time I reviewed the Alpinestars Toucans was in 2014, though I've been slipping my feet into them regularly since then. If that's not an endorsement for these boots, I don't know what is. 
Back in 2014, these led the way in foot protection and support for adventure boots, sitting hand in hand on the throne with the Sidi Adventure Gore. In 2020, they're still right up there (again, along with Sidi's offering), but they've been joined by the REV'IT! Expedition H2O. That being said, these are like fortresses for your feet, and if you're looking for something that will offer your foot, ankle, and lower leg top-tier protection, all while being comfortable to wear, you can do no wrong in checking the Toucans out. 
They do run a little warm thanks to the high amount of armour and the Gore-Tex lining that ends up insulating the foot, but there are some nicely placed vents towards the lower end of the boots that go some way to preventing them from becoming foot furnaces. 
The sole of the Toucan is perfect for off-road riding, with deep-cut lugs making them perform especially well on wet, muddy trails, and the arch has been reinforced to make standing on the pegs comfortable. In terms of stiffness and protection, the Toucans are exceptional, providing great support to both the foot and the ankle, and the chunky armour and reinforced toe cap offers reassuring impact resistance (the stiff toe saved my tootsies when someone dropped their Super Ténéré on my foot).
While the focus of the Toucans is definitely towards off-road riding, they still perform well on tarmac. OK, they feel a bit clumsy at first and will take a few hundred miles to wear in properly, but give them the time and they'll become more forgiving and supple. 
While the Toucans don't compete with the BMW Gravel Evo and Dainese Centauri boots when it comes to comfort, for a boot that's focussed so clearly on providing protectionfrom twists, bumps and impacts, they're impressively comfortable. I've ridden many miles in these, often riding full days from morning to night, and they've not caused any pain or discomfort at any point. 
In terms of quality, these boots are excellent. From the neatly stitched, bomb-proof buckles to the top-of-the range Gore-Tex lining and moulded plastic panels, everything feels well made and like it's built to last. 
At their price point, the Toucans go head to head with the Sidi Adventure 2. Both boots are great choices and won't disappoint you, and your choice between the two will probably come down to which fit you better, but for me, the Toucans offered a little more protection and were slightly more comfortable. BD
ABR Rating – 9/10
Comfort – 9
Protection – 10
On-Road – 8
Off-Road – 9
Value for money – 8
IN A LINE: Super protective adventure boots that offer top-tier performance.
REV'IT! EXPEDITION H2O 
£499.99 | www.revitsport.com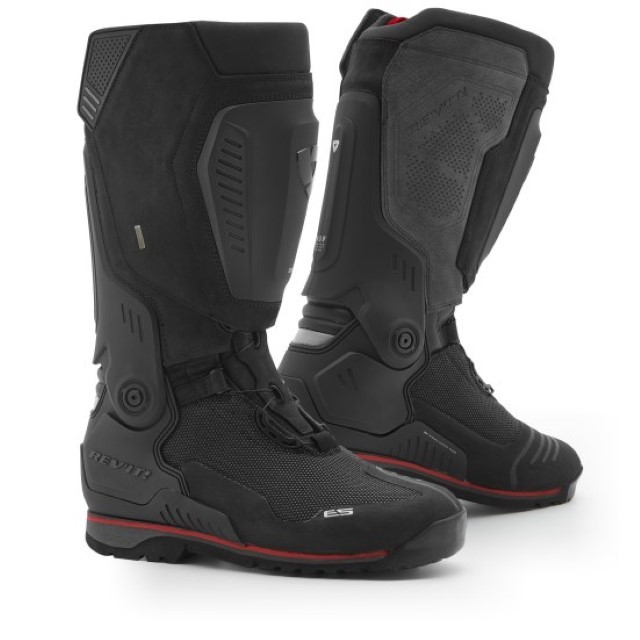 It's impossible to review the REV'IT! Expedition H2O boots without mentioning the big, fat elephant in the room: These will set you back half a grand. At £499.99 they're £150 more expensive than the Alpinestars Toucans, which is a fair whack to pay. For this difference to be justified, the Expedition H2Os have to offer something unique and a user experience that's befitting of their high price tag. Fortunately, they do. 
The Expedition H2O boots are, according to REV'IT!, the result of three years of product development, 100,000km of test rides, 86 adjustments to the design, 27 prototypes, and 134 comments from test riders. With this amount of time invested into pre-production, you can start to see where the astronomical price tag comes from. 
The boots offer an incredible amount of both comfort and protection (two things that are usually at odds with each other). The underpinning technology behind this is the Dynamic Support Frame (DSF), which consists of three components: a calf support structure, a heel cup, and a stability frame. 
This system provides top levels of stiffness and support, preventing side to side movements of the ankle (which are responsible for twists, sprains, and breaks), while at the same time allowing a great amount of up and down movement. With this, the boots offer serious protection and genuine comfort both on and off the bike. 
Elsewhere you get a chunky external shin guard and SEESOFT foam on the tongue of the boots, offering a great amount of impact protection. Waterproofing comes from a Hydratex membrane, and this does an excellent job of keeping your feet dry. The soles are top-quality Vibram rubber and the tread pattern provides reassuring grip on both tarmac and dirt. Interestingly, they also come with a BOA lacing system, rather than buckles and clasps, to tighten them up. This effortless, twist-and-go design (which you might recognise from snowboard boots) allows for an even, comfortable fit throughout the length of the boot, and it's incorporated flawlessly. 
If there's one annoyance with the REV'IT Expedition H2Os, it's that they are tricky to get off. While this does get a bit easier with time, as the material softens, it's something I still struggle with after 6,000 miles of use. 
With all of that said, REV'IT! has knocked it out of the park with the Expedition H2O boots. They're reassuringly stiff, the amount of armour is plentiful, they're fully waterproof, and the DSF offers level of protection that's hard to find elsewhere. On top of this, the hinged ankle, adequate padding, and the BOA lacing system, set up a delightfully comfortable experience both on and off the bike. These are a masterpiece of design in this respect – never before have I experienced protection and comfort together in such high levels. For this reason, they're this issue's best in test. BD
ABR Rating – 10/10
Comfort – 10
Protection – 10
On-Road – 9
Off-Road – 9
Value for money – 8
IN A LINE: OK, they're more expensive than my first car was, but if you've got the cash you won't be disappointed.