ABR's green laning expert Mike Beddows plots and rides a route from Robin Hood's Bay in Yorkshire to Askham in Furness in the lake District. 
38 – Coast to Coast

150 miles | Wow factor ✪✪✪✪✪ | Words and photos: Mike Beddows
In April four of us completed a Coast to Coast trail ride, from Robin Hoods Bay on the North Yorkshire coast, to Askham In Furness, on the Lake District coast. We were all on different bikes, I was on my KTM 950SE, Jim on his Africa Twin Rally, Stu on his brand new (to him) KTM 640 Adv and Scooby on his Yamaha XT660Z Tenere. All loaded with camping gear. 
We had previously done the South to North Wales Coast to Coast route a couple of times and wanted something a bit different. We had already done a fair bit of trail riding in the three National Parks; the North Yorkshire Moors, the Yorkshire Dales and the Lake District. As these three National Parks are spread across England, virtually coast to coast, it is possible to link all the best of the National Parks trails together to form a two full-day trail route.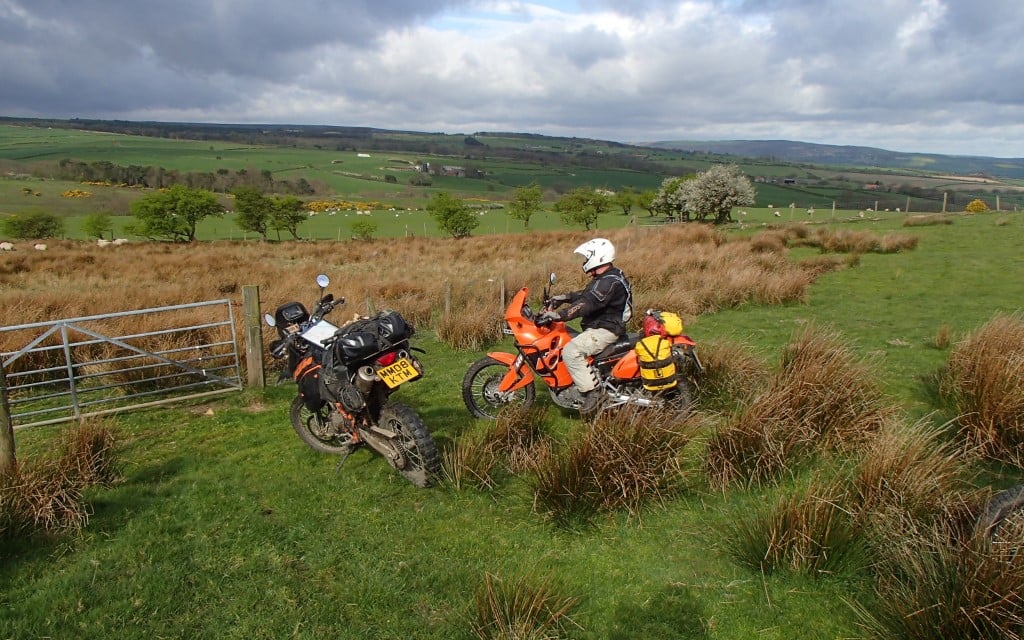 For the journey I took nine Ordnance Survey maps, a mix of 1:25K and 1:50K. The route I planned was as straight as possible; east to west, but a few north/south detours were unavoidable in order to get the best out of the trails in the areas we passed. As we only had two days I tried to reduce the amount of detours to fit the entire coast to coast ride in. Nothing stops anyone organising a coast to coast route taking more time and taking in a lot more trails. There are a lot we didn't do along the way. 
I left work at midday on Friday and set straight off. My plan was to break the boring motorway journey up by diverting and doing a few trails just east of Manchester on Saddleworth Moor (one of which will be detailed in a future issue of ABR Green Lanes). I then continued to Pickering where I met the three other riders. From there we proceeded to cover trails to Robin Hood's Bay over the next three hours. There's nothing better than being loaded with camping gear heading out on an adventure, no matter how short or local the destination. 
We eventually arrived at Robin Hood's Bay and booked into the local Hooks House Farm Campsite where the tents were quickly pitched and we soon wondered into the village to sample its quaint pubs and get a decent meal.
Day 1 
The following day we were up early. We had a lot of miles to cover if we were to reach our destination of Hawes where we would wild camp for the night. We had planned a long day in order to shorten the final day due to us all having long rides home. We quickly headed down to the sea to get photos taken; the Coast to Coast had begun.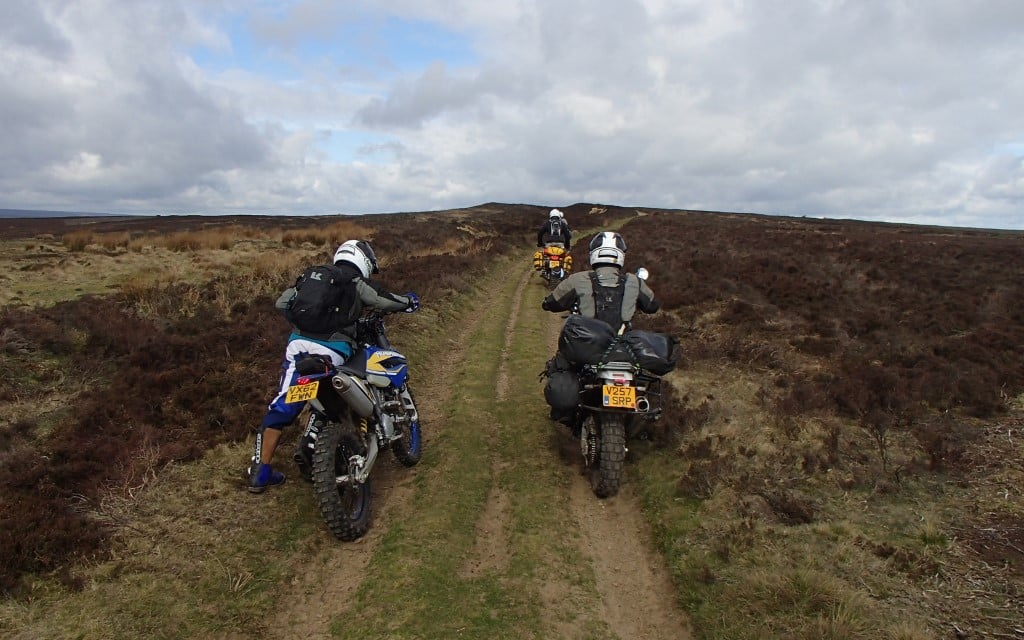 Although I had previously covered lots of trails along the route there were still many I had not done and it's always exciting to ride new routes. There's no real way of telling what to expect and whether the trails will be suitable for big bikes fully loaded. The first turned out to be more of a muddy challenge than we would have liked to start the day off.
The second was remote across the moors with hardly any visible sign of where the trail actually went. In the end, I had to try and find the way using various landmarks (farmhouses, valleys, streams, hills etc.). The inevitable happened and we got lost, a risk when the trail is not well defined. Many would say don't even attempt it, but these lanes are legal and there to be used! Besides, the alternative would have been a 20-mile tarmac detour to go round. 
We ended up coming across a farmer and his very aggressive wife. We parked up a good distance away and Stu and I proceeded on foot with my map. We explained who we were and what we were doing and where I thought we were on the map but the farmer's wife was having none of it. I've never met such an aggressive confrontational woman before.
In this situation it's better to try and stay as calm as possible. Mistakes happen, people do get genuinely lost. The farmer was more understanding and tried getting in between his wife to keep her back. It turned out we were only about 100 metres off track. Eventually, we were given permission to ride through their land and back on track. 
Situations like this can put a downer on the day but it's best not to dwell too much. We had a lot of ground to cover and had already wasted too much time getting lost. The next lot of trails flowed really well and we managed to cover some good distance quickly. Then we came across the fords.
The Fords 
These fords require special mention, they may look straightforward but they can be the cause of many accidents. When approaching in low water conditions you may be lulled into a false sense of security and speed up. This is a big mistake. They have either a cobbled or concrete base and are the most slippery fords I've ever come across. Being on average six inches to a foot deep they are a nightmare to cross. Any turn of the handlebars or blip on the throttle will have you off.
We proceeded with caution, still, I entered the first and the bike drifted to a 90-degree angle. There's little point putting your feet down for stability as there is no stable ground. It's just as hard to stand up so I drifted off the cobbles and had to battle the rocks in the river. Enjoy them, they are good fun but not easy!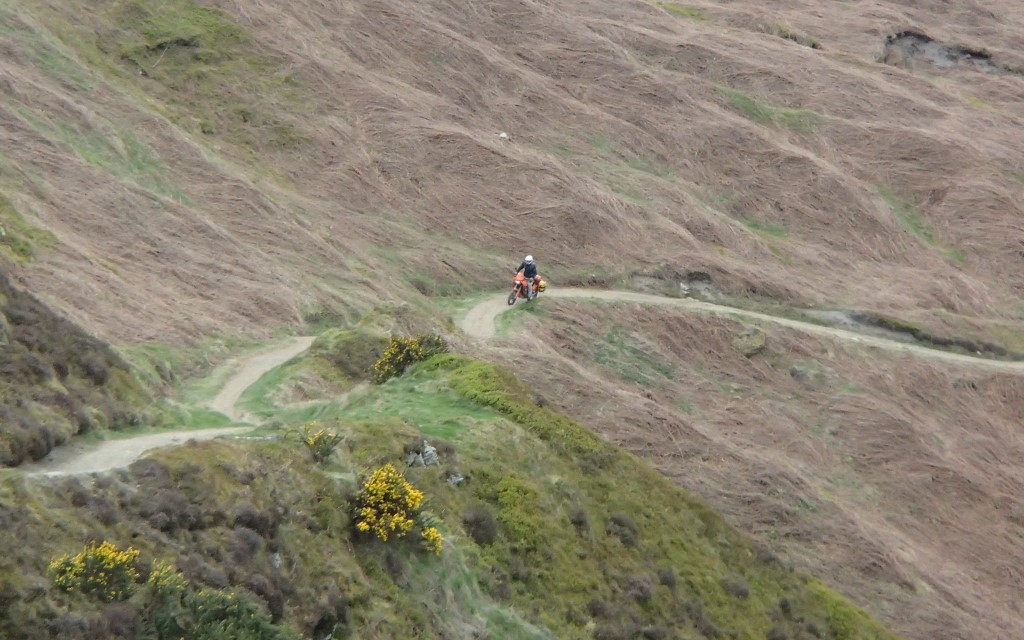 After leaving the North Yorkshire National Park we headed past Northallerton and proceeded to cross the bleak Masham Moor and on into the Yorkshire Dales. It was here, at the highest point over the moor that the heavens opened. It's amazing how quickly conditions can change. We continued on. Some fantastic long trails exist in this region, some over eight miles in length. 
We rode more long trails as we made our way to Hawes. By the time we reached our planned destinations, it was 18:00, we had been in the saddle for nearly 12 hours. We were wet, tired and morale seemed low.
A quick group discussion and we decided to try and get into the bunkhouse at the Green Dragon Inn (used at a recent ABR bunkhouse meet) with the plan to wander into Hawes for a few beers and a curry. We all immediately perked up, but when we got to the bunkhouse we found it fully booked.
A quick look at the maps and we decided to push on to Kirkby Stephens, 16 miles and a couple of trails away. We booked into a very nice campsite, pitched our tents and wandered into town for the evening. 
The total distance covered on day one was 150 miles, of these, 60 miles were made up of 28 separate trails.
Day 2 
Another early start the following morning followed. We were all anxious to get moving and get the miles under our belt as soon as possible, as we all knew we had a long journey home after the ride. Due to pushing onto Kirkby Stephens the night before we had less ground to cover. It was a very cold start, and ice on the tents and temperatures down to -5C surprised us all for the end of April. I wish I had packed my heated gloves as my main gloves were still wet from the soaking the day before. Still, we pushed on. 
The trails in the Lake District are fantastic. 
A very difficult one headed up and over the first mountain as we proceeded on into the very picturesque National Park (BreastHigh Road, see the green lane article in ABR Issue 29). A few more trails and we were heading through Kendal and then onto the Windermere ferry by a few more very gentle trails.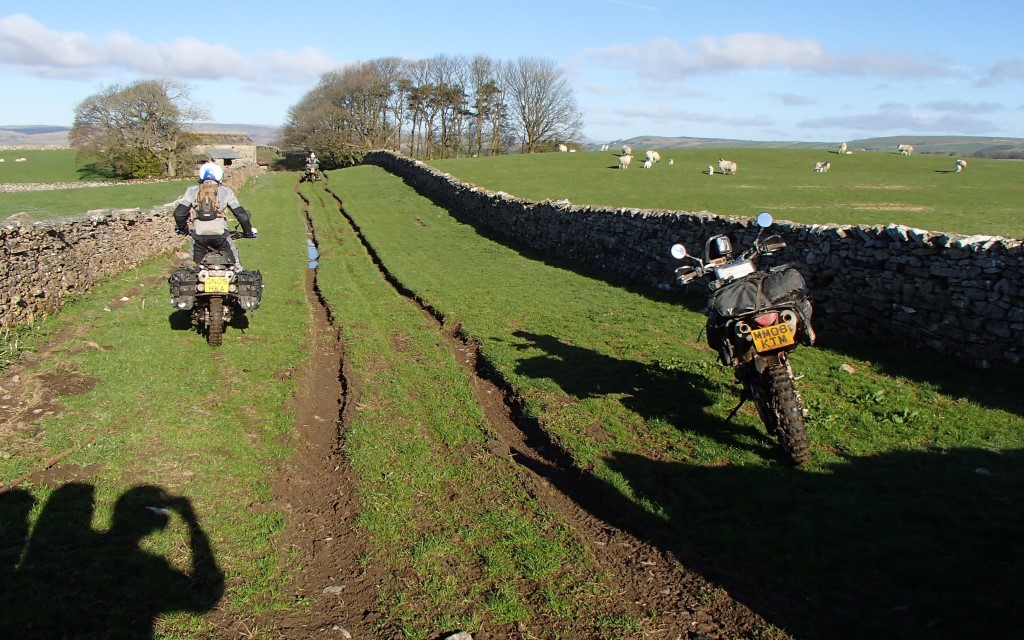 The riding flowed very well after the ferry, and then it was a short ten mile tarmac blast to our final trail of the day, the Askham Coastal Byway (see favourite trails). Photos were then taken on the beach which signified the end of the Coast to Coast. It was a fantastic weekend's riding and it's good to say we completed the Coast to Coast route. 
It was a very demanding ride, and the moment I left work on Friday to getting back home on Sunday was a total of nearly 600 miles over 51 hours, of which 24 were in the saddle. 
Want to do it? Nothing's stopping you; grab a few OS maps and get marking the trails, and then formulate a route on the tarmac to link them all together. 
---
Did you know
The Coast to Coast Walk is a 192-mile (309 km), unofficial and mostly unsignposted long-distance footpath in Northern England. Devised by alfred Wainwright, it passes through three contrasting National Parks: the lake District National Park, the Yorkshire Dales National Park, and the North York moors National Park.
Wainright's true c2c walk heads from Robin Hood's Bay and ends in St Bee's in the lake District. The most popular direction walked is West to east, and is the direction which keeps the prevailing wind and rain at one's back, and the evening sun out of one's eyes.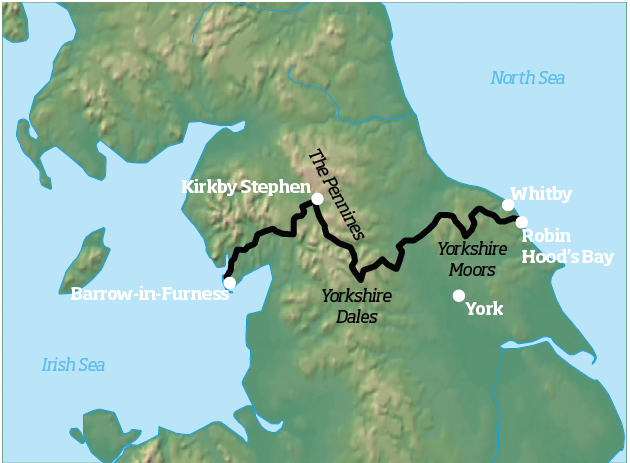 ---
Hooks House Farm Campsite 
This site is a 10-min walk from the nearest pub in Robin Hood's Bay. The camping field is sloping and it did not appear that there were any available level pitches, so we chose the next best but quickly found out that trying to sleep on a sloping pitch is not easy.
Especially as the wind comes straight off the sea, I would not like to be camping here in any significant winds! At £9 a night it is pretty reasonable, the facilities were decent and clean.
The more interesting, quirky pubs are located nearest the sea but be warned as you walk downwards you will have no choice but to stagger back up at the end of the night.
Check out www.hookshousefarm.co.uk for more information.
---
Quick Coast to Coast Facts
Robin Hood's Bay to Kirkby Stephen (150 miles) 
■ 28 lanes
■ 60.36 miles of trails ranging from 0.25 miles – 8.16 miles Kirkby Stephens To Askham (61 miles)
■ 16 lanes
■ 16.95 miles of trails ranging from 0.4 miles – 2.34 miles Robin Hoods Bay to Askham (211 miles)
■ 44 lanes
■ 77.31 miles of trails ranging from 0.25 miles to 8.16 miles
---
ABR's Favourite Trails
It would be lengthy to document all the lanes we encountered along the way so I asked each of the riders what their favourite lanes of the trip were, and why. Here are the trails we enjoyed most…
Inmoor Lane, Mike
(2.46 miles, SE091744 – SE68767)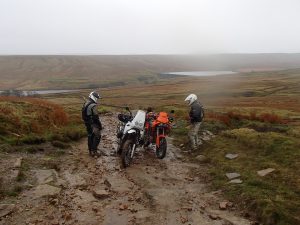 This is a lane that is only suited to more advanced riders, especially on a loaded big bike. it's fairly long and starts as a rocky climb uphill. By the time you get to the gate your arms will really be pumped.
It's rock after rock as you bounce from one side of the trail to the other in order to cherry-pick the best route. the descent is tough; lots of rocks, tight turns, steep in places. Doing this trail in reverse is even better, but a lot harder. i would consider this as one of the best I've ridden so far in England and Wales.
The trail ends at the reservoir, but you can continue on, up and over Deadman's Hill. As I type there is a Voluntary trail regulation order in (Vtro) place on this section, and unfortunately this Vtro is east to West, the direction of this c2c route though the trail can be ridden guilt-free from West to east.
Grizedale, Scooby
(1.62 miles, SD357955 – SD336944)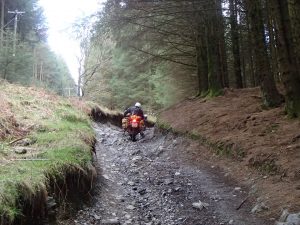 There's something about cruising along a B-road, loaded up for a weekend, chilling out in the sun and then just hanging a right on to a trail, no signs, no gates, no stopping. that's how Grizedale flows. You roll onto the trail and the mindset changes, immediately the going is gnarly.
It feels old and cold, not overly manicured. the trees overhang and the trail is twisty, formed by mother nature over hundreds of years. Typical of the area the stone is grippy even when wet, a welcome break from my native North Yorkshire where slime prevails!
I find myself purposely riding this type of trail slowly, picking my way up or down, spotting the lines trying to ride feet up for added satisfaction. then we pop out the other end, no gates again and straight onto a fire road blast, and not even a dab! Great trail.
The Highway, Jim
(3.5 miles, SD785952 – NY783004)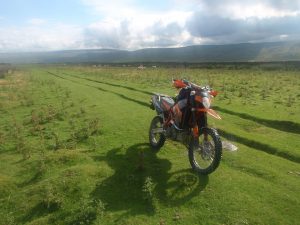 I know this trail has previously been in the magazine (issue 21) but it has to be one of my favourites of the coast to coast trip. You start off by passing a farm and ride over a humpback bridge before a quick ride to the top of the moor. this section flows really well. Through a gate, with glimpses down the rocky crack to the stream a long way below.
Straight ahead it looks like the trail doesn't get much use, there are some deepish ruts but they have a neat covering of well-manicured grass, there are a lot of sheep on these hills. it's so easy to switch off here and enjoy the fantastic glacial valley scenery.
A quick stop at a memorial for some classic photos before heading down the well-maintained track, round a few bends and over a couple of shallow fords. The end is insight. A fantastic trail well suited to big bikes.
Askham, Stu
(2 miles, SD210782 – SD200756)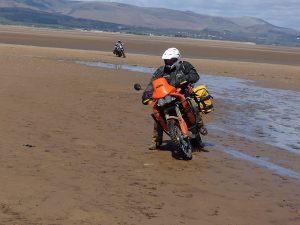 What an absolute treat to have a legal right of Way on a beach. We entered via the road towards the beach and turned leftand followed the coastline, some tricky bits here with rocks, seaweed and mud that you will sink into if you hang about. then the beach opens out and is flat and clear of debris (tide dependent of course ).
It's at this point that I had a flash back to the film 'On Any Sunday' with Steve McQueen and his gang having fun in the sand on a beach that was probably in California. It gives you a great sense of freedom riding on the beach, after a bit of fun we exited through a freshwater river that was a little deeper than I expected, just made it! this was the last trail on the c2c run and it was a fitting end. Brilliant.