Alun Davies is busy making plans for old school lightweight adventures…
It's almost eight years since I woke up one morning and thought 'let's crank out the first issue of Adventure Bike Rider magazine'.
I'd managed to convince myself that a magazine such as the one you're reading now would connect with motorcyclists to the point that it would become a viable business. This was achieved not through employing men in suits to do market research backed up by multi-coloured Venn diagrams and SWOT analysis, but by the traditional method of sticking my head out of the window and looking at who was riding what.
The content of ABR was always going to be focused on travel, both at home and overseas, and the concepts of 'seeing' and 'experiencing' would share equal billing with 'riding' and 'bikes'. There was also a huge gap in the market for a magazine that focused on growing demand for adventure bikes, fuelled by riders full of travel aspirations and, in my case, the sort of waistline and creaking joints that sports bike designers obviously don't talk about.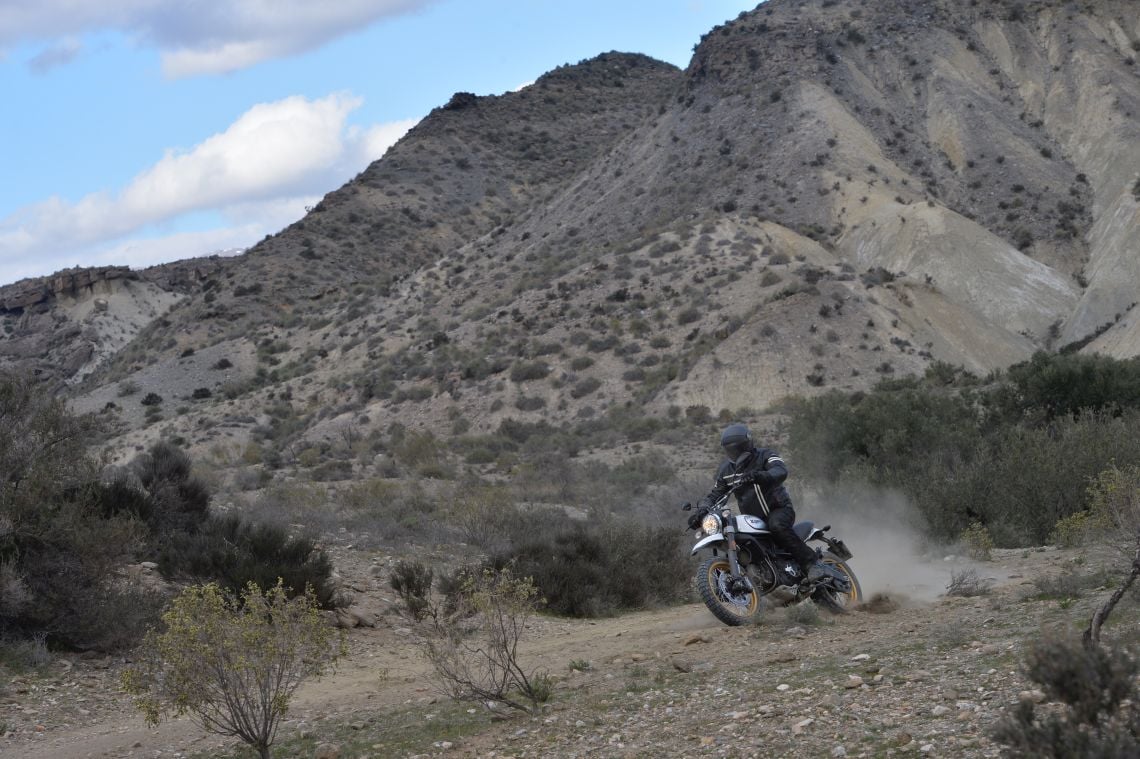 Anyway, that's a very long way of answering the question, why is ABR reviewing a scrambler? Well, there's a few choice reasons. First off, I'm not intelligent enough to think of a compelling reason to turn down a free trip to Spain to ride any sort of bike. Plus, I've recently had a Road to Damascus moment when it comes to old school naked bikes, and have you seen the Ducati Scrambler Desert Sled? It's a fantastic looking machine and performs so well in the dirt and on-road that I'm seriously considering buying one.
But let's add a little context to that statement. The Desert Sled is what I call a 'me' bike and not a machine to consider if a happy pillion is one of your buying criteria. For the past 20 years, the Davies garage has usually contained three bikes, two of which would be 'me' bikes and one 'our' bike.
A large capacity adventure or touring motorcycle for long journeys and two-up touring is 'our' bike; the 'me' bikes are a mid-capacity adventure bike with off-road ability, and I usually have a small-capacity trail bike hanging around just because they're so much fun.
My current mid-capacity bike is a single-cylinder Yamaha XT660Z Ténéré, complete with a large fuel tank, fairing, panniers, top box and just about any other extra I could fit on. It's been a great 'me' machine and has never let me down, other than when the chain snapped in the Alps.
However, over the past few months, I've been seriously enjoying the old-school appeal of riding a naked bike and travelling light with nothing more than a change of clothes in a waterproof roll bag strapped to the rear seat. And this is where the Desert Sled fits in.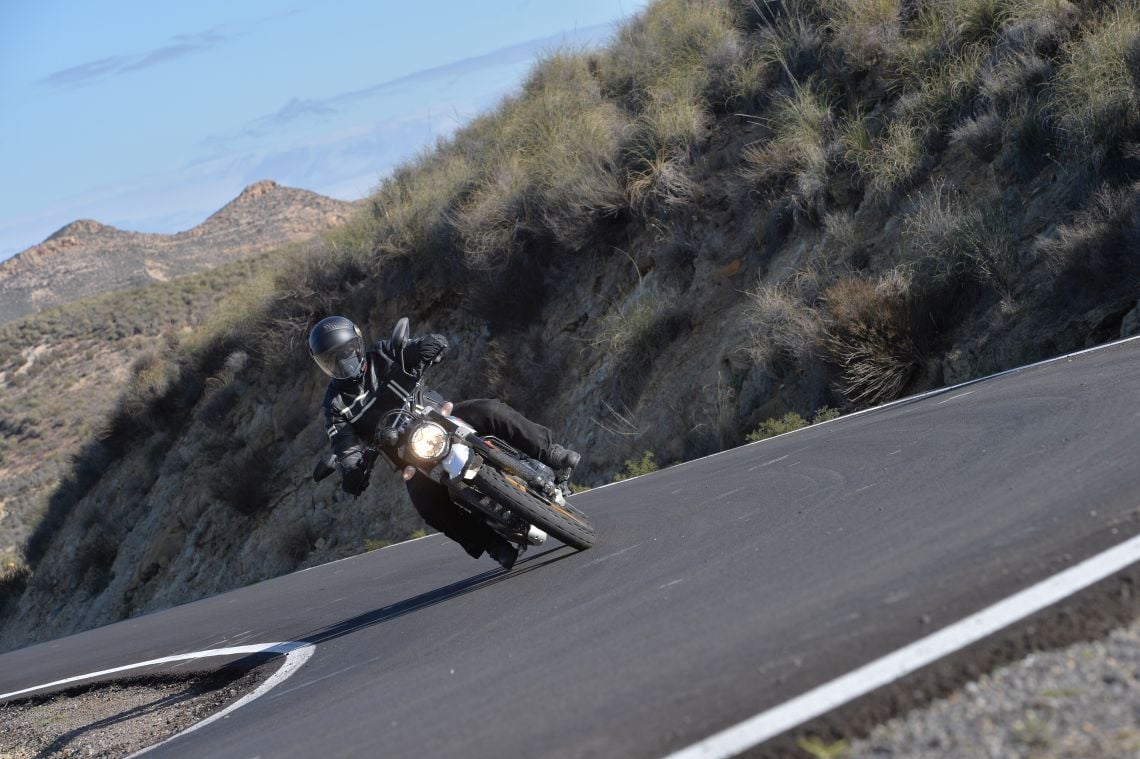 The beautiful retro looks of the bike (XT500 anyone?) have huge visual appeal, plus the level of competence this machine possesses, both on-road and off-road, has got me thinking of replacing the Ténéré with the twin-cylinder Sled.
On the launch over in Spain, it proved itself to be a far superior road bike than the Ténéré, with better handling, weight distribution, performance and suspension.
What's more, when we rode off into the dusty, sand-strewn Tabernas Desert and then blasted over the more technical, rutted, rocky mountain passes in the Sierra Alhamilla, it more than proved its worth. It's still a little heavy and features too many elements of form over function to be classed as a dirt bike, but if you're realistic with your expectations it will not disappoint.
Up close, the attention to detail, quality engineering, components and finish found on the Desert Sled is what I've come to expect from Ducati over the past few years. It looks fantastic, it sounds great and is a very well put together machine.
On the downside, at £9,395 it's not what you'd call a bargain. There are many mid-range adventure bikes which can be bought at a lower price, and if you can stretch your budget a grand or so higher then you're into Africa Twin and Ducati's own 950 Multistrada price bracket.
On paper it's hard to justify the price tag (or the perceived logic) of buying the Desert Sled if you're in the market for an adventure bike with long-distance touring in mind. However, in my book the best adventure bike (or any bike for that matter) is the one that inspires you to ride more. The Ducati Scrambler Desert Sled will do that.
---
What is a Desert Sled?
The term 'desert sled' was coined in Southwest USA and Baja during the 1960s to describe large capacity street bikes which had been customised and modified for use (and racing) in the desert. Think stripped back, skid plates, knobbly tyres and old Steve McQueen photos and you've got it.
---
ABR Verdict
As a commuter
Easy to ride, a commanding view, comfy, nippy, agile…what more do you want? Ride this bike into work and you'll immediately become the coolest dude in the office.
As a weekend tourer
You're not going to buy a Desert Sled for the touring features on the spec sheet. That said, on a balmy summer weekend (there's going to be at least one of those this year), heading off to the lakes, Cornwall or Wales with a waterproof roll bag on the pillion seat would be old school joy.
As an off-roader
This bike will surprise you with its offroad ability. It's no enduro but it'll be far more manageable in the dirt for the average rider than a larger and heavier adventure bike. There's not many green lanes in the UK where I'd feel uncomfortable taking a Desert Sled.
As a continental road tourer
If you're travelling without a pillion and you can live without some of the stuff you'd normally throw in a set of panniers then why not? Slow the pace, shorten the daily mileage, be prepared for more fuel stops and a naked bike such as the Ducati would be fine, though I'd no doubt change my tune after a few days of rain. There are, of course, far more suitable bikes for long-distance touring but not many as versatile and fun.
As an RTW Overlander 
You'd have to pick your route carefully or work out how you're going to carry extra fuel (and any excess gear), but other than that the Desert Sled has the sort of dual-purpose features that'll give you the option of taking the road less travelled. Has the potential to become a cult RTW machine.
As a pillion carrier
I'd whisk my other half to the shops and that's about it. This is a 'me' bike and not an 'our' bike.