BUDDHISM AND BIKES
Jamie Dingle is hitting the dirt in Cambodia, to explore this exotic region by trail bike
I once heard that the act of driving a car is like watching a movie, but when riding a motorbike, it's like you're in the movie. During my introduction to dirt-bike riding on Salisbury Plain, I fell off five times, including once when I was thrown clean over the handlebars at significant speed; it seemed I was also doing my own stunts in this movie. But then if you're going on a dirt-bike adventure in Cambodia and you've never ridden a dirt bike before, you have to start somewhere.
Leaving Phnom Penh
Cambodia is in the process of rebuilding itself from the effects of civil war and self-administered genocide. Untainted by the heavy tourism suffered by its Thai and Vietnamese neighbours, Cambodia is an extraordinarily raw country, filled with the most welcoming people and with national landmine clearance almost completed, it's fast becoming one of the most exciting places in the world for trail bike and Enduro riding.
With two distinct seasons, the terrain you ride in the dry becomes a different proposition altogether in the wet – from parched riverbeds like half-pipes, heavily ploughed rice paddy fields, sandy jungle trails, gravel tracks, rocky slopes and every kind of mud, to waist-deep river crossings, overgrown jungle, mountain paths and potholes galore. A Buddhist biker might call it 'Nirvana'.
In the capital, Phnom Penh, there are bike companies loaded with Honda XRs, Yamaha WRs and even KTMs springing up everywhere. Any operator with Western management is recommended and one that rightfully gets consistently good reviews is Dancing Roads. Through the ever-helpful Paeng and Sonia, I was teamed up with another lone biker – Owen Owen – a sixty-year-old Welsh sheep farmer and my riding buddy for the next five days.
Motorbikes bring all walks of life together. Our Khmer guide, Chea, who speaks good English and knows every track, trail, path, river, shortcut, scenic route and hidden treasure the country has to offer, led our escape from Phnom Penh along the west side of the Tonle Sap river. We passed rows of tourist shops mingled with knocking shops, over the Japanese bridge (on the pavement) to the east side.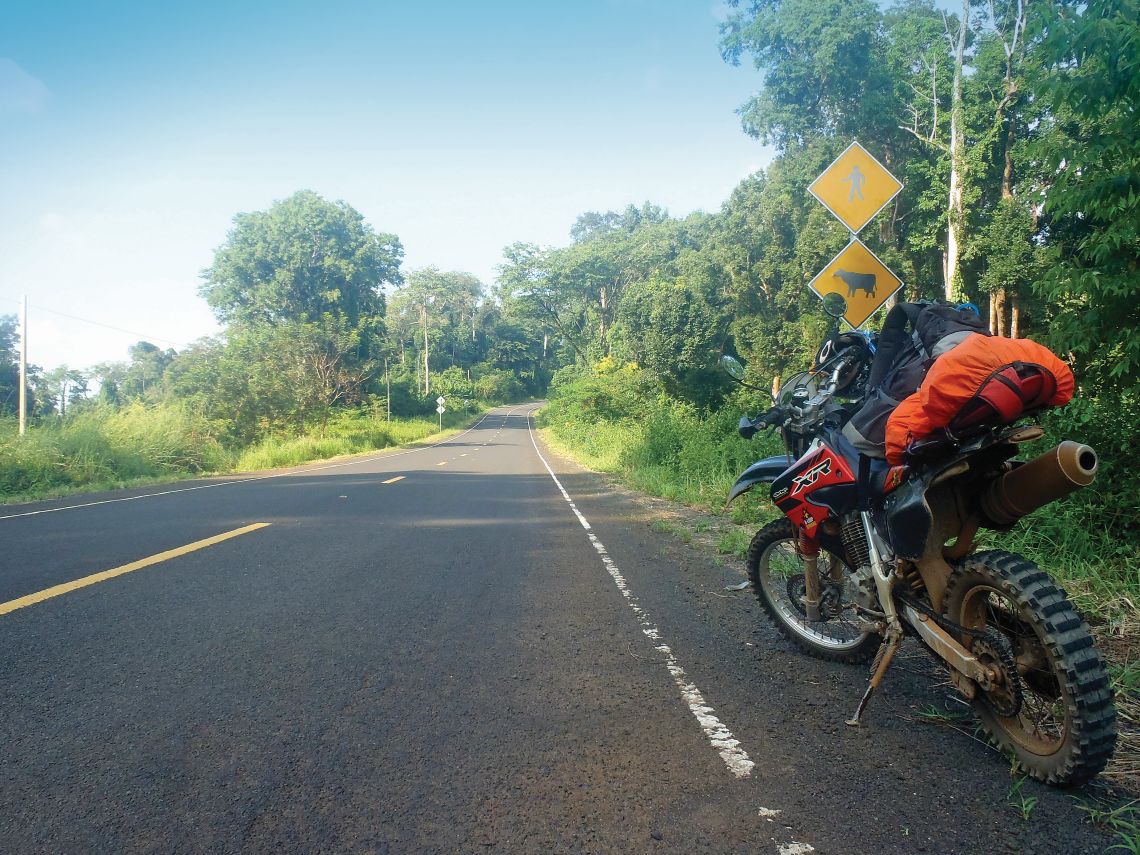 As we crossed the river, the landscape changed immediately. Not 10 minutes from the hustle and neon of the red-light district the city vanished, along with the tarmac, and we rode a track of a thousand potholes lined with small huts and waving children. For the first 12 miles, the terrain seemed to be more pothole than road. My standing stance on the bike was making my back hurt and after a few pointers from Chea to stand taller and further forward, the ride felt more comfortable.
For a smooth ride, the one important thing I remembered from my Salisbury Plain training day was not to look at the ground immediately in front of the bike, but to look ahead, to see what's coming. This buys you valuable time, stops you from micromanaging your front tyre, and making snap decisions, which is exhausting and inevitably leads to drama. Looking ahead is especially pertinent in provincial Cambodia.
Pigs jump out from the undergrowth, women throw washing up-water into your path without looking, dogs snap at your ankles, children rush out to wave and you'll often meet cows or water buffalo in your path, armed with horns that'll go straight through any body armour. Concentrating on the mass of potholes ahead of me, I was momentarily distracted by a waving child, and when I looked back at the path there was a chicken in the middle of it. I swerved and thought for a sickening moment I would go straight through the open front door of a nearby hut.
The chicken paid no attention. "If it's smaller than you, run it over," was farmer Owen's advice to the city boy and I steeled myself to be more merciless next time. Sure enough, a few hours later, another chicken stepped out, only this time followed by a line of chicks – so I swerved again. Given we were riding through local backyards at 30mph, it seemed unreasonable to also run down their livestock.
River riders
We cleared the urban sprawl and regional villages around Phnom Penh and tracked the majestic Mekong River north, heading for Kampong Cham. The Mekong River, one of the most famous stretches of water in the world, is over 2,500 miles long and flows from China through six countries to the Mekong Delta in Vietnam. Enjoying spectacular glimpses along its banks, we encountered our first sand.
Chea told us to keep our speed up, which initially seemed like madness as we set about tracking the Mekong's soft, deep sandy banks. For a while the bike was all over the place, handling the firmer terrain well, but as soon as we hit any deep sand, control vanished and the bike would slide and shift underneath me in a most disconcerting way. Standing and leaning forwards slightly, the front tyre became more controllable and there were fewer moments where the bike seemed to have a mind of its own.
After a while, I realised that when the tyres slipped in deeper sand, shifting the angle of the bike to compensate provided more control. It reminded me of snowboard turns in deep powder only noisier, scarier and without any hope of a soft landing. Owen, having confessed in advance a hatred of sand, met his demons head-on and fell off repeatedly, including once when he nearly hit a pig and high sided into a field.
After 70 miles of nerve-jangling but spectacular adventure, we joined the main road and rush hour leading into Kampong Cham town. The traffic was swarms of small 50cc motos, the transportation of choice in Cambodia, hauling everything imaginable – stacks of wood, live pigs and chickens, mounds of bamboo, 150 animal-shaped helium balloons, large panes of glass and whole families.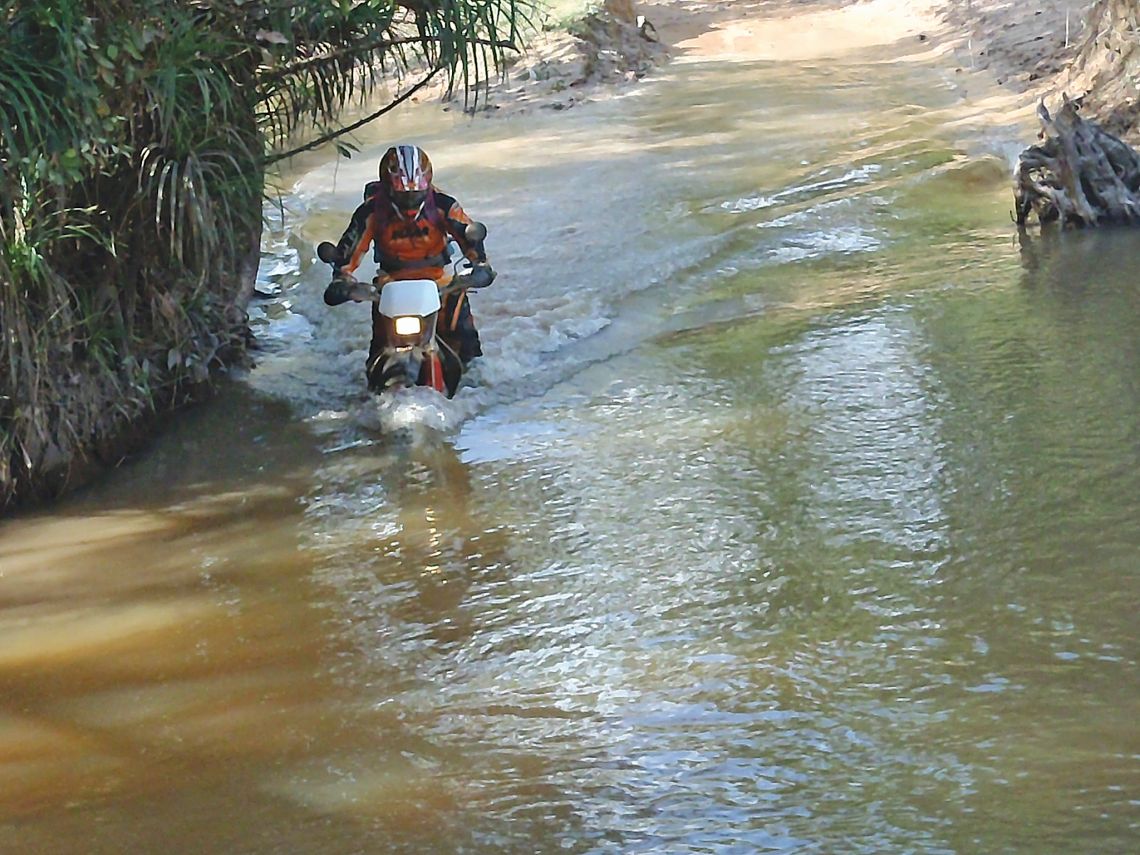 Enjoying the tarmac, we bobbed and weaved through it all and into Kampong Cham, eventually pulling into the Mekong Hotel perched on the side of the riverbank. Battered and bruised, aching and filthy, we sat next to the bikes sipping cold beers and watching the sun dip down over the river as our limbs slowly seized up. By 9 pm, we retired stiff and dog-tired to clean, simple guest rooms. Very early the following morning we set off for Kampong Thom, a significant 130 miles away.
We rode stiffly out of town and, as we had almost twice as much ground to cover than the previous day, Chea set a more serious pace. The first half of the day was spectacularly beautiful as we followed a winding sun-dappled trail through verdant fields of tobacco, maize, cashew trees, potato and rice paddies. The aches and pains slowly eased and we got back into our rhythm.
We would stop occasionally and rest at the side of the trail and, as the day got hotter, the cold water I'd put into my Camelbak that morning was like nectar. Everywhere we rode, throughout the entire trip, the growl of our approach brought children rushing out to greet us and wave. They seemed thrilled to see us if only briefly, their beaming smiles making us feel so welcome. We tooted our horns and waved back. I wished our helmets didn't hide our own matching grins.
As we got further away from Kampong Cham, our surroundings began to feel much more remote. A particularly romantic moment on our journey into rural Cambodia, which enhanced our feeling of intrepidness, was crossing the Mekong River on a small floating deck made only of reeds and bamboo. This unstable, primitive raft was affectionately referred to as 'the ferry' by our guide and provided just enough space for ourselves, three bikes and the ferryman.
The current was fast and the crossing about 50m wide and while it was never in doubt we'd make it to the other side, the sense of adventure was undeniable and home felt a long way away.
Hot stuff, sugar-lips
We stopped at a quiet family restaurant off a fast red track, an isolated wooden shack identifiable as a restaurant only by the Anchor beer sign and the bright orange cold-box out front. The children who had been staring wide-eyed on our arrival erupted into giggles when we took our helmets off, our faces muddy from a combination of sweat and red dirt.
Feeling humbled, we gratefully shed sweaty layers and relaxed in t-shirts in the shade enjoying a beautiful view with flat paddy fields stretching to the horizon and not a breath of wind. The family gathered in closer to watch us eat our noodles. Two kids picked up a piece of body armour, turning it over and looking at it quizzically, discussing intently the mystery of its purpose.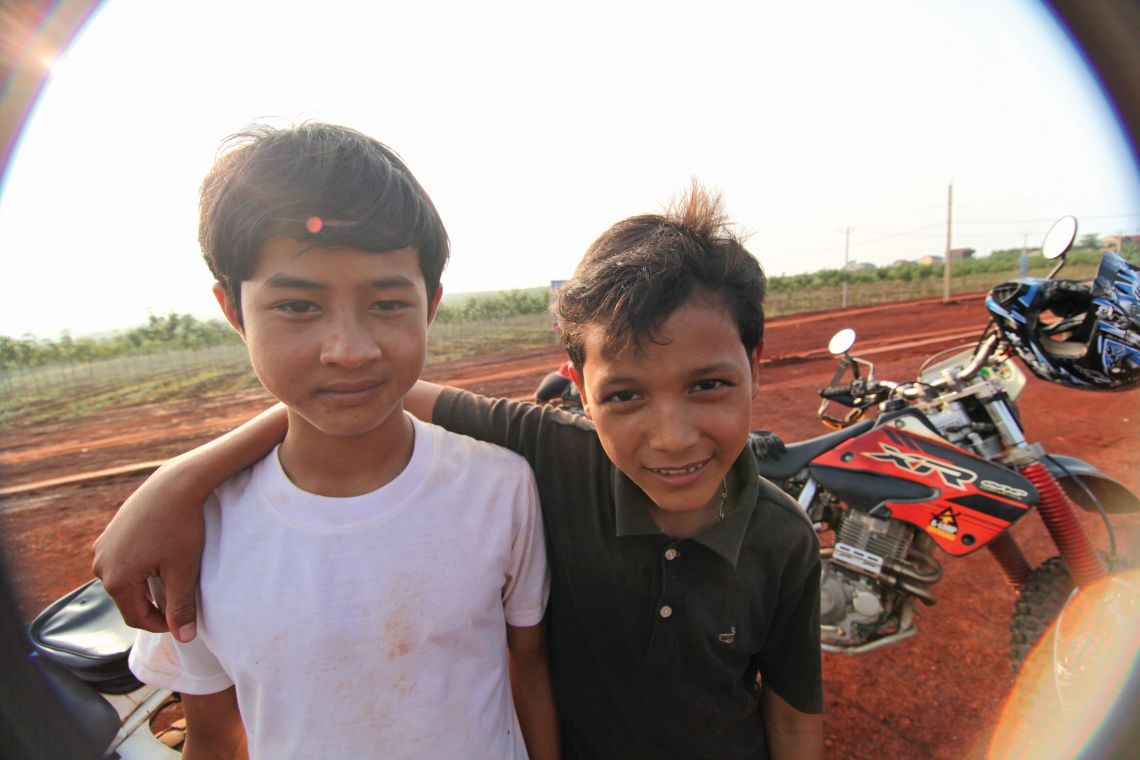 As the day progressed, so the heat intensified and satisfying a constant thirst became essential. Whenever we stopped at a local hamlet for a drink, cold water was usually what we craved, but the gold standard refreshment was ice-cold sugarcane juice. Served in an old-fashioned pint jug with a handle, filled with crushed ice, it was delicious.
I would normally avoid ice in Cambodia as it's not made with bottled water – the biking was challenging enough without adding a serious case of the squits to the mix. But whenever the sugarcane juice was available, we consumed greedily in silence, down in one, always running from the corners of our mouths.
The pace Chea set was relentless and we were making good time. As the sun got to its highest point in the sky the temperature soared to 40 degrees and I was thankful for faster sections where the wind would blow cool air through my motocross shirt. We rode through a black apocalyptic wasteland that had been heavily logged and burned and were eventually forced into a tight, twisting trail.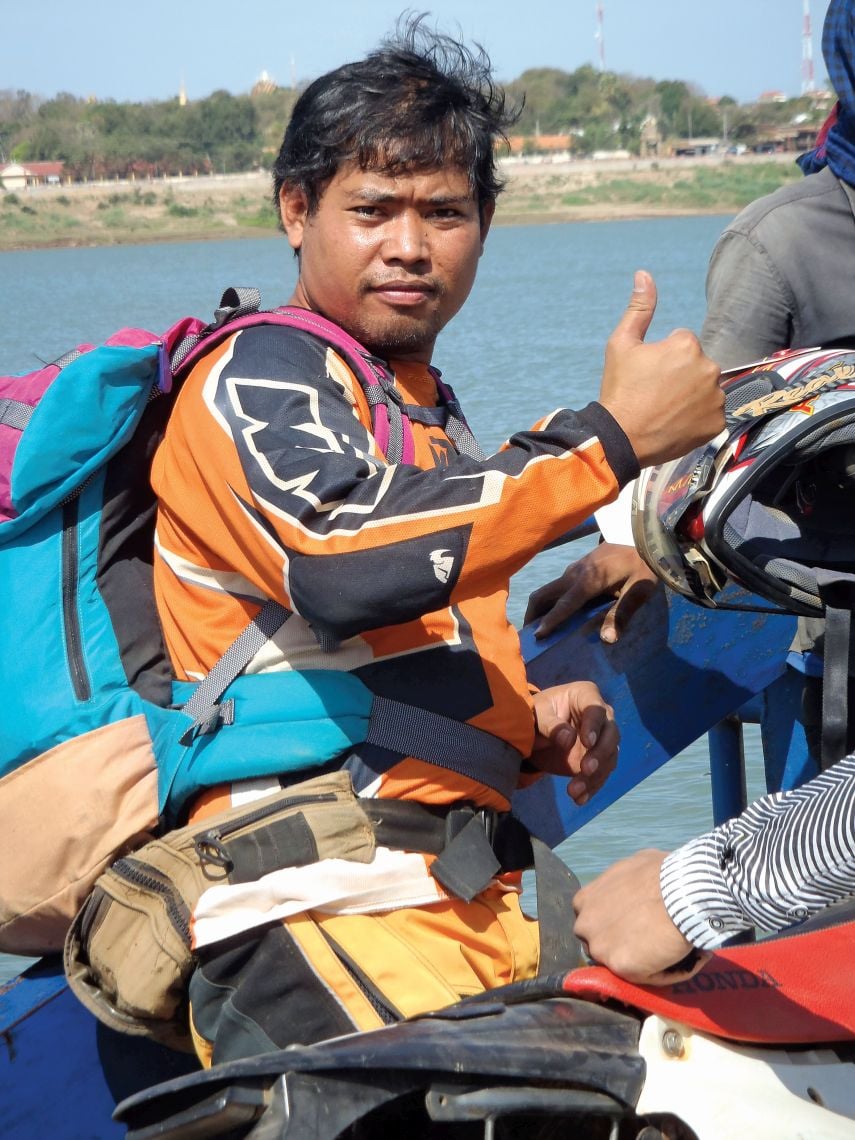 The riding got much more technical with narrow channels no more than a metre wide and timber debris hidden in deep sand. Thick jungle on either side with a dense canopy overhead provided shade but also meant the heat was intense. Everything quickly fell apart.
Pouring with sweat and wrestling through the endless twists and turns, it took an age to cover a few meagre miles. All this combined with the heat meant that the drinking water ran out and we were reminded how fast things can turn for the worse if you're unprepared. We stuck at it and when we finally found the main trail I was too tired to get down on my knees and kiss it. Nursing bruised egos, we rode towards Kampong Thom, quietly enjoying a blood-red sunset over the rice paddies.
Collapsing into The Village Hotel ('no weapons, grenades, prostitutes or drugs, please') and immediately making my cleanroom absolutely filthy, I discovered I'd lost all dexterity in my fingers. Fear and adrenaline had meant I'd been gripping the handlebars too tightly and it took me almost 10 minutes just to get my trousers off.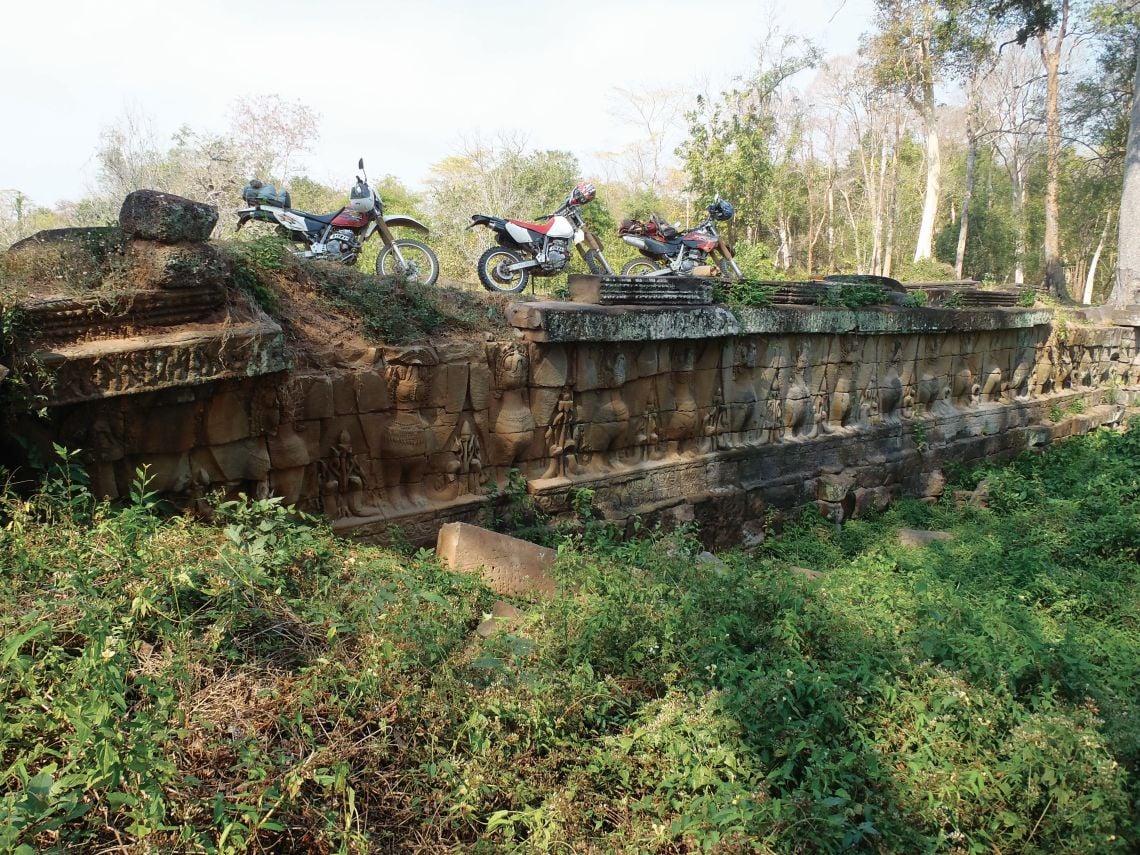 For the rest of the trip, the simplest of tasks – cleaning my teeth, doing up my helmet, using chopsticks or opening a bottle of water – was frustratingly awkward. Fingers aside, I'd felt a significant improvement in my riding ability from the previous day and I woke early, eager to get back in the saddle despite my body hurting like almost never before.
The objective was Koh Ker, another 150 miles away and a full day's riding, which showed how varied and beautiful Cambodia can be. Dusty moonscapes, elevated narrow paths between paddy fields, more savagely humid winding jungle trails, deforested barren woodland, narrow tracks flanked by 8ft-tall white ferns and long, fast red dirt roads that cut through dense lush jungle, straight as an arrow, as far as the eye could see.
On the temple trail
Scattered throughout Cambodia are spectacular and completely deserted temples, frequently only accessible by motorbike. These remarkable feats of engineering offer an experience very different from the tourist melee that is Angkor Wat. We stopped at The Temple of the Secret Sword, a 10th-century secluded ruin hidden deep in the jungle and which sounded like a venue for a Tin Tin adventure.
Stepping carefully through the decrepit but impressive archway, we climbed a stairway to the remains of four large temples to honour the Hindu gods, a prelude to the onset of Buddhism. With no conservation in effect, the temple was deserted and unkempt and aside from essential jungle clearance, it probably hadn't changed much in half a millennium. It was a treat to be there alone and to enjoy its magnificence and spiritual serenity.
Arriving at Koh Ker village just after dark, we stayed with a smiling pyjama-clad family. It's a colourful quirk of the country that working women wear brightly coloured pyjamas as uniform, always looking like they're ready to go to bed at a moment's notice. They cooked up large plates of delicious spicy barbeque pork and rice with chilli, one of the best meals stinky, dirty, hungry bikers could have asked for.
It's a just reward for sweat and hard work that good food and drink is so satisfying you willingly forget your manners and we feasted like Vikings, reminiscing with big grins and full mouths the events of the day. On the morning of our last day, we rode to Prasat Thom, the temple at Koh Ker, en route to our final destination of Siem Reap.

The area around the temple has only recently been cleared of landmines and so has few visitors. The site is an impressive pyramidal structure, built as a rival Angkorian capital in 928AD and should you be lucky enough to be allowed to climb to the top, the views are spectacular.
Having not seen any foreigners for days, there were a few tourists knocking about and I started to get that back-to-school feeling when the holidays are nearly over and it's only a matter of time before the fun is behind you. Between us and Siem Reap was a tricky 20-mile ride through the jungle. Travelling at our own pace, occasionally Owen would fall behind and Chea would stop and go back to check he was okay.
I'd be left on my own so I'd kill my engine, sit in the shade and enjoy the peace and quiet, reflecting on the absurdity of being a sweaty mess in the middle of a dense jungle in former Indochina waiting on the arrival of a Welsh sheep farmer.
As we rode into Siem Reap, I was already missing the remote provinces and mentally lining up my next bike trip. The adventure had exceeded all expectations and sitting on the main road outside our hotel, with floods of tourists passing in tuk-tuks from Angkor Wat, I knew our journey had been an inimitable experience.
Riding out of Phnom Penh, I'd been a relatively clueless learner but had since conquered many different riding techniques and terrains and was keen to expand my understanding further. A Khmer temple tour guide told us that there are three steps into any Hindu temple, representing hell, limbo and paradise. As we sat next to our bikes having enjoyed such an extraordinary time, I knew we'd climbed all three of those steps over the last 400-plus miles and the smiles we wore were testament to our state of grace and rapture.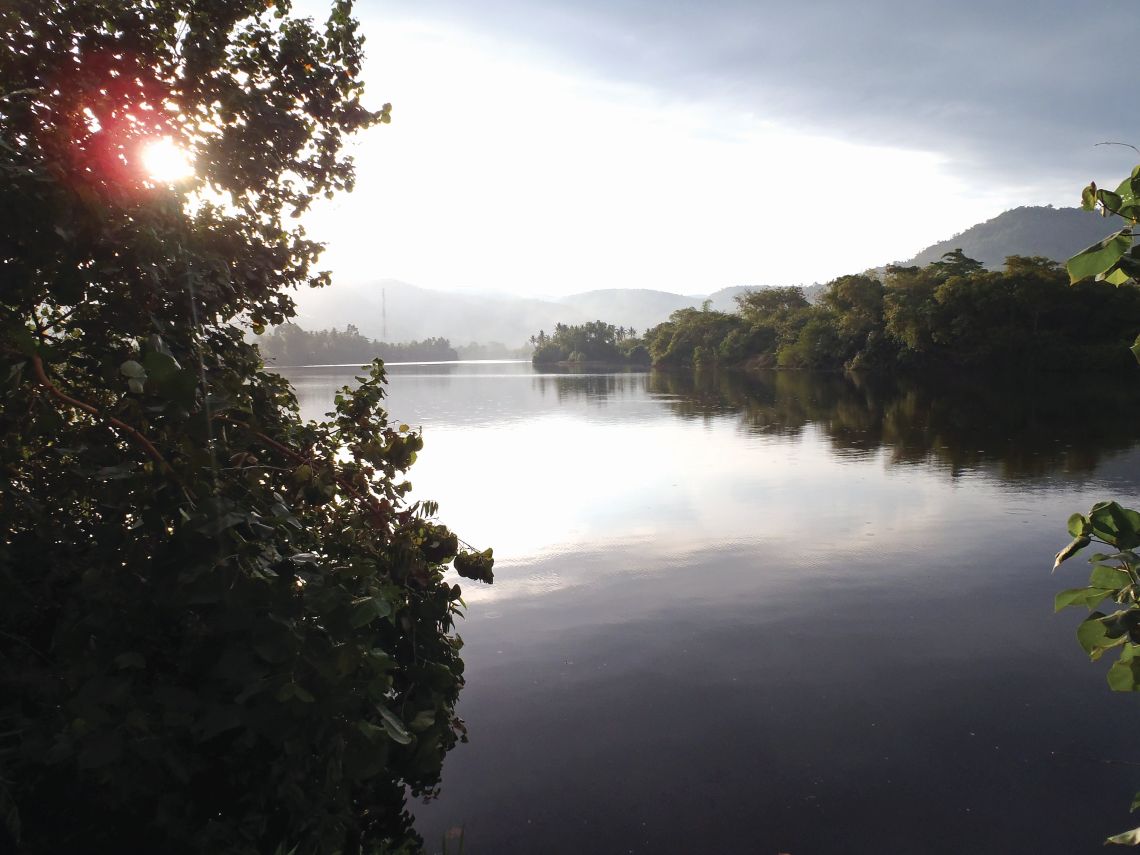 My Bike
A Honda XR 400 named Khmau, which means 'black' in Khmer. Hondas are everywhere in Cambodia and I bought it so that if anything went wrong with her she'd be easily fixable. A big bike, which most people couldn't even get on, she took everything I threw at her with such grace and power, and a Leo Vince exhaust made her bark as fierce as her bite. Selling her will be like a relationship break-up.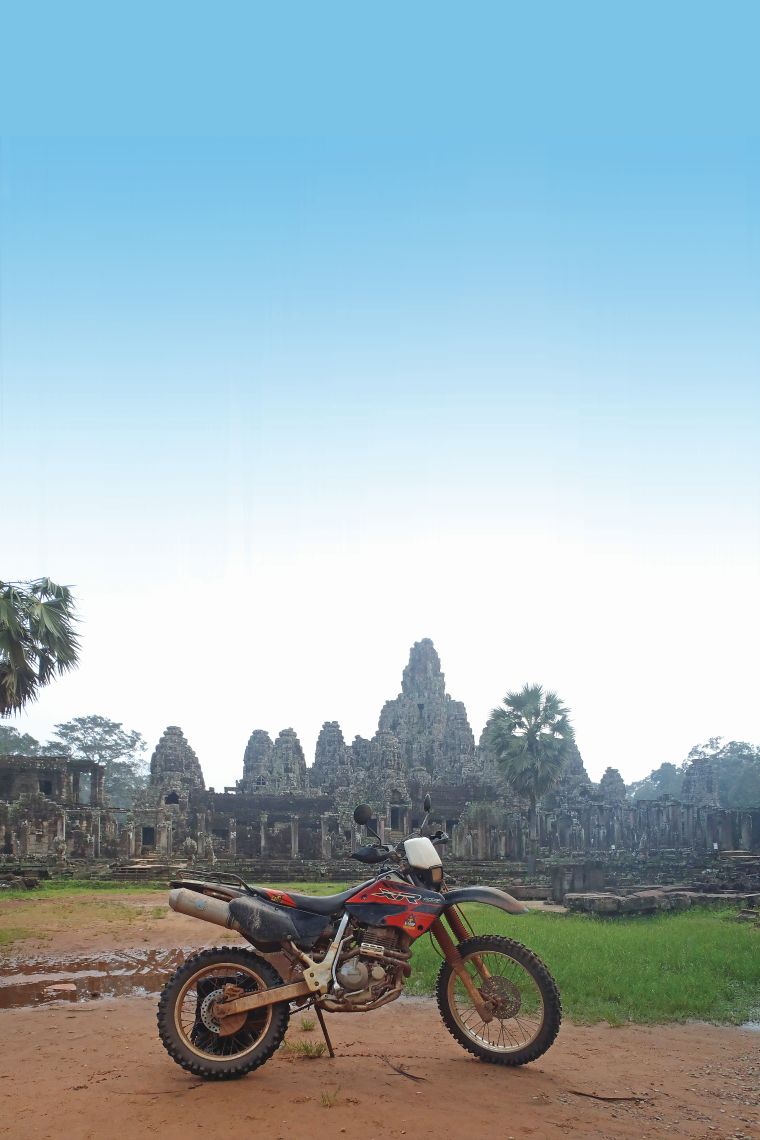 Jamie's Top-Five bits of Crucial Kit
Krama
A traditional scarf with endless daily uses still seen all over provincial Cambodia, made famous by the Khmer Rouge in the late 1970s. Wear it like a looter on the bike, to protect you from trail dust. Having a traditional local accessory among your super-modern biking paraphernalia also helps you look the part!
Body Armour
The trails are adventurous enough but occasionally you'll ride on main roads. These are fast, potholed and utterly lawless. Body armour could be the difference between 'Wow, that was a near thing' and having to cut your adventure short. Definitely take your own UK helmet as well.
Learn some Khmer
More so than anywhere else I've visited, making the smallest effort to learn basic words – hello; how much? thank you; delicious; beer; rice – was met with huge smiles of appreciation from the locals. Khmer is only spoken in Cambodia and the locals love it when you've made the effort to learn some of their language. It will also get you better prices in the markets and smiles from all the pretty girls.
A Big Bag of Sweets
Everywhere you stop, kids come to look at your bike and say hello. They're very shy and often extremely poor, but giving them money doesn't help as it usually goes to someone else. A big bag of boiled sweets goes a long way, though, and it's nice to give everyone something.
Your wits
Cambodia is one of the most welcoming, places where living is cheap and the people giving. Corruption is endemic, though, and trouble best avoided, as it won't end well for you. Be humble with your money, aware of your environment, respectful of the people and their laws and recognise that life is sometimes very cheap and fragile. You'll naturally attract attention on dirt bikes, so don't put yourself in situations you can't control and always listen to your Khmer guide.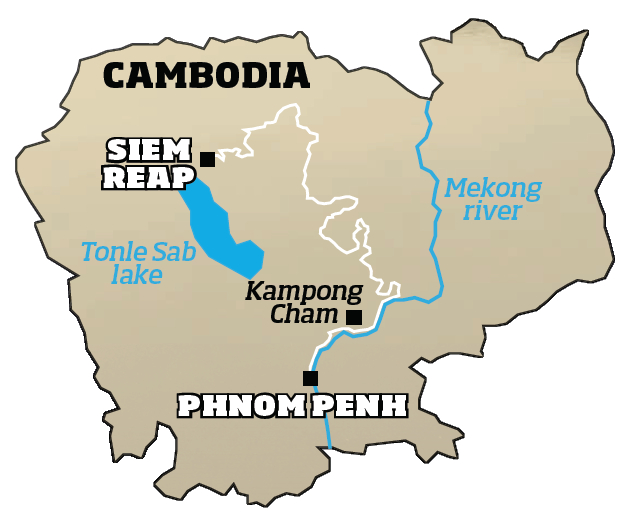 Want to do this?
How long does it take?
Jamie rode from Phnom Penh to Siem Reap virtually all off-road via Kampong Cham, Kampong Thom and Koh Ker. The trip covered about 430 miles and took four days; he then rode just over 200 miles from Siem Reap back to Phnom Penh on Highway 1 in one day.
When to go?
Anytime is good for riding in Cambodia but if you don't like mud then don't go during wet season, from about August to October. Even after the rains finish, it takes a while for water levels to subside and river crossings to become passable. Some areas such as the Cardamom Mountains remain hard to access even as late as November.
Fly or hire?
Definitely hire. Dancing Roads (www.dancingroads.com) offers reliable and well-maintained Honda XRs and the occasional bigger bike as does Red Raid in Boeng Keng Kang (www.motorcycletourscambodia.com). It's advisable to rent from a bike shop with Western management as mechanical and customer service standards tend to be higher. A new KTM store opened in central Phnom Penh at the end of 2012, so expect an influx of KTMs into the country.
Get there:
Flights to Bangkok are available from most UK airlines for around £450; you'll then need to make a connecting flight to Phnom Penh with Cathay Pacific or Thai Airways. A cheaper connecting flight is available with Air Asia, although there is only one flight a day.
Accommodation:
Guesthouses are clean, simple, abundant and rarely more than $15 (£9) a night; $20 (£13) with a/c. In Kampong Cham, Jamie stayed at the Mekong Hotel on Riverside Street (+855 94 15 36); in Kampong Thom he stayed in the Kampong Thom Village Hotel (+855 92 83 09 80) but if you want something flashier, try the Sambor Village Hotel (www.samborvillage.com).
Paperwork for you:
You won't need a registration card for the bike as long as you don't cross any borders. Bring your bike licence, but it won't mean anything as no one has a licence in Cambodia. If you're stopped by the police or a soldier, you'll have to pay a bribe. Corruption is not only rife but a way of life in Cambodia and bribing officials isn't an unpleasant experience, it's just the way it is. Don't be afraid to haggle.
Is it for you?
Cambodia has everything from easy going rides around temples through lovely provinces to the coast, to utterly terrifying adventures. Tour operators will tailor a trip to suit your riding ability, so be honest with them and don't pretend to be a better rider than you are. One crucial thing to bear in mind is there are no decent hospitals anywhere in Cambodia. Injuring yourself badly means an airlift to Bangkok.
Photos: Jamie Dingle