BRIGHT IDEAS
Bryn Davies is using his noggin this issue, to test the best and brightest head torches around
Unless you're touring above the Arctic Circle in summer, or Antarctica in our winter, you're going to be camping in the dark. If your tent's only at half-mast when the sun decides do one, it's time to get your torch out for the lads. Normal, handheld torches will do a job of sorts, but if you're looking for convenient, hassle and hand free lighting, then a head torch is the way to go.
First developed for use by Alpine mountaineers, head torches allow you the full use of your hands. Their development was significant for the climbing communities as it allowed climbers to have their hands free for rope work or clinging to rocks while the torch strapped to their heads illuminated the way. In a similar mould, head torches are equally, if not more important, for ABRs. They allow you to go for a hands-free slash in the night, and there's nothing better for allowing you to locate the emergency beer reserves once the camp fire's died.
Of course, you could prop a handheld torch on a rock, or even shove one in your gob, but the feeling of gagging on a metal rod isn't too appealing to me and a propped-up torch won't be as convenient as one that'll follow your line of sight.
So, it's safe to say that if you're after hassle-free lighting it's a good idea to take a head torch with you. There are a few things you should consider when you're buying a head torch though as, like your other camping kit, if it's not up to the job you're going to struggle (can you imagine trying to drink a beer in the pitch dark!?).
What torch?
Firstly, if you're after a long-lasting bulb and battery life (who isn't?) look no further than LED (light emitting diode) models. All of the torches included in this review are LED models and these, unlike your standard incandescent bulbs (tungsten, halogen, krypton, xenon etc), are tough, resilient and a lot more economic as they don't use as much energy to give out their light. LEDs typically give o­ff a bright, white, natural light that'll food your immediate surroundings, and many people consider this to be more useful when camping as you can see all around you.
It's also worth considering how easy your head torch is to use and operate. If you're camping in colder weather (think Elephant Rally and Dragon Rally) you'll want one that's easily operable when wearing gloves. This means be on the lookout for small, fiddly controls that could become a nuisance for gloved-up hands. In this respect head torches that are turned on and operated by twisting the bulb o­ffer an advantage. Despite this, a lot of models are operated through buttons and if you go for one of these it's ideal if they're recessed into the torch's casing. Recessed buttons will help prevent accidental turn-ons (Oi-oi!) in your panniers. Can you imagine riding all day, getting to your tent and not having any light for you to read the latest issue of Adventure Bike Rider? I couldn't. Recessed controls also help prevent damage to the button.
You'll find that most head torches will be adjustable when it comes to light settings, o­ffering di­fferent lighting modes such as high, medium, low, and flash. This is useful as di­fferent activities will be more comfortable at di­fferent light settings, for example, I'd use a bright setting for pitching the tent and a low setting for reading or playing cards.
As well as ease of operation, another desirable feature of a head torch is a tilting head. With these you can adjust the positioning of the light and direct the beam to where you want it. It's also handy if you're camping with others; if your light's pointing down you're not going to blind them every time you speak to them! Finally, before you buy a head torch it's a good idea to try it on. Adjustable and comfortable straps that don't dig into your head and padding around the torch all help make your head torch-wearing experience a happy one.
Torch Jargon:
Lumens
Most torch manufacturers will give the brightness of their lights in lumens, but what the hell is a lumen, and why should you care? Put simply a lumen is a measure of the power that a light gives out. A light with 100 lumens will be brighter than a light with 20 lumens, for example. The general rule with lumens, however, is that a light should have twice as many lumens for it to appear noticeably brighter. There will be a visible difference between a 20-lumen and a 100-lumen light, but if we were to compare an 80-lumen and a 100-lumen torch the human eye wouldn't register the difference, even though technically there is one.
"Our eyes have a natural night-vision mode which is immediately undone once exposed to bright light. Red light doesn't a­ffect the eyes."
Put on the red light! When you're checking out all the di­fferent head torches on o­ffer you'll notice that some have a setting with a red light. 'Why on earth would I want one of those?!' I hear you ask. Well, you know when it's all dark outside and you wander on out for a wee? It takes a couple of minutes for your eyes to adjust to the darkness, right? Our eyes have a natural night-vision mode which is immediately undone once exposed to bright light; when you turn the torch off­ again you'll find yourself unable to see until your eyes readjust. Red light doesn't interfere with the eyes' natural night vision. It'll still light up the night, but it won't dazzle you once you turn off­ the head torch and clamber back into your sleeping bag. Clever, eh?
EASY CAMP MICRO 5 LED HEADLAMP
£4.99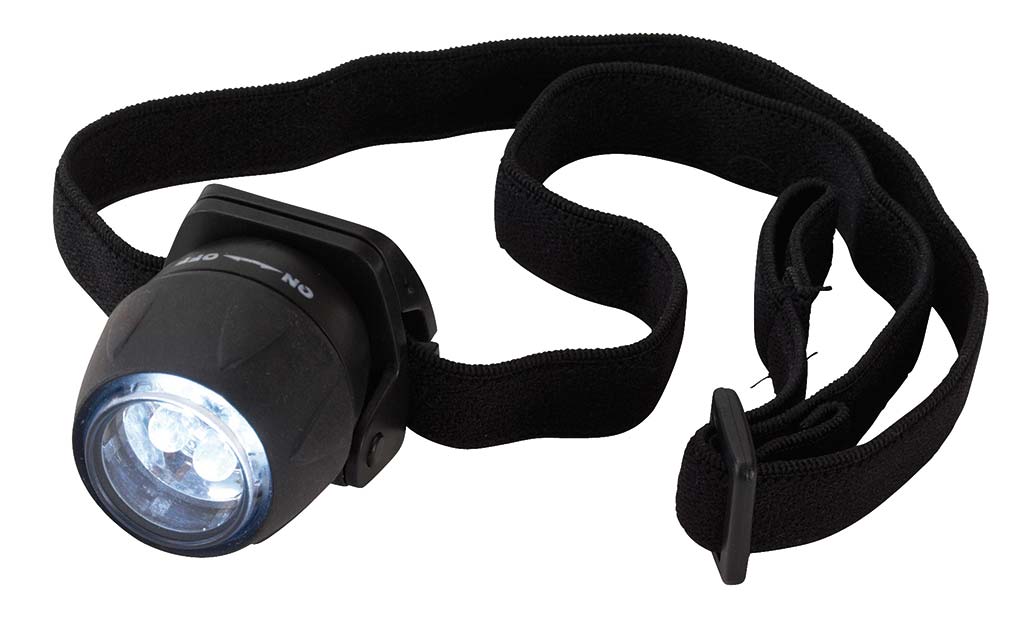 If you're looking for a bargain head torch then the Easy Camp Micro 5 LED is a pretty attractive option. With a sub-£5 price tag and five LEDs included, surely you can't go wrong?
Like most head torches the Micro 5 is detachable from the headband. Where this one differs is in the inclusion of a clip so you can attach the torch to other things. In use it's comfortable to wear and the head is tilt adjustable so you can position the beam where you need it most.
Brightness, when compared to the next cheapest torch in this test, is pretty poor and there's only one light setting. The packaging states an operating time of just two hours and that's near useless if you're going camping. Couple that with the fact that the torch runs on CR2032 batteries (the flat ones that are annoyingly hard to find when you need them) and you could be in a spot of trouble if you find yourself in a remote location for more than a night.
Let's not forget though that this torch is only £4.99 and it'd be unfair to expect a light as bright as the sun and one that'll last just as long. Despite the price tag, we wouldn't recommend using this as a camping head torch due mainly to the battery life, but for an emergency light to keep on the bike it's worth considering.
In a line: Don't expect miracles from this, but then again it's only a fiver
Battery life: …………………….2
Ease of operation: ……………9
Comfort: …………………………6
Brightness: ……………………..4
Overall: …………………………..4
ABR RATING 4 out of 10 RATING
GELERT 8+2 LED HEAD LIGHT
£10.50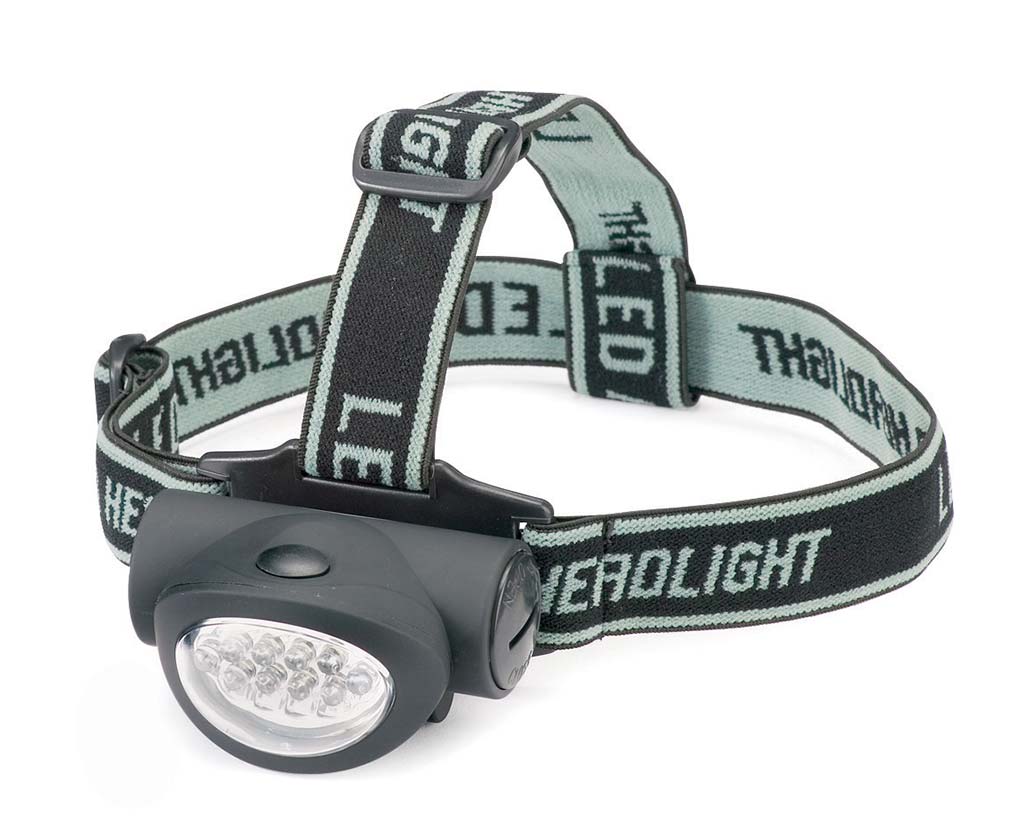 The 8+2 LED Head Light is Gelert's entry into this group test and it features eight white LEDs along with two red ones and offers users an average operating time of 60 hours – now, that's more like it!
Comfort-wise the Gelert 8+2 performs well. It may be a bit chunky for a head torch, but it sits nicely on the head with an additional band coming over the top of your bonce (as well as the usual two coming around the head, of course). At 60 hours, the Gelert 8+2 is pretty good for such a budget option and given that it runs off the widely available AAA batteries, it's not such a disaster if you run out while on the road.
Compared with the other, more expensive torches in this test, the Gelert 8+2 doesn't give off a very bright light. That said, it's still bright enough so you can put up a tent in the dark. There are three settings which allow you to adjust the brightness to suit whatever it is you're doing. A feature that some people may find more useful than others is the inclusion of two red LEDs.
All in all the Gelert 8+2 has everything you'd need from a head torch for camping or keeping in the panniers for an emergency – and at a tenner it's not going to break the bank or make you too sad if something unfortunate happens to it. Some may find it to be a bit large on the head and it could do with being a bit brighter too, but if you're not bothered about looks or landing aircraft then is one to consider.
In a line: It's bulky when worn but good value for money
Battery life: …………………….6
Ease of operation: ……………9
Comfort: …………………………8
Brightness: ……………………..6
Overall: …………………………..7
ABR RATING 7 out of 10
OUTWELL VELA HEADLAMP
£12.50
You can usually rely on Outwell to offer a great selection of affordable camping equipment, and this is certainly the case with the Vela at just £12.50. The torch seems to be modelled around the design of the more expensive Petzl Tikka 2, offering exactly the same functions and a very similar casing.
The Outwell features an almost identical, three-way headband to the Gelert 8+2 , only it's a little bit thinner. This doesn't cause any problems and the head torch is comfortable to wear.
Comfort and good looks aren't everything though. Getting the battery door off is a bit of a hassle as the two locking points are small and hard to press. Despite the torch's 70-lumen output, the brightness is a little bit disappointing, being similar to that of the Gelert 8+2.
On the plus side the Vela does offer various light settings, so if you have the need to lower the intensity or stick it on flashing, you can. The battery life of the Outwell Vela is stated as only seven hours and while it's not an exact science, that's still not an operating time we'd like to rely upon while out in the back end of beyond..
In a line: It's comfortable to wear but lacks in battery life and brightness
Battery life: …………………….4
Ease of operation: ……………8
Comfort: …………………………8
Brightness: ……………………. 6
Overall: …………………………. 6
ABR RATING 6 out of 10
COLEMAN AXIS
£14.99
The Axis head torch is a budget entry from camping equipment manufacturers Coleman. It features an adjustable head that's easy to manoeuvre and the three light modes (high, medium and low) are operated by turning a knob on the side of the torch. In use it's straightforward enough, but a bit fiddly.
The battery life on the Coleman Axis is stated as 11 hours on its highest setting (which is very bright for a torch of this price) and 55 hours on its lowest. Compared to the lights at the higher end of the price range on this test, that's not too great, so if you're planning on using the Axis on long trips, make sure you take some spare batteries with you.
In use the head torch is comfortable to wear and despite the low price, the Coleman Axis feels pretty strong and sturdy in the hand; I wouldn't want to run over it on my bike mind, but it'll survive a few knocks and bumps.
For a £14.99 head torch I'm struggling to find any reasons why you shouldn't buy one of these. It's comfortable to wear, the battery life perhaps isn't as long as some would like but it's still sufficient for a long weekend and more. Perhaps the one area that could do with a rethink is the operating knob as it's not especially glove friendly.
In a line: A reasonable battery life, very bright light and a great price; an excellent budget option
Battery life: …………………….7
Ease of operation: ……………7
Comfort: …………………………8
Brightness: ……………………..8
Overall: …………………………..8
ABR RATING 8 out of 10
VANGO 1W LED HEADTORCH
£14.99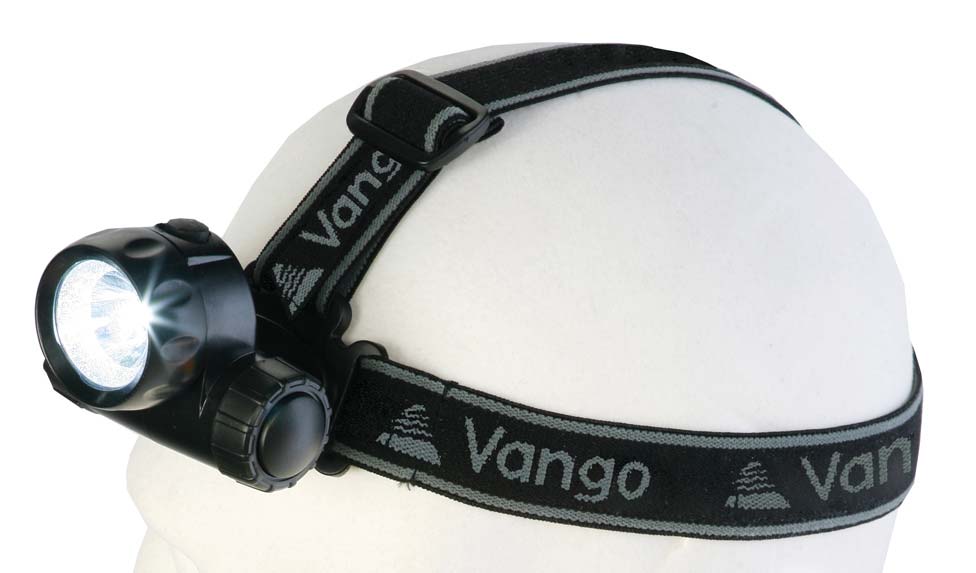 Vango has been making camping and hiking kit since 1963 and its portfolio has gear to suit all types of outdoor enthusiasts, from family campers to D of E trekkers to high-altitude mountaineers. The Vango 1w LED Headtorch is the company's entry into this test, and it's aimed at the family and casual camping market.
The 1w is a fairly cheap-looking piece of kit. The torch casing is made using a shiny plastic and the foam pad that should be in contact with the head to provide comfort feels like chewing gum in the way that it's so easy to manipulate and misshape – it may as well not be there.
The three-way adjustable headband is very similar to those found on the Gelert 8+2 and the Outwell Vela. It's comfortable to wear and gives the torch a feeling of security when on your head; it's not going to slide down your face, in other words.
As for brightness, the Vango is great for its price. The single LED offers a maximum output of 50 lumens, which rivals the Lifesystems Intensity 80 for brightness. Operation is simple with one large, glove-friendly button.
If you don't care about the looks of your gear and you're after a bargain bright head torch then consider the Vango 1w.
In a line: It's cheap and it looks it but it's bright and comfortable to wear
ABR RATING 7 out of 10
Battery life: ……………………5
Ease of operation: ……………8
Comfort: …………………………8
Brightness: ……………………..7
Overall: ………………………….7
ENERGIZER PRO 4 LED HEADLIGHT
£15.54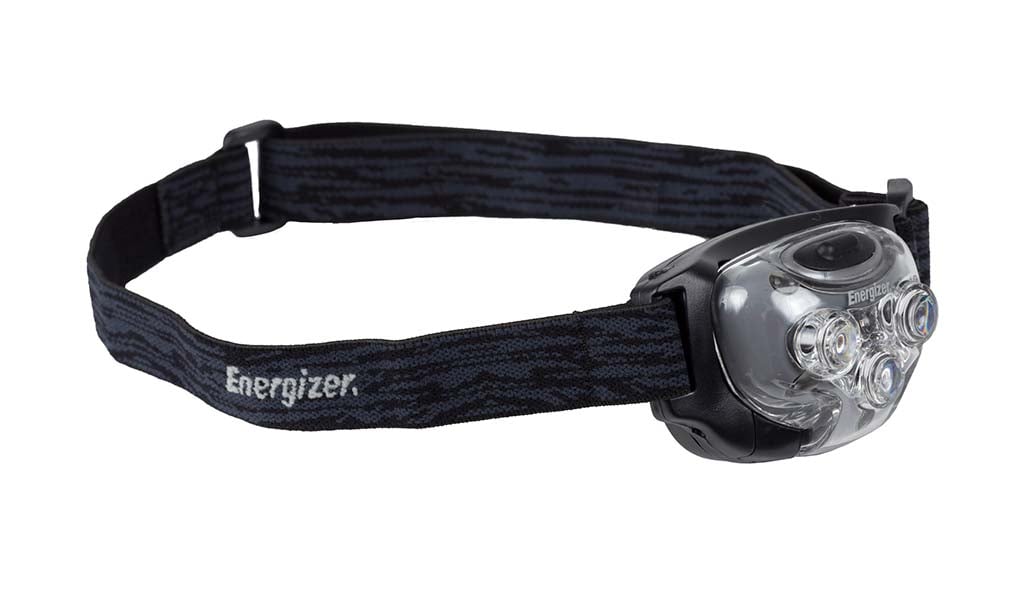 The Energizer Pro Headlight is being offered to this review from the outdoor retailer Millets. It features four LEDs; one red night-vision one and three normal white ones. Energizer seems to be confident of the build quality of its head torch, so much so that the packaging states that this model will last 15 years. A good start.
The Pro 4 LED only offers two settings: 'on' and 'night-vision'. The night-vision mode comes before the normal torch mode which is good as it means you won't be dazzled if you only want to use the red night- vision LED.
The head of the torch is tilt adjustable but could do with tightening up as it'll flop down if you jerk your head suddenly. Despite the presence of a fairly sizable chunk of foam padding behind the casing of the torch, the Energizer Pro isn't the most comfortable head torch to wear, and it feels hard and heavy against the forehead and this isn't helped by the fact that it only has one head strap.
The white LED operates at 28 lumens, by no means the brightest torch on test, but I'd still be happy to use it while setting up camp. Operating times given are 21 hours on the white LED setting and 38 hours on red night-vision setting. Given the fact that the white LEDs are probably going to see a lot more use than the red ones, we would have liked a longer battery life than that.
In a line: Reasonable value, but it's uncomfortable to wear and it's not got a great battery life.
ABR RATING 6 out of 10
Battery life: …………………….6
Ease of operation: ……………9
Comfort: …………………………6
Brightness: ……………………..6
Overall: …………………………..6
LIFESYSTEMS INTENSITY 80 LED HEAD TORCH
£24.99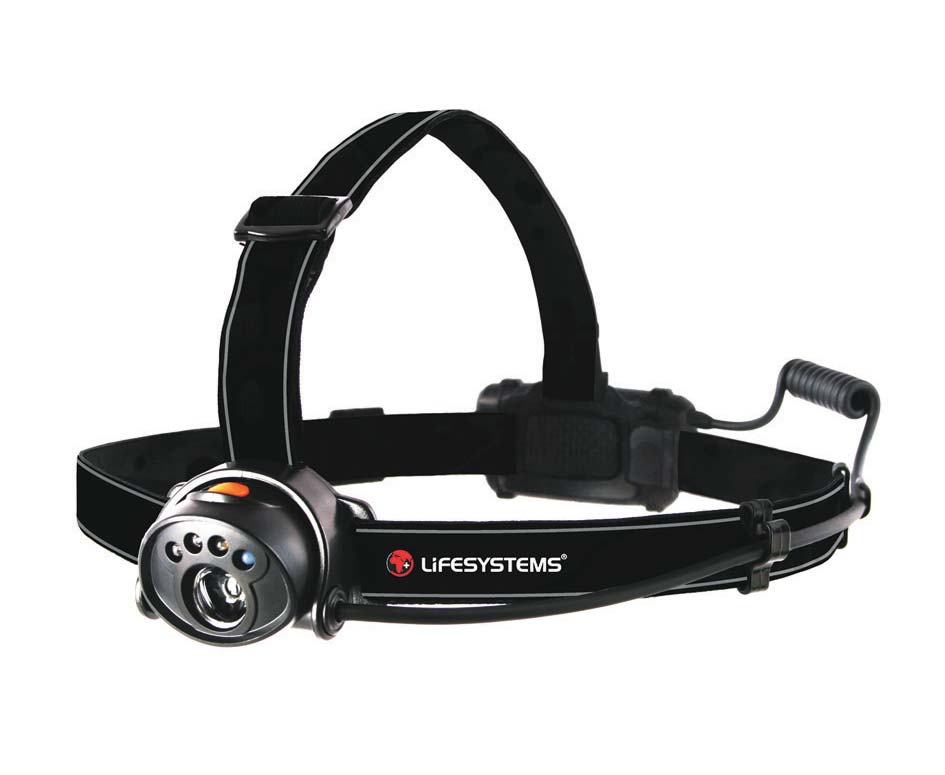 The Lifesystems Intensity 80 LED Head Torch is going to be particularly interesting for all the tech-heads out there as it features a hands-free operation. That's right! You can turn the torch on/off by waving your hand in front of an LED sensor, something that's very useful if your hands are dirty or gloved up.
The hands-free operation can be turned off if you want to just use the old fashioned 'button' method or if you're storing it in a pannier and you don't want it to turn on accidentally.
Initially the head torch may seem a bit complicated to use. The head strap isn't the easiest to adjust and the batteries aren't the simplest to insert, but once you've got all this sorted the head torch is brilliant; comfortable to wear and easy to operate.
The single LED offers a very bright light with a maximum output of 80 lumens. If you're going to be operating the torch on the highest, brightness setting (there are three: high, medium and flashing) beware that the battery life is a pretty poor eight hours (on the lower brightness setting you'll get 50 hours, though).
As well as the bright front light you also get a red LED back light that you can turn on/off independently from the main front bulb. This is really handy if you're doing some night-time roadside maintenance, making you easy to spot from both front and rear back light that you can turn on/off independently from the
In a line: A great price for a very bright and useful torch with a brill hands-free operation
ABR RATING 8 out of 10
Battery life: …………………….5
Ease of operation: ……………8
Comfort: …………………………9
Brightness: ……………………..8
Overall: …………………………..8
SILVA OTUS
£34.99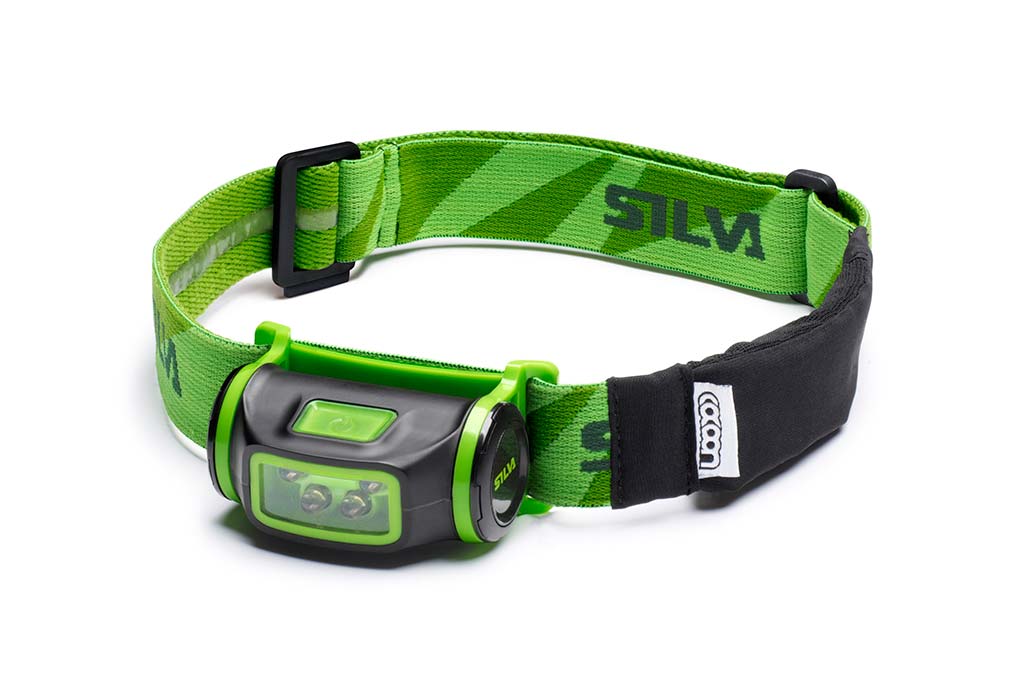 Silva has been making head torches since the 1930s and their entry into this test is the Otus, a compact head torch for outdoor use. It's waterproof up to 1m, so it can take some rain, and it features an integral 'Cocoon' storage pouch to help keep it safe when you're not using it.
In use the Cocoon storage can be a bit fiddly to get just right, but it does bundle the torch up into a tiny little package that can be smuggled almost forgotten in a pannier or even a pocket.
There are four LEDs that run on three AAA batteries and give you four different lighting modes: flashing, high, medium and low. Operating the headlamp is easy with only one button to concern yourself with and it's recessed into the casing to help prevent accidental turn-ons. Operating time is 90 hours at its lowest setting, giving you plenty of use out of a single set of batteries.
The torch is comfortable to wear and the head band has a grippy rubber strip running through the middle of it. This helps keep the torch in place when it's on your head and, if the need ever arises, you can wear it over the top of your helmet and it'll stay in place
The Silva Otus may be a bit more expensive than the likes of the Outwell Vela and the Gelert 8+2 but it offers a superior battery life and a brighter light.
In a line: It does what it should do and it does it well
ABR RATING 8 out of 10
Battery life: …………………….8
Ease of operation: ……………8
Comfort: …………………………8
Brightness: ……………………..7
Overall: …………………………..8
PETZL TIKKA 2
£35

In the same way that no adventure bike review would be complete without the inclusion of a BMW GS, no head torch review should be without a Petzl. I've used a Petzl Tikka for a few years now, but most recently while I was hiking the West Highland Way in February and I wouldn't have been without it.
The Tikka is a no-fuss, no-nonsense head torch with three light settings: medium, high and flashing. The battery life given for the lowest brightness (which is still pretty bright) is a whopping 120 hours, which gives the Petzl the title of 'best battery life on test'.
It's small and comfortable to wear on the head and the adjustable positioning of the lamp is solid – it'll only move if you want it too. Light is provided through four LEDs and, rather than the beam focusing over a long distance, it floods your immediate surroundings. You won't be able to see too far but if you're setting up camp you won't need to.
If you're looking for a high-quality, efficient torch then the Petzl Tikka is definitely one to consider. Compare this to some of the other torches on test here and you could save yourself a fortune in the long run just on batteries.
In a line: If you've got the money, buy one now
ABR RATING 9 out of 10
Battery life: …………………….9
Ease of operation: ……………9
Comfort: …………………………8
Brightness: ……………………..8
Overall: …………………………..9
MAMMUT LUCIDO TR1
£35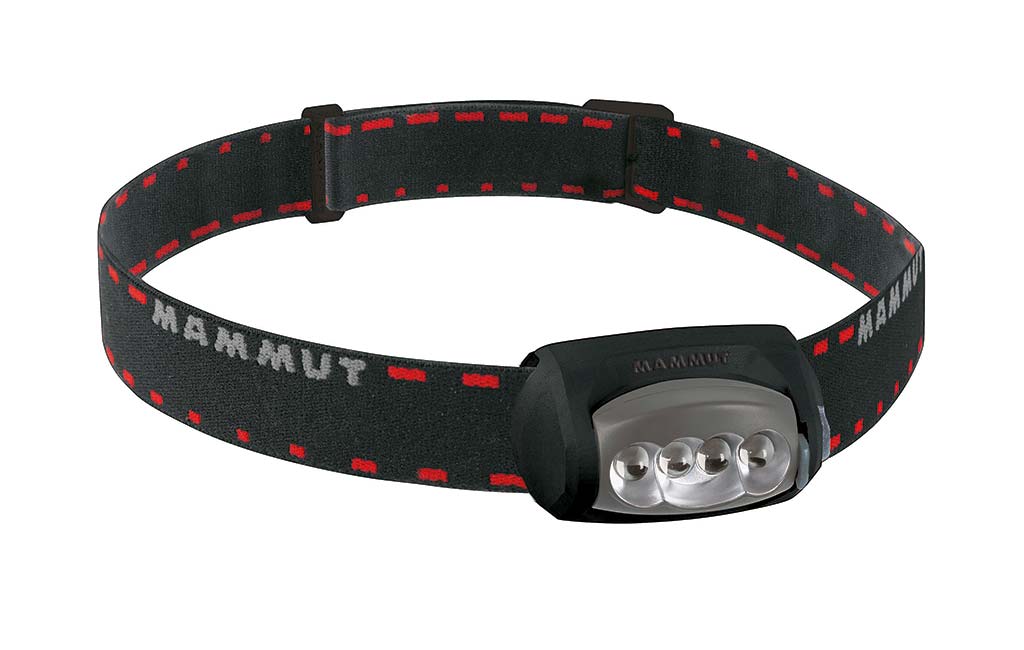 The Mammut Lucido TR1 has been designed with lightweight mountaineering in mind but a head torch in a campsite in Wales is just as useful as one on the north face of the Eiger.
The Lucido (deceptively fancy name) is a pretty basic head torch in terms of additional features and functions. It has a simple adjustable head strap, a single on/off button that also allows you to switch between the two light settings (high and low) and the head is tilt adjustable.
The on/off button protrudes quite a bit from the casing of the Lucido and this could make it prone to accidental turn-ons. Mammut has, however, included a locking device which allows you to lock the button so this can't happen – clever, eh?
The torch operates at 50 lumens on its highest setting and will give you an operating time of 25 hours, but despite the torch's 50 lumens it's not particularly bright. On the plus side the Lucido focuses its light over a longer distance, so you can up to 20 meters, according to Mammut.
If you use the Lucido on its lowest setting (which is still bright enough for beer drinking and tent pitching) you'll get a decent 60 hours operating time from it. It runs on AAA batteries as well, so if you find yourself running low on juice spares should be easy to get hold of.
In a line: No-nonsense no-frills head torch that does the job
ABR RATING 8 out of 10
Battery life: …………………….8
Ease of operation: ……………9
Comfort: …………………………8
Brightness: ……………………..7
Overall: …………………………..8