Do you yearn to earn a living from the seat of a motorcycle? Record-breaking RTW legend and founder-director of GlobeBusters Motorcycle Expeditions Kevin Sanders has the best job in the world ever, we reckon. And what's worse is he's a really nice bloke…
When it comes to exploration by motorcycle, few RTW bikers have the privilege of making two-wheeled globe-trotting their 9-5 job. But for record-breaking long-distance rider Kevin Sanders, both business and pleasure are firmly rooted in the saddle. From training bikers at BMW's rider school to dropping Ewan and Charley a few tips and leading bike expeditions the world over, Kevin's day job is anything but ordinary.
As determined a rider as he is disciplined, Sanders holds two global Guinness motorcycle endurance records with wife Julia – fastest RTW trip and fastest crossing of the Trans Americas route – and right now he's engaged in another world first, Discover Our Earth, a guided RTW trip launched by his tour company Globe-Busters in November 2010. As we catch up with Sanders mid-ride in sunny Nasca, Peru, it's clear that despite his global biking business success it's still the love of travel by motorcycle which makes getting up for work each morning a joy.
"I was interested in motorcycles from an early age, but like most youngsters, my parents weren't too keen on me getting a bike," laughs Sanders, 46, "so I waited until they went on holiday and then got it!" He recalls with great affection the machine which first sparked his biking passion, a Honda CB125, defiantly bought in secret from a shop on Tottenham High Street in 1981. Sanders' intention was to use the Honda as a way to beat the east end commute, but the bike bug bit hard and it wasn't long before he took on his first motorcycling job riding dispatch in London. "The best thing about dispatch riding was that the faster you rode the more money you'd earn," he says. "Of course the faster you rode the more you fell off, too!'"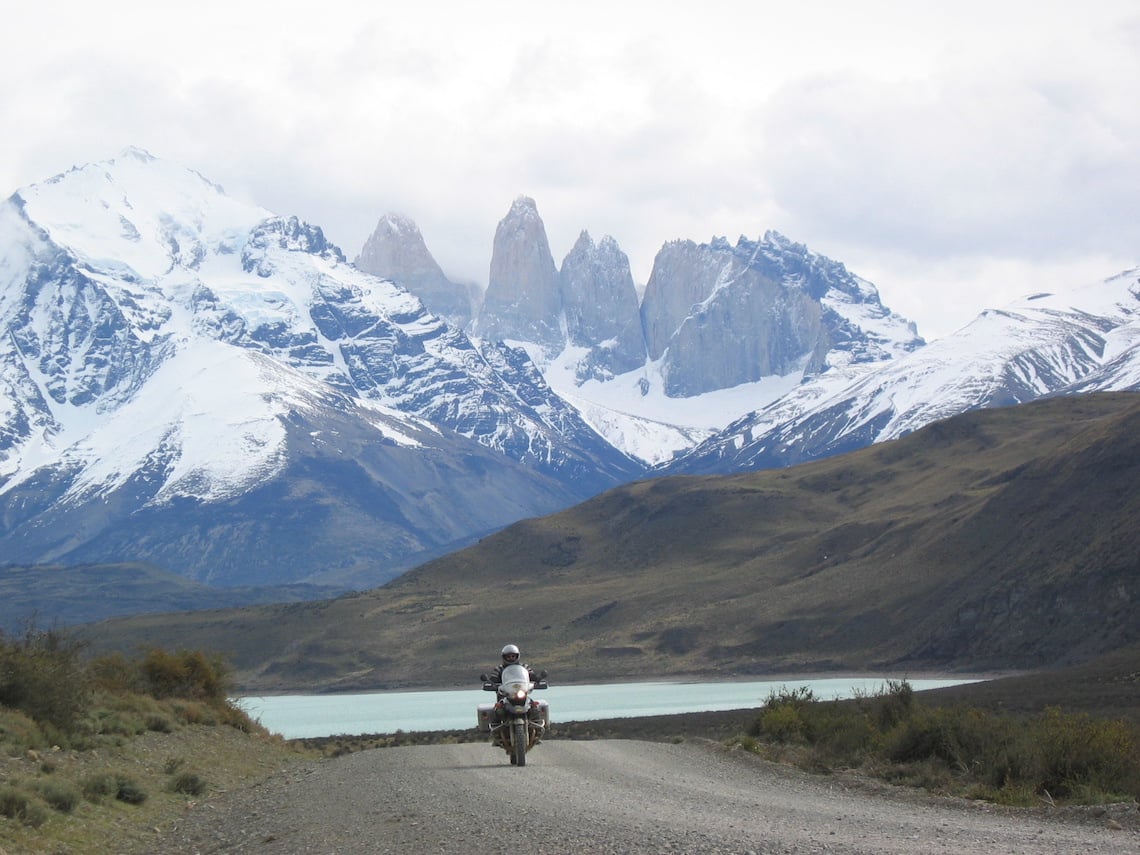 Sanders used the flexible working hours riding dispatch to train as a driving instructor for BSM and later as a motorcycle instructor for CSM. Twenty-five years on, he's chief instructor and director of BMW's Rider Training, which he says is a dream come true. "I've been lucky enough to turn my passion into my life," he says. "The enjoyment of introducing people to motorcycling and improving riders' skills while working with such a high-quality brand as BMW is a dream for any professional instructor".
Among those to benefit from Kevin's expert advice are Long Way duo Charley and Ewan. "When Long Way Round was first getting started, Charley and Ewan contacted us for initial advice on bikes, planning and routes," he says. "Then BMW got involved and I worked with the LW team at their base in London, giving any advice I could. They're great ambassadors for motorcycling and good fun guys." But of course, Kevin's expertise stretches far beyond riding the mean streets of the capital. Having backpacked around much of Europe and South America in the mid-90s (he first met Julia in a bar Quito, Ecuador in "97), it was in 1999 that the pair indulged in their first long-distance motorcycle trip together – a 12-month voyage through the Americas aboard their R80GS. "The whole trip just reinforced my love of travel and motorcycling," says Sanders. "You live the journey so much when you travel by bike and it's a great icebreaker with the locals. Every time you stop people want to talk to you and ask about your journey." With the trip cut short due to Kevin's father falling ill, Sanders returned home and began mulling over fresh motorcycle challenges. "I like nothing better than to ride my bike all day every day and doing big miles is something that I enjoy," he explains. "I first wrote to Guinness in 1996 about a record RTW ride; it was around this time Nick Sanders set a new record for the fastest ride around the world, so I parked the idea for a while." But in 2000, Kevin put the wheels back in motion and began working on breaking Nick's RTW record.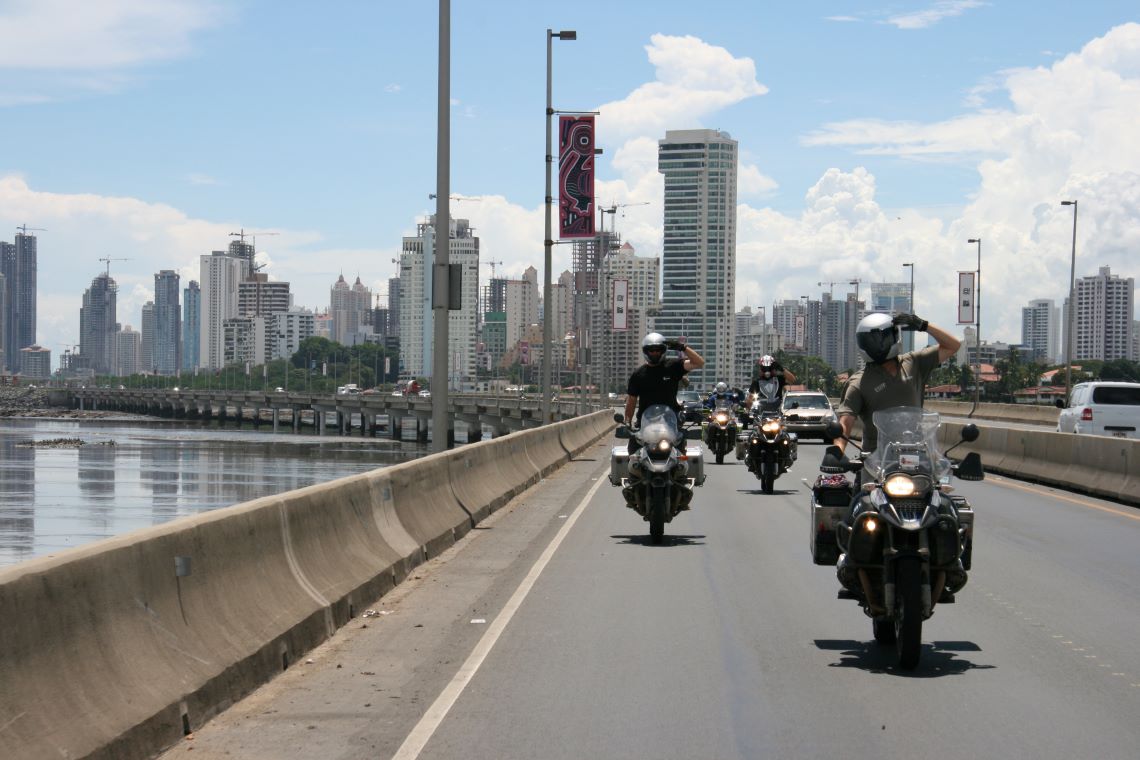 "Our aim was always to ride 1,000 miles a day and there's really only one way to prepare for that." he says. "I was living in Cambridge at the time and I would ride up to Inverness and back on a Saturday, which is 1,000 miles. Then I'd take Julia on a romantic weekend to Spain; we'd ride to Madrid on Saturday and return on the Sunday, 1,000 miles each way."
On 5 May 2002, team Sanders (Kevin married Julia in Cusco, Peru, in 2001) set out to complete a journey which would take them across four continents, 12 countries, and 19,490 miles in just 19 days, eight hours and 30 minutes, setting a new Guinness World Record. "My favourite memory from that trip has to be finishing," says Sanders. "We started and finished at the SOS Children's Village in Calais, France. It's a charity that we've raised money for and seeing the kids again when we returned, knowing we had the record, was great."
The pair faced plenty of challenges on the road, however, not least fighting off the Sandman. "The most dangerous aspect of any endurance ride is fatigue," Kevin explains. "You have to monitor yourself, to know when to stop and have a rest." The record comes under Guinness' 'Courage and Endurance' section and there's a lot of emphasis on the endurance. One of the toughest stints was circumnavigating Oz – 5,080 miles in just four days, eight hours. "I was riding at night," says Sanders, "that's when the kangaroos are a real problem and it's also when the deserts at its coldest." With record number-one safely under their biking belts, it wasn't long before an itchy-footed Kevin was planning the Sanders' next record adventure. "On the ferry back from Calais at the end of the first record, I told Julia that since it looked like we now had the fastest ride around the world we should do the one from top to bottom," he says. As soon as the Sanders reached dry land, Kevin wrote to Guinness to ask permission to attempt the Trans Americas record.
Armed with what they'd learnt on their RTW, the Sanders went into the America's trip in 2003 fighting. "I now knew how to manage myself on the ride," Kevin says. "The BMW R1150GS Adventure was in its first year and we decided to take that; the Trans Americas ride had a lot more varied terrain to deal with." The riding conditions weren't their only concern either. "It was quite tense riding through Colombia," says Kevin. "There was still a fair amount of trouble there at the time. I remember telling Julia not to worry about warnings of bandits on the road as we had Kevlar helmets and the bandits probably weren't very good shots!'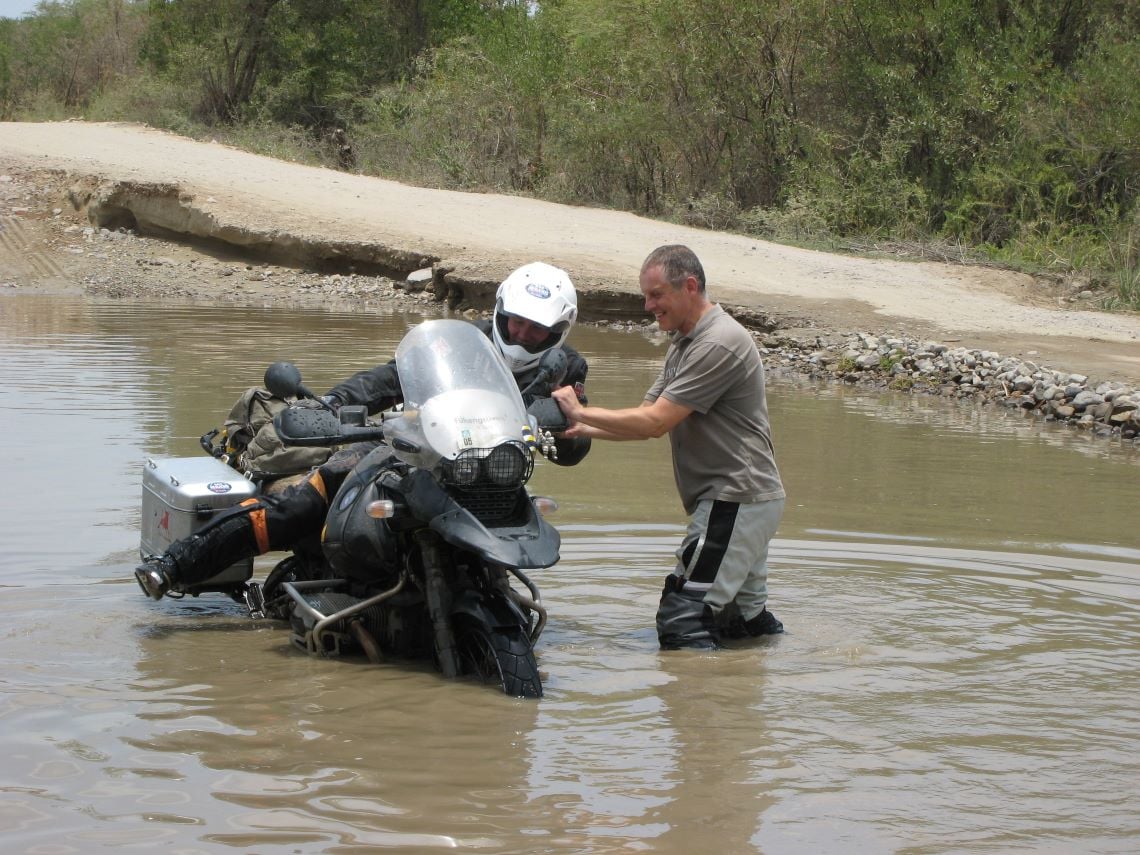 Having made it to Ushuaia in one piece, covering 17,000 miles in 35 days, the Sanders claimed the Trans Americas record in September 2003 and are still the only riders to hold both Guinness titles. "When we reached Ushuaia, the southernmost city in the world, all the emotions came out," says Kevin. "All through these rides I close down most of my emotions and do the job, but once it ends there's a flood of emotion and that's when we have time to really appreciate the achievement."
It's perhaps the next juncture in the Sanders' story which puts the case forward for Kevin having "Best Job in the World, Ever'. "After completing the second record, a lot of people asked us how you go about planning for such long rides and I began to wonder if there was the market for doing a Trans Americas Expedition," Sanders explains. "The idea for the first GlobeBusters tour was to following our Trans Americas route, but at a more laidback pace. Travelling's not about blasting through countries and we wanted to make sure people had time to experience the all fantastic places and meet the locals.'"
In 2005, the very first GlobeBusters Trans Americas Expedition set off. "When we ran the first GlobeBusters adventure we didn't know if it would work or not," admits Kevin. "No one had ever taken a group on a five-month 22,000-mile trip. I think that was part of the attraction for some of the riders, to be part of the first trip and being pioneers."
Without a manual on how to organise such a big trip, Kevin and Julia decided to follow their noses and put together the kind of adventure they'd be looking for as clients. Now with a 27 percent repeat business rate, the initial winning GlobeBusters formula was clearly a recipe for success. The company now operates 15 different expeditions worldwide, ranging from five weeks to five months, including the Trans Americas route from Prudhoe Bay to Ushuaia; London to Beijing via Tibet, and a Trans Canada trip. ABRs can choose to ride whole trip or dip in and out of the routes to suit their budget and the time they have available. Each trip comprises no more than 16 bikes and GlobeBusters caters for every aspect of the ride, "We strongly believe in preparing riders for the adventure ahead," says Sanders. "We hold pre-expedition meetings, which cover first aid, bike and kit selection, visa prep and off-road training days."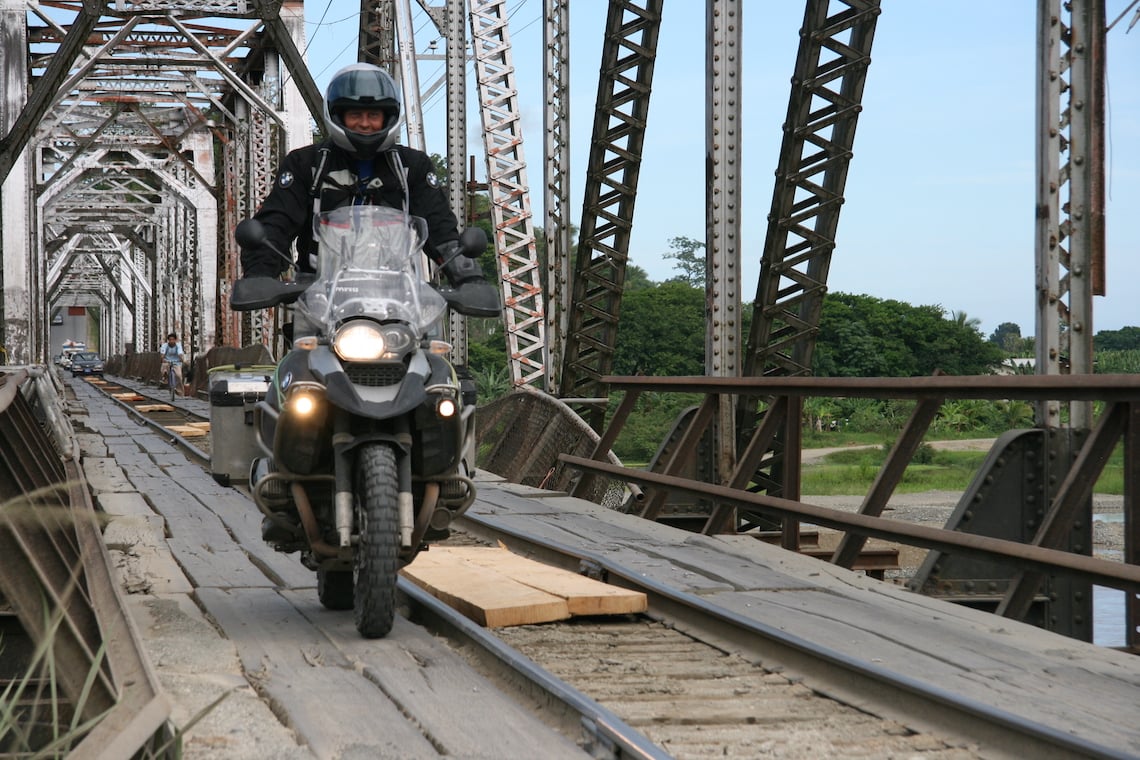 In November last year, GlobeBusters launched its inaugural Discover our Earth tour, to mark the 30th anniversary of Edelweiss Bike travel. "Owner and founder Werner Wachter asked if we could organise an epic trip to celebrate their birthday," Kevin explains. "Initially it was going to be a one-off epic like Paris to Peking, but as we talked the trip grew and grew and finally it ended as an eight-month, 44,000 mile around-the-world monster trip – officially the longest organised motorcycle trip in the world!'
At the time of this interview, Kevin and the Discover our Earth riders are three months into the tour, in Cusco, Peru. They've covered 11,000 miles so far through Europe, North Africa, and the Sahara. "We've tangoed in Buenos Aires and watched the start of the 2011 Dakar Rally. Ushuaia, the most southern city in the World has been reached and we've ridden the gravel of Ruta 40 in Argentina and the amazing Carratera Austral in Southern Chile. We've been breathless in Bolivia at 4,000m and are now gasping with amazement at the Machu Picchu," says Sanders. Alright, Kev, don't rub it in!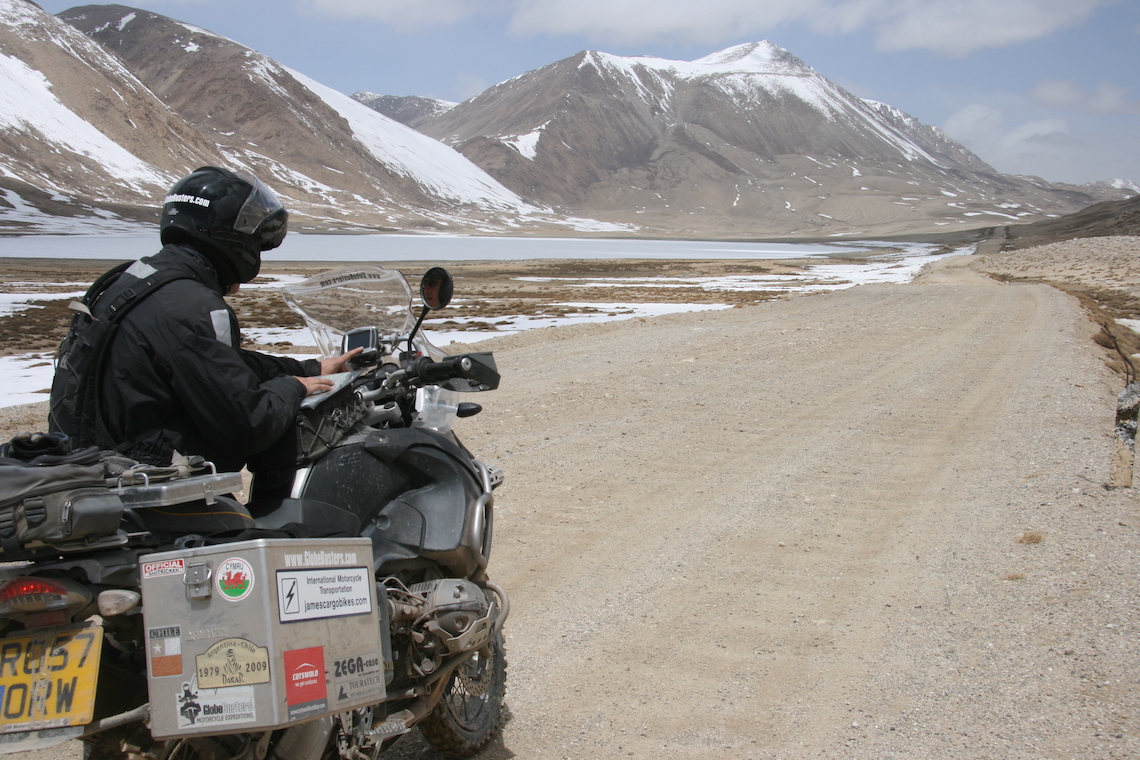 Although every GlobeBusters experience is unique, Kevin admits to having his favourites. "Our first Trans Americas Expedition was very special because it was the start of GlobeBusters and the first ever group trip of its kind," he says. "In 2010 I led the first ever London to Beijing Expedition via Tajikistan and Everest Base Camp, and finally arriving in Beijing was a very emotional time, too." And of course, every adventure has its ups and downs. "There was civil unrest in Kyrgyzstan at the time and we had to change our route into China over the Irkisham Pass. We had to negotiate 40-mile track cut into the snow and mud with 40 drops; it took us seven hours. Riding across Tibet is also very demanding. We were at altitudes of 5,000m and one rider had to be sent home with altitude sickness."
But what's life really like when every day's an adventure? "I love that I get to ride a bike all day, but the best part is seeing the happiness of our customers when they complete one of our trips." Kevin says. "I've been on the road for a long time over the last five years. I do miss being home; coming back for a while keeps the travel fresh and exciting."
Home for Kevin and his family is South Wales where the Sanders moved to in 2005 to be closer to Simon Pavey's BMW Off-Road Skills centre. Kevin says he loves the Brecon Beacons as it's wonderful motorcycle country, but had previously considered relocating to warmer climes. "We talked for a while about moving to Argentina or Chile," he says. "The riding is great, the people fantastic, not to mention the steaks and red wine! But when it comes down to it, home is home. A lot of people make the mistake of moving away in search of a better life, thinking the grass is greener. We love living in Wales now."
And where's next on the map for a GlobeBusters experience? "We're always looking for new and different routes," says Kevin. "Our new brochure has just been released and we have some really exciting trips planned, including London to Cape Town and London to Sydney. Both are epic and famous rides, but as usual we will be taking a GlobeBusters route to get there."
KEVIN SAYS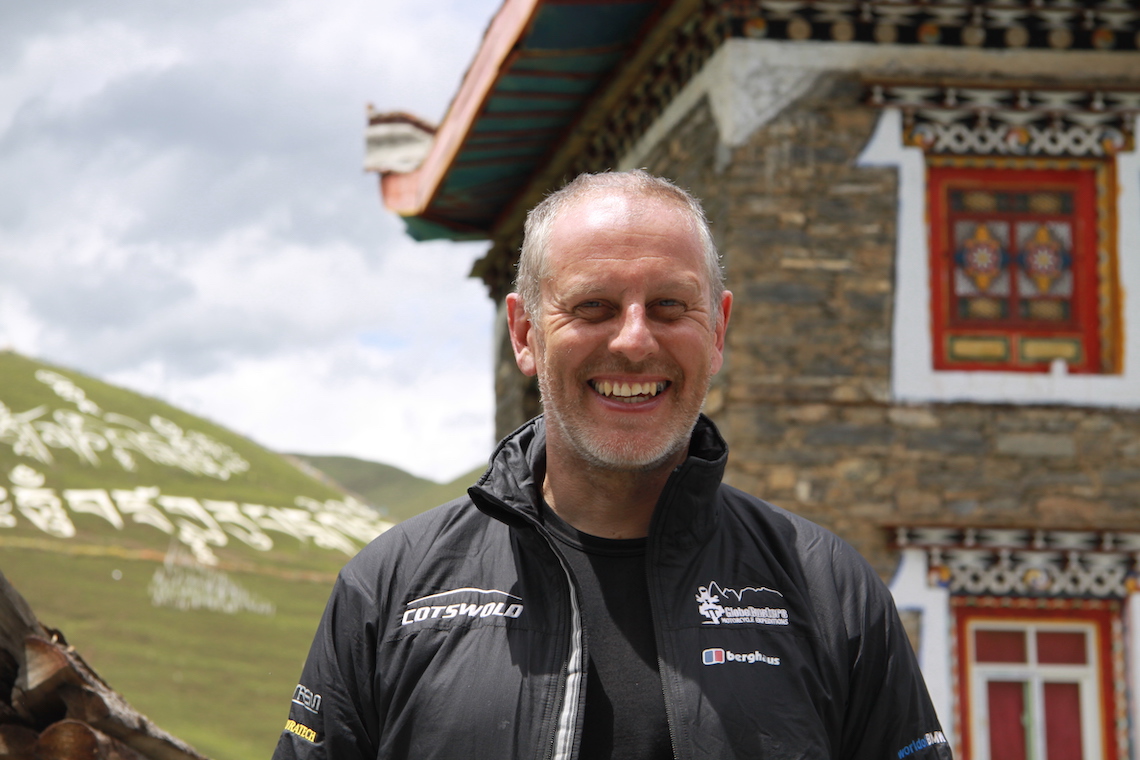 Age: 46
Occupation: Founder-director of GlobeBusters Motorcycle Expeditions
What's the biggest challenge on your list of things to do before I die? I've done and seen more of the World than I ever thought or planned. My biggest challenge now is to have time at home to reflect on life and this is something we are working on.
What keeps you awake at night? Nothing, I have a saying 'rest when you can' I have no problem sleeping because I know it is important.
What do you miss most about home when you're away? I like cooking for family and friends and being in the kitchen with a glass of wine.
What's your ultimate indulgence? Steak and red wine
What's your best characteristic? Being organised and attention to detail.
And your worst? Intolerant of fools and don't understand vegetarians
What's your best tip for adventure bike riders? Pack light, and then take half of it.
Person you'd most like to take as pillion on a RTW trip and why? I have already taken them and it is Julia. If you can achieve two Guinness World Records and stay happily married, I think it shows our love for each other.
Of all the places you've ridden, where's your favourite? The Carratera Austral, Chile. This is the southern highway built by General Pinochet in the 70s. And the Pamir Highway in southern Tajikistan, bordering Afghanistan.
Which country have you not yet ridden and would like to? Madagascar. Ever since I saw pictures of the landscape and the unique flora and fauna, especially the lemurs. It is also somewhere that very few have ever ridden.
What's your favourite terrain? Mountains. Where ever there are mountains there is great riding and scenery.
To see GlobeBusters' full range of tours and to book your own adventure with Kevin, Julia, and the team, got to www.globebusters.com
Photos: Kevin Saunders